My first ever International trip was to Malaysia and it was a really careful selection. The tickets were cheap, stays were affordable and there was so much to see here.
Although I wanted to go to someplace like Dubai or Italy first, the Visa dynamics at that time were just not in my favor. But Malaysia was super simple and the Visa process was pretty simple too.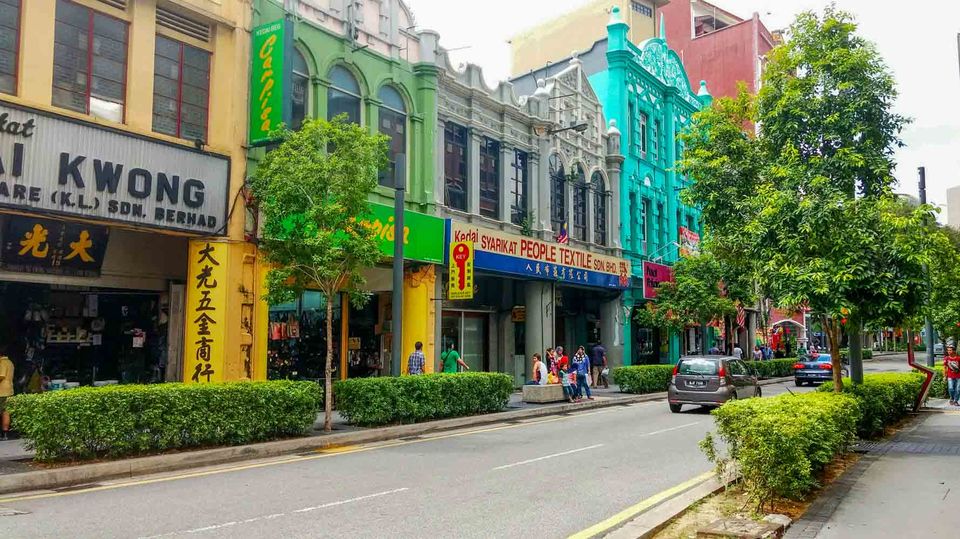 So, if you are also planning for your first International trip or are looking for an affordable International destination then Malaysia is definitely a choice to consider.
Visa and Flights to Malaysia
The return trip flights from India to Kuala Lumpur cost me around 8,000 INR which was pretty cheap.
As for the visa, I applied at the Visa embassy in Hyderabad and got 12-month visa validity for 4000 INR. One thing to note here is that the visa validity is quite randomly allocated for Malaysia. Some people get 1 month validity, some for 6 months, and if you are lucky like me then you might get a 12-month validity.
Now, they also have an option of applying for E-Visa which is valid for 3 months. So, you can try out that too.
Route
I started my journey from Hyderabad to reach Kuala Lumpur first as that was basically my base in Malaysia.
After reaching KL, I spent around 2 days here before heading to Langkawi island. I spent another 2 days in Langkawi and took a ferry to Penang to spend a day here.
From Penang, I took a bus to Cameron Highland and spent around 36 hours here before heading back to Kuala Lumpur.
From Kuala Lumpur, I went for a day tour to Melakka and then the next two days I explored Putrajaya. After that, I made my way back to the KL International Airport to take my flight back to Hyderabad.
This is the route that I followed:
Hyderabad - Kuala Lumpur - Langkawi - Cameron Highland - Kuala Lumpur - Melakka - Putrajaya - Kuala Lumpur - Hyderabad
Best Time to Visit Malaysia
Well, Malaysia is quite huge so different sections have different visiting times.
If you want to cover places like Kuala Lumpur, Langkawi, Penang, Ipoh, Cameron Highlands, etc. then November to March is a good time to visit. But you won't be able to cover other places like Terengannu, Pahang, etc. as it would be raining here.
If you want to visit several places in the east coast, west coast, etc. then December to March is the perfect time to visit.
10-Days Itinerary for Exploring Malaysia
Since this was my first International trip, we weren't much prepared and mostly went with the flow. But ultimately, it turned out to be a memorable trip for us.
I had an early morning flight to Malaysia so I reached Kuala Lumpur by 9-10 a.m. We took a bus from the KL International Airport to the hostel which cost around 250 INR per person.
After we freshened up in the hostel, we decided to go to the Batu Caves on our first day here.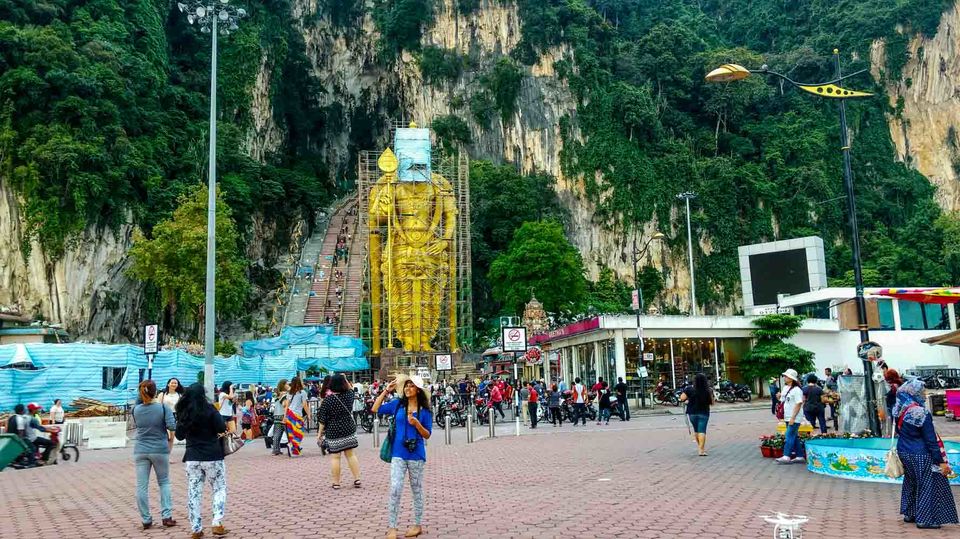 And damn, it was such a task to find the bus for Batu Caves because it was our first time here. But after asking around, we found the direct bus to Batu Caves which cost around 40 INR. Thankfully, now they have a train from KL Sentral going to Batu Caves so you don't have to search for a bus like us.b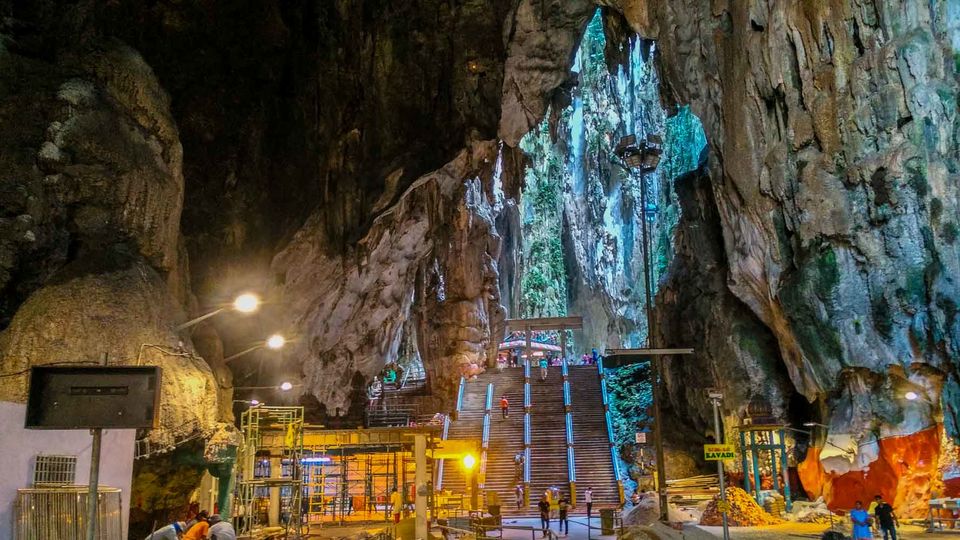 Batu Caves itself is quite gorgeous and is situated on a limestone hill. But the stairs to the caves are really tiring, especially when it is sunny outside. It is said that these caves have been around for 400 years now and were used by indigenous Temuan people as shelters.
Our first day, we basically spent the majority of our time in Batu Caves and explored around the caves itself. There is also the tallest statue of Murugan just outside the caves which looks pretty magnificent.
We were done with Batu Caves by 3-4 p.m. so we decided to head back to the city and explore the area on foot. We walked around a little around the Fraser Park area and then made our way to Brickfields which is also known as Malaysia's Little India.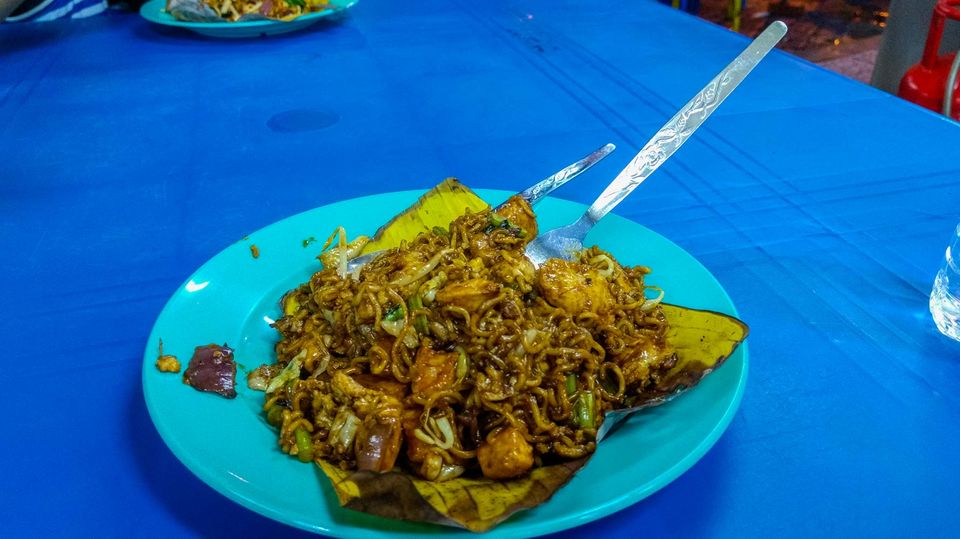 Here, I had one of the most delicious Malaysian Maggi, Nasi Goreng for 100 INR. Then, we walked to the nearest monorail station and got a ticket to the station nearest to our hostel which cost us around 18 INR.
Since we were staying near Chinatown, the place was full of people and it was quite exciting and colorful on our street.
Where to Stay: There are many hostels all over Kuala Lumpur which are quite cheap and will charge around 150-200 INR per night. Chinatown especially has many hostels which offer cheap dorm beds to budget and backpackers traveling here.
On our second day, we decided to take the famous Hop On Hop Off bus tour which cost around 750 INR per person. The best thing about this bus tour is that you can get down at any stop and then get back on the bus from any of the designated stops.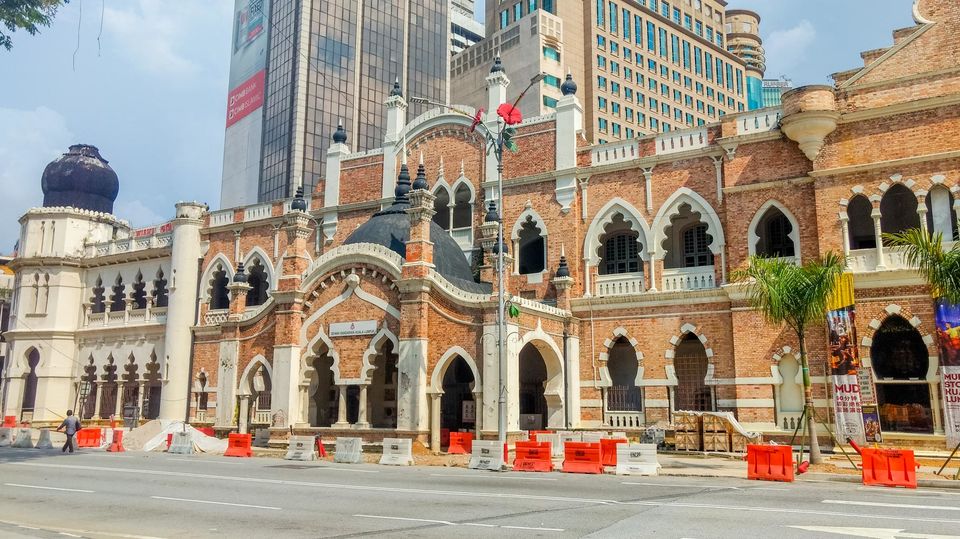 So, we spent the entire day exploring a plethora of places like the KL Convention Center, Putra World Trade Center, Petronas Tower, National Museum, Bird Park, Sultan Abdul Samad Building, Jamek Mosque, Concorde, etc.
We got down at many stops and then walked around to catch the bus from other stops. At the end, we got down at the KL Convention Center to explore the Aquaria KLCC which had a large variety of sea animals to look at. We took the 1000 INR package for exploring but they had other packages that you can consider as well.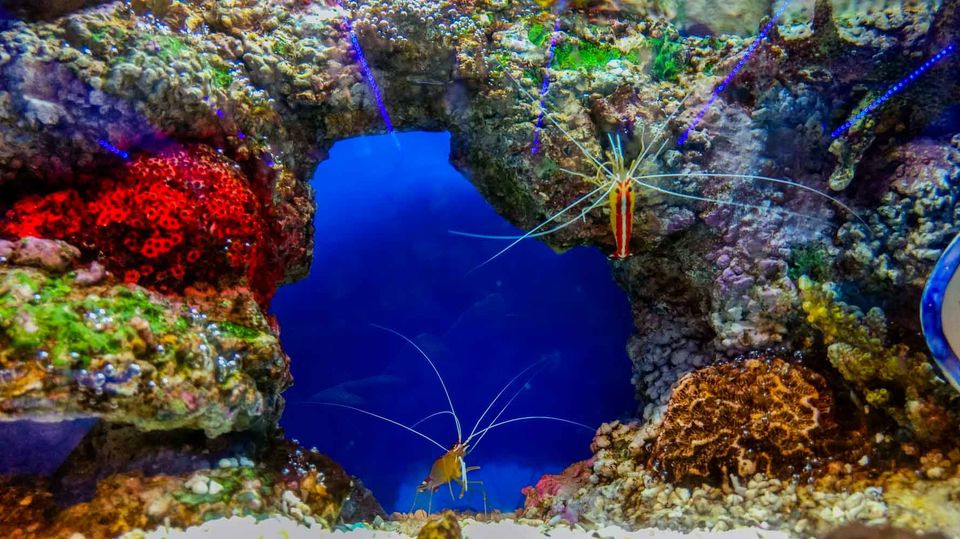 After 1-2 hours, we left the aquarium and went to get our bags as we had to catch a bus to Penang. Once we checked out, we went to the Suria KLCC mall to watch the light and sound show which happens here every evening.
From here, we took a train to KL Sentral which was around 180 INR per person. Our bus was around 11 p.m. from Kuala Lumpur and cost around 600 INR to reach Penang.
We reached Penang early morning around 4 a.m. and had to wait because the direct ferry from Penang to Langkawi was damn expensive. Plus, you had to book the ferry a day before so we didn't want to waste time in Langkawi.
So, we took an early morning bus to Kuala Perlis from Penang which cost 300 INR and took us around 3 hours to reach. From here, we took a ferry to Langkawi for 300 INR which took us around 60-75 minutes to reach.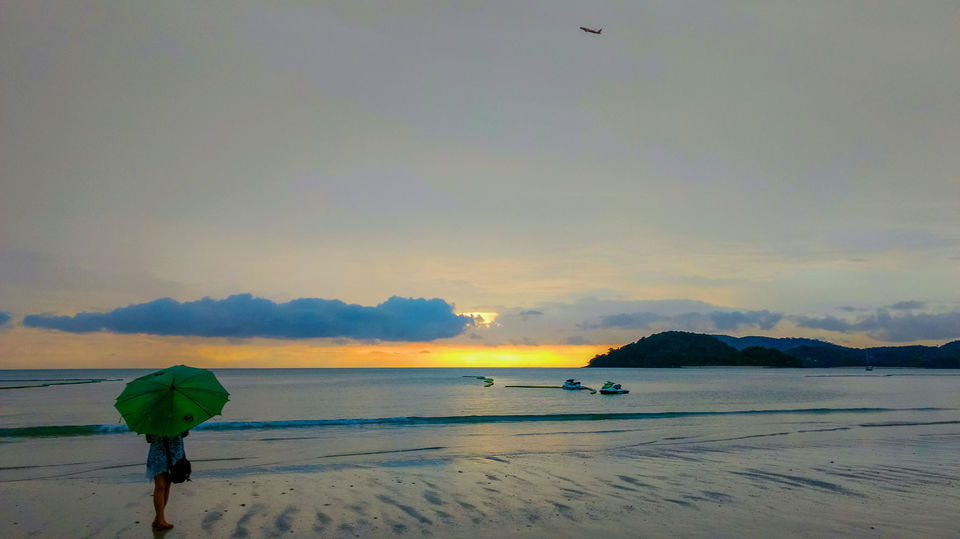 After reaching the ferry point in Langkawi, we took a cab to Pantai Cenang which is in the Southern Langkawi and found a hostel for 350 INR per night.
We relaxed for sometime and freshened up before heading out to enjoy the Pantai Cenang beach and watched an incredible sunset here. I also tried a Crab dish here which was slightly boiled but it sucked big time. There were a lot of amazing shops here also where they were selling amazing clothes, souvenirs, etc.
From here, we also got tickets for the Pulau Payar Marine Park which is one of the major tourist spot near Langkawi. It cost 2000 INR per person for the the marine park including ferry, lunch, transportation, and snorkeling gear.
Where to Stay: There are many guesthouses and hostels in Langkawi as well. Most of these will charge between 250 - 500 INR and will also offer free WiFi services and other basic ammenities.
Next morning, we left around 8 a.m. for the Marine Park and were picked up from our hostel till the Ferry Point. From the Ferry point, it took us around 30 minutes to reach the Pulau Payar Marine Park.
Once we reached here, we were completely blown away by the gorgeous landscape here. The water was turquoise blue and the entire beach was surrounded by trees which gave a magical touch to this place.
We spent around 4-5 hours just relaxing and snorkeling in the water here. And then around 3-4 p.m., we started heading back for Langkawi island.
In the evening, we walked around our hostel area and explored the numerous food stalls and shopping stalls here.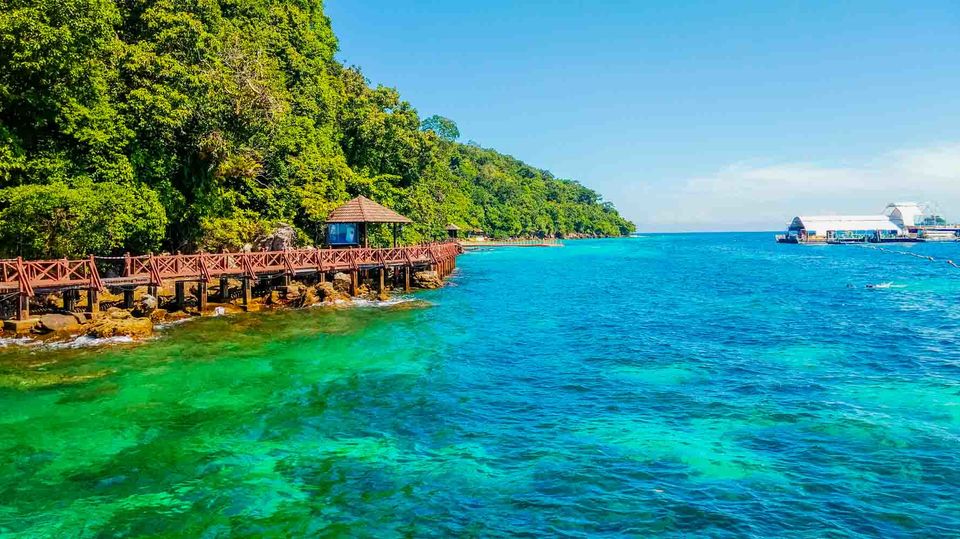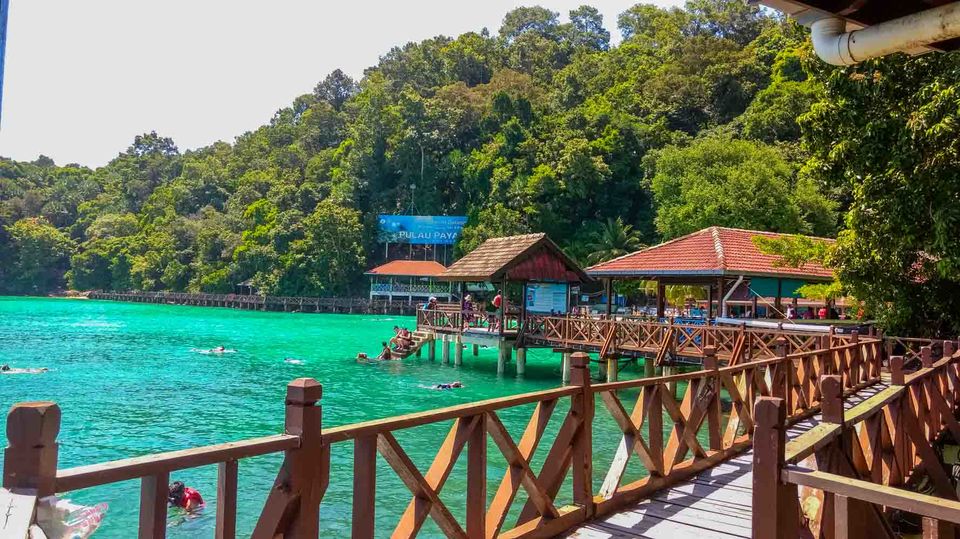 On our 5th day, we planned to head back to Penang so we took an early morning cab to the Ferry Point. It cost us around 550 INR for the journey and we got a ferry ticket for Penang for 1200 INR from here (It was pretty expensive compared to the other way we came).
But we also reached Penang in just 1-1.5 hours so it was a quicker option to reach. After that, we looked for a hostel and checked-in into a nice one near Georgetown.
After sometime, we headed out to explore the street art in Georgetown as Penang is famous for it. But before that, we went to the Upside Down Museum here which was really cool.
Basically, the museum rooms are arranged in such a way that when you turn the photos by 180 degree, it looks as if you are standing upside down. The entrance fee for this museum was around 500 INR but they help you take photographs everywhere so it is worth it.
After that, we just walked around and tried to find as many street arts as we could in Penang. It was undoubtedly amazing but we were really tired after all that walking.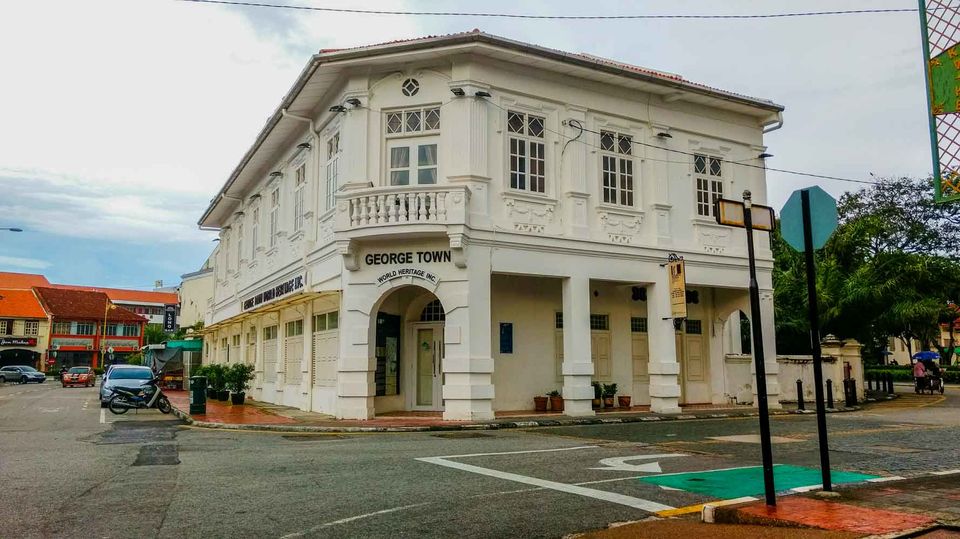 Where to Stay: You will also find good hostels here for 200 - 400 INR near Georgetown itself.
We had booked a bus to Cameron Highland for the next morning for 700 INR. They picked us up from our hostel and we reached Cameron Highland in the afternoon, by 2-3 p.m.
Since it was late, we couldn't take the Cameron highland tour that day but we booked one for the next day. On our first day here, we simply roamed around the hill station and walked as far as possible.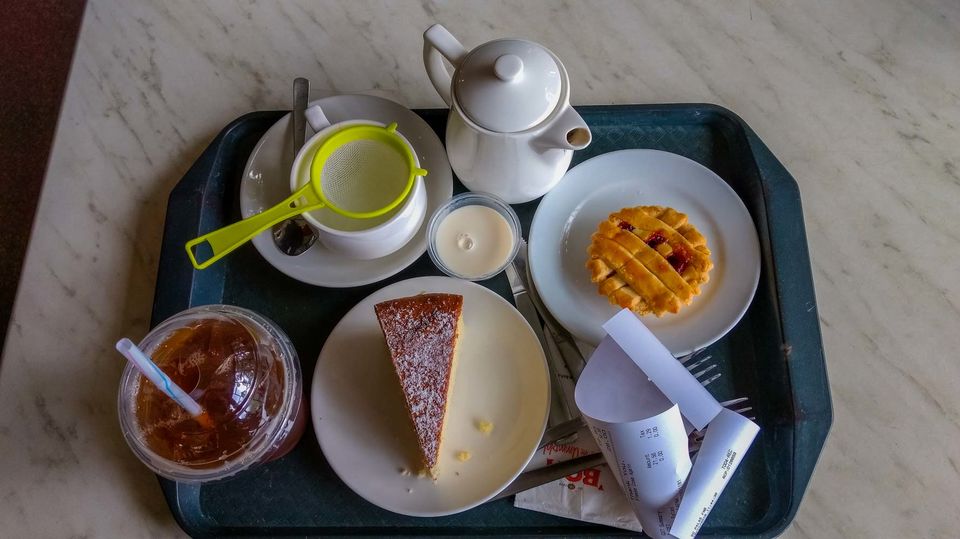 We went on a short hike to the Parit waterfalls which was around 2-3 km from the center and was a really nice walk through the trees and plants. Unfortunately, it started raining suddenly so we had to take shelter and return back earlier than we liked.
Where to Stay: There are many good homestays and guesthouses in Cameron Highland for 500 INR. So, you can either book one beforehand or you can find one after reaching here.
For our second day, we had booked an early tour of Cameron Highland which included a walk in the Mossy Forest, visit to a Strawberry Farm, visit to Boh Tea Plantation, visit to a local tea farm, climbing mount brinchang, and exploring the rose garden.
The entire tour was of 6-7 hours and cost around 750 INR per person. So, we started early around 7 a.m. and covered all the mentioned points.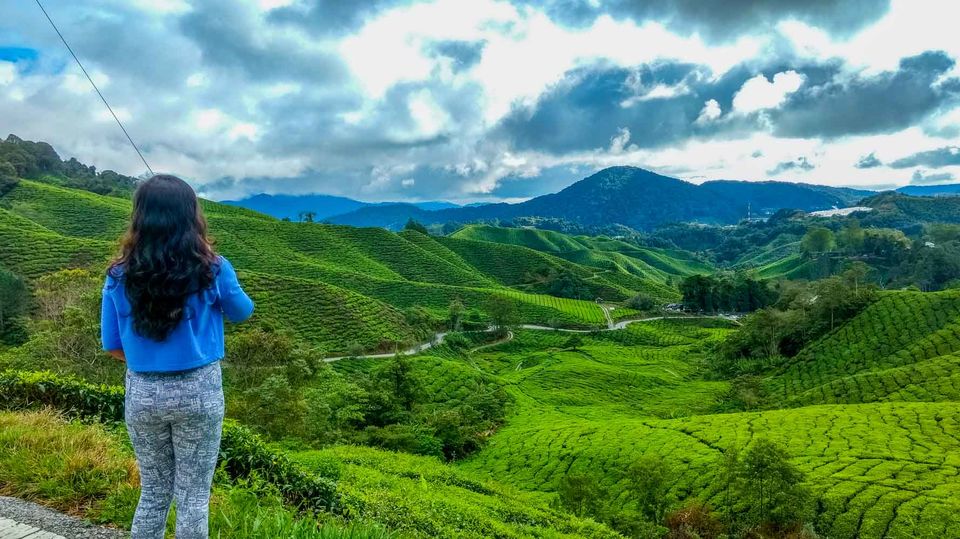 My favorite point was the Mossy forest as it resembles the Forbidden Forest of Harry Potter and the Brinchang point as you can see gorgeous mountains surrounding you from all sides.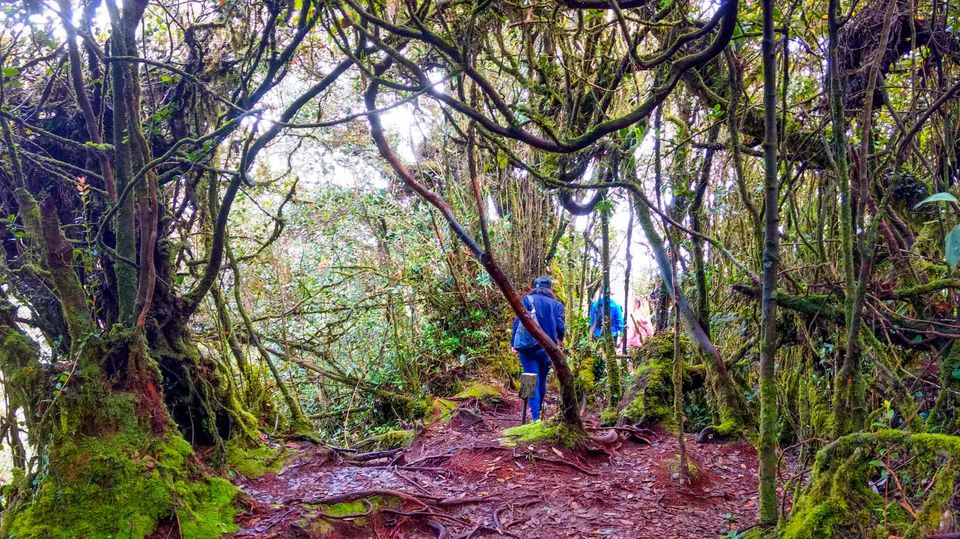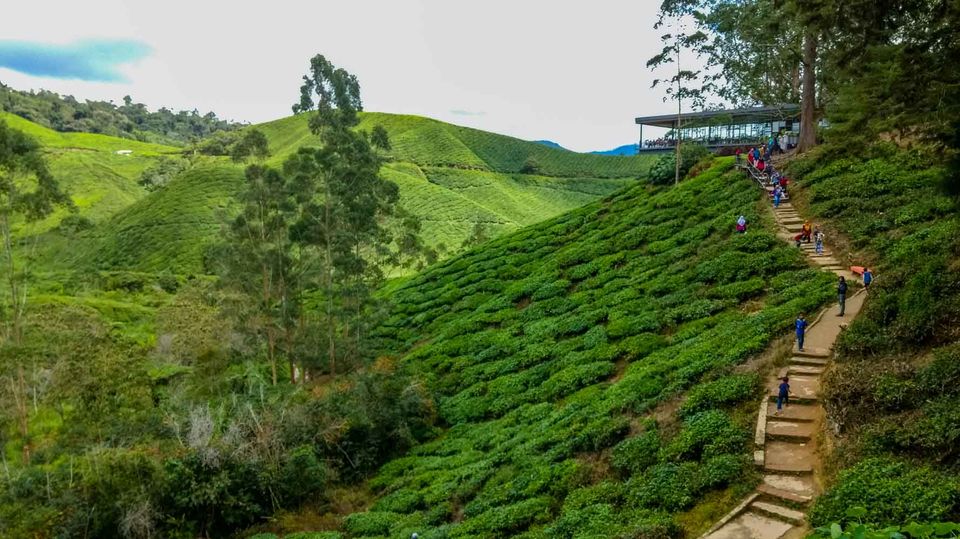 We also bought a lot of souvenirs from the tea shop, strawberry farm, etc. for home. Honestly, this was one of the best days of my Malaysia trip.
We reached back to Cameron Highland around 2-3 p.m. so we booked a bus to KL from here and left. The bus to KL cost around 600 INR and took 3.5-4 hours to reach. We reached KL around 8-9 p.m. and headed to Chinatown again to find a hostel dorm for ourselves.
Finally, the next day, we left early for Malacca. For Malacca, we first took the monorail till TBS in Kuala Lumpur (Terminal Bersepadu Selatan) for 50 INR. From here, we got a bus to Malacca Sentral for 200 INR.
We spent an entire day here, just roaming around and exploring the sights here. There was the Jonker Street which was pretty happening and had many street arts which were gorgeous to look at. Then there was the A Famosa which was a Portuguese fortress and one of the oldest surviving European remains in South East Asia.
We also walked to Stadthuys which was a Dutch-styled city hall, Cheng Hoon Teng Temple, Windmill Dutch Square, etc. And we just walked around these places so we didn't spend a lot of money here but we definitely enjoyed ourselves.
Around 5 p.m., we headed back to KL and reached in KL by 7 p.m.
This was the second last day for me in Malaysia and the last day for my best friend. So, we decided to go to Putrajaya and then back to KL before she left for the airport. We didn't explore much of Putrajaya on this day except for spending time at the Putra Mosque. But that was enough too.
For Putrajaya, we again took the train to TBS (Terminal Bersepadu Selatan) for 50 INR and then took a train to Putrajaya which cost around 135 INR per person. Then, we took the bus to Putra Mosque from the station for 32 INR and reached here in 20-25 minutes.
We spent some quality time here, looking around and admiring the Mosque from the outside. And then after an hour, we started heading back to KL since we had to go on the Petronas Twin Tower deck tour. In this tour, you get to enter the Petronas Twin Tower and ride the elevator to the Observation deck.
We got a chance to walk the Skybridge and see the entire city of KL from such a height and we also got to see the Petronas Tower peak from close proximity. It is definitely one of the things that cannot be missed in KL. The fee for this tour is approximately 1400 INR and you get to spend an hour here.
After this, my friend headed to the KLCC station to take the train to Kuala Lumpur International Airport and I just explored a bit on my own. The sad bit is that I figured out about the free buses on my second last day in KL.
Yes, that's right! There are free buses plying through the touristy points in KL which you can easily take and save some extra bucks.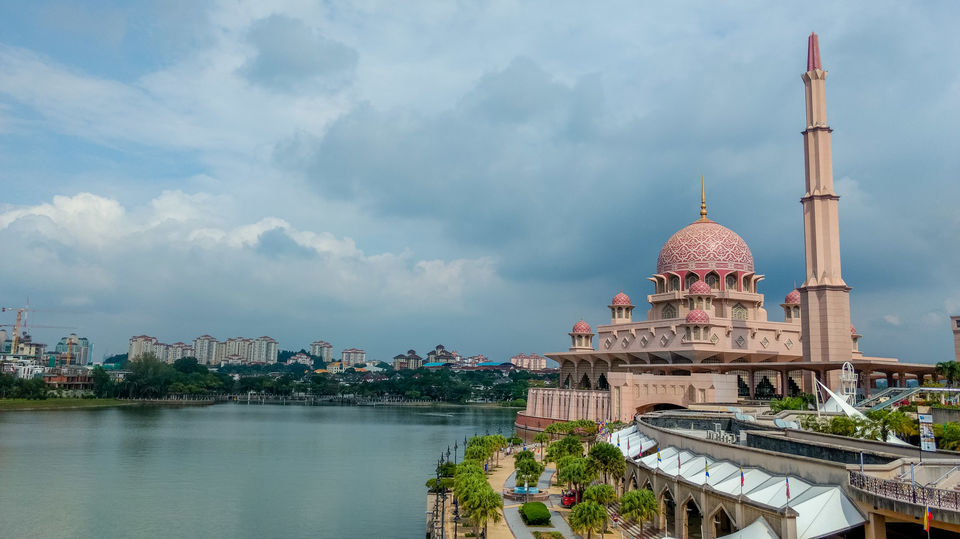 It was the final day of my trip when I ventured out alone to the KL Gallery and Sultan Abdul Ahmad Building and was blown away by how empty it was! It was a Monday and there were no tourists to be found which was great for me. So, I walked around here and then headed to KLCC to enjoy a view of the Petronas Twin Tower.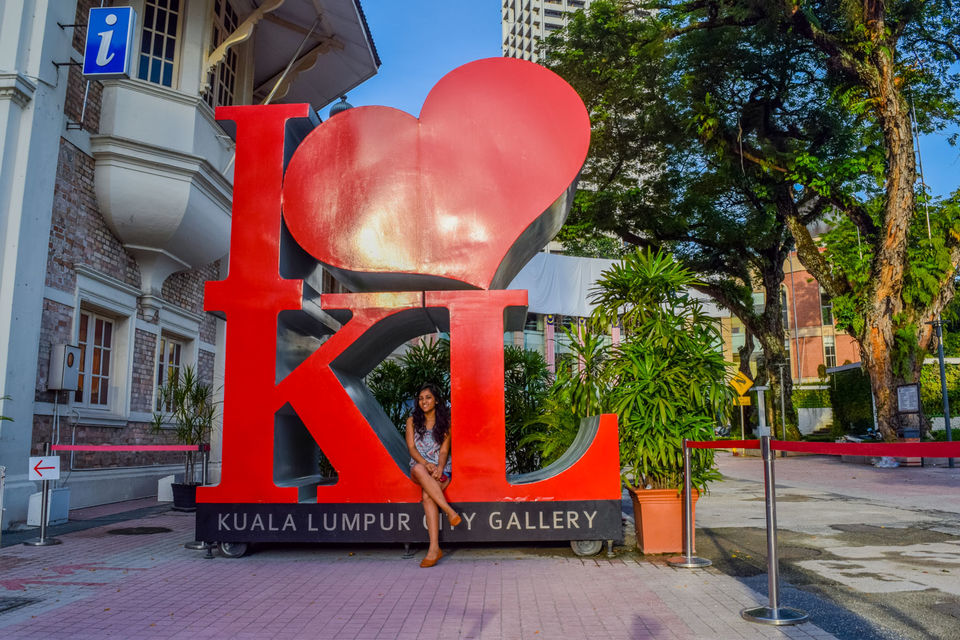 After that, I packed my bags and left for Putrajaya to spend some more time in this beautiful city before taking my flight back to India.
Finally, I came back to the Putra Mosque and Perdana Putra to spend some time here. After exploring and staying here for around an hour, I headed to the Putrajaya International Convention Center which was at the furthest end.
However, I had to wait an hour before a bus arrived and it took another 1.5 hour to reach this place. I walked around here a bit and explored the place but I was quite late so I had to chuck the rest of my plan and head to the airport next.
So, I took a bus to the Putrajaya Sentral station which took arouhd 1.15 hours to reach. From here, I took the train to KL International Airport which took me another 30-45 minutes to reach.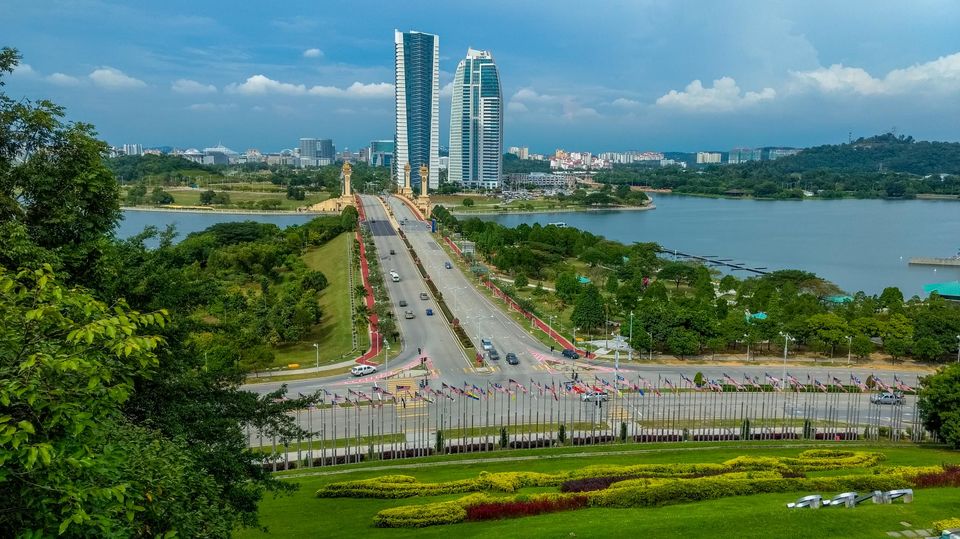 And so I returned back to India with loads of memories and lessons. It was my first international trip and I realized how important researching about a place is and I have never made the same mistake ever again.
Frequent Searches Leading To This Page:-
top Malaysia tour package with price, top Malaysia tourist places, Malaysia tourist visa from India price, Malaysia tourism packages from India, cheap Malaysia tour package with airfare from Delhi, Malaysia tour packages from India for couple, Malaysia tour packages from India for family