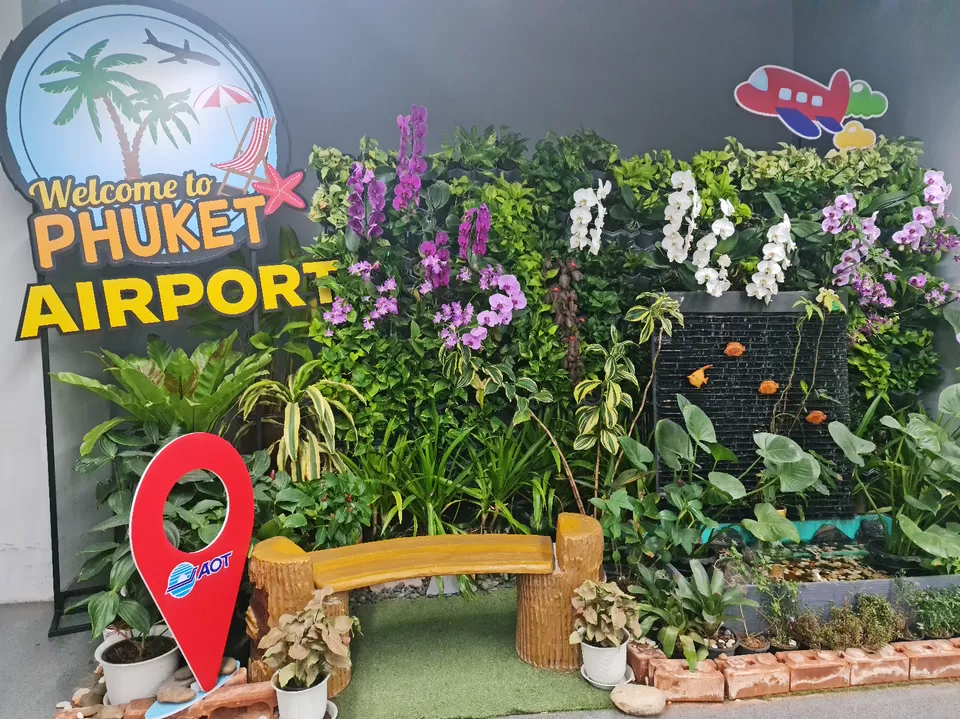 It was short trip for 7 days to Paradise. It was my 1st International Solo trip so was special in every sense. Landed in Bangkok where I stayed in a cozy property. Since Thailand was opening doors to tourist not much was opened to visit. Visited the World famous Damnoen Saduak Floating Market, it was not the usual crowd but had an experience of how it would be.
Bangkok is the capital city and it does justice to that. Was busy during the day with Traffic as most cities in India look like. At the Night it is a different scene with Tuk Tuk rides and to people on the streets trying to vibe to the Nightlife scene. Though it was Raining ppl went on enjoying the Night Life. The famous Walking Street in Bangkok is called Nana Street. Lot of clubs remained closed as it was recovering from Covid. Spent 2 days in Bangkok where the 2nd day it was pouring heavily.
Now I was little bit concerned how my rest of my trip would look like in this rainy season I had booked my Ticket to Phuket. Phuket province is located in southern Thailand. It is the biggest Island of Thailand and sits on the Andaman sea. One can reach Phuket from Bangkok via various travel modes like Flight, Bus, Train. I took the Flight as I got very good deal. I travelled in Viet Jet. The distance of 847Km was covered in just 1Hr15Min.
To my awe the climate was completely pleasant. There was no signs of rain which bought back that Traveler vibe. Had booked a property in Patong which is the city center the most happening place in Phuket. It took 45min for me to reach the hotel from Airport, unlike other tourist destination they have a Mini Bus service which takes you to Patong for a very less price which was super cool.
Went for walk in the famous Walking Street in Phuket known as Bangla Street. The stretch was not so lengthy but had lots of Bars and Clubs. It is located in proximity to the Patong Beach which is one of the famous beach in Phuket. The Vibe was to next level. Amazing Street foods, dazzling lights it is definitely worth the visit.
Patong Beach is famous for water sports like Para Sailing, Jet Ski, Banana ride etc. For my Activity I booked a day trip to Phi Phi Island. This is a One day trip, the travel agency arranges to pick you up from your hotel, you would in a mini van. They take you to the Pier which is like a docking spot for Ferry and Speed Boats. Phuket has many Piers. There are two options available one is you can take a Speed Boat cover many points and return back. The other option is Ferry, which operates at fixed timings to a point called "Maya Bay".
Depending on the option you choose the Package cost differs, I chose the Speed boat option which is something every one should opt for if you need to feel the adrenaline. Depending on the weather and tides the Speed Boat ride is a different experience for different people. While going to Phi Phi Island they stop at various points where people can indulge in various activities like snorkeling etc. Then you reach Maya Bay which is World famous its been shown in many movies. The crystal clear water amidst the lush green pathway to reach the beach, it is something one should never miss if you visit Phuket or Krabi. They halt in Phi Phi Island for Lunch, from there if one wants to experience Ferry they can hop on to Ferry. But I had to Pay for it separately as it was not included in the Speed Boat Package. But trust me it was worth the money I Paid. In one word Cruise experience on a Budget.
The other activity I visited is The Simon Cabaret. The Unique & popular Simon Cabaret Show offers an evening of glamorous entertainment unlike any other. The show is one of Phuket's most popular events and from the moment you enter the stylish and luxurious venue, you realize that this is going to be a very different and special night.
So from Beaches to Clubs I had a great experience. Phuket I can bet its a Paradise on Earth. I am not done with Thailand yet I definitely need a big holiday to cover the remaining places and activities Thailand has to offer.
Now lets see the Cost. Since I booked my tickets earlier I got a very good deal on tickets from Chennai to Bangkok and Bangkok to Phuket. The Visa is on Arrival, Indian Travelers should pay 2000 Thai Bhat which is approximately INR 4500. The stay depends on you. I booked 4 star properties so had to a pay little extra. If you are traveling solo you can even check out various Dormitory options available for a very less price.
Overall including Tickets, Accommodation and Activities for a 7 night stay it will cost around INR 40k to 50k. If you are not on a budget with INR 70k to 80k you can enjoy an unforgettable trip of your lifetime.
Note: The cost mentioned above will vary according to the season time as well. The above mentioned cost occurred when I travelled in the month of May 20222. Now that travel restrictions like Thailand Pass etc is lifted tourist are visiting Thailand in large quantity. This can impact the overall cost of your trip.
You can know more and I can also help you organize your dream Holiday to Thailand, Singapore, Dubai and Europe.