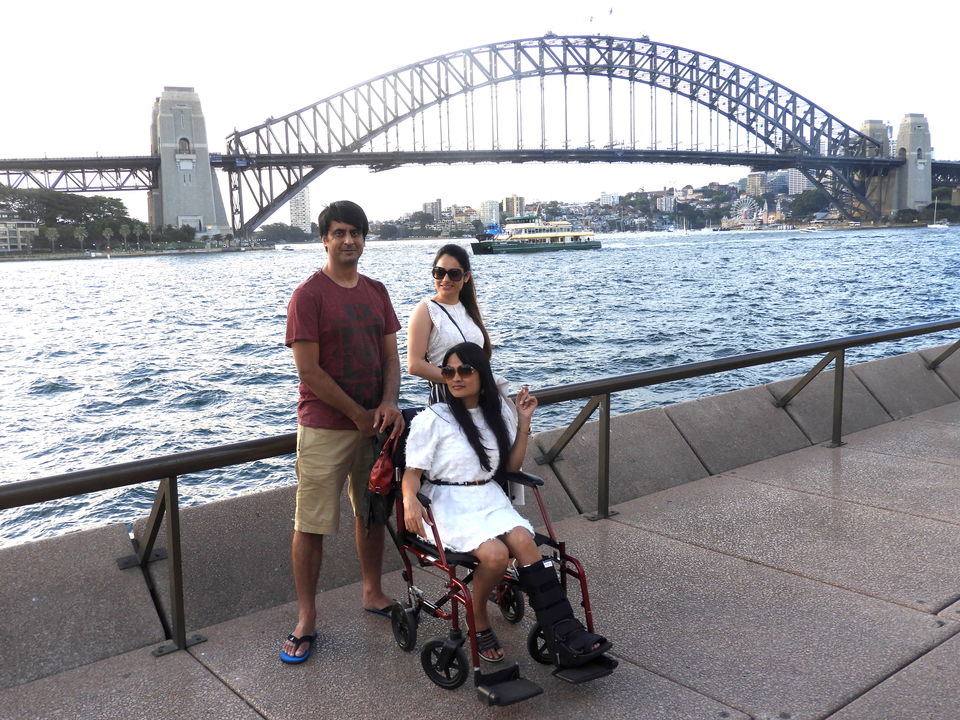 A lot of wisdom sometimes comes out of pain and here I am, sharing it all with you.
On my recent and much awaited vacation to Australia in October 2018, I fractured my ankle while 15 days still remaining of my dream vacation with the most amazing tours yet to come. Alas, I had to reach Sydney confined in a wheelchair.
While looking for the information on accessible attractions in Sydney, I realised that the essential information though available is quite scattered and makes for a very time consuming research. Hence, I feel the need to share my knowledge in a more compiled fashion, some out of my personal experience and some based on my research.
So if you wonder how far can we go with our mobility constraints or that of our travel companion's, in Sydney, I can say with confidence, almost everywhere!
Whats Great?
Public Transport in Sydney
What helped me most in exploring Sydney was the amazing accessibility the public transport system offers. Buses and ferries have it fairly obvious, they lower the ramps and staff also help you get in.
For trains I reached a spot marked " Boarding Assistance" on the platform and waited for the staff to help me board the designated compartment. The staff at the arrival destination is supposed to assist me in disembarking. Unfortunately, the staff at the destination station was not present when our train reached the station, later I was informed that in such case don't panic, just press the emergency button in the compartment and someone will surely rush to help. You have ramps and elevators everywhere to allow you to move freely at the train stations.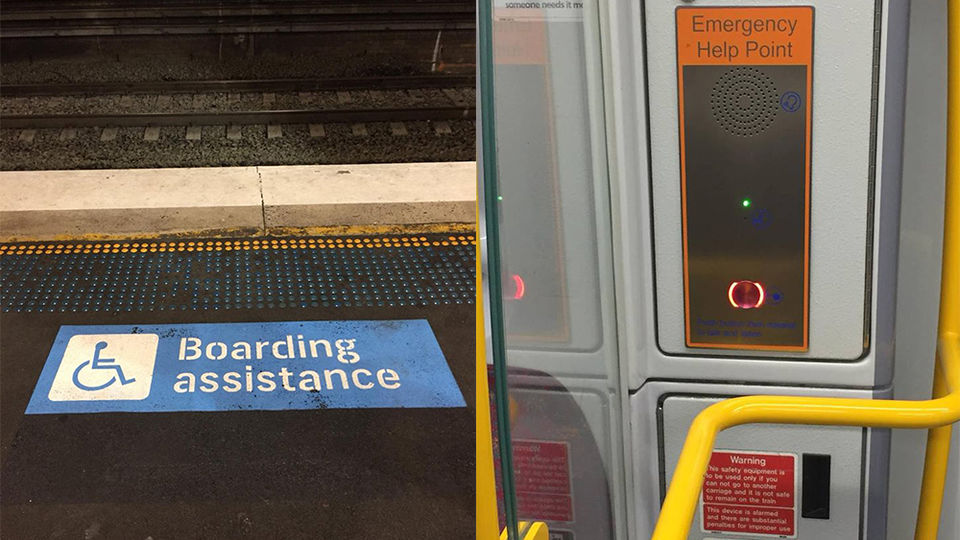 Public Toilets
There are accessible toilets at all public places and at each tourist attraction for mobility constrained visitors and remarkable thing is that they work too!!!
Structural designs
This city has clearly planned for its citizens and visitors with reduced mobility. Everywhere I went there was a ramp and other provisions for people who need mobility assistance like elevators or travellators, suitable door sizes, enough spaces to turn around in corridors, wheelchair accommodating aisles in shops and superstores, wheelchair friendly pathways and boardwalks which show a conscious effort to offer inclusiveness.
People
The greatest thing though is that I encountered the warmest and most sensitive people who would step aside, give way, offer assistance and make sure you are comfortable .
What you need?
Internet connection
Cause lets admit it, Google knows it all, well, almost. From helping you locate the wheelchair renting outlets in your area to blogs and guides to touring the attractions with best accessibility, information on parking or public transport, apps that help you find accessible accommodation, restaurants with accessible toilets, attractions, ancillary services like equipment rentals, cabs, companions, caregivers, reviews, tours and even itineraries!
Check out what helped me immensely on the internet that includes some inspiring blogs :
http://wheelchairtraveling.com
http://www.wheelchairstogo.com.au
https://havewheelchairwilltravel.net
https://www.curbfreewithcorylee.com
Wheelchair / Mobility Scooter
If you are not carrying your own like me, it is the cheapest thing to hire in Sydney with prices starting at 12$ a week for a manual wheelchair to 50$ a week for a powered one or even a mobility scooter. You can find it at pharmacies or aged and mobility care institutions around you. Honestly, I couldn't find even a meal deal as cheap as that!
The Untameable Over-Enthusiastic Wanderlust
While you have to accept that the experience with mobility constraints would be different, don't let it stop you from living it up!
Let's roll those wheels!
Allow me to take you through my journey as I go exploring the best that Sydney has to offer rolling my wheels of determination.
Opera House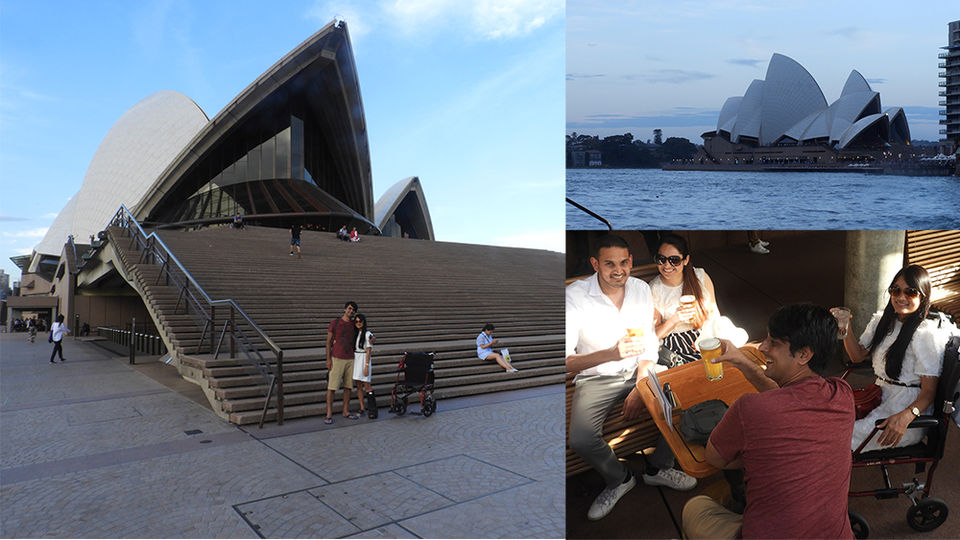 Get down at Circular Quay train station. There is a kerb all the way to the opera house and elevators to ease your access. There are special seats for shows, accessible toilets, parking, drop-offs, shuttle service, bus service from Circular Quay, courtesy wheelchairs and most importantly I hear there are special tours designed for mobility restricted guests that one can book in advance.Permanent residents of NSW can also take the benefit of Companion Card.
Don't miss to club the adjacent Opera bar with Opera House visit for a drink and some chill time.
This is how to reach and get more info here.
Sydney Harbour Bridge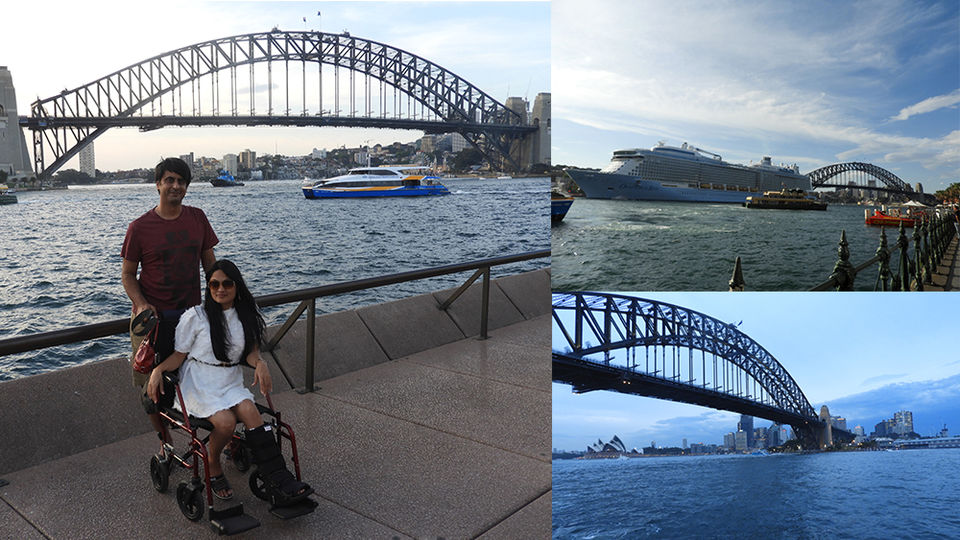 Earlier, if you were in a wheelchair, like me, you would have to be satisfied with marvelling at the Sydney Harbour Bridge from a distance but now you can take in the spectacular view from the top of the Harbour Bridge sitting comfortably in your wheelchair! Did I hear a big hurrah! Yes, they have just built the access elevators at both the north and south ends to the top making it accessible to everyone.
Cross this one off your bucket list peeps! How to access it
Taronga Zoo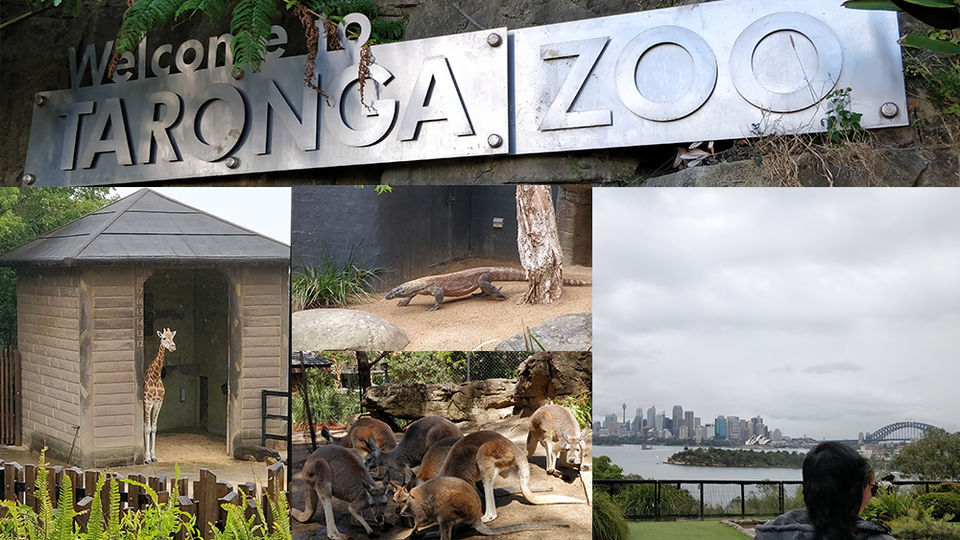 Koalas, Giraffes, Chimpanzees, Lemurs, Pythons, Kangaroos, all these beauties and a killer iconic view!!! Good news, the entire zoo is wheelchair accessible including the animal encounters, shows, food court, parking, toilets and the sky safari cable car too! Here is the accessibility map that will help.
Since the zoo is located on a hill so many pathways are very steep, and the cable car doors are a little narrow so for a complete experience its recommended to have a manual wheelchair and a companion with you. Also, keep your powered mobility vehicle fully charged and same goes for your spirits!
Blue Mountains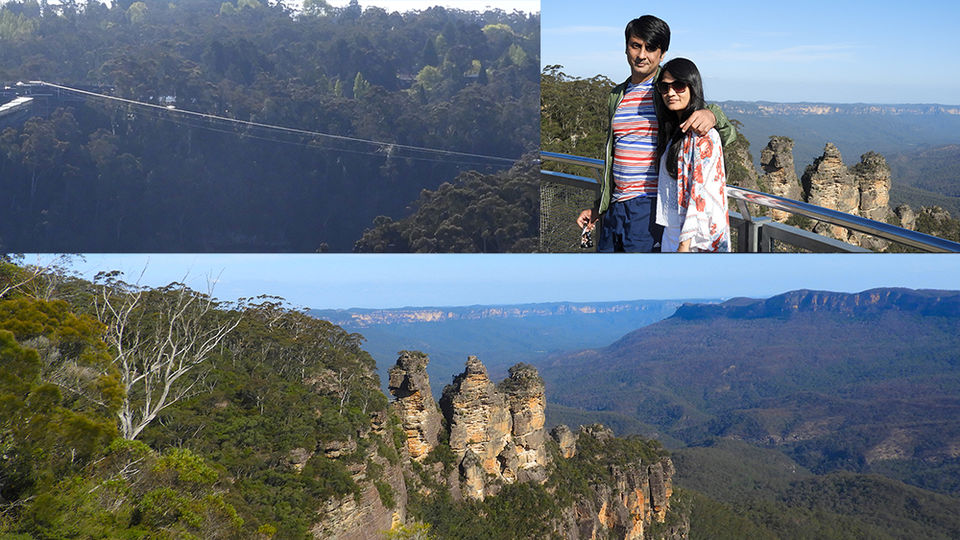 Okay, they are not literally blue. But hey, they are magnificent nonetheless. You can reach by taking a direct bus that runs twice a day from Sydney or a train to Katoomba from Sydney and then take the regular buses, all wheelchair accessible. My cousin drove us down here.
Get straight to the Echo Point, the easiest to access and has the information centre, cafeteria, disability parking and the toilets located all close to it. This point offers you a mesmerising view of the vast expanse of rolling hills, valleys and forests including the famous 3 sisters rock formations.
You find the highest and the steepest cable car here at Blue Mountains and great news is that it's not just wheelchair friendly but also gives you the front spot for that uninterrupted vantage point.
Also I hear two of the many walks here, namely Fairfax walk and Govetts Leap lookout, are fairly accessible and shouldn't be missed. Here is more information
Kiama Blowholes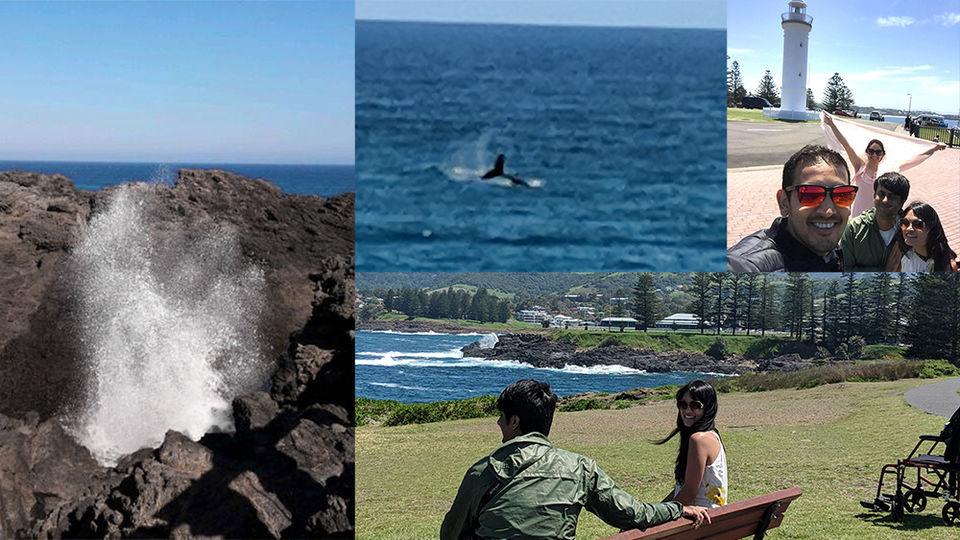 It's this cute little spot south of Sydney with accessible parking and toilets. Also reachable by either train or bus from Sydney. The train station is 900 mtr away from the blowholes so keep that in mind.
You'd be captivated by the turquoise blue waves crashing across the rock formations and spurting up in a fountain quite high with the pressure created in the cave.
One can catch whales, sea turtles and even dolphins in the right season! That's not all, there is a dreamy natural pool by the ocean if you are craving a dip! Aaaaaaaaa!!!
Local markets selling various goodies sprawl out on various days of the week at the waterfront and around. Some lovely cafes and restaurants are lined up the main road if that's more your thing. All of it perfectly doable in your own royal wheels!

Bondi Beach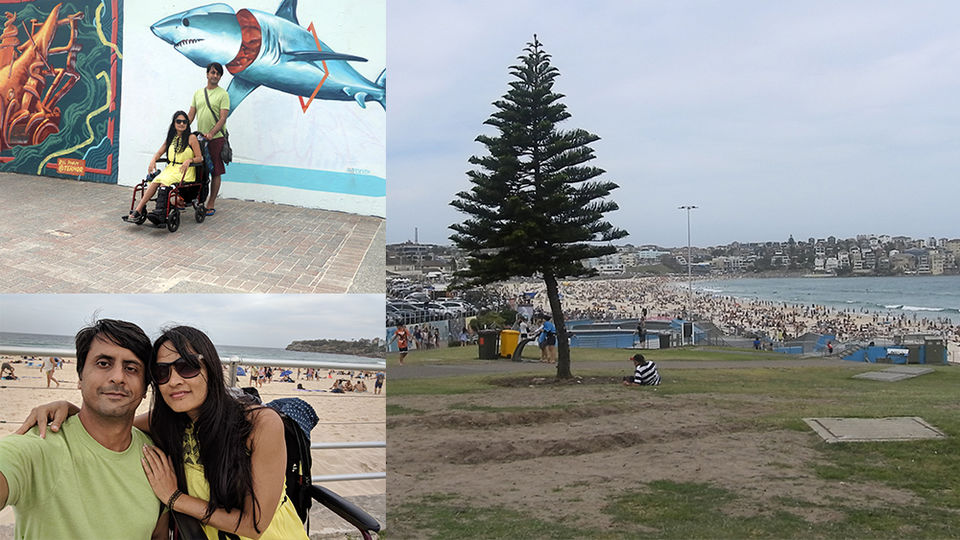 This beach was the busiest I happened to visit across Australia but when you are in a wheelchair it may turn out to be a blessing. Why? People watching, of coursse!
I found out, it's not as accessible as many other beaches in Sydney like Manly or Collaroy beach. Given the swarming crowd, it has limited disability parking and toilets that opens with a MLAK Key, just two beach wheelchairs are available for free which you should book in advance, the beach mats for people using their own wheelchair are rolled out only on 2 days of the week for limited hours.
But having said that, it's enjoyable to catch the cheerful vibe even while sitting in your wheelchair on the boardwalk. More info here
Darling Harbour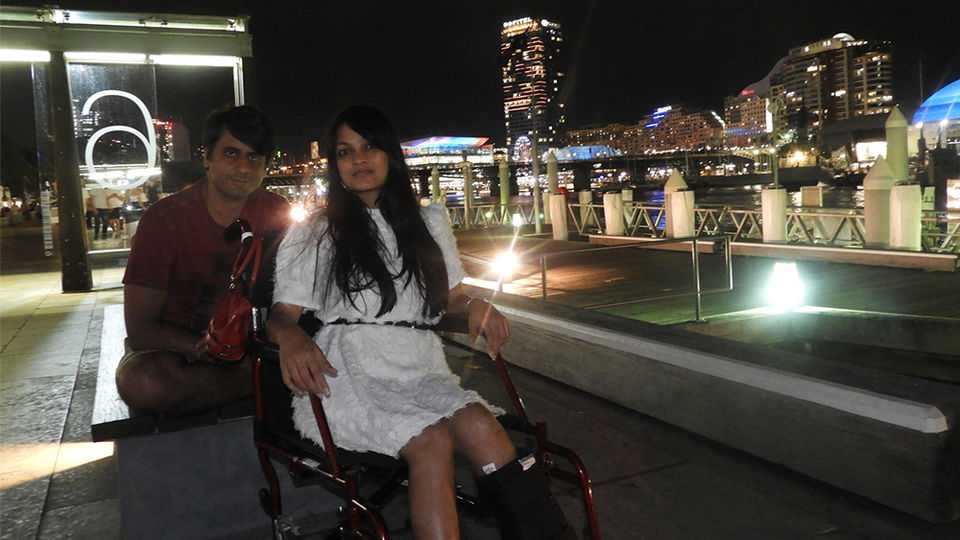 Darling Harbour is a buzzing locale where many of Sydney's most popular attractions are situated like Sydney Aquarium, Wildlife World, Madam Tussauds, Chinese Garden of Friendship, Australia Maritime Museum and Powerhouse Museum that are all said to be accessible on a wheelchair.
A lot of events and festivals take place here including fireworks on New Year, that are updated on their website. The Cockle Bay area houses an array of multi-cuisine restaurants and bars that look oh-so appealing that you'd want to try them all!
Ferry ride from Circular Quay is highly recommend for the delightful sights. You can also choose bus and train if more convenient. There are elevators to get to the wharf level from the street level, so mobility restrictions won't pose a problem.
A must do for an unforgettable time!
Know Everything about Darling harbour
What Else?
Other places that I visited and found fairly accessible with my manual wheelchair and a partner who had no choice but to heed to my unrestrained wandering spirit include Blacktown Mall, Paramatta Mall, Broadway Shopping Centre, Castle Mall, Kiama Sunday Market, Glebe Markets, Paramatta Parklands, Royal Botanical Gardens, Superstores like Ikea, Bunnings, Baby Bunting etc. Lookouts with fabulous views, Restaurants and so on.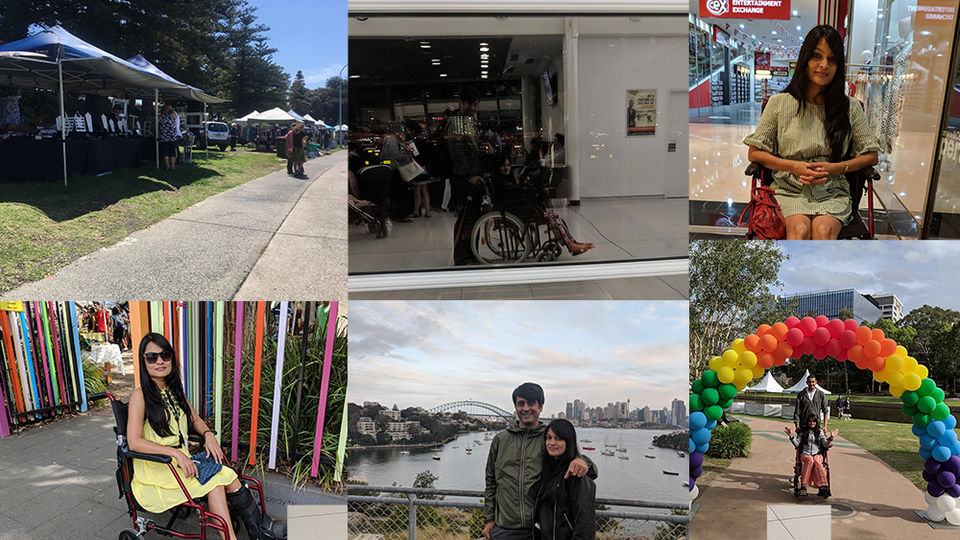 Finally!
After being wheelchair bound and losing all hopes of a vacation in Sydney, I ended up having an unexpectedly fun-filled time. Before I knew, it was time to fly back home and merely cross that one last hurdle in my mobility restricted state before I could Netflix and chill.
Air Travel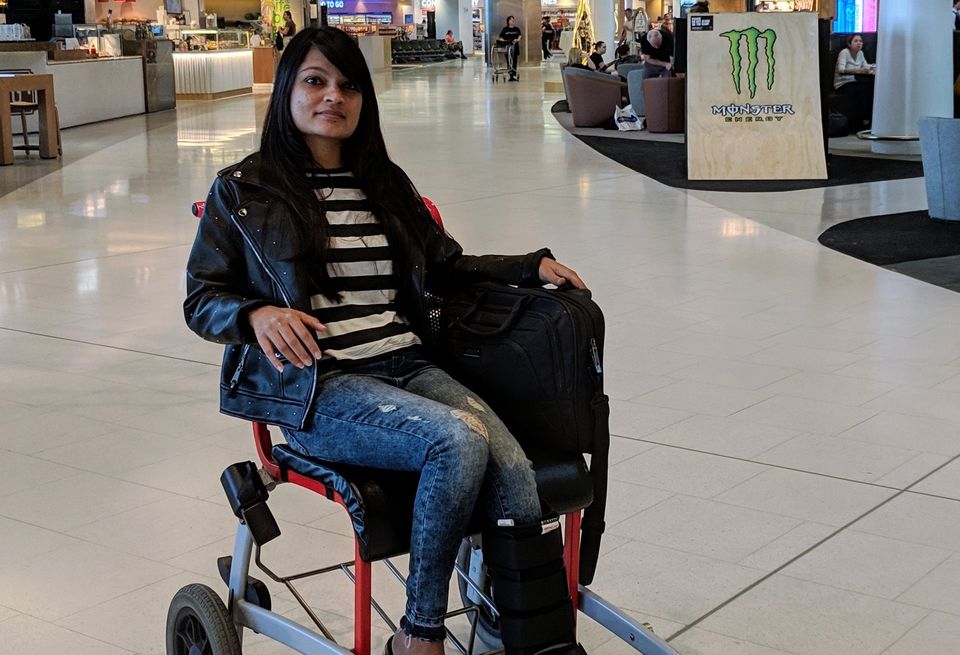 Wheelchairs are available upon a request in advance to the Airline you are booked with. A manual wheelchair was provided which we could take around the airport. The support staff showed up at the boarding time at the boarding gate to assist with the boarding as well as deplaning. The staff both at security and inside the aircraft was extremely helpful and ensured my comfort.
However, Hongkong Airport provides the wheelchair service only point to point. No matter however long your wait is in transit, you will not be given a wheelchair even upon request to use the restroom, which is quite inconvenient. So confirm with your airline about the wheelchair service arrangement at all airports you'd be passing through.
Signing off
I just hope that this write-up will ease the travel planning for everyone else in a wheelchair and help them get the best of what Sydney has to offer, which is certainly a lottt.
The information in this blog is based on my travel in Oct 2018. You will be well advised to check the official websites for updated information when you travel.
So next time you ask what good can come out of a silly fall resulting in a broken ankle while you are travelling through one of your dream destinations? Well, the answer is, this blog.