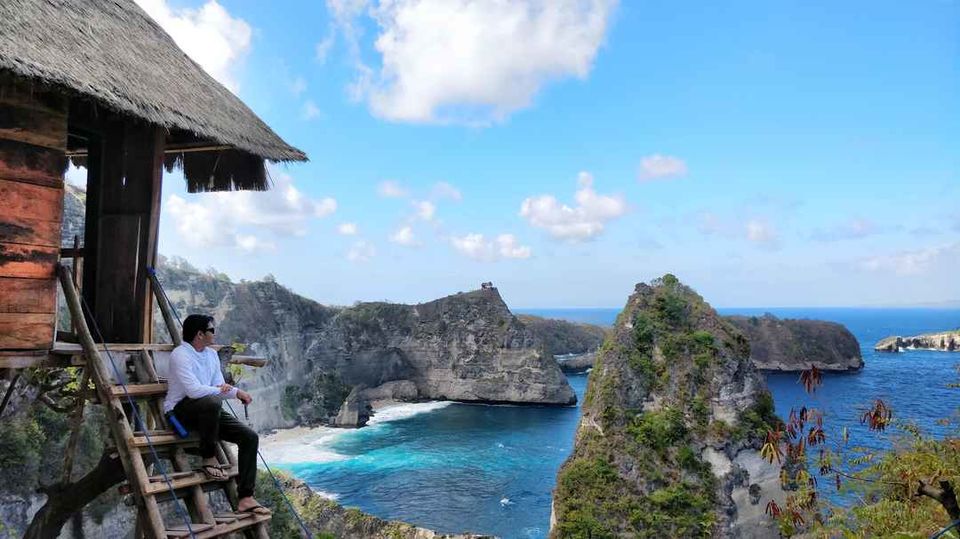 A perfect Bali trip is on every travelers wish-list, and with a plethora of options the island has to offer for all types of tourists it would be very difficult to do a cover the entire island on a single trip. Every destination I have traveled till date has some secret recipes, that I research extensively and many of them are my personal experiences and tips. So here are the 5 important ingredients before you start planning your trip to the tropical paradise.
1. Best Time to Travel and Duration:
There are only two seasons in Bali, the dry season and the wet season. The tropical country receives more rain and has more wet months than dry ones. The period from May to August is considered to be dry and September to April has a decreasing gradient of rainfall. It's good for an off-beat travel experience, but for first time traveler should experience Bali in full bloom during the dry months when you can do Scuba diving and go surfing on the beaches.
Duration: Some stay for a month in Bali and still not able to quench their thirst for this tropical paradise. There are so many things to see and do on the island, you can never do it in one visit. However, you can cover the highlights in 5-6 days and keep one day for rest.
2. Which part of the Island are you planning to stay:
Bali looks small on a map but it is vast. A heterogeneous mix of options that suit every tourist. To put it simple, South Bali is more party and north Bali is more culture. Towards south, the prime cities include Kuta, Seminyak, Canngu. The cultural hub of Bali, Ubud is almost the geographical center. The east includes the fishing village of Adam and a beautiful port of Sanur.
So, if you are looking for a party time, head out for Kuta, for all the expats and upmarket crowd, Seminyak serves as the best option, Digital nomads, bloggers, Instagrammers, youtubers find their solace in Canggu. Not to forget this has led to some really beautiful cafes in the area. Fans of Balinese culture and Eat.Pray.Love movie can take a cab right away to explore Ubud.
Being a geographically small area, all the above towns are located at a close proximity of a few kilometers, so somebody like me can choose and accommodation in Seminyak and still be able to enjoy the nightlife and beach parties of Kuta. The best way to enjoy the local culture is to stay with the locals. The people here are some of the nicest people I have met on my journey from pepper to salt. They do offer you insights on a few hidden gems in the vicinity that often the tourist crowds miss. There are several villas and guest homes in bali that helps you to stay with the locals and most of them are available on AirBnb for a good price. So if you are planning to book a private villa with an infinity pool over Tegallalang rice feilds with your loved ones and local balinese cuisine, it is definitely possible. You can use my reference code to get upto $40 off on your first booking with AirBNB (Click here)
3. Best Flight route calculations and options:
The Denpasar airport (DPS) is the only airport in Bali and is well connected to all the major cities in the world. Air Asia and Malindo Air are the two major players on the flight route with Malindo having a better review.
With a very few and more expensive direct flight options, a single stop over flight turns out to be a better option. If you are more of an explorer, you can fully utilize the layover time and explore one more city on the trip to Bali. I had an option for minimum 2hrs layover at Kuala Lampur, however I took a flight with daytime layover of 12Hrs, applied for a malaysian visa and explored the city of Kuala Lampur, primarily the Petronas towers and Batu caves. Also, the 12Hr layover flight was almost 25% cheaper than the 2Hr layover. Win-Win for me. With a little bit of planning, one can workout the best plan by choosing the right flight.
4. Visa on Arrival or Exempt:
I know sometimes Visa application can be cumbersome for fist time travellers in any country. The most accurate source of information is the Immigration website, however if you are too lazy to go through the documentation or have any further queries, you can always call the respective embassy in your country. For an Indonesian Visa, there are primarily three categories:
No Visa required/ Visa Exempt. (Non-extendable, Less than 30days)
Visa on Arrival. (Voluntary, Extendable, stay between 30-60days)
Advance Visa Mandatory before arrival.
Almost 160 countries fall under the Visa Exempt category. However, it is restricted to only 30 days. In case you are planning for more than 30 days, it is good to voluntarily apply for a Visa-on-arrival. Please check on the immigration website if your home county happens to be on the list of Visas on arrival or Visa Exempt. For Indian nationals the Bali has a visa exempt for tourist purposes for 30 days (No extension possible). However, if you are travelling for any other business or study, a pre-approved visa becomes mandatory. Not under Category (1) and Category (2) is little difficult to get a visa but its not impossible. Please check with and Indonesian embassy in your country and they can help you out.
5. Currency exchange:
Bali follows the Indonesian currency of IDR (Indonesian Rupiah). Although many of the upmarket cafés and restaurants accept cards, the economy is majorly cash driven. The currency exchange is fairly simple and there are ample of options for currency exchange.
Tip: As per my workings, a US-dollar gives the best rate for currency exchange, thus preferred to carry USD cash.
Always exchange currency at an 'Authorized currency exchange center' Sometimes you may come across a place offering a much better currency rate only to realize you have received a few hundred thousand IDR's less. If the rate is too good to be true, probably it is not true. One of the ways to identify a reliable exchange is, in most authorized places there is a glass partition between the customer, interacting person and the person who handles money. A three layer glass panel system.
Note: The exchange centers do not allow you to swipe cards for cash. They have only cash-to-cash exchange.
One of the hard lesson I learnt on the trip was to load the dollars on a FOREX card and expect to swipe at currency exchange. It's not allowed for some strange reason. So, I had to always withdraw at ATM's with DCC (Dynamic currency conversion) charges added. ($5 per transaction) There is a plethora of ATM's to withdraw currency at every corner of the street, however beware of the ATM's and avoid those placed inside shopping marts, just to be on the safer side.
Most Important tip of all:
Tap water in Bali is not ideal for drinking. There are many cases for something commonly referred to as a 'Bali Belly', a diarrhea from the bacteria present in Bali local water. Always drink filtered or bottled water thought your stay in Bali. I personally don't encourage the use of bottled water for environmental purposes; hence you can carry your own personal water filter like a #LifeStraw or Eureka Forbes. In the long run it is a one-time investment, but can save you many dollars per bottle on many international trips and also do your bit for the environment.
Bali is a beautiful island and I have some of my most beautiful memories exploring this place. I hope this helps you to plan your ideal Bali trip. If you have some more travel experiences form this corner of the world, feel free to share with me. Till we meet again for another travel story…
Follow me on my channels:
Follow me on :
Instagram : Instagram.com/frompeppertosalt
Facebook : Facebook.com/frompeppertosalt
Blog: blog.kiranvispute.com
Frequent searches leading to this page:-
Bali honeymoon package cost from India, Bali honeymoon packages with private pool, 4 days 3 nights Bali honeymoon package, best places to visit in Bali Indonesia for honeymoon