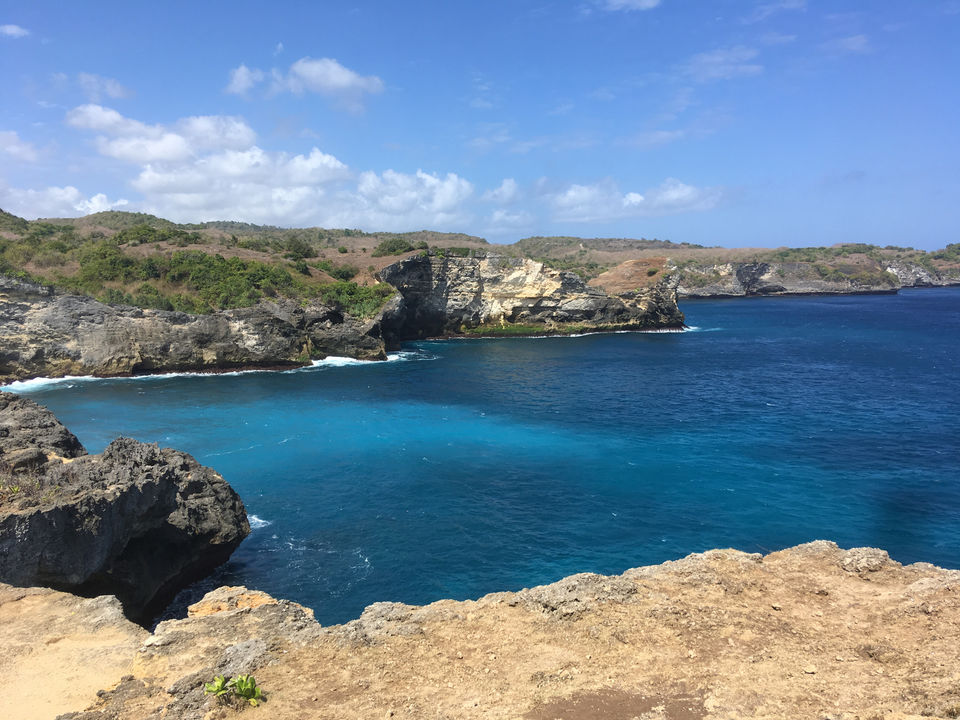 Exploring the unknowns of Nusa Penida Island.
Although the island is not a part of Bali, it's a place you must hit. A 45 minutes journey in the boat filled with a gorgeous view of the ocean and butterflies in your stomach as the boat moves like a dolphin.
Upon reaching the island, we first visited the absolutely breathtaking Keling King Beach which showed our eyes exactly what they had been craving for.
With an ocean rich in beautiful shades of blue color beneath a dinosaur shaped rock (well at least for me), the view had won my heart.
As Bali's sole source of income is tourism, for your picture perfect moment, you can pay Rs 25 and get on the wooden tower for the best shot!
While this view was still winning over our minds, we next headed to a place I felt I could stay forever at. Yes, it seemed as if I was at the top of a hill with deep blue water all around and wind brushing my hair, it was the best combination of nature.
Broken Beach and Angel Billabong are a must! While you would have to get down some stairs and manage to take good shots among the crowd, you can stop at some amazing shot locations, pay Rs 50 and take back a memory!
Post lunch, we decided to relax ourselves at the Crystal Beach. You can swim, take pictures and sunbathe with some chilled beer.