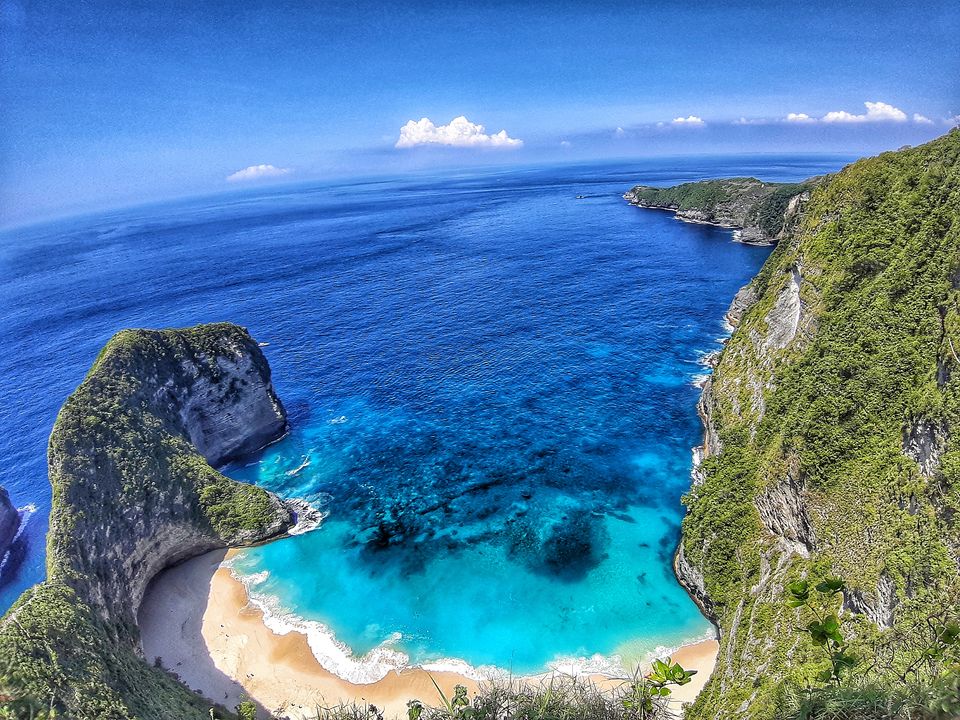 Out of our seven days of Honeymoon Bali Trip, we kept one-day for Nusa Penida Island tour , because Kelingking beach was my one of
the dream destination. Yes , It was my Honeymoon trip to Bali But still we wanted to see some different Places which is generally not
included in tour packages so We kept our trip's last day for this Heaven place. Nusa Penida is still new destination for tourists.
There are direct boats from Sanur Harbor to Nusa Penida , So We took Fast Boat from Sanur which take 45 min max to reach
Nusa Penida Harbor. There are regular hourly speed boats from Sanur to Nusa Penida , A few of many companies that provide ferry
services between Bali and Nusa Penida include Idola Express, Angel Billabong Fast, Maruti. Fast Boat Ticket Cost From Sanur To Nusa
Penida near about 25$ both way. WE took ticket from Angel Billabong Fast.if you are planning to go for water sports adventure on
Nusa Penida Island like scuba diving,snorkelling and more, then I will recommend you to plan a minimum 2 days trip. but As I told
you this was our lst day in bali so we went for day trip. It doesn't have many hotels so make sure your book your stay in advance.
Around 11 at Morninng we reached nusa's Harbor and took bike on rent for just 5$ for 10 hrs. Is'nt it very cheap? same like Goa. and the best part , fuel included in 5$. So now this is Cheaper than goa.
As I mentioned Kelingking was my one of the dream destination, without thinking twice about all places We headed towords Kelingking beach which little far from Harbor. it takes 1hr to reach Kelingking beach's Parking Area.
So finally with lot of bumpy rides we finally reached keling king beach parking area. It was around 12 a.m. I was little exhausted because of bad roads. Some of distance was driven by my partner also. You don't worry about map. You get lots of sign boards during this road for every tourist places.
Parking fee is 20 INR.  Parking to kelingking  Beach's top view- distance is about 400mtrs or max 12 mins walking. There are so many small hubs or food stalls near view point. No doubt , all are expensive than bali. So I recommend to carry some snacks and  atleast 2 water bottle from yours hotel.   First thing every people do is to take some photos of this beach from the top. We did the same. Believe me, the view from the top , breathtaking & Outstanding. it feels like just seat, relax and watch that amazing view.
But it was our 1 day trip so we were going to see other 2 -3 more places. We decided to take small trek to reach actual beach which take half hr when you are going down - towards beach. Omg , I did so many treks in India but this trek of half hr is amazingly dangerous. You must watch my youtube video I have specially made on trek. You will get an idea. I recommend- don't go for this trek.its bit risky 1.  At the second platform , I was told by many tourists that the way further is 90 degree steep.  But again believe me when we reach at bottom. It's like  a heaven . Cleanest beach I have ever seen. Blue crystal clear water , what else you want.  We decided to take some rest as we are going to do hardest part of bali trip , trekking upside.  After spending an hour in water, we  literally feeling exhausted and thirsty. No option , we bought 1 water bottle for 200INR. We were the only  indian couple at beach so it was nice feeling. Took some photos and  started trek towards top. It takes 1 hr to reach on top. at one place during going up words we were like ' I am gonna die'  because weather was very hot on that day. But seeing other people's energy we boosted ourselves and reached on top. Huuhhh, one word - life time experience .
Took some rest on top and ate some snacks .. then headed towords parking area.the last ferry  timing from nusa penida to  sanur is 4.30 at evening. And it was already 2.30 at afternoon . There was no point to go other place like broken beach , diamond beach so we decided to return at harbour.  That was our bad day I think , our scooter's tire got punctured when we were about to leave from kelingking. There was no mechanic , called to bike rental owner with the help of local shopkeeper . After waiting 1 more hour we got another bike for 350INR more. But we had to catch our last ferry so this time I drove little faster and reached harbour at sharp 4.20. 10 min before ferry leave.. lucky we.
And trust me , one view at the pics clicked assured me that this day , or rather this island , brought me best out of my entire trip.
I still don't have any words to describe how beautiful kelingking beach was.. just wanted to say - NUSA PENIDA  should be in your itinerary when you are travelling BALI.
#GHUMNA EK NASHA