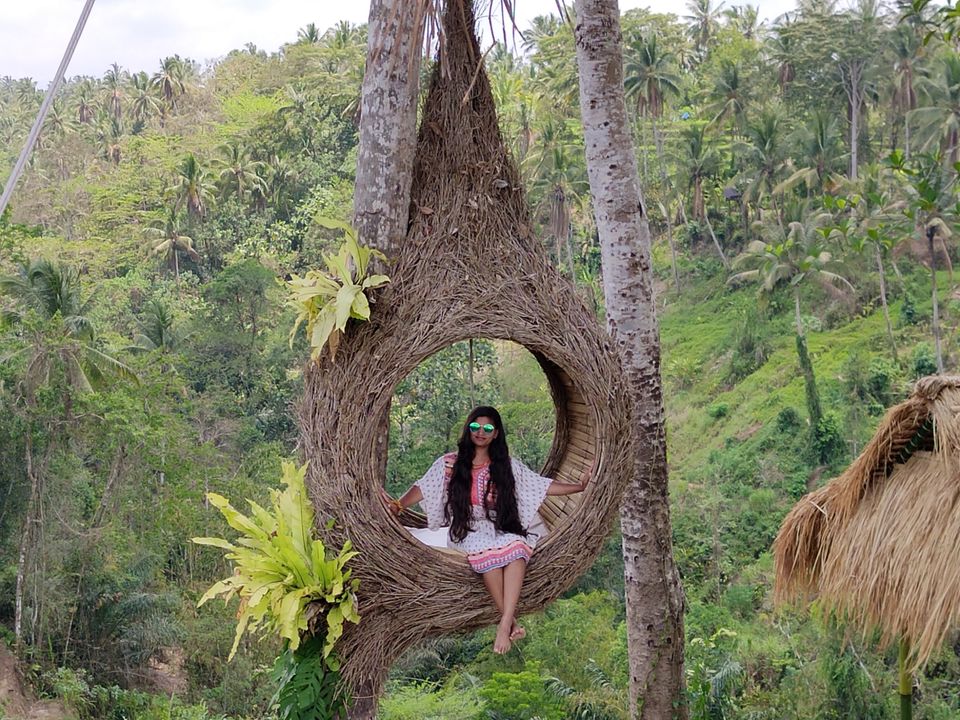 Nusa means "island" and Penida means "priests" in Balinese. Therefore, isn't necessary to refer to the island as "Nusa Penida Island" – it would just be redundant.
Nusa Penida is a gorgeous, mostly undeveloped island just 30 minutes off the eastern coast of Bali in Indonesia. And unlike Bali, you won't find hundreds of yoga studios or organic cafes there. Just miles of spectacular cliffs towering over the ocean, exhilarating hiking adventures, white sand beaches, and the friendliest locals.
And while it is possible to do a day trip to Nusa Penida from Bali, that is certainly not the best way to explore this amazing island. I would recommend that you leave your heavy luggage at your hotel in Bali, pack a small bag, and spend at least 3 days touring the island by motorbike. You'll stay in different hotels each night and love the freedom that you get from the open road!
Getting to Nusa Penida
Ferries depart from the Sanur Pier on the eastern coast of Bali. This is about 1 hour from Seminyak, where I stayed my 1st night.
The ferry trip from Sanur Bali to Nusa Penida takes just 45 minutes and will cost around 300000IDR return ticket.
Selecting Motorbikes
As soon as you arrive at the pier on Nusa Penida you'll be approached by men offering to rent you a bike right there. And if you head to the main street just one block over there are several small shops renting motorbikes as well. Expect to pay around 70,000 IDR per day.
It doesn't really matter where you rent your bike from as long as it is in good condition. You're going to be riding on some rough roads in remote parts of the island so you definitely don't want to have your motorbike break down on Nusa Penida!
Be sure to check the following prior to committing to a bike:
Make sure both brakes work well as there are a lot of hills on the island.
Check the shocks – you're going to have a bumpy ride!
Take photos of any existing damage, just in case.
Fill up on gas before you set out.
There are small shops all over the island that sell petrol but you won't use much as you'll be covering very small distances.
3 Day iternary is as Follows
Day 1
Kelengking beach, Palung Cliff
Kelingking Beach. This is the most famous location on Nusa Penida due to the fact that the peninsula jutting out into the ocean resembles a T-Rex when viewed from the right angle. This is also a very touristy spot, but most visitors simply snap a few photos from the lookout at the top and don't actually hike down to the beautiful beach below.
Again, you'll pay 5,000 IDR per person to enter the area and 1,000 IDR to park your motorbike. You'll walk past a few small restaurants to the beginning of the stairway where views of the T-Rex will start to come into view. This is where the crowds gather. Keep walking down to where the actual trail begins and you'll start to see fewer and fewer people.
The trail to Kelingking Beach follows the ridgeline of the peak and then takes an abrupt right turn for an even steeper descent down the mountain. It takes about 45 minutes to descend, and an hour to hike back up. You'll most certainly want tennis shoes here as the trail is very steep and rocky. And while there are railings for most of the hike, there are times you'll need to do some rock scrambling. And the railings get less sturdy toward the bottom of the hike.But once you reach Kelingking Beach, you'll know it was all worth it! Here you'll find a beautiful and secluded white sand beach, where only the most dedicated visitors are lounging. There is one small stand where you can purchase drinks or snacks but be sure to bring your own water, just in case it's closed. The waves here are intense so be careful.
Paluang Cliff
Paluang Cliff is another amazing viewpoint that is just a 5 minute drive from the famous kelengking beach in Nusa Penida island.
Both Paluang and Kelingking show you the same thing, but from different angles and with different scenery. Both are amazing!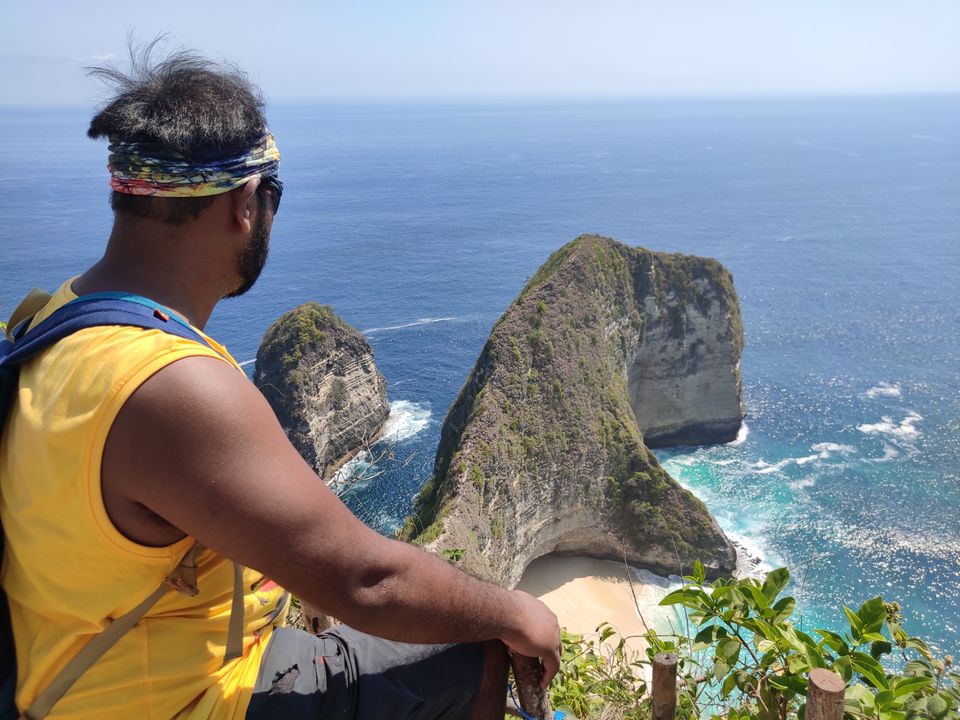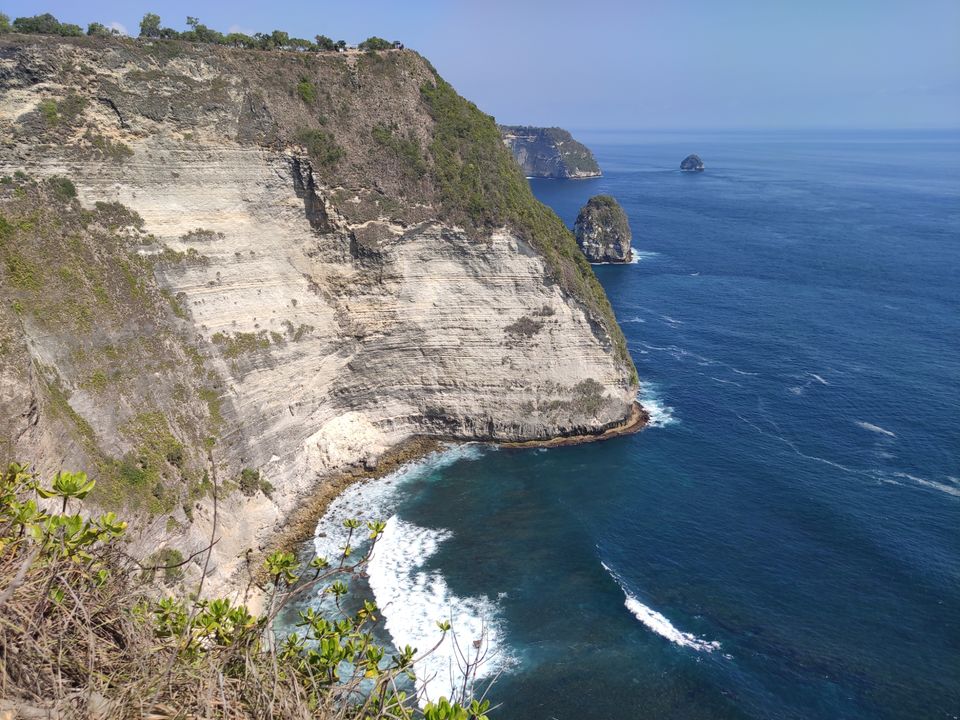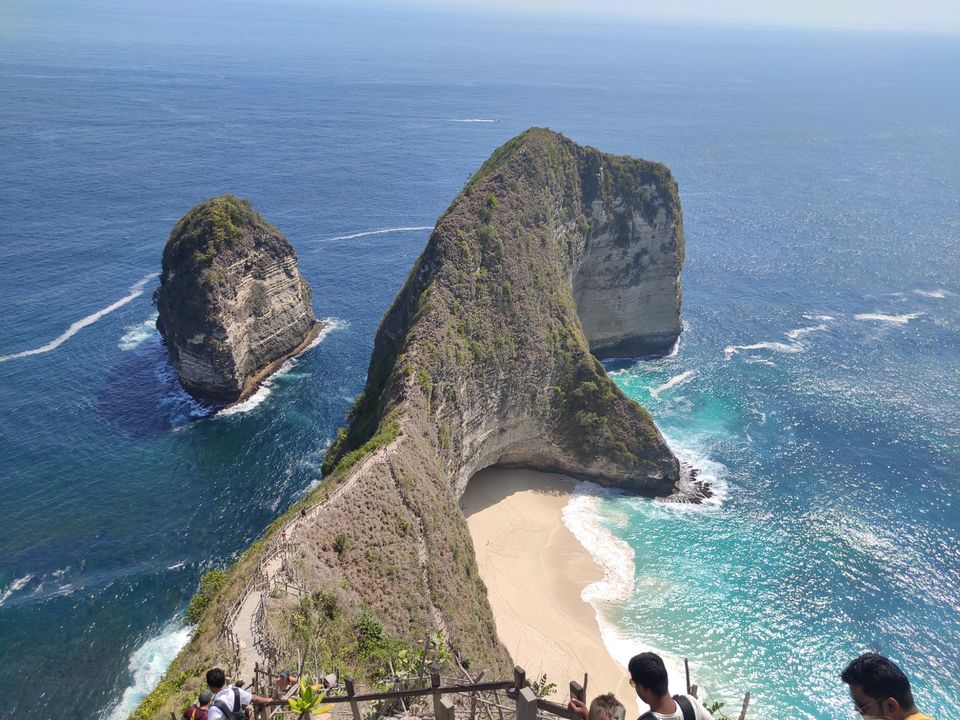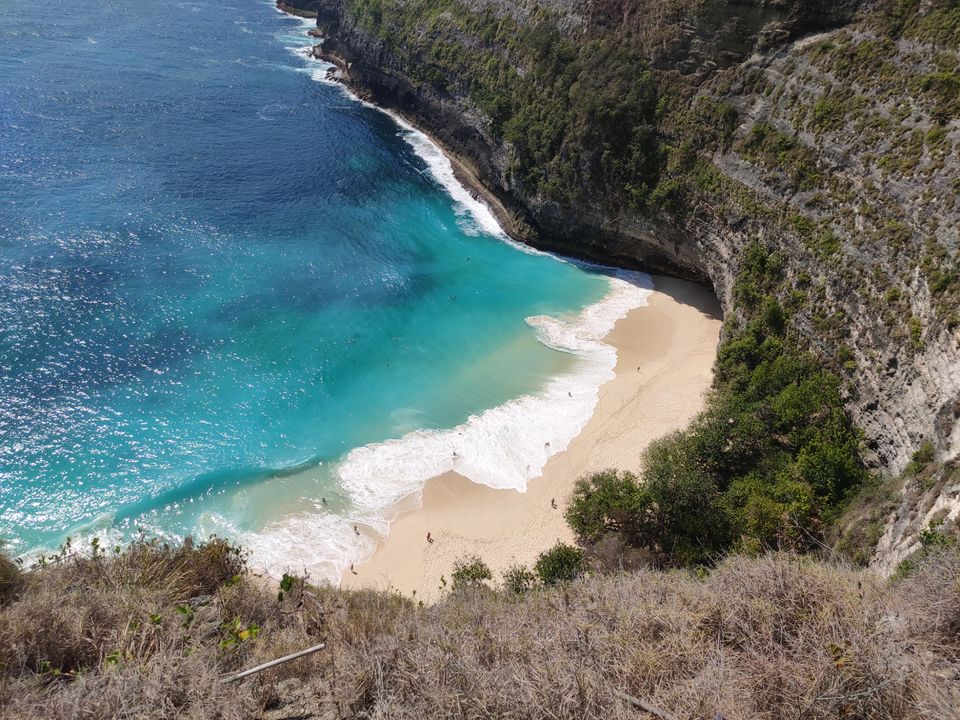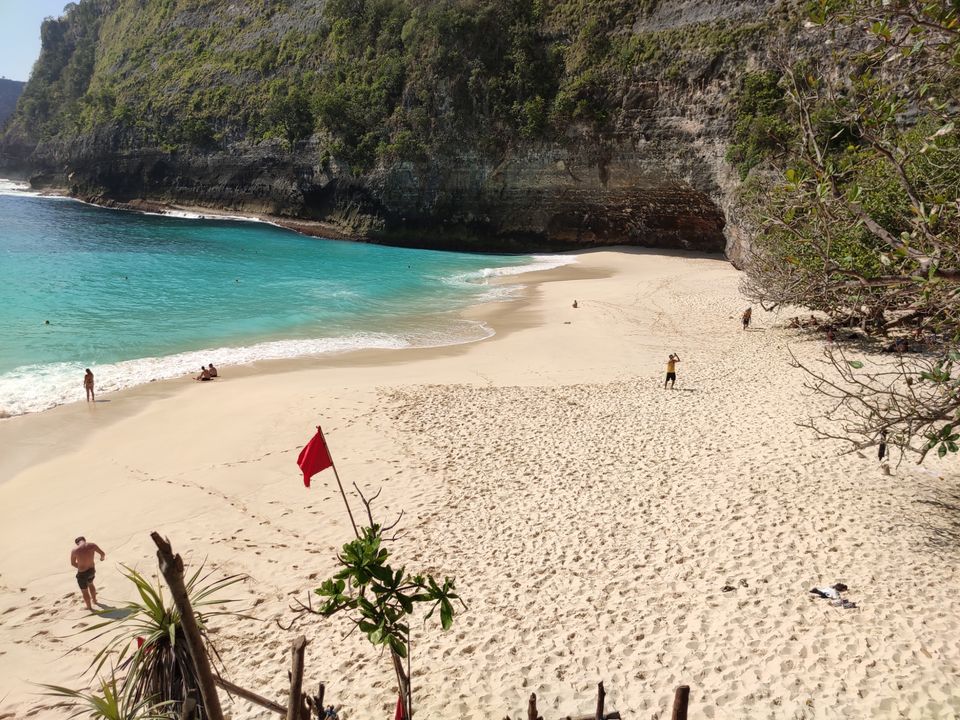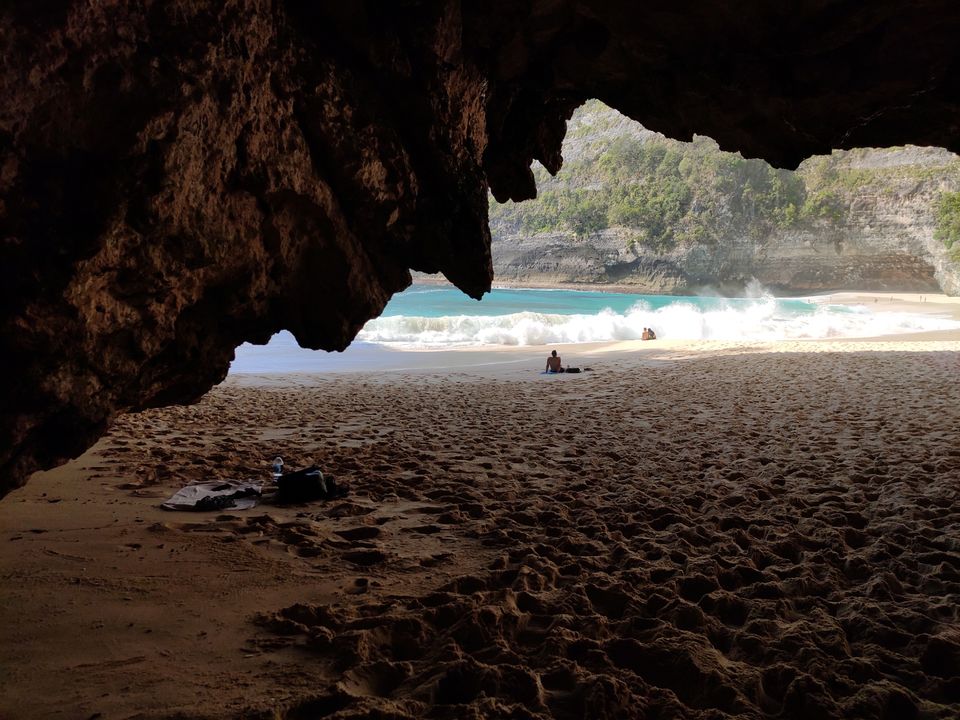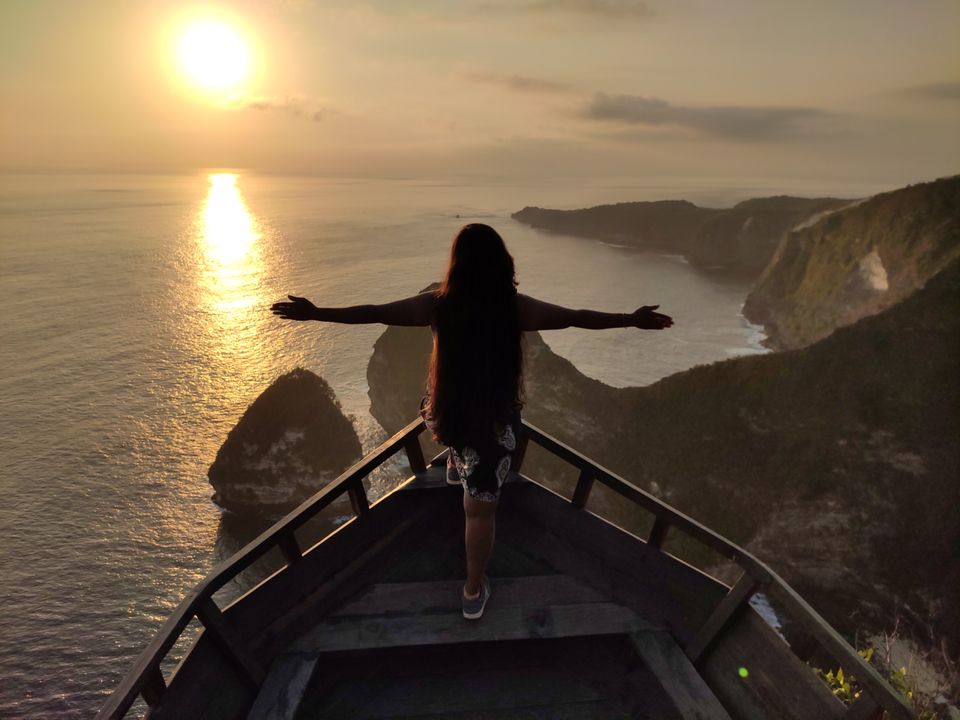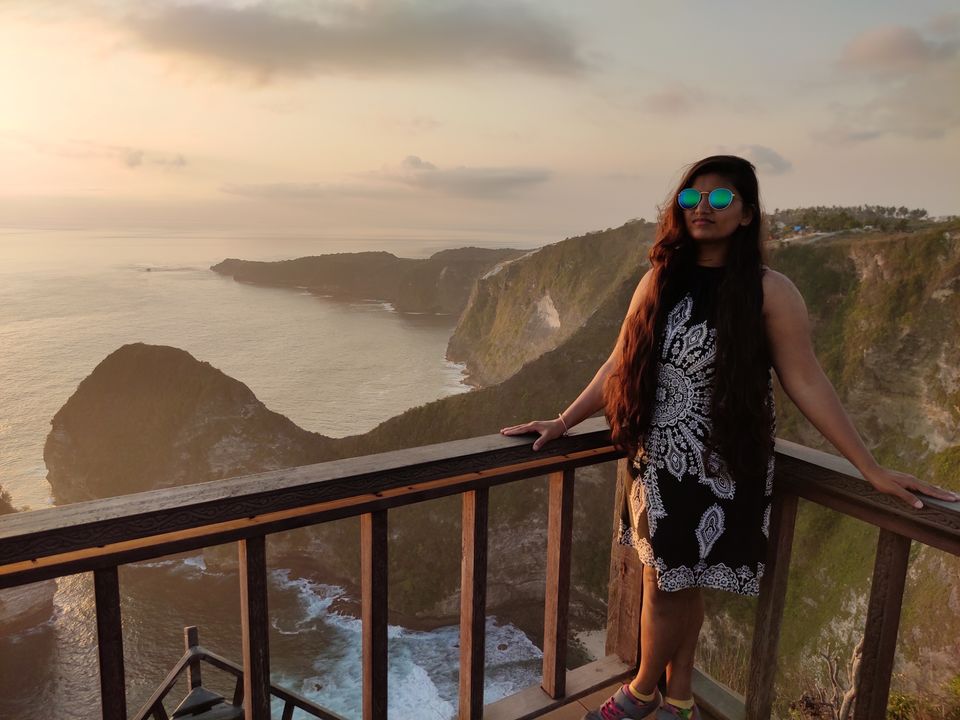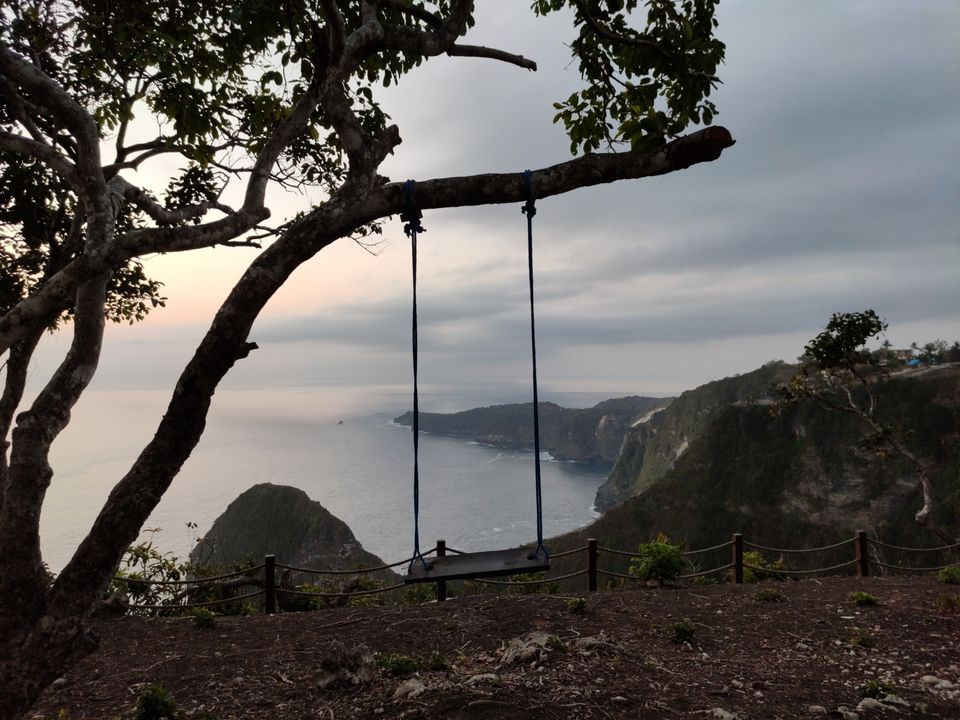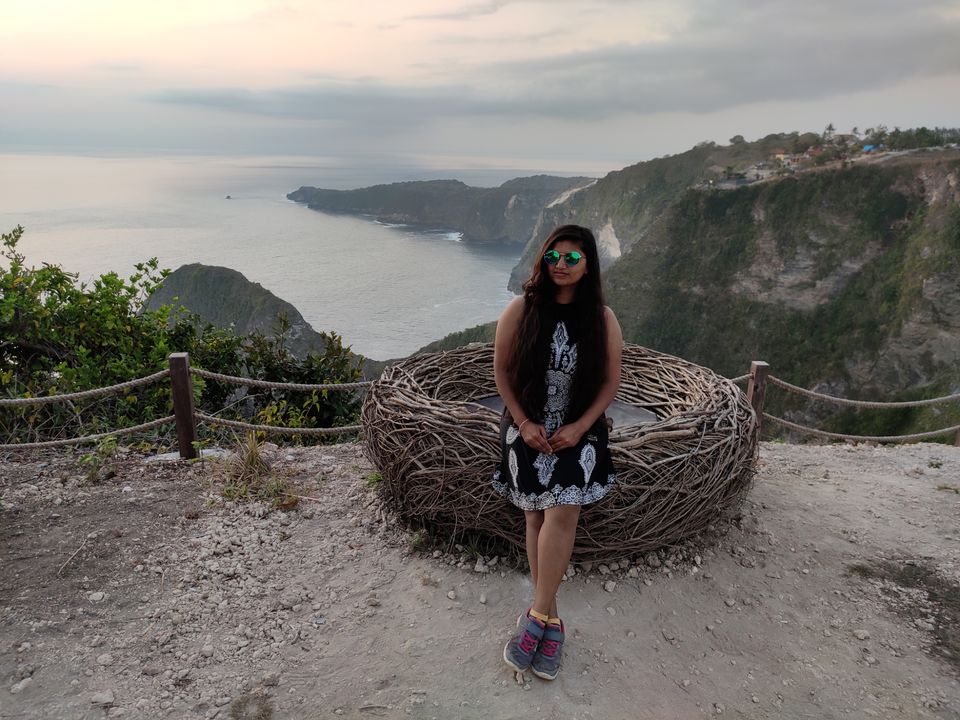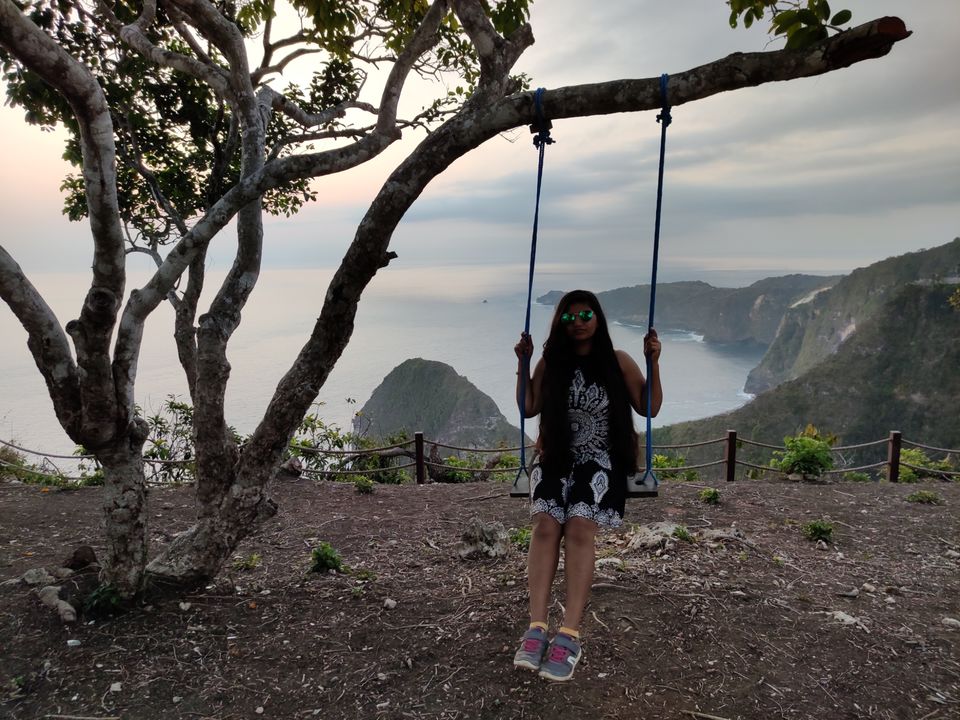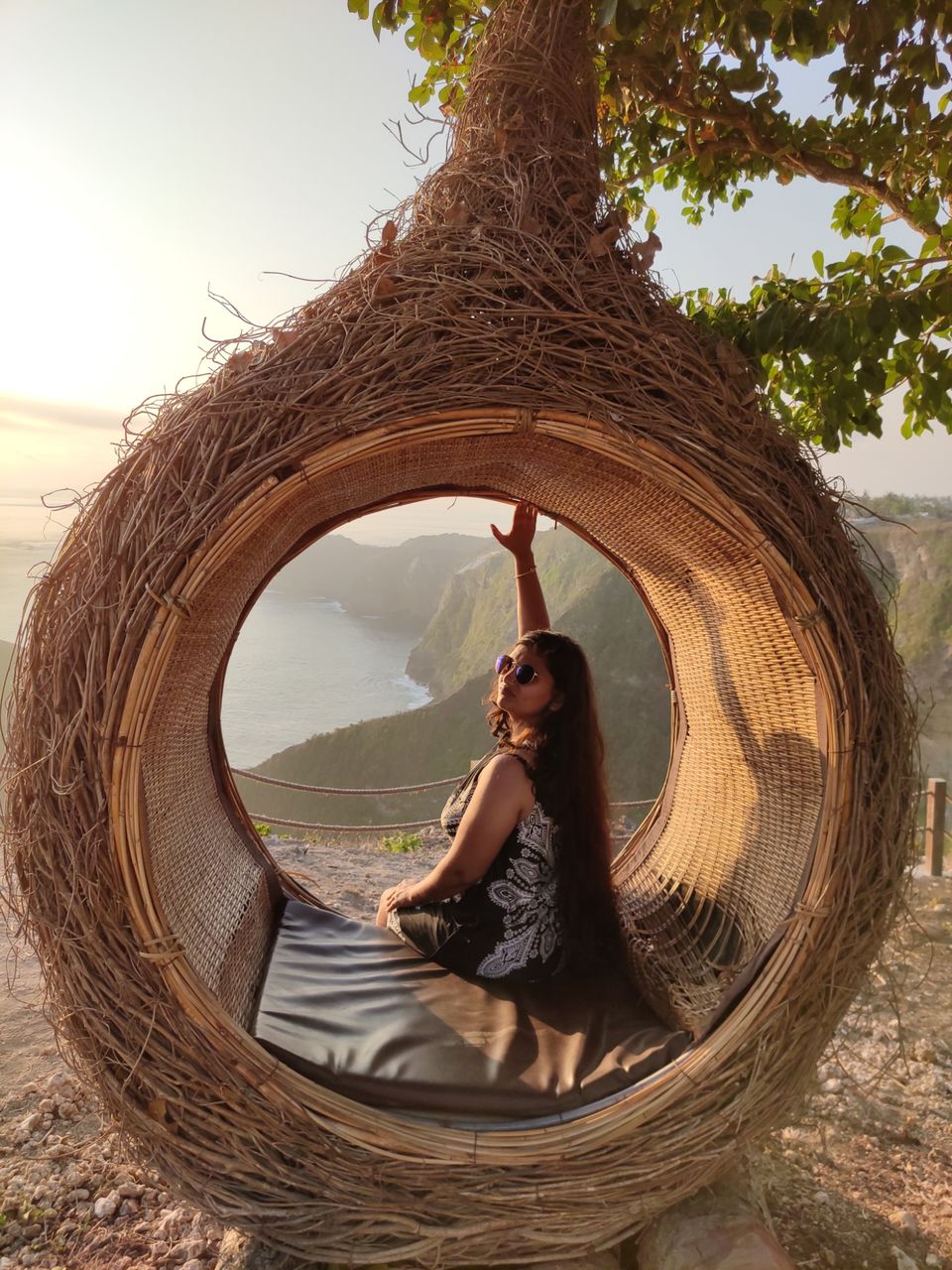 Day 2
Day 2: Angel's Billabong, Broken Beach, Smoke Beach, Puyung Beach & Crystal Beach
ANGELS BILLABONG & BROKEN BEACH
Be careful while driving on this road because it gets a lot of vehicle traffic from the day tours of the island and the cars don't leave a lot of room for motorbikes to get by. You may want to pull off to the side if you see a line of them heading your way.
The road to Angel's Billabong and Broken Beach is the worst on the entire island so plan for a bumpy ride. Not only is the road badly damaged, but because of the long distance you must drive on the rutted, rocky road.
Angels Billabong
When you arrive to Angel's Billabong and Broken Beach you'll need to pay the entrance fee of 5,000 IDR per person and 1,000 IDR for motorbike parking. There are several small restaurants here if you want to have a snack or rest with an ice cold beverage before continuing on your tour. Be aware that this is one of the most popular tourist attractions on the island so expect to encounter crowds.
Angel's Billabong is a small swimming hole with gorgeous, turquoise water that overlooks the ocean. It is surrounded by high rocks so you can enjoy the view from above. It's one of the most beautiful spots on Nusa Penida.
Swimming here is only allowed right at low tide and is roped off when it is deemed unsafe by the "lifeguard" on duty. There have been incidents of unsuspecting tourists getting swept out to sea by a particularly large sneaker wave here so safety is a priority. Be sure to check the tide report prior to visiting as swimming here is absolutely amazing!
Broken Beach is essentially a beach that is completely surrounded by cliff walls; a natural sea arch allows water to flow through. You can walk the loop trail high above the enclosed beach area and see the spectacular views from all angles. There are even several platforms that you can stand on to best capture a photo.
Next stop for the day is Smoky Beach
Have you ever heard of Smoke Beach Nusa Penida on the island of Bali? Smoke Beach is a new beach that recently visited by many tourists. Not only his name is unique, but also the exotic scenery.
This beach has a great waves pounding the cliffs and rising up like smoke, hence called Smoke Beach by the tourists.
Because the waves are also local residents call it by Pasih Andus, where in the Balinese language means the beach that water spray. Pasih means beach, and Andus means water spray.
Puyung Beach
Puyung Beach is on the west side of Nusa Penida island.
You can reach it on foot from Crystal Bay, which is accessible by car or scooter with a small parking fee.
From Crystal Bay, walk south until you reach the end of the beach. You'll find a hidden path in the trees. Follow this path over the hill for 20-30 minutes and you'll arrive at Pandan Beach
Proceed to the south end of Pandan Beach, and you'll find another hidden clearing in the trees.
The entrance is a bit hard to see, since it's hidden in the bushes
CRYSTAL BEACH
The water in Crystal Bay is calm and it's perfect for snorkeling. You can rent snorkel gear on the beach for 50,000 IDR to see the coral. Or you can just relax on the beach with an ice-cold Bintang in hand. There are numerous small warungs lining the beach that serve food and drinks.
If you have an extra day on Nusa Penida you can also sign onto one of the daily diving/snorkeling trips to Manta Point where you can swim with giant manta rays (more about that below).
Be sure to watch sunset on the beach at Crystal Bay, the sun sets behind the huge rock in the middle of the bay and it's absolutely magical. You'll be happy if you're staying nearby so you don't have to worry about driving after dark!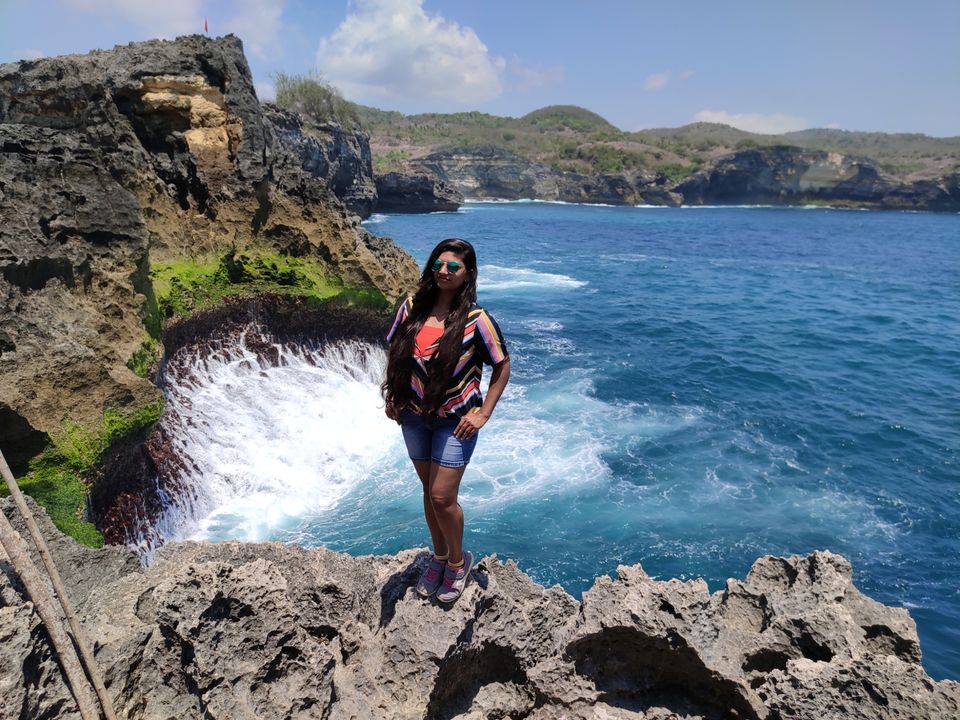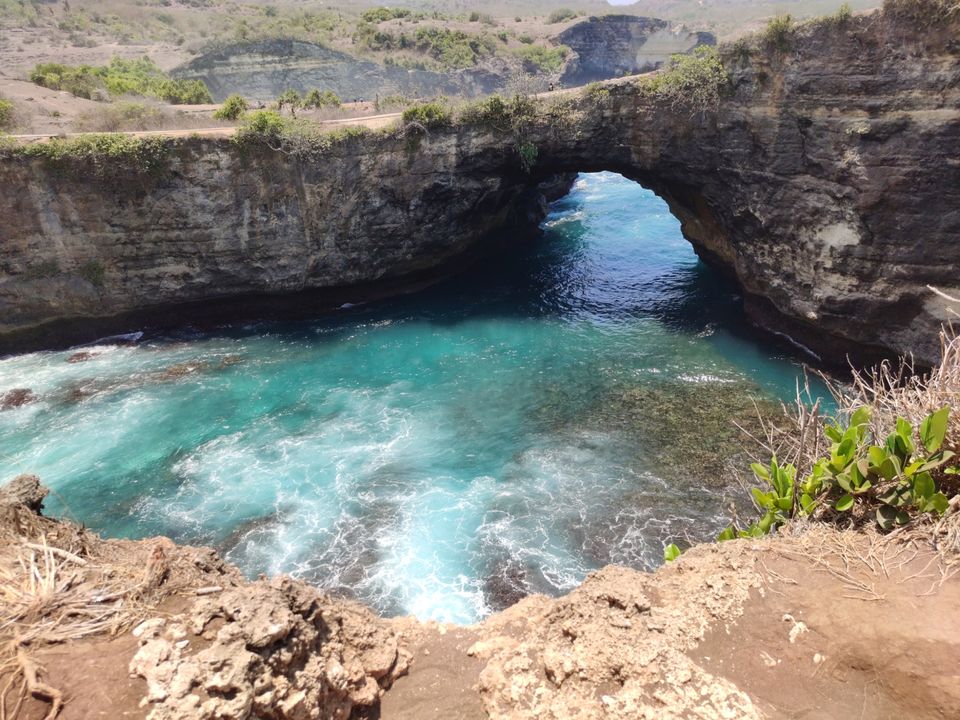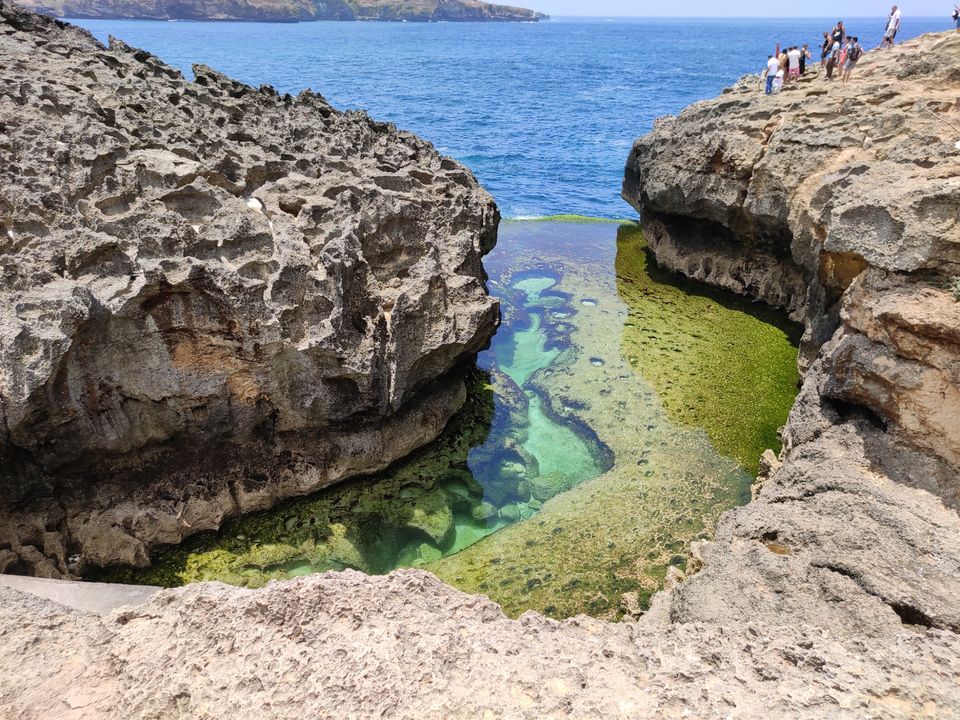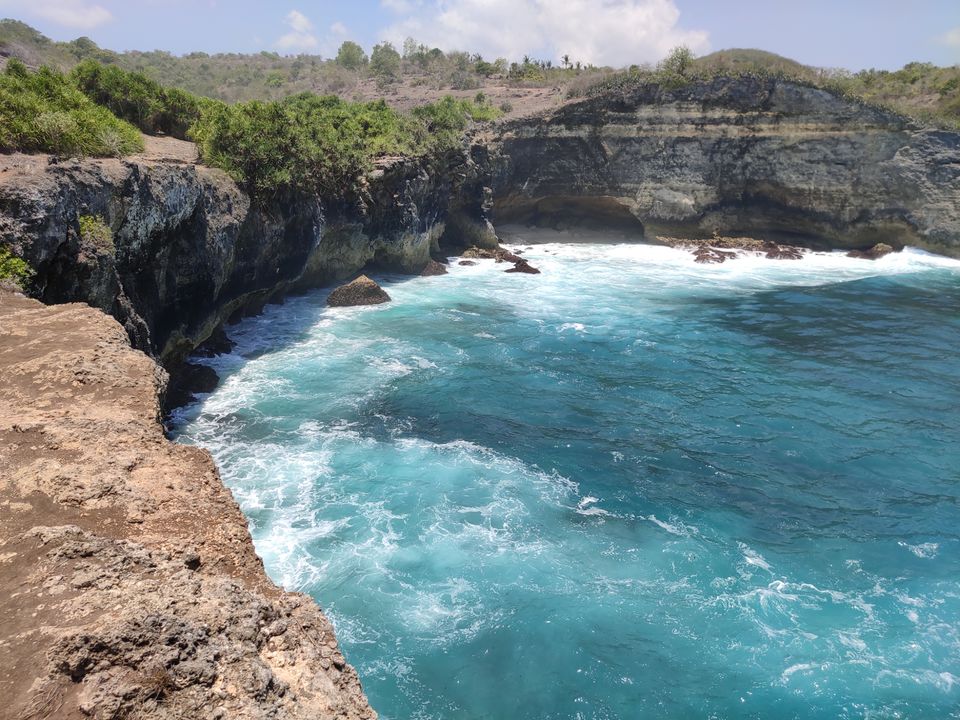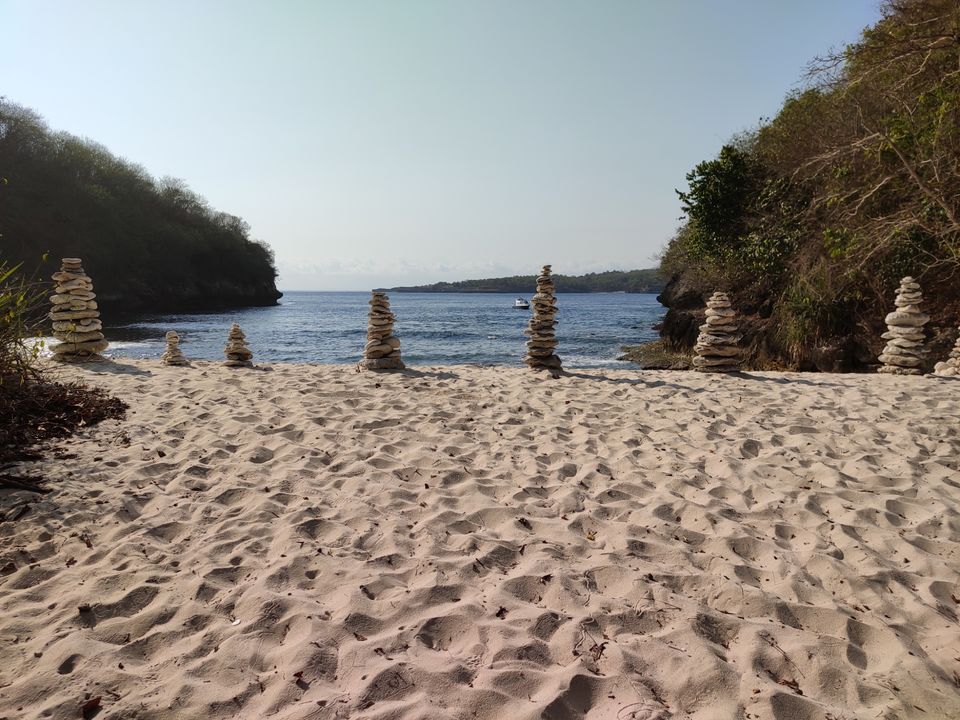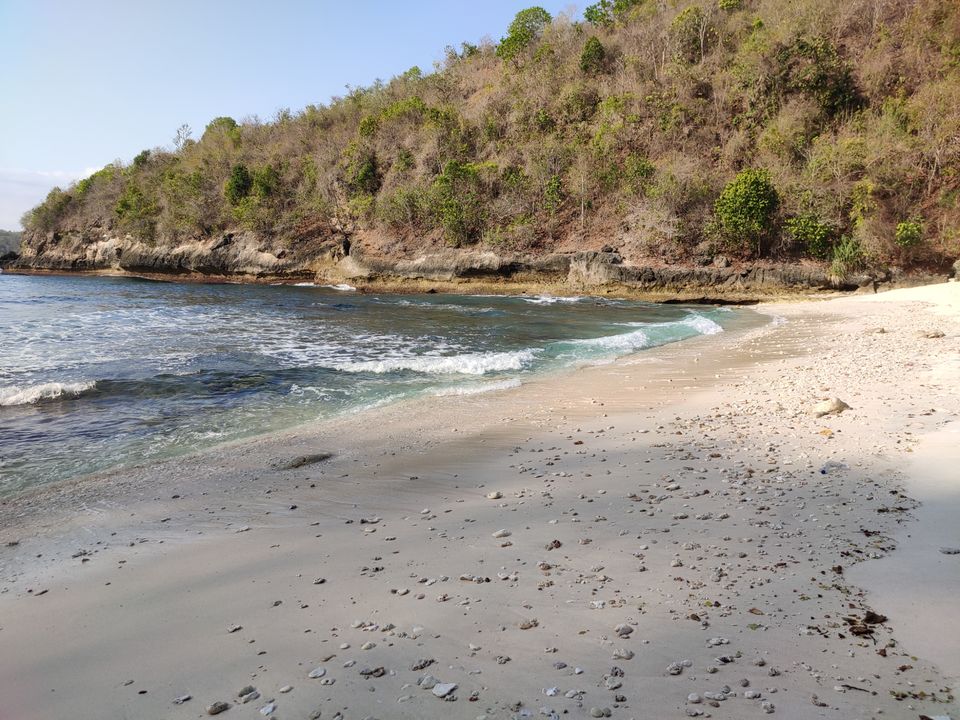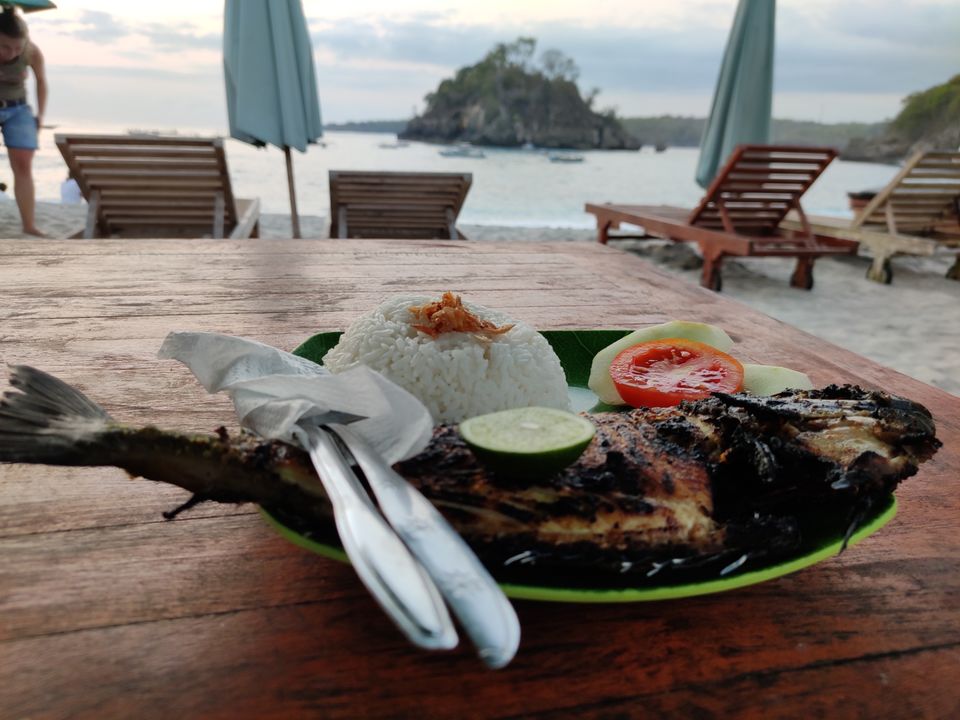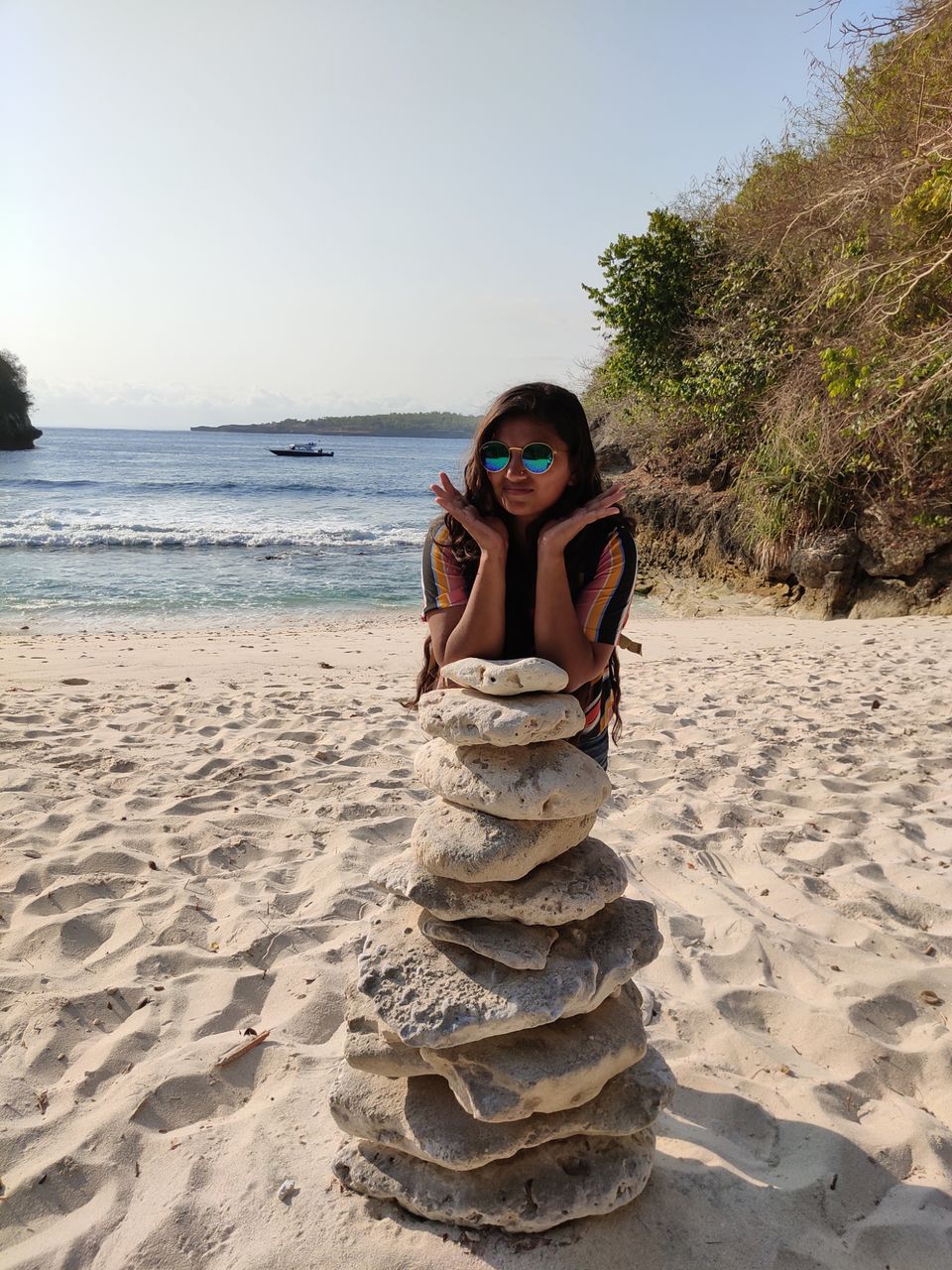 Day 3 - Tembling beach, Penguyangan Waterfalls and Diamond Beach
Tembeling beach -
Once you reach the turnoff for Tembeling Beach it's about 2 miles down a steep paved lane just wide enough for one motorbike at a time. It's a total forest surrounding you the whole way and there3
Tembeling beach, Penguyangan Waterfalls's a steep drop off on one side. But the vegetation is so thick, you probably won't even notice how far the drop really is.
If you're touring Nusa Penida by car or you don't feel comfortable navigating such a steep road on your own motorbike, you can hire a motorbike taxi driver to take you down to Tembeling Beach. There are a handful of drivers that wait at the turnoff from the main road and the going seems to be 50,000 INR for the round-trip journey plus some wait time at the bottom.
Once you arrive at the parking lot for Tembeling Beach you'll still need to descend a set of steep steps down to the beach. It's just about a 10-minute walk to the beach at the bottom. There are two freshwater swimming holes here, one about halfway down, and one that overlooks the ocean. It's so refreshing to cool off in the calm water, without getting salty or sandy from the beach.
If you do want to enjoy the beach here, it is small but incredibly beautiful. Enclosed by tall cliff walls with large rocks on either side. It feels totally secluded and you're likely to see more locals than foreigners here. In fact, this was our favorite spot on the whole island of Nusa Penida!
There is a small swing set here and usually a lady selling drinks and snacks. You'll want to spend at least an hour here soaking in the pools and enjoying the ocean view.
Penguyangan Waterfalls
You'll need to pay 5,000 IDR to park your motorbike and 10,000 IDR per person to rent a sarong. Both men and women need to wear sarongs here as there is a sacred temple at the bottom.
You may have seen photos of Peguyangan Waterfall's famous blue stairs that cling to the side of a cliff wall and lead down to the ocean below. This hike is intense and not for anyone who is afraid of heights. Some of the stairs are concrete, but others are blue metal slats where you can see through to the ocean far, far below your feet.
Diamond Beach
It's 10,000 IDR per person to enter the Diamond Beach / Atuh Beach area. Once you park you have three choices; you can take a right and go down the stairs to Diamond Beach, you can go straight and head up the hill to a small temple with nice views, or take a left and head down the stairs to Atuh Beach.
The stairs down to Diamond Beach are very picturesque as you get the view of the beach below. There are usually people here taking photos. The descent is tricky in some areas but there are ropes to hang on to.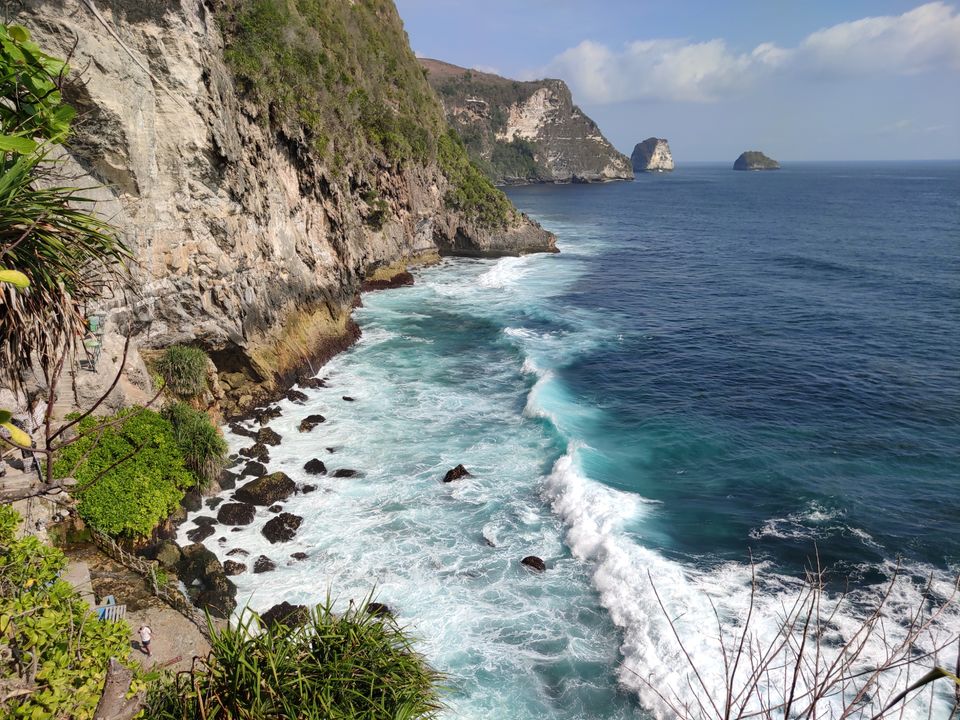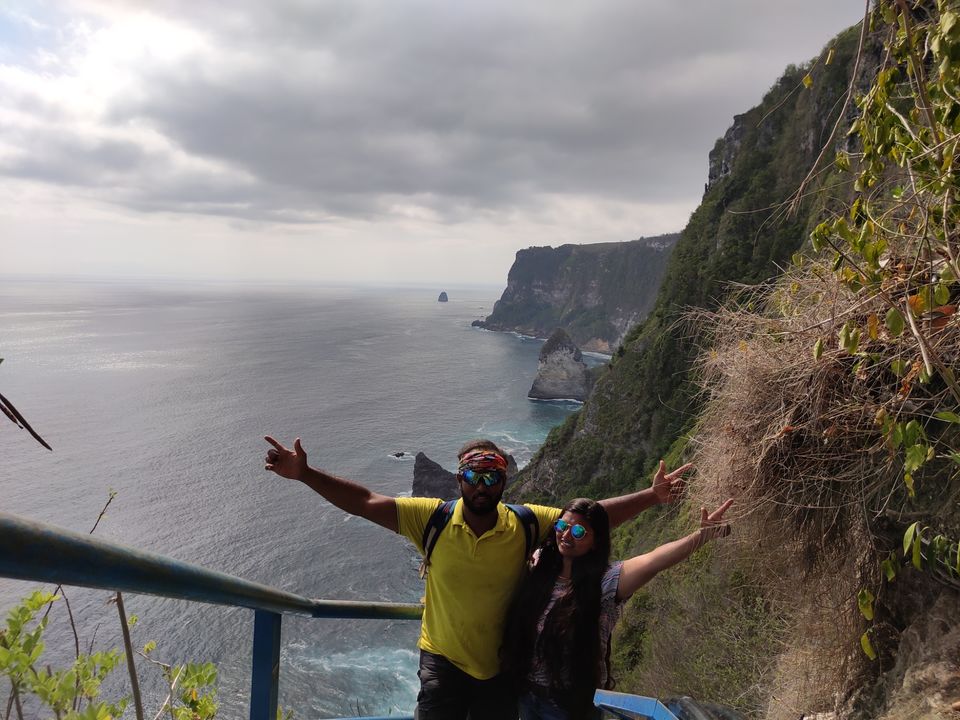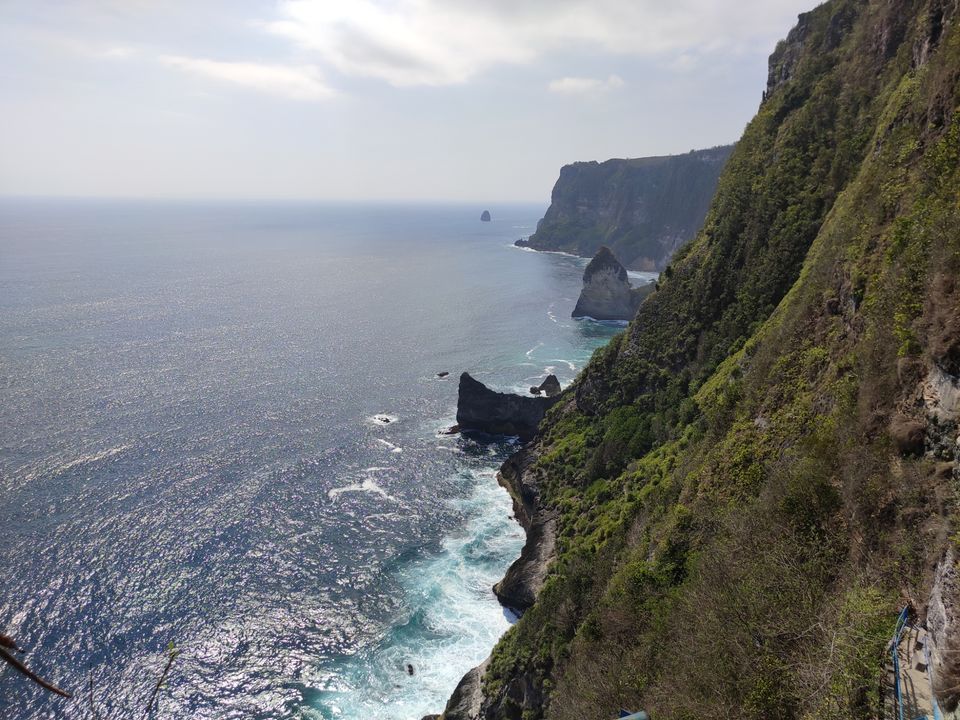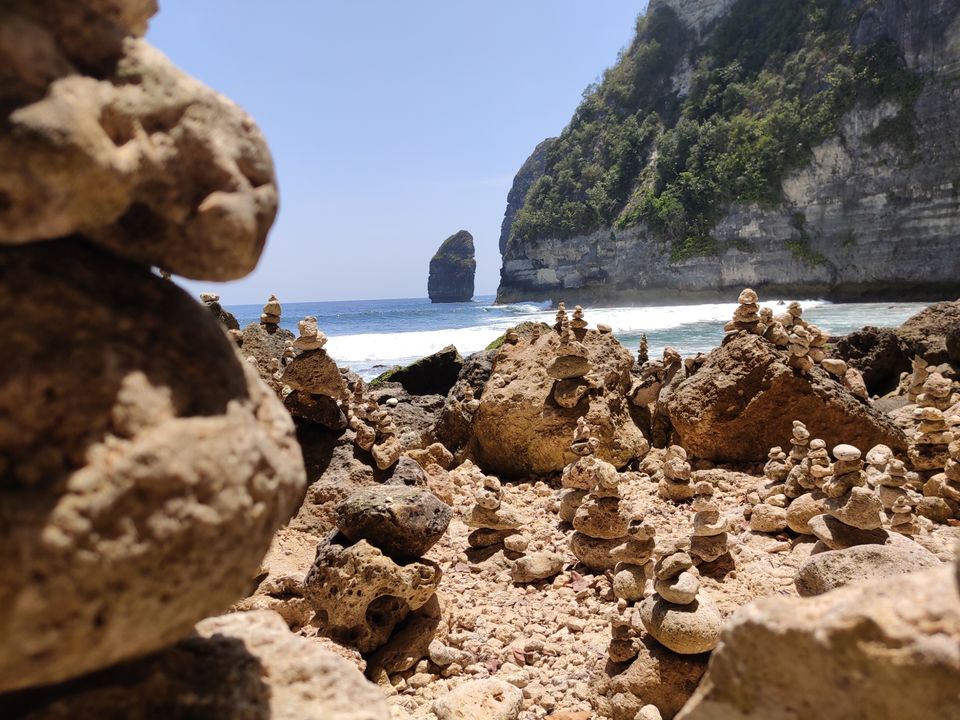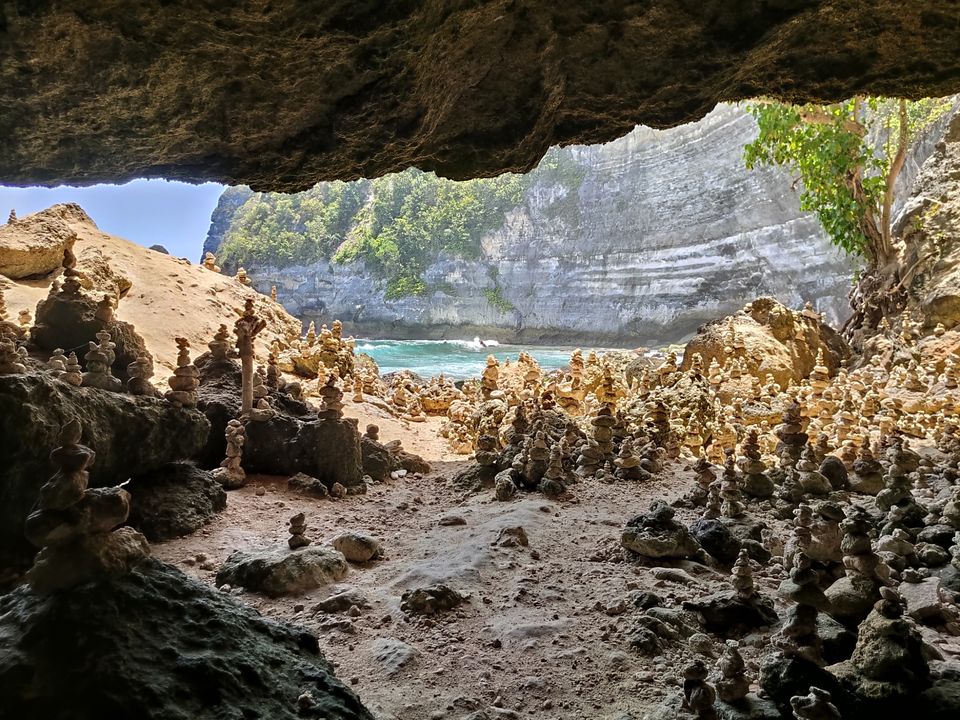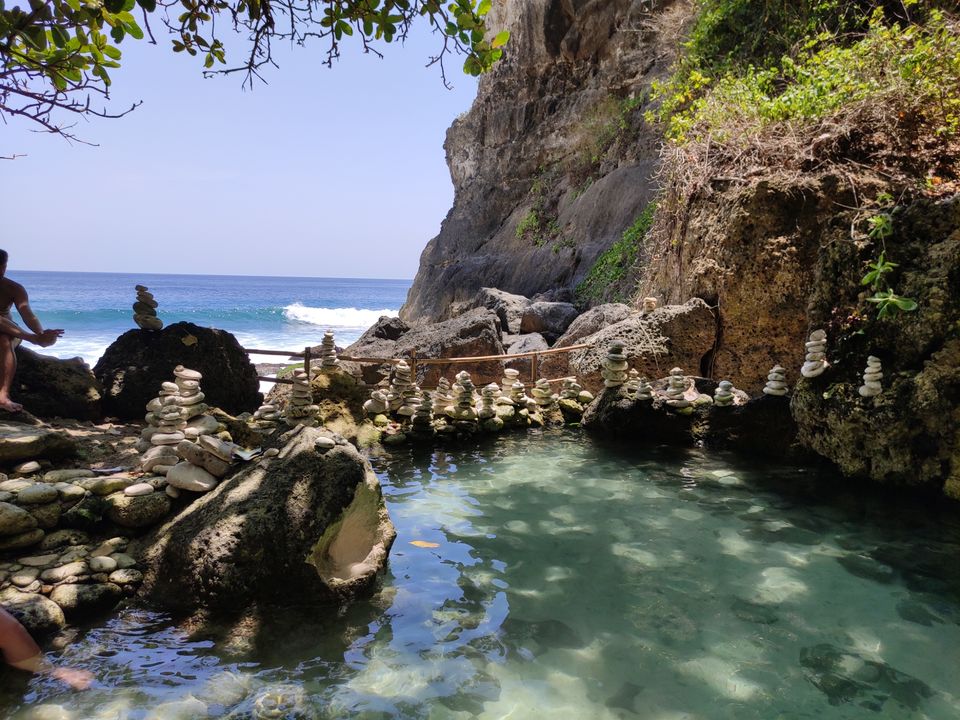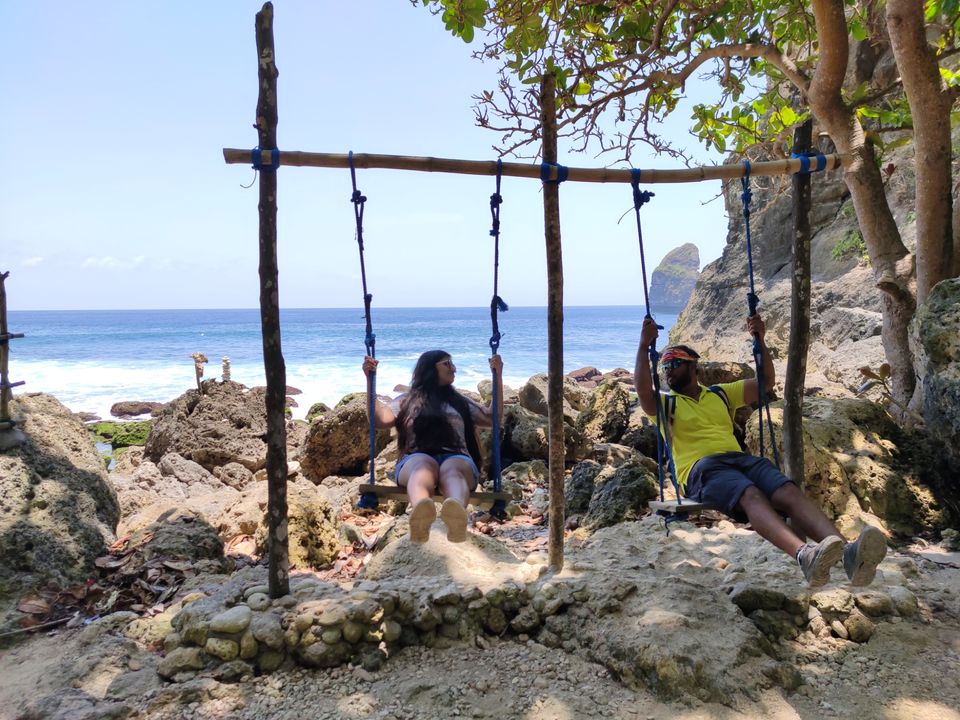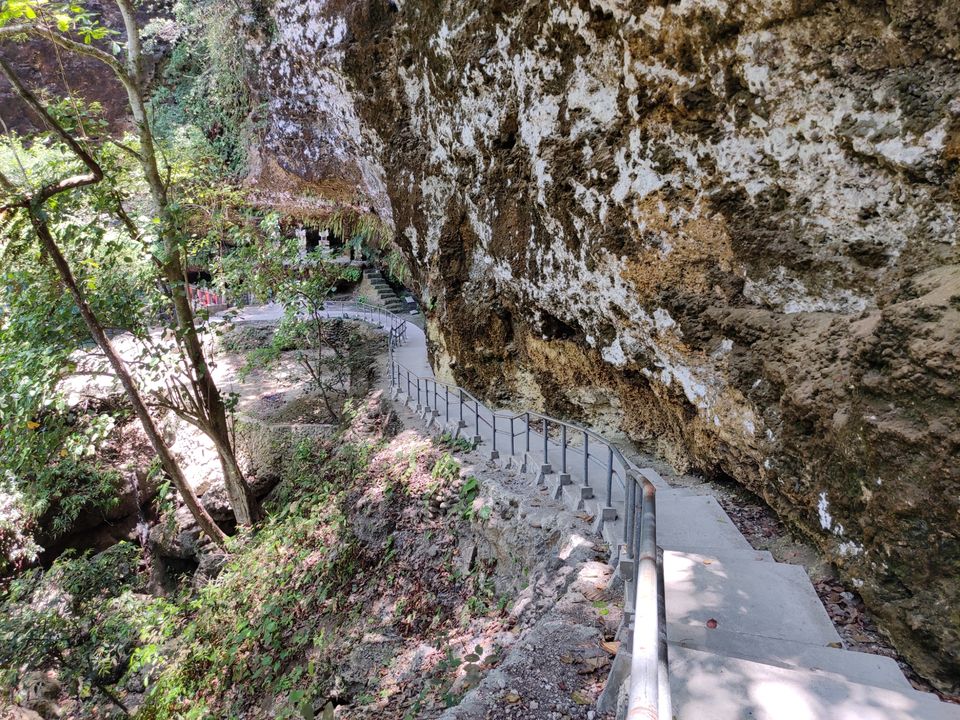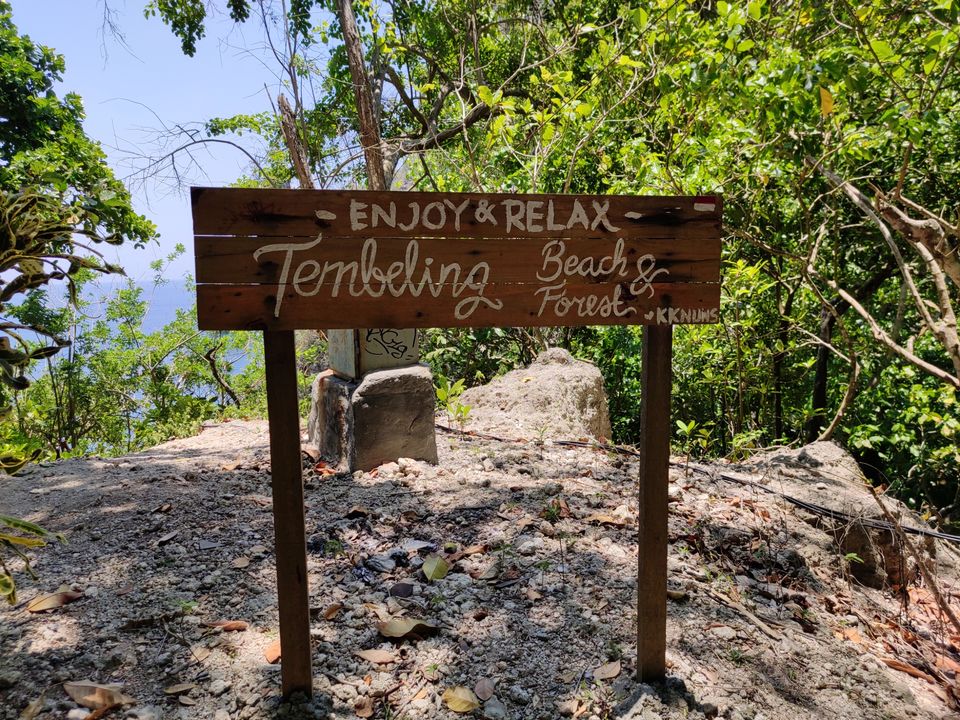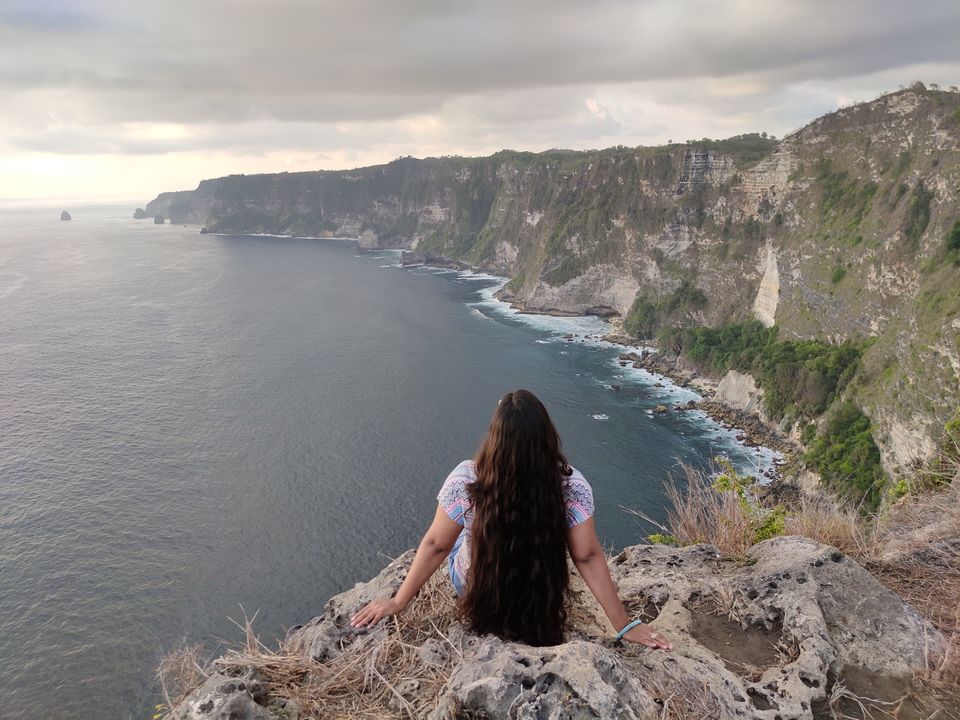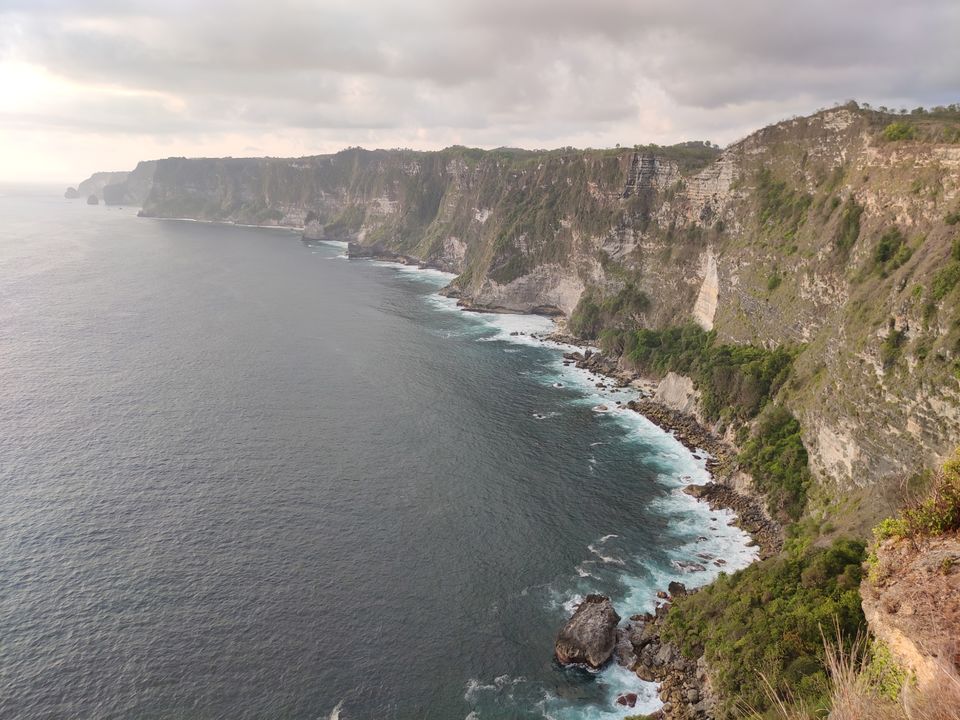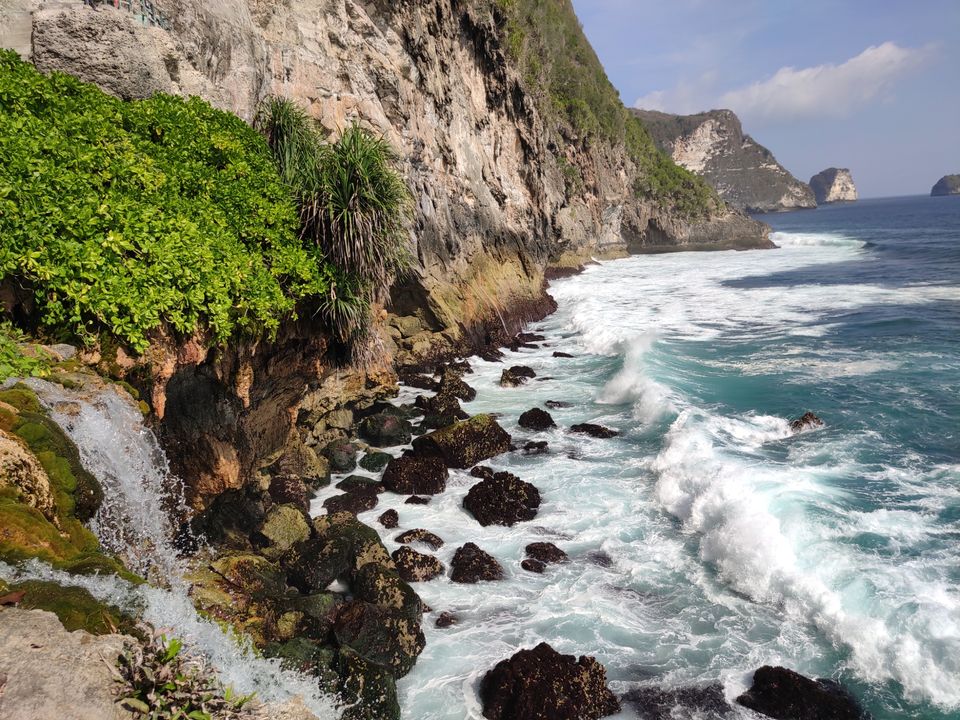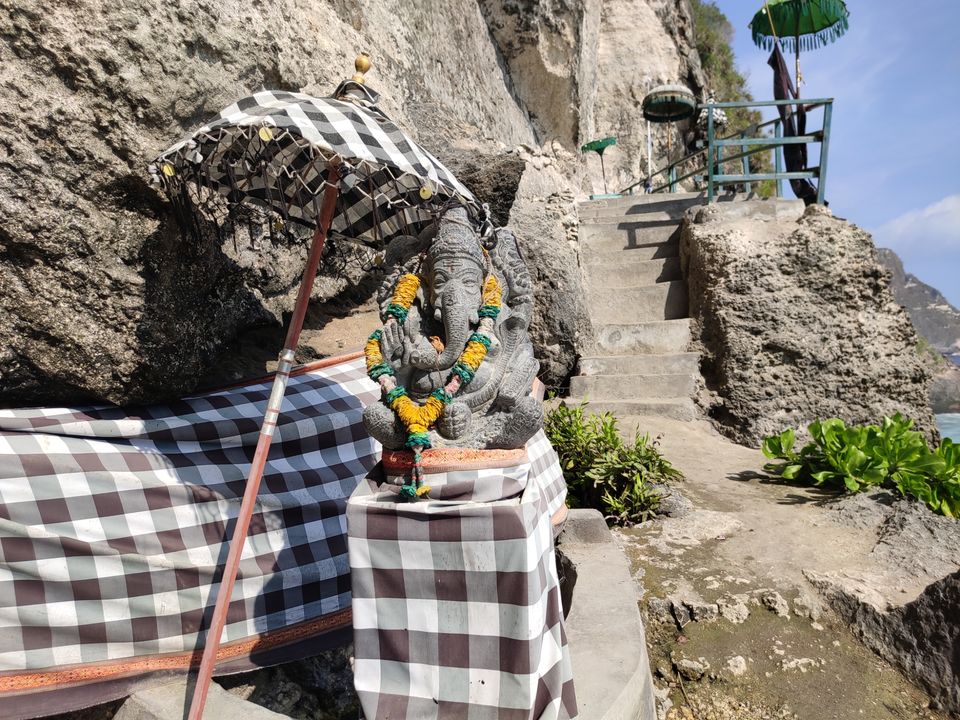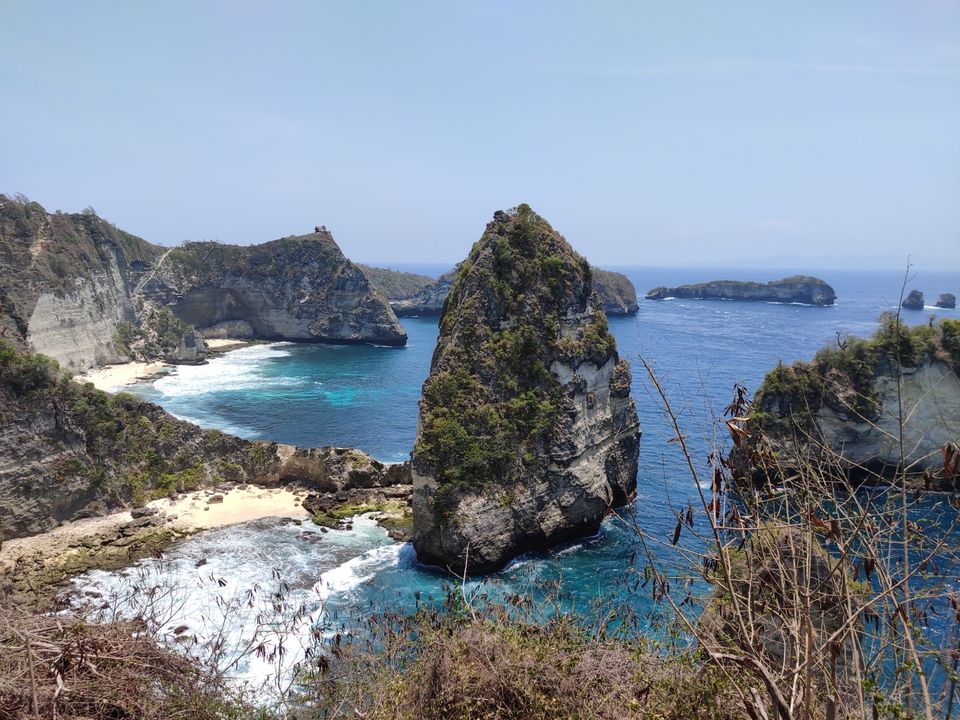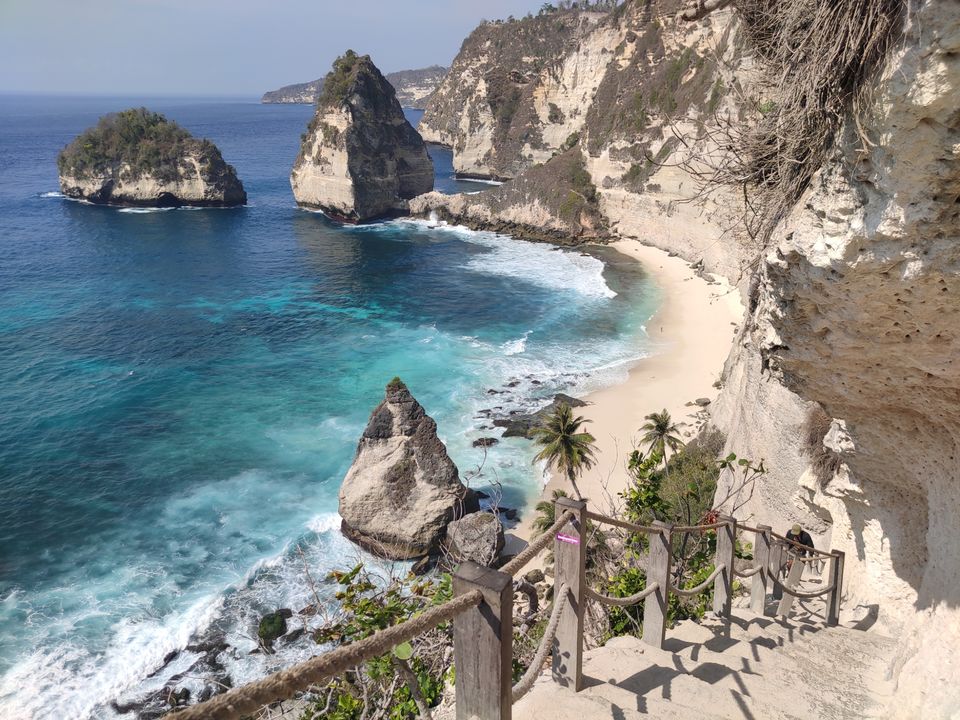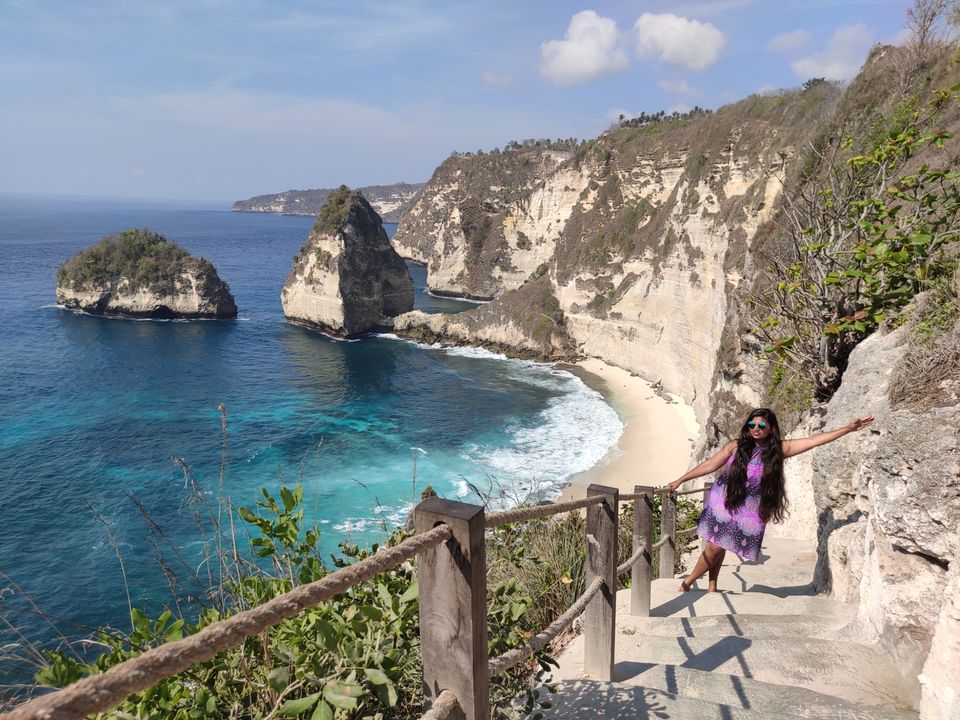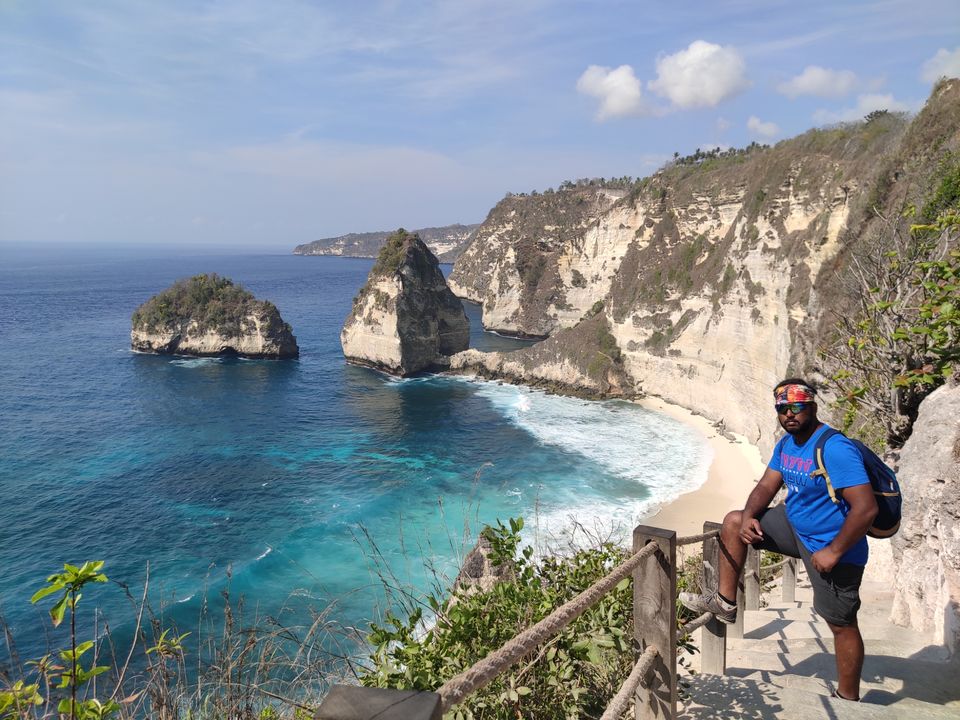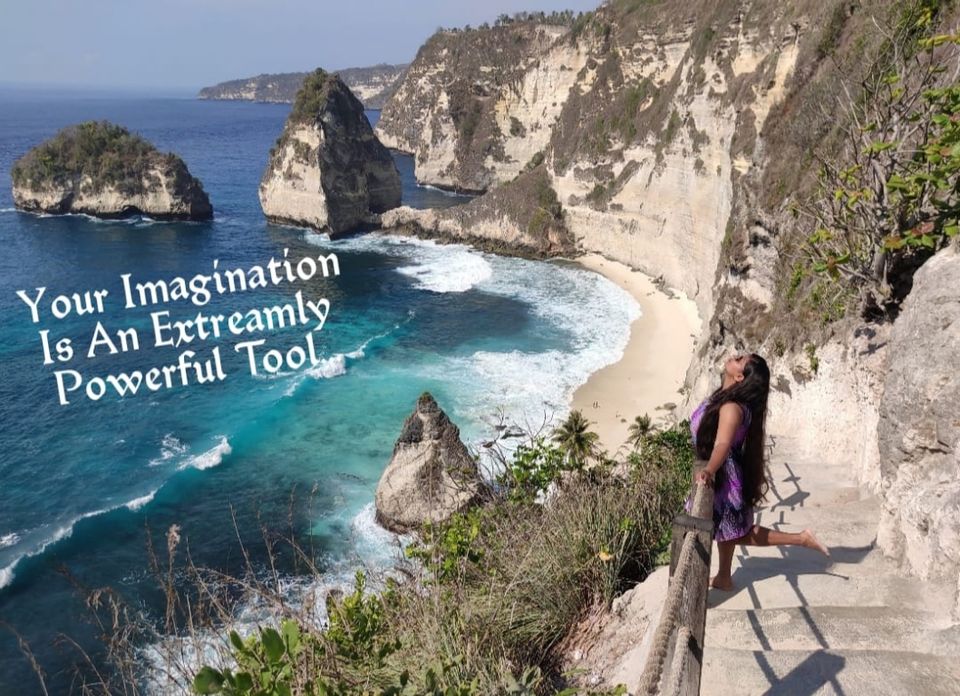 Usually people visit Bali and have one day trip to Nusa Penida..
But I personally feel you should spend min 3 days and explore all points as described above.
Before I end I would like to say
"We travel not to escape life but for life not to escape us." ...
You can Explore more only when you think "People don't take trips, trips take people." 
Travel, Explore and Enjoy