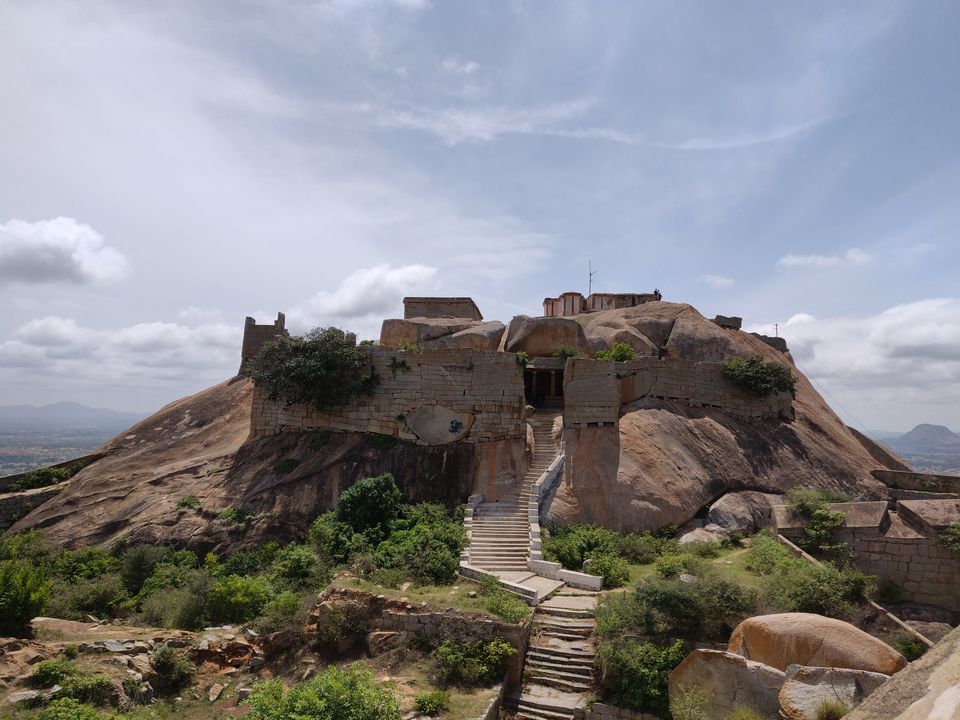 Did you know the exact replica of mighty Madhugiri fort, though small is located in lesser known sleepy town of Gudibande? This town got its name because of a cave temple here, hewn out a huge rock. In Kannada Gudi means temple and Bande means rock.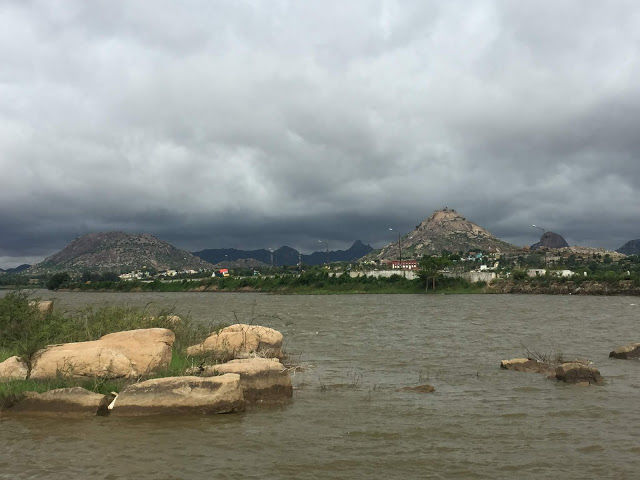 During the 17th century Gudibande town was ruled by Byre Gowda. He was regarded as Indian Robin Hood as he used to help poor by looting rich, wealthy people. He ruled Gudibande only for three years but he left his legacy by building Gudibande hill fort. Inspired by the Madhugiri fort, though small but once you go there you will realize how innovative Byre Gowda was. Fort has several secret passages, excellent rainwater harvesting system by having almost 19 ponds at various level of fort.
130 km from Bangalore, mostly on Bangalore - Hyderabad highway. Unlike the other popular hills and mountain ranges like Nandi or Kaurava Kunda you wont be able to see Gudibande hills from highway and that could be a reason of not many aware of this fort hill. But this is also kind of blessing in disguise as you will not find many trekkers and tourist, this hill fort was clean comparatively, quiet and most importantly no disturbance around.
From Aiport toll plaza, drive another 53 km on Bangalore - Hyderabad highway and then take a left turn to reach at the Gudibande Town. You will be greeted with scenic view of Byrasagara lake, mountain ranges. I reached there early morning and road leading to hill fort was picturesque because of lake, hills, clouds.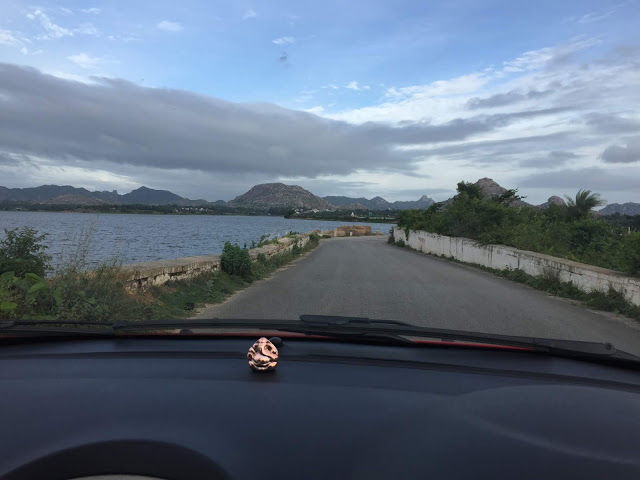 There is parking area but no one around. From the foothill, initially a series of well built stairs will lead to you first gateway and then en route to summit you will find stone steps, ruined gateways, secret passage, small fields. Though fort wall was well preserved and stand still but condition of some of the watch tower was not good.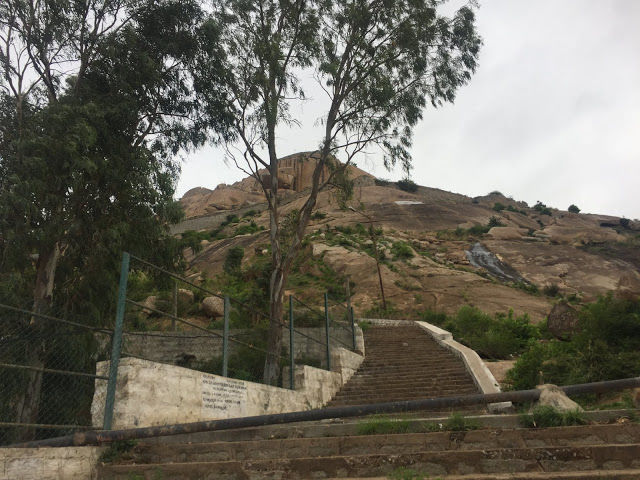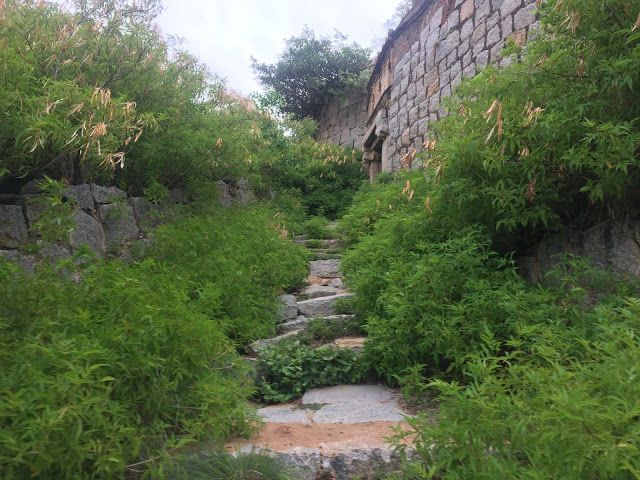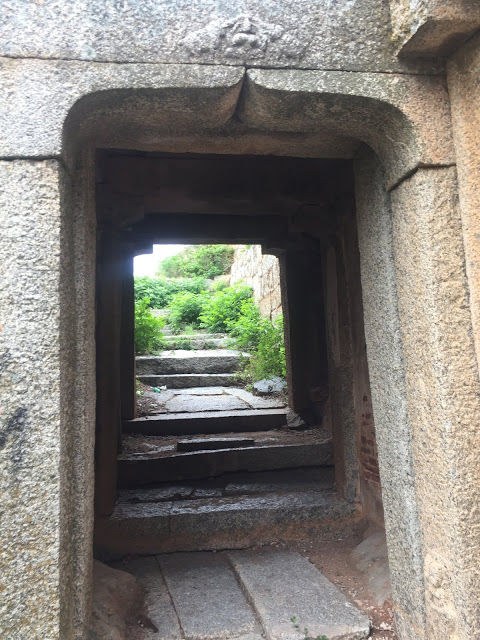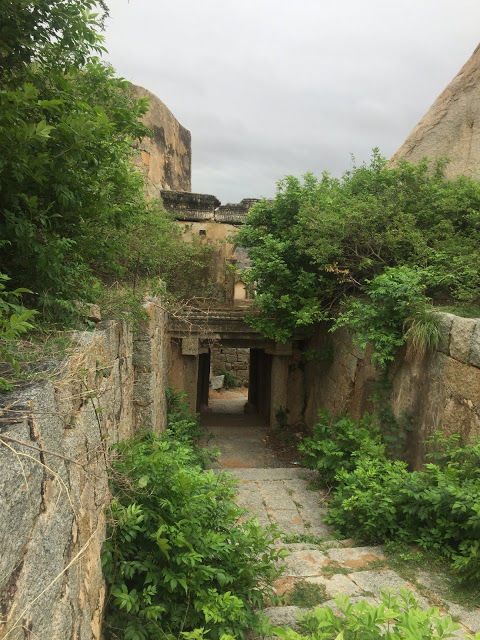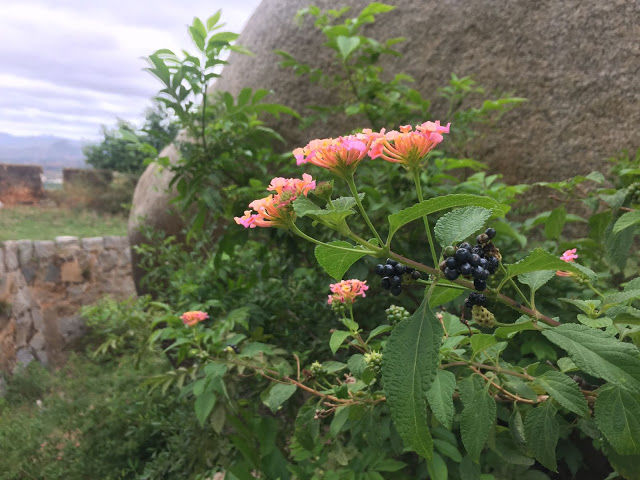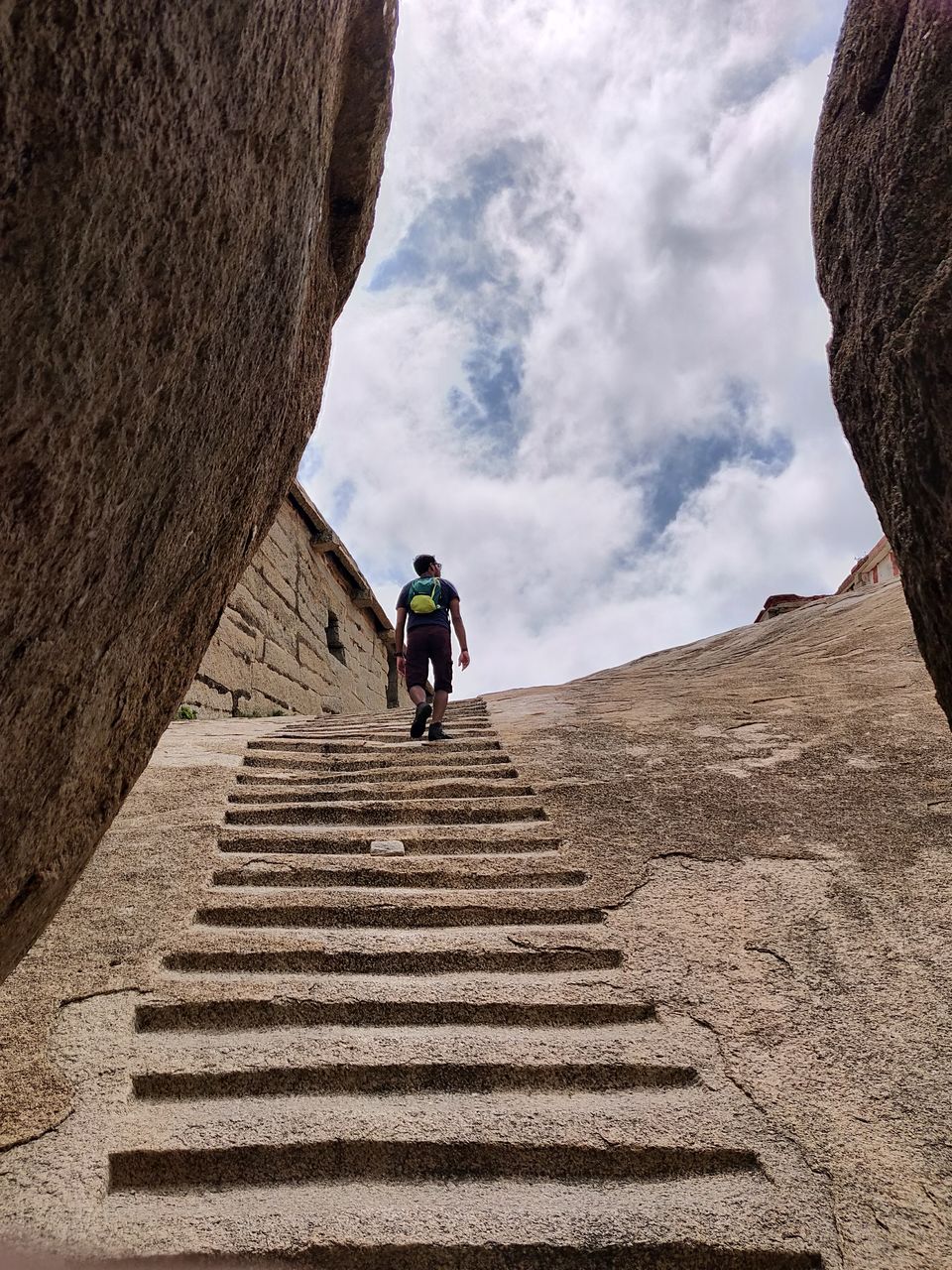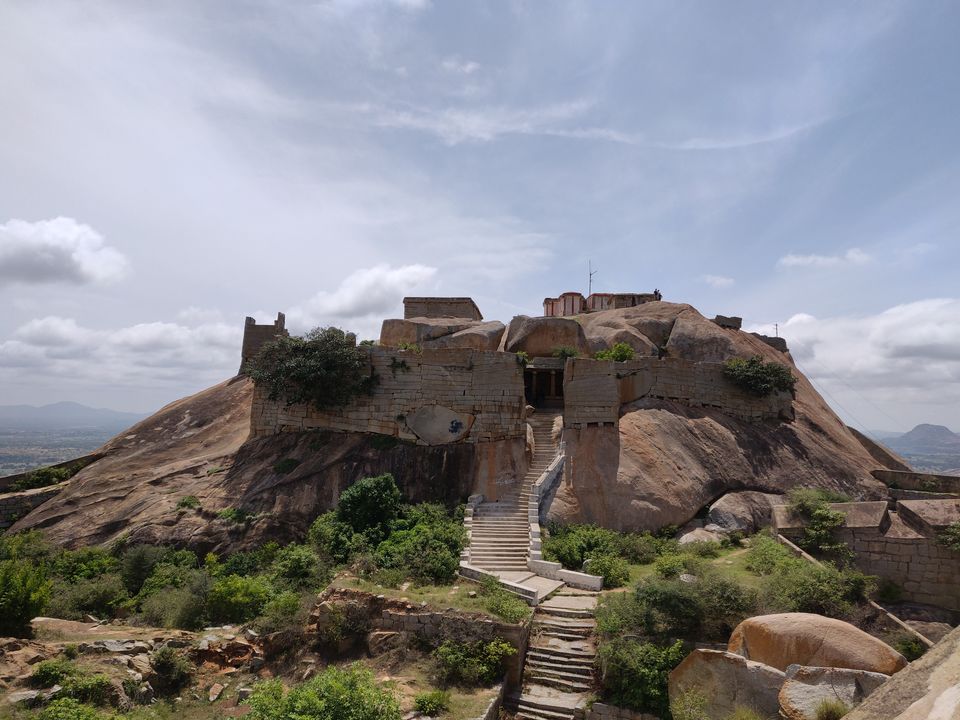 Ascend to the top can be done in less than an hour.
Once you reach at the top there is Lord Shiva temple, well maintained, clean but closed. A pillar with a square base has well sculpted images.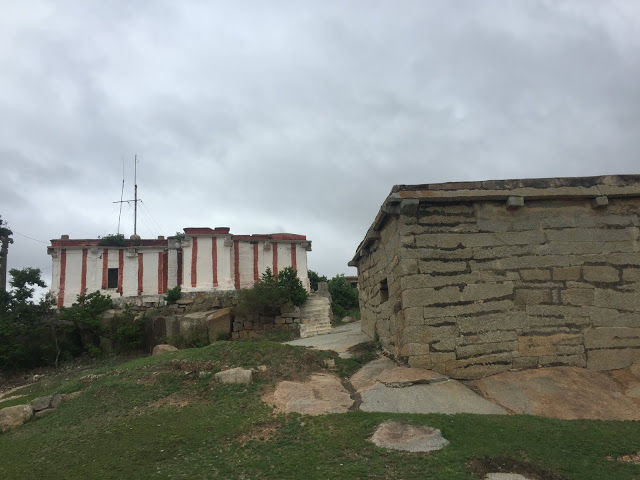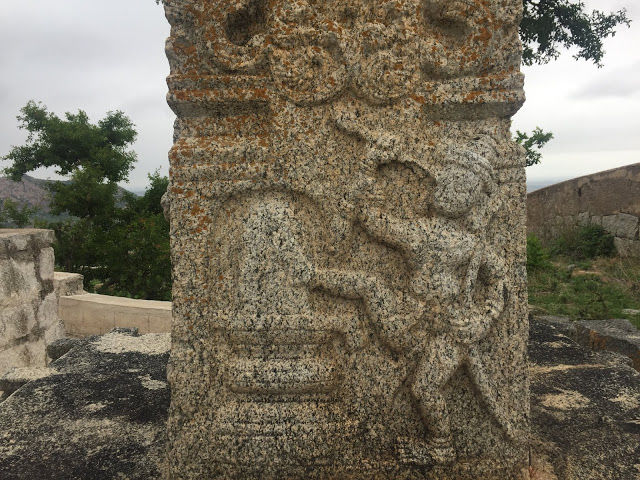 I was curious about this sculpture but later got to know its Kannappa Nayanar. A hunter who tried to stop bleeding of Shiva Linga's eye, first plucked his one eye and placed it in the spot of bleeding eye of Shiva Linga and when other eye of Shiva linga started bleeding, he first thought of plucking his own second eye but later realized he would be blind and will not know where to place his second eye, placed his toe on the linga to mark the spot and when he started to pluck his second eyes, Lord Shiva appeared and restored his eyes.
View for hill top was amazing, as I could see all the mountain hill range. Beautiful Byresagara lake can be seen as well from Shiva temple side. It was cloudy and windy.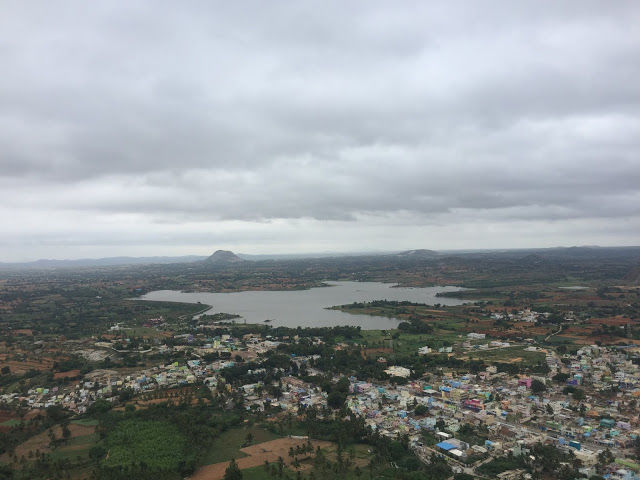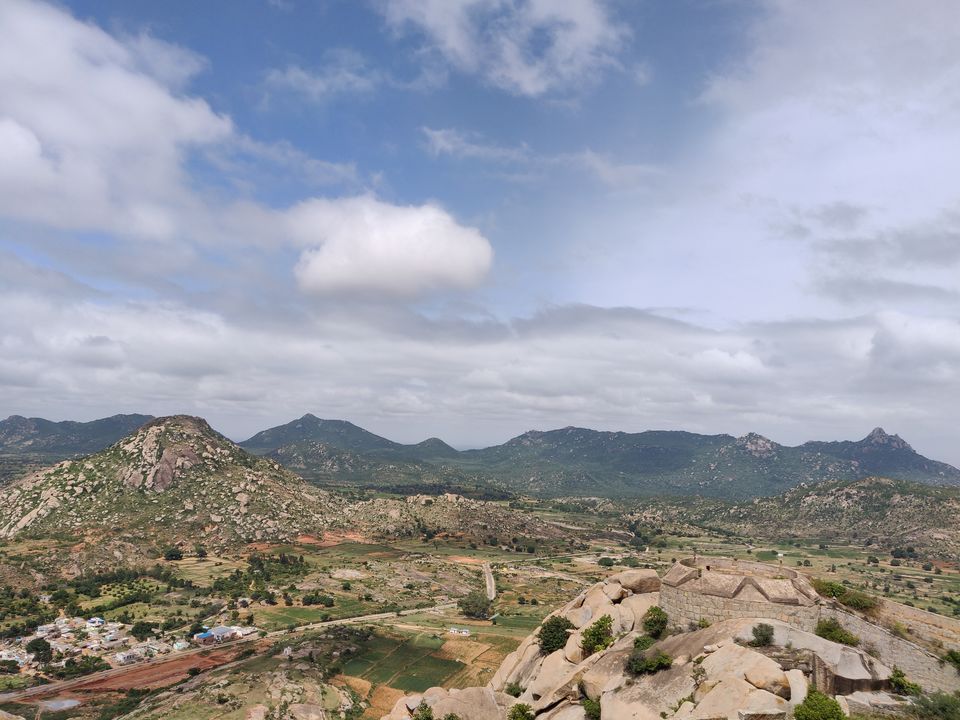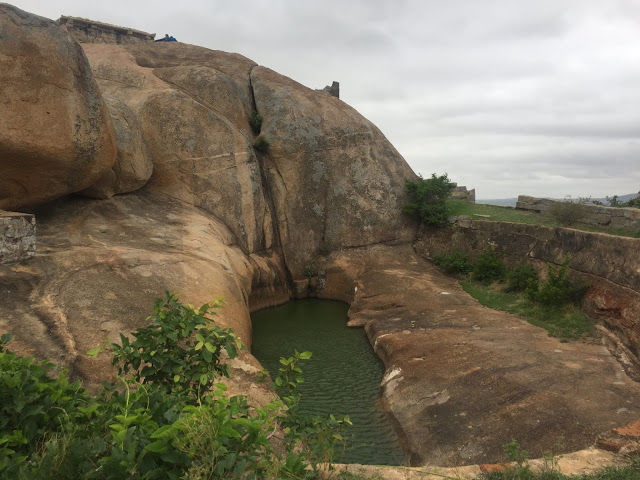 Overall it was nice trek, I would say easy level of trekking. After Gudibande fort, we went further, 6km and then we spotted another beautiful lake with hills all around. Spent some time on lake and then grape farm before driving back to Bangalore