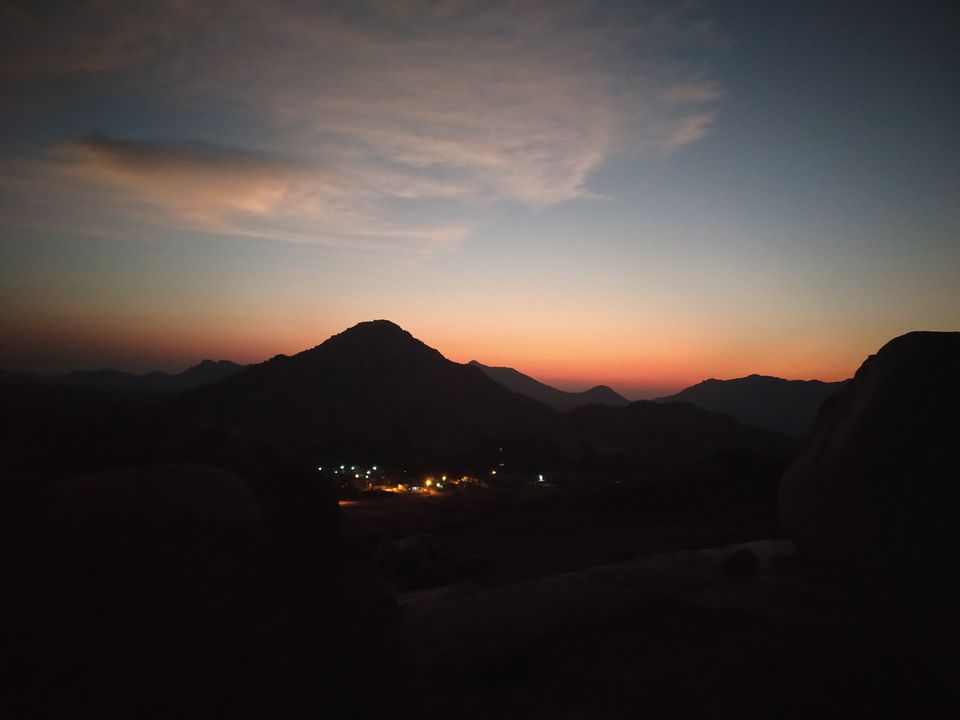 "Once the travel bug bites there is no known antidote, and I know that I shall be happily infected for the rest of my life." - Michael Palin
It was start of 2019 and the travel bug couldn't wait to start its exploration. I wanted explore some new places in and around Bangalore. So as usual, I asked Google, but the results shown were all more or less the same places either which I had already been or required more planning.
Some of the less known places which I came across were Avalbetta, Chota Ladakh etc., but the feel to visit them was not strong enough until Gundibande flashed infront of my eyes. It was a sunset spot, perfect!-- which means it's a good news for my friends who are not so early birds. So that's it, Gudibande Fort it was!
Some History: Located in Chickballapur, the fort was built by Byre Gowda (local chieftan, also known as Robinhood of those times) some 400 odd years ago in 17th Century. It's been said it is a concise replica of Madhugiri Fort. One can find different escape route in en-route and on top is a Shiva temple, which is believed as one of the 108 Jyotirlingas! source: Wikipedia.
Let's start! It was a Sunday and we were all excited about our trek. Since the plan was for sunset, we started at 1:30PM from Sahakaranagar (relatively near to Chickballapur). Maps showed 1hr 30min journey. We stopped to grab our lunch at McDonald's in Airport road and photo-shoot in some village roads. As we drove, we came across a town called Peresandra and guess what it's famous for?! Chaklis!! and people are actually selling this in small covers. DO NOT MISS THEM! They are fresh, crisp and delicious.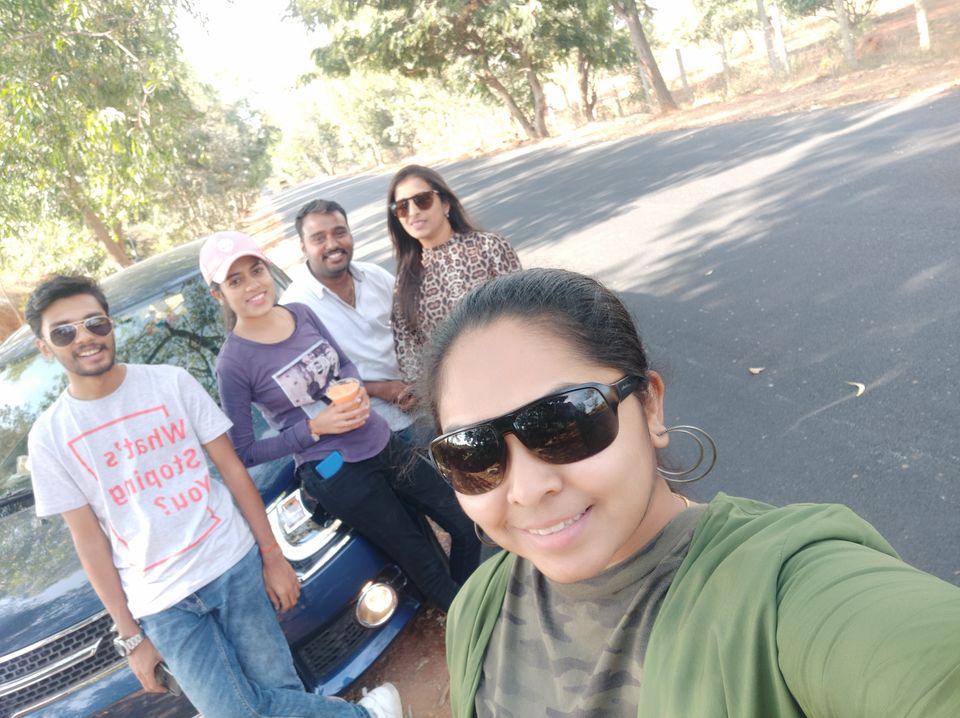 As we were approaching to Gudibande (roads are decent,except for a small patch in between), we came across a huge reservior , Byrasagara. It was very peaceful since vehicle count was very less inside the village. We took some photos and started towards the fort which was then visible from the spot.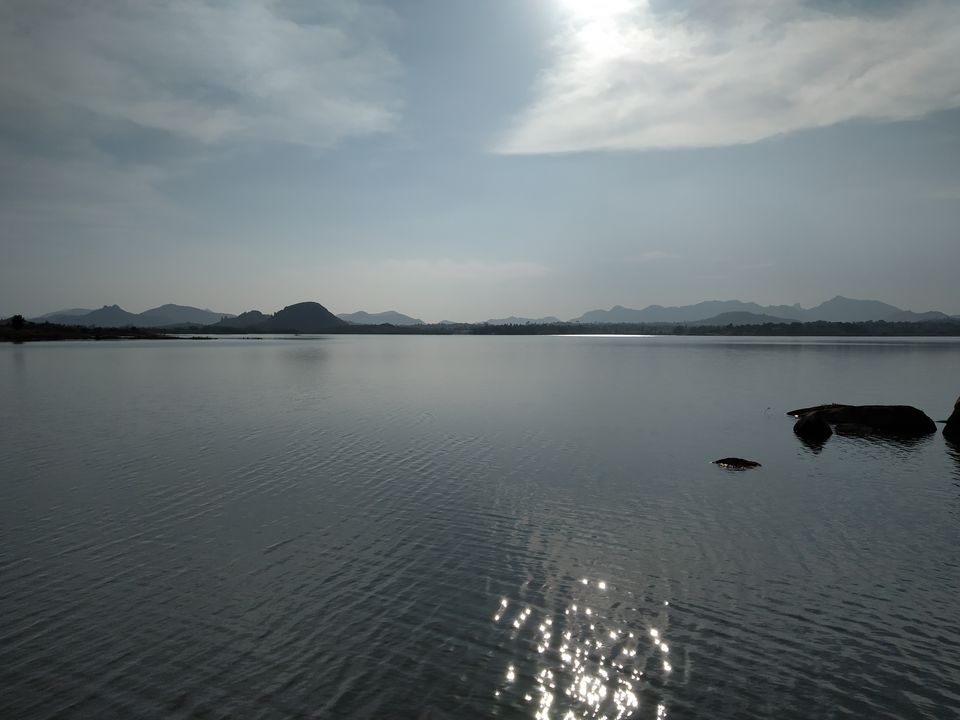 Since it's not commercialized yet, the directions to the fort was not given anywhere. Some of the localities had to guide us the way. The road which led us to the entrance of the fort was very narrow. We reached the place and saw that ours was the only car and we were the only people at that time. The fort has no timings and gate has no lock. We reached at 3:30PM and it was scorching hot. We checked for the sunset timings and thankfully it was at 5:50PM, which meant we could take light on climbing with lots of rests. There are stairs mostly everywhere and it is a easy trek for anyone.
Some spots in between were very scenic with huge rocks around. We were dazzled with the day's gift, wrapped with the deepest blue sky possible. En-route, we found some cave kind structures, which we assumed were the escape routes. We were aware that there would not be any food stalls, so we carried our own water bottles and some food.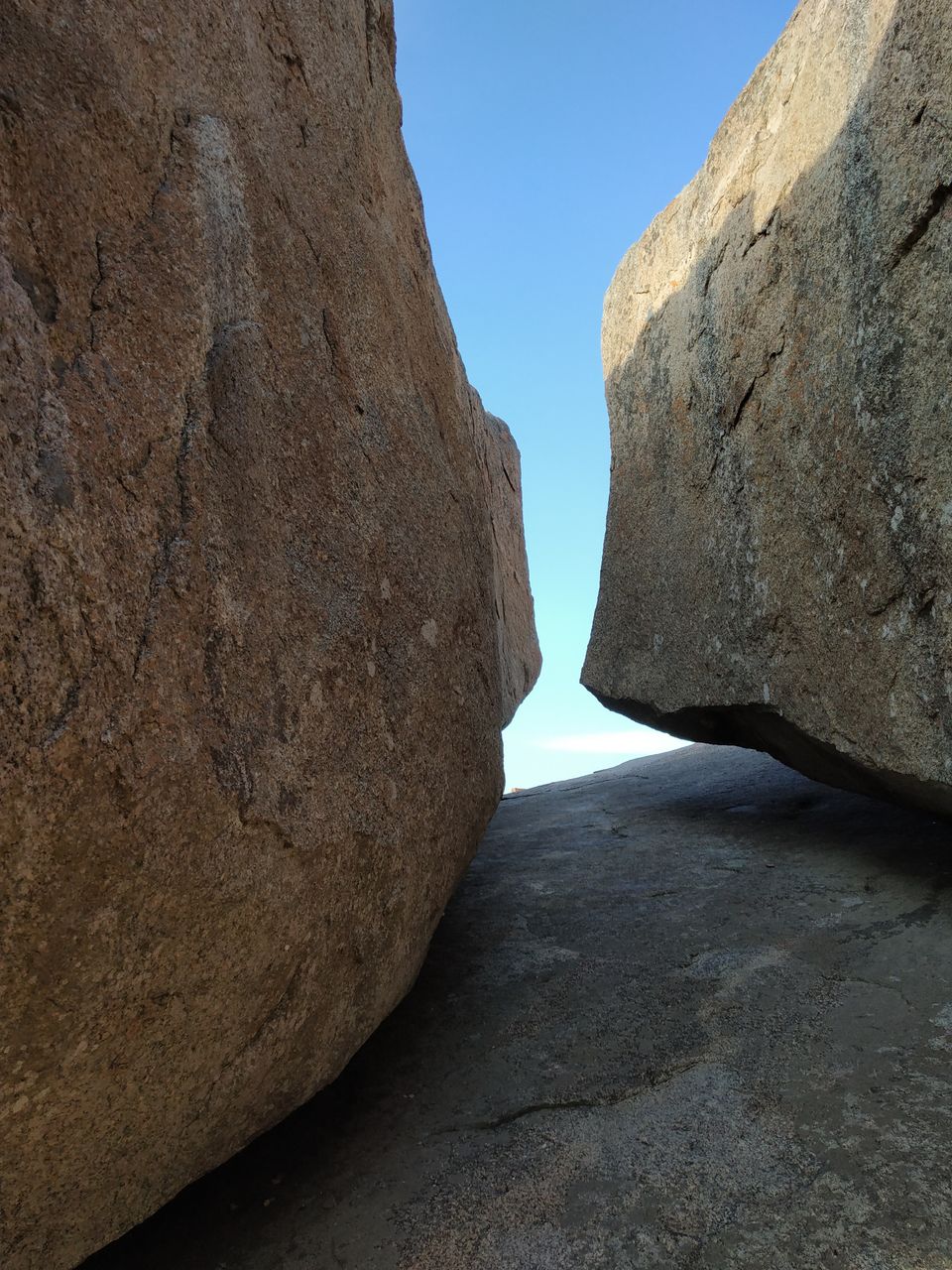 Once we reached the top, the view was spectacular. Shiva temple was locked but from the edges, one can see the reservoir and the entire village. The breeze there was so sweet, it swept the sweat out of our face. There was no skyscrapers to block our connection with the nature, we were far from the city, far from the crowd.
It was just us watching the sun, as if he had invited us to watch his show that day. We took the front row of the seat (a spot on one of the rocks) where we could see his action live. My friends set up a time-lapse to capture this. And, in no time sun bid his farewell and went deep inside the clouds spreading his arms across to embrace us all. A moment of silence instilled within us.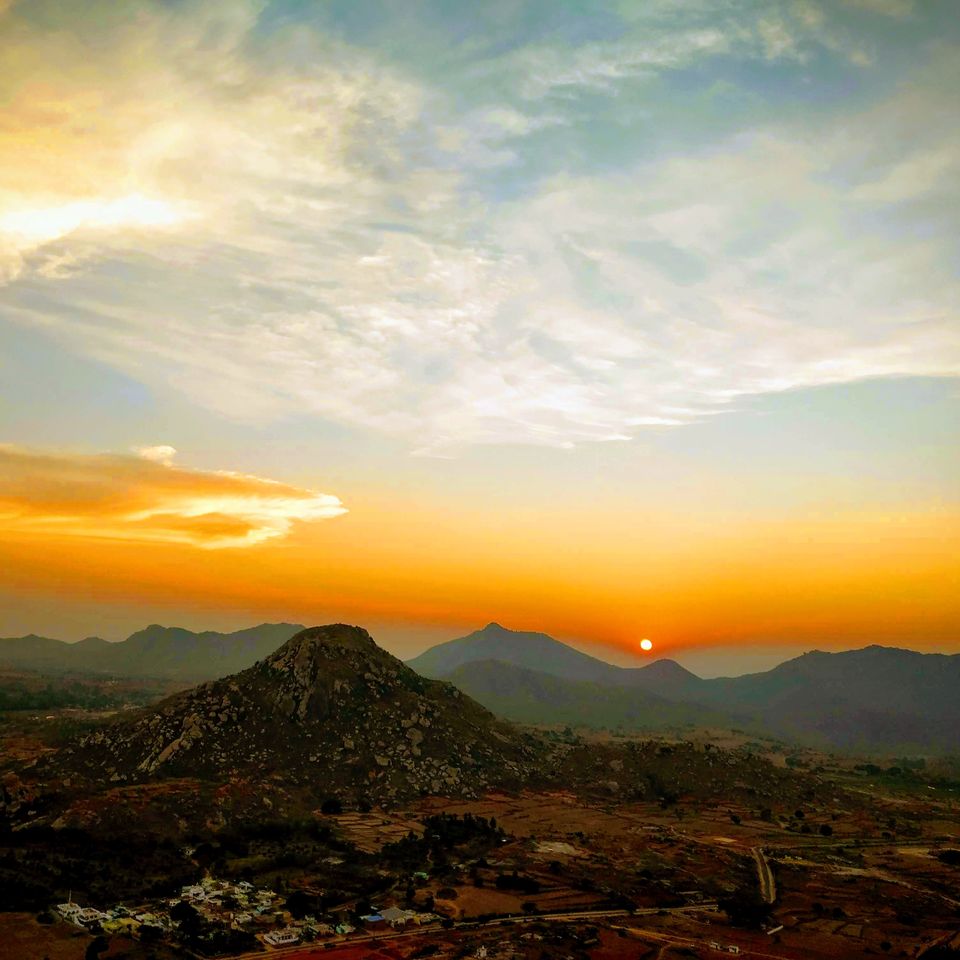 "Surely, of all the wonders of the world, the horizon is the greatest."

We had to come down, before it gets too dark, since there was no lights to guide us. There are light-poles but no bulbs! We came down carefully, using our mobile torch. We reached our car and hogged the food we had bought. On the way back home, we carried our favorite chaklis and a wonderful feel within us.
2019 has now started!
Best time to visit: Winters ( November - February)