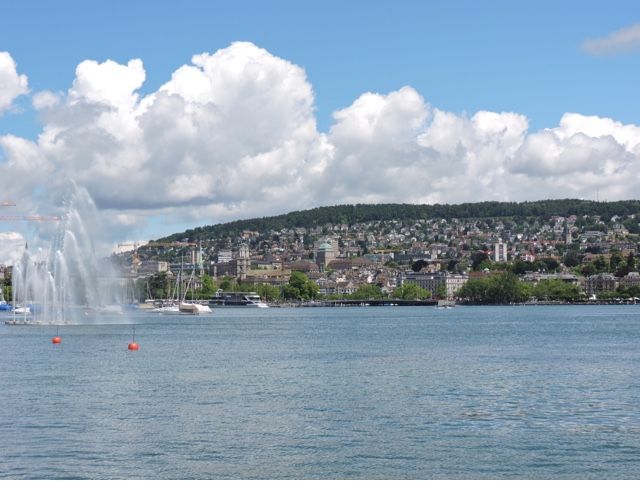 I eagerly await every summer vacation. Why? Well, because I get to visit a new country and that excites as well as scares the crap out of me. Excites me because I get to see an absolutely new place and scares me because I am super awkward in new places. Anyway, this summer, I visited two countries; Switzerland and France. Since i have already been to Switzerland before, this visit was short. My holiday consisted of more places in France and just a few places in Switzerland.
It took a lot of planning, arguments with my parents, many fights, choosing amongst different places and 678273103892646 internet searches before we finally decided our destination. The main reason why we chose to visit Switzerland again is because of the Glacier Express which we missed last time. One of the reasons we chose France is because I wanted to watch the French Open, where my childhood and current idol Rafael Nadal made history, by winning TEN French Open titles. I am extremely glad I made this decision as I got to see him make HIS10RY -- LIVE!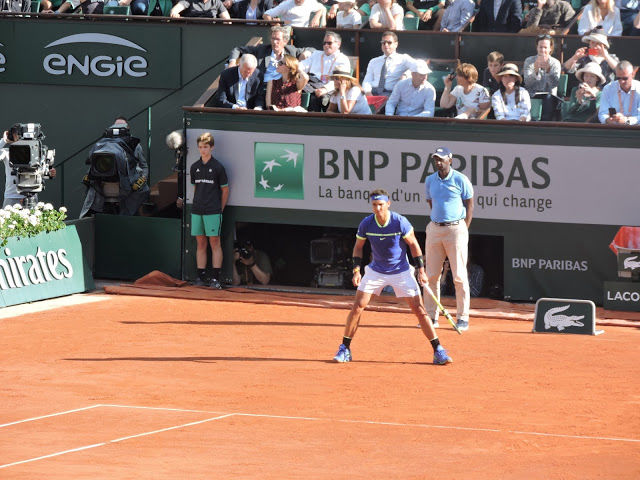 During the course of our trip, we stayed in a few cities and visited towns and villages around them. We made good use of the superbly convenient public transport to visit most tourist attractions at each place we stayed in. Our trip lasted for 21 nights (really long, right?) but not once did I feel homesick or get bored. It was and probably will be one of the best trips of my life. So, I will start of with Switzerland as I landed in that country first. I visited the following places during the course of my stay : Zurich, Schaffhausen, Schloss Laufen Am Rheinfall, Basel, St Moritz, Pontresina and Zermatt.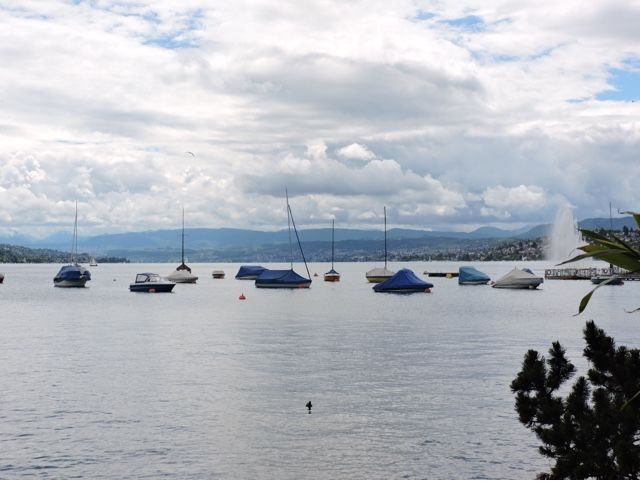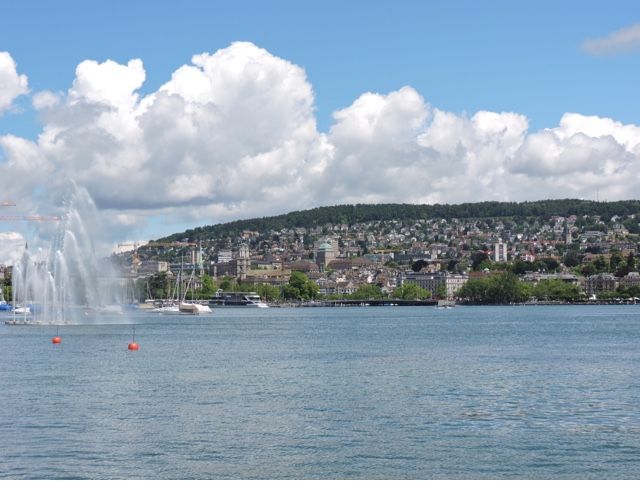 It has some huge and beautiful churches along with some historic buildings. Just walking around this city is a lot of fun because you get a taste of the daily life here. You can see small children playing in the parks, elderly taking walks along the lake, small ice cream and crepe booths on every footpath and many such things. This city is definitely one to visit!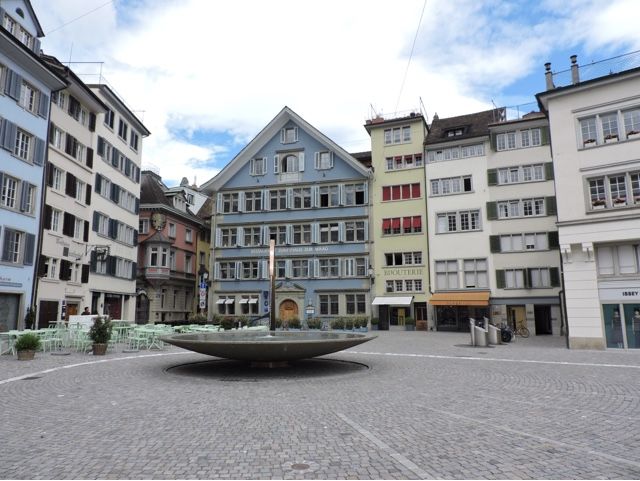 Schaffhausen :
This small town comes on the way to the famous Rhine Falls. It is an absolutely cute and delightful town with lots of colourful shops and cottages. We were walking on the street and we spotted a school ground which was absolutely open, with no gates or security. This probably shows how safe this country is.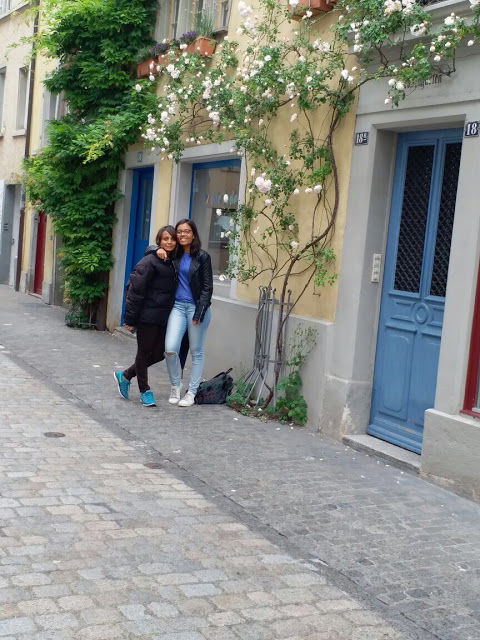 It was raining when we visited this town, so there weren't many people walking along the streets. We didn't see much of this town as we only had a short halt here. We got off at this town since it was a station where we had to change trains for visiting the Rhine Falls. But, whatever little we saw of this town, we loved it!
Schloss Laufen Am Rheinfall :
This town is mainly known for the majestic Rhine Falls. The area around the Rhine Falls is done superbly well, with the train station literally two minutes away. There are a few eateries around along with some souvenir shops, viewing spots and boat rides below the Falls. Certain boats take the passengers pretty close to the Falls, so you can feel the water on your face. I personally love this feeling.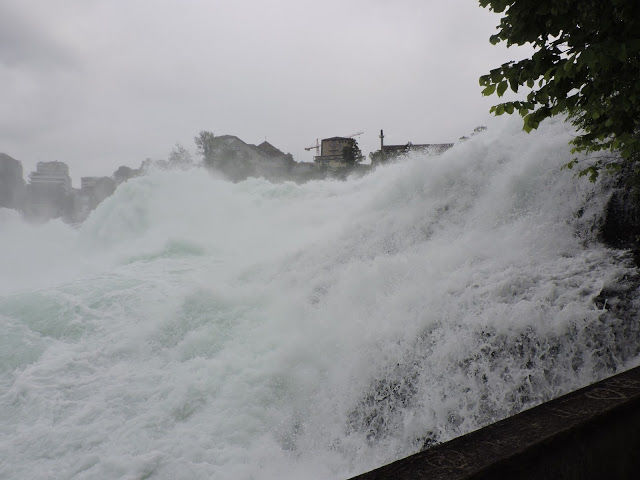 Some boats take the passengers to the other side of the Falls where there is a small road, where one can walk and view the Falls simultaneously. The boat rides are a lot of fun and they are not too fast which allows you to get a good view of the Falls up close. There are a flight of steps near the falls, where one can climb to get a view from the top of the Falls. As you can see in the picture below, there are a few cottages as well as apartments around the Falls which are inhabited by the locals as well as up for rent. They definitely offer a good view of the falls and the are around it.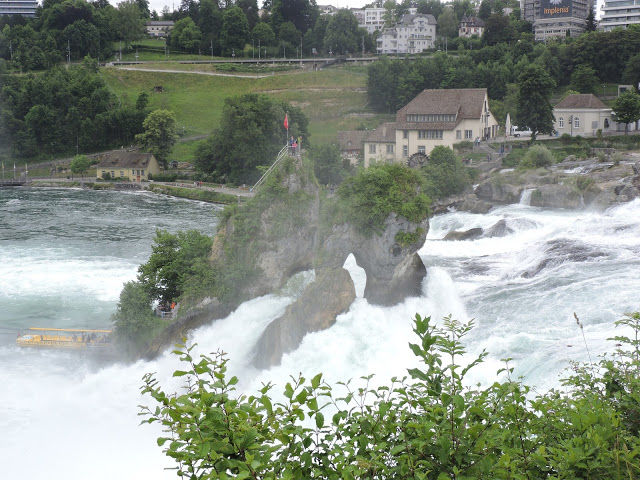 There are steps that lead to the Rhine Falls from the railway station. Also, there is a lift that takes people up towards a small food court, the ticket counter and the main entrance to the Falls. The Falls are absolutely gorgeous and the force of the water is so strong that you can hear it from almost a kilometer away. If you look closely into the water, you can see small fish and some tadpoles swimming around. The fish i saw were mostly orange and super tiny. Also, the weather around the Falls is usually pleasant and welcoming. This is one of the main tourist attractions in the Northern part of Switzerland and rightly so.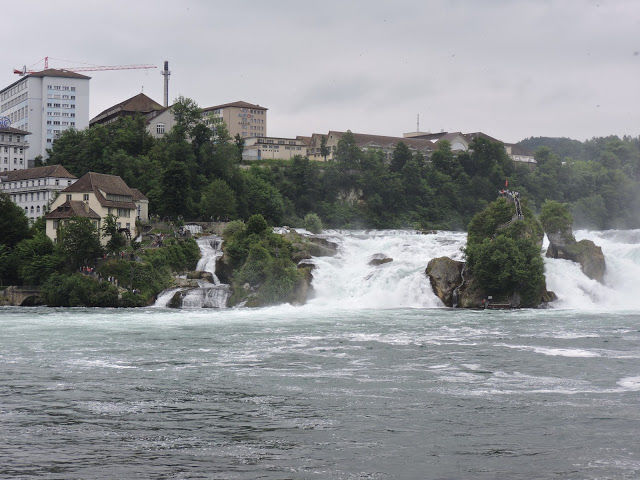 Basel :
I know of this place only because of the tennis tournament they host here, every year. This place was not even on our list of places to visit. It was a very sudden decision as we were at the train station and didn't know what to do next. I just happened to check the train time table and saw that one of the trains was leaving for Basel in 15 minutes. So, with nothing else to do, we decided to hop onto this train and visit Basel. I am really glad we made this decision because Basel is a superb city to be in!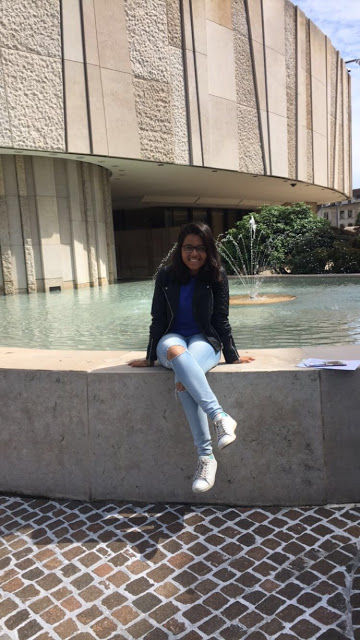 As soon as we reached Basel, we saw the timings for the train heading back to Zurich and then we set out to explore Basel. The area around the train station is buzzing with people and is super lively. There a few famous eateries and restaurants near the train station.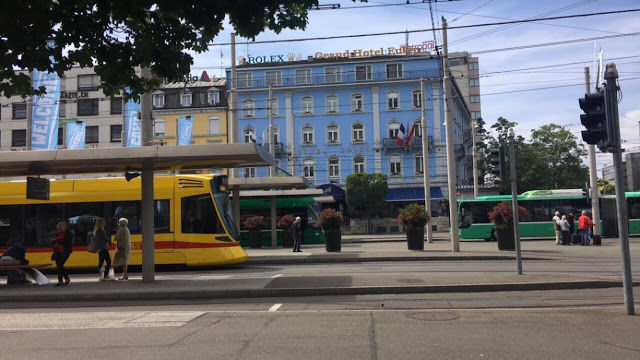 There is a park opposite the station which has two super long roads on both sides of it. We decided to walk on one of these roads as they looked very interesting and they led us further into the city of Basel. Both these roads are lined by shops on either side.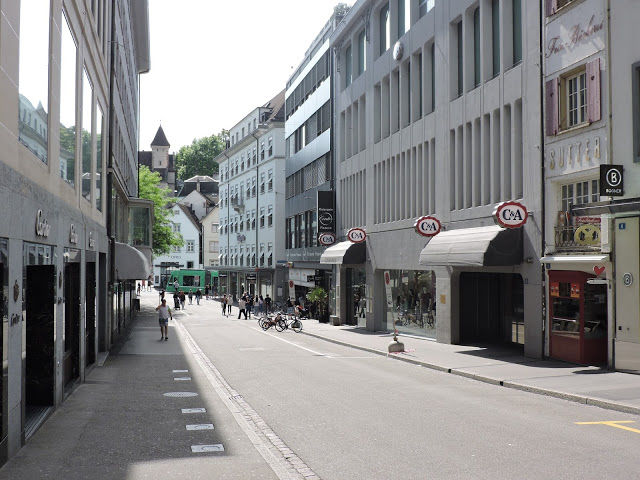 These roads meet each other at a cross road junction and then again get separated into long lanes again. There are trams that run on these roads to allow people to travel from one part of the city to the other. After walking for about 3-4 kilometres, these roads meet at a huge opening where there is a lot of free space for people to just walk around, sit, talk and other such things.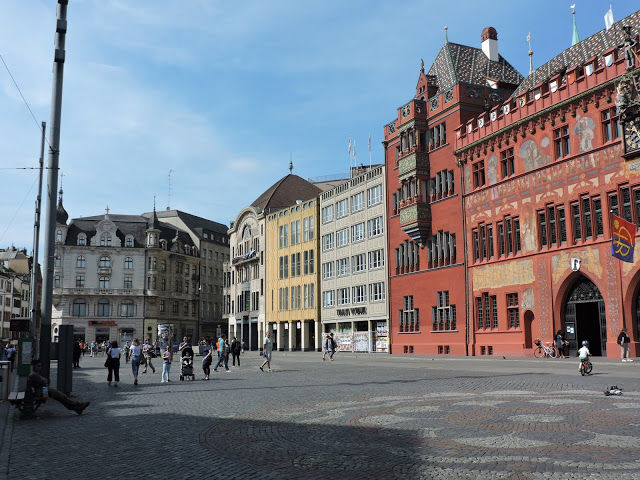 We walked around a little more before heading back to the train station. We entered the red building seen in the photo above as it looked pretty interesting to see. It looked like a church but was not one. It had a long flight of stairs, some seating space and a little bit of empty space inside. The inner walls of this building were adorned with beautiful paintings which probably depicted the history of Switzerland. The atmosphere inside was very calm yet lively.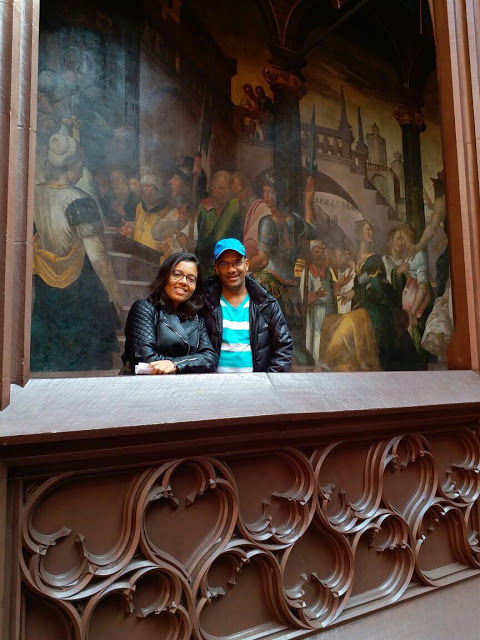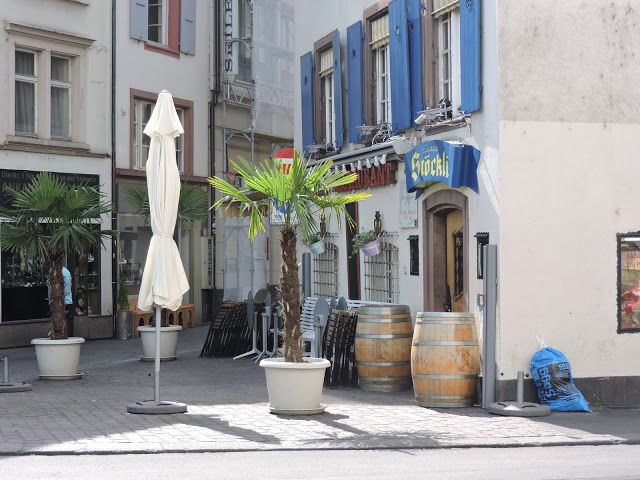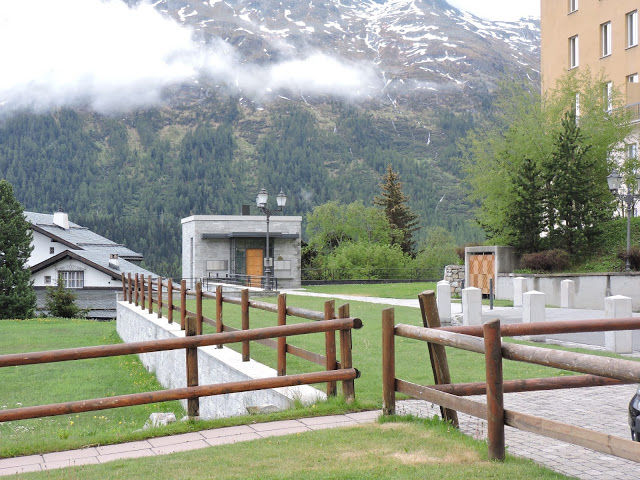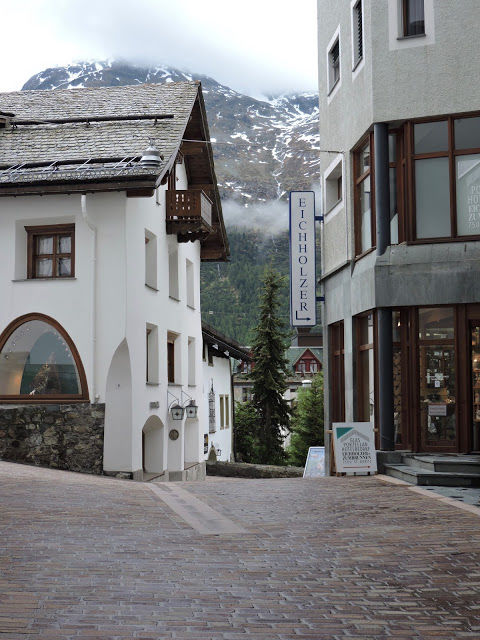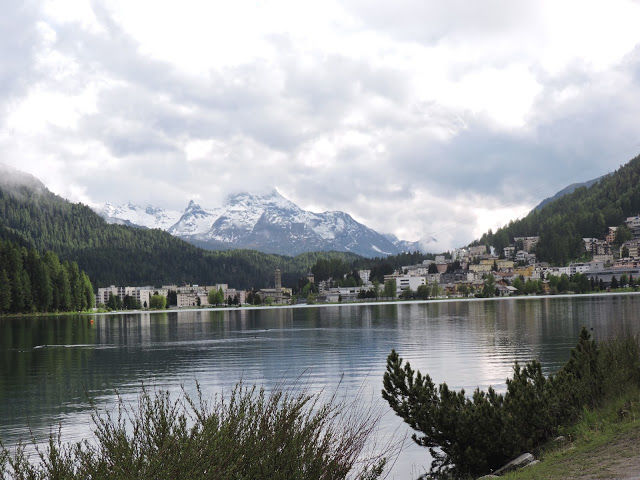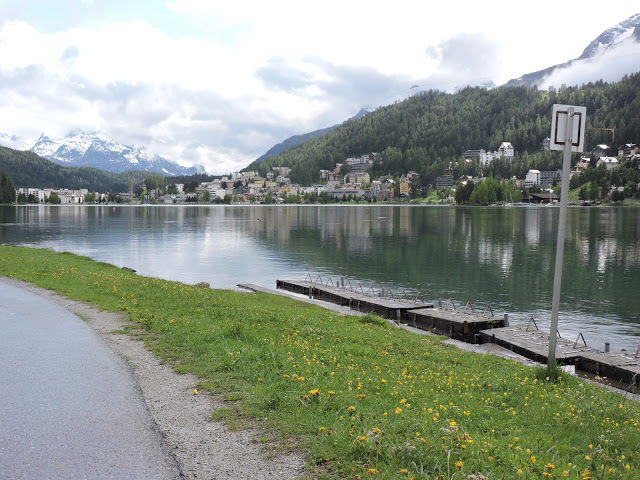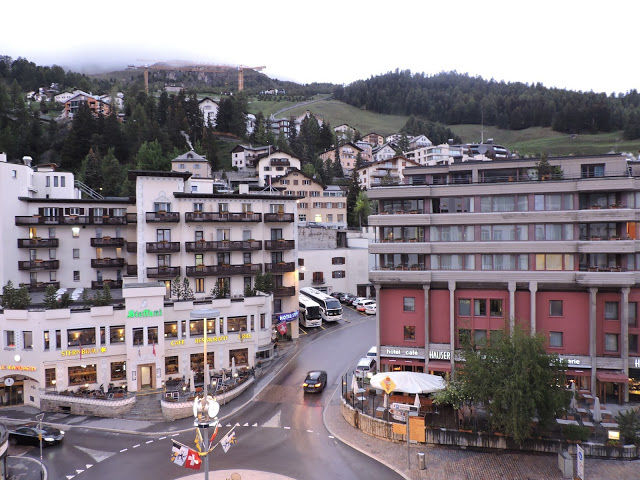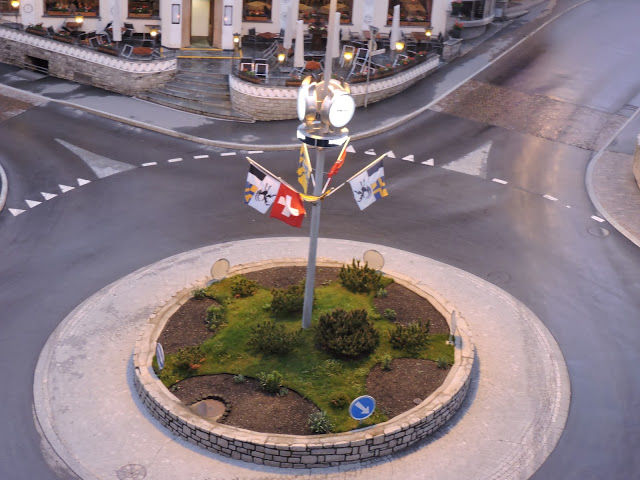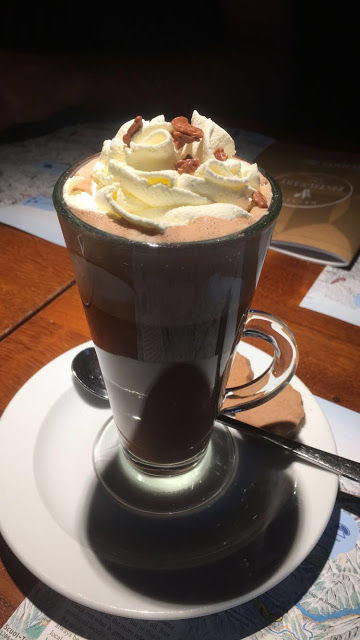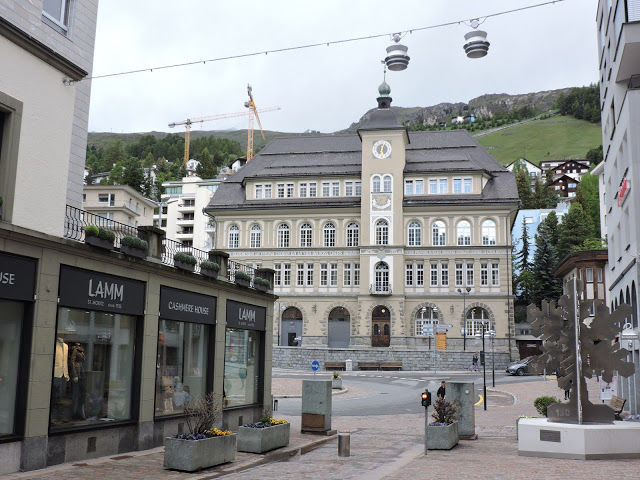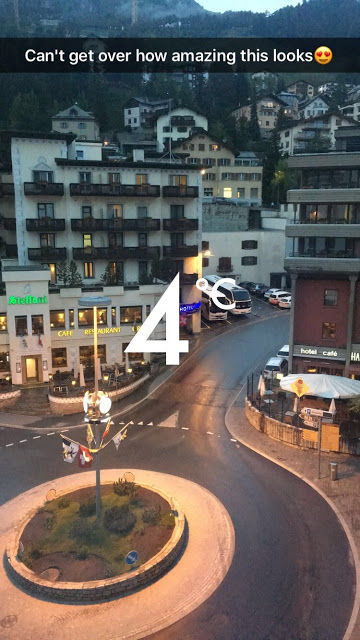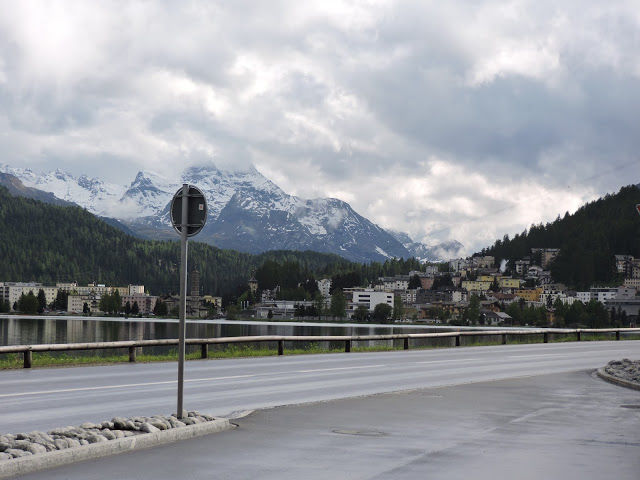 Pontresina :
This town is two train stations away from St Moritz and is similar to yet different from St Moritz. The train ride from St Moritz to Pontresina was short but sweet. The train took us through a tunnel and the train tracks ran adjacent to the road. There are two stations between St Moritz and Pontresina and one of them leads to a place where backpackers stay. While going from St Moritz to Pontresina, we were probably the only people on the train, but that only made our experience more enjoyable and adventurous.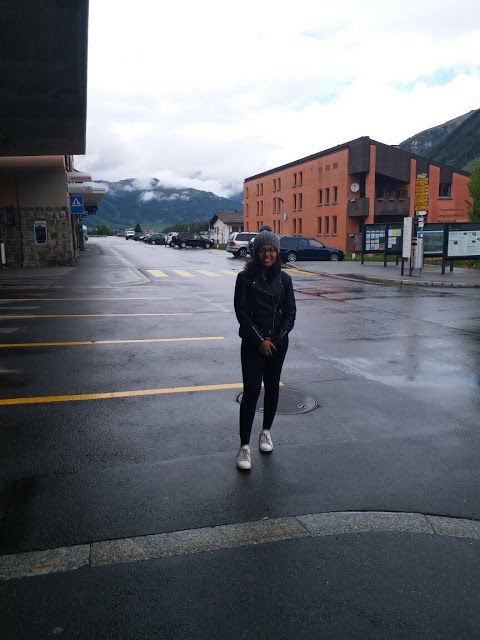 The walk from the station to the main part of town is pretty tiring as it is an upward sloping road with a slightly steep incline. But, the walk is scenic as one can see the water from the glaciers flowing in full force from beneath one bridge which leads towards the centre of the town.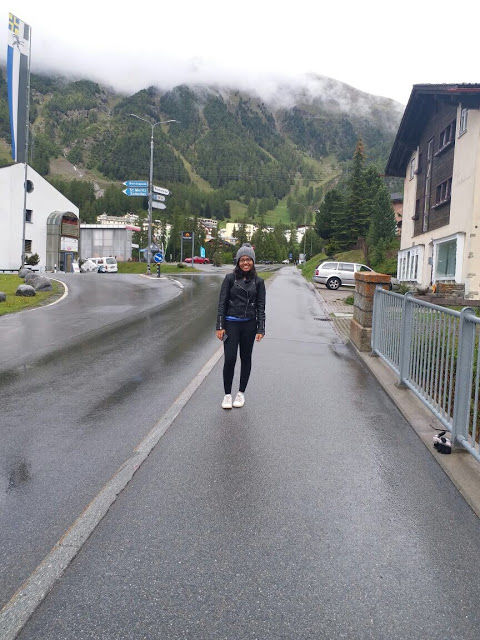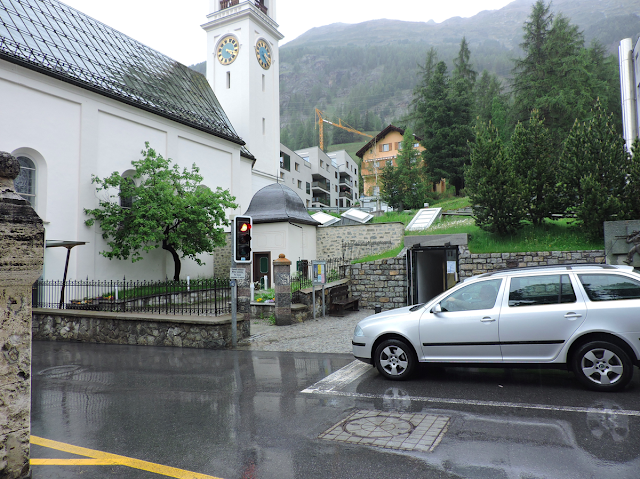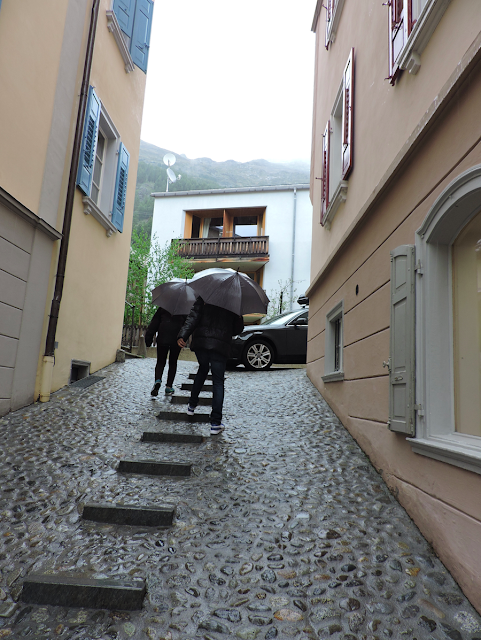 As we were walking towards the main part of town, we saw a relatively large group of (whom we assumed to be were) tourists just standing in one corner of the street and enjoying the weather. There were hardly any cars or people on the road, as we walked ahead.
This town had some extremely cute houses with well decorated exteriors. This town did feel a little congested as the roads were a little too narrow and the houses were almost touching each other. As soon as we reached the main part of town, the road split into the left section and the right. We followed the left section as there were houses on the right side and so we did not want to invade the residents' privacy.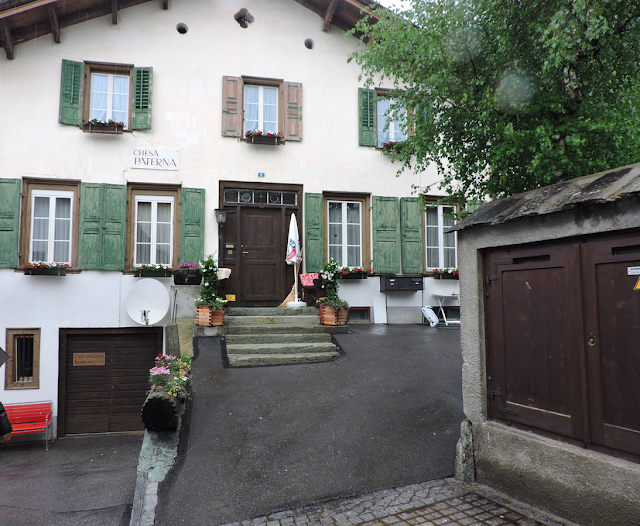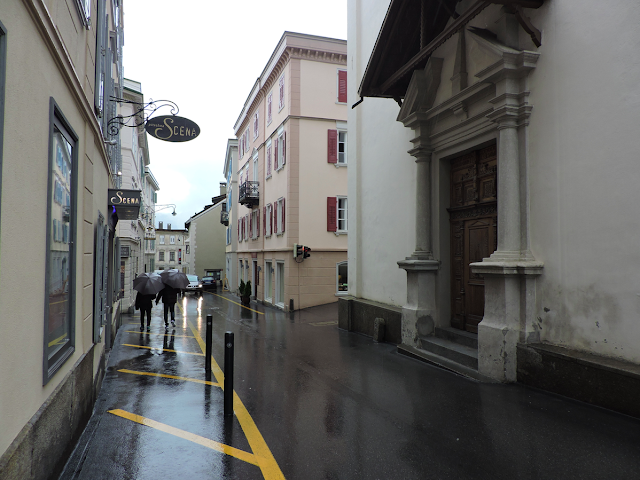 We were actually hoping to see this particular animal that Pontresina is famous for , but we didn't get to as those animals only come out when the sun shines and it was raining when we got to this town. There was not much to see in this town, except the houses and the few beautiful hotels that this town has. We enjoyed our visit to this town and covered the entire town within 45 minutes.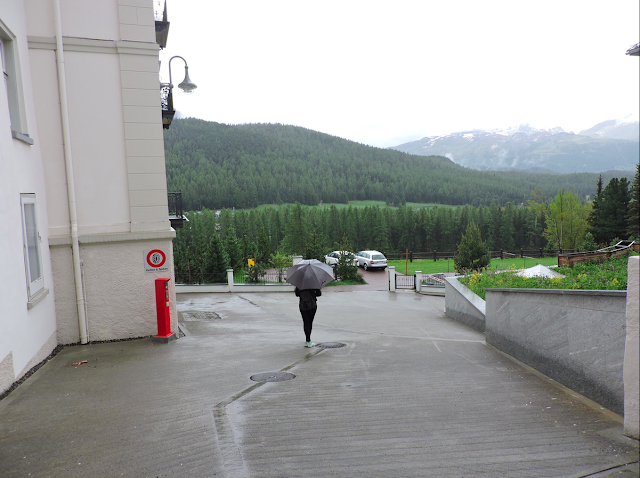 Zermatt :
We visited this town once before, in 2015. It was raining heavily back then and we did not enjoy our visit back then. We did not even expect to come back to this town ever and there we were, exactly after two years. But, our experience this time was much better because the weather was perfect and it was not raining one bit.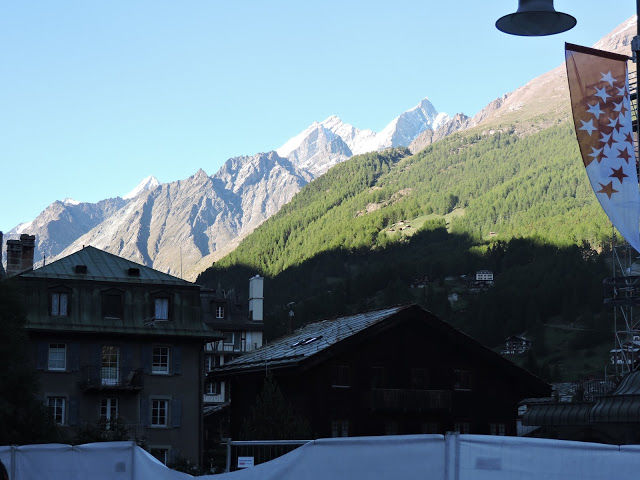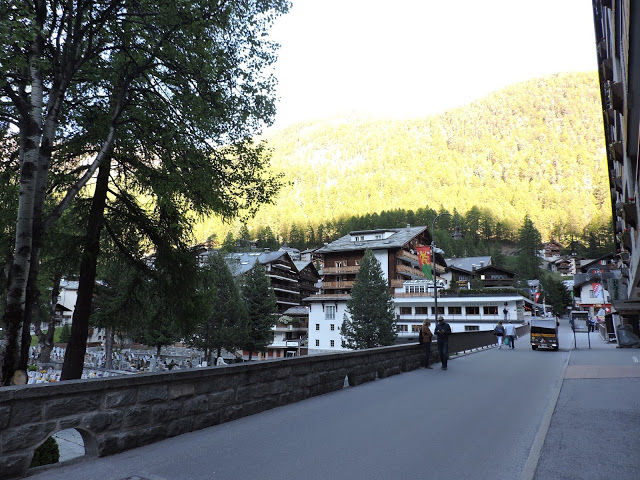 We got off at Zermatt which was the last stop for the Glacier Express. We stayed at Zermatt for a night. This town is on a mountain hence it is always cold here. It is also a zone where cars are not allowed hence there are battery operated vehicles that move around here which are a good alternative as this town is pollution free. This town is not too big hence you can walk around it in about an hour. It is extremely beautiful, with a good view of the sunset over the mountains and very cutely done cottages.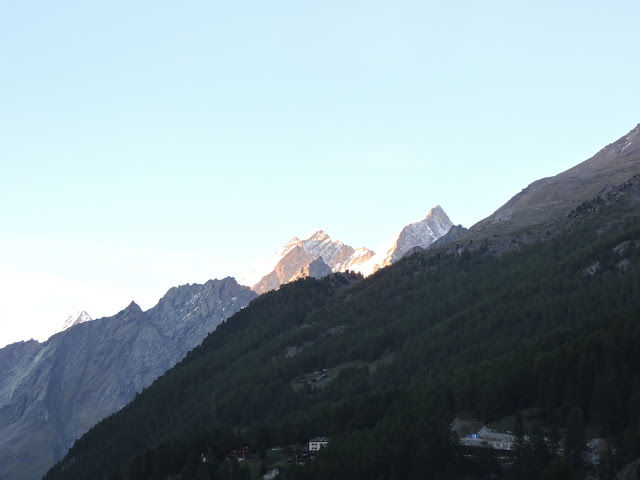 The hotel I stayed at is one of my favourite hotels of all time. The interiors are mostly made of wood, with beautifully coloured carpets on the floor. This hotel also has a seating area on the outside which is connected to a small and beautiful garden. It is an absolute delight to just sit outside with a mug of hot chocolate and watch the sun set.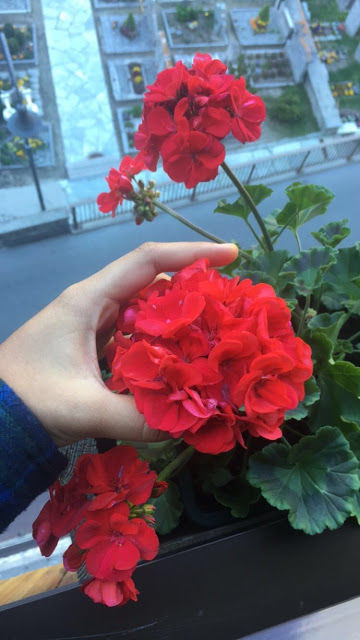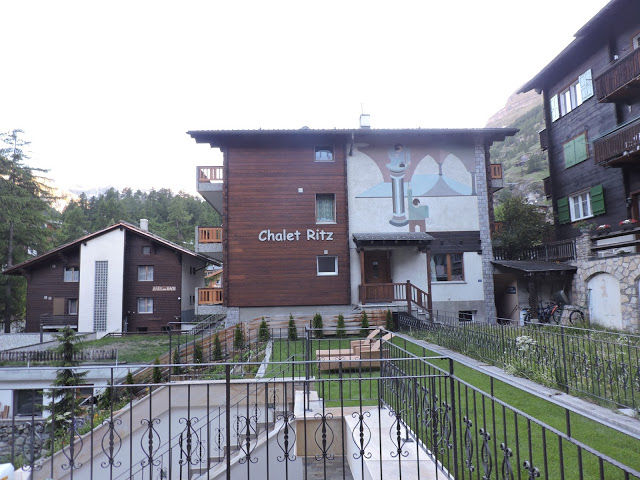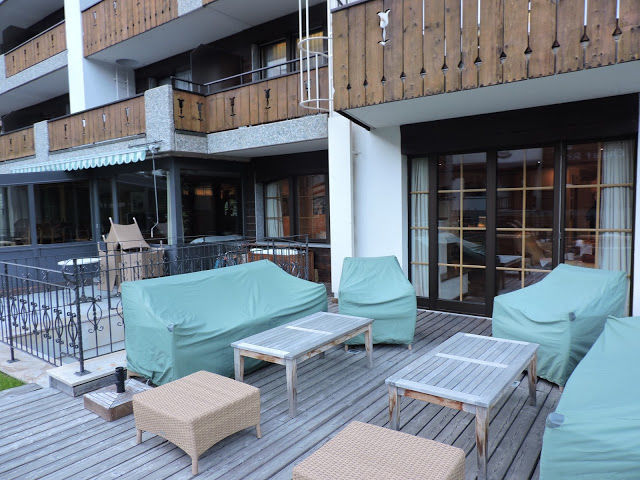 The view from my room was pretty amazing too. We had a small balcony which faced the main road and there was a cemetery just opposite my hotel. But it did not even feel like a cemetery because it was decorated so beautifully, with lots of different coloured flowers and it did not even give a cemetery - like vibe. We decided to eat dinner in our room that day so eating hot food while sitting in the balcony with chilly air blowing around us was absolutely amazing.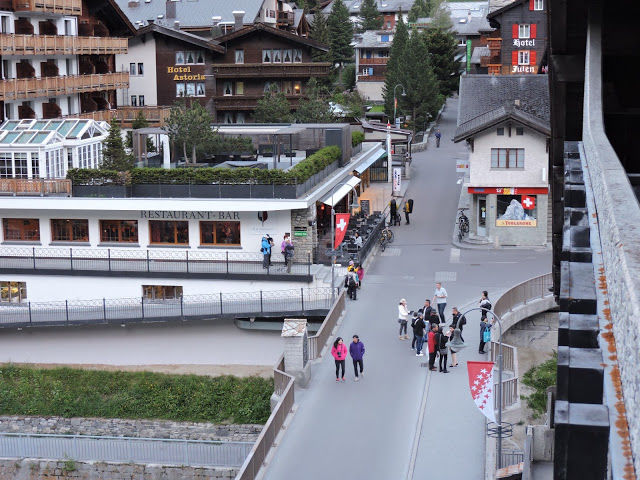 Zermatt also has a beautiful church which I went to in 2015, but could not go this time because it was shut. We walked on this street where no battery operated cars are allowed, it is strictly a pedestrian lane. This lane has two supermarkets, a McDonald's, some clothes and watch shops and many restaurants. This lane is full of tourists as well as locals who are just taking a leisurely walk while some of them sit down to have dinner at one of the many restaurants.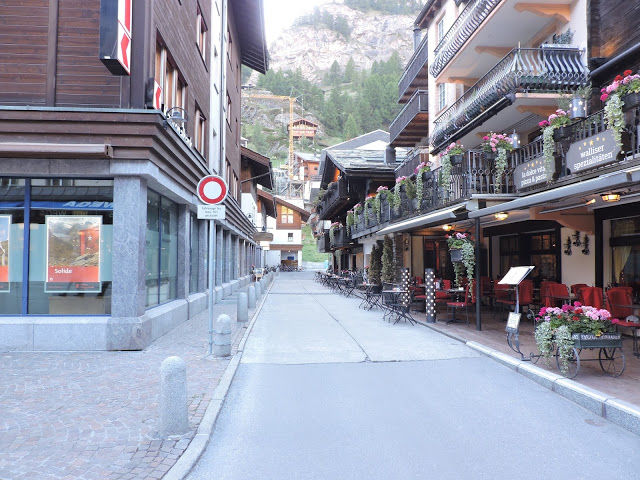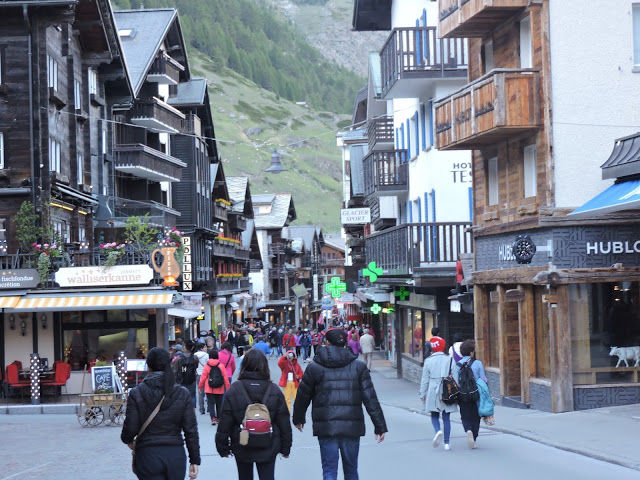 We also saw many small souvenir shops and creperies. Eating a warm crepe in the chilly weather is always a good idea! Zermatt also has this special train that takes one to the top of the mountain in which Zermatt lies. There are cable cars in Zermatt as well. Unfortunately, we could not do any of these as we reached Zermatt by 5pm and most of the activities shut by then.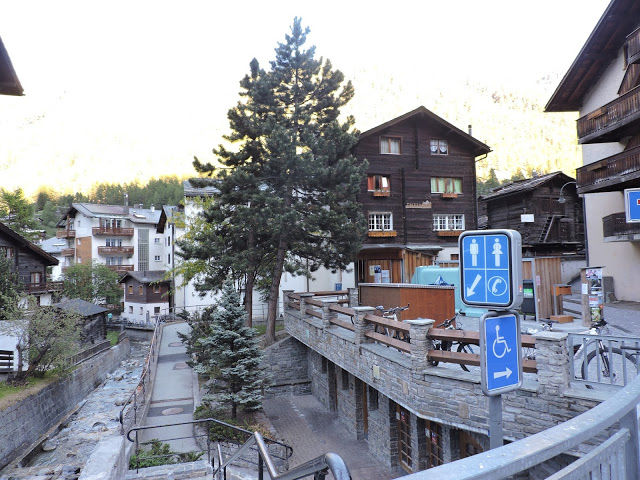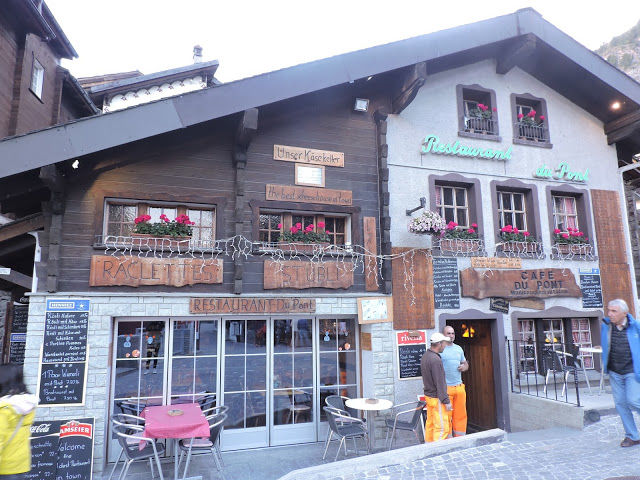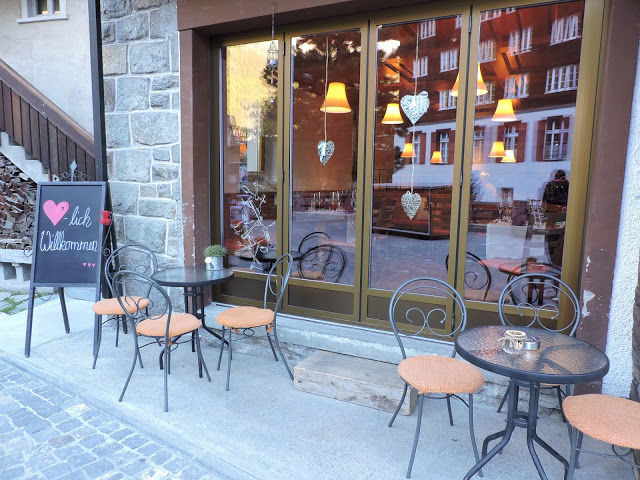 Near our hotel, there is a small bridge built over a glacial stream from where one can very clearly see the sunset on top of the mountains. When the sun sets, it looks as though the mountains are on fire! This bridge had a lot of people at pretty much every time of the day, because the view it offers attracts many people. Zermatt was our last place to visit in Switzerland. We caught a train to Paris, the next day.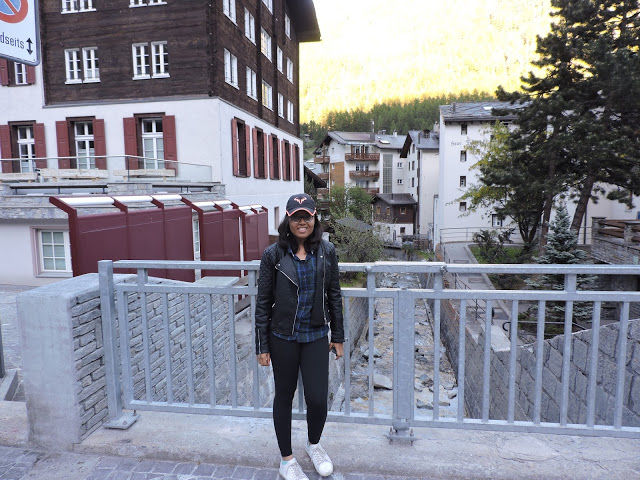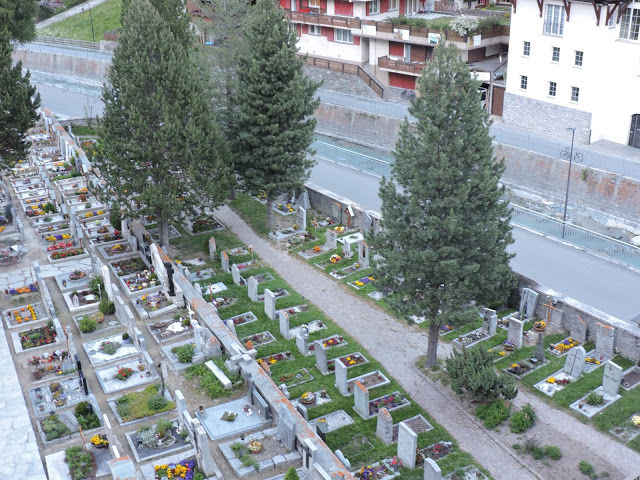 The Glacier Express :
The Glacier Express is one of the main reasons why we decided to visit Switzerland again as we were not able to take it when we visited this country back in 2015. We took this train from St Moritz and after 8 continuous hours, with almost little to no halts in the middle, we reached Zermatt.
The Glacier Express is one of the most famous trains in the world. Known for the scenic views it offers along with great hospitality the the staff onboard, this train ride is taken by more than 40,000 passengers per year. It takes us through many of the UNESCO World Heritage sites which are absolutely breathtaking and a site to behold. Each passenger is offered a pair of headphones and can choose from 7 different languages the one they prefer for the commentary. As the train moves ahead, we are given information about different places which we pass and we also get to hear interesting stories about Switzerland's history.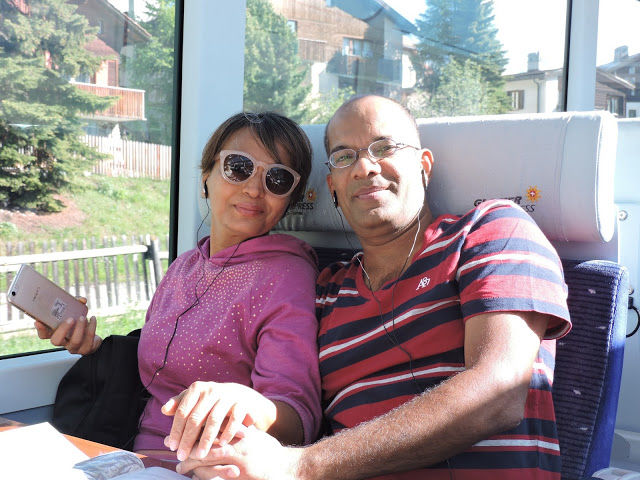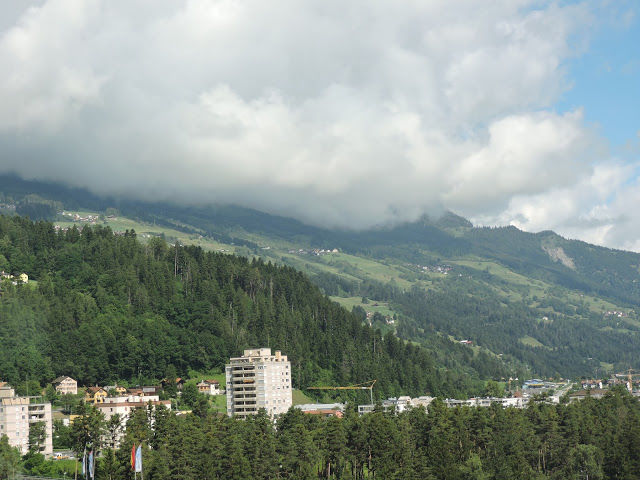 They even have a variety of delicious dishes to choose from. The food is fresh as it is cooked on the train itself. The sides of the train have huge glass windows so that one can see everything on either side of the train. We get to see lots of small and cute cottages, huge meadows with cattle feeding on grass, mountain peaks, roads between the might mountains, different kind of trees and vegetation that grow on the mountains and a sneak peak into their everyday lifestyle.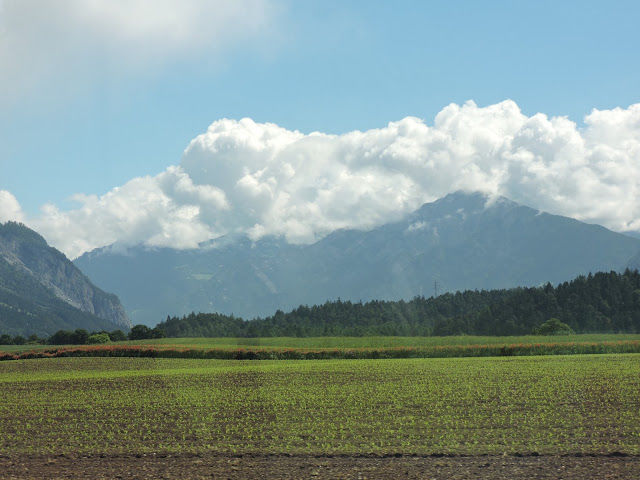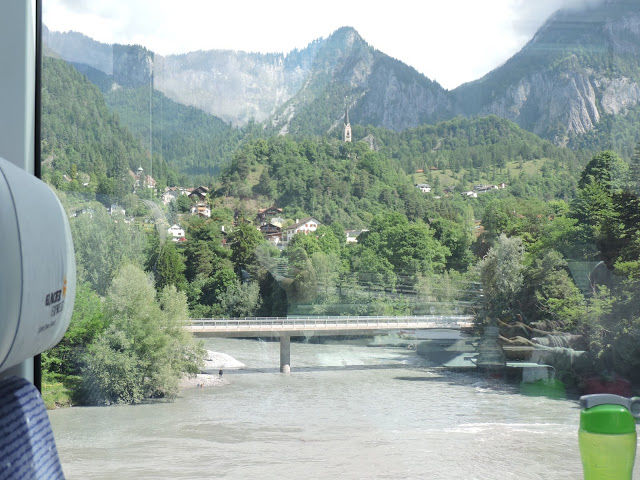 The highest point that this train takes us to is my absolute favourite part about the entire ride. We are taken to a mountain peak which is covered by ice and it is surrounded by a water body. Next to it, there is only one house and one bench with this entire view to itself! Our train stopped here for two minutes but we could not get down. So, we got to see this beautiful site and click many pictures!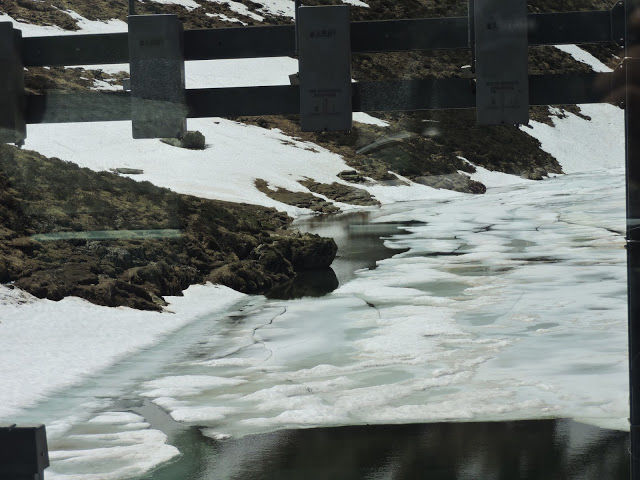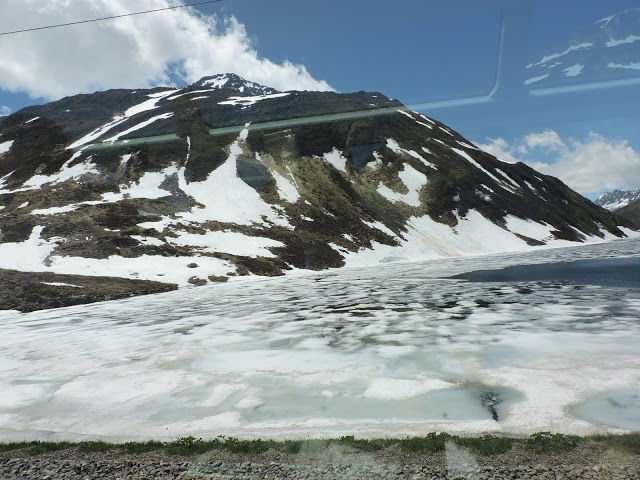 The descent from this point was great as well! We got a good 15 minute halt at this town called Andermatt. But, we could not see much of this town and 15 minutes would not do it any justice. But this town too was surrounded by snow capped peaks and a lot of greenery. It looked beautiful from how much we got to see of it. We also got to see many small hotels just beside the stations we crossed, with names similar to the stations they were at. All in all the ride on the glacier express was delightful and totally worth it! We enjoyed ourselves thoroughly and took lots and lots of pictures!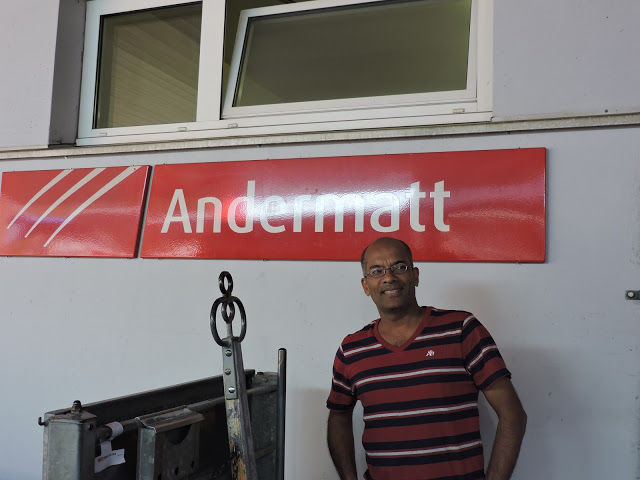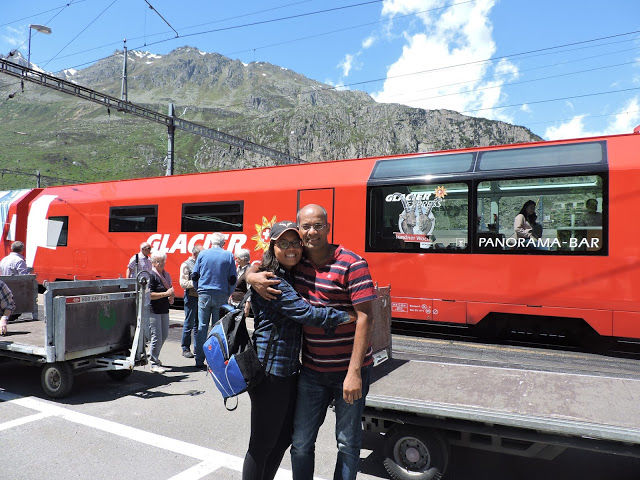 Our entire stay in Switzerland was extremely wonderful and pleasant and we were awed by the beauty of this country, once again! This country is definitely one of my favourite countries in the world and a must visit, at least once in life!