"Switzerland is a country where very few things begin, but many things end".
In my case, Switzerland marked the end to my Europe trip. I had been to few other European countries like France, Netherlands and Belgium before landing on the Swiss soil. And I was already so mesmerized by the beauty I had seen. So, my expectations from Switzerland wasn't too high. But traveling through the country made me think otherwise, even when the majestic Alps was not in my list.
The very first city which comes to an Indian mind when you talk about Switzerland is Zurich. Of course, I have seen DDLJ like every one of you and it wasn't any different for me as well.
I checked into my service apartment in Zurich which was by the street close to the central railway station. I must point that the transport in Switzerland is better than many of the other European countries. So, using public transport should be your first choice. Just buy a daily pass and enjoy it throughout the day by all means – trains/trams/buses.
I have always had this inclination towards waterfalls and mountains when it comes to travel. I like watching them just because they make me feel so "teensy-weensy" about humans.
Following the same feeling, I started with the most powerful waterfall in Europe - Rhine Falls. My means of transport was a train journey from Central station to Rhine Falls. Trains in Europe can make you see the best landscapes of the country. If you still remember DDLJ from my last reference, you would know I am not joking.
Besides enjoying the lush green landscapes passing by, I also read about my destination. I was amazed to know that The Rhine Falls were formed in the last ice age, approximately 14,000 to 17,000 years ago, by erosion-resistant rocks narrowing the riverbed. Did you read anything like "teensy-weensy" above?
The way to reach down to the falls is an elevator which is right outside the railway station. As soon as you get out of the elevator, you can hear the thundering water. And as you move closer, the moist air slaps your face to remind you to pay honor to the wonders of nature. Its not just the falls but the whole landscape which can present you a wallpaper of your life. There are eatery options by the falls and just the view of it will make you gulp more beer than you usually do.
What a start! It was just the first attraction of the day and I was already in love with the country.
I came back to the city of Zurich and just kept walking all afternoon. You might think that this wouldn't have been different from walking in the other cities of Europe. But no, the streets in Zurich had so much more to offer me.
I went through the wooden love lock bridge. By the name of it, you would know what's hanging on the bridge. If not, take a reference from another Bollywood movie "Befikre". Oh wait, that was Paris. No, I didn't miss it but its just that that scene in the movie explains the best about what a love lock bridge is. Hah, I am being a devotee to the Yash Raj Films.
Anyway, the love lock bridge in Zurich is the same. The only difference is that its wooden and not iron/concrete, which adds to the beauty of it. I took a closer look and touched the locks on the bridge to read thousands of names on all of them. Only God would know, how many of those names are still together. On the same bridge, I knew there was a lock with my name too. It was my first time in Zurich, so it wasn't me who hung it there. I had known it for more than a year now and may be that was my reason to be there. But I was there to unlock it. Yes ... you read it right – to unlock it.
I couldn't find the one with my name but somehow unlocked an unnamed small little lock. I begged forgiveness while doing it, but I had to get that thing out of my heart. I think you got the story – so "let's move on".
The street was by the canal which runs through the city and I was lucky enough to find a band playing those romantic numbers with several lovebirds in front of them. I took a coffee and sat there listening to them, feeling the love in the air.
I couldn't do it for long because I had places to go. The next was the Uetliberg mountain for the sunset.
I took a train to Uetliberg and realized that everyone was there for the same reason. It's a small trek to reach the summit. I am sorry, does it qualify as a trek if you see a 90yr old lady reaching the summit on foot? Haha, to simplify it, it's quite an easy one. The mountain gives you the best view of the city. From the building to the lakes, from the fields to the hills, you can see it all. What adds to the beauty of it that, on a clear day you can very well see the giant Alps. So do not forget to carry your binoculars. I didn't have a binocular so instead used my 16x camera zoom.
The mountain offered me the best sunset I had ever seen. It was one of those sunsets which I never wanted to set. But as Coldplay says – "I know the sun must set to rise".
That brought me to the end of Day 1- sorry I am skipping the late-night bar hopping and strip club experiences ????
Day 2 began with a morning bus trip to another Swiss city – Basel.
I didn't have a stay reserved in Basel as it was my last day in Switzerland. So less time and so much to see. Hence, I had to make the most of this day.
By now I had figured out that the best way to explore a city is on foot. So, I started walking through the Basel Old town. While Zurich was a mix of natural beauties and modern-day city, Basel too had something very significant to offer – history. Again, the streets were by the canals which kept me reminding that I am still in Europe.
Keep walking through the streets and you will come across few churches like the Elizabeth Church. Most of them would look alike but if you an architecture fan, you will notice the differences.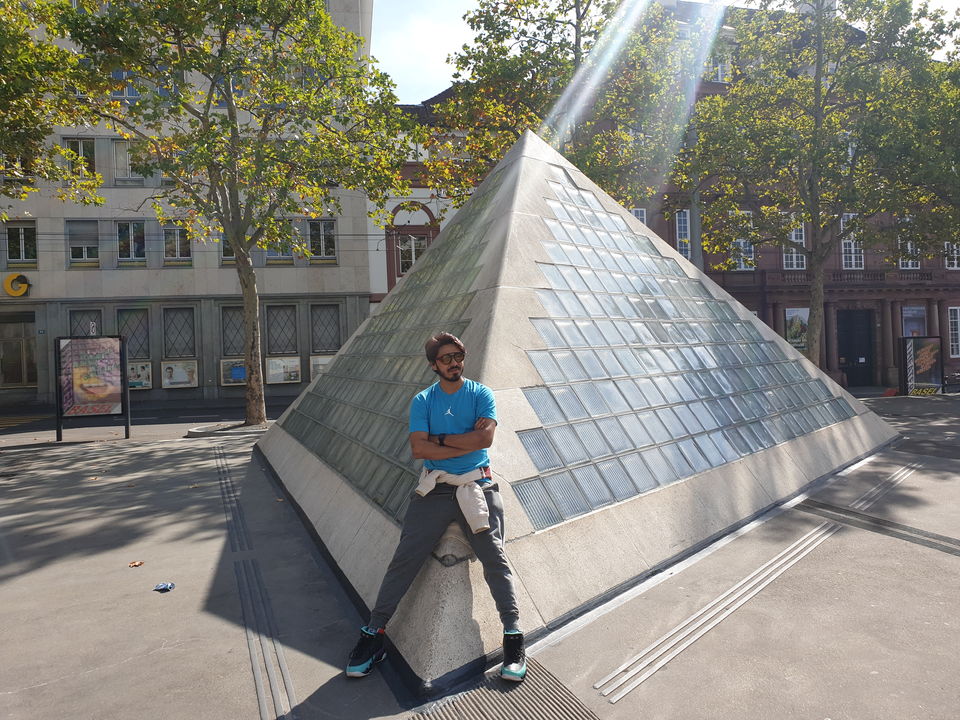 The part of Basel that lies roughly between the river and the old city gate at Spalentor is not large but quite atmospheric with its stone streets, medieval churches, beautifully maintained old homes, and brightly painted fountains. But leave it to Basel to introduce a thoroughly modern and whimsical fountain by Swiss sculptor Jean Tinguely amid the stately historic houses. Very often than not, you will find some gentleman playing violin in the town hall and trust me it connected me back to another Yah Raj's gem – Mohabbatein ????
The Rathaus town hall is another masterpiece in the city and must not be missed. The main building is gothic style and dates to 1504. I walked into the beautiful courtyard to see the wall paintings restored from the 16th century. It also has a status of Munatius Plancus who is known to be the founder of the city. In addition to the town hall, the city's history is also very well contained in the many museums. I skipped most of them but if you have time, take that tour. Taking a dive into the mankind's history, I realized how splendid our creation is.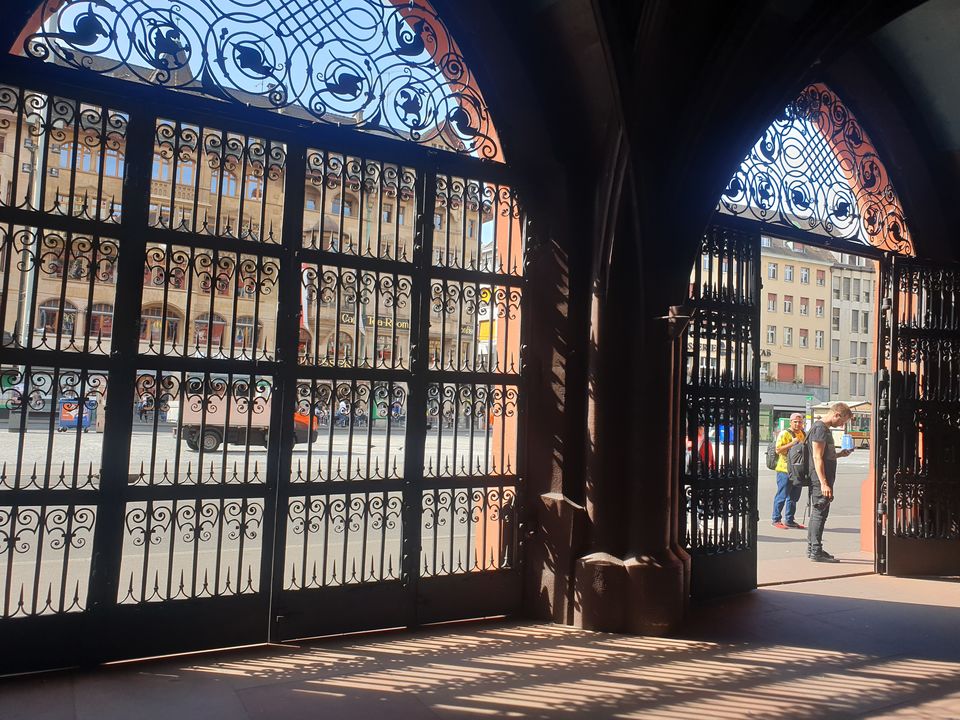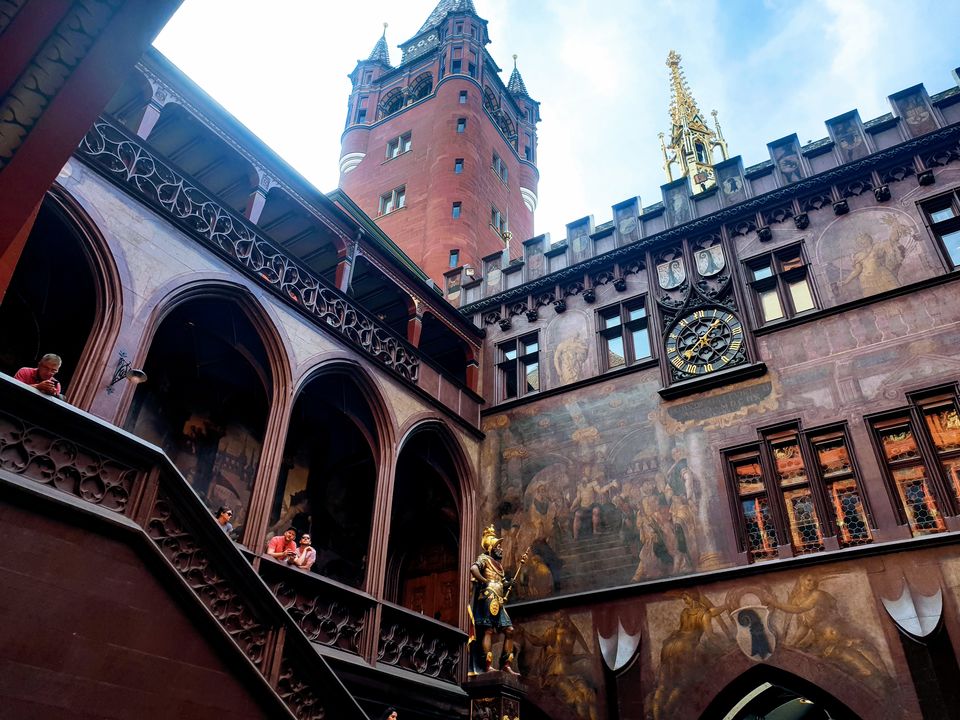 "There's an explainable difference between man made and natural wonders. You will have so much to talk about the man-made wonders and so much to admire about the natural ones."
Though the weather was pleasant, I was tired roaming around the city and my senses demanded food. Food is something which will trouble and Indian's your full time in the European continent. My best advice will be to hop into any Chinese/Japanese restaurant, and you will not miss your country. We Indians have developed a great affinity towards Chinese food in the last two centuries.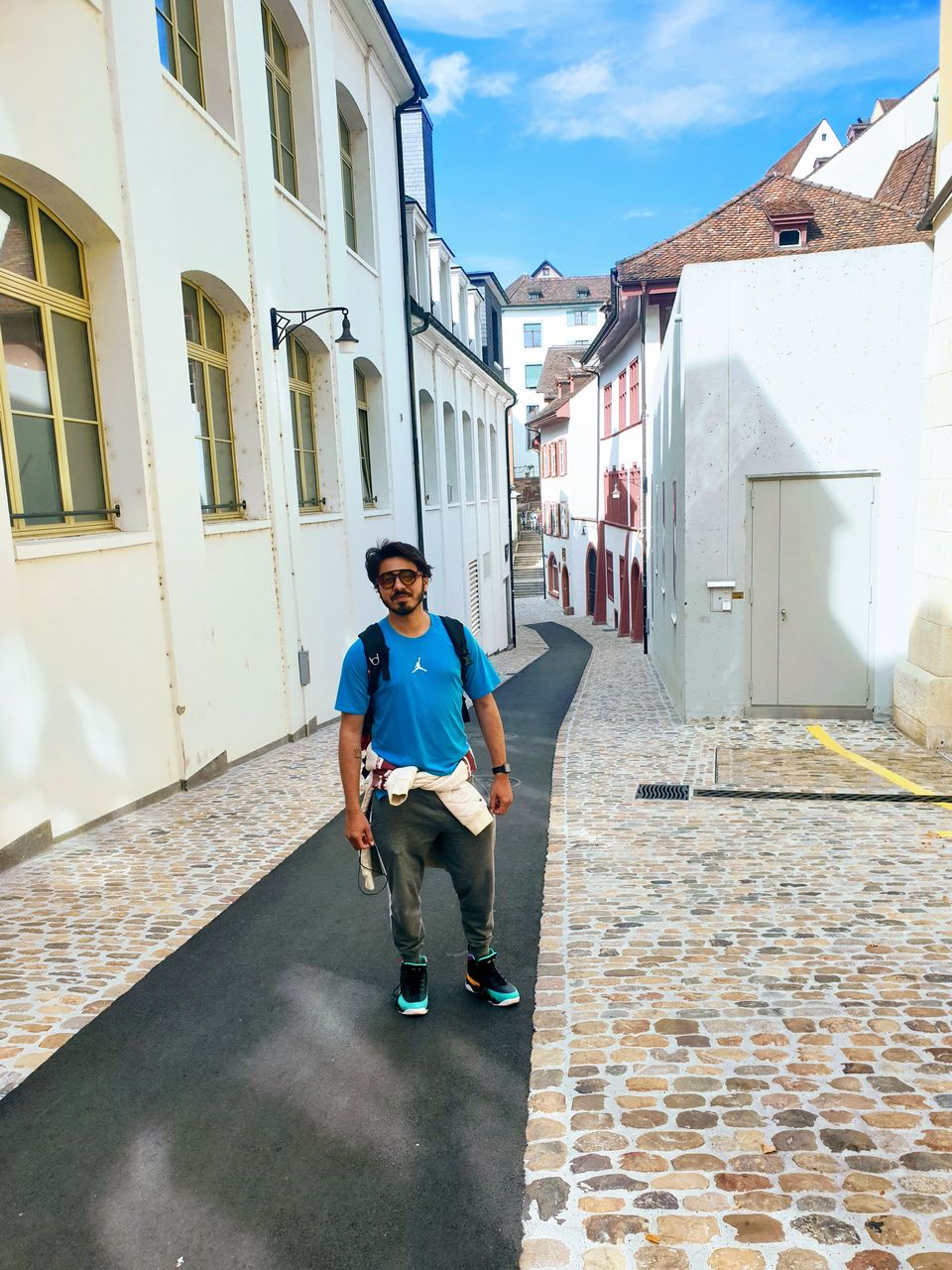 I had to reach the airport by 7 PM and I still had about an hr with me. And the most encouraging part of travelling in Europe is that you will have sunlight till 8 pm which gives you those extra hours.
With an hour at hand, I decided to just relax and lay down on a bench by the canal. The cold breeze was serene enough for me to take a power nap. My trip to Switzerland was nearing closure and there was nothing which the country's two cities didn't offer me. Yes, I missed the Alps, but that's not what Switzerland is all about. I swear on Alps, I will come back and conquer it. Because as mountain, it can't grow but as a human I can. The calmness of the water and the birds chirping by the lake made me make a wish – may I remember this forever.