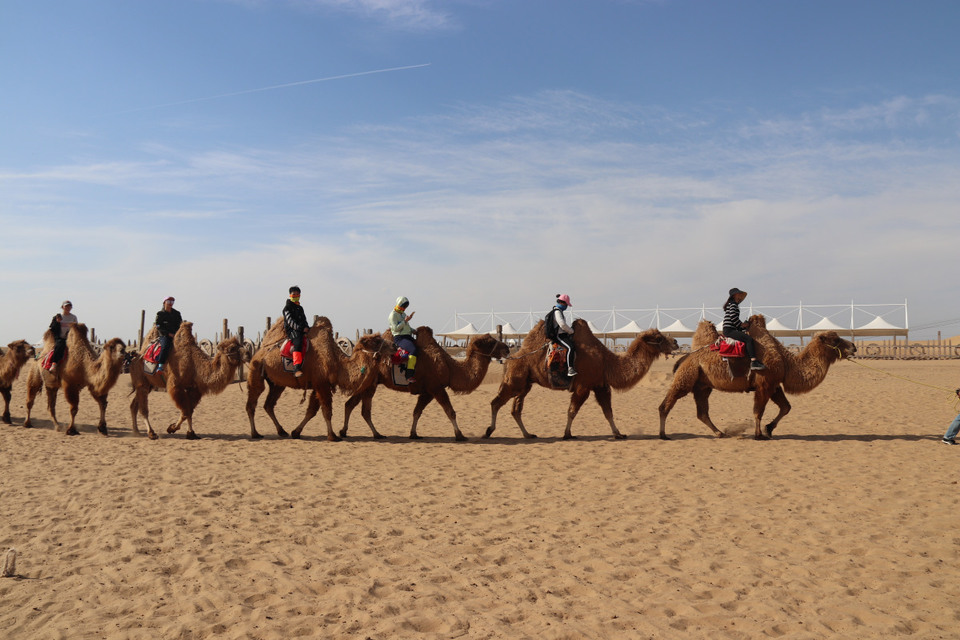 I had been to the grasslands of Fengning Bashang and Gannan before but had not seen a proper desert. So, we decided to go to Inner Mongolia during the Qing Ming (Tomb sweeping) holiday of three days between April 5 th to 7 th, 2019. While the trip was available both with FCN (Foreigners China) and CET (Culture Exchange Trip), I decided to go with FCN due to better familiarity with the former.

Inner Mongolia is an autonomous region bordering to the north with both the Republic of Mongolia and Russia. It is the widest province in China by latitude. It is the third largest Chinese province but is not very populated. Hohhot is the capital of Inner Mongolia.
Booking the trip was easy as it is always with FCN. The bus journey was going to be long. They decided to start early in the morning at 4:30 to beat the holiday traffic, which meant we had to take the taxi too early. Not to take a chance, we came down from home at 3:15 in the morning and looked for a DD taxi. It was quick to get and quick to reach Huixinxijienankou as the road was empty. People started coming slowly. There were more than 50 people with two leaders, the main leader being Evelyn and the assistant Kardelen. The tourists were from many different countries, as always with FCN. Though we left Beijing early, the traffic was still high with so many vehicles moving out of the city due to the long weekend. With few breaks in between, we reached the first stop, the Xilamuren grasslands (希拉穆仁草原) around 13:45, after 9 hours journey. Xilamuren means "yellow river" in Mongolian, which indicates the nearest river. This grassland has been developed as a sightseeing destination and have many yurts for tourist's stay. The grassland was dry as it was almost end of winter.
As soon as we got down from the bus, we were offered a bowl of wine (possibly horse milk wine, as its offering is a gesture of hospitality of the Mongolian people). Soon we had lunch at the central restaurant. Lunch consisted of mantou, rice, fried vegetables and meat in typical Mongol style. The resort was beautifully designed as a typical Mongolian township with symmetrically built cottages like yurts. After lunch we were led to horse riding. There were other groups too, making the total number of people riding horses very high and when it attained good speed, it looked like an army. Normally, the horses were well trained and all of them followed a set path. There were few guides on the horse back to help people having difficulty. The horse riding that went for more than an hour, was more enjoyable than the one's I had done before, though the rising dust was a drawback.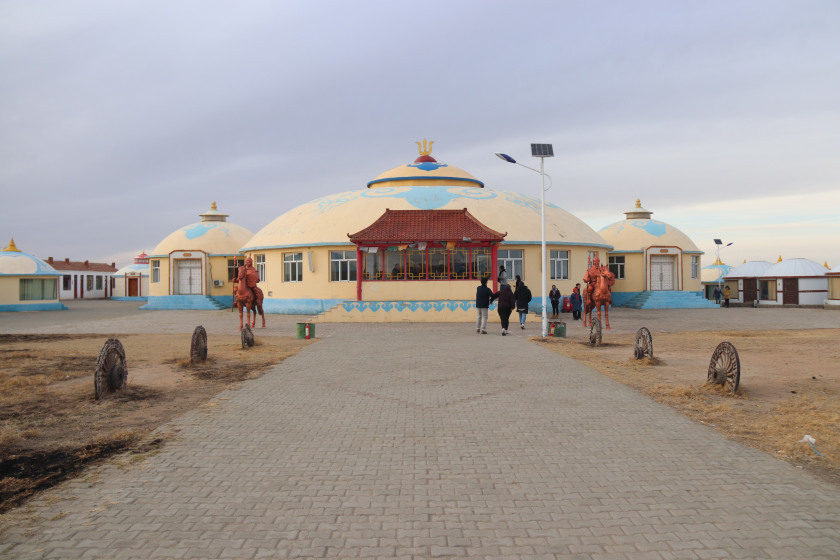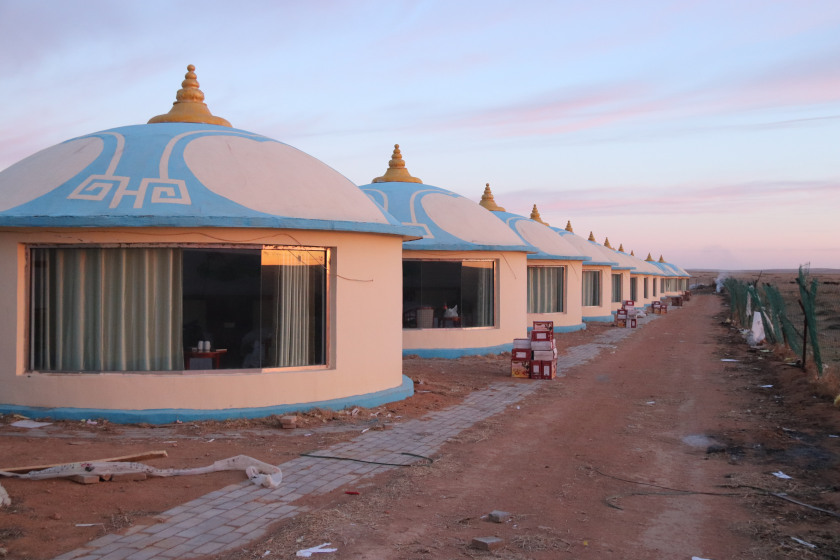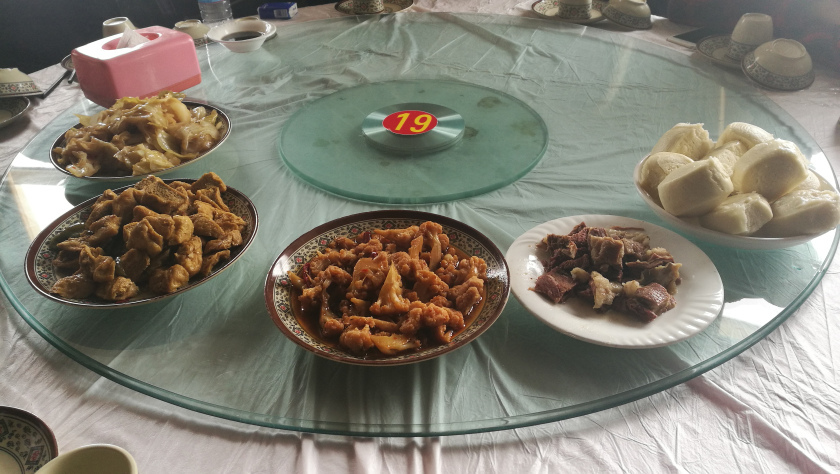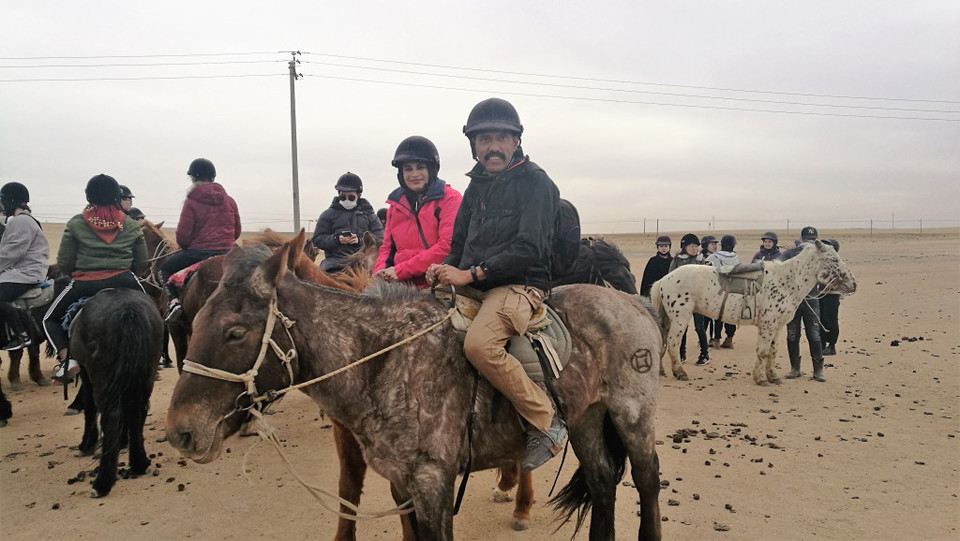 Evening there was dinner with some people performing (music, singing and dance) in Mongolian traditional dress. The FCN advertisement had said "dining ceremony of the roasted whole lamb", so I was expecting to see roasting of a whole lamb as I had seen before at Fengning Bashang. But it was a bit disappointing to see just some roasted lamb, that I didn't even recognize, served at the dinner table. After dinner, we were given the keys to our yurts. The yurts looked comfortable, but for the scarcity of water. There was some construction going on to build more yurts, and there was no flowing water. We were given a bucket of water to use, and I requested Evelyn to provide one more as we couldn't manage. Also, it was cold, and the air conditioners had only few remote controllers, thus each one had to switch on and return the key to Evelyn. She must have had a tough time catering to the needs of so many people. Later at 21:00 in the night we watched a performance by the local artists on an outdoor stage, while having a bonfire.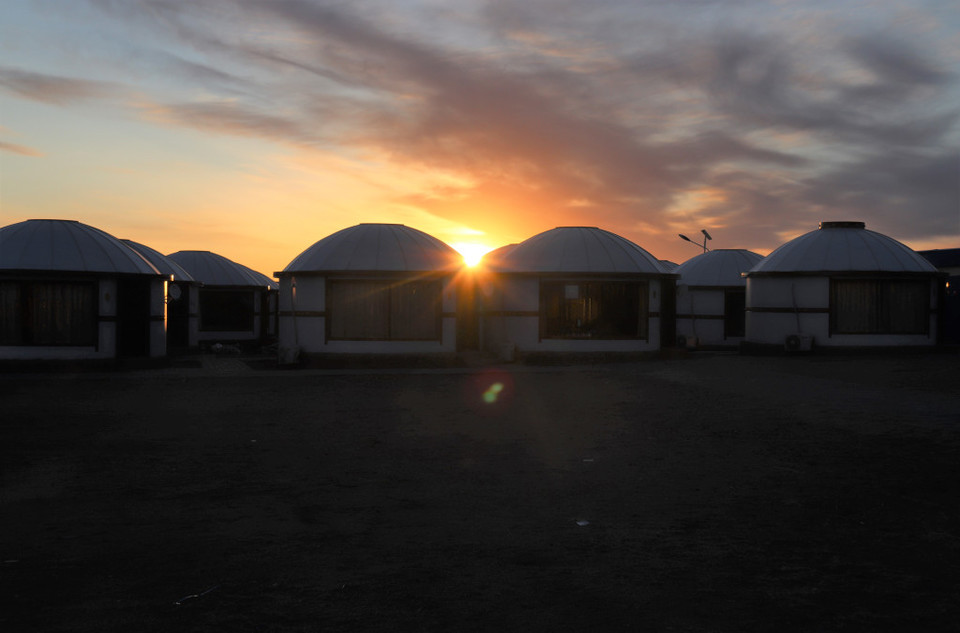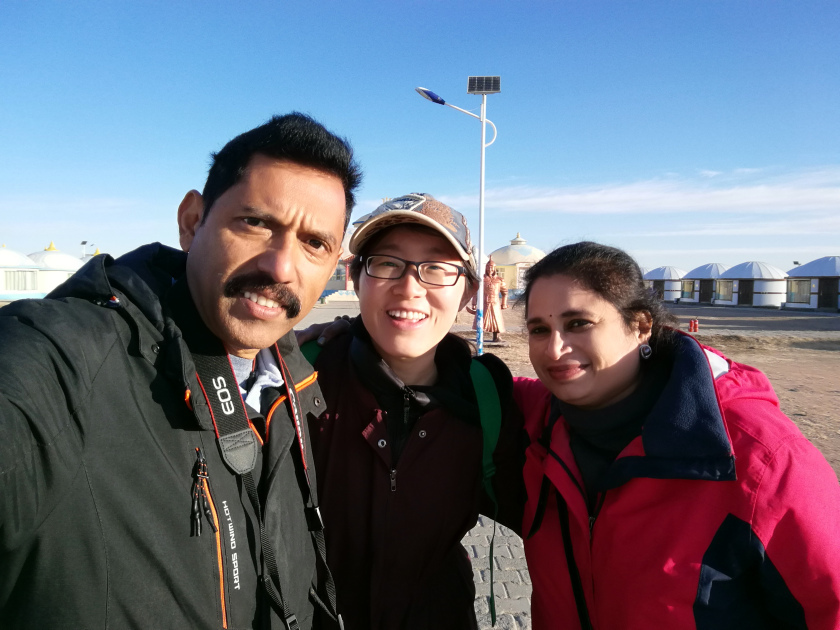 Next morning, we got up to a stunning sunrise. There was no chance of shower due to water shortage. Breakfast was of mantou and vegetables was at 6:00. We met Joey, a very amicable FCN guide from Suzhou and Harbin trips in the morning. She had brought a team from Tianjin. We left at 7:35 by our bus for the Kubuqi desert. The bus went through long highways and tunnels. The view was a bit dry all around We stopped for lunch around 12:30, The lunch place was a large hall with hundreds of people, but the service was quick.
We travelled for about 20 minutes again and reached the Kubuqi desert (库布齐沙漠) around 13:45. This is the seventh biggest desert in China with an area about 18,600 sq km. Kubuqi is a Mongolian word meaning the bowstring. This desert is like a string tying to the Yellow River bow, thus the name. It is known that the desert was much bigger and has shrunk due to the measures taken for reforestation ( http://time.com/4851013/china-greening-kubuqi-desert-land-restoration/, http://www.ecns.cn/hd/2018-08-08/detail-ifywwxaw2290256.shtml). Some part of the desert is now being used for tourism.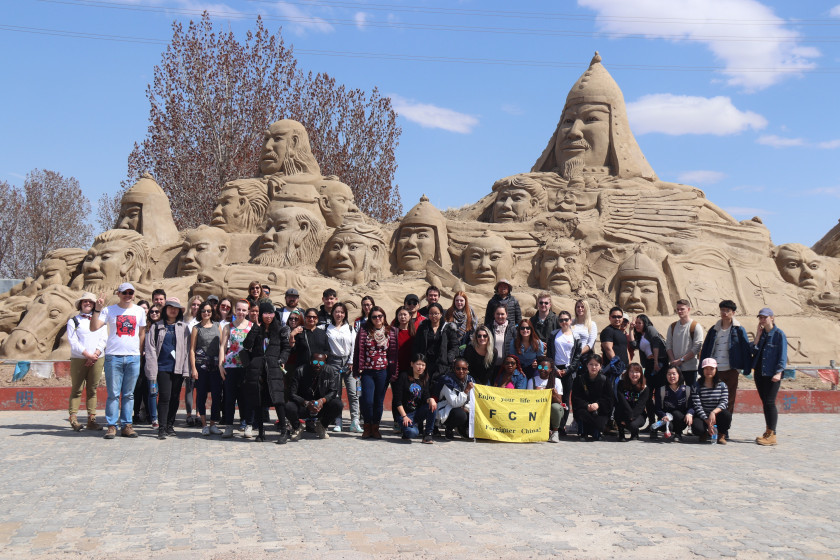 There were huge sand sculptures of Genghis Khan and other Mongol warriors in front of which I asked the group to take a picture. Evelyn distributed our tickets that had all the activities listed. We were taken through the desert by a special all terrain vehicle. The twenty minutes ride through the desert going up and down, was very thrilling. Once we reached the activity area, the team got dispersed based on the activity of interest. Most of the things had long queues. We started with ziplining, followed by a camel ride. Normally eight camels, tied to each other, travel together like a caravan. There will be one guide per group. After some waiting, we got our turn and enjoyed a long ride on the camel back. These camels are double humped, making it more convenient to sit. Still, at times, you feel like you might slip and fall. We tried all the activities, sometime waiting for long time to get our turn. The whole area is kept clean and tidy, and the quality of the equipment is good. We had a wonderful afternoon and finally came down sliding on a wooden plank. At 17:30 we caught the toy train back to the parking area.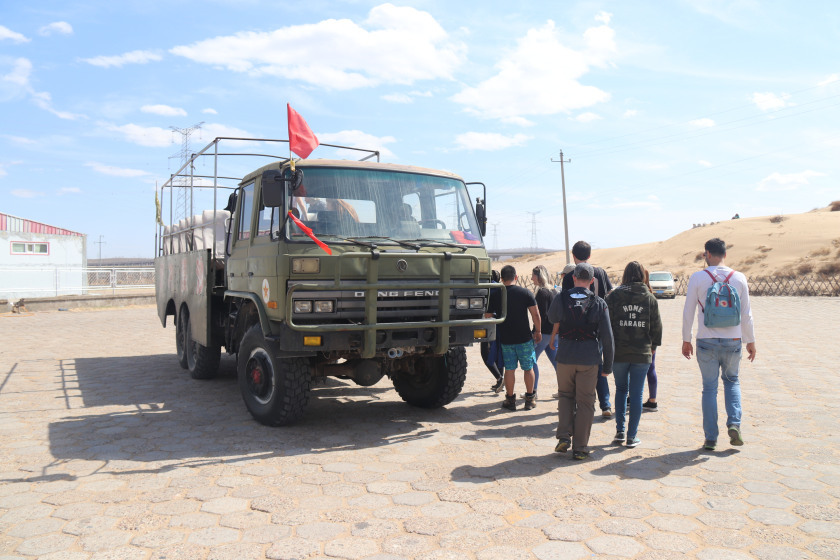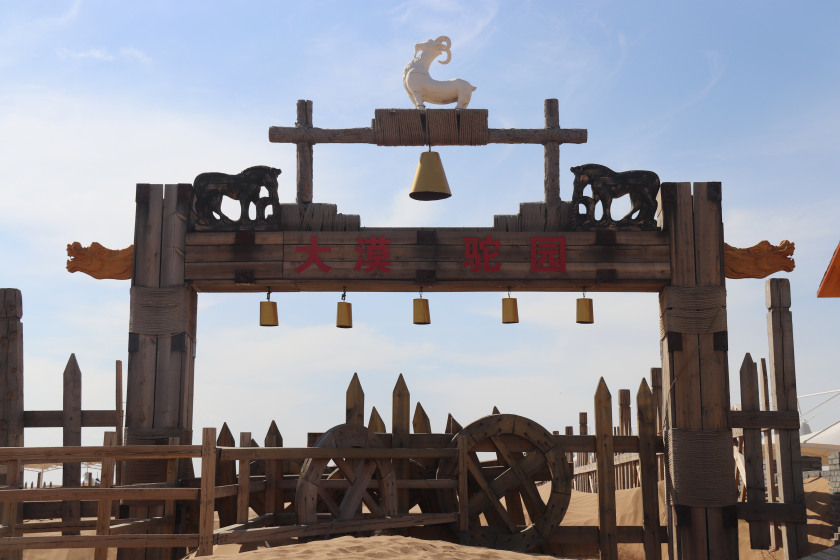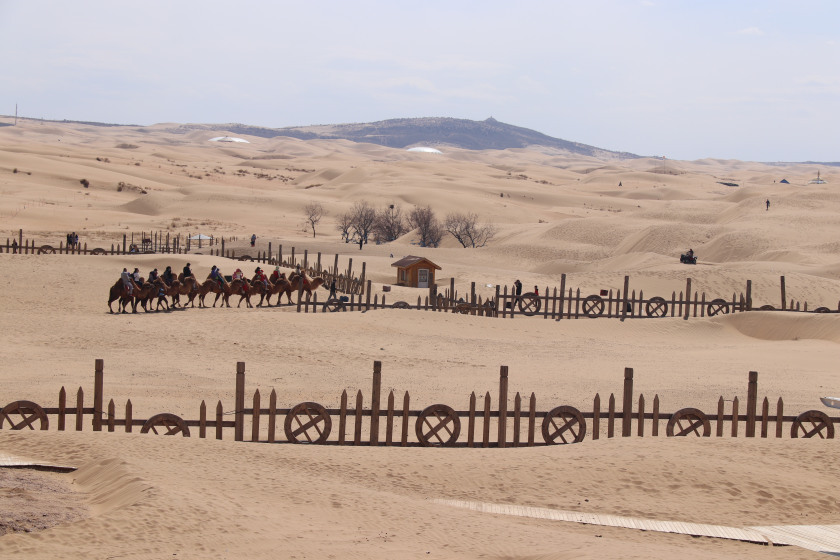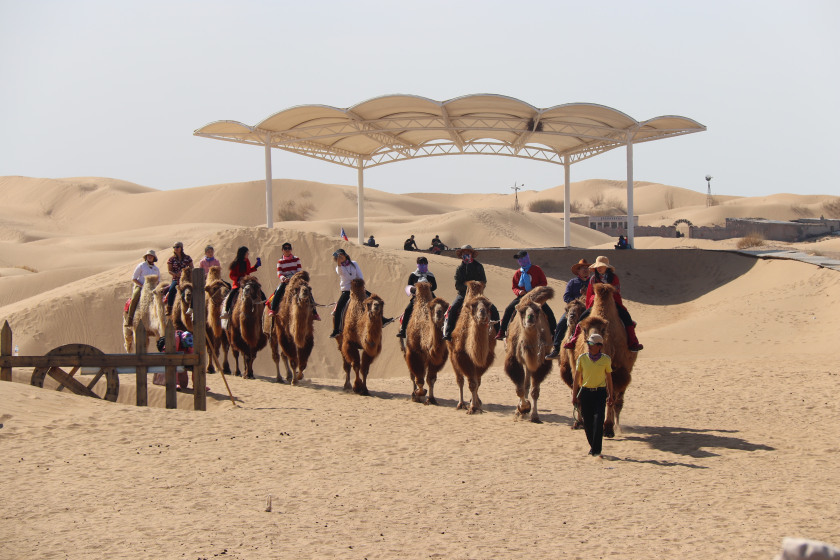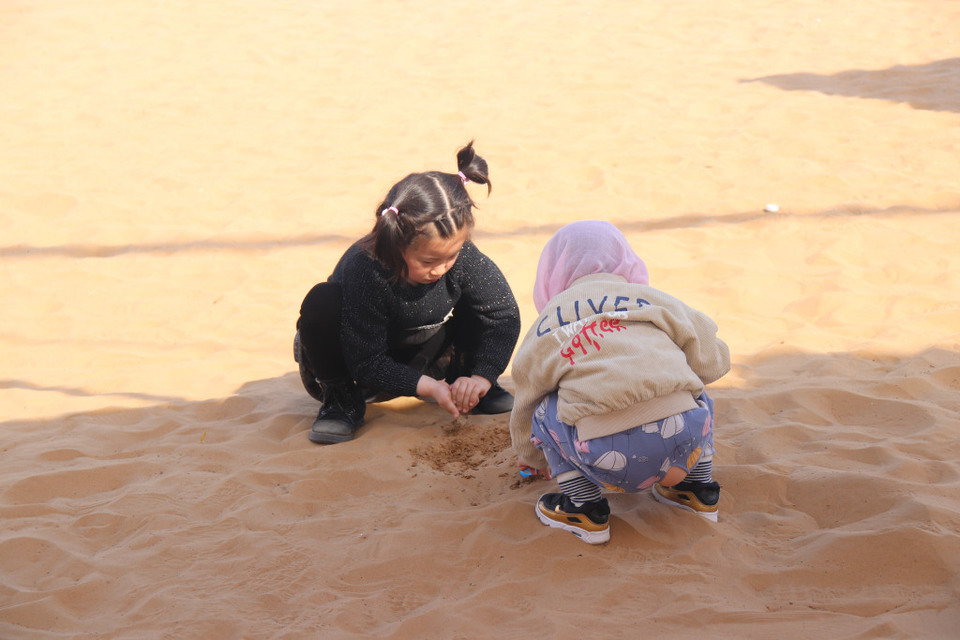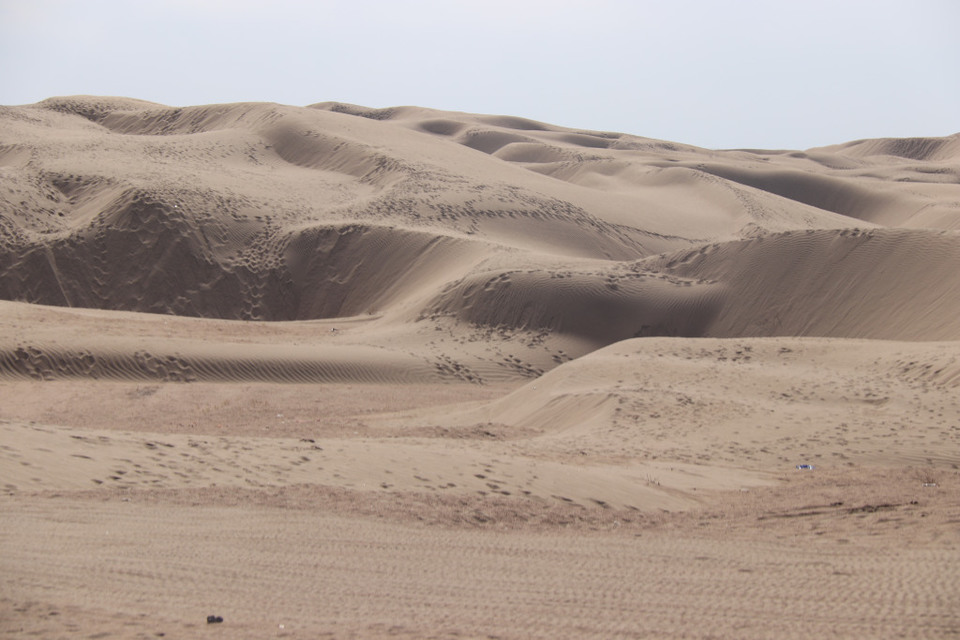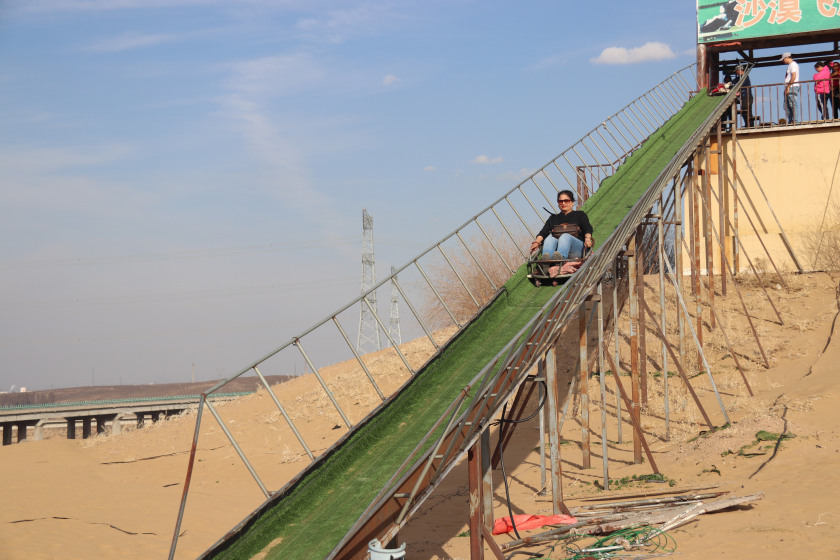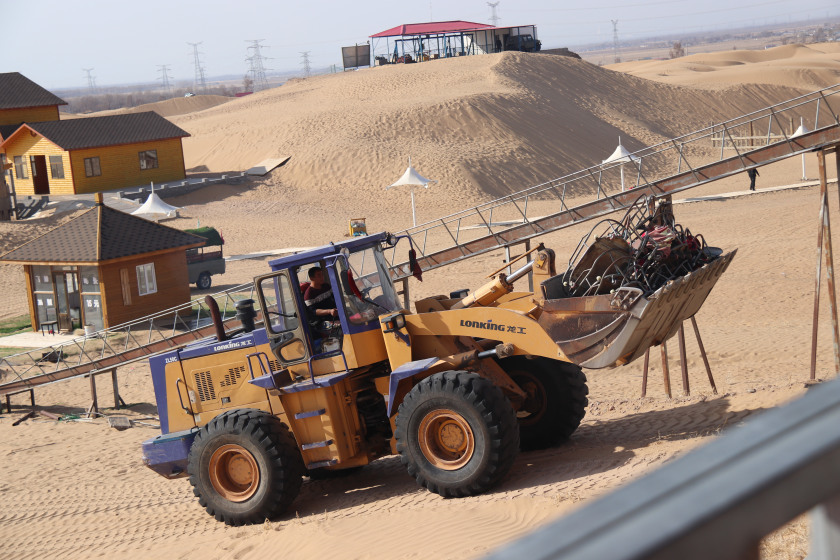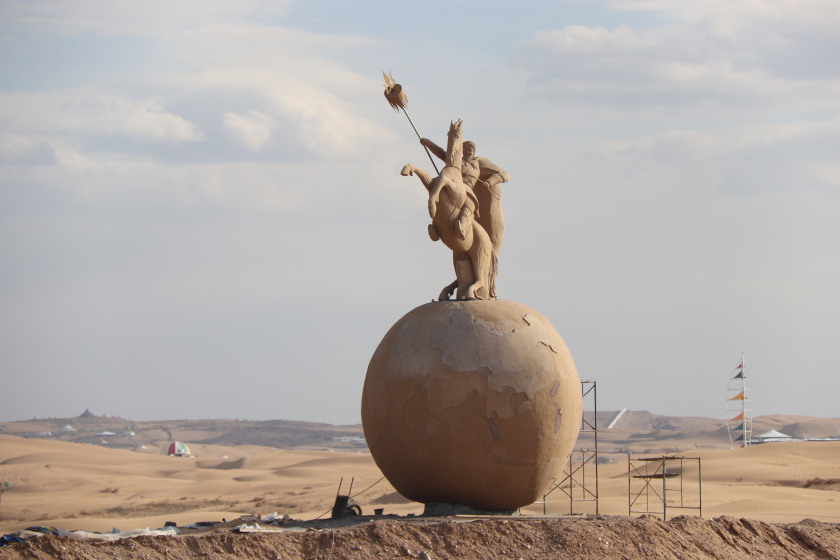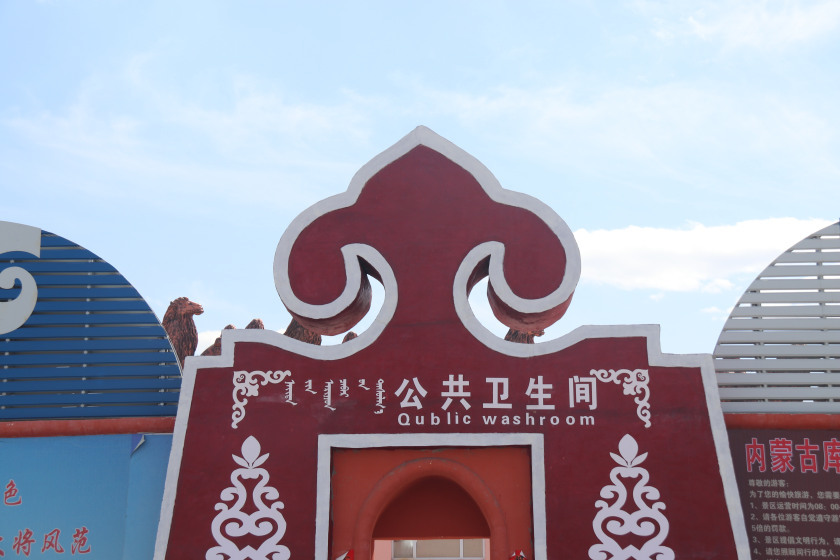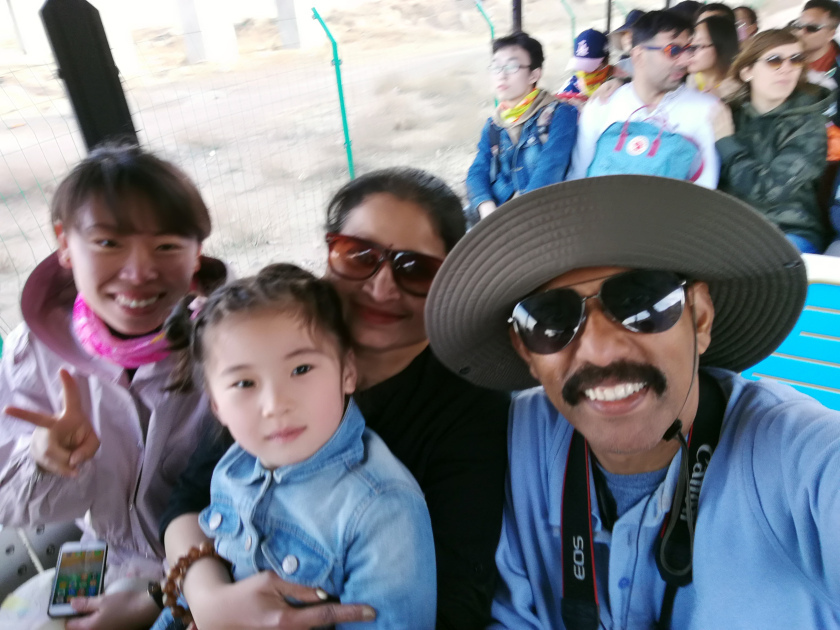 The bus left at 18:30 for Hohhot city. We decided to have dinner before going to the hotel and had a hotpot dinner. It was 22:00 by the time we reached our hotel. The city, capital of Inner Mongolia looked big and had great infrastructure, like all other cities in China. Hohhot is supposed to have a history of more than 2000 years, but major rebuild has been about 400 years back during the Ming period. There is a story of San Niang Zi, a local brave and beautiful girl loved and married a tribal leader, Altan Khan, who was descendent of Genghis Khan and they built the city. San Niang Zi is supposed to have personally designed the city.
The hotel, Jiahaoyujing (嘉豪御景) seemed grand. It was hot in the room and we didn't know how to switch on the air conditioner. I was in a greater shock when I realized that there was no water in the bathroom! We badly needed a shower, and I messaged Evelyn to help us. After some time, an old helper (in full suite, very well dressed) came and showed how to switch on the AC. I explained to him with my little Chinese about the water and he said he will check. After about 20 minutes, I saw him inserting the card in one of the machines and alas! Water started! It was quite late, and we were also tired. We hit the bed rejuvenated from the refreshing shower.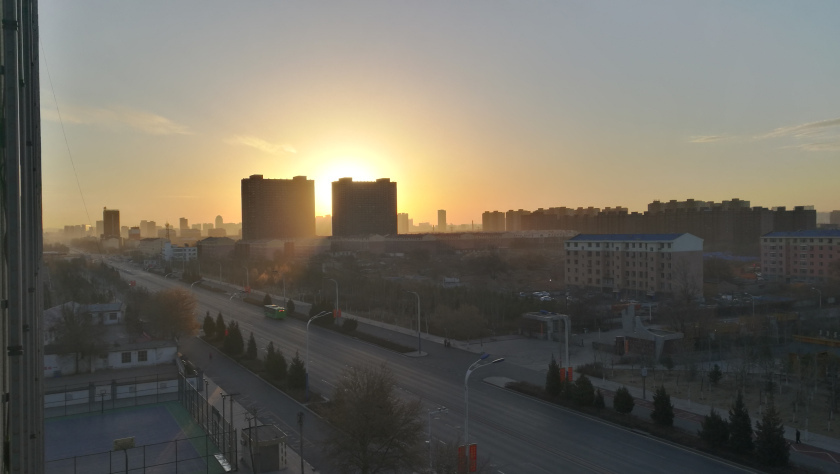 Next morning once again, we could see beautiful sunrise from the hotel. It was a bit relaxed and we were supposed to leave the hotel at 8:30. There were two destinations on the itinerary, Mengliang National Handicraft's factory and Inner Mongolia museum. Evelyn felt it would be difficult to cover both and reach Beijing in time, thus after some discussion, it was decided to drop the factory visit. Given my love for arts, I was disappointed (Some of the content can been in a fellow blogger's site: http://eurikasbeijinglife.org/2018/10/09/mengliang-national-handicraft-factory/).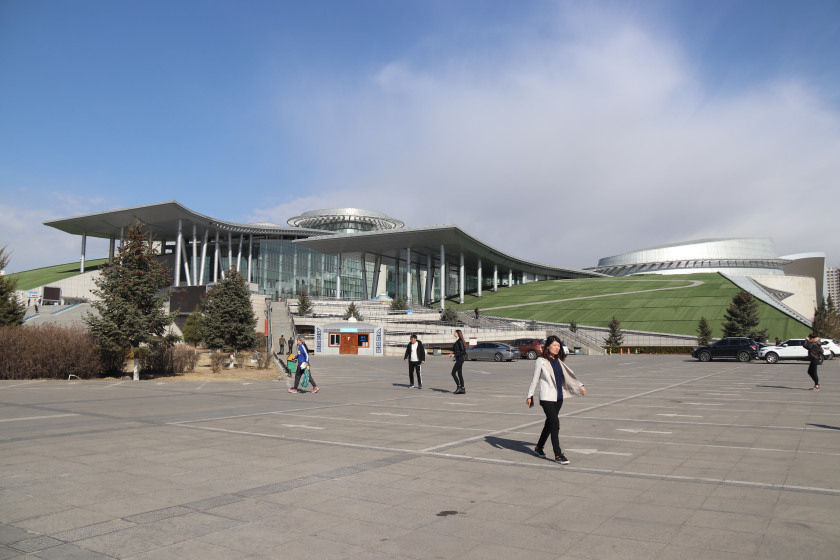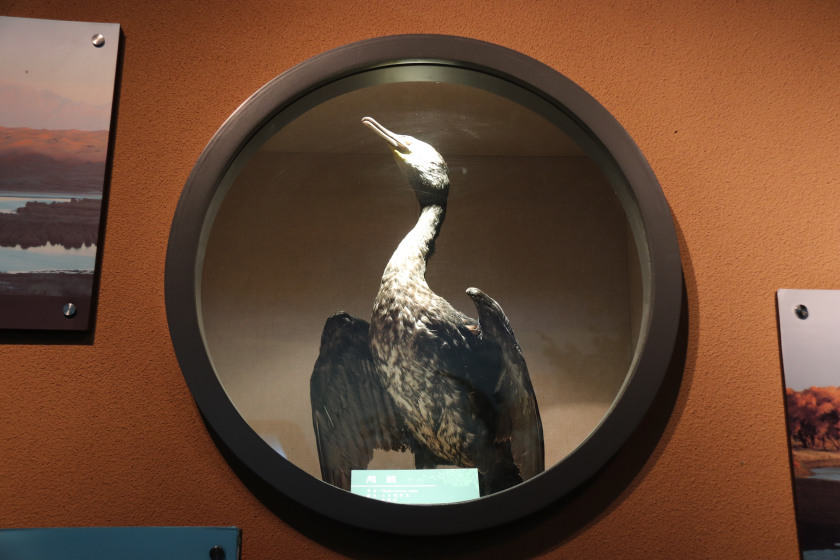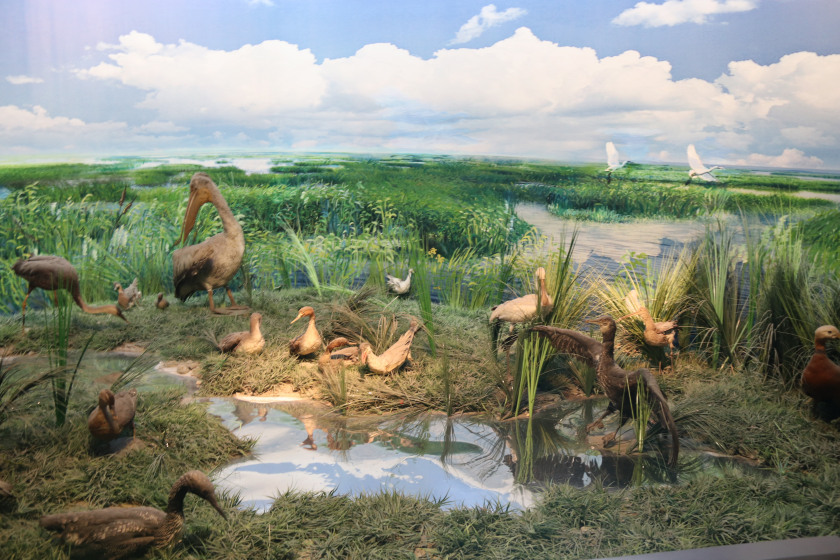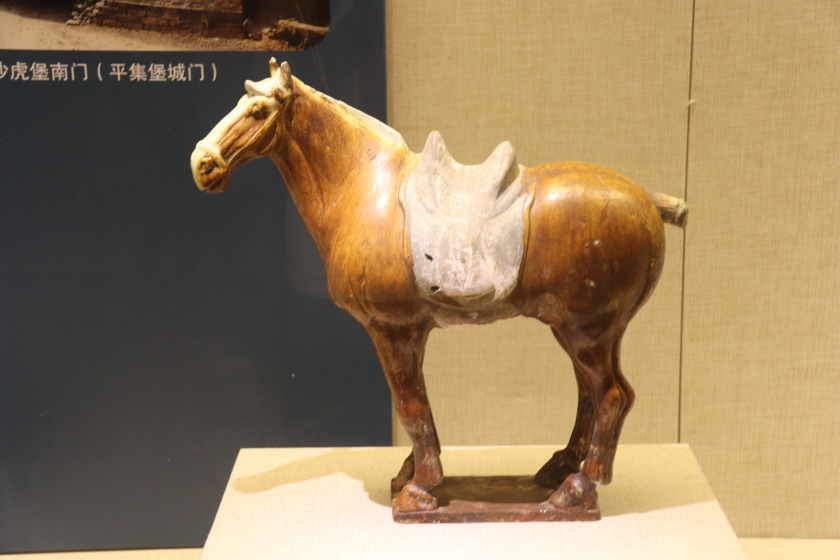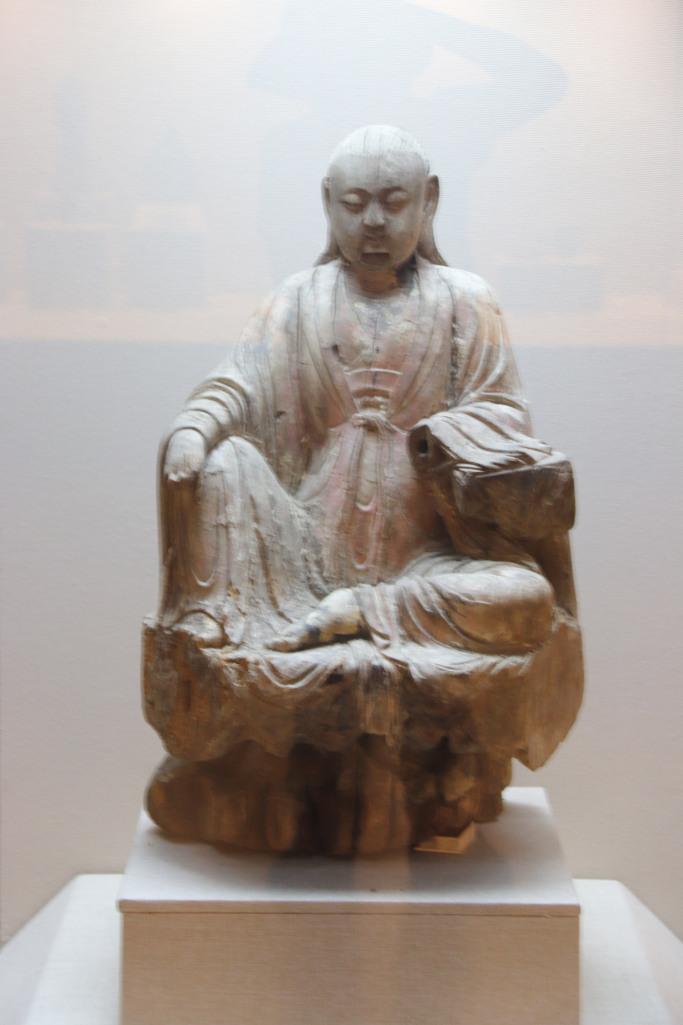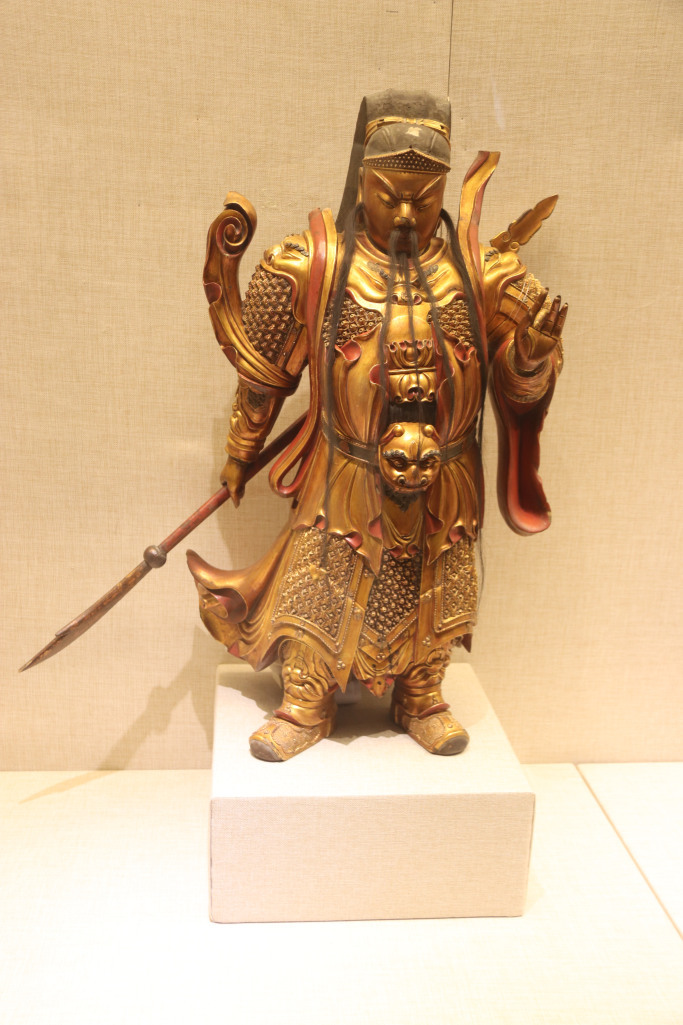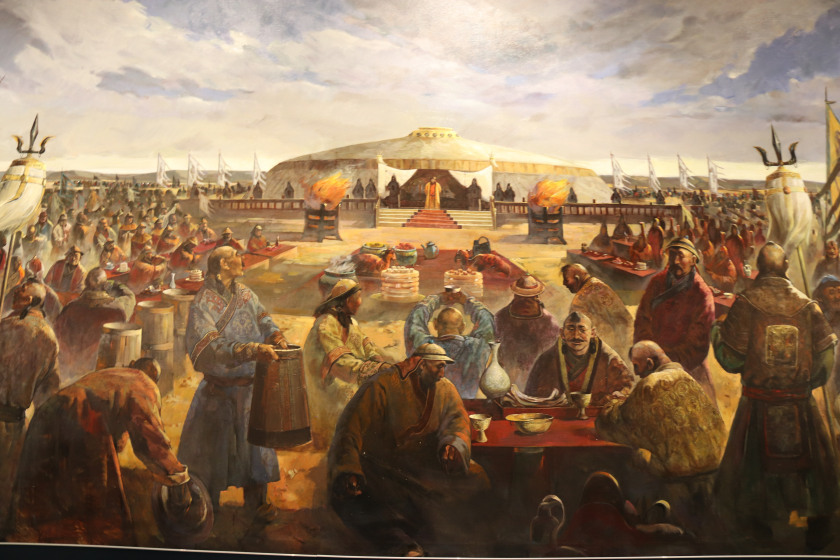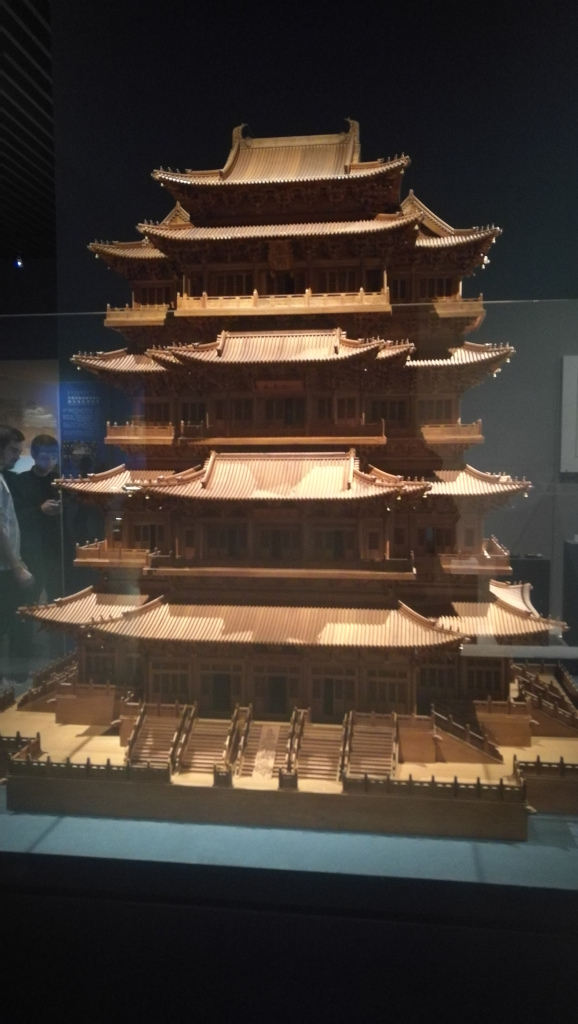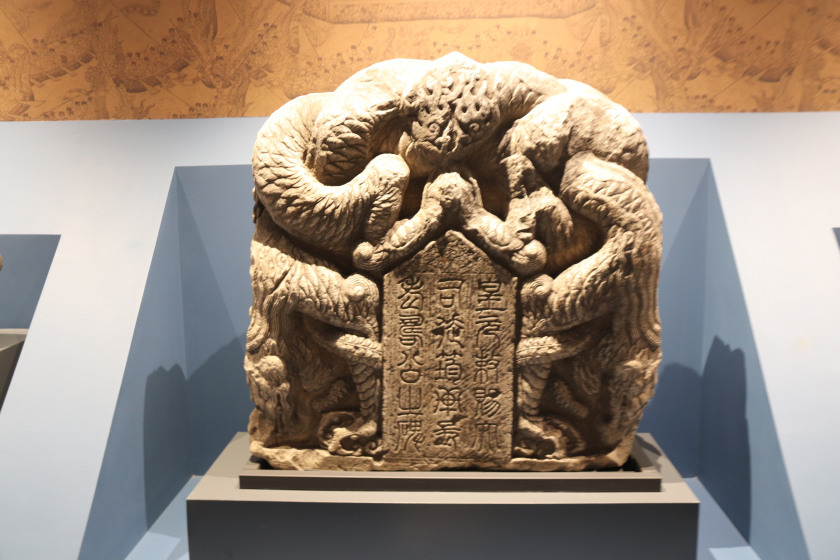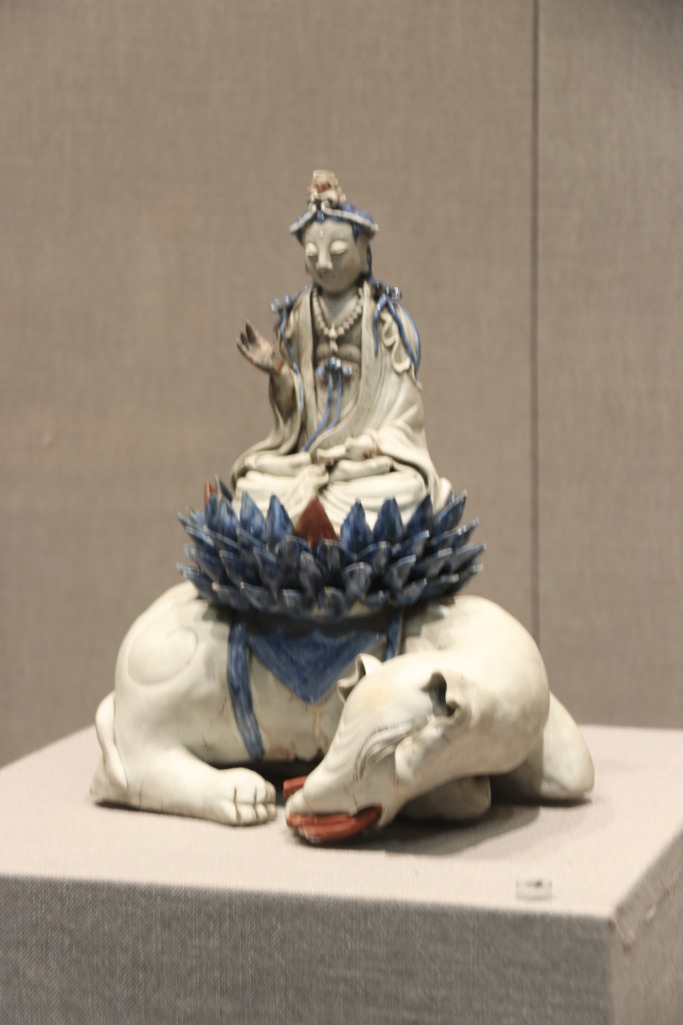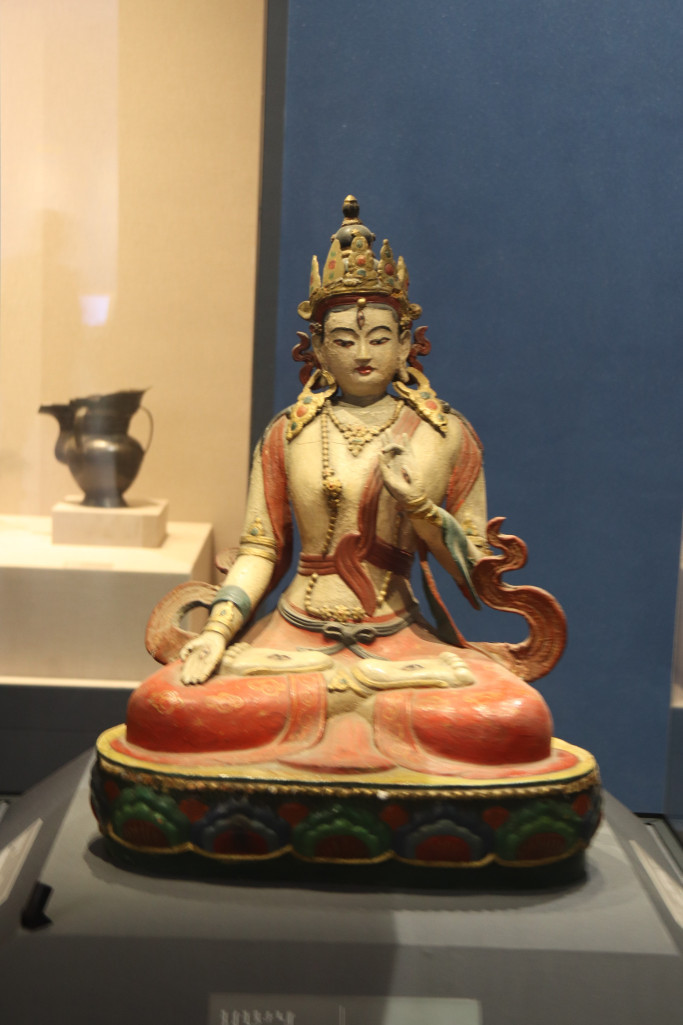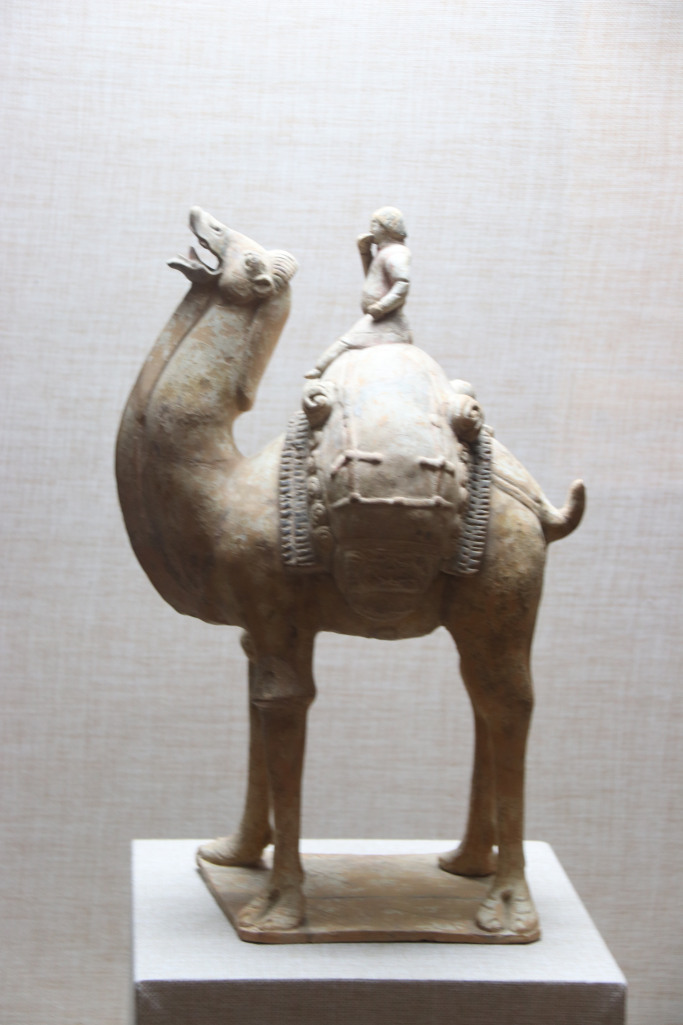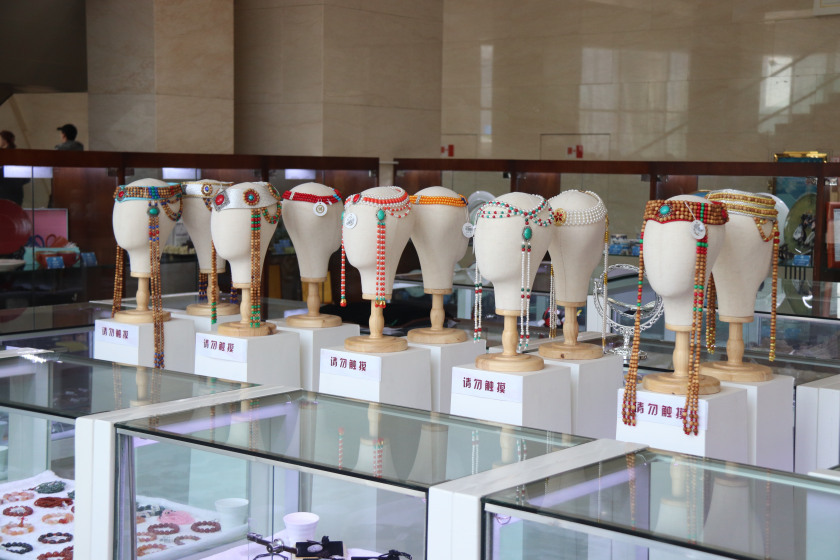 We were at the Inner Mongolia museum at 9:15. The museum was not yet open, but there were very long queues, as we were not sure what to do. We exchanged some chat messages to clarify our doubts and Evelyn asked us to be back on the bus by 10:50. The museum is a large, impressive building. It opened around 9:5 and people rushed in. The entrance was free. Obviously, the time was too short to see such a vast museum. Established in 1957, it hosts great displays of biological, historical, national customs and cultural relics of Inner Mongolia region. There is a large section dedicated to the Mongol warriors. We quickly browsed through some unique exhibits, tried softee ice cream that was sold in a shop, and rushed to the bus by 10:45.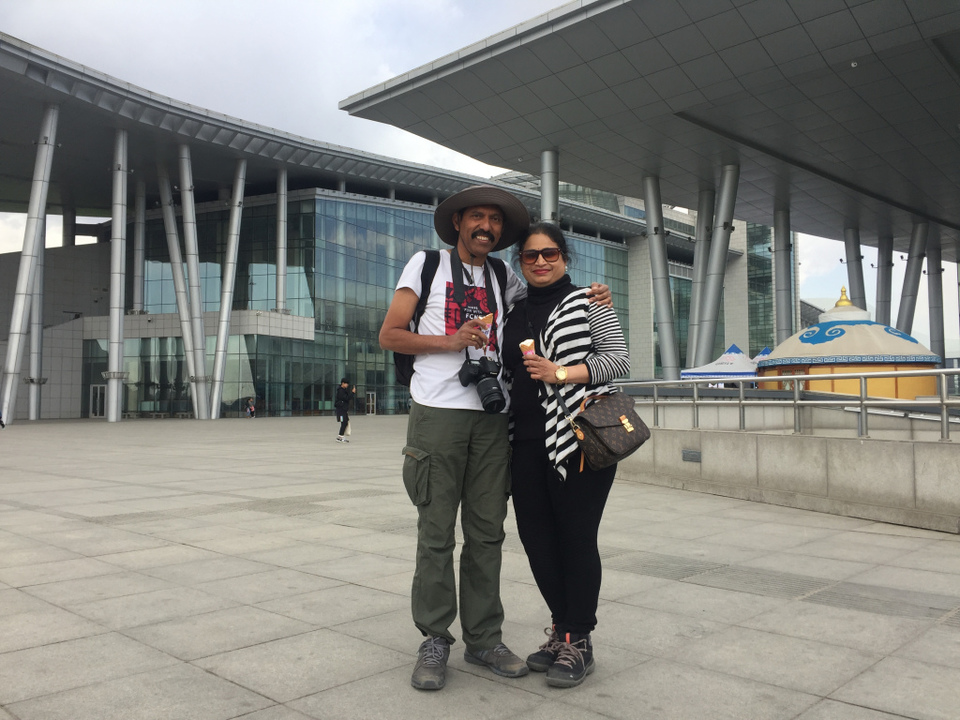 On the way back, after lunch, the FCN leaders organized passing the parcel game with music. It gave an opportunity for people to introduce themselves and show their talents. Though late in the trip, it was nice to get to know more people and listen to them singing. The prizes were toffees, big lollypops and a couple of T-shirts. This also made the journey more enjoyable. We reached Huixinxijienankou subway station by 21:00. It was one more hour to reach home.
The Inner Mongolia trip was enjoyable, though I feel we could have planned better. It gave me an opportunity to experience a desert. Thanks to FCN and to Evelyn for all the hard work in organizing the trip.