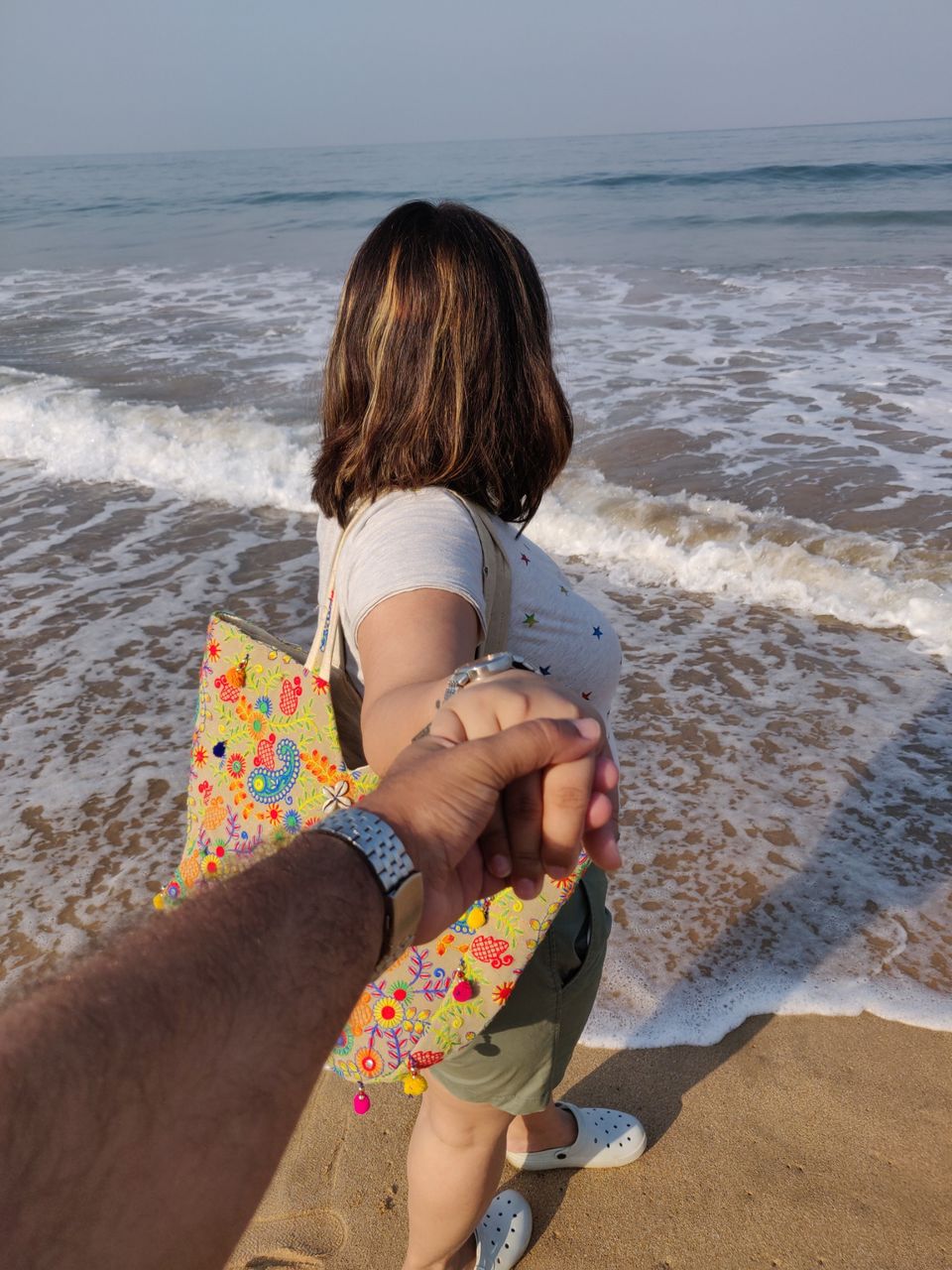 Goa is like that pilgrimage trip that you take once every year to cleanse your soul and freshen your mind. With all good vibes, yummy food, good music, sea waves and cool breeze around, there is no other place that you'd want to be in after a hectic quarter of work. And if you're really looking for some "me time" without too many people to bother you and too many distractions to take away your solace, then there is no other place like South Goa!
This is my first time in South Goa, of course with my husband, although my Goa Darshan started way back in 2014 with him when we were dating. But we always opted for North Goa as it seemed more convenient, commercial, party-friendly. But as you age, you realize that there is nothing better and dearer than some time for yourself, away from the hustle and bustle of LIFE, amidst greenery, beaches, good drinks, food, books and your soulmate's arms around your shoulders.
Hence, we planned a short March sojourn on the beaches of South Goa this time with a 2 nights stay at Mahi Agonda (an Airbnb stay), Agonda beach, and another 2 nights stay at Coastal Suites, Benaulim. We took an AC Sleeper bus (Orange Travels) from Hyderabad (where we are stationed for our work) on 15th March evening around 8.30 pm but instead of reaching Ponda at 10 am, we reached at 12.30 pm after quite a tiring journey. From there we had to take a cab to reach our abode at Agonda. On reaching, we were welcomed by our lovely American host Tiffany, who happens to be an entrepreneur and also a travel enthusiast like us. The Bull Room, that she had prepared for our stay was absolutely gorgeous, and the A++ that it deserved was because of the beautiful patio that we had right outside our room! (Check out the photo!)
After freshening up, we walked to the Arabian Nights restaurant which was at a stone's throw from Mahi and had a sumptuous lunch there with the cool late afternoon breeze touching our skin and helping us unwind ourselves. We just sat there filling ourselves with the beach vibes and then came back to our room to freshen up and then left for Palolem.
Palolem is bigger than Agonda and has so many quirky cafes and bistros and shops that you're bound to take a stroll before you hit the beach. We did a little shopping and then while we were walking down the beach road, we thought of taking a pause at Little World - a truly beautiful and gorgeous vegan and vegetarian cafe. I recharged myself with a mixed fruit smoothie while Arnab had an English tea and then we started walking towards the beach. It was already 8.30 pm and we lazily kept walking for about half an hour before finding a place for dinner and good music. Ciarans, the beach shack offered us with really good grilled sea bass and I didn't hesitate to try the Pineapple Saison beer for the first time as per the Chef's suggestion. After a fulfilling dinner, we went back to our room at Agonda for a good night's sleep.
*Expenses for the day including travel by cab, autorickshaw, food and a little bit of shopping = INR 6220 (Does not include stay and travel from Hyderabad)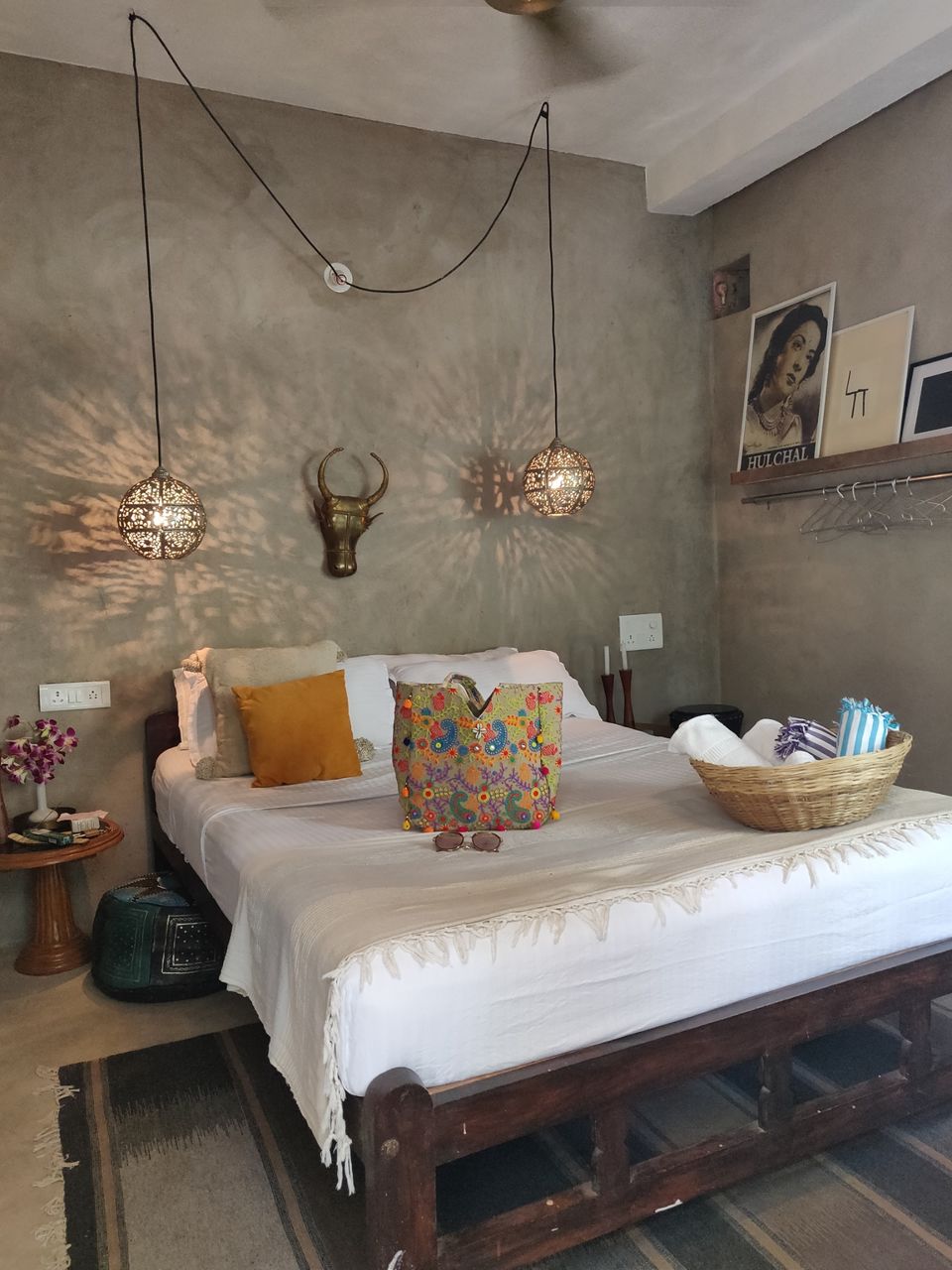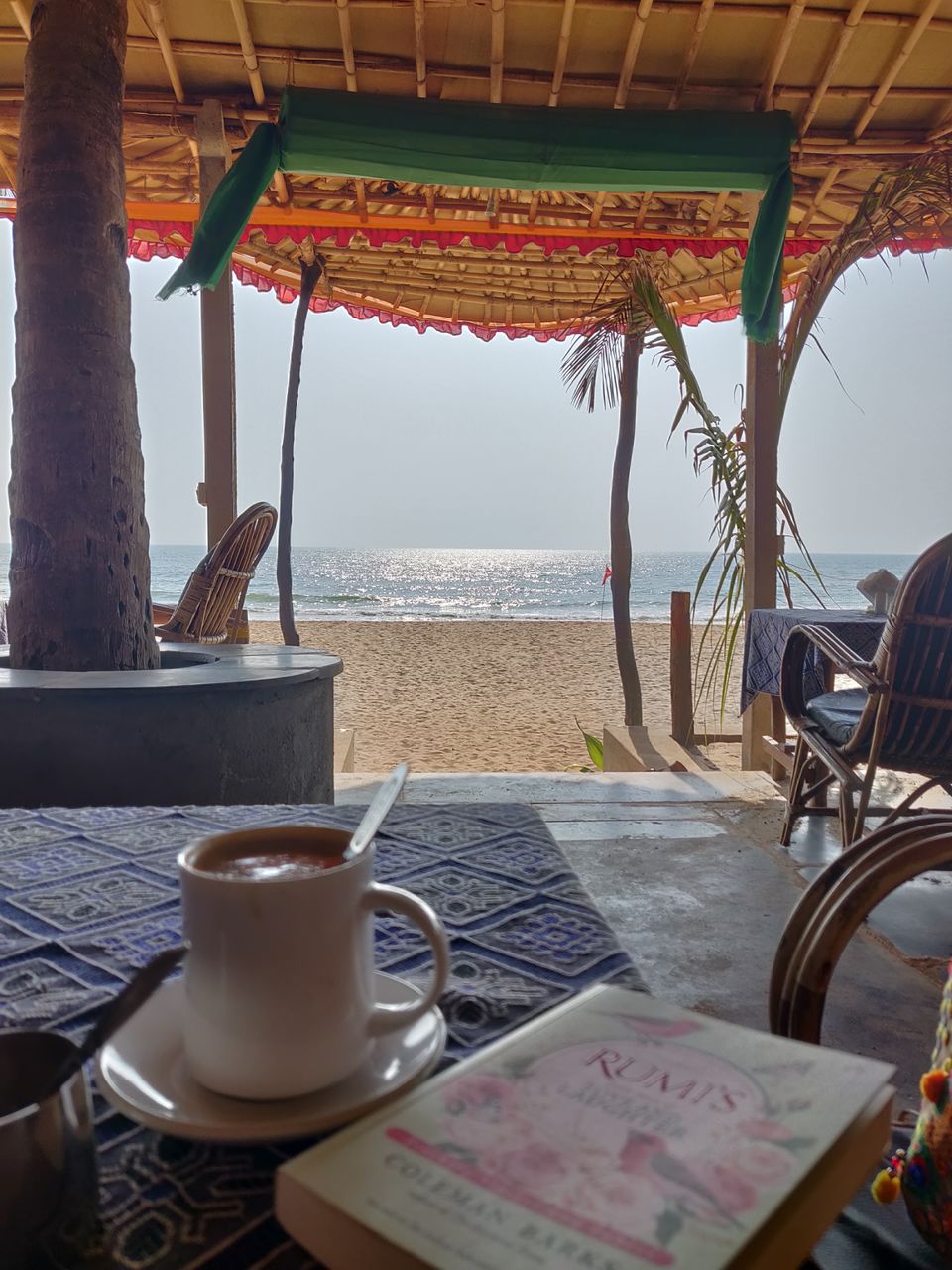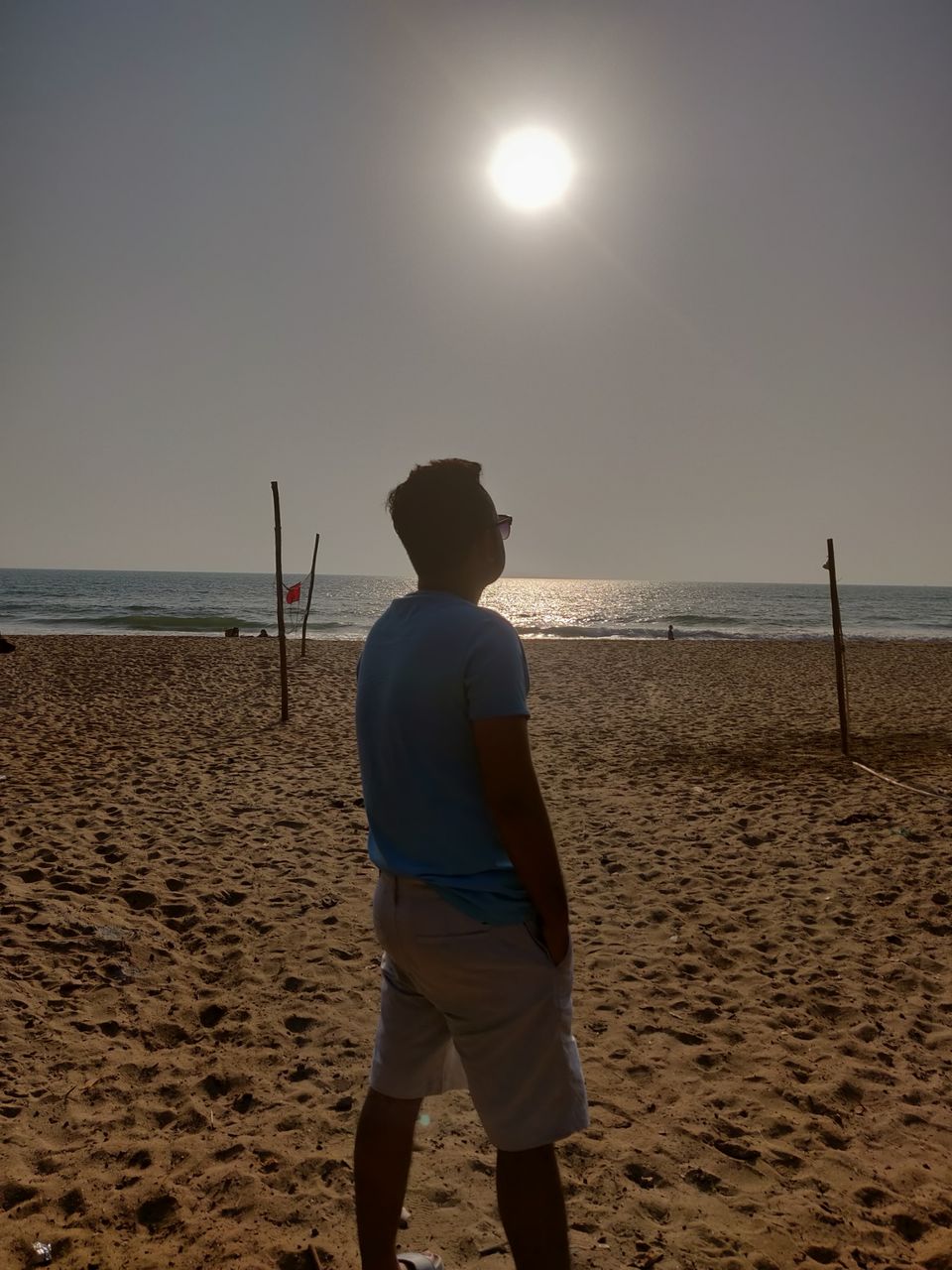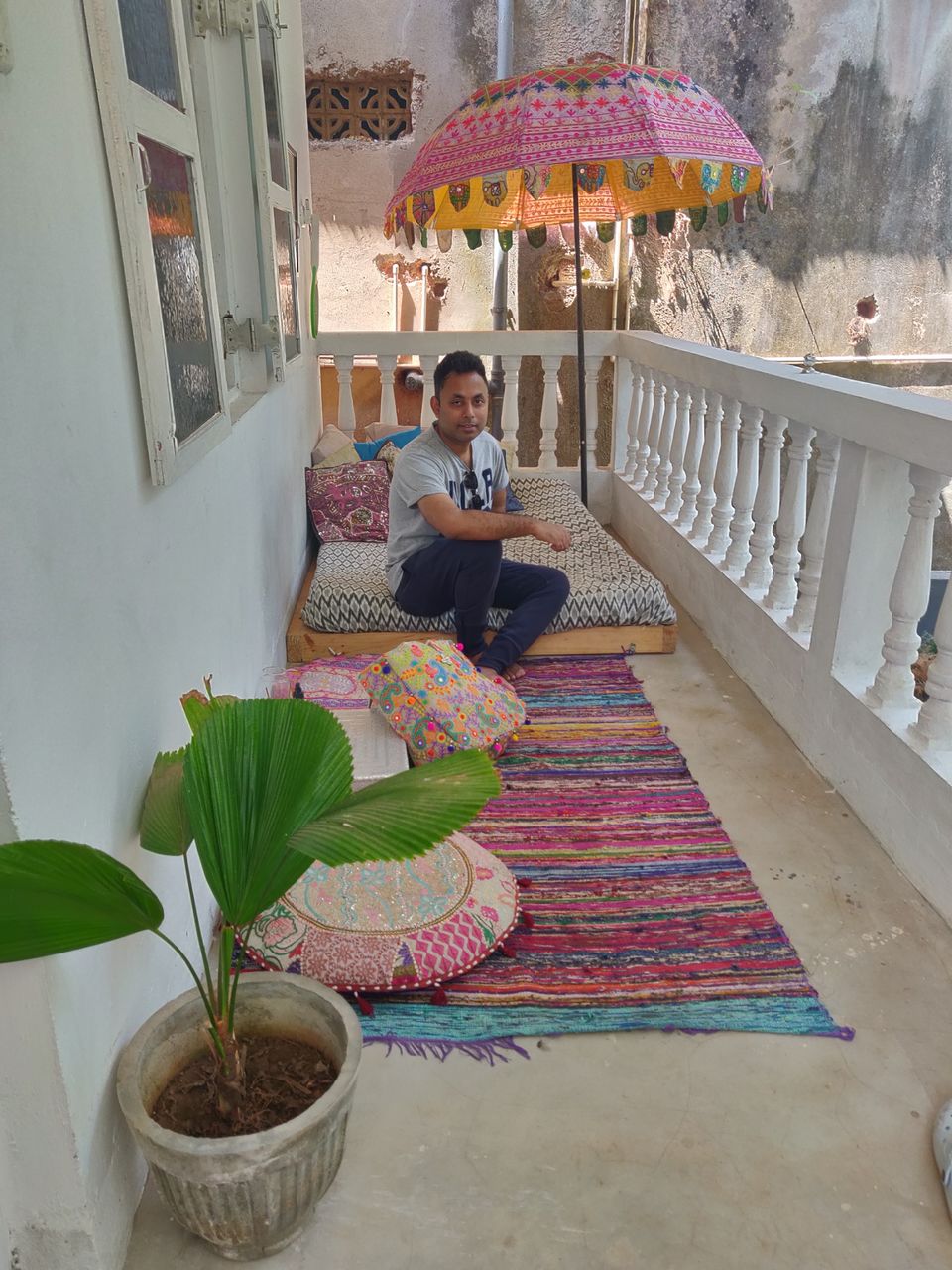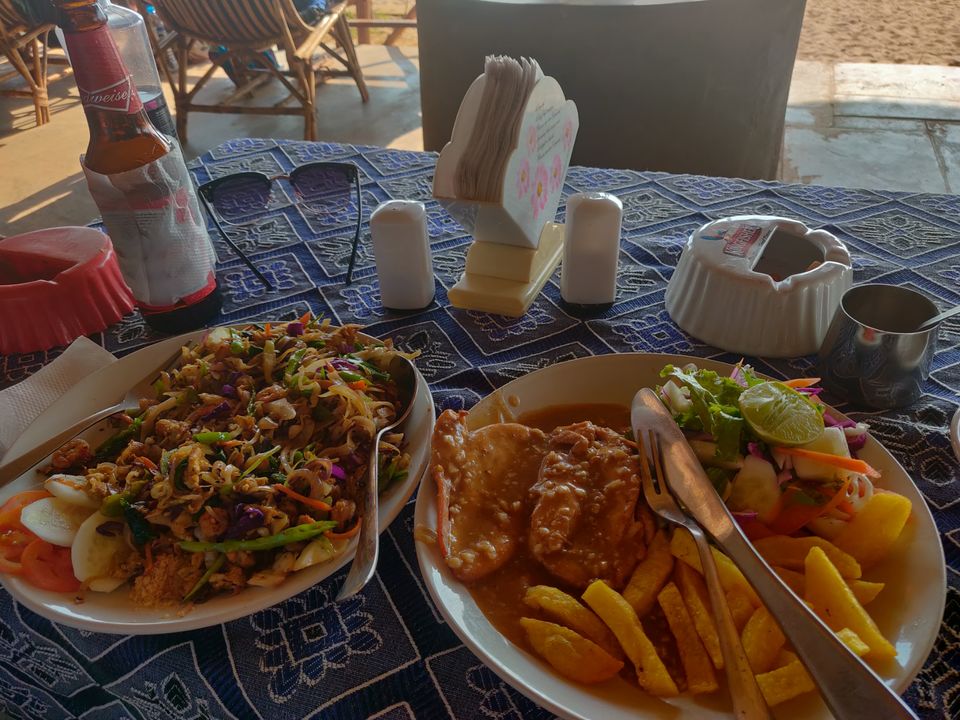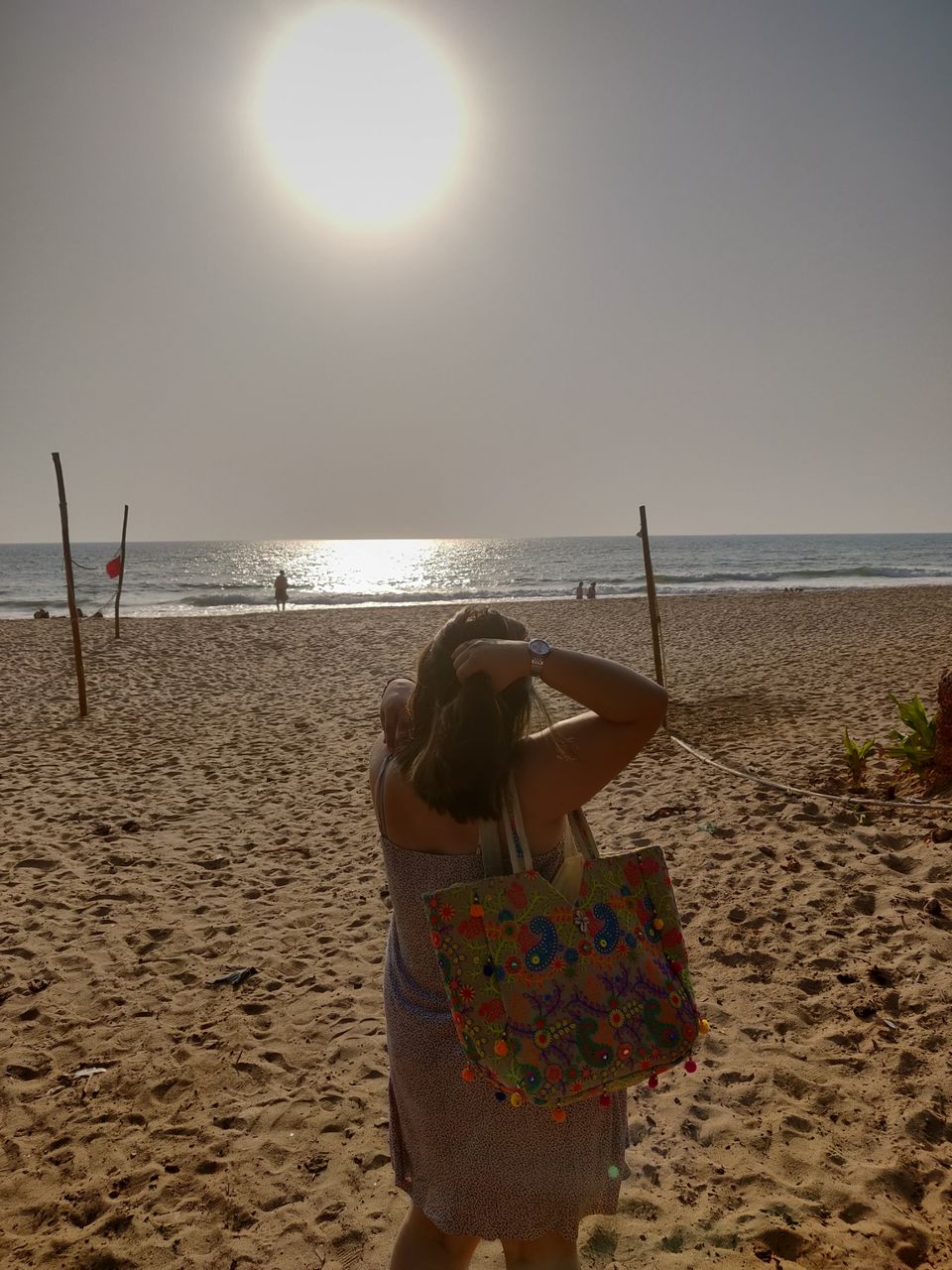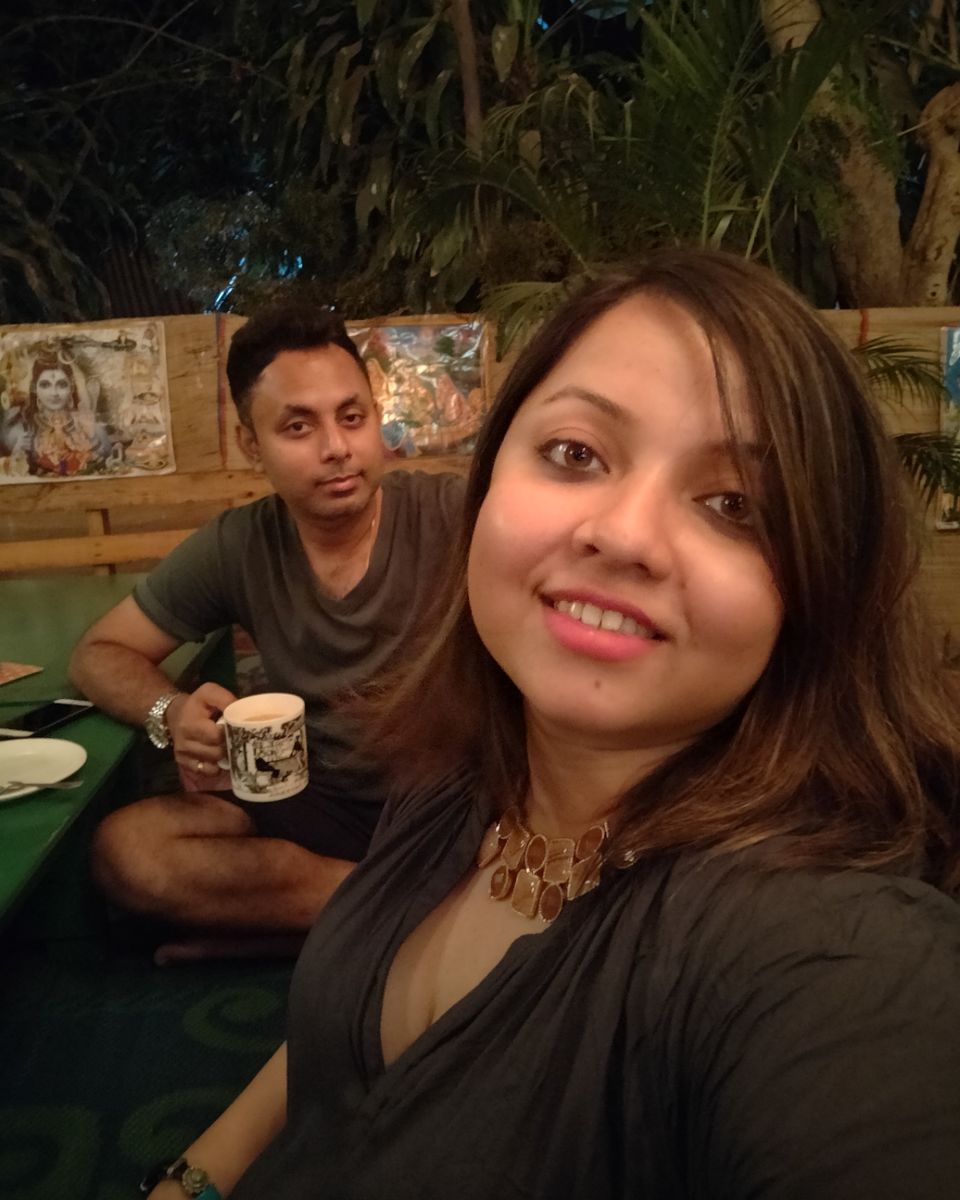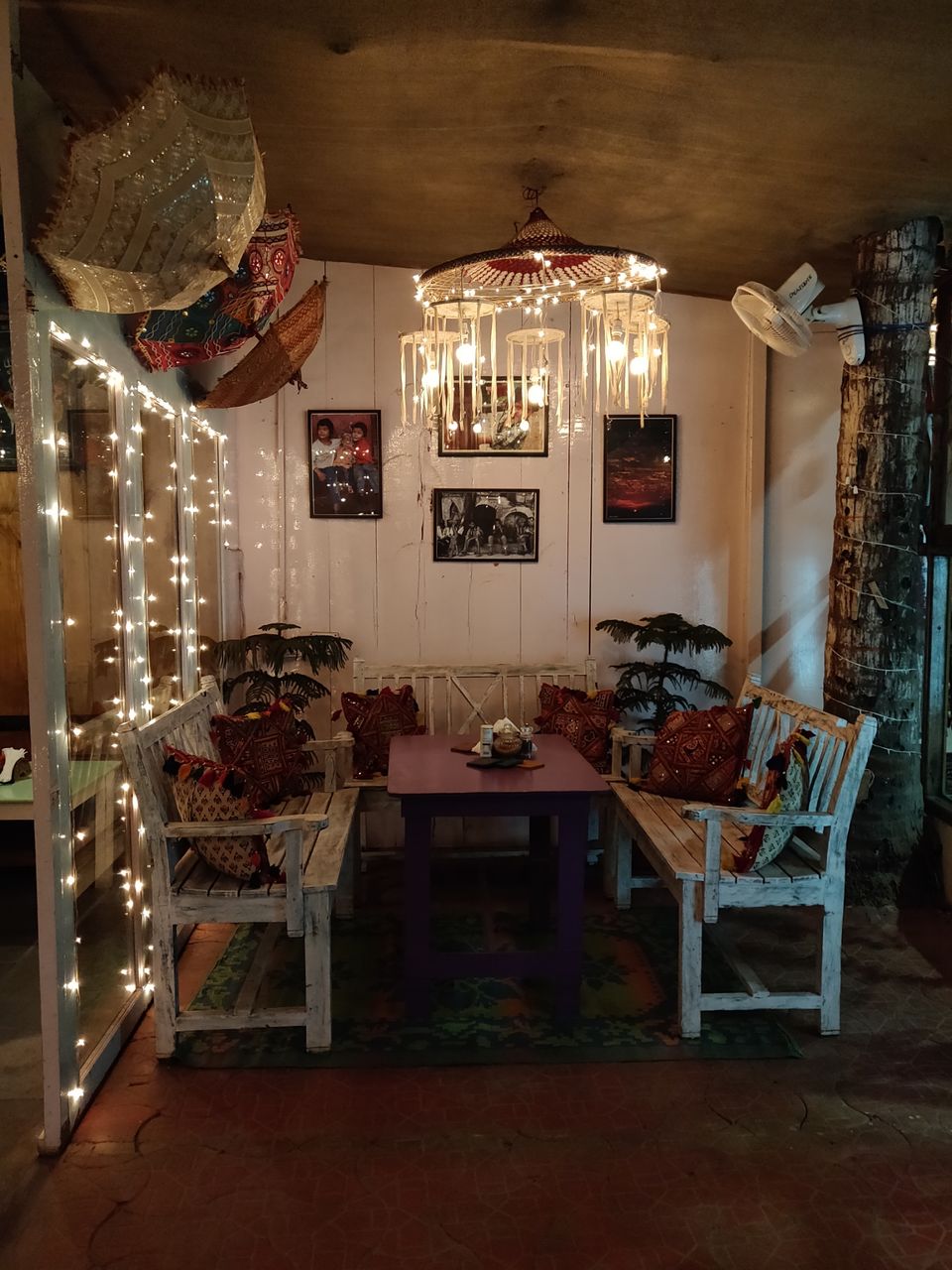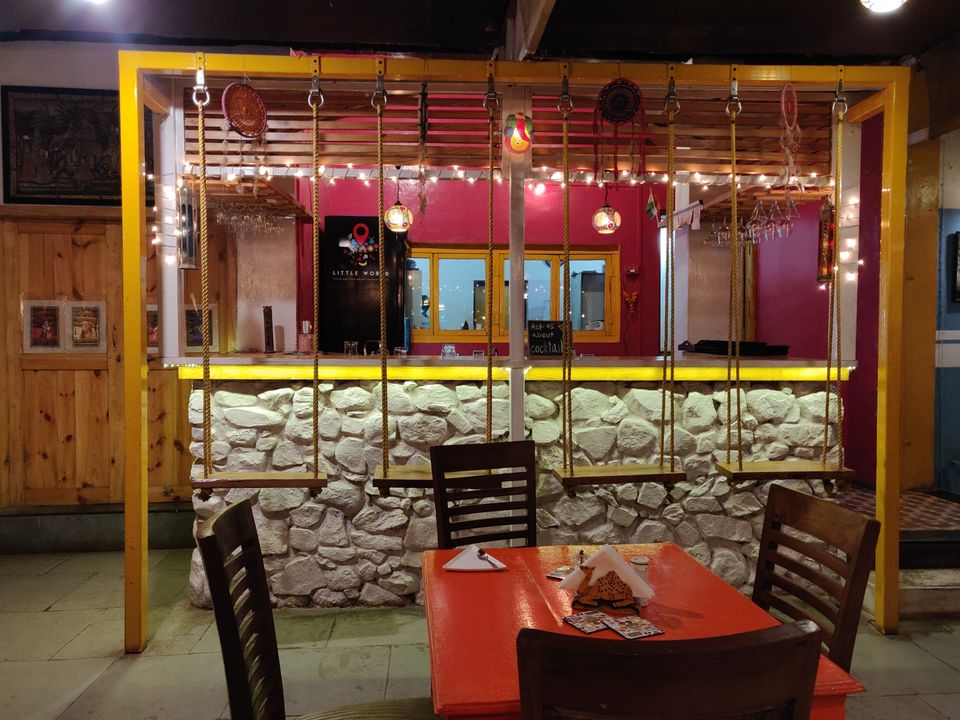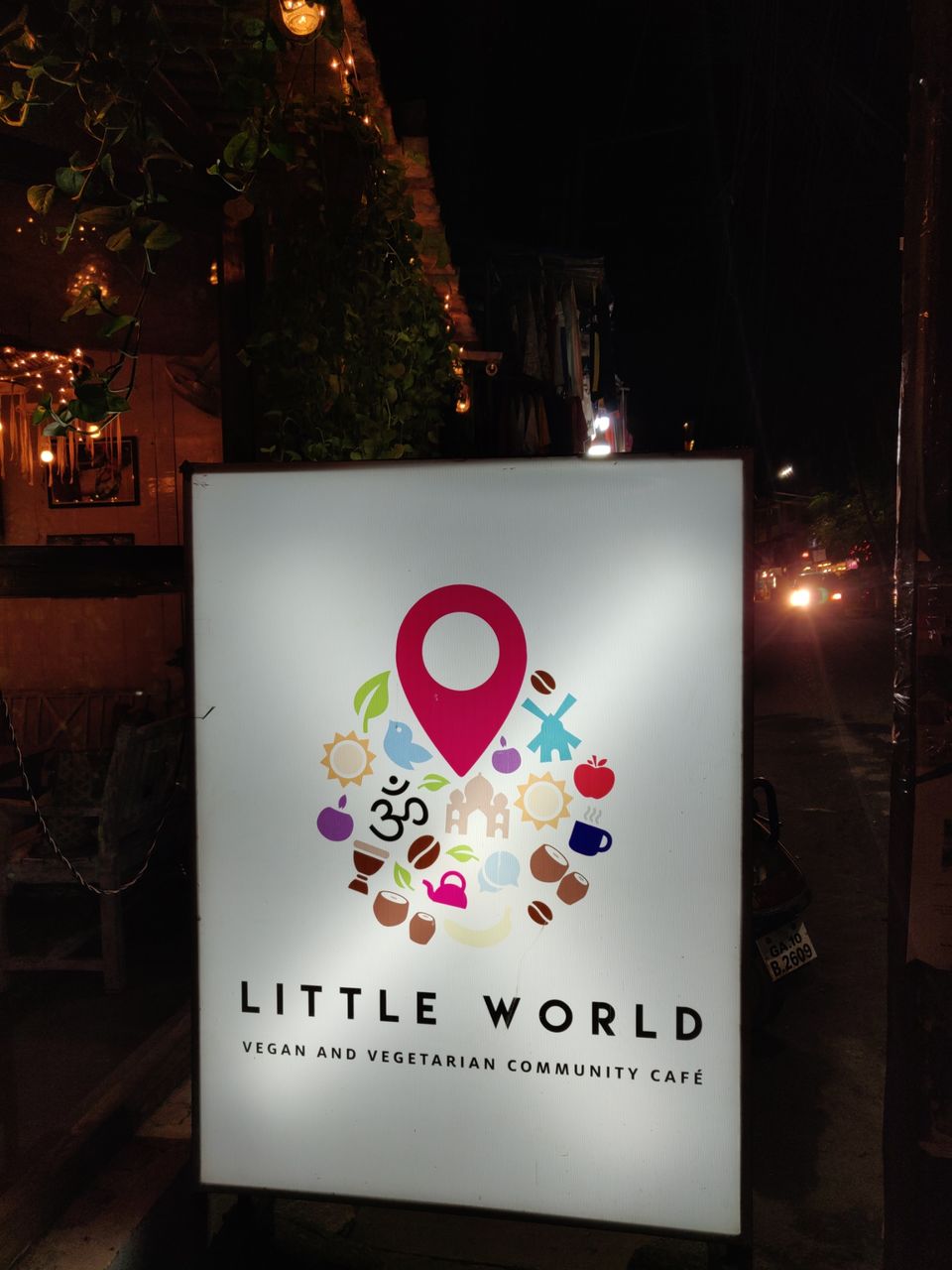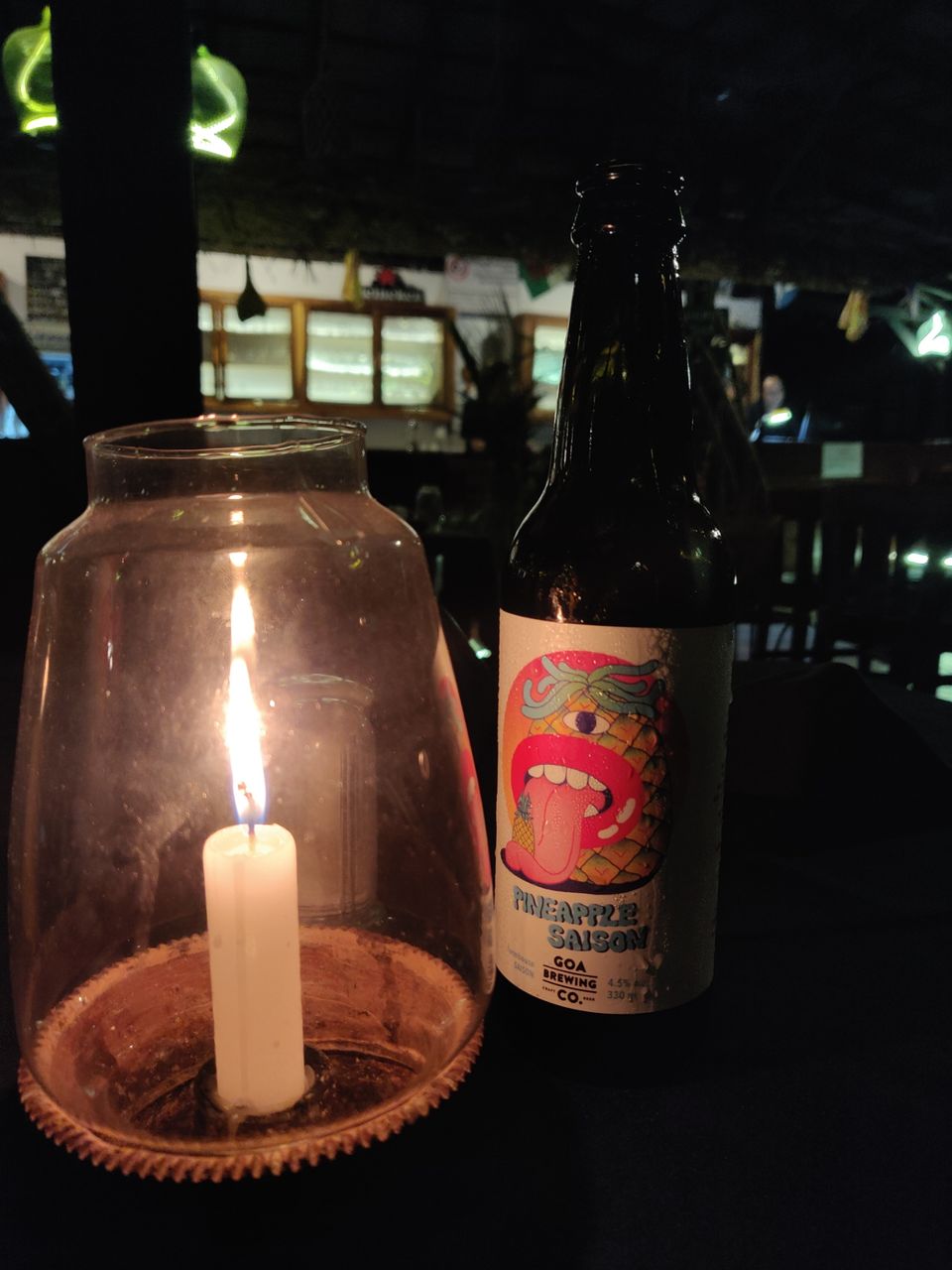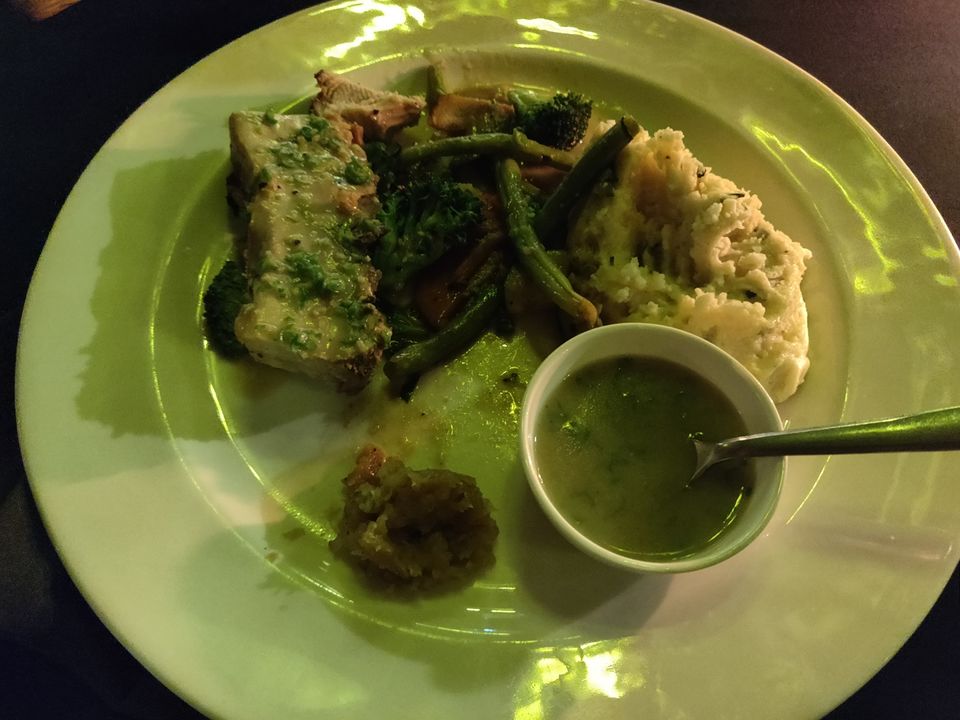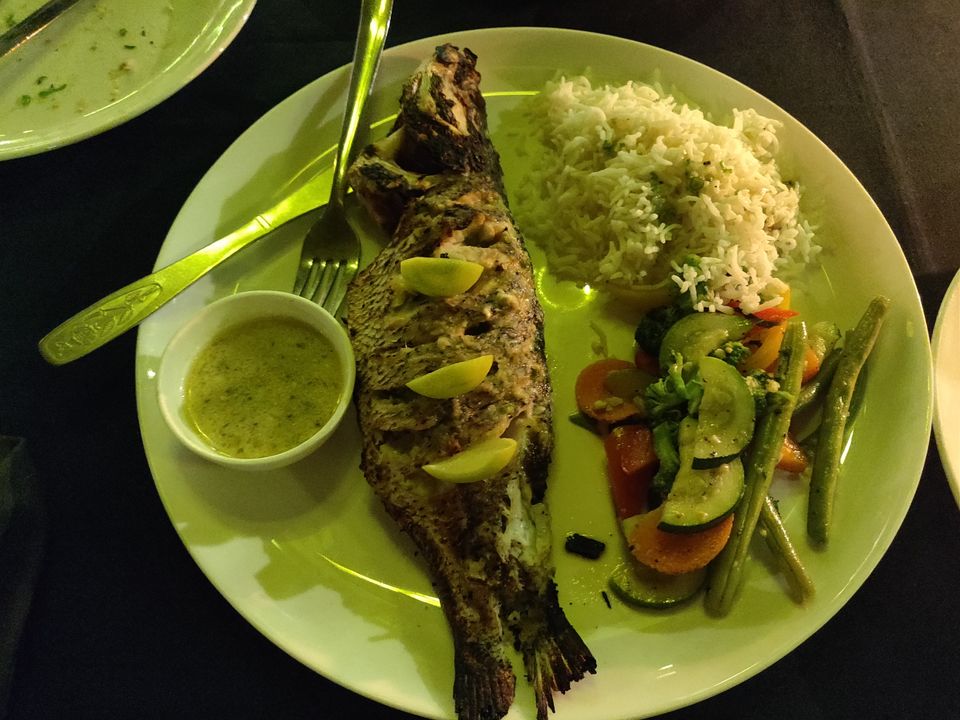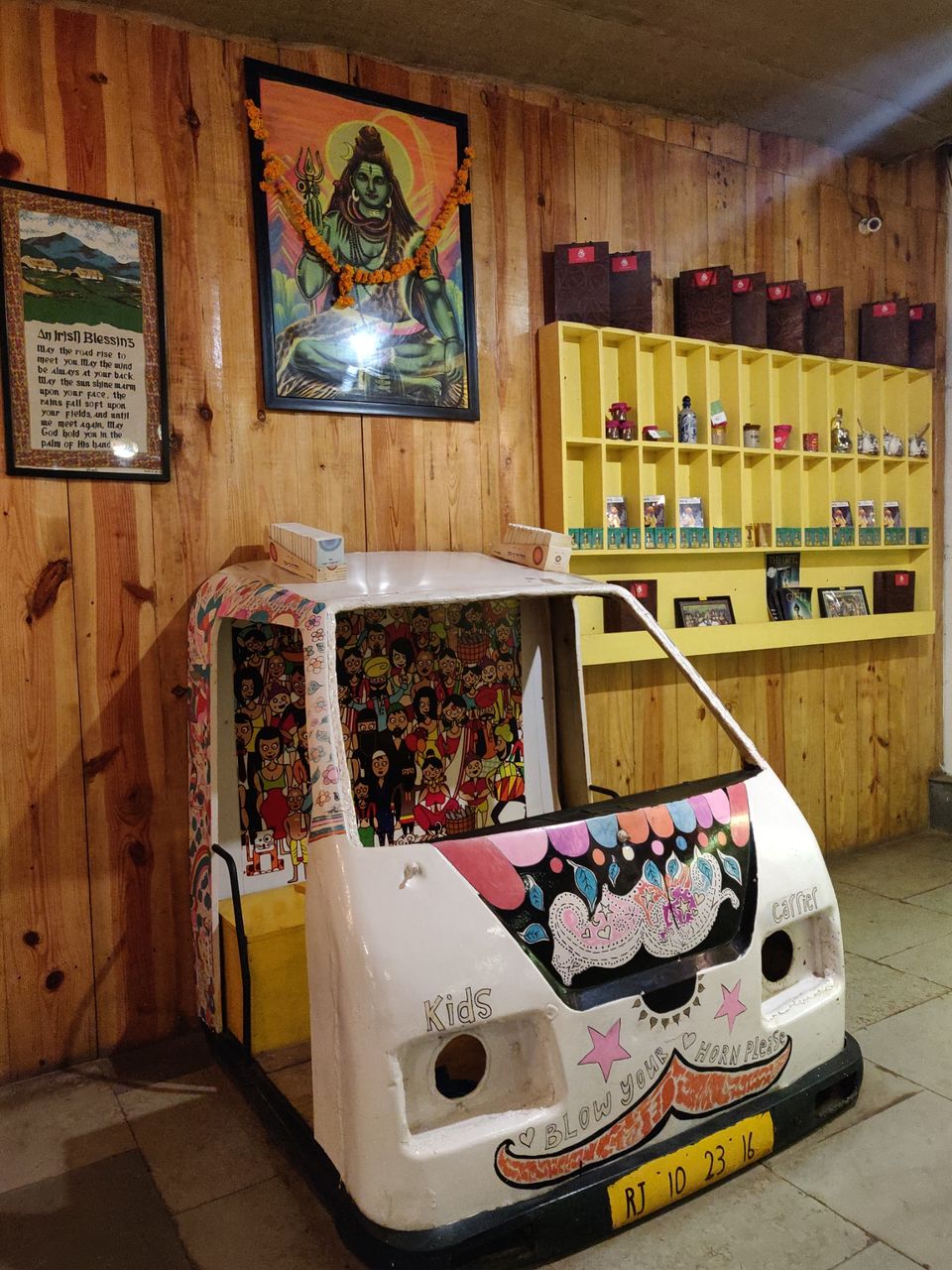 We started the morning with a simple breakfast at our next door eatery - Arabian Nights, while recharging ourselves with the fresh sea breeze. After breakfast, which went on for almost 3 hours until 12 pm, we left for the much talked about Cola beach. And why shouldn't it be? It's one of the remote beaches of Goa that is suitable for those seeking a lovely place for complete peace and relaxation. For those who have come to Goa for tranquil holiday experience will surely feel as if they're entering into a paradise; the beautiful lagoon, the clear sands, the cliff, all of them make this place worth not just "a visit", but you'd rather wish you could stay there forever.
The way to this beach was a little challenging as our autorickshaw driver took a dirt road (apparently, there's no other road to the beach!) from the main road, crossing a dried out jungle and dropped us at the last point after which we had to climb down 120 steps to reach the beach. As you climb down, you see Dwarka resorts and then the Blue Lagoon shack and resort. On your right, you see the picturesque lagoon and on your the blue sea. This is just so surreal that first, you can't stop taking pictures and second, you're just so happy and smiling away without a care for the world.
We spent the better part of the afternoon making the best of this place and having a light lunch at Blue Lagoon shack. After, we headed to another beautiful beach - the Patnem beach.
At Patnem beach, we just relaxed until sunset at the Nirvana cafe with some chilled beer, spiced cashews and Goan fish curry and rice. What other way would you want to wrap up a Sunday afternoon in Goa!
Later in the evening, after freshening up at our place in Agonda, we headed to Palolem again for dinner but that evening we thought of skipping the beach and instead went to this quaint little restaurant called Magic Italy, which we had discovered the previous evening itself while walking down the Palolem beach road. And guess what? It became my favorite pizzeria instantly because of the magically tasty pizza that we were served. I am not much of a pizza person but I will definitely recommend anybody to go try their pizzas, and even pastas if you'd want to, although we were too full to eat anything after that giant pizza!
Such an accomplished day it was with so many explorations, experiences and feelings! We returned to our room and spent some quiet time at the patio before dozing off and calling it a night.
*Expenses for the day including auto rides, food and a little shopping = INR 4790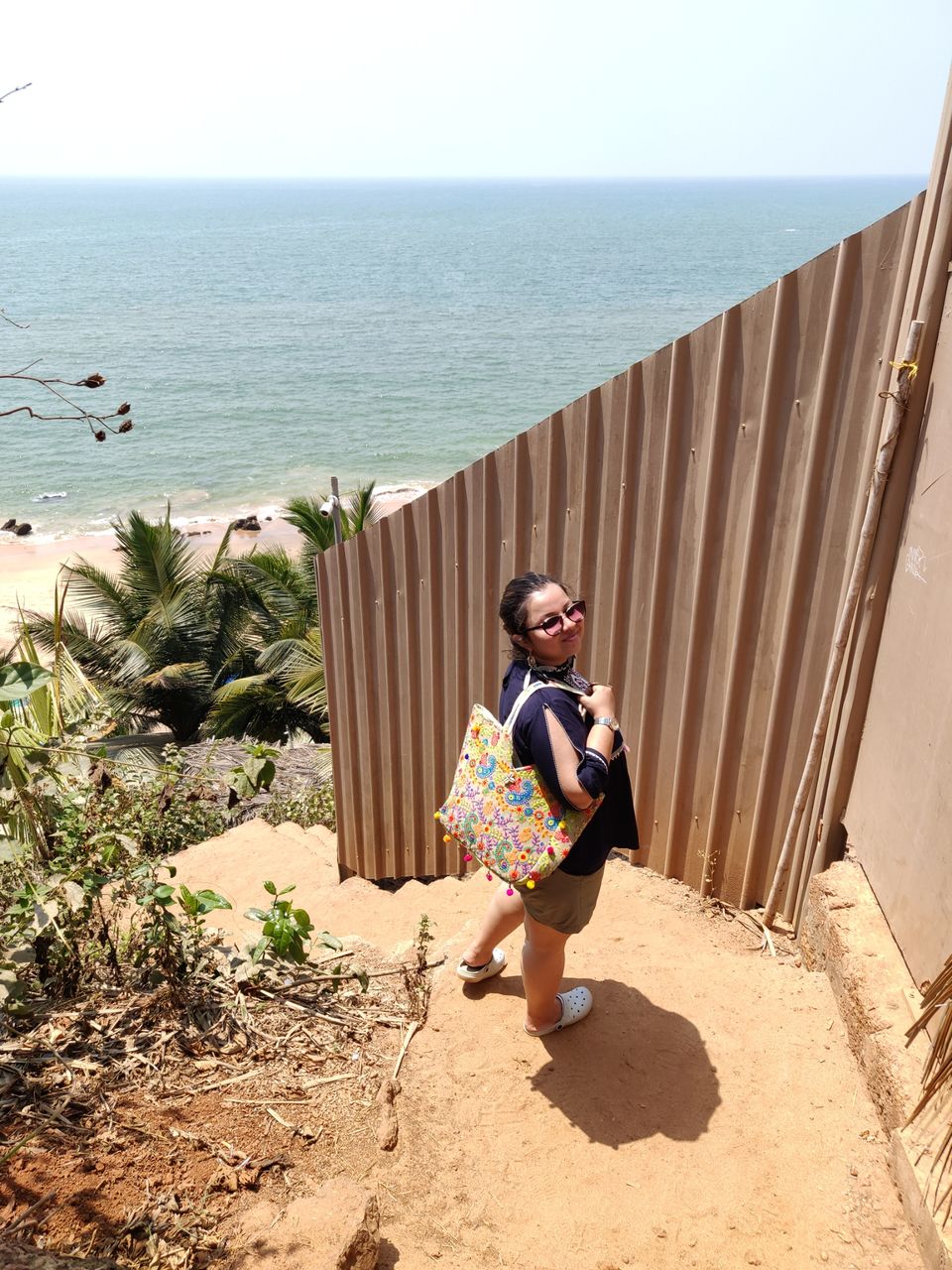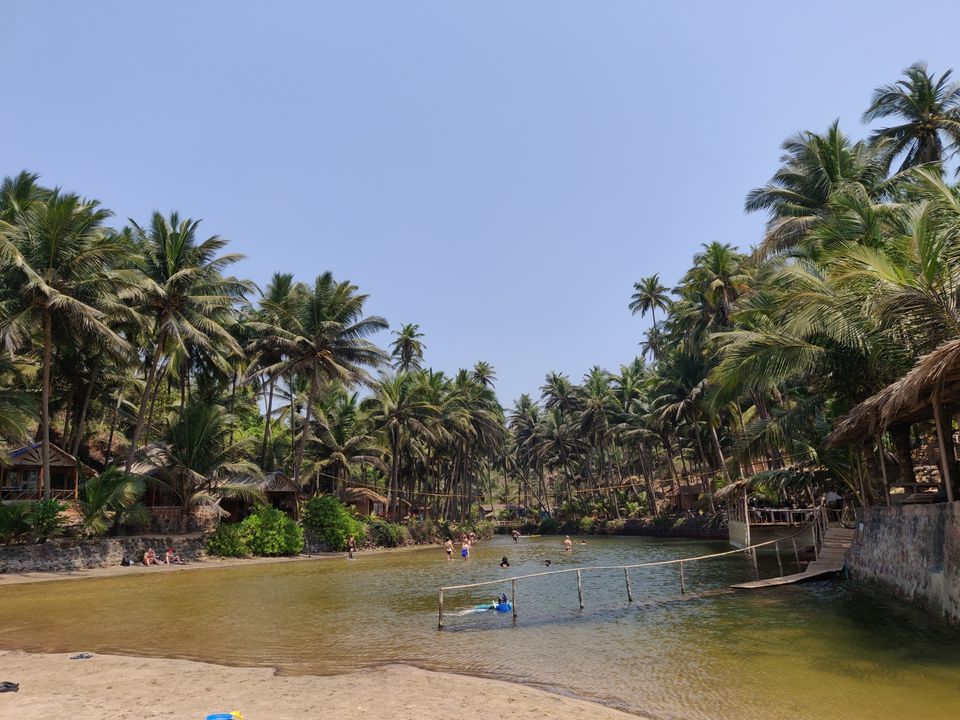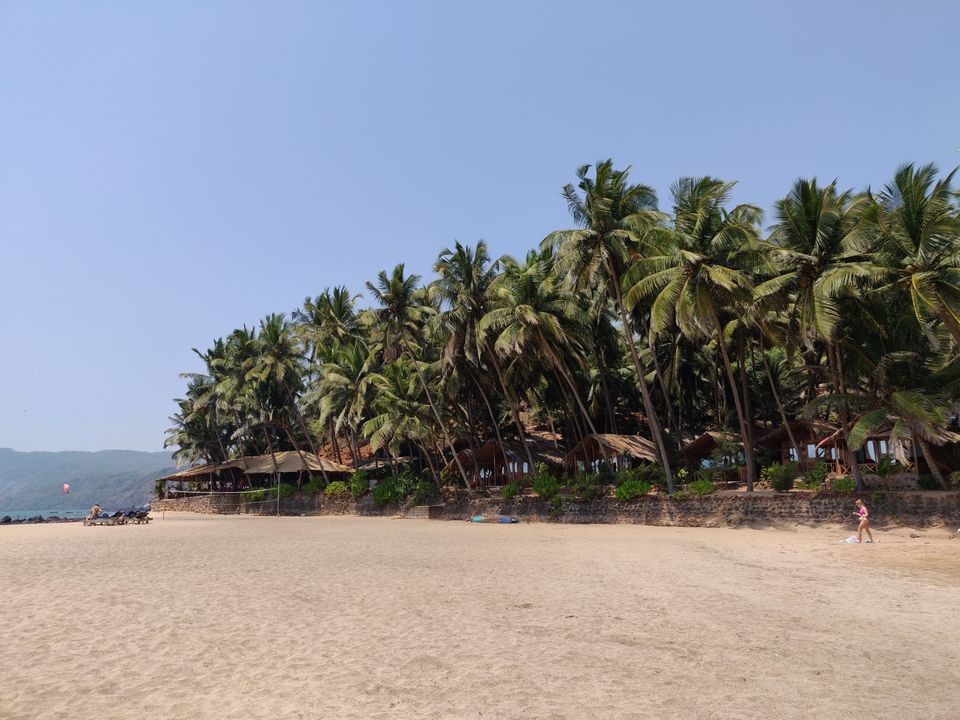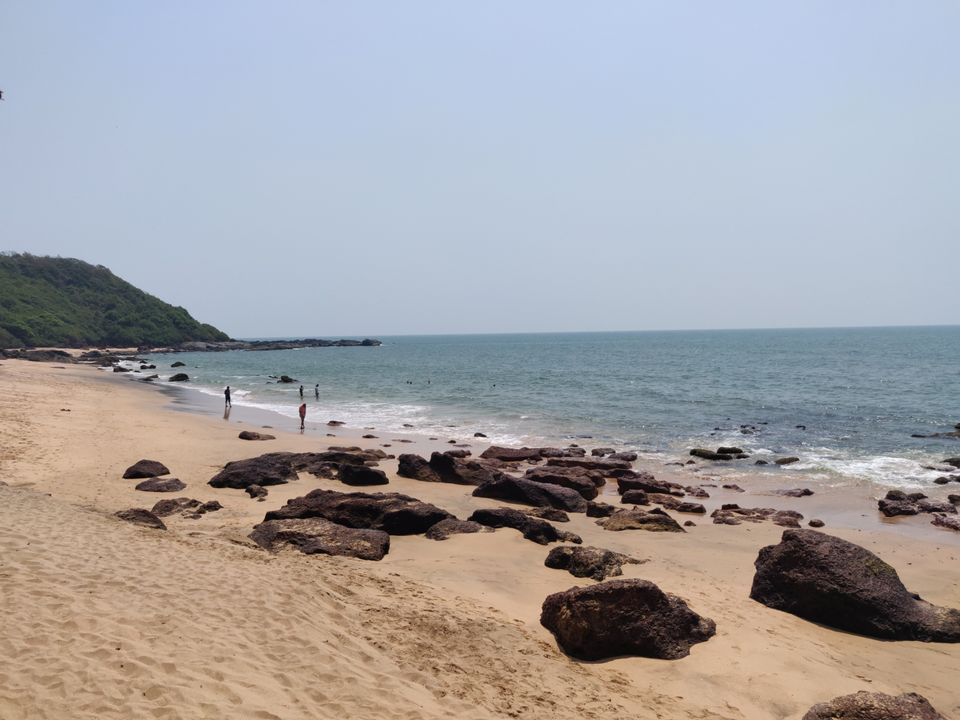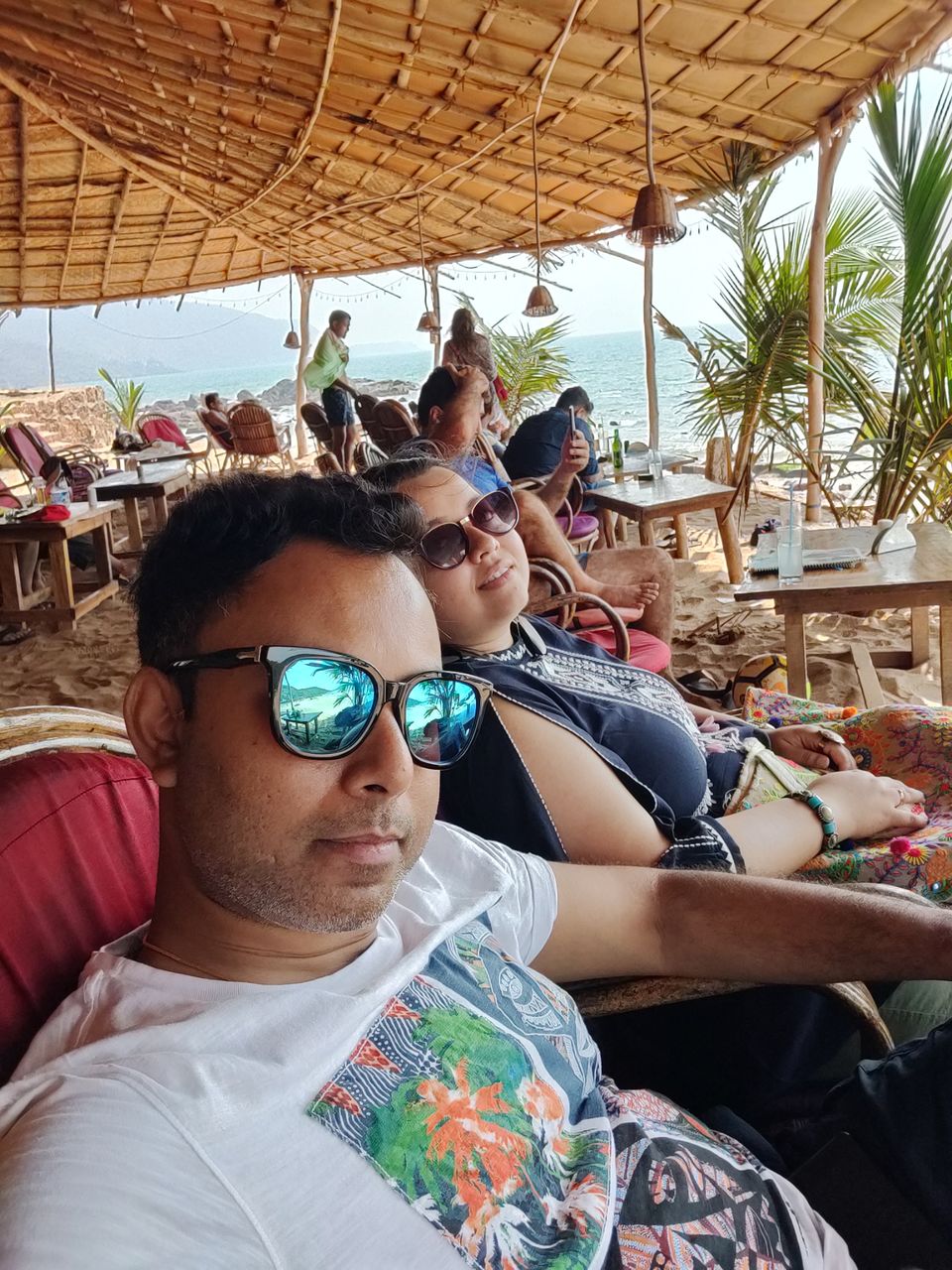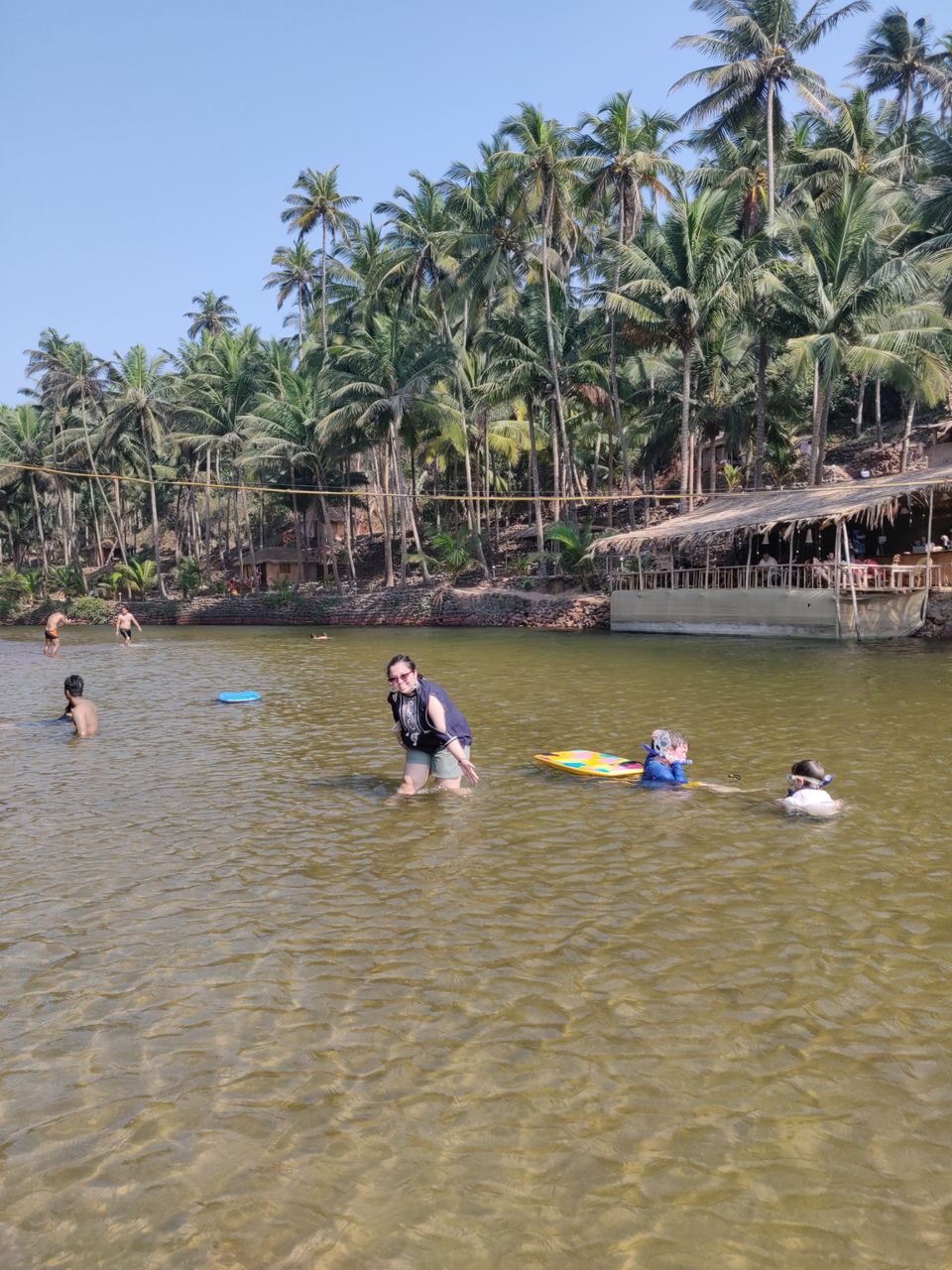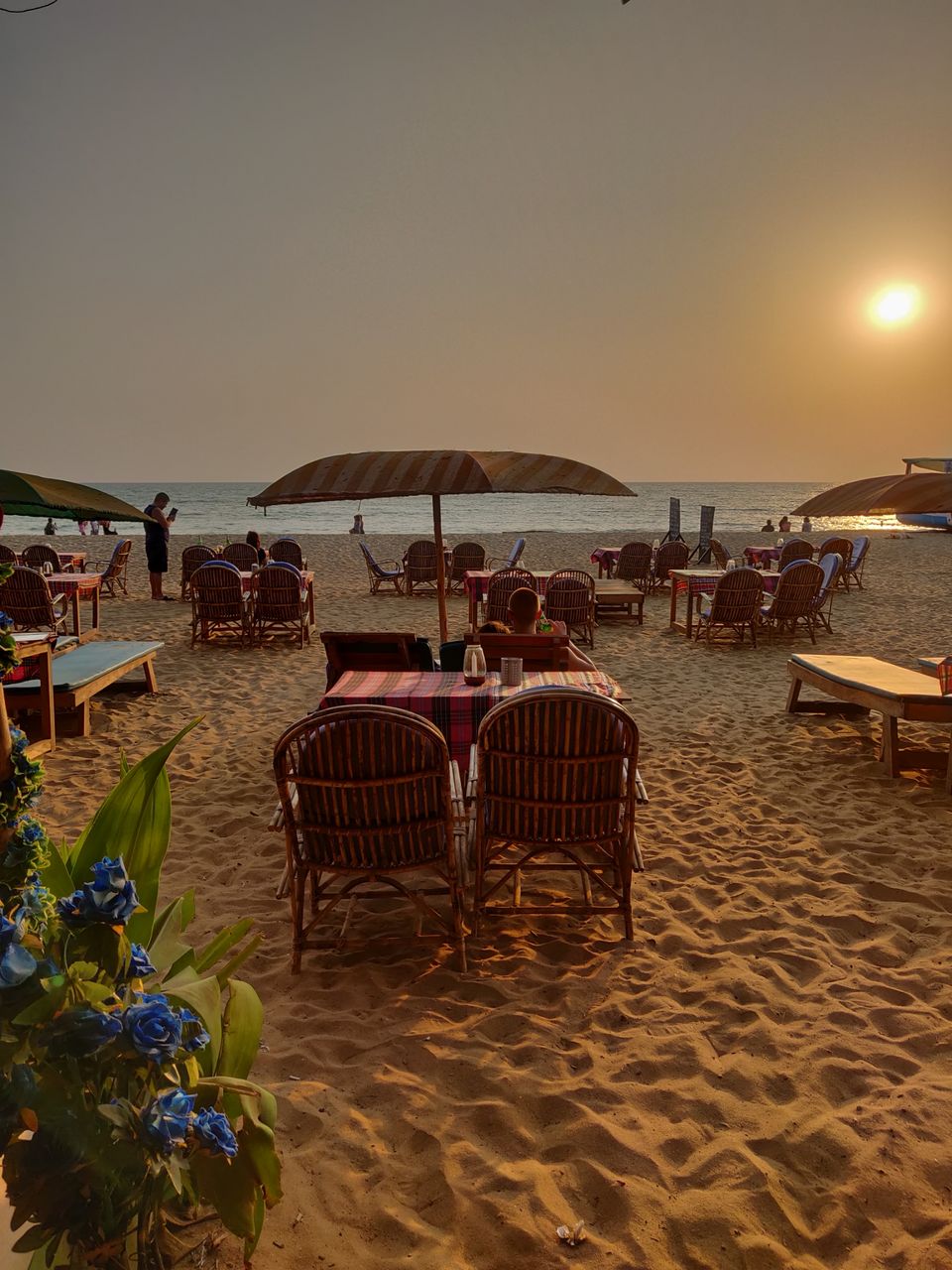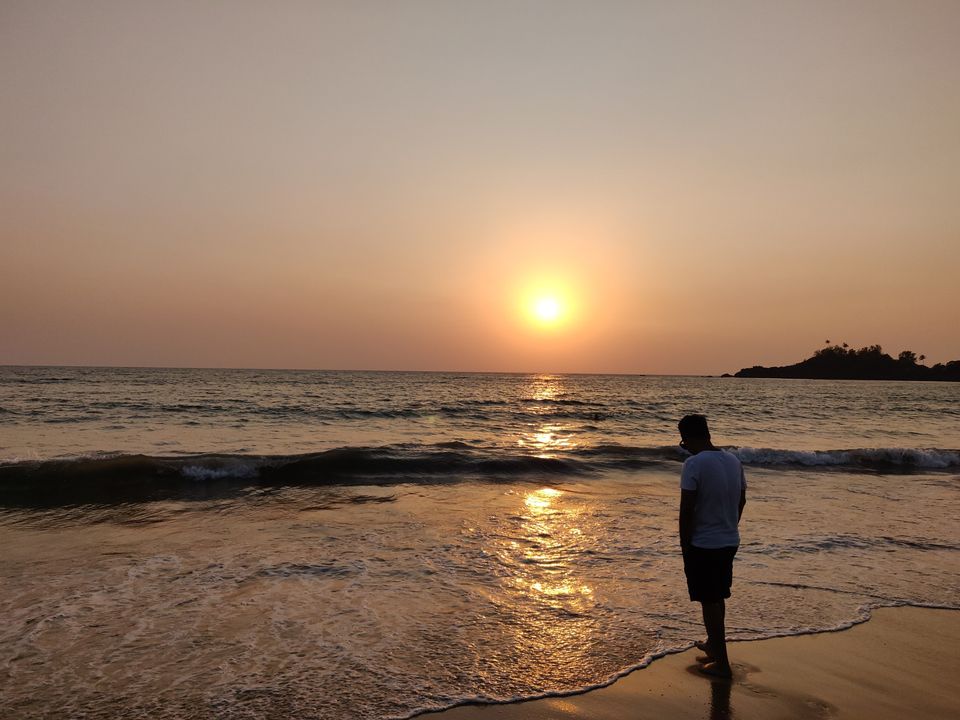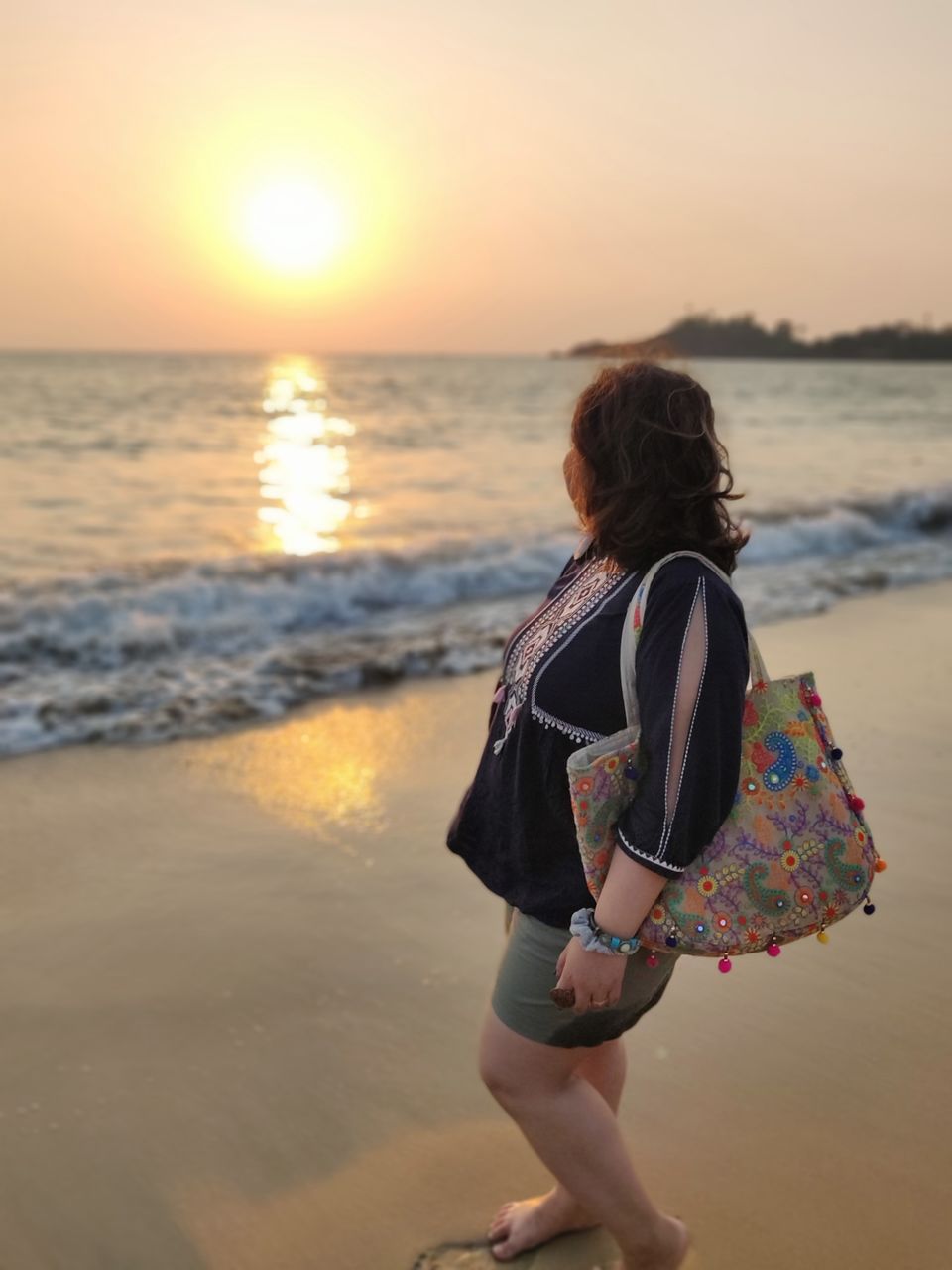 After our ritual breakfast at the Arabian Nights, it was finally time to say goodbye to Agonda and our beautiful host Tiffany (which was quite hard considering how much we loved staying at Mahi and of course at the amazing Agonda!).
We started for Coastal Suites, our stay at Benaulim and were welcomed by Bryan, our host, upon reaching. After coming back from a hippie village like Agonda, Benaulim felt like a more sober and settled place where people have a definitive plan for everything and everything is set and built according to an agenda.
Without wasting much time, we quickly took a shower and headed straight to Benaulim beach. As soon as we stepped on the sands, we were welcomed by a gentleman in a light blue shirt who asked us to take a seat at his place while je could serve us lunch. Somehow I immediately liked the place and agreed to have lunch there itself. It's Rogers at Benaulim, one of the best beach shacks of Benaulim where not just the food, but even warm hospitality is served to you to make you feel so comfortable while you're enjoying the beach waves and the breeze. The guy who was tending to our table became a good friend to us in no time. Hailing from Jammu, Karan, a handsome Dogra lad had a very sweet accent to his Hindi and of course a smile on his face every time he came to us to give or take something. We shared so many stories and he even told us how he's planning to meet his Assamese girlfriend this June!
Stories can sometimes make your experiences so much better and richer, right?
We sat there till almost sunset and then left for our room. We got a few supplies from a supermarket very close by on our way back. That evening, having gotten an entire apartment for ourselves, we didn't feel like stepping out in the evening and got our dinner ordered from Zomato(duh!) after spending some romantic time in the pool. And then we got a lot of laundry done, thanks to the washing machine which was a blessing for us owing to the pile of clothes we had to wash.
*Expenses for the day including cab to Benaulim from Agonda, auto rides and food = INR 4938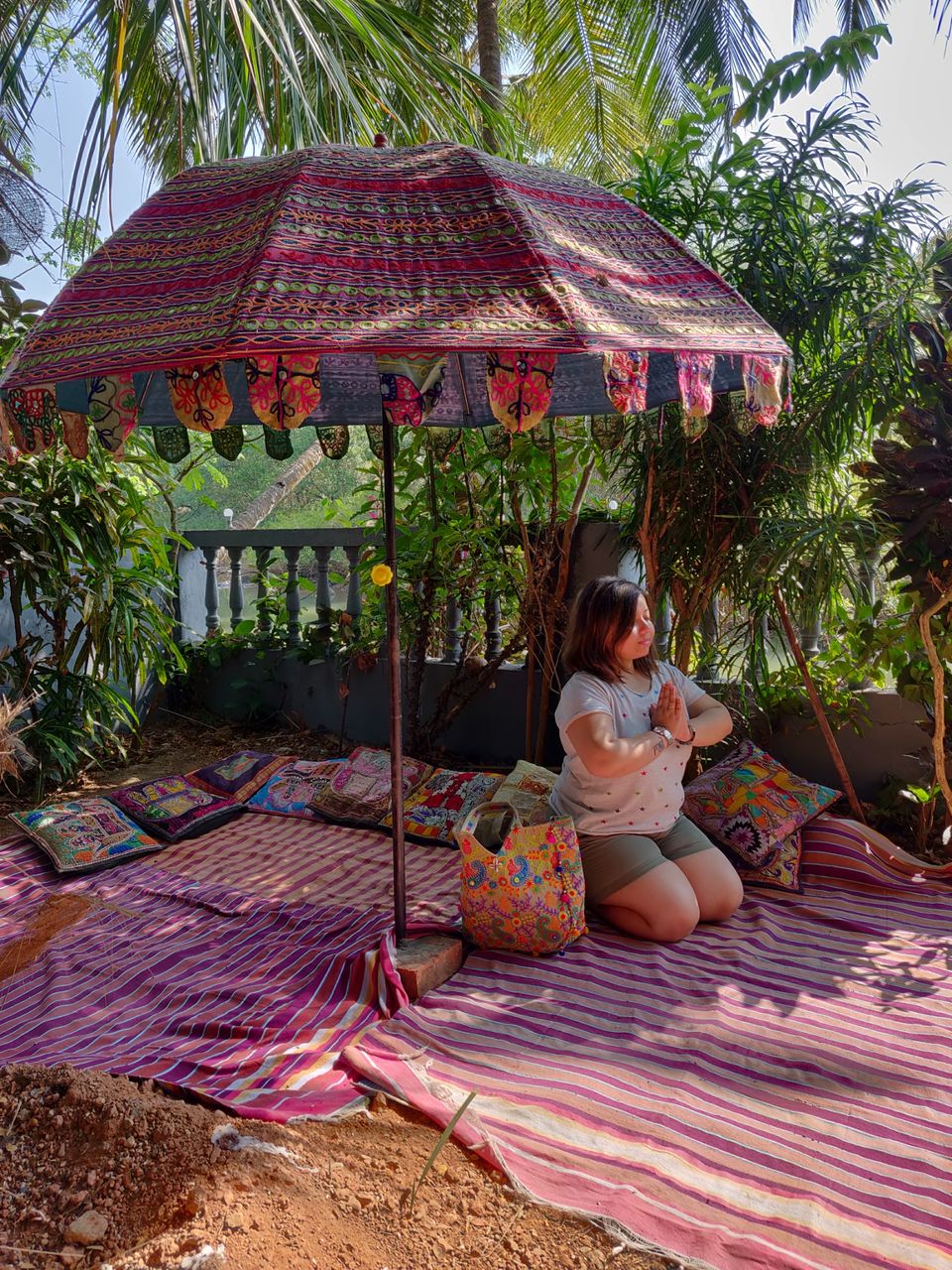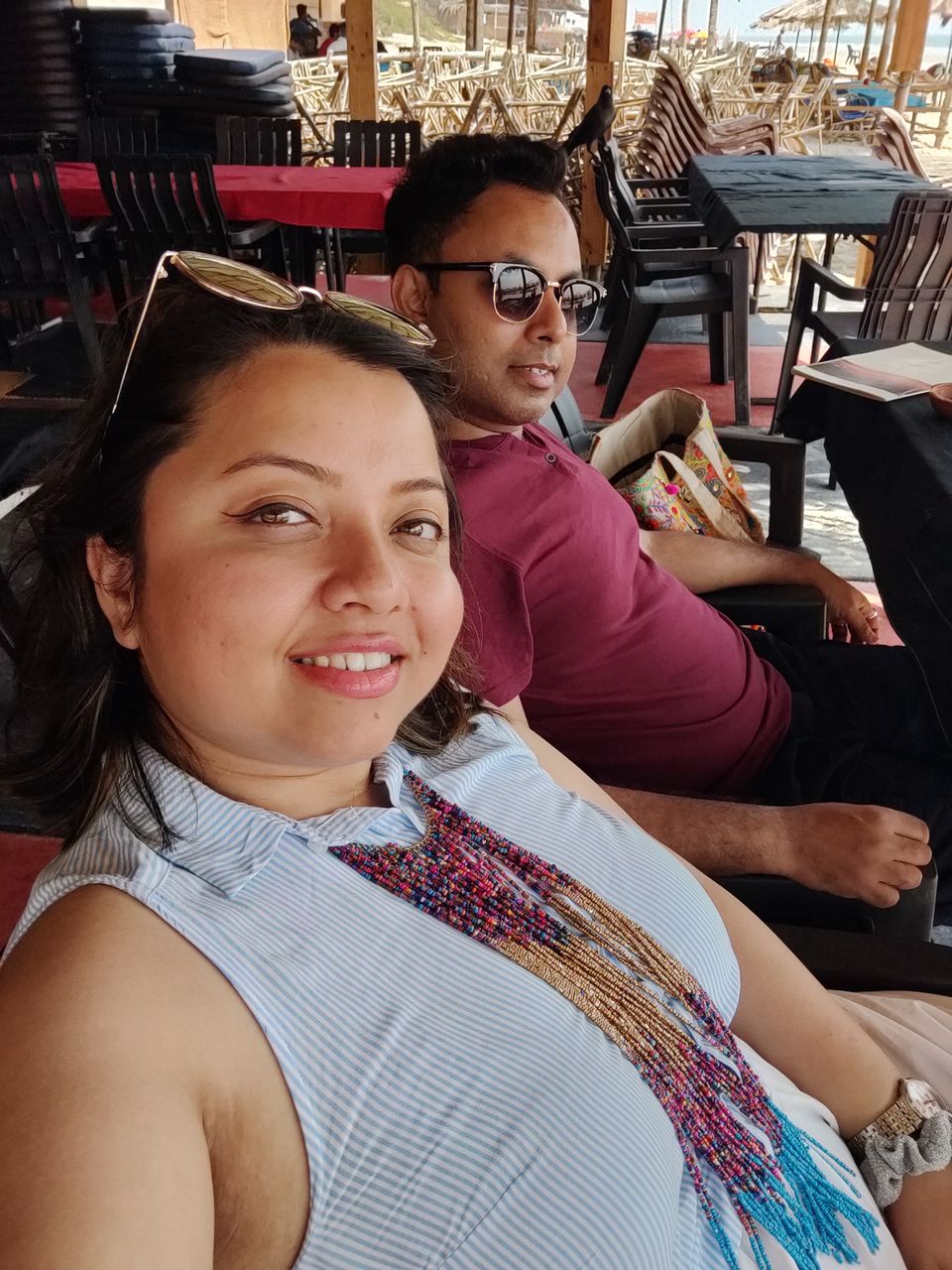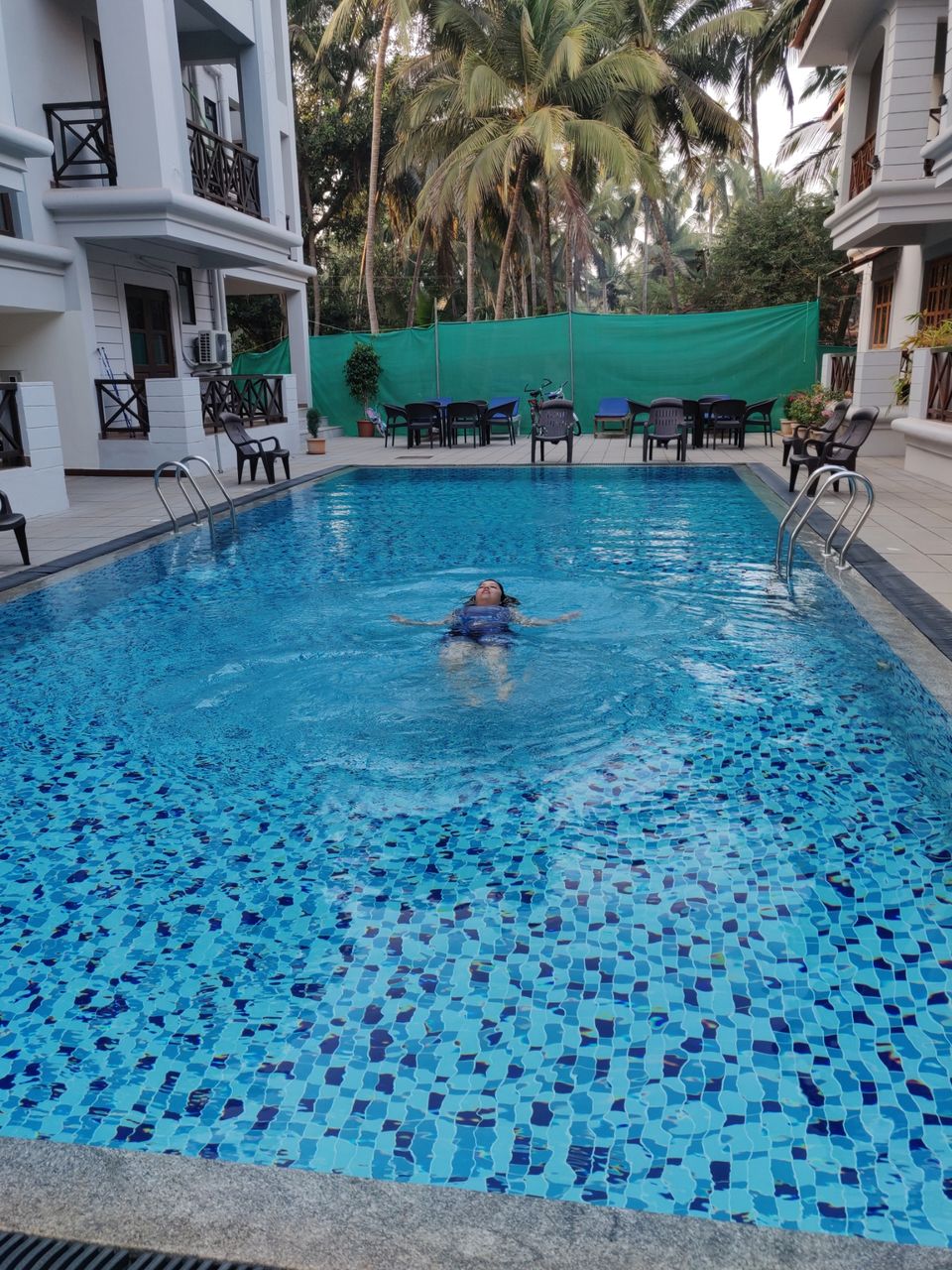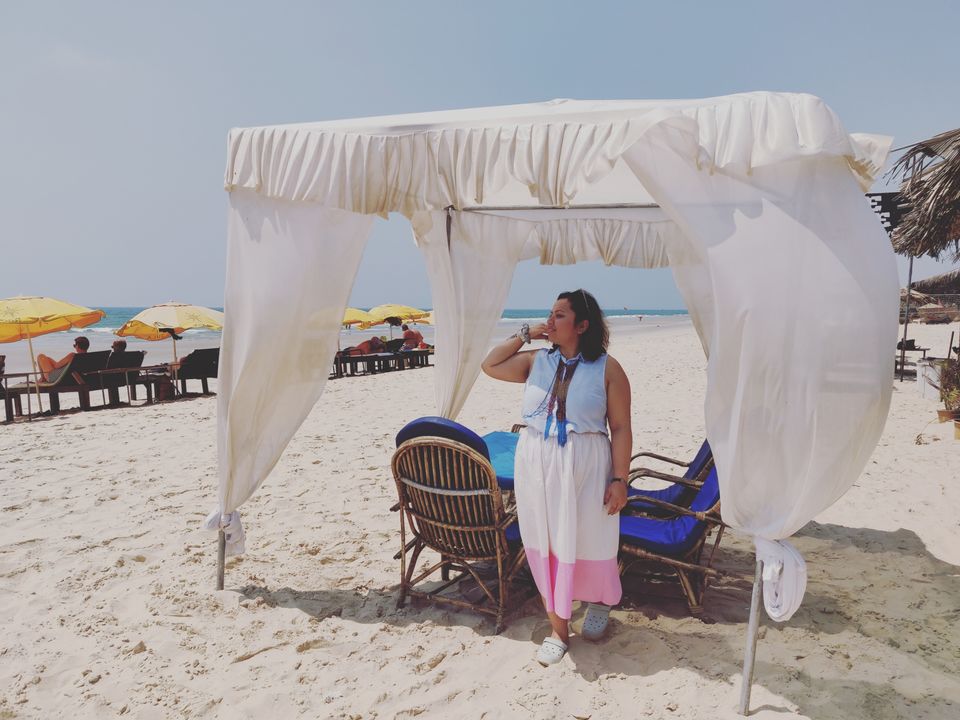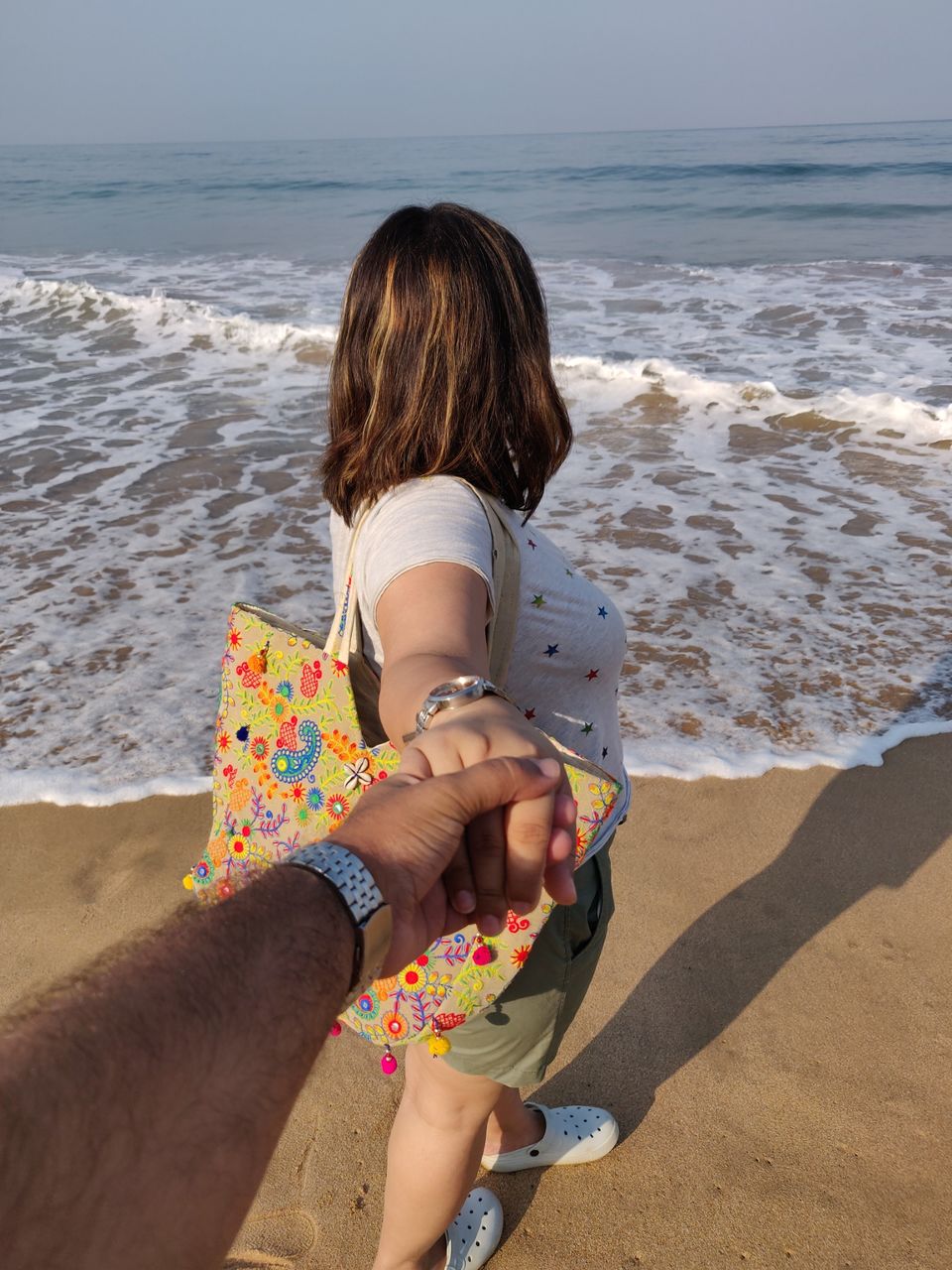 The last day of our short Goan vacay!
We woke up late and made ourselves some coffee, Maggi and scrambled eggs. The plan for the day was quite simple. We had planned for a visit to the 213 year-old Indo-Portuguese mansion built by Jose Paulo, who is considered to be the founder of Quepem town and also the Dean of the Church which is situated right opposite to the mansion on top of the cliff. I am really grateful to National Geographic Traveller magazine (January '19 issue to be precise) for enlightening me with such amazing and lesser known places in Goa, which makes it a perfect vacay spot for people like me who love to balance beach time with some historical and cultural explorations. We missed out on pre-booking the organic lunch at Palácio but next time we would definitely do that. Mr. Ruben Vasco da Gama, the man behind the restoration of this huge mansion with the help of his wife, took us around the whole place and briefed us about the history of the house and Jose Paulo and how Paulo came down all the way from Portugal in 1779 to spend the next 55 years of his life at Quepem, Goa. We spent the next one hour by ourselves trying to understand, explore, appreciate and photograph the structures, the European wood work of the 18th century and the geometrical garden that Palácio proudly boasts of!
After this, our plan was to have lunch at the famous Martin's Corner at Betalbatim. So we headed there and were quite delighted by the location of the restaurant. It is tucked in the centre of a cool and quiet residential zone close to the Betalbatim beach. What I liked the most about this place is its history of how Carafina, Martin's wife, raised and built this restaurant all by herself after her husband's death and fulfilled his dream. Stories, like I said before, make the places you visit, more special and dearer. The garlic butter prawns and the penne pasta that we tried here though didn't meet our expectations but the ambience and the people serving us the food balanced out our overall experience of this place.
We went back to our place at Coastal Suites to experience the Goan siesta and ended up playing a few matches of PUBG. But the few hours on the bed was very much needed as the plan for our last evening in Goa was to walk down to Benaulim beach, play with the sea waters and collect sea shells, capture the sunset moments, drink up and eat away merrily at Rogers, our favorite shack on the beach at Benaulim. And we did exactly that. We didn't even realize how 5 hours of a blissful evening and in fact 4 days of our carefree time in South Goa flew so fast!
Next morning, we could view the sunrise only from our flight back to Hyderabad and we know that some sunrises down the year, we will find ourselves again creating stories sitting by the ocean or maybe on top of a mountain! :)
*Expenses for the day including cab and auto rides and food = INR 5728
Next morning's cab to airport = INR 1200
STAY EXPENSES
2 nights at Mahi Agonda = INR 4674
2 nights at Coastal Suites, Benaulim = INR 5974
TRAVEL EXPENSES
Bus from Hyderabad to Goa = INR 3655
Flight from Goa to Hyderabad = INR 3897
TOTAL TRIP EXPENSES = INR 41000
Thank you for reading! Keep travelling and exploring more of this beautiful world. :)