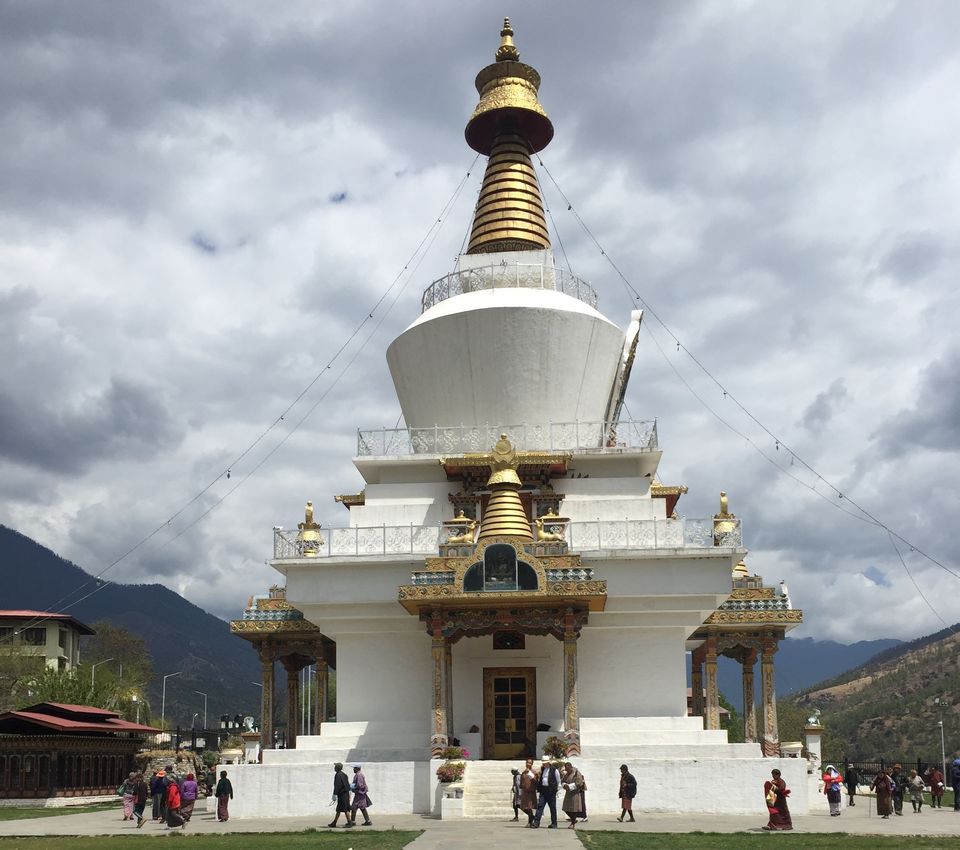 In northeast of India lies a small Buddhist kingdom (monarchy with a population of only 8 lakhs) on Indo-China border, this is known for its spiral traffic signal free Mountain roads, lush green Himalayan ranges, pollution free serene environment with net zero carbon emissions (rather negative).
Bhutan is a must visit place where Indians can go without any visa but there are travel requirements / formalities so it's advisable to take a guided / assisted tour with some reputed tour operator and follow the advice.
Yes, this is quaint and beautiful Bhutan (known as Druk Yul locally), the land of monasteries, fortresses (or dzongs), dramatic landscapes, steep mountains & valleys, beautiful and honest people (nearly zero crime rate). Smoking in public or consumption of tobacco is a serious crime and they are first among all nations to ban plastic way back in 1999, their forest coverage is nearly 74%. This small country always boasts of being high on Happiness Index.
We planned a 7 days trip to Bhutan (April 2018) and landed at Paro Airport (only airport in Bhutan) from Delhi. Landing at Paro itself was an adventure. From airport, after immigration formalities and obtention of travel permit, we proceeded to our hotel. Paro valley extends from the confluence of Paro Chhu and the Wang Chhu rivers. Evening was for strolling in the local markets shopping souvenirs etc.
Next day after breakfast, we dared to take a trip to iconic Taktsang Palphug Monastery (commonly known as Tiger's Nest Monastery) which is perched at 900 meters high on a cliff, this is a hard trek (a few km on pony and later a few km uphill walking on a steep kacha narrow road), but the rewards at the end are worth taking that pain as it was a divine experience. It was mesmerising view from there besides soaking in religious fervour at the monastery. It was a tiring trek and after coming back there was no more energy to explore the city so post early dinner, retired to our hotel room.
Third day morning after breakfast, we visited Ta Dzong, the national museum that displays hundreds of ancient artefacts. Later, we visited Drugyel Dzong or the fortress of the victorious Bhutanese (1646), this was destroyed in fire in 1951 but the ruins remain an impressive site.
Post lunch, we started for Punakha (3 hours), another beautiful city of Bhutan, it's also on the confluence of two popular rivers of Bhutan, Mo and Pho. Soon on arrival, we visited gorgeous and majestic Dzong (fortress) which is historically important, it's the most important destination for tourists. Post lunch we went for rafting (10 km) in Mo Chhu river which is comparatively calm (I can admit that it was not as exciting / thrilling as rafting in Ganga at Rishikesh).
Post dinner, we retired in our hotel room, next day morning after breakfast we checked out and proceeded to Thimphu (75 km), the fourth highest capital city of the world.
On the way, Dochu La is a mountain pass in the snow covered Himalayas at about 3100 meters above sea level where 108 memorial chortens or stupas known as "Druk Wangyal Chortens", this place we found to be the best in our tour with clouds below you and it was terribly cold with chilling winds piercing the spine, there is a restaurant here where you can have hot drinks (soup, tea, coffee) and snacks. It was amazing to take pictures of beautiful scenery from here.
Thimphu is a city with a lot of night life with many bars & clubs and offers many places to visit. We visited Memorial Chorten and Kuensel Phodrang (Buddha Point). The later treasures a 51 metre tall Buddha Dordenma Statue and is probably visible from all around the town. Weather here was really cold with light drizzling. Late we visited Motithang Takin Preserve to see Takin which is national animal of Bhutan (a large sheep like animal which is found only in Himalayas and is endangered).
In dinner, we tried local Bhutanese Cushion which was awesome (liquor lovers can try local brewed alcohol "Ara"). Post dinner on the way to our hotel, we passed through Tashichho Dzong which is really beautiful with its lights on (not to be missed).
Next day (5th day), we visited remaining tourists spots in Thimphu and post lunch strolled in its main market (Norzin Lam Street) buying some handicrafts and souvenirs etc. A common sight in all all handicrafts shops is display and sale of different types of phalluses which is considered an esoteric symbol that offers protection from evil and brings good luck. This tradition of phallic worship came from the 15th-century Buddhist teacher, Drukpa Kunley (1455–1529), who was popularly known as "Divine Madman". We were told that it's mandatory for all offices, business establishments and shops to display the picture of king & queen of Bhutan.
Next day, we travelled to Paro back for taking our return flight after a wonderful dream tour of serene Bhutan.
In our entire road travel, the main issue we faced was the absence of public toilets and poor quality / maintenance of their toilets by the roadside restaurants, these were dirty, stinky and unhygienic. Another issue was that vegetarians should not expect good food here (we had to manage mostly with rice and red lentil, some curries like okra and cauliflower were available at some restaurants which were not cooked to our taste). Mostly consumables are supplied from India so these are sold at prices 10 to 20% above MRP. Indian Currency is welcome all over and there is no need to take local currency.
Altogether a memorable tour.