I had wanted to escape from the bustling streets and sultry weather of Mumbai for as long as I can remember. I was a travel noob given that, I had never stepped out of India and the only trip I had been on was with my parents back in my school days (I should definitely get a life ...Duh). Since I was on a shoestring budget the plan of going to Bhutan never really crossed my mind until one of my colleagues who had recently been to Bhutan suggested it to me. I am a major food buff so when I read a few blogs on Bhutanese cuisine I was convinced about taking that vacation I had been putting off for years.
How we reached Bhutan:
If you are flying from Mumbai, you should know that as of now there are no direct flights from Mumbai to Paro (Paro International Airport is the only airport in Bhutan). If you want to fly to Paro, you can take a flight from Delhi, Kolkata and Bagdogra. However, if you do not want to spend money on flight tickets you can travel by train to New Alipurduar or Siliguri or Hasimara railway station. From here, you can take a bus or shared taxi to Jaigaon that is Indo-Bhutan border town.
We took an early morning flight from Mumbai to Bagdogra International Airport. We reached Bagdogra at around 8:30 am and then took a taxi to Phuentsholing. The driver dropped us at Jaigaon from where we could see the Phuentsholing border gate.
A two-minute walk from the gate leads you to the Phuentsholing Immigration Office. We were travelling without a guide but we had done our research well and had all the relevant documents. Indian citizens need a passport or voter id card as valid identity proofs. Don't forget to carry your hotel confirmations, passport size photograph and a short itinerary. You can get a 7-day permit for Thimphu and Paro only. If you want to get your stay extended or want to visit other places in Bhutan, you will need to make a stop at the Thimphu Immigration Office. As tedious as I expected it to be, the immigration process was a smooth one.
After getting our permits, we headed to Thimphu because we needed special area permit for the Haa Valley. From Phuentsholing you can easily get shared taxi to Thimphu. It took us 4 hours to reach Thimphu where we stayed overnight.
Commuting within Bhutan:
Bhutan is a relatively small country and you can easily travel from one city to another by taxis or buses. Shared taxis are readily available in Bhutan (as far as my experience goes). Buses are extremely cheap but you have to watch out for their timings in advance. You can refer to this site for getting an idea about bus timings- http://www.rsta.gov.bt/rstaweb/ .
Stay:
Since I'm very paranoid (trust me I have checklists for everything) so not booking stays in advance wasn't an option for me. We booked our stays through Airbnb and it turned out to be the best decision.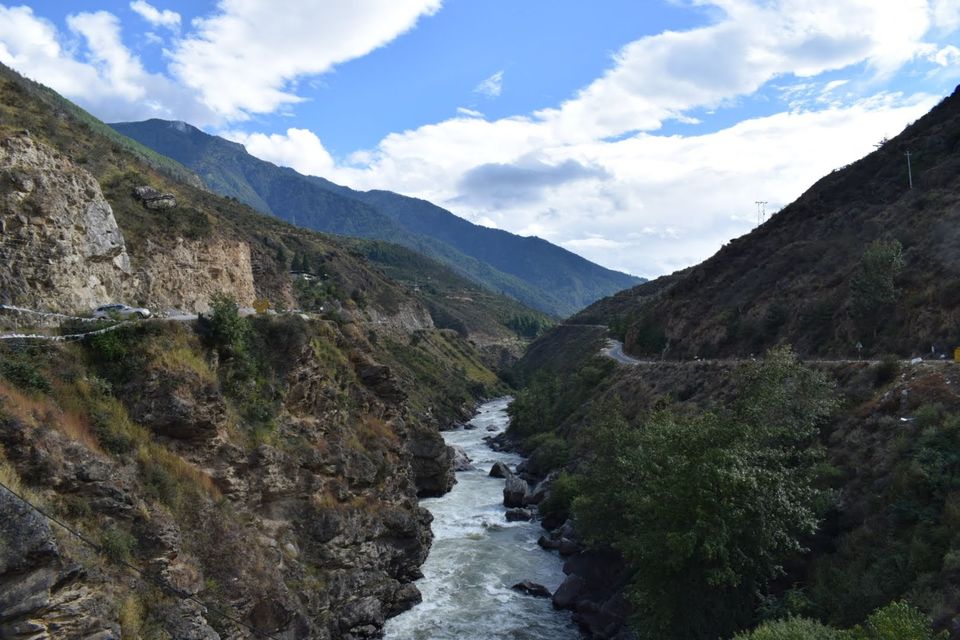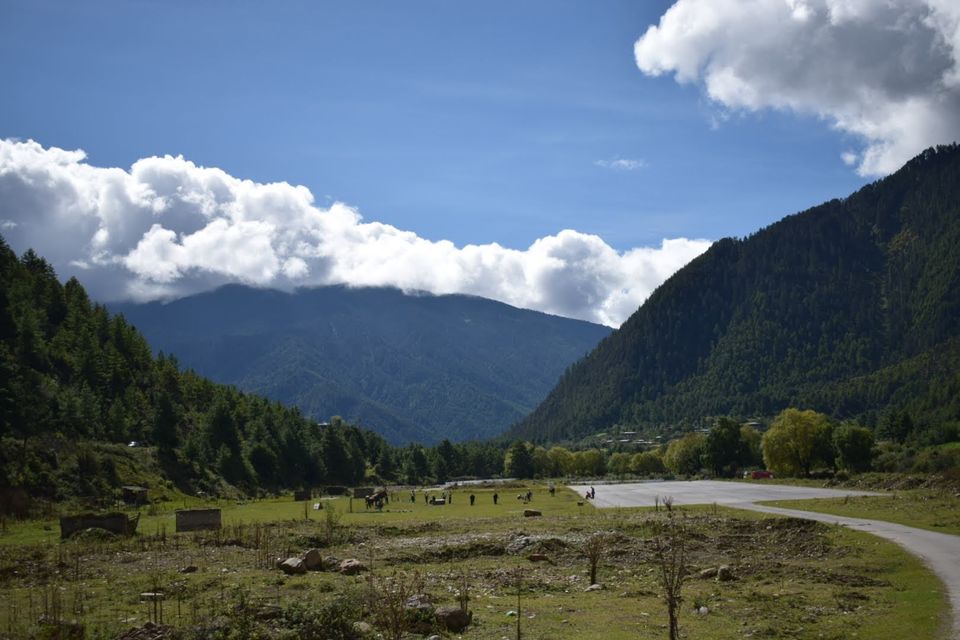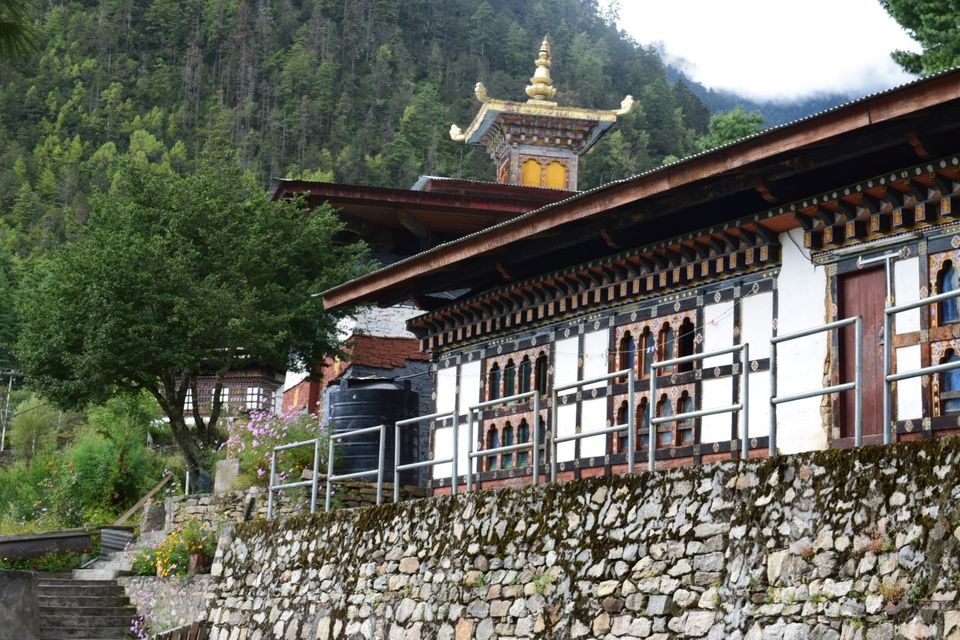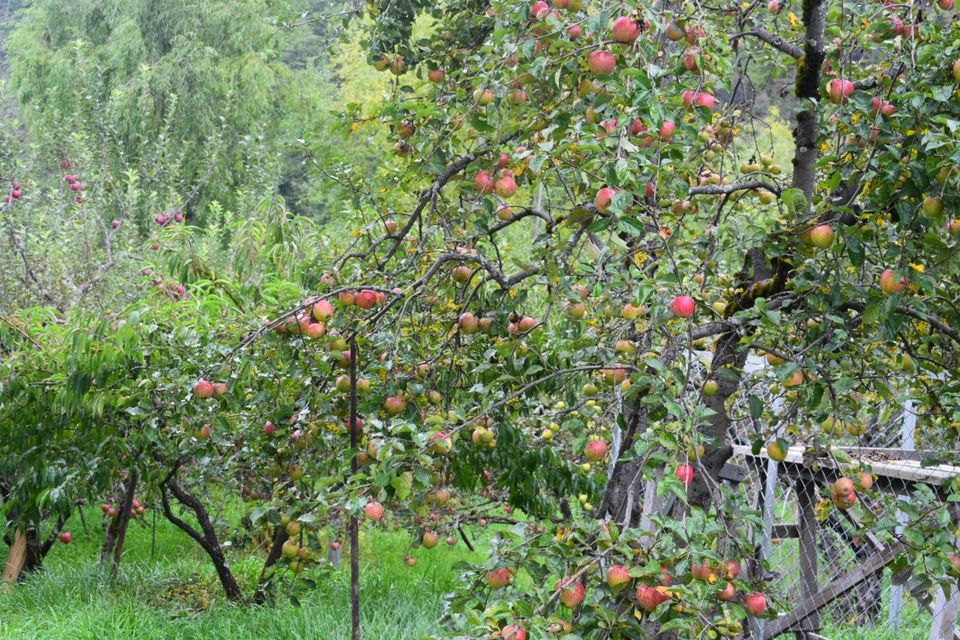 We walked from our hotel to the Thimphu Immigration Office and got our permit for Haa valley. In the afternoon after strolling around the city for a while and exploring the local shops and food spots we headed to Haa. For everyone wondering why we did not visit the major spots in Thimphu - We had to come back to Thimphu for a special something on our itinerary (you will find it out later). Haa is a 4-5 hour journey from Thimphu.
Haa is a small town located at a mere 13 miles distance from the disputed India-China border in Doklam. We had booked a homestay in Bhutan. Trust me when I say this, your trip to Bhutan would be incomplete without having the cultural experience that homestays can offer. When we reached Haa, it was 6:30 in the evening but it was stark dark and it had started to rain. We were staying with an old Bhutanese couple. They warmly welcomed us into their cozy house made of stone, clay, wood, and we witnessed the hospitality of Bhutanese people. We were invited to relax in a private room where our hosts stayed, and were offered Butter Tea and biscuits. We enjoyed a wholesome dinner that included red rice, ema datshi, ezay, paksha paa and jaju made by our host with vegetables freshly plucked from their garden.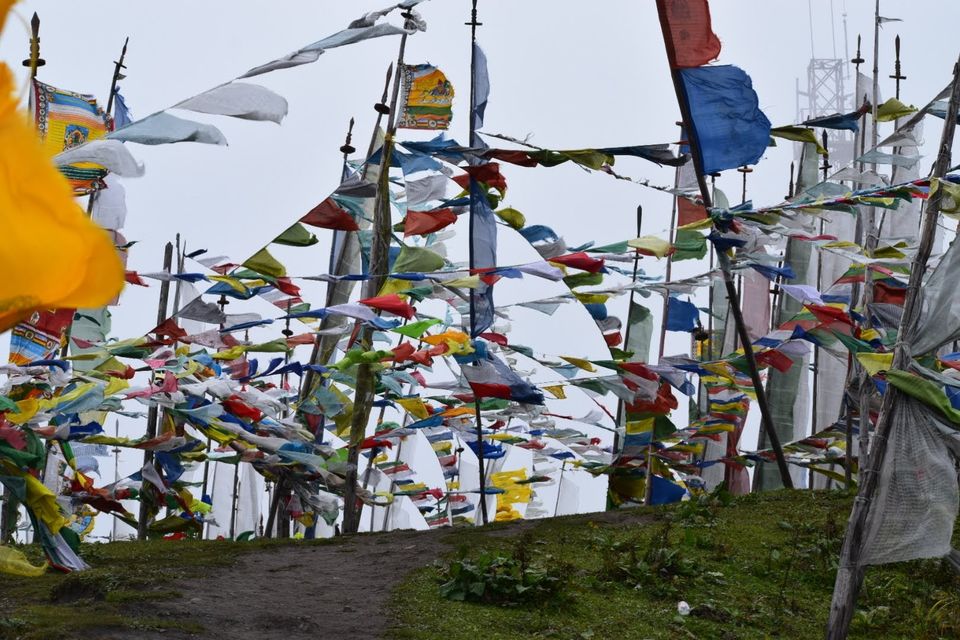 The morning revealed to us the beauty of this little hamlet. We could hear the sound of the Haa Chhu (Haa River) flowing with all its force in the distance. We walked up to the river to find Indian army practicing for their annual horse racing festival. We headed to the Lhakhang Karpo (White Temple) and Lhakhang Nagpo (Black temple). At the white temple, the locals gathered to witness the practice of the Haa Tsechu. Haa valley, nestled in the Himalayas is nature's gift to the world.
From Haa we headed to Paro through Chele-La Pass, the highest motorable point in Bhutan at 3988 meters above sea level. The drive to Chele-La Pass offers breathtaking views of Mount Jomolhari and is replete with flora and fauna. The surrounding area of the pass has several trails and one can find hikers on their way through the pass. When we reached Chele -la Pass, we stopped for a while to take in the beauty of the place.
We arrived in Paro at around 4p.m and we went to Rinpung Dzong and spent the rest of our time shopping in Paro.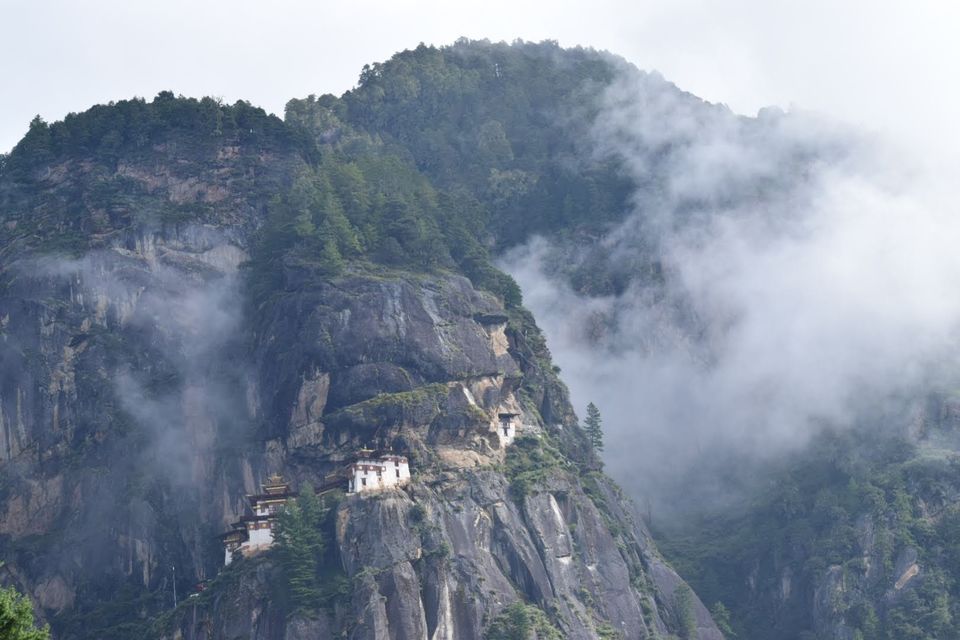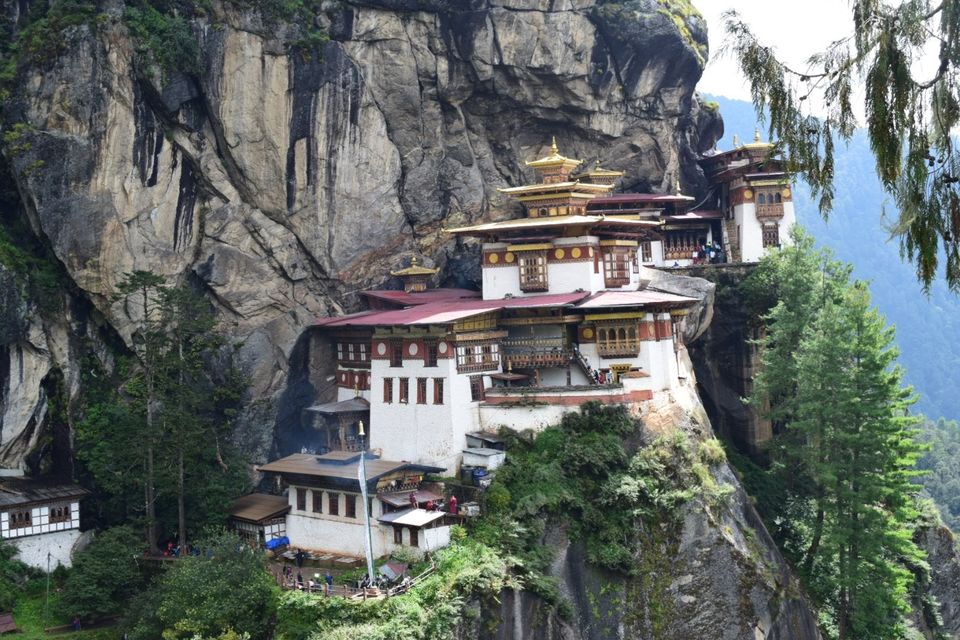 We had planned to trek to the Tiger's nest Monastery. We started pretty early at around 7:30 am. The trail is about 5 miles and usually takes around 3 hours to reach the top. It is a rough trail but the view throughout the trek makes it worth it. The monastery is perched on the edge of a cliff and one wonders how the monastery was build. The descent is equally tough and scary with steep slopes. It took me a lot of will to convince myself to climb down (my legs had given up). However, the feeling is like nothing else in the world.
After the trek, we headed to Punakha. It was long ride and we were exhausted and slept for most part of the journey. We checked into our hotel at night and had a good sleep to prepare ourselves for our next adventure in Punakha.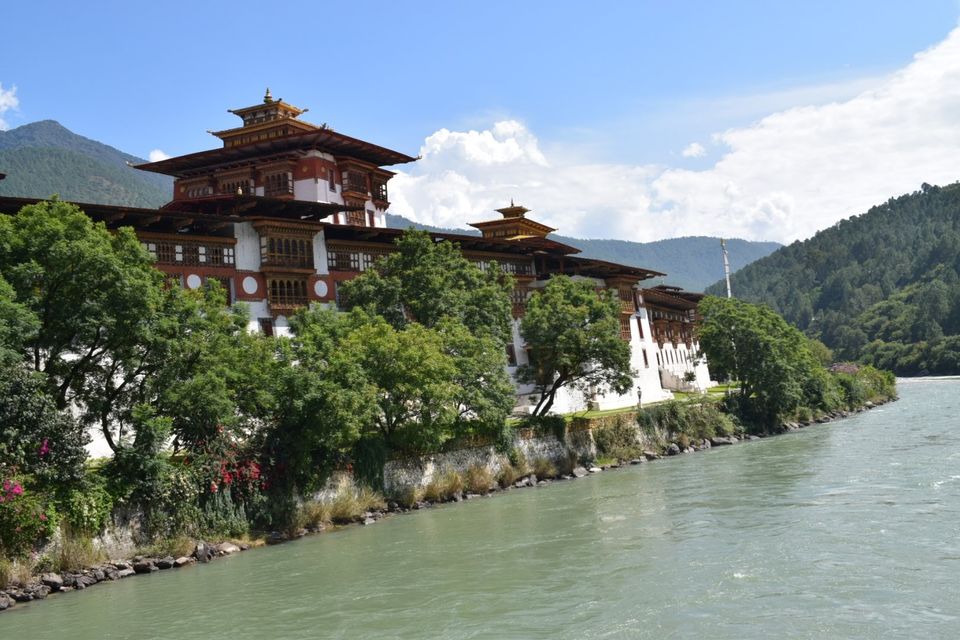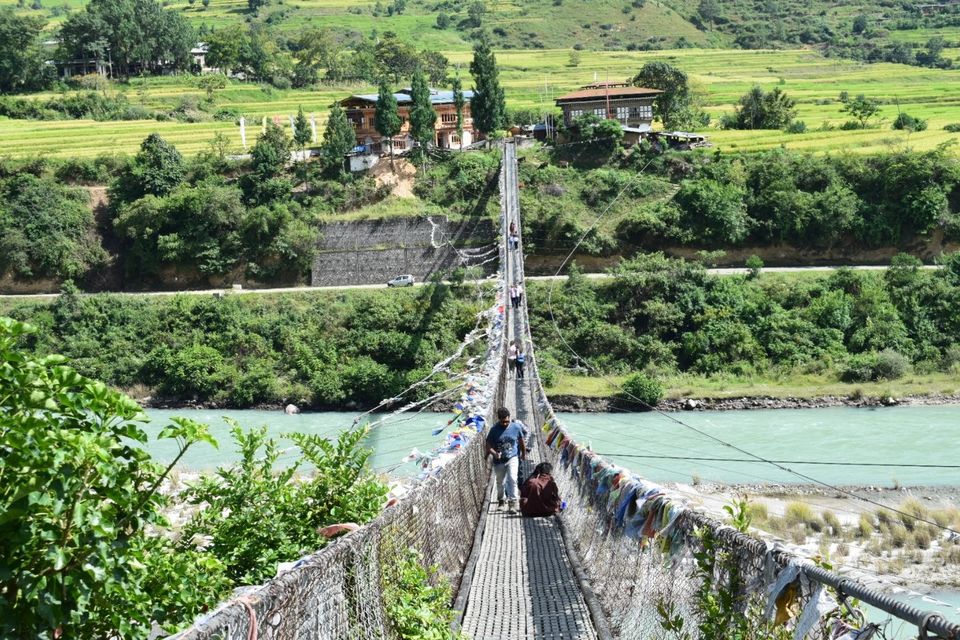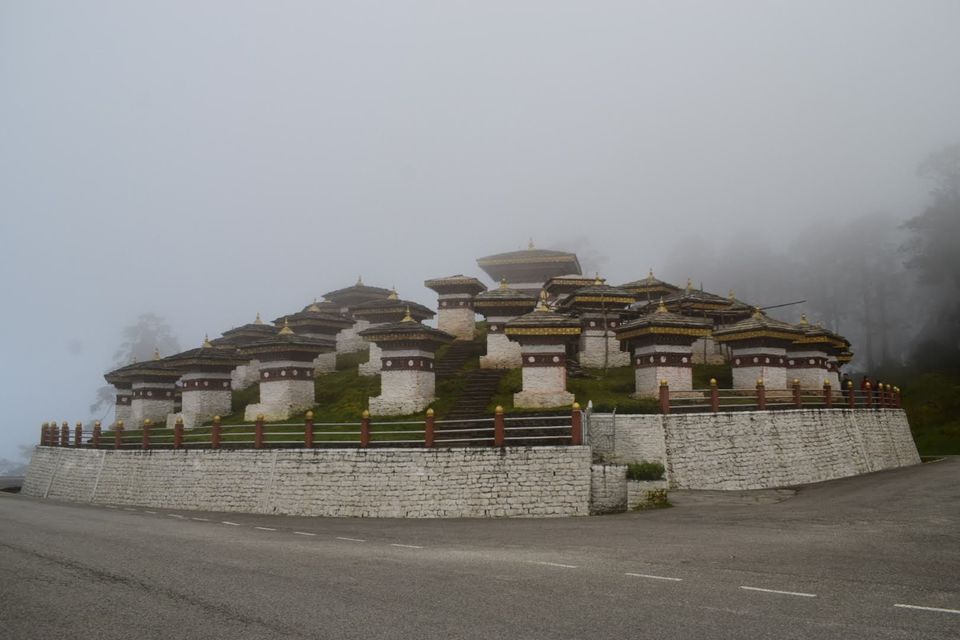 It was very hot and sunny in Punkha unlike Paro and Thimphu where the weather was pleasantly cold. The whole of Punakha is surrounded by beautiful paddy fields. We made our first stop at Chimmi Lhakhang. Located near Lobesa, the monastery can be reached after a 20-minute trek from the road. On the way to the monastery, you will find houses covered with phallic paintings and shops selling phallic art. You can hear the legends of the divine mad man 'Drukpa Kunley' who established the structure at this site. We were lucky to witness the naming ceremony that happens here by picking bamboo slips placed in the altar inscribed with names of boys and girls. Next, we visited the Punakha Dzong majestically standing on an island between the confluence of Pho Chhu and Mo Chhu rivers. The Punakha Suspension Bridge(520-foot long) is about half a mile from the Dzong. Covered in prayer flags, the bridge offers spectacular views of the rivers and valley.
We departed from Punkha for Thimphu through the Dochula Pass. The pass contains 108 memorial chortens in honor of 108 Bhutanese soldiers who died in 2003 military operation. It offers breathtaking views of the snow-laden Himalayas.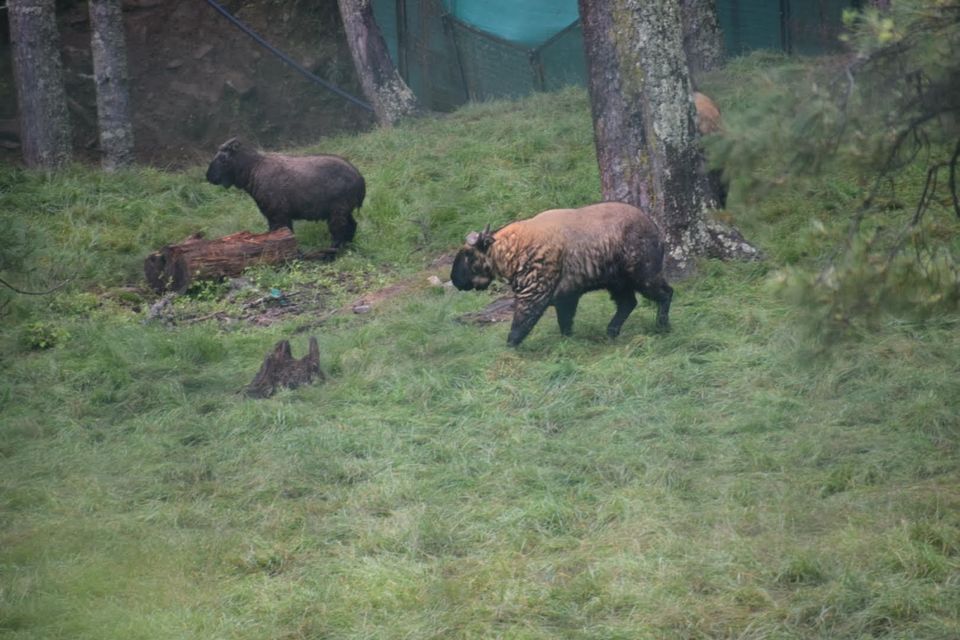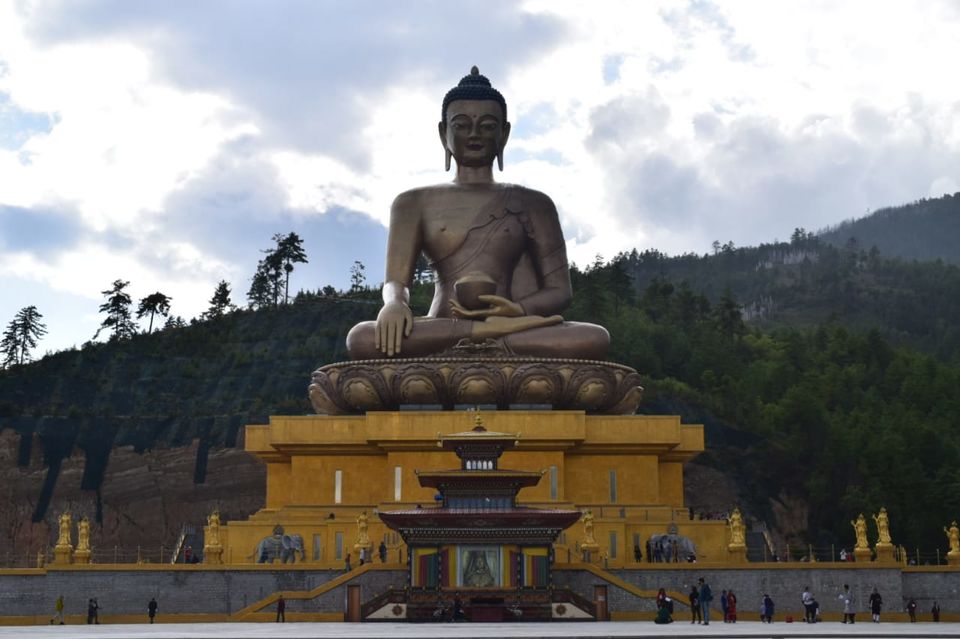 We went for some local sightseeing in Thimphu. We visited the Motithang Takin Reserve that is a wildlife reserve area for the Takin, the national animal of Bhutan. There is a legend regarding the animal's creation in 15th century by Lama Drukpa Kunley, which is why it has a religious connotation. Next, we went to the post office where we got personalized stamps with our pictures on it. We also went to Buddha point where a giant golden Buddha Statue sits at the mountain Kunzangphodrang. Later that evening we decided to take the traditional hot-stone bath. Medicinal local herbs and tree barks are boiled to release minerals in the water. River stones are heated and then placed in a wooden chamber that is connected to the main water tub. It is the perfect way to unwind after a tiring day. Bhutanese hot-stone bath is said to cure many diseases. Do not miss this authentic experience!
Bhutanese people have a thing for karaoke and Thimphu has several karaoke bars. We headed to one such bar and tried local craft beers and peach wine. Make a stop at one such place and party with the cheerful locals of Bhutan.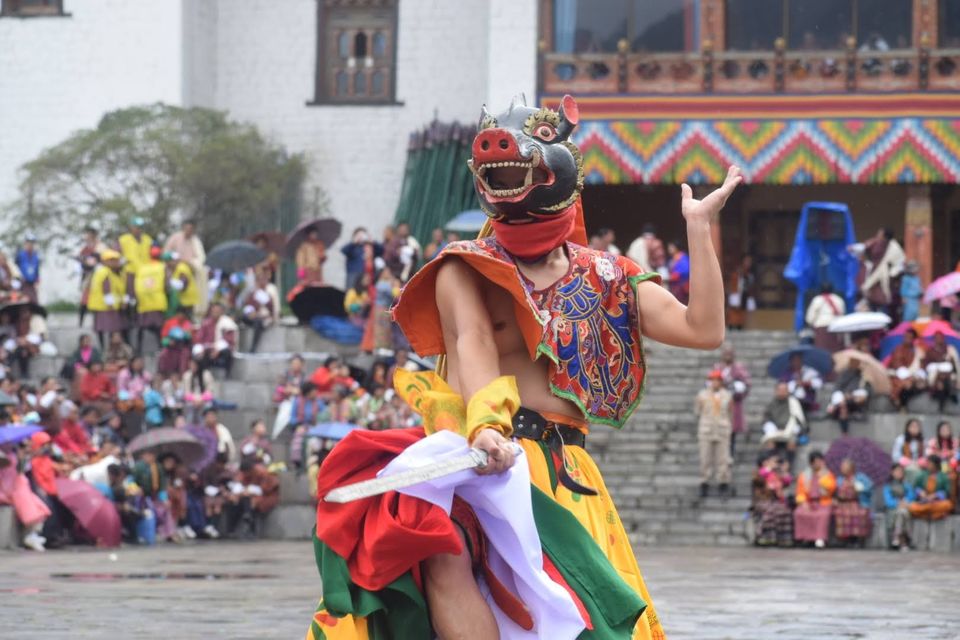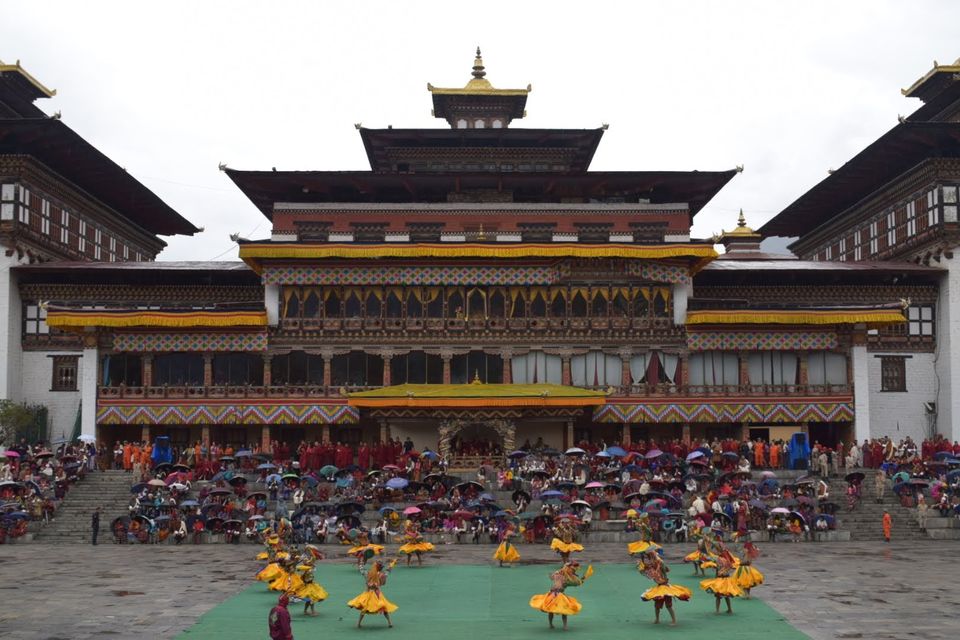 This was the highlight of our trip. We had planned our trip accordingly so that we could attend the Thimphu Tsechu, biggest festival in the capital city of Bhutan. The festival is held in the courtyard of Tashichho Dzong. The festival highlights ethnic folk dance to the beats of drums and cymbals in colored masks by monks and common people. The festival, an important part of the Bhutanese Culture was a remarkable sight.
With this, we wrapped our journey and bid goodbye to the land of legends and dragons. Bhutan, with its people so warm and welcoming, the culture so rich and valleys so beautiful will always have a special place in my heart.
For more such stories checkout my blog Pocketful of Postcards
Frequent searches leading to this page:-
cost to visit Bhutan, Bhutan private tour, holiday in Bhutan cost, best holiday packages for Bhutan, Bhutan family tour packages, Bhutan packages from Mumbai