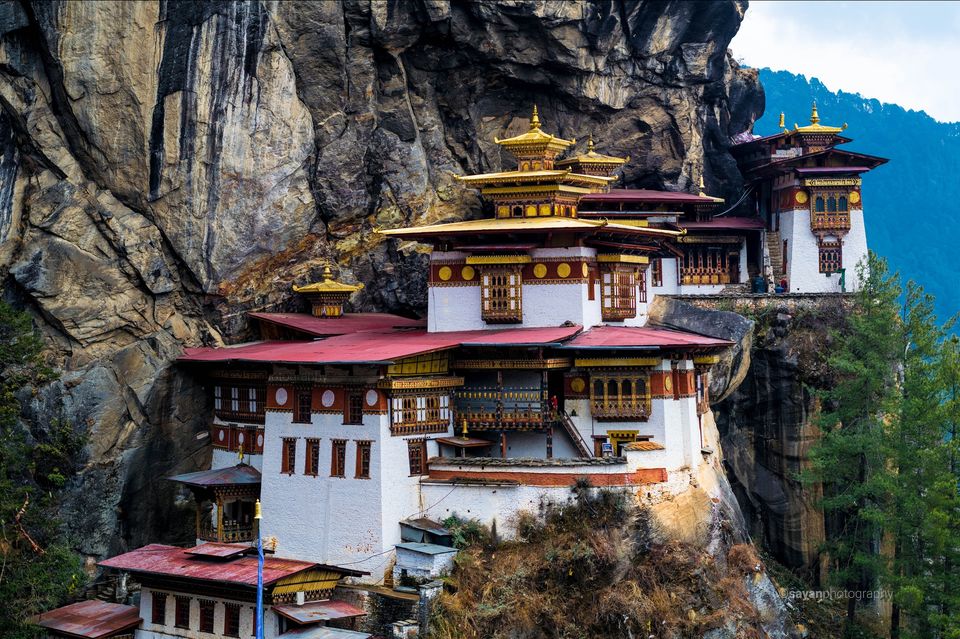 Bhutan, which has earned the title of Land of Thunderbolt due to violent and large thunderstorms that wipe down through the valley of Himalayas, is a land locked country surrounded by India and China.
The major tourist attractions are in the western Bhutan mostly in the districts of Thimphu, Punakha and Paro. The journey can be completed in 6 Days and 5 Nights. The best time to visit Bhutan is around February-March if you want to experience the snow fall.
Journey from Kolkata to Hasimara
Our journey to Bhutan started from Kolkata where we had train to Hasimara, located in northern West Bengal. We had booked the trip via an Indian travel agent at around ₹7500 per person for the entire trip. That includes your travel and stay. You can get a better deal if you book it via a Bhutan travel agent.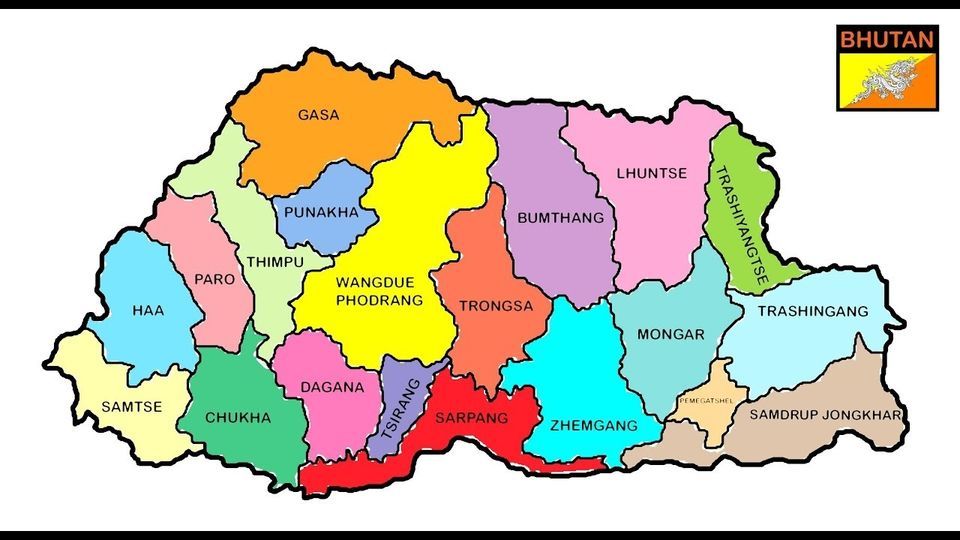 Our train to Hasimara was at night and we reached at around 10 am in the morning. From Hasimara station, the travel agent had booked an Innova to Phuentsholing in Bhutan. After crossing Jaigaon, which was the border town in India, we reached Phuentsholing.
One important thing to keep in mind while going to Bhutan is that if you reach Phuentsholing before 10 a.m., you can have your immigration and verification done before noon and then you can travel ahead. Else, the office closes at noon and you have stay at Phuentsholing. Best thing about Bhutan is there is no need of VISA or even Passport, only voter ID is enough. But it's advisable to carry your valid passport with you. Another good thing is the exchange rate is almost same as that of Rupee. The exchange rate is 0.99.
Phuentsholing
Since we reached after noon, we had to stay at Phuentsholing that day and do immigration and verification next day early morning.
Phuentsholing is a small city but the difference between India and Bhutan was distinctly visible. It had clean streets, less people and organised traffic.
Our travel agent had booked a hotel in Phuentsholing which was really good. Its name was Asian Kitchen Bar and Restaurant.
After getting fresh, we strolled in and around Phuentsholing. Though it's a small city, it has enough to offer for half a day. We had lunch at a restaurant, Hotel Damchen.
The main cuisine in Bhutan is Datsi (Bhutanese word for Cheese curry). You will find all sorts of Datsi here... Ema (Chilly) Datsi, Shamu (mushroom), Kewa (Potato), Shakam Paa( Beef) Datsi, Phaksaa (Pork), Gondo (Egg) Datsi and so on ...
After lunch, we headed to Crocodile Zoo, it was at walking distance. They were initially asking for ₹150 per person but then when we were returning back, they discounted it to ₹100. We showed us our Student ID and got the ticket at ₹50 per person.
In Bhutan, most of the tourist places offer around 50% discount if you show your student ID. There was a small temple nearby and we sat their for a while.
We then headed back to our hotel. There was another temple, Zangdokparli Temple, beside our hotel.
At evening we strolled along the streets of Phuentsholing and also went to Jaigaon after crossing border to eat some Indian Street food. We stayed the night at the hotel.
Next day trip to Thimphu
Early morning we had to complete our immigration before heading out to Thimphu. There was a routine check and verification after which we bought a local sim, Tashi Cell. There are two options available in Bhutan, Tashi Cell and T-Mobile. While T-Mobile is the major network, Tashi Cell offers some competitive prices. The sim costs us Rs 300 or so for 7 days which included free calls to same network and around 1-2 GB of data.
Next we headed to Thimphu. The roads were in pretty good condition for a mountainous terrain country. Either side of the road, laid beautiful mountains covered with trees, waterfalls and colourful prayer flags tied to rocks. We stopped near a temple at Gedu for a while.
The prayer wheel is an important part of the Buddhist temples. They are cylindrical wheels containing scrolls that are repeatedly inscribed with mantras. It is believed that the mantras inside are activated and released when you turn the wheel. The mantras are said to purify negativity, generate compassion, remove barriers to enlightenment and bring benefit to all human beings.
The journey to Thimphu from Phuentsholing is around 6 hours, so, you can have lunch at Wangkha Dam View Hotel which is near to Chhukha Hydropower plant.
We checked in our Hotel at around 7 p.m. in Thimphu. One thing to keep in mind is that all restaurants and shops closes at around 9 p.m. So, we headed straight to the nearby restaurant and local dish. Its always safe to have chinese dishes alongside. Roti isn't available at many restaurants.
Thimphu City Tour
Next day, early morning, we went to Thimphu Folk museum. You can see live preparation of their local wine there and also have a sip. The museum had the usual ancient stuffs like swords, bow and arrow, traditional clothes, a typical bhutanese house made of wood and bamboo, photographs and paintings of the Kings of Bhutan. Camera wasn't allowed inside the museum. Though there were beautiful cherry blossoms outside, where you can shoot photos.
We then headed to Changangkha Lakhang, a monastery in Thimphu.
You can then check out the Motithang Takin Preserve or the Takin Zoo. Takin, an unusual looking animal, is the national animal of Bhutan which resembles a crossbreed between a goat and antelope. There are a few other species of the antelope family in the preserve, but if you have less time, you can skip it. But the route along to this zoo offers an amazing view point of the city of Thimphu.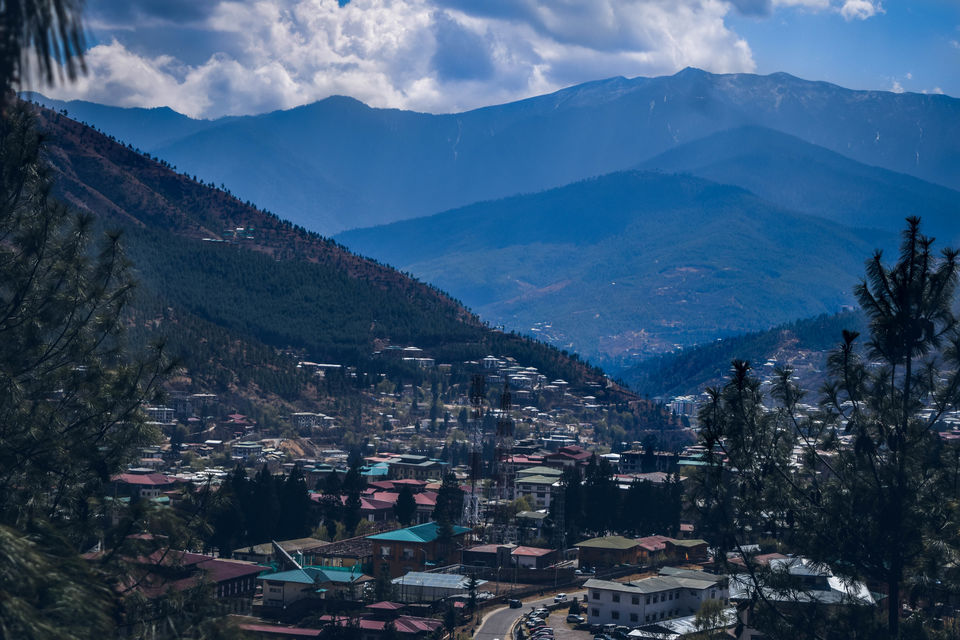 After having lunch at an Indian Restaurant in the city, we headed towards The Buddha Dordenma or The Buddha Point. Great Buddha Dordenma (Buddha Point, Thimphu) is a gigantic Shakyamuni Buddha statue in the mountains of Bhutan. The statue houses over one hundred thousand smaller Buddha statues, each of which, like the Great Buddha Dordenma itself, are made of bronze and gilded in gold.
The completed work is one of the largest Buddha statues in the world, at 169 feet (52 m) and contains 100,000 8-inch-tall and 25,000 12-inch-tall gilded bronze Buddhas.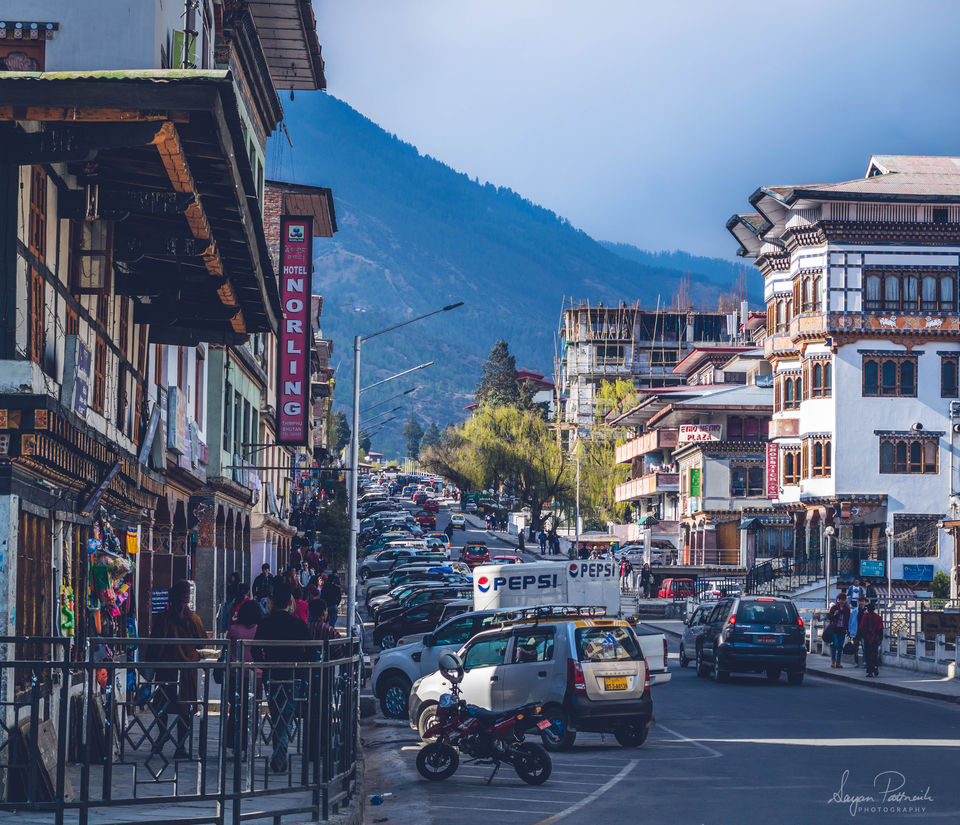 The final destination for the day was Tashichho Dzong in Thimphu, which is the home to the civil government of Bhutan. A flag hoisting ceremony happens everyday at the evening hours. So, if you can reach before that, you can see the ceremony as it happens. Best time to visit is definitely at evening hours, where you can get this amazing view of the lighted up monastery.
Punakha is a district located to the east of Thimphu. Start early morning from Thimphu after you check out from the hotel. The next stoppage is Dochula Pass. Dochula Pass is situated at an altitude of 10,000 feet above the sea level. In the months of February-March, it is mostly covered with snow. But unfortunately or fortunately, there was no snowfall the day we visited it
There are 108 stupas or chortens known as Druk Wangyal Khang Zhang Chortens built in the honour of Bhutanese soldiers who were killed in the 2003 battle with insurgents from Assam. There is also a temple nearby called the Druk Wangyel Lhakhng
You can have english breakfast at Druk Wangyel Cafeteria In Dochula. The food is really good here. They serve Indian food too.
Next we headed straight to Punakha city, where we had our lunch. Punakha happened to be the former capital city of Bhutan.
After lunch, we went to the Punakha Dzong View Point. Punakha Dzong is the most beautiful dzong of Bhutan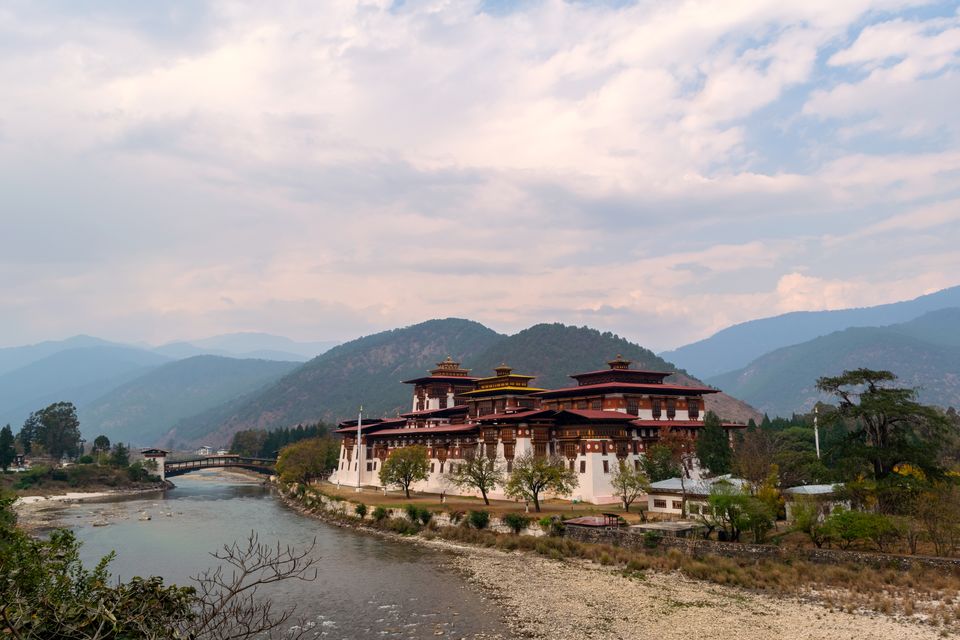 Before entering the Dzong, we first visited the suspension bridge which stretched over 180 meters across the river Mo Chhu. The suspension bridge has colour flags tied to both sides of the bridge.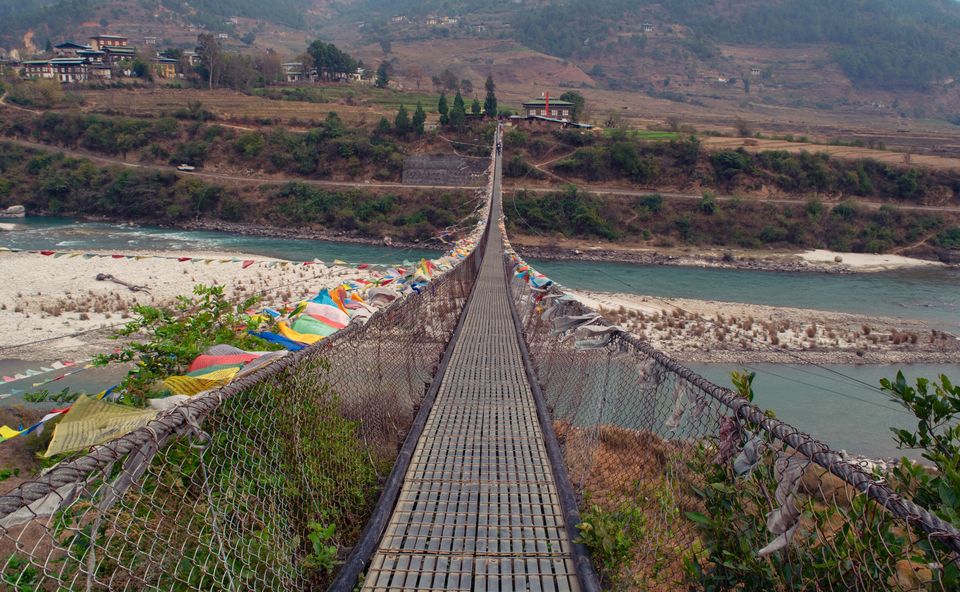 We then visited the Punakha Dzong on our way back from the bridge. Punakha Dzong is the administrative centre of Punakha Dostrict. It is situated on the river bank of Mo Chhu river.
You have to cross a wooden bridge to reach the dzong. It has 6 floors with a central tower which has the worshiping hall. There are many courtyards and halls apart from the administrative office rooms.
After a complete tour of the dzong, we spent some time by the banks of river Mo Chhu. We then headed back and towards our final part of the journey Paro. It was a good 6-7 hours of journey to Paro via Thimphu. We checked-in our hotel at around 8 p.m. We had ordered food to the hotel before reaching there.
Paro - Trek to Tiger Nest
Early morning, we went to the most anticipated part of the trip, the trek to the Taktsang Dzong or the Tiger Nest. The trek is 4.5 kms ascend and 4.5 kms descend and elevation difference of 1700 ft. It usually takes upto 5-6 hours for the entire trek and visit to the dzong. There is a cafeteria in the midway where you can relax for a while before heading up again. You can also take a horse-ride to reach the cafeteria, after which you can only go by foot.
The Dzong is located at an altitude of about 10,000 feet. So, its important to keep a few things in mind before starting your trek. Travel light: its better to carry just a water bottle with you in a small bag. Wear a light weight jacket or a sports jacket. Once you start your trek, you will start sweating but gradually it becomes colder and colder as you go up. Carry a trekking rod or stick along with you. If you don't have one, you can always get one from base of the trek. Start at a steady pace and take breaks to catch your breathe at regular intervals. As you go up, the air becomes thinner and thinner and you would have problems in breathing. So, taking rest and catching your breathe at regular intervals helps. Keep yourself hydrated.
Before reaching the Dzong, there is a view point of the magnificent structure. You have to descend down some stairs, cross a waterfall and then ascent again the stairs(800 steps total) to reach the Dzong. Phones and cameras are not allowed inside the Dzong.
There are mainly 4 temples and other buildings surrounding it. Inside the hall of 1000 buddhas, there is a statue of a tiger. Legend says that Guru Rinpoche flew to the site as the fiery Dorje Drolo, one of his eight manifestations, on the back of a tigress, a form assumed by his consort Yeshe Tsogyal to subdue the local demon, Singye Samdrup. He then flew to the eastern Bhutan and landed at a place which is now the second part of the Tiger's Nest.
There are a lot of souvenir shops at the base of the mountain. We then headed straight to a restaurant as we were really hungry by that time. If you can complete the trek before 2 p.m. and still have some energy left, you can go Chele La Pass where you can see the snow fall or visit the Paro Dzong.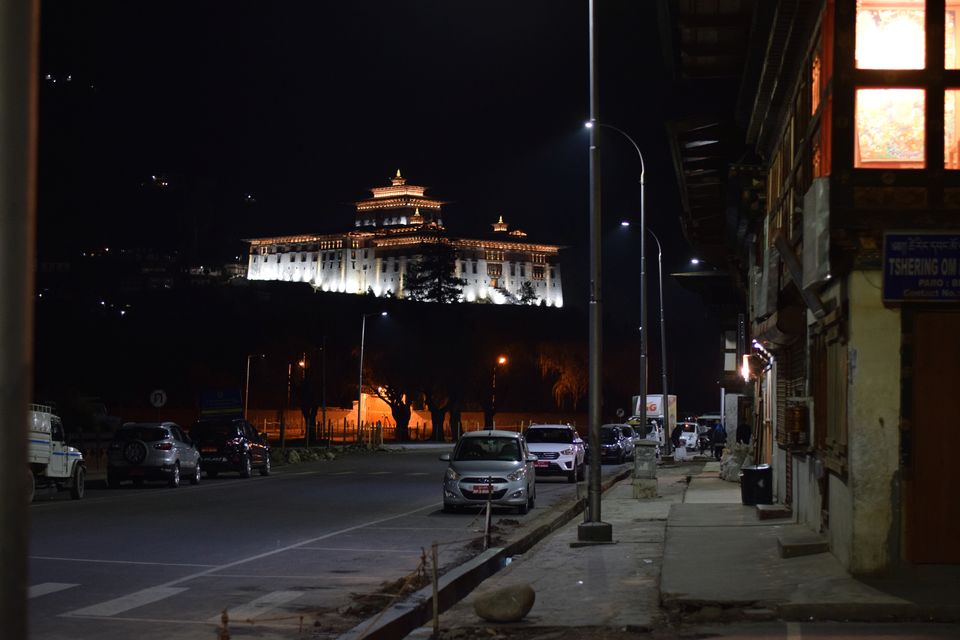 You can also take rest for the day and head out to Chele la pass in the morning and visit Paro dzong in the afternoon. But we had out train the next day from Hasimara, so we had to skip the trip to Chele La Pass.
Next day we headed back straight to Hasimara after breakfast, had our lunch at the same restaurant in Chhukha. We reached around 3 p.m. in the afternoon at Hasimara from where we had our train back to Kolkata.