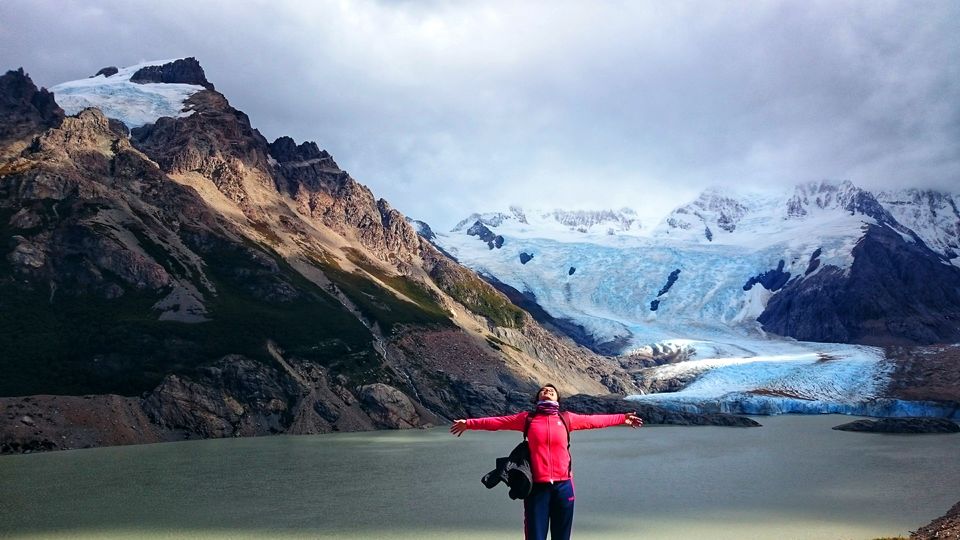 Argentina in South American continent is quiet a varied country which has dry plains famous for its world famous wineries to Patagonia region in its south which is hikers paradise.
When you are in Argentina, spending few days in Patagonia is must, even for people who are not into big time hiking. The region is very different from what you would have seen by now in any other part of the world with its wild national parks and towering mountain ranges!
You can go for multiple single day hikes from the base town El Chalten or can also go for a multi day trek combining various single day treks in one.
I chose to do few single day treks, one of them was Laguna Torre - basically walking up-to the foothills of Mt. Cerro Torre, and is my favorite too.
How to reach:
You have to reach to El Chalten, which is known as hikers paradise too and is a very small town used as a launch pad for various hikes in Patagonia region from Argentinian side.
We took a bus from El Calafate to El Chalten which takes 4 hours to drive. There are buses running at regular intervals from El Calafate during the summers and spring.
Once you are in El Chalten, all trail heads starts pretty much from the town itself with properly marked routes and can be done self guided.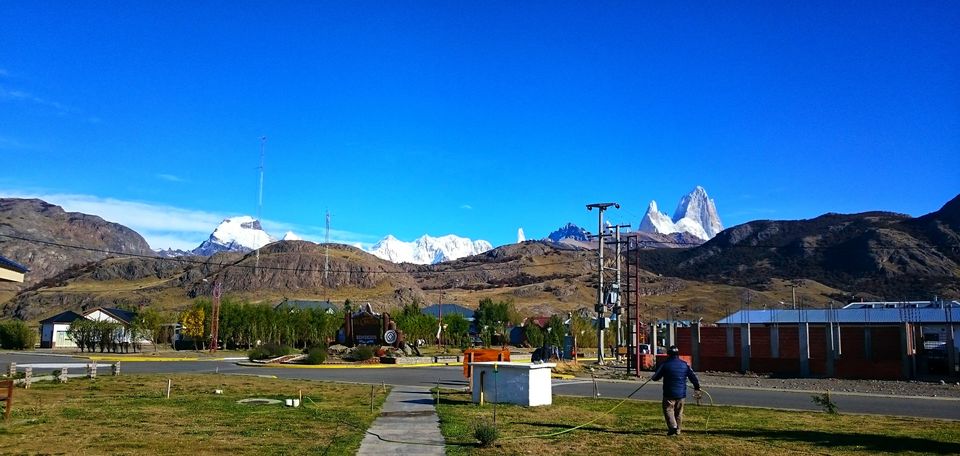 Best time to go
Summers and springs are best time to go with moderate temperatures and usually crystal clear days. This is the main season when the town is open to welcome tourists at full swing.
Winters are quiet harsh and people avoid hiking in winters. El Chalten is also pretty much closed during winters. However, still occasional adventure hikers come here to attempt winter hiking here.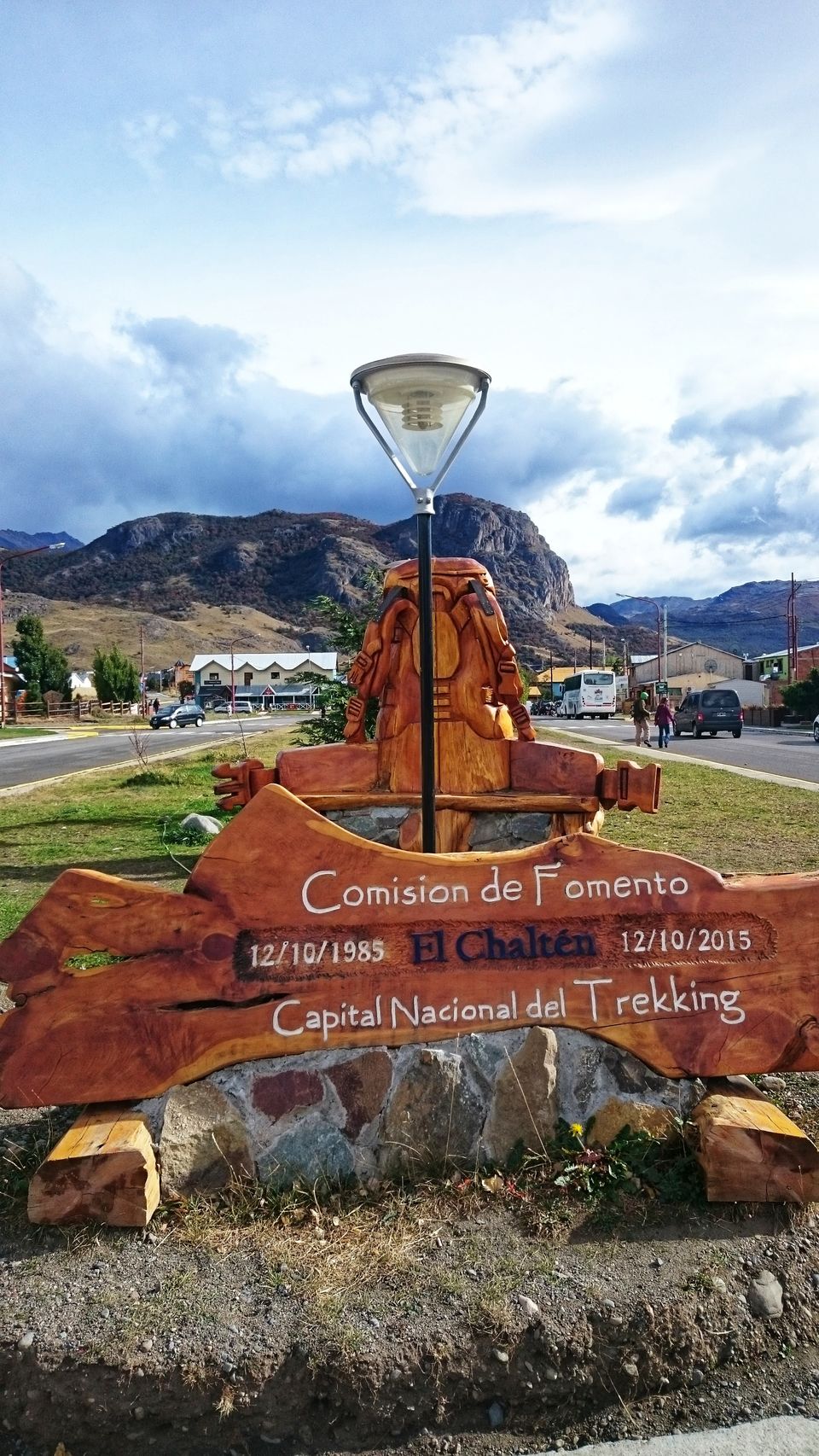 Experience hiking Laguna Torre
Its a 24 km hike hiking up-to the base of Cerro Torre and back to El Chalten.
The trek itself is quiet gentle, passing through a beautiful forest with changing scenery from green to gray forest, until we reach Laguna Torre.
We started early in the morning from the base. After walking for an hour our so, we had a distant view of Cerro Torre with a bit of cloud cover. The day was overcast with occasional sunshine. After reaching Laguna Torre, you can see Cerro Torre clearly towering in front of you. We decided to walk further, much closer to the foothill of the Cerro Torre glacier, which was basically a exposed ridge path around the side of the lake. The ridge is quite exposed with generally high winds, hence one really had to be very careful walking around here!
The view up close if really breathtaking with the closer views of glacier beneath the rock wall.
We took approx. 9 hours door to door, including occasional breaks soaking the views and taking the pictures along the way.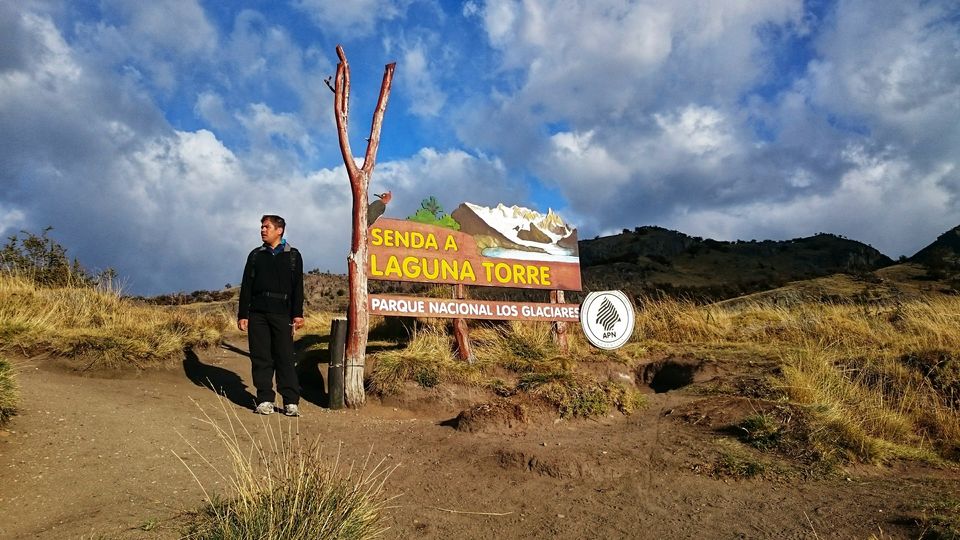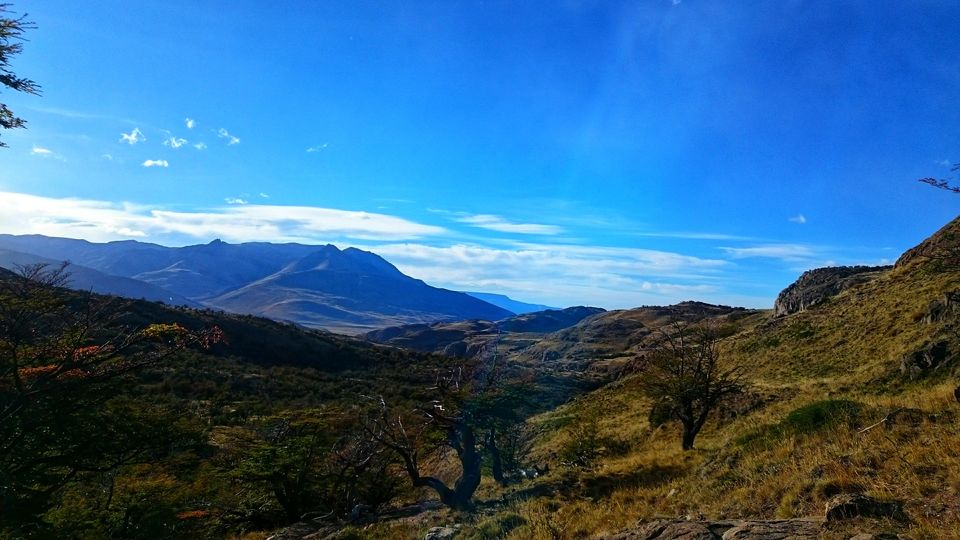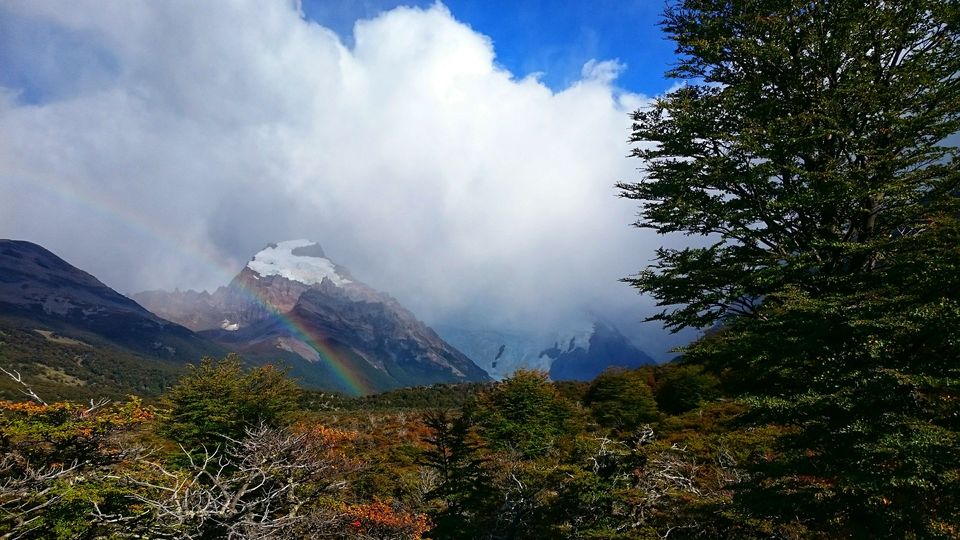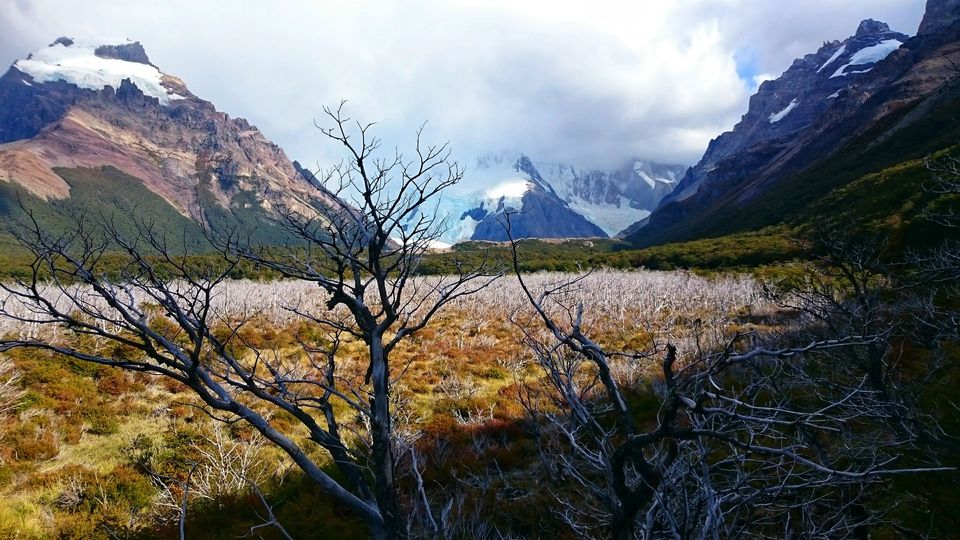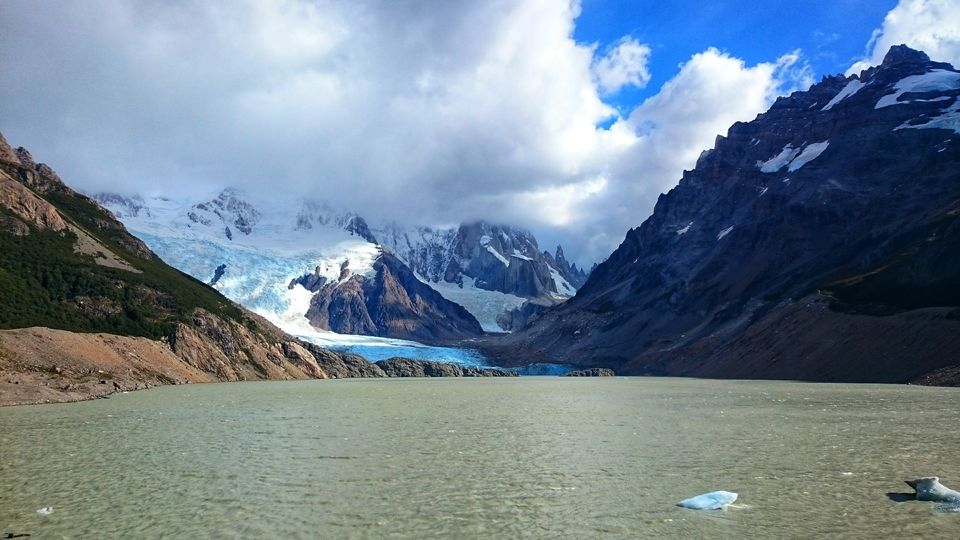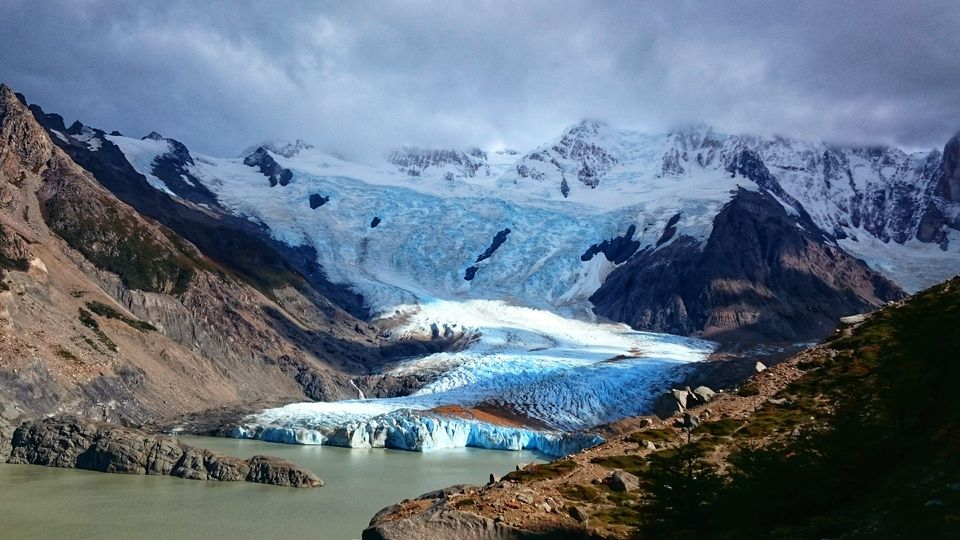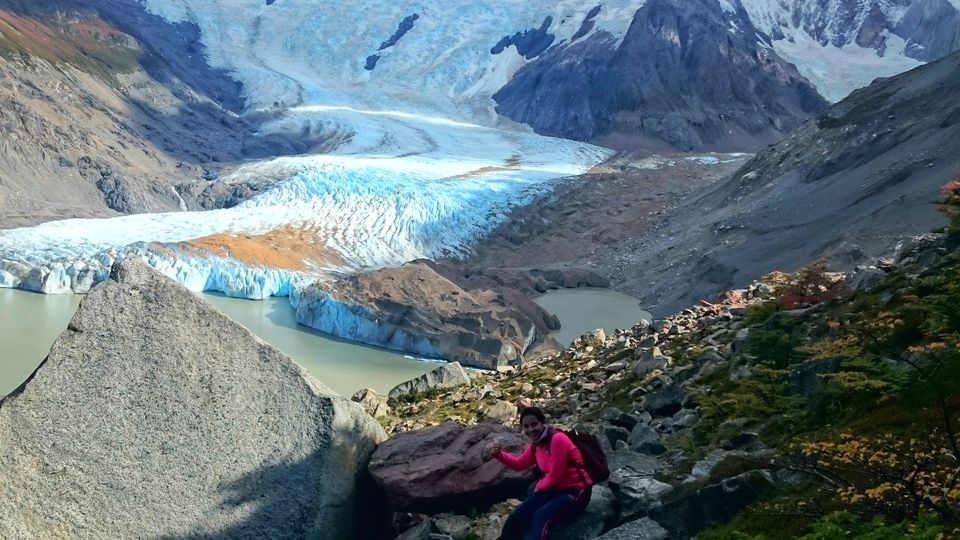 What to carry
Even if it is sunny, the weather can change pretty quickly here, so ensure you carry a good jacket with you even if you are hiking during the peak summers
There is no water source, hence carry your own drinking water
Pack a sandwich for your lunch on the way
Accommodation
There are many accommodation options to stay in El Chalten ranging from camping sites where you can pitch your own tents, to sharing rooms in hostel, to a budget private room. Supply is limited during peak season, hence it is advisable to book in advance
We stayed in a private room with a small kitchen, as there was a very limited supply for vegetarian options in the restaurants in the town.
There are grocery shops in the town, where in you can buy some basic food stuff. Ensure to buy in the morning as usually shops run out of essentials like milk and bread pretty fast :)
Cost
Accommodation: Rs 2000
Food: Rs 500
Bus from El Calafate to El Chalten: Rs 700, You can do multiple treks while you are in El Chalten
There are no entrance fees for the park and the trek is self guided, so you don't need to spend anything
I have already written about another one day glacier hike in this region, which starts from El Calafate town. Feel free to read about same here
To read about my 2 days in Bolivia, another South American country, please click here