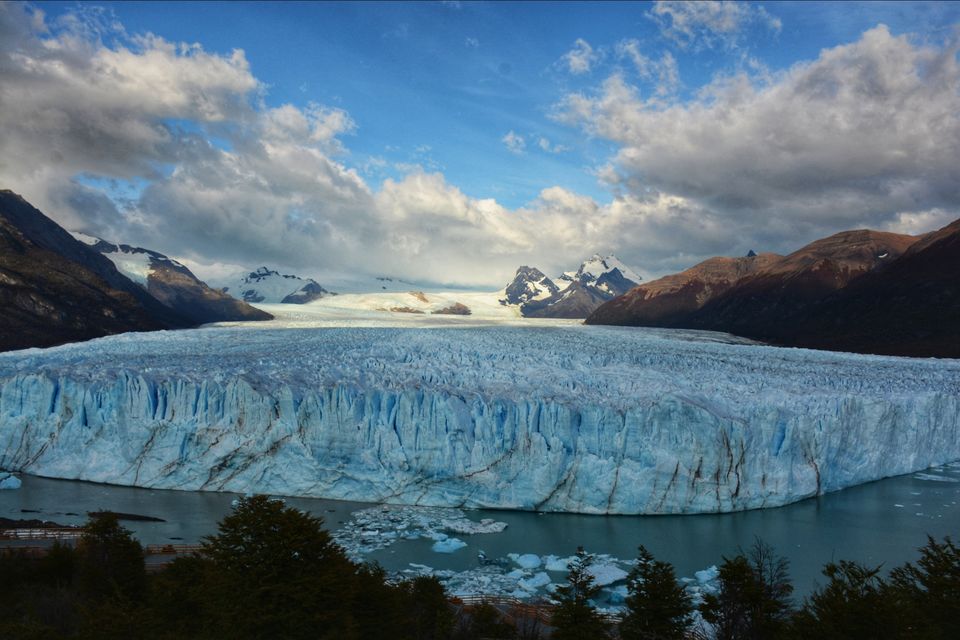 Perito Moreno Glacier is located in the "Los Glaciares National Park" in Patagonian region of Argentina! The interesting fact about this glacier is that it is still growing each day despite of global warming! The glacier covers an area of 250 sq km and is a UNESCO world heritage site.
I know this is a very remote hike, but if anyone of you is in that part of the world, it is a must-do!!!
It was in my wish-list for many years and I finally could save and travel here - definitely a dream come true journey!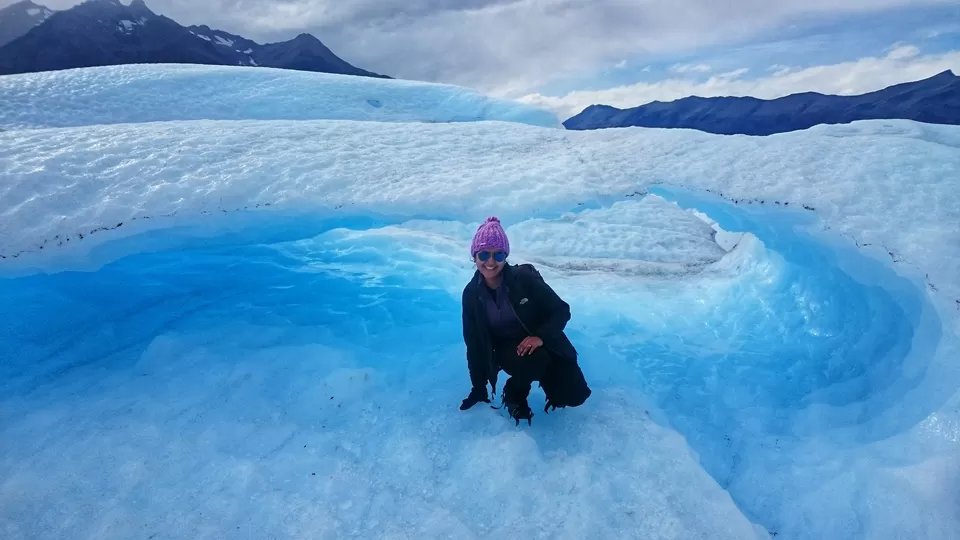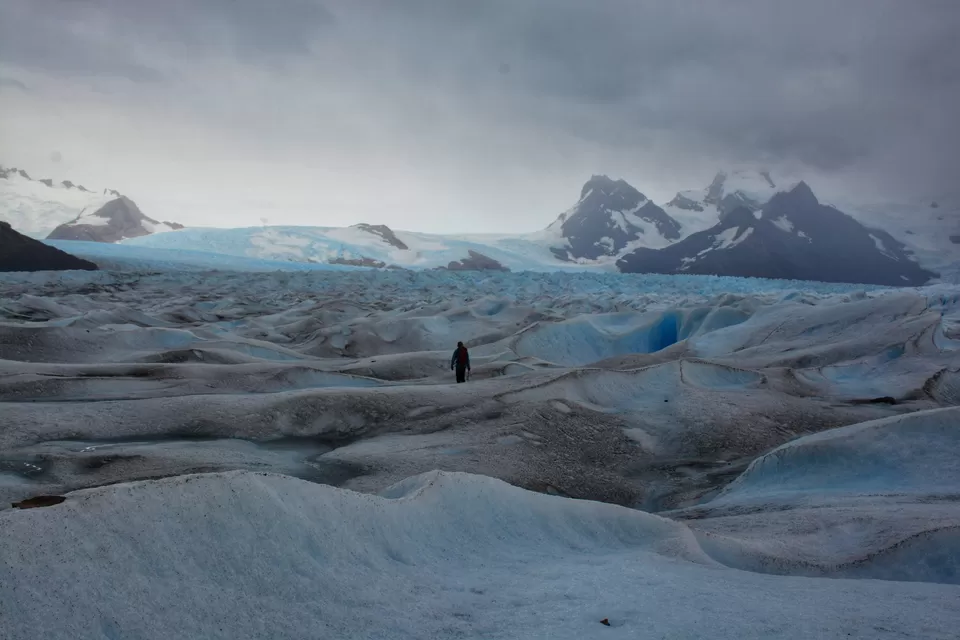 How to reach:
The nearest town to reach Perito Moreno is El-Calafate, which probably is the town you will land to, if you are planning to explore Patagonia region in Argentina.
There are direct flights from Buenos Aries to El Calafate. Now Perito Moreno lies in the National park and there are rules on how many people can enter in the national park as well as hike Perito Moreno in a day. This is to protect the area and ensure overcrowding which may destroy this preserved area.
Hielo & Aventura is the only company who is licensed to take the guided hikes on the glacier and the since there is a restriction of number of people who can hike in a day, people book days in advance to miss an opportunity!
The tour includes everything i.e. transfers to and back from El-Calafate, food packets, water, boat ride to and from the base of glacier, equipment like ropes, harness, crampons which are necessary for the hike etc.
Itinerary:
Its a 12 hour tour, which runs from 7:00 to 19:00, so be prepared for a long and very adventurous day; rest assured you won't regret having the long and tiring day at the end :)
Departure from Helios office: 7:00 AM -
We reached at the tour office in El Calafate at 6:30 AM, for a 7:00 AM start to the glacier base. It is approx. 1.5 hours drive.
Visit to the walkways: 9:00 AM
There is path which runs for couple of kilometres and gives you an opportunity to explore the glacier from various angles and enjoy some spectacular panoramic landscapes around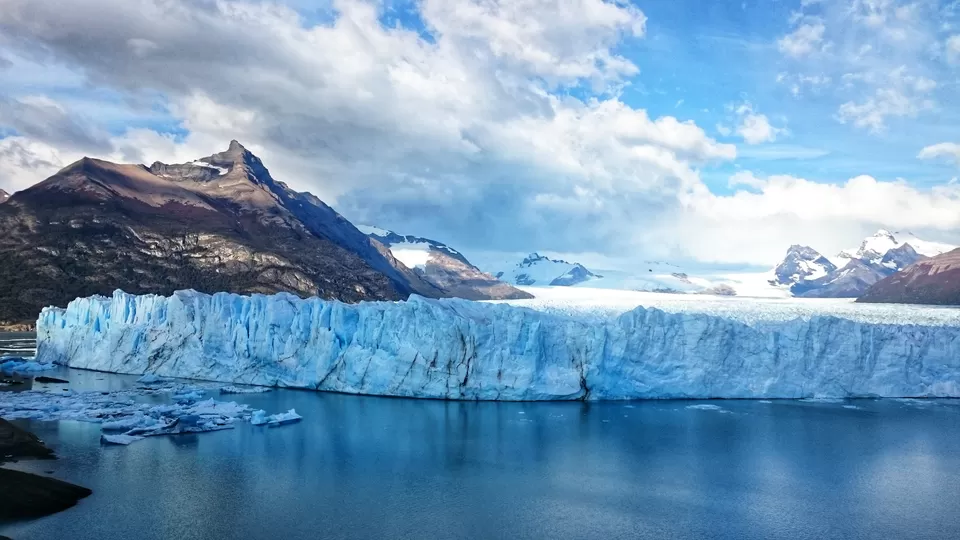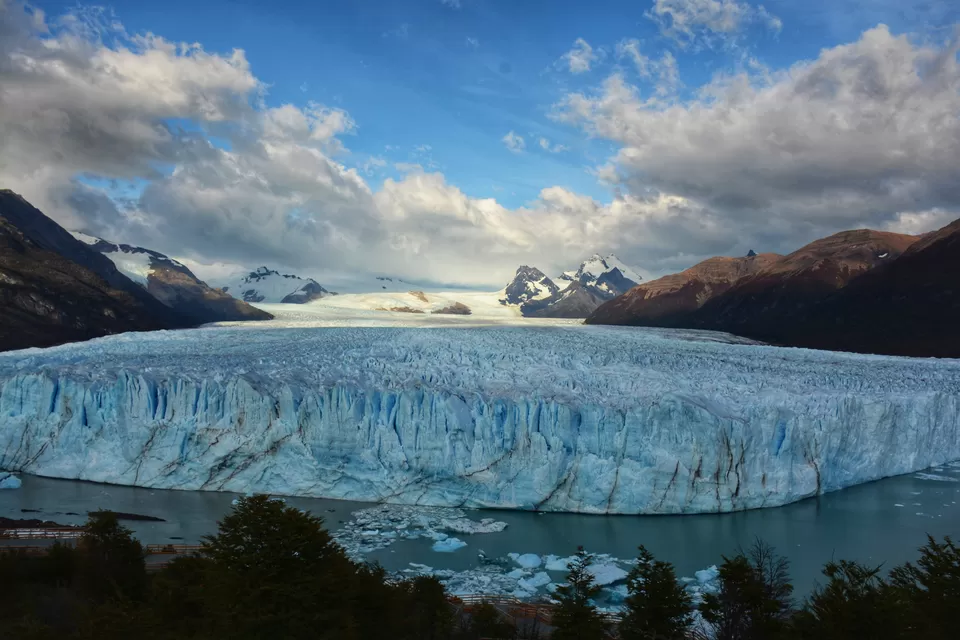 We didn't realize how the one hour gone past watching this gigantic glacier face from all around experiencing occasional ice falls offs into the big glacier lake.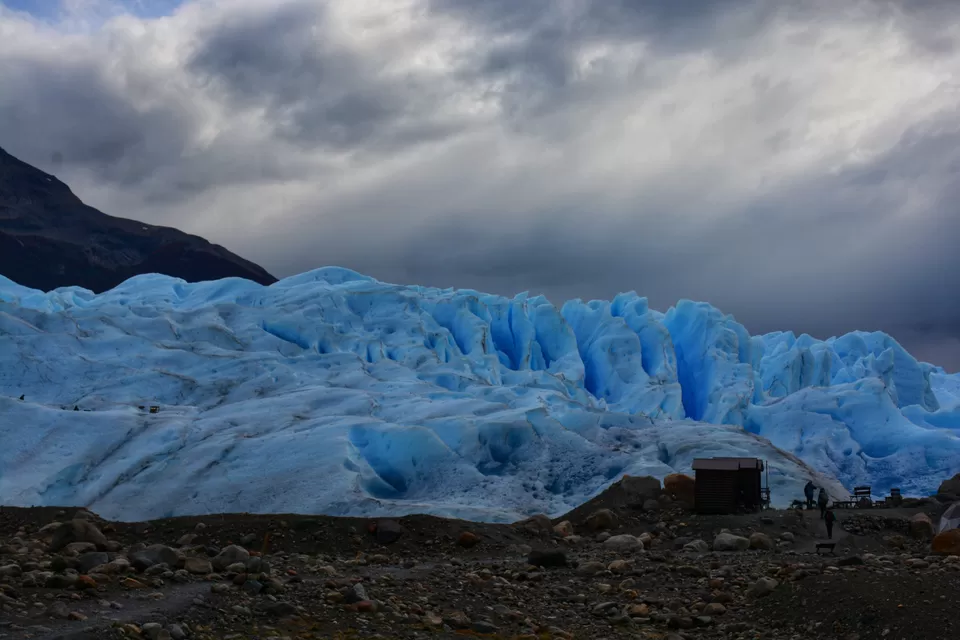 Boat ride to the start of hike: 10:30 AM
Its a 20 minute boat ride. It was very chilly to stand outside, hence we decided to be indoors to ensure and save some energy for the big day! As the boat approached to the base, we could clearly see how large the glacier is and how adventurous it would be to explore it much close!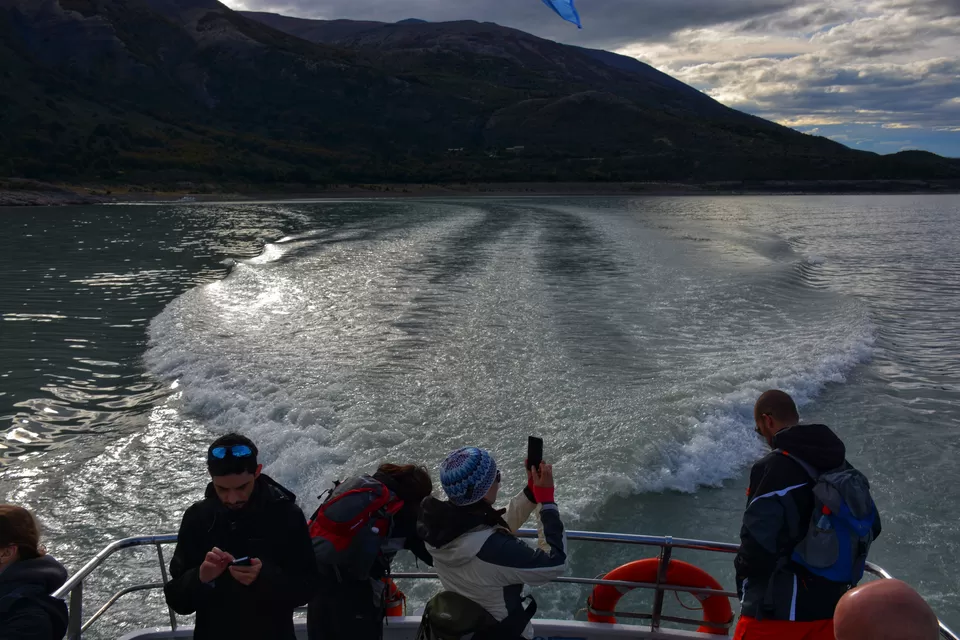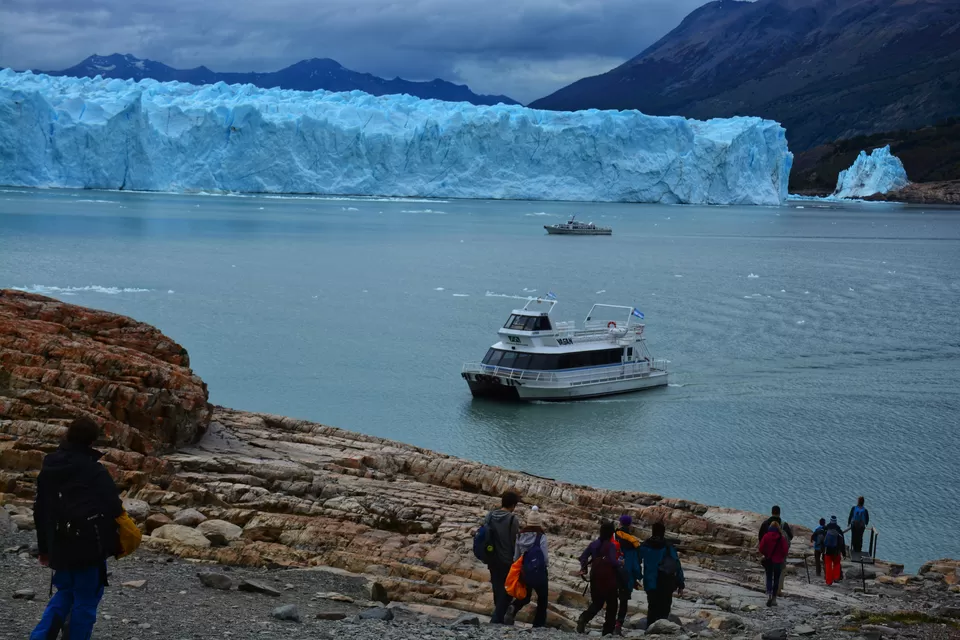 Trekking on the borders of glacier to reach the base: 11:00 AM
Good part about the tour is they divide people in 2 or 3 small groups of 10 which then trek with their respective guides. This is to ensure that we are not walking in crowds when on the glacier as well as it is safe and easier to handle a smaller group in case of any issues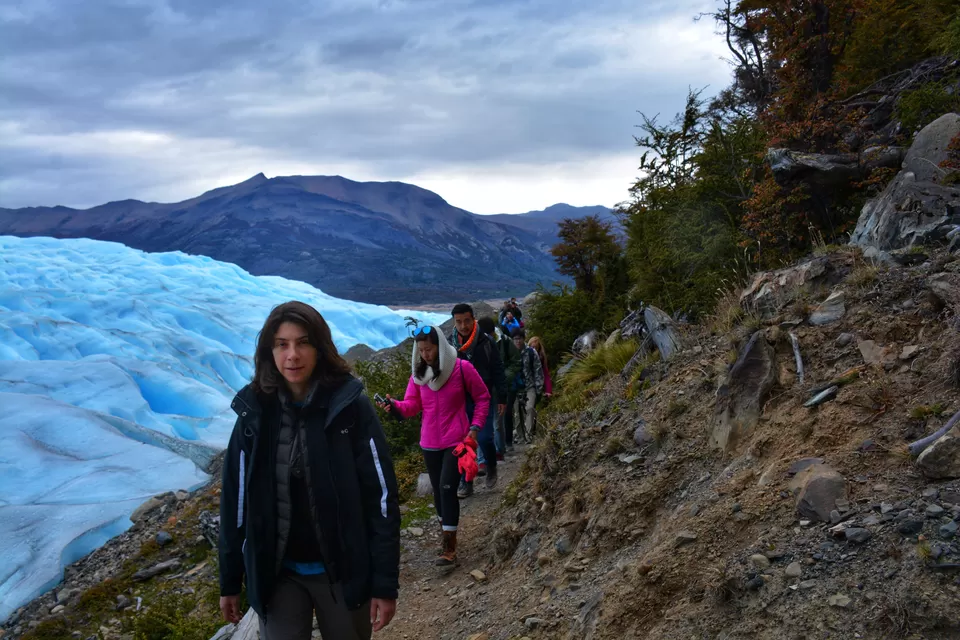 We started walking southern moraine for 30 minutes or so, crossing a wooden bridge and a small water stream with the glacier running parallel to us. As soon as we reached at the base, we put the crampons, harness etc. on to start for the hike!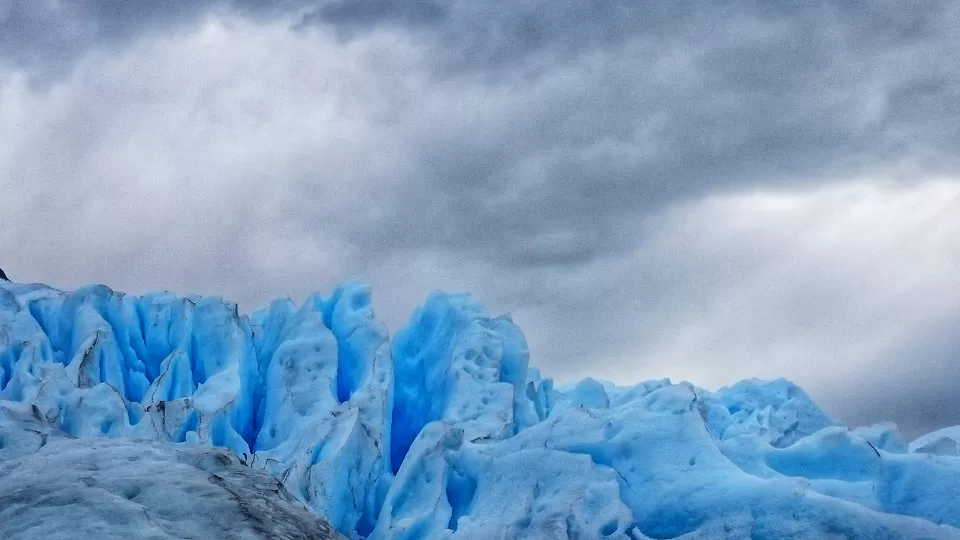 Trekking on the Glacier: 12:00 AM
And the most exciting part begins. We started carefully navigating the glacier to start with to feel comfortable walking with the crampons.
As soon as we were well on the glacier fields, oh boy, it was something I had never seen in my lifetime!!! Endless glacier fields till your eyes can see with the serene white and crystal clear blue landscapes with crevasses of all sizes and depths.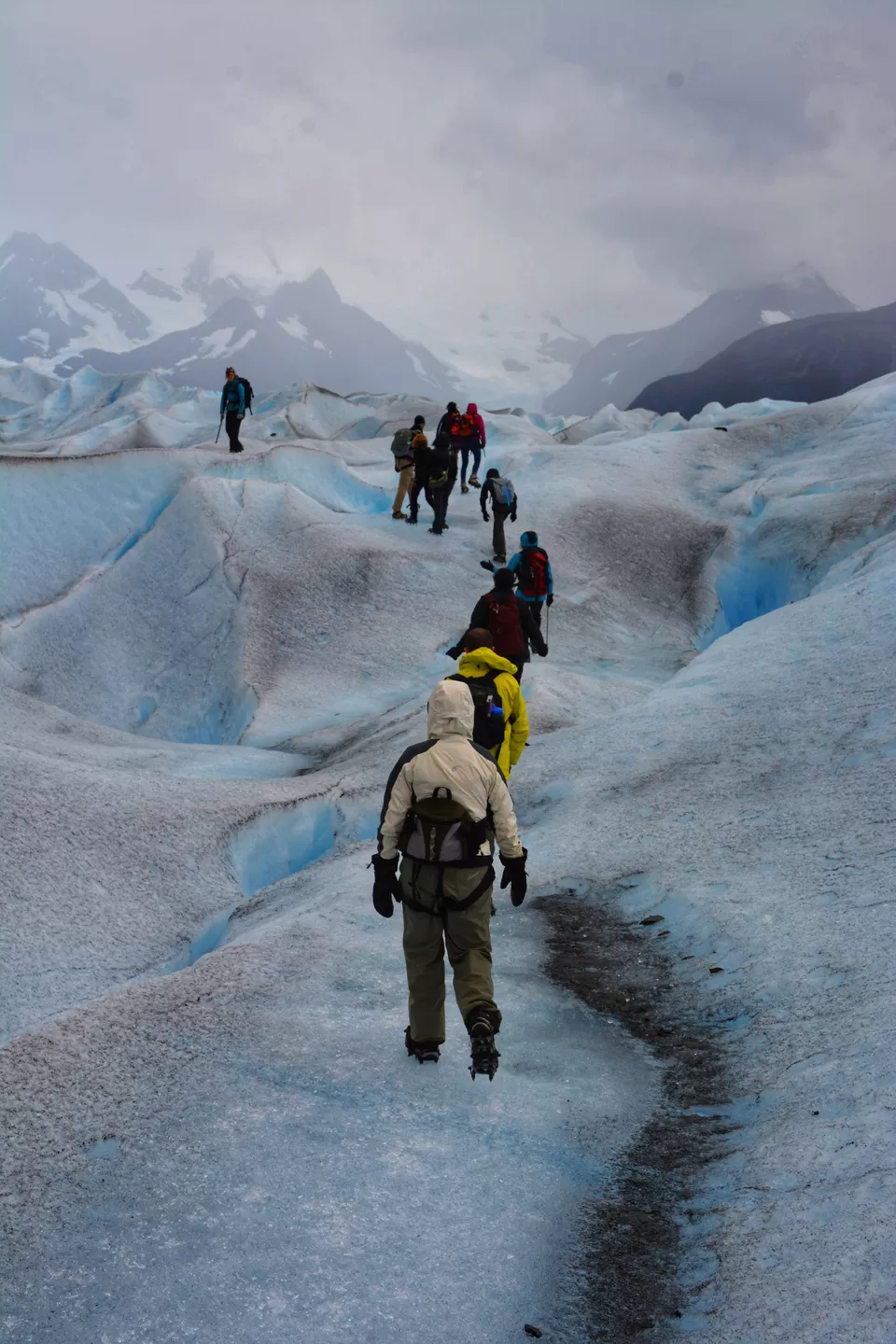 Seeing those blue and very un-real blue caves, ice-formations, floors, blue ponds and feeling of being on a different planet - I was literally short of words looking at what I was seeing!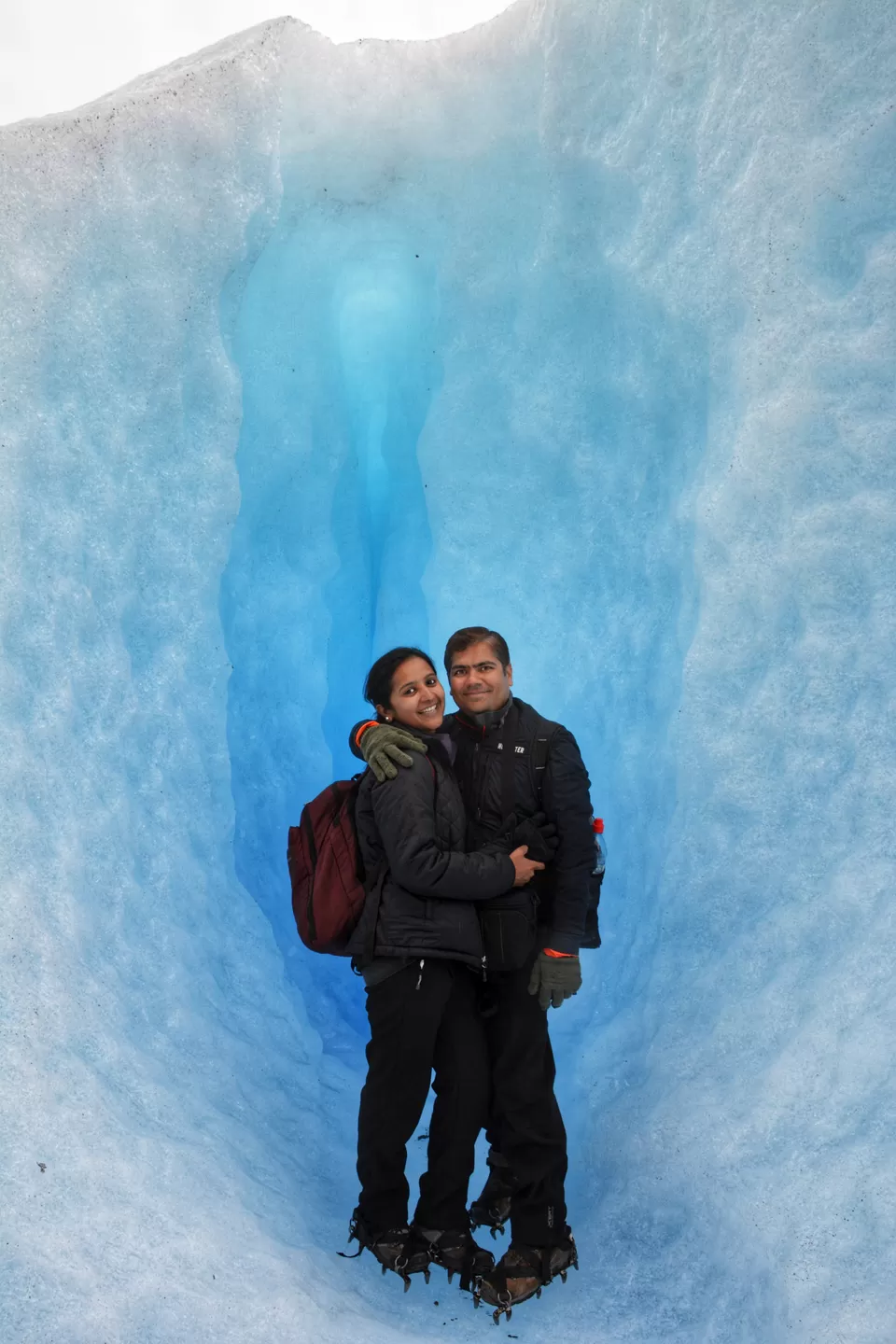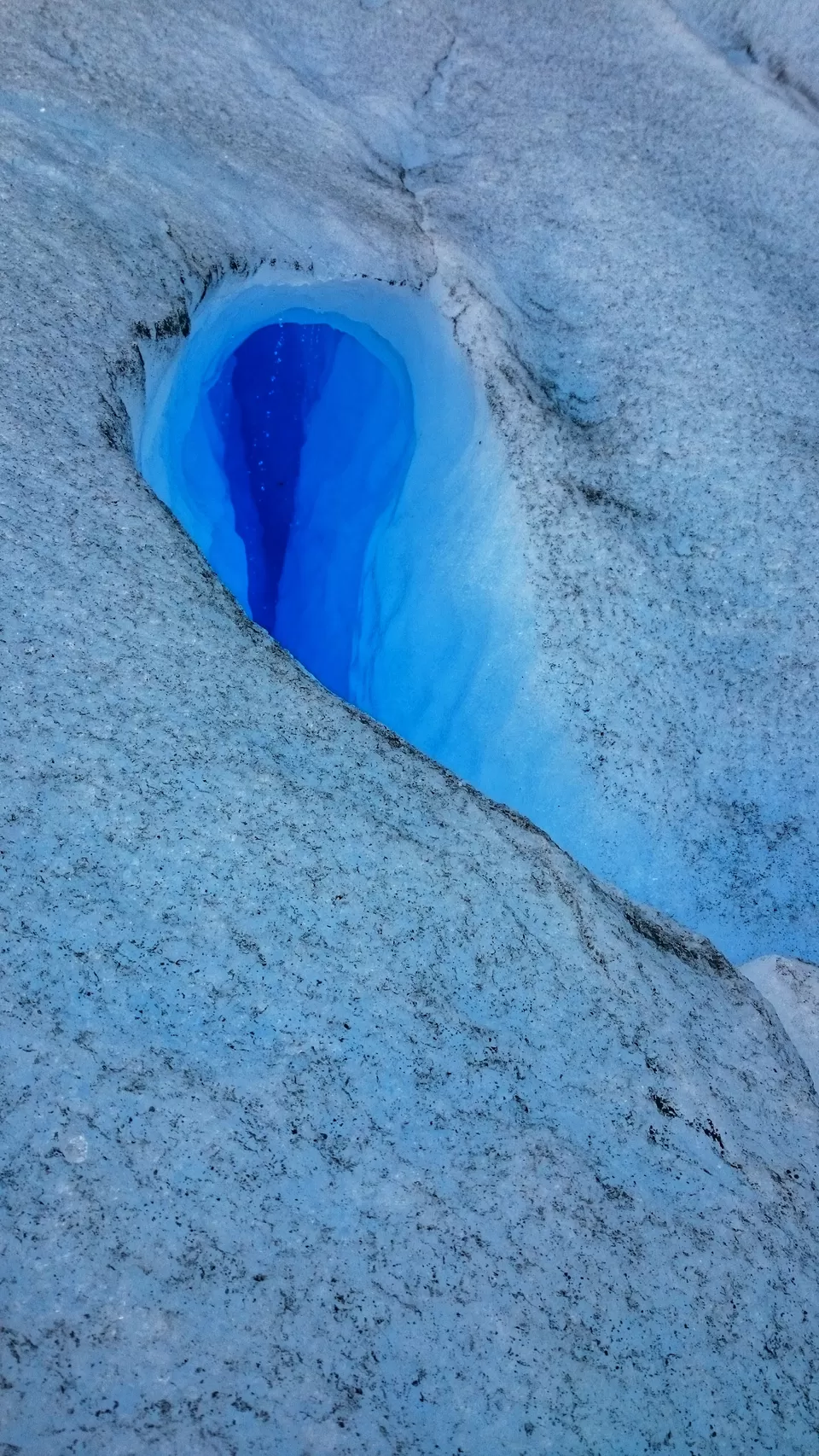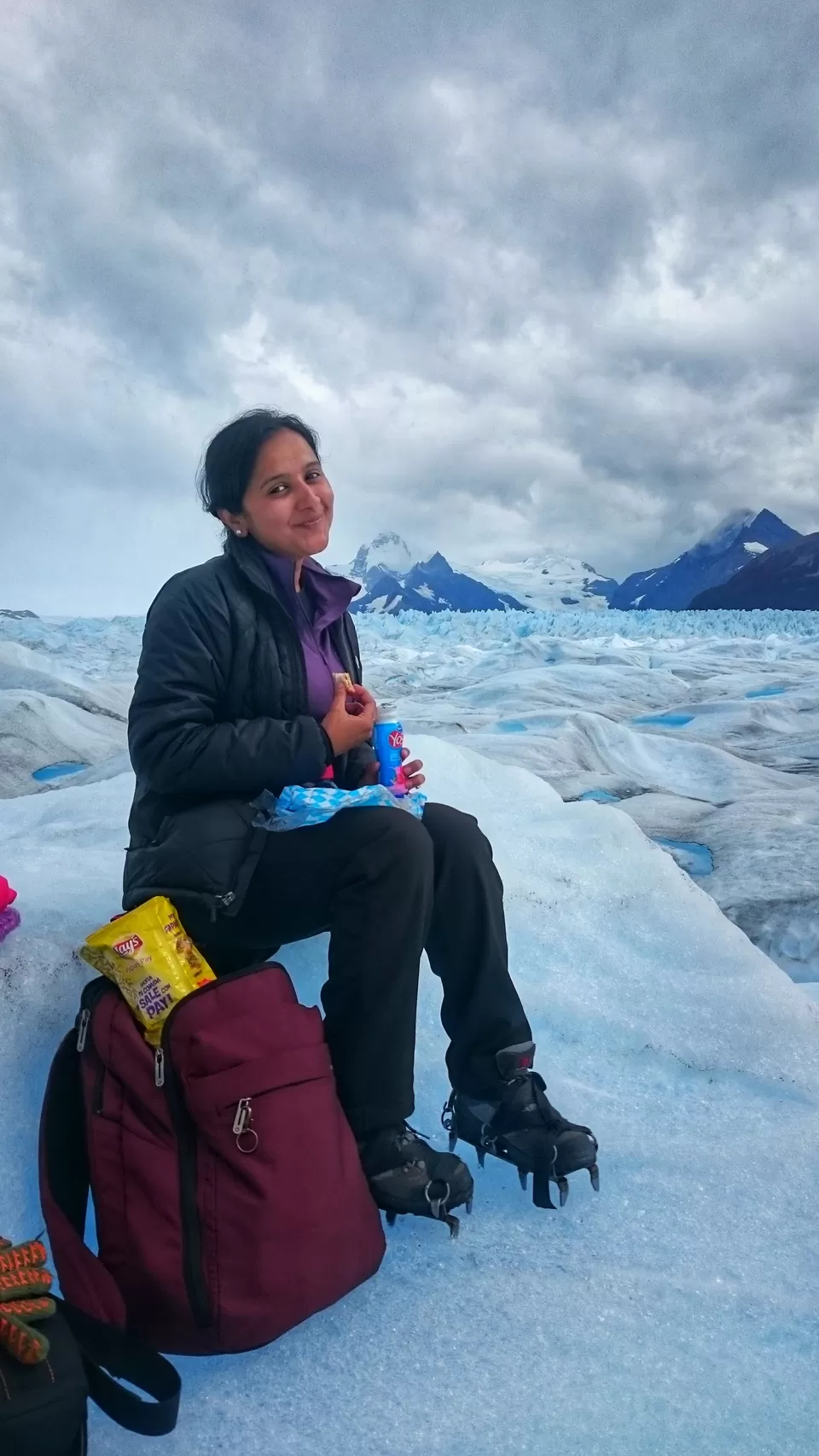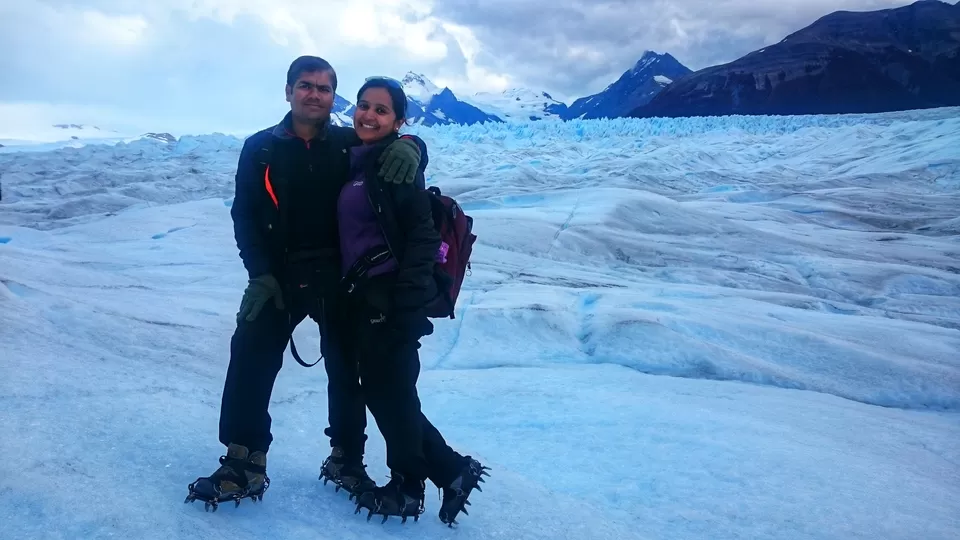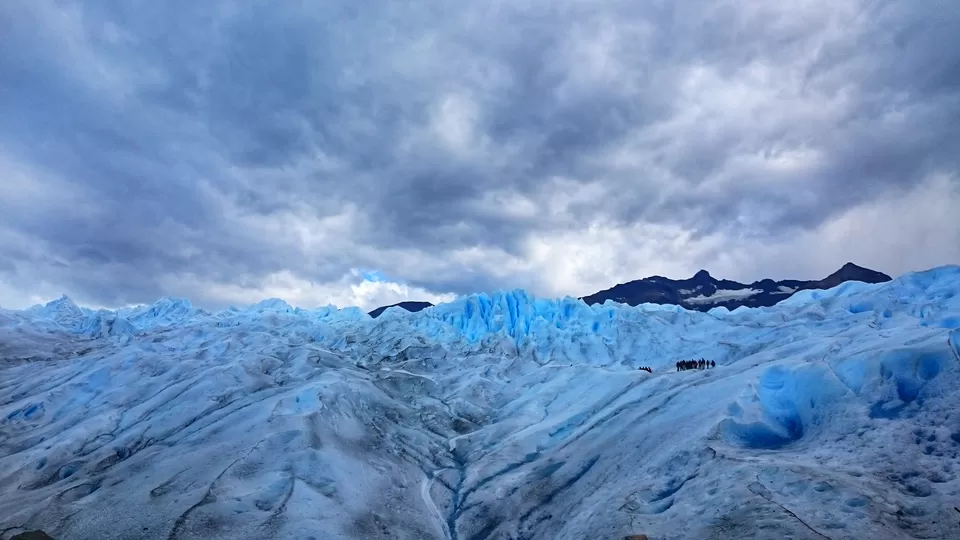 After spending approximately 3.5 hours on the glacier, exploring around, soaking in the views and literally drinking some pure glacial water, we landed back to the base again
Back to the port & El-Calafate: 18:00
Another an hour and 30 minutes walk back to the port and a 20 minutes boat ride back to the shores of glacial river.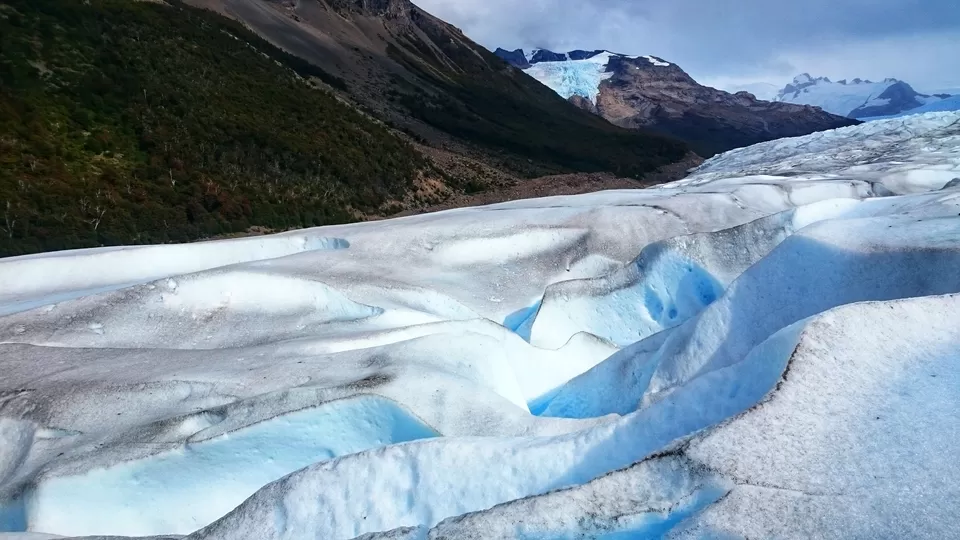 While our way back, we were served with couple of shots of whiskey to keep ourselves warm in the chilly evening :)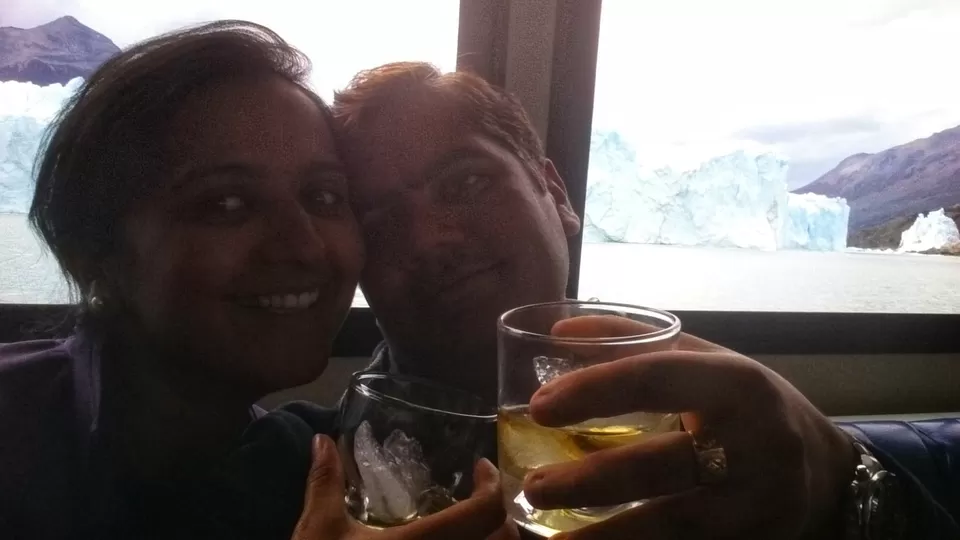 Another 1 hour 30 minutes ride back to El-Calafate remembering the adventurous day and un-paralleled views of the mighty glacier, we were back in the town by 8 PM for a much needed dinner and a sleep :)
Cost:
The cost of the tour is 15k per person, all inclusive. I know a bit expensive, but all worth for once in a lifetime experience, isn't it?