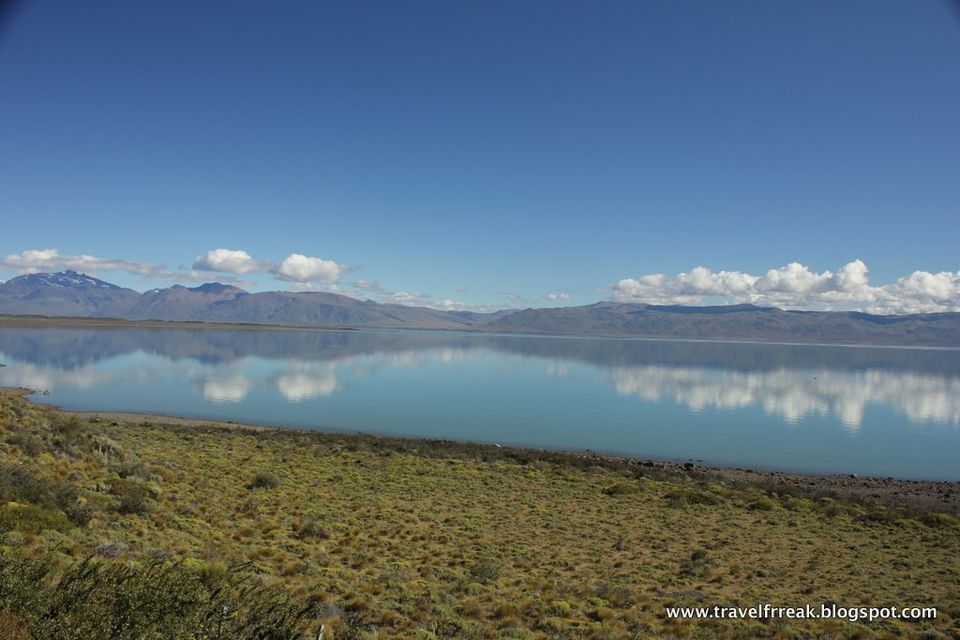 Details and photos on http://travelfrreak.blogspot.com/2019/03/exploring-argentinian-patagonia-around.html
In Dec 2018, I spent about 2 weeks in Argentina and Chile, mostly around the Patagonian region. We trekked around El Calafate and did the W trek in the national park of Torres Del Paine. And then spent a few days in the southernmost city of Ushuaia and four sun-filled relaxed days in the Paris of South America, Buenos Aires. I had to cut short my trip a bit, and my friends also trekked in El Chalten and visited the famous waterfall of Iguazu in the same 2 week trip.
Given how huge the countries are, we ended up taking multiple flights and buses to get from one place to another and spent 2.5 days of our trip mostly travelling across the country. So even though two weeks feels like a long time, even in this long period, we could only explore the south western part of Argentina.
We had an awesome trip and I must say, Patagonia is stunningly picturesque. The views we saw became so commonplace to us that after a point we stopped valuing it when we there. But when we came back, we missed the whole experience for a long time. And Buenos Aires was an absolute delight to explore and experience. So all in all, this trip is a definite recommend from me.
We were visiting both Argentina and Chile (and also Brazil for Iguazu) on this trip. So I had to go and get both visas in London beforehand, which was quite an experience. For Argentina, you could book a visa appointment only by email (in today's day and age!!). Though the actual process to get the visa was quite simple and easy afterwards, with no charge for Indian citizens. So I had no complaints. For Chile, you had to apply online and then go in person carrying the same documents! Also the embassy did not inform you once your visa was approved and I had to go in person to check whether I could come in for the in-person meeting with the document. The whole online submission almost felt like a waste after that. So be prepared for the slightly funny visa processes if you are planning to go there.
As it was a long trip, we had a very detailed itinerary planned. And we had to make a lot of bookings beforehand to make it work seamlessly. And it did. Below is the itinerary I followed:
Day 0 - 1: Flight from London to Buenos Aires; connecting flight to El Calafate (evening); stay at Hostel Schilling Day 2: Day trip to Perito Moreno glacier in El Calafate; stay at Boutique Hotel Cantera Day 3: Bus from El Calafate to Puerto Natales (6 hours); stay at Hotel Natalino Day 4-7: 4 days W trek / TDP sightseeing --- Day 4: Drive rental car to Refuge Centro Torres; trek to Base de Las Torres and back; stay overnight at Refuge Centro Torres --- Day 5: Drive to Pudeto; 9 am catamaran to Paine Grande; trek in Frances Valley to Mirador Britanico and back; stay overnight in Refuge Paine Grande --- Day 6: Trek up to Glacier Grey; ferry to Hotel Lago Grey; stay overnight at Hotel Lago Grey --- Day 7: Drive around TDP to explore other spots and return to Puerto Natales; stay at Hotel Aqua Terra Day 8: Bus transfer from Puerto Natales to Punta Arenas (3 hours); stay at Hotel Great Western Finis Terrace Day 9: Bus from Punta Arenas to Ushuaia (12 hours); stay at Hotel Canal Beagle Day 8: Bus transfer from Puerto Natales to Punta Arenas (3 hours); stay at Hotel Great Western Finis Terrace Day 9: Bus from Punta Arenas to Ushuaia (12 hours); stay at Hotel Canal Beagle Day 10-11: 2 days in Ushuaia; visit to Penguin Island; trek to lake Esmeralda; stay at Hotel Canal Beagle; flight to Buenos Aires (late night) Day 12-15: Buenos Aires; flight to London (afternoon); stay at Hotel Park Tower
My friends after Day 2 had added 3 days of trekking in El Chalten, which is a must do. And they also spent days 12-13 visiting Iguazu falls. So you can easily add these two places to the itinerary. We spent the right amount of time in all places, so there are not many changes I would do to the plan. But, in hindsight I would say that Ushuaia is missable, and you can probably visit Atacama desert instead.
As this trip was very long and we had lot of free time in between, I started writing the first draft of the blog on the trip itself. So it will be quite detailed. Hopefully it is still as fun to read...
Day 0 - 1: Flight from London to Buenos Aires; connecting flight to El Calafate (evening); stay at Hostel Schilling
The flight from London to Buenos Aires was very long, more than 14 hours! Thankfully it was a night flight and I slept through most of it. While landing in BA in the morning, I got a first peek of the city. All around the city, there were fields and small houses. And then came all the high rises right next to the sea. The skies were clear and sunny, it already felt amazing given I was flying out from London in December. It felt like heaven to be back in the sun, almost like being home in India. And I was already looking forward to the vacation.
I was taking a connecting Aerolineas Argentinas flight to El Calafate from the local Aeroparque airport which was about an hour or so away from the international airport. I had some 3 hours between the flights and had to get out of the airport soon. But it turned out that the international airport had some immigration problems and we were made to stand in a very very long queue. I asked 3 of the officials to help me as I had a connecting flight with limited buffer time but they just told me they couldn't help me and I had to follow the rules. So I just walked in front to the VIP line and sailed through the immigration line quickly ????.
I then took an Uber to the other airport (which turns out is still illegal in Argentina!). So I had to take the cab from slightly outside the airport building, from the parking lot and had to sit in the front seat. I realised soon that not everyone spoke English here (the Uber driver didn't) and even the billboards were all in Spanish. It was too late a reminder to me to brush up on the little Spanish I knew.
The drive to the other airport even though through the city, passed through many open and green areas. The roads were amazing and my first impression of Argentina was of a developed country. There was something very attractive about the city, something that was calling out to me. I don't know what it was but I knew I would love it when I was back there at the end of my trip. I also wondered why India can't be at least a developed country like Argentina?
The local airport was near the main city, and quite cosy and convenient. It was located right next to the sea on one side, and with a huge park and high-rises on the other side. Even though everyone had said I would easily reach the airport, I still hurried and so made it before time. After check-in, I therefore decided to have my first Argentinian meal - Hard Rock Cafe fajitas in the airport ????.
The flight to El Calafate was a day flight flying across Argentina. It mostly flew along the East coast of the country and I could see some of the water bodies going inland. We mostly flew over empty green areas and it looked like an agricultural place. And then came waste wastelands lined on one side with huge lakes and snow covered mountains. This was Patagonia, the vast land extending till forever, with limited shrub vegetation.
And then a huge sparkling blue lake came into view, surrounded by snow covered peaks on the other side! I was so amazed by the colours, I was totally mesmerised while in the flight itself. I had a dirty window, else would have got amazing shots of the view. When we landed at El Calafate, it was on a runway right next to another huge blue lake, again lined with snow capped mountains. It felt like I had come to a magical place, far far away...
I took a shuttle from the airport for $7 which dropped all the tourists to their respective hotels. It drove us all along the sparkling blue lake, through the Patagonian shrub-like vegetation all through to El Calafate. And I again knew, I would like this place. Just coming out of the airport into the fresh air, with the smell of the lake and mountains nearby had felt exhilarating by itself. And now with such magnificent views, it was enough for me to fall in love with El Calafate. Oh how much I love and miss nature!
My hostel, Hostel Schilling was quite cosy and convenient, located near the main street. My room got upgraded, so I liked it even more ????. The owner was very helpful and helped me book my glacier tours for the next day. As it was summer and the sun set only at 11pm, I had a few hours before nightfall. It was also a very warm and sunny day, with temperature in the 20s which rarely happens in this area. So it was perfect to go out for walk and explore the town. And the owner of the hostel told me the best places to go to, to get a good taste of the town.
El Calafate is a very small little place, located on Lake Argentino and popular as the entry town to Patagonia. It has an airport and most tourists fly here to visit some of the nearby glacier parks as well as other Patagonian sights. The town of El Calafate was very small, tourist friendly, convenient and charming. It is quite spread out, with buildings all along a couple of small hills overlooking the lake. And there were some high bare cliffs overlooking the town.
The buildings in the town were all quite small and had tin sheet roofs. Most of the streets were lined with trees with lot of green areas everywhere. The houses could have been in any American town but the setting was unique. The town felt very so charming and cute, with its bare modernity right in the middle of nowhere. When I was there, it was a sunny and warm day, with a deep blue sky studded with clouds, and the sun shining bright - whatay sight it was! And just being there reminded me of my childhood time spent in Kashmir with its small villages, fresh lakes, high peaks and chilly summer weather.
I first found an ATM to take out cash which didn't charge an atrocious amount just to take out cash ????. Then I walked towards the lake which was a 20-30 mins walk from my hostel and it was a fabulous path. As I got out of town, I got some fabulous views of the town behind and the bright blue waters of the lake in the front. There were lot of grasslands next to the lake and lot of cows and horses lazing around there.
The whole view at sunset was even more picturesque and it was very easy to lose yourself while walking amid nature. And when I got close to the lake, I saw some flamingos standing in the waters of the reserve. I had already fallen in love with Patagonia by then. It felt so fresh, and nice to come back to nature. With its blue skies, the fresh air, greenery around and a feeling of being far away from all of life's troubles!!
After spending some time taking in the lake views, I walked through the EL Calafate main street which was lined with shops selling handicrafts and tons of small eating places. It felt quite lively with all the tourists and tons of cars zipping around. I had dinner at an Italian place called San Pedro which had an interesting take on a pizza - with very thick vegetarian toppings! Apparently Argentina is full of Italian migrants and this was an Argentinian version of the pizza developed by the locals. The sun set around 11 pm at this time of the year, so I still had lot of time to explore around. But since I was jet lagged, I called it an early night even though it felt like I wasted valuable vacation time and slept too early ????.
Day 2: Day trip to Perito Moreno glacier in El Calafate; stay at Boutique Hotel Cantera
Today I was visiting the Perito Moreno glacier which is quite close to El Calafate and the most famous attraction nearby. It is located inside the National Glacier park and you can tour it in multiple way, most of which involve going through a travel agent. You can take a walking tour which takes you on the glacier, or take a boat ride on the lake which stops at multiple glaciers on the way, take a kayak to the glacier and so on.
I chose to take the guided bus tour which takes you to the park and then you can take a boat to very close to the glacier. Taking sunglasses and sunscreen with you was most important for this part of the trip. The day turned out to be warm, bright and sunny, and it enhanced my entire tour unlike my friends who had visited it a few days earlier when it was chilly and windy. Though I still dressed up too warm for the day. And realised later why it was so much more important in these parts of the world to dress up in layers, to be ready for 22 degrees or rain or chilly 5 degree weather!
It was a one hour drive to cover the 80 km distance to the Perito Moreno glacier. We had a guide on the bus who was quite chatty, so I learnt a lot about Patagonia while on the drive. She and the driver kept us entertained all through and it was fascinating to hear them share anecdotes about the country and region. Unlike what I thought earlier, Patagonia is the name for the whole southern part of South America (Chile and Argentina) which covers both the Andes mountains as well as the flat shrub lands. The flatlands are vast and extend all the way from the Andes to the coast, while the Andes separates Argentina and Chile, with a little bit of coastal land on the Chile side. The flatlands are boring and have the same view for 100s of miles. It is all covered in small shrubs (with some flowers at times) and the landscape doesn't change much.
And surprisingly, all this land is owned by huge rich farmers. And so you will notice that all this bare shrub land is fenced, everywhere. And after few miles, whenever you see a group of trees, it generally means that the farmhouse is located right within the trees, with the trees breaking the wind and providing protection to the house. This whole region was owned by the natives earlier. And then the government starting giving incentives to the new immigrants to go and settle in Patagonia. Whoever went there and farmed the land could become the owner of the land in 13 years. So 1000s of people migrated from similar hardy cold countries like England and Norway to Patagonia, farmed for a few years and soon became owners of all this land.
They built these huge fenced farms and made this region their home. They started with rearing sheep, cows and horses on these farms. However, the sheep caused land erosion with their feet which were not suited to the vegetation and soil of the region, and soon Patagonia turned into a desert, reducing its ability to support large numbers of farm animals. And now the income from sheep rearing has dropped a lot in this region.
The weather in Patagonia in winter is harsh. It gets very cold and everyone has to deal with a metre of snow most of winter. Even in summer, it is generally cool-ish and windy all the time. The weather is generally said to be very variable even within a day, changing from being cloudy and very windy (its a part of their lives) to raining suddenly to become sunny and warm within no time. Of course when I was visiting, it was a warm, bright and sunny day at 22 degrees and was not a typical Patagonian day (something the guide reminded us at least 10 times during the day).
Patagonia was totally covered with ice 1000s of years ago, which created a lot of the features that we see today. Now, the whole region has more than 200 glaciers one of which was the Perito Moreno. It was part of the Patagonian ice fields which go on for 100s of kms. It is the water from all these glaciers that melts into the Argentino lake next to El Calafate. The lake is about 65 kms long and it has a milky white colour because of all the sediments that flow into it from the melting waters from the glaciers.
We got to see loads of fascinating views along the drive to the glacier. While leaving El Calafate, we passed by some wetlands next to Lago Argentino and they were full of birds, including flamingos, swans, geese etc. During summer, the wetlands are flooded with water, but right now it was dry and full of horses, cows and migratory birds grazing there. There were loads of pink flamingos here who migrate here every year from as far as the Atacama desert and Bolivia. Apparently, It was still the nesting period for them back home but the singles or the too old ones were the ones who come here this time of the year ????.
Once out of El Calafate, we drove next to Lago Argentino for some time. We could see the snow covered Andes across the blue lake on one side and bare small mountains on the other side. Then we drove through the typical Patagonian flatlands with small bushes on both sides. Along the drive we saw an eagle and a few caranchos. Other than that, they have some major wildlife like puma, skunk, llama (guanaco) and armadillos in the mountains though we did not see any of that. The drive was quite picturesque and every turn here felt like a photo opportunity. We even stopped at one location to take photos of the lake and the mountains, and it was breathtaking! The guide then showed us a few local plants like the calafate berries and their uses. She also showed us the matte tea which is drunk all day by the locals.
After the informative drive, we then entered the park, known as Parque Nacional de Glaciares. The entry fee to the park is 700 pesos. Once inside, we could see more Andean forest vegetation all around unlike the Patagonian shrub land we had left behind. The park has many glaciers, though we were only visiting Perito Moreno on the tour.
Perito Morena is one of the most easily accessible of the glaciers in this region (by car, boat and bike!) and hence one of the most famous ones. It is huge though not the biggest around here, with an area of 250 square km, even more than the city of Buenos Aires! The height of the face we see was 70 feet above water and 220 below, though it did not feel like that. It moves 2 meters every day but is currently in equilibrium and it stays the same for years.
The glacier sometimes splits the lake into two, and when more water fills in the lake, it goes over the glacier and the two parts of the lakes meet again. It has happened a few times in the last 100 years or so. There are two sides to the glacier, the north and the south side. The north one is less high and you can see it from the trail on the mountain just opposite. And you can see the south side from the boat.
We first got a view of the glacier at a viewpoint from very far. And then we drove closer to the mountain across it where there are a few trails you can walk on to get a closer look at the glacier from different angles. I walked along the trail for a bit and enjoyed getting up close to the glacier. The ice at places looked quite blue. And you can see loads of peaks on top of the glacier. It is much bigger than what it feels though. And looking at the edge of the glacier, also made me realise how the wall in Game of Thrones would have felt like!
Quite often, you can also hear a thunder like sound which comes from carving - when some of the ice breaks away from the glacier and falls into the water making a loud sound, as the ice dissipates in the water, even creating icebergs on the way. I saw two such big falls and the whole experience felt surreal. It is almost like the Game of Thrones wall falling apart, and can be very scary if you are up close. Sometimes, you don't even see the ice breaking but can only hear the sound it makes. It is from all this carving itself that small icebergs are created in the lake, and we saw a few of them floating around.
The views of the glacier were quite fascinating and you can easily spend 3-4 hours walking along the viewpoints to explore and appreciate the glacier. There is also a cafe there where you can have lunch. After the walk, I took a ferry ride which costs 800 pesos and takes you up close to the glacier. Before getting onto the ferry, I filled my bottle with water to drink from a stream coming into the lake. Even though the weather that day was hot, the water in the lake was very cold and apparently it is about 4-5 degrees all year round.
The boat ride was about 45 mins and takes you to up to 300m from glacier. From the boat, you can see more ice carving, though its good to be a bit far away from it. You can also see the structures of the glacier as well as the deep blue inside more up close. It also got materially colder and windier when we were in the lake on the boat.
Once we finished the boat ride, the bus picked us up and dropped us back at our hotel by 5pm. There is also a museum on glaciers on the way, called the glacirium which some people visited. It had been an amazing day for me and I loved the visit to the glacier. The brilliant weather had also helped as everyone said, its never so warm in Patagonia.
Once back in town, I shifted to my second hotel in the evening, the La Cantera which was on top of a hill. They had a lake view from there which was awesome. And a few birds wandering around in their premise. It was definitely a more high end hotel than my hostel of the previous day. They even sent a shuttle to pick you up from your restaurant if you go to the city centre for dinner. We had dinner at Pura Vida which was one of the few vegetarian friendly restaurants in the city, and as usual called in an early night, much before the sun set.
Day 3: Bus from El Calafate to Puerto Natales (6 hours); stay at Hotel Natalino
Most of the days we were in Patagonia, we woke up every morning to the sound of birds chirping outside our windows. And this day was no different. And then the faraway morning views of the lake from the room window was very refreshing to wake up to. The day today was mostly spent in bus travel from El Calafate to Puerto Natales in Chile (from where we would have gone onward to the park of Torres Del Paine).
We had looked at renting a car but it was proving to be a nightmare given it was an international rental, and so we were taking a local bus. The bus station was almost outside town and had buses running to a lot of locations. The whole bus network felt quite well developed and convenient. We had bought our bus tickets only 2 days before and easily got seats. Our bus was also very convenient, with double-decker space, reclining seats and footrests for the long journey.
The drive to Puerto Natales was about 8 hours in total with two hours spent in crossing the Argentina-Chile border. The roads were great and the bus drove very smoothly. In fact, I thought the bus was driving at 40 kmph while it was at 90 kmph! The landscape on the drive was the typical boring Patagonian landscape of bushes, fences, houses with trees around them, some sheep and some small streams here and there. On the way, there were a lot of these typical flowers though (mostly purple on this segment) on both sides. The weather was awesome the whole way, very sunny and warm. It was a longish and boring journey though and I slept through most of it, getting ready for the loads of trekking that was going to come our way soon.
On the drive, we had to go through the Argentinian immigration checkpoint first at Villa Dorotea and then the Chilean one where we even got our luggage checked. Then we went up and down the Andes mountains, and after crossing to the Chilean side, the landscape changed dramatically. There was more greenery, loads more flowers and many horses on this side of the mountains. And the Andes felt very narrow at this point.
Once in Chile, we quickly reached the town of Puerto Natales. We checked in at the Natalino hotel which was a very small boutique hotel and quite comfortable. It had a small pool on the top floor with an impressive to view of the town, of the roofs and sea and the mountains beyond.
Puerto Natales is located close to the coast with the mountains visible from most of the city. The town is not on the ocean itself, but has lot of backwaters coming in right next to it. My first impression of the town was not very positive. It was bigger than El Calafate, and more spread out but was not as pretty or charming. It had 1-2 floor buildings all spread out.
In fact it felt very industrial in certain areas and doesn't have much to offer other than being the entry point to Torres Del Paine. Its location though is pretty, right next to the water and mountains, and if it was in Europe, I am sure it would have been beautified and looked prettier. We walked to a few of the central streets and they were all full of shops and travel agents for tourists, all lined with trees. Even though there wasn't much to see, it still felt nice to walk around in the sun.
We had lunch at an awesome restaurant called Cafe Kaiken. It had one of the best service I have seen in a small restaurant and the food was tasty. After lunch, I shopped for some clothes from town, just like that! And then we all walked along the waterfront but it wasn't much to write home about. We visited a local supermarket to stock up on food for the trekking ahead, and it felt very normal.
As in Argentina, Chile felt quite cheap, for taxis and food but most places only took cash which was a bit of a problem. We again withdrew some cash and paid the 5% charge on cash withdrawals (same as in Argentina). We passed by a few churches when going back to our hotel. And given it was soon to be Christmas time, we also passed by a local trailer which was showcasing the birth of Jesus, with children playing the roles.
As with most of our trip, we had 3 tough days of trekking ahead, so we again called it an early night. Which was tough as always as the sun didn't set till 10 pm! And it was tough to call it a day and sleep so soon.
Patagonia around TDP (2)Argentinian cities of Ushuaia and Buenos Aires (3)