The great thing about Europe is the possibility to visit multiple capital cities in one tour. When myself and two of my Canadian friends decided to meet up during our separate endeavours in Europe, we quickly decided on Amsterdam. Brussels came into the picture, not because we were particularly itching to go, but because it was more or less on the way. It turns out that Brussels is a cool city that may not be worth a week-long trip, but absolutely deserves a stopover. Amsterdam has remained in the spotlight of favourite tourist destinations for years, but it rightfully deserves its place on that throne.
We travelled to Brussels by train (DeutscheBahn) from Frankfurt. I would recommend for students and/or travellers living in Germany, or those who wish to travel frequently in Germany, to invest in a Bahncard 25. This card costs 40€ (though sometimes on sale through promotions), is valid for a year, and reduces train ticket prices by 25%. You will earn back the price of the ticket within a few trips and the rest will be savings.
The most affordable accommodation in any city tends to be hostels. When I travel alone or with friends, this is my preferred lodging. We met a few awesome people in our room in Brussels that joined us for drinks one evening, and that is what travel is truly about.
Let's begin with my top picks for Brussels:
1. Grand Place
This is the highlight of the city, as most main squares tend to be. Thankfully, it's relatively unavoidable because most of Brussels' main sights lie in this region. We passed through here dozens of times and were always happy to admire the stunning architecture and detail. It is a crowded place however, as many tourists congregate here throughout the day. There are lots of museums and shops around the square for those interested in more than just architecture.

2. Choco-Story Museum
This museum experience isn't free, but it is cheap and more importantly, awesome. Students pay just 5€ (6€ for adults) for a guided tour through the process of chocolate making in Belgium. If that isn't already enticing, what if I told you there are jars of different kinds of chocolate to be tested by guests in the museum lobby? My friends and I shamelessly took more than probably acceptable. After the chocolate-making demonstration, you can go through the museum filled with artifacts and information on the history of chocolate consumption complete with a few more testing booths. You can't go to Belgium and not explore the topic of chocolate, so I'd recommend fulfilling that at this place.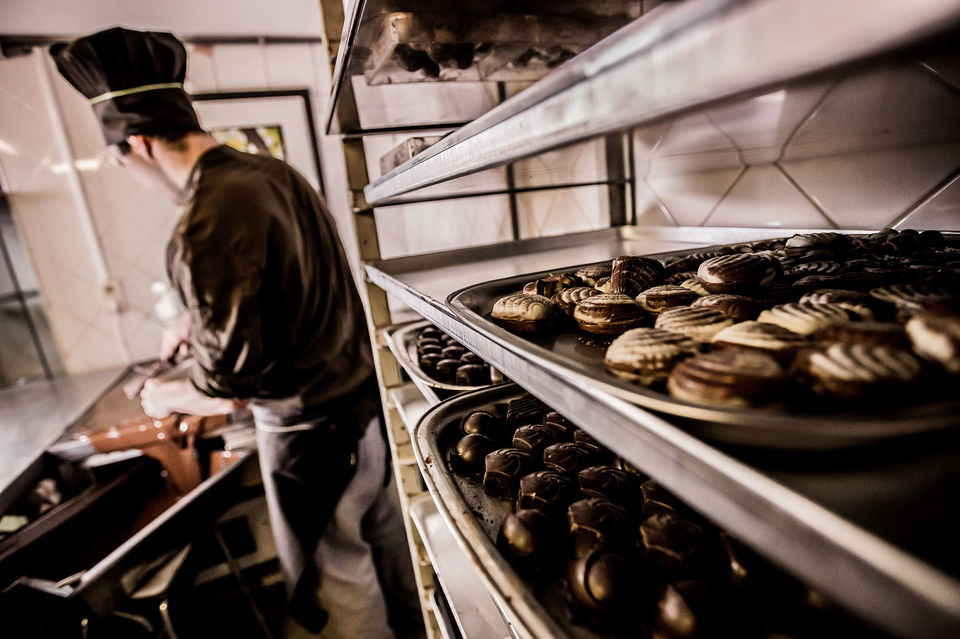 *Image credited to Choco-Story Brussels*
3. Eat Waffles
Another must-eat in Belgium is a waffle. You won't be able to turn a corner without being met with yet another waffle joint, so finding an affordable tasty grid is not difficult. We often paid between 2.50-4.00€ for a waffle, and when you're a group of travelling young friends on a budget, you consider getting waffles a meal. Though toppings are pricier, I recommend chocolate and strawberries. Just as a heads up, plastic forks are especially useless when paired with waffles. We broke many.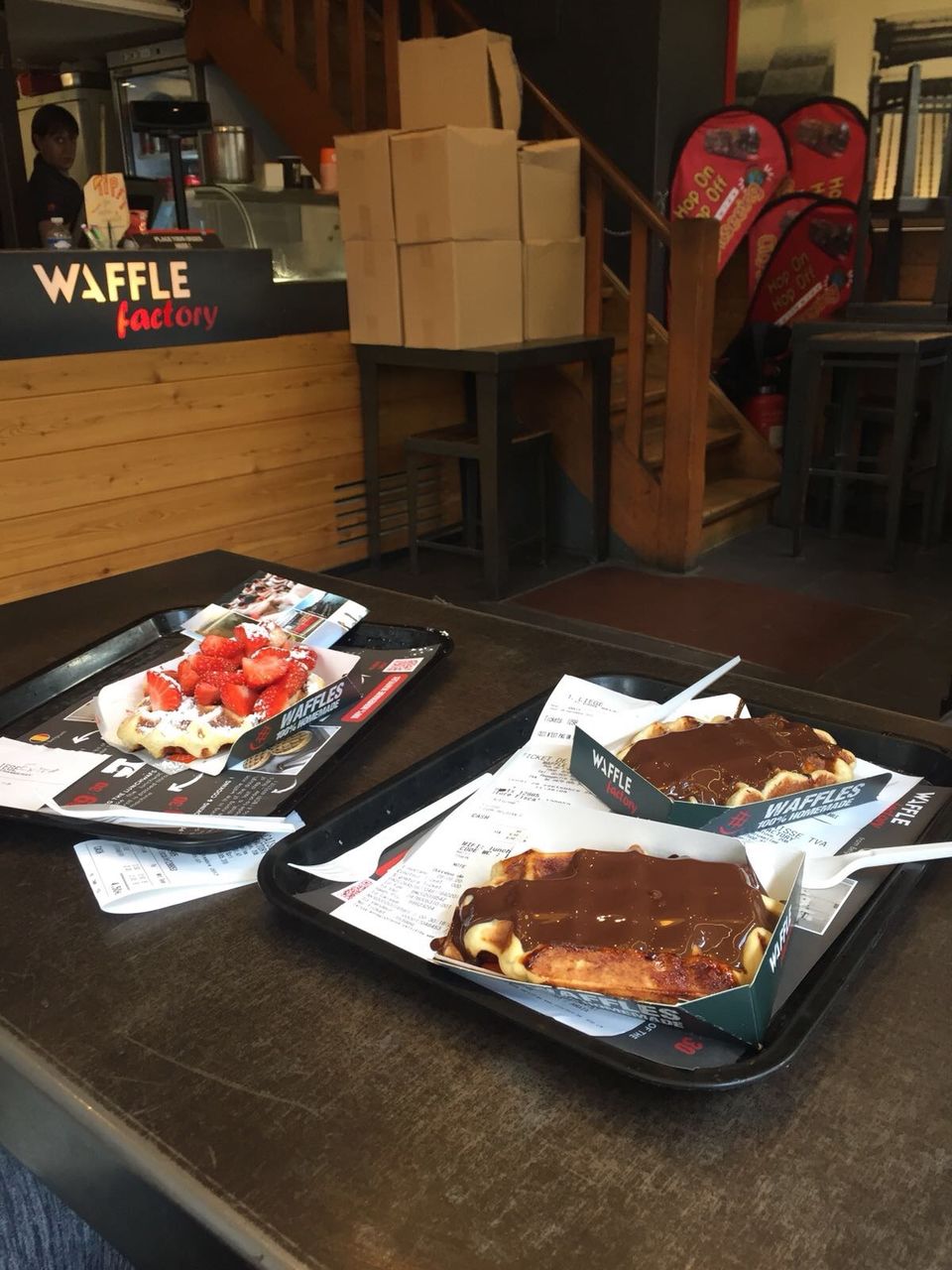 4. Go see the Giant Atom
It's technically called "Atomium" however, we referred to it as the Giant Atom throughout our trip. Not only does it have a nice ring to it, but it makes it sound categorically more impressive. This sight is relatively far outside of the main city centre (6.5 kilometres) if you don't have access to a vehicle. One could take public transport but if you are reluctant to spend money on unnecessary costs (like us), then you can walk it in about an hour and a half. It is located right next to a park and is an interesting structure to see. If you want, you can pay to go inside to the museum (8€ for students, 15€ for adults). The Giant Atom is home to the former fastest elevator in the world (at the time of its construction in 1958) but has since been dethroned. The most exciting part of the Atom is the final escalator down, where you can stand mesmerized as you travel down a tube of flashing lights. We went through the entire structure again just to experience that one more time.
5. Have drinks at Delirium
I don't usually find bars worth visiting and find that drinks can easily break a budget, but the Delirium Cafe is quite remarkable. You won't find the world's cheapest beer here, and it is a trendy tourist spot, but I enjoyed the lowest priced beer on the menu (4€) and had a lovely evening with my friends and our newly-acquainted hostel friends. The atmosphere in this bar is special and you will encounter some interesting characters. If the night scene isn't for you, be sure to pass by during the day.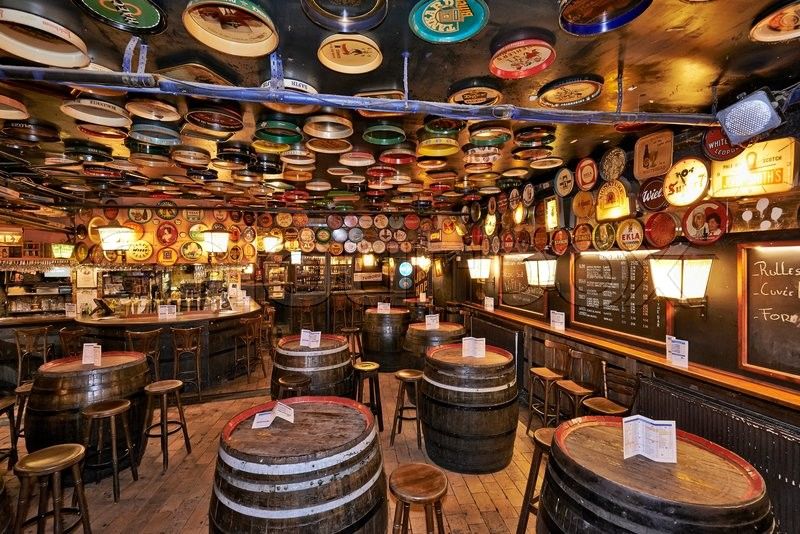 * Image credited to ColourBox*
There's plenty to see in Brussels, but these are a few of the standouts. Much of what we found was achieved through looking at the map provided by our hostel and deciding on activities from there. The beauty of exploring Brussels is in walking aimlessly. We went the wrong direction for an hour when we thought we were heading towards the Giant Atom, but found a vibrant market by doing so. Don't stick to the hop on hop off buses and you'll find things you never would have otherwise. If you're able, I recommend walking to anything within an 8km radius. It just means you can pick up more waffles on the road.
From Brussels, we headed to Amsterdam via Flixbus (another very budget friendly transportation option). Because Amsterdam is such a popular city, I will leave out the obvious attractions such as the Dam Square, Anne Frank House, and the Red Light District. We went to all three and I would still recommend them. One tip for those wishing to visit the Anne Frank House: book tickets in advance! You don't want to miss this moving experience.
Let's continue with my top picks for Amsterdam:
1. Take a canal tour
This is another popular thing to do, but timing is everything. We saw boats pass all day completely filled to the brim with people and decided that, although it would be crowded, we couldn't miss doing a canal tour in Amsterdam. We decided to take a tour in the evening because Amsterdam comes alive at night. To our surprise, we were three of a total of six people on the entire boat, including the captain. We each took our own seat by the window and didn't say a word to each other the entire tour due to the complete bliss of staring out from the canals of Amsterdam at night. We paid 11€ each for a 1-hour tour which was the most reasonable price we had seen all day. This still remains as the most memorable thing we did in Amsterdam.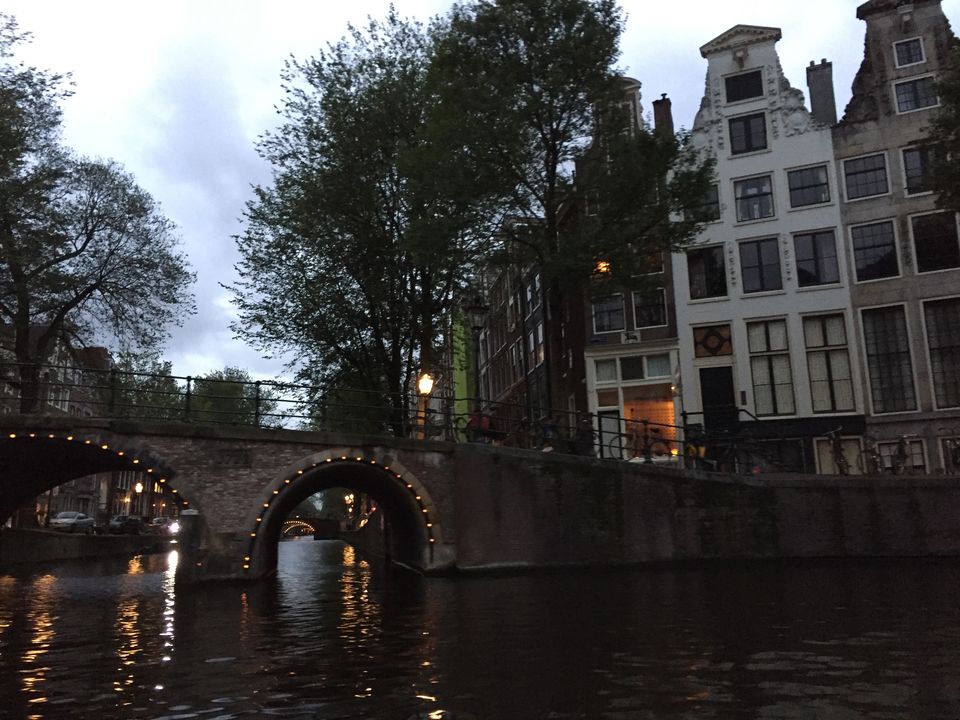 2. Visit the floating market
We didn't buy anything here but that was never the point. This market is stuffed with tourist trinkets and thousands of wooden tulips, but there's a stunning flower ceiling that is worth seeing for anyone. It's a cool place to stroll and is located in the city centre so it's not a hassle to get to.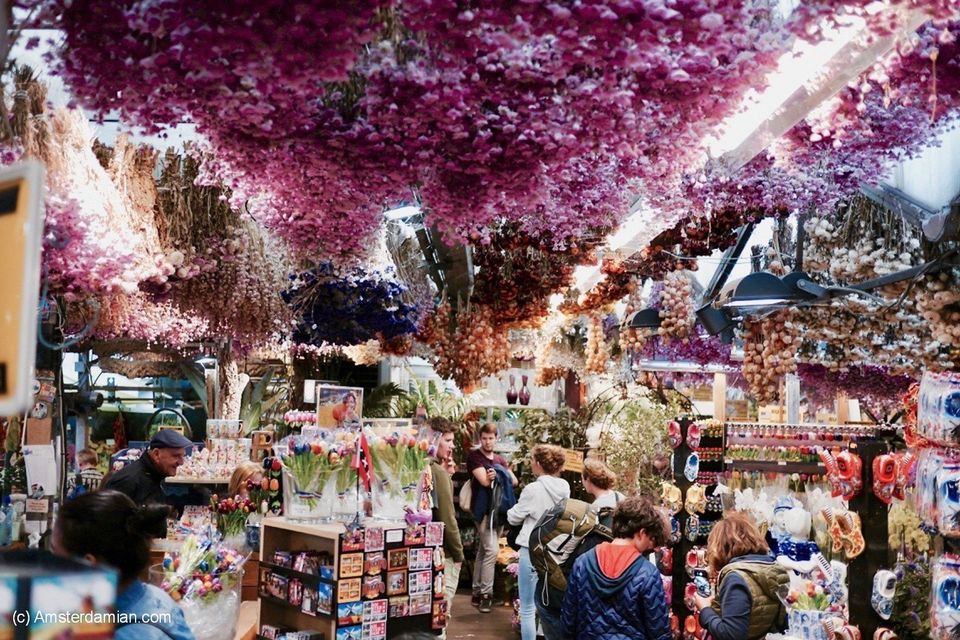 *Image credited to Amsterdamian*
3. Rent a bike
If you've heard anything about Amsterdam, then you know how crazy this city is about cycling. As a tourist, you walk through the city and hope to avoid any encounter with an Amsterdam resident on their way to work by bike. Cyclists aren't the kindest to tourists (from our experience). If you can't beat them, join them. We thought renting bikes would both be an excellent way to explore the city, and a means of fitting in as locals. Turns out, you stand out as the 'tourist who rented a bike.' Nonetheless, renting a bike is a great way to see more of the city and to feel the rush of being in Amsterdam bike traffic. Bike rentals can be as low as 6€ for three hours, or 9€ for the entire day.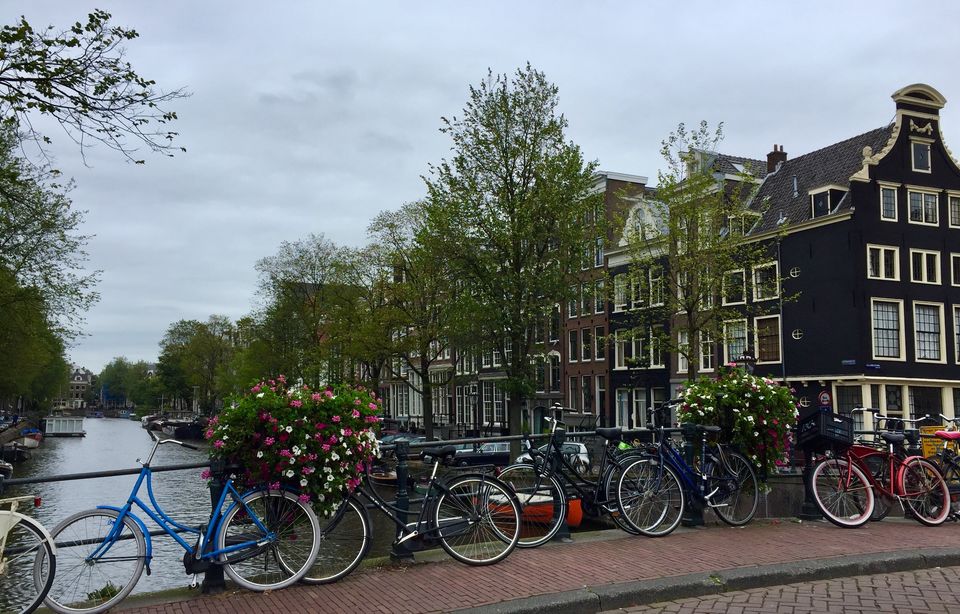 4. Go to the Museumplein
This popular square is home to the ridiculous "I amsterdam" sign that to me, makes no sense. However, it is also home to a beautiful museum, wide green space, booths filled with hand-painted art, and cute cafes. It was in this area that we took a tea break in a gorgeous little cafe. We entered through the museum arch and passed a small orchestra band taking advantage of the excellent acoustics. This area is great to explore and has lots to offer without the need to spend a lot of money. Avoid the sign though. You won't be able to get a picture of it anyway with the bus loads of school trip classes lined in front of it.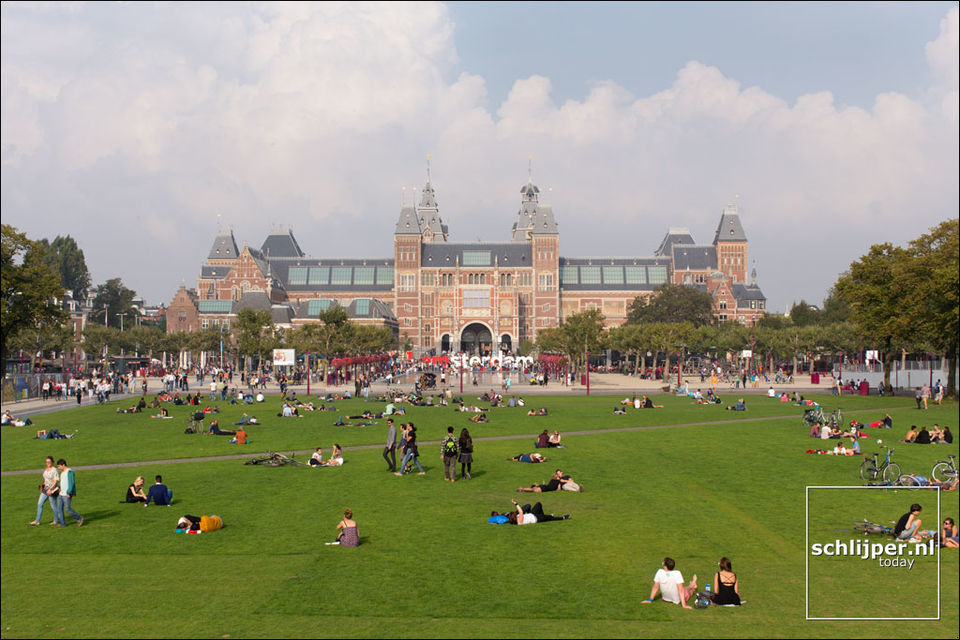 *Image credited to Sustainable Amsterdam*
There are hundreds of other likely worthy attractions that I can't speak on because we didn't get to them, but these were some of my favourites. As I said, the Dam Square, Anne Frank House, and Red Light District were all memorable experiences that I would also recommend if you take a trip to this city.
Overall, both Brussels and Amsterdam were entertaining cities. I was with two good friends who would liven up any trip, but we were also lucky to be in great destinations. I hope these suggestions come to some use. Happy travelling!