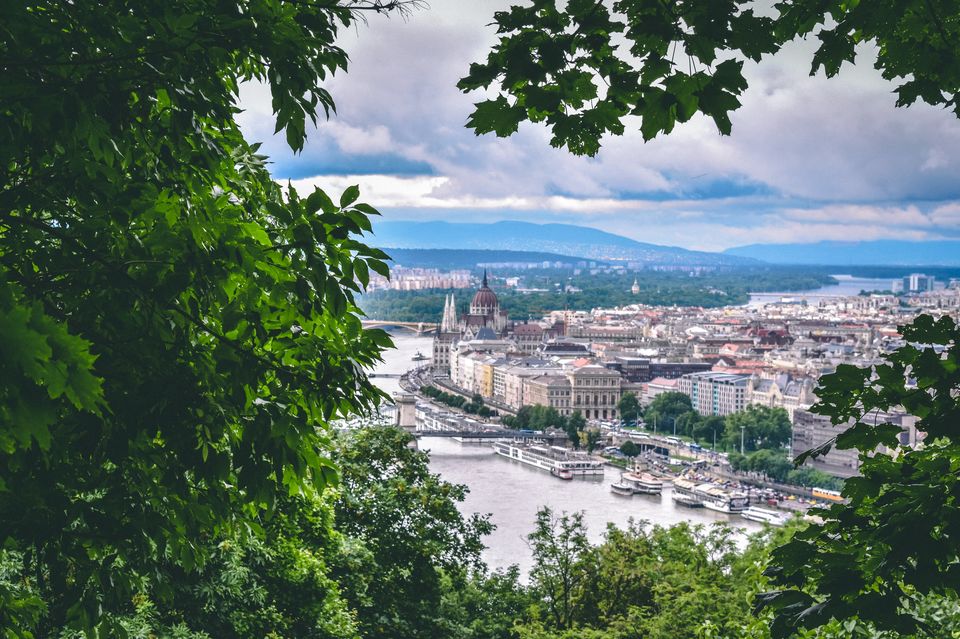 I know it is crazy, but I have to mention that we made a food itinerary, for where when and what we want to eat in Budapest. While planning the trip we came across huge number of options for local food and thought that the best way to cover everything is to plan it properly. Although, I am not recommending you to do the same, rather go with the flow. However you can definitely note some of these and include it in your next trip to Budapest.
Day 1 :
Nothing Hungarian. We reached in the evening and it was heavily raining. We packed burger at nearby MacDonald . Yes, I do not like it too but sometimes these are really saviour.
Day 2:
We woke up really early and went out immediately for a walk. I remember we did not have proper breakfast, rather grabbed a cup of coffee on the go. The real feast started from Lunch.
Lunch (Goulash):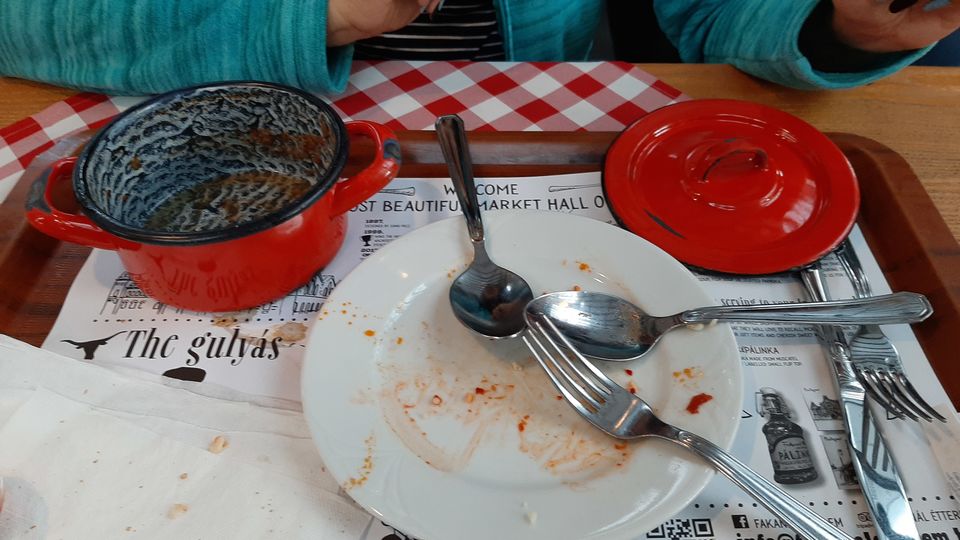 A traditional Goulash is a stew prepared with tender beef, onions and mild spices along with paprika. they might also add vegetables such as potatoes, carrots, celery, peppers, and tomatoes. We tried this at Fakanál bistro, which is at the first floor of central market hall. Note that, peak hours could be overly crowded and you might have to wait to get a seat.
The 5pm Craving (Gelato):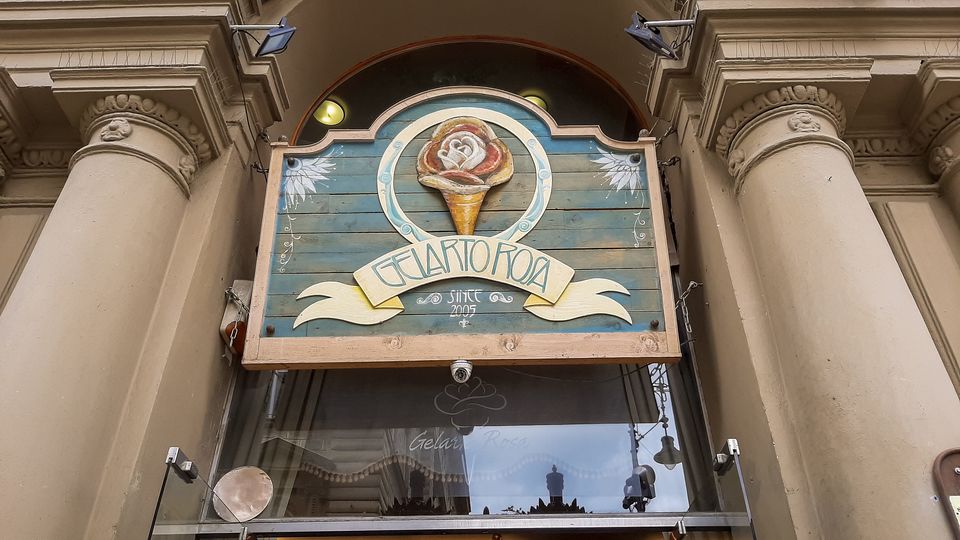 Evening we went to have some ice-cream at Gelarto rosa. These organic gelatos are hand-made and artistically shaped into roses. You get to choose the colours of the petals and can witness how beautifully they make those roses.
Dinner (Langos):
Lángos is a fried bread dough. The popular version is topped with sour cream and cheese. We tried this in street food karavan. It's basically a food court with number of food trucks, serving mouth-watering delicacies which you can enjoy standing or sitting on a benches at the back. I like this place for it's party like atmosphere. You can also enter Szimpla Kert ruin bar, just beside and continue to party whole night.
Day 3:
Breakfast (Chimney Cake):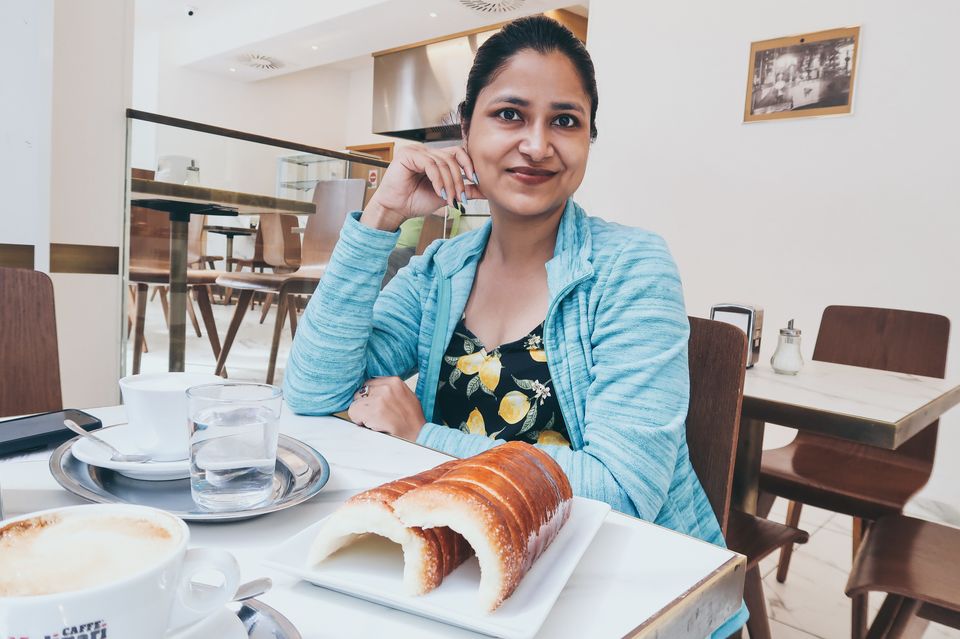 The chimney cake is a cylindrical shaped sugar coated bun. You can choose from cinnamon, coconut, cacao, walnut any coating (or may be all, because why not) on top of the original one. Molnár's Kütrőskalács (cafe Molnár) , located in the heart of the tourist area, is perfect place to try it. We had our breakfast with cinnamon chimney cake and coffee. I recommend, this place for breakfast only, because when we reached they started preparing it and gave us a fresh one right from the oven.
Lunch (Cabbage role and Sausage):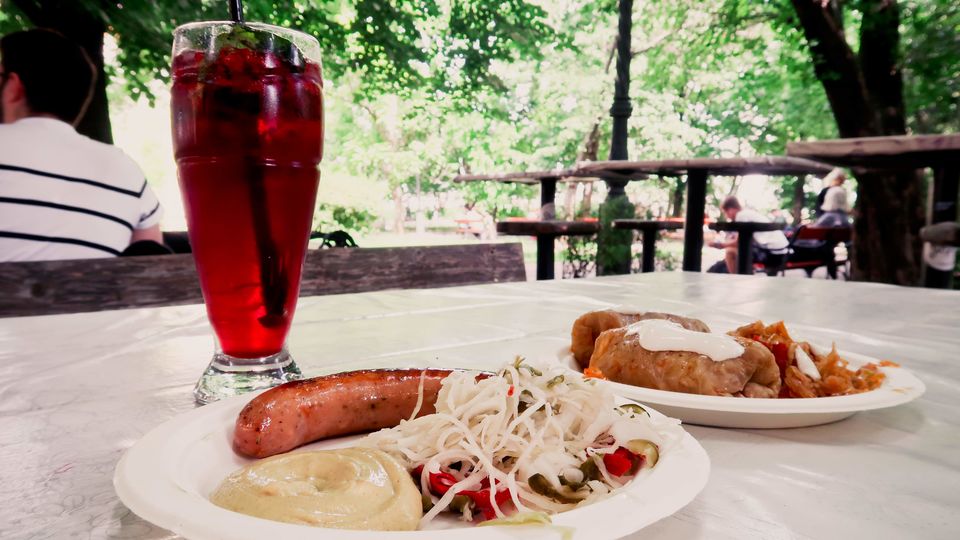 Big cabbage leaves are filled with meatballs, rice, spices and cooked together with pickled leaves. They served it with sour cream on top. The Hungarian sausage was smoked and had a mildly spicy flavor. We took a cranberry mock tail, which was sweet and perfectly complemented our dishes. We had this at a garden restaurant (I do not remember the name exactly) in front of Mathia's Church.
The 5pm Craving (Dobos Torta):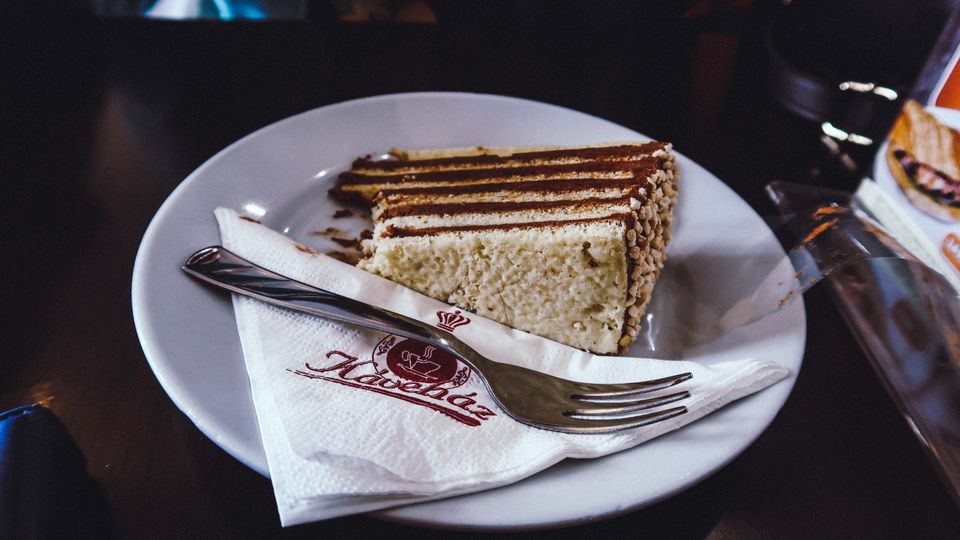 This is delicious sponge cake, layered with chocolate buttercream and topped with caramel. We took a single slice and enjoyed it to the core. The crispy caramel on top is the best part of the cake.
With this our Food trip ended. However a special mention goes to Ruin Bars of the City. We really regret not going to one of those. Each one of them are very unique and decoration inside is super creative. INSTANT and Szimpla Kert are the two places, we heard about most. You also do your own research and get ready for an yummy Hungarian Adventure.