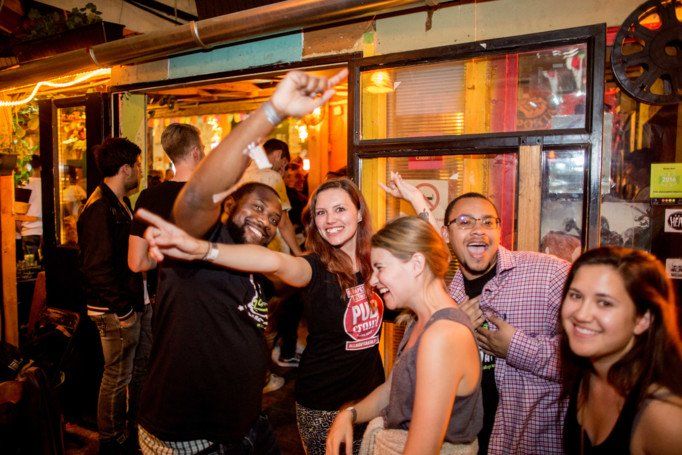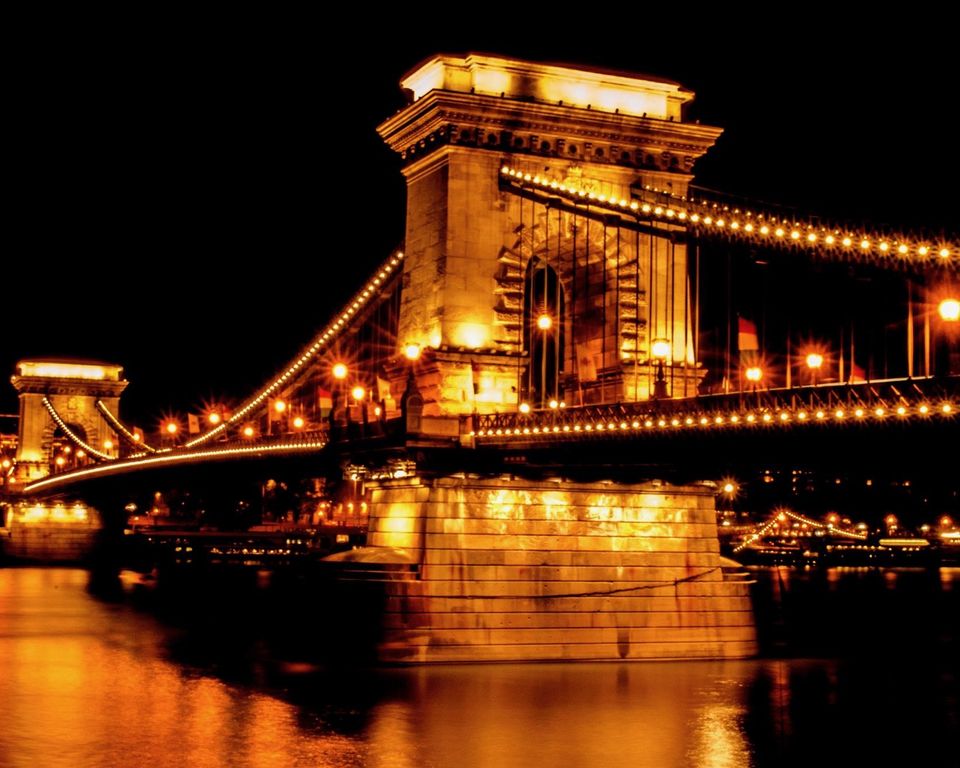 Hit the right spots at Europe's top party destination - Budapest. Well yes, Budapest sightseeing is incomplete without its castles, churches and the spas. But after the sun sets, do not hang your boots yet. Change into your party wear and head out on an exciting pub crawl adventure! A pub crawl in Budapest is like no other. Party at the ruin bars set up in renovated Jewish tenements, warehouses and department stores in District VII.
You can always plan the Budapest Pub Crawl on your own, but it does make sense to sign up with a walking tour as it helps you skip the long queues. I signed up for the Budapest Pub Crawl organized by AllNightCrash Budapest Pub Crawl.
#1 - DiVino Wine Bar
Built in 1902, Gozsdu Udvar is a sprawling complex with seven interconnected buildings. It has historic significance as well – the oldest Jewish prayer houses in Budapest were set up here. Today, it boasts of several cafes, bars, shops and exhibitions – a vibrant cultural and social space. Check out the DiVino Wine Bar – with a selection of more than 140 wines! Hungary is famous for its wines – with about 22 wine regions spread across the country. Do try the white dessert wine from the Tokaj region.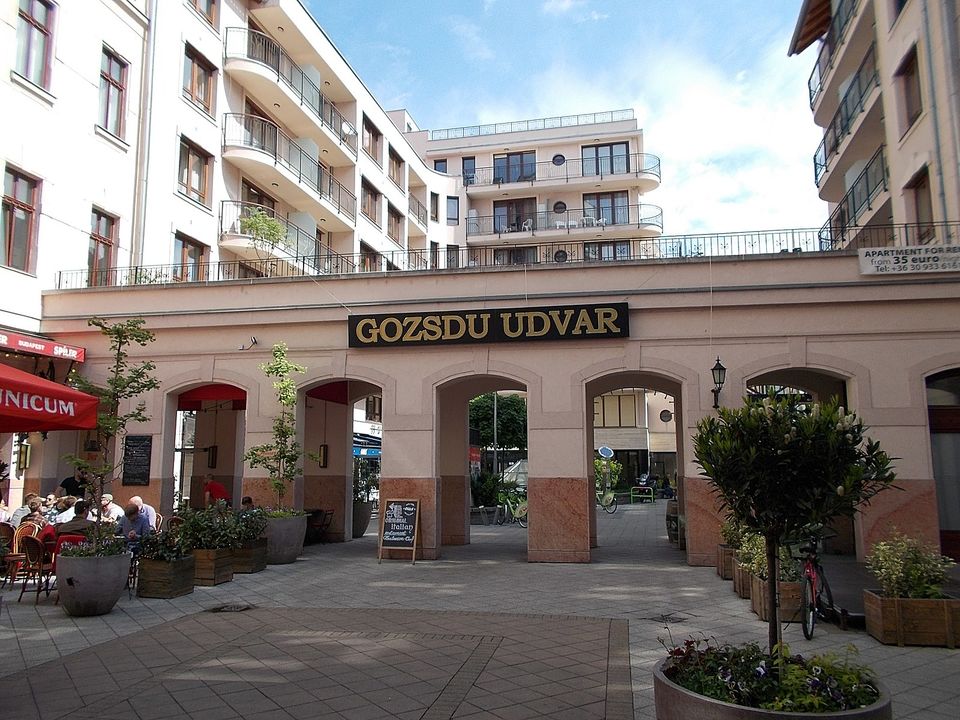 #2 - Léhűtő
Léhűtő is a craft beer bar located at a corner of Gozdu Udvar. Sample Hungarian handcrafted beers here. The chilled stouts and wheat beers taste godsent, especially on a hot summer day.
#3 - Ellátó Kert
Cross towards Kazinczy Uta, you are now on your way to Ellátó Kert. Kert is the Hungarian word for a garden. Enjoy the lively garden ruin pub has an open courtyard. It is extremely popular with the locals. You must sample the 'pinky' - a pink grapefruit-vodka shot drink. You can also take a shot at snooker here, and order some tasty wraps.
#4 - Mika Kert and Kőleves Kert
Mika Kert is a minute away from Ellátó Kert. This was once an iron and copper factory and named after the factory owner. Enjoy a summery day at the garden and order draught beer. Drop in at the neighboring Kőleves Kert – a popular students' hangout with just the right vibe.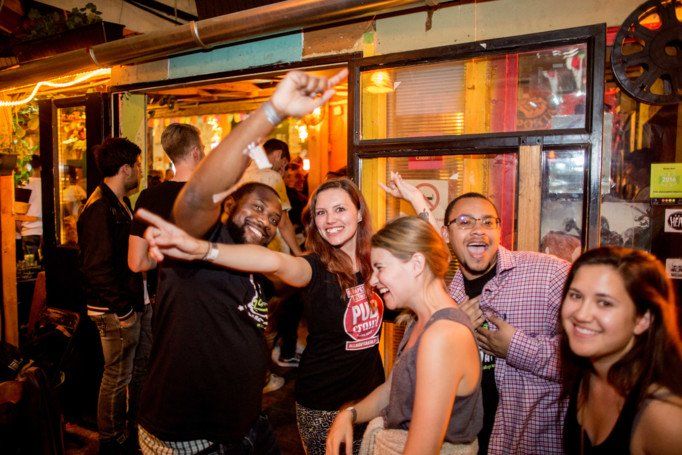 This is the big daddy of the lot – it set the trend for Budapest ruin pubs. Arguably the best nightspot in Budapest, that also means it attracts the crowds. I would suggest you skip it during the evening, and instead visit it the during the day. However, if you love partying with the crowds, this is an experience like no other. Szimpla Kert has a number of party rooms and floors – each playing a different music theme. Choose your favourite and boogie away.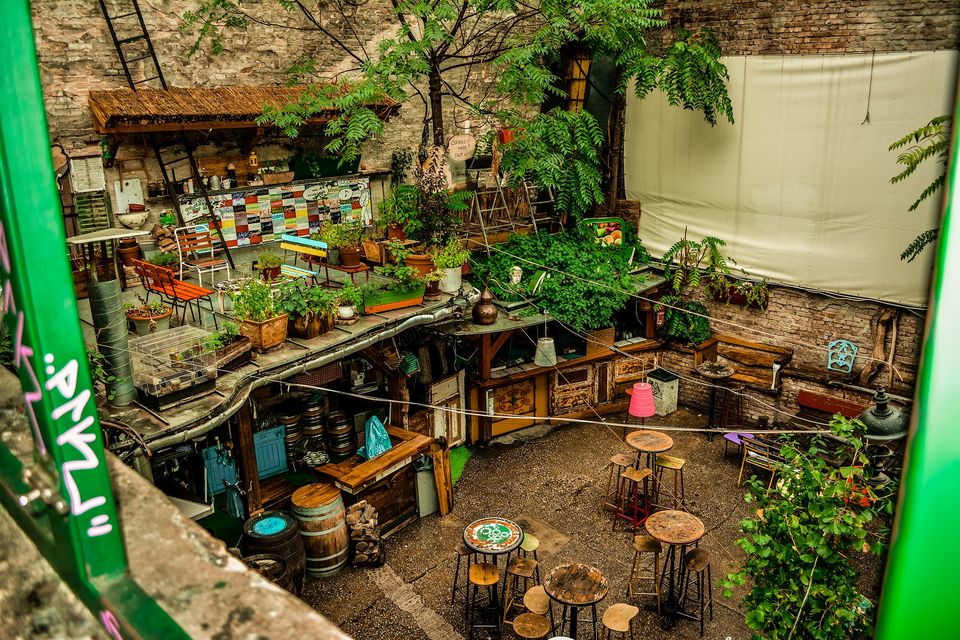 After Szimpla, head next door to El Rapido – a Mexican Tapas Bar on Kazinczy uta. Try Tequila shots as well as Cuban beer. You can also pick up a few knick knacks at the flea market stalls here.
#6. Füge udvar and Doboz
If slot-machine games are your thing, you will have a ball at Füge udvar. It is among the most affordable ruin pubs in Budapest, sample a cheap beer or fröccs. After Füge udvar, walk to Doboz ruin bar if you are into EDM.
#7. Instant Fogas Ház (IF)
My favourite is Fogas Ház or 'House of Teeth', a renovated denture repair shop! The prices here are budget friendly, and the assortment of mismatched tables and chairs, string lights add to the atmosphere!