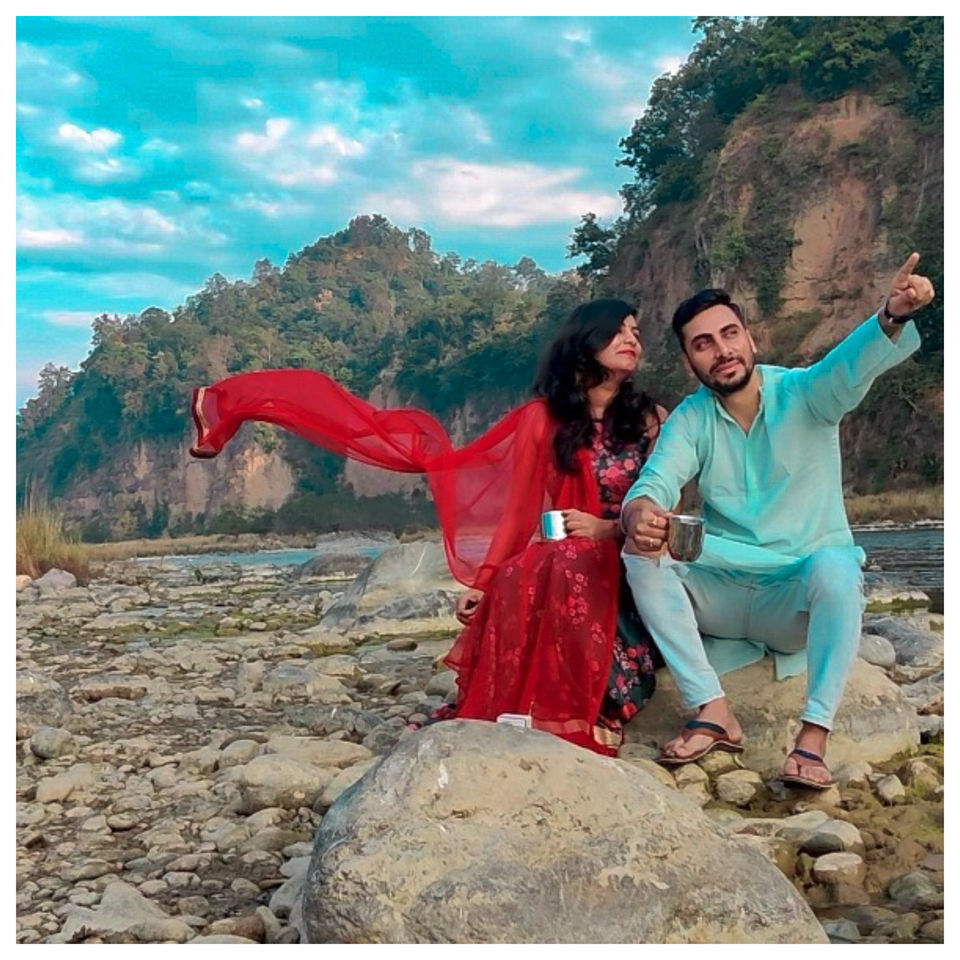 Nov, 2020

Being born in Delhi-NCR, gives you an added advantage and the ease of making frequent trips to the hills of Himachal Pradesh & Uttarakhand because of their close proximity.
But until now, for us, that advantage in case of Uttarakhand, was limited to only making frequent trips to Dehradun - Haridwar - Rishikesh - Mussoorie belt, which always made us rank hills of Himachal (Shimla, Kasauli, Manali, Kullu, Dharamshala, Dalhousie etc.) above Uttarakhand.
Nainital / Bhimtal / Jim Corbett, somehow couldn't happen because of some or the other reason every-time.

Here was a chance, an opportunity for us to experience what we hadn't till date - The other side of Devbhoomi, And glad that we grabbed that opportunity with both hands because it changed our perspective of Uttarakhand forever.
Here's HOW!.....................
Our Broad Itinerary once we left from Gurgaon!
Day 1 & 2: Jim Corbett
Day 3 & 4: Bhimtal / Sattal
Day 5 & 6: Nainital
...................................
Day 1: Gurgaon to Jim Corbett, Ramnagar!!

What is the first thing that comes to your mind when you think of Jim Corbett ??? Jungle Safari & Tigers, isn't it? What most people don't know is that Jim Corbett has much more to offer than that!
Having had unsuccessful (Tiger Spotting) trips to both Ranthambore and Bandipur, we knew for sure that we wouldn't be opting for a jungle safari if we ever visit Jim Corbett (which is what it is most famous for).
This time, we just wanted a few days off from our busy lockdown lives, time to relax with each other in the middle of mother nature. And Jim Corbett, along with it's shade of hills, forest and Kosi river, had the perfect ingredients and offered the perfect setting to kickstart our journey to full-fill our wishes.
The 5.5 - 6 hours drive from Delhi / Gurgaon to Ramnagar (Corbett) is full-filling, super smooth and refreshing. We left from Gurgaon at about 7 a.m. in the morning and reached our splendid forest view resort, "The Golden Tusk", at around 1 p.m. One thing that is quite noticeable as soon as you enter the Corbett area is the series of beautiful and massive resorts on both sides of the road which literally gave us an instant high.
As soon as we reached our resort, we decided to hop on a bicycle and take a tour of our massive resort, which is spread over huge acres of land. They have built a bicycle track across their property specially for this.
They also have cute little villas and forest view rooms with small water-ways running beside them. We were lucky to have stayed in one such villa.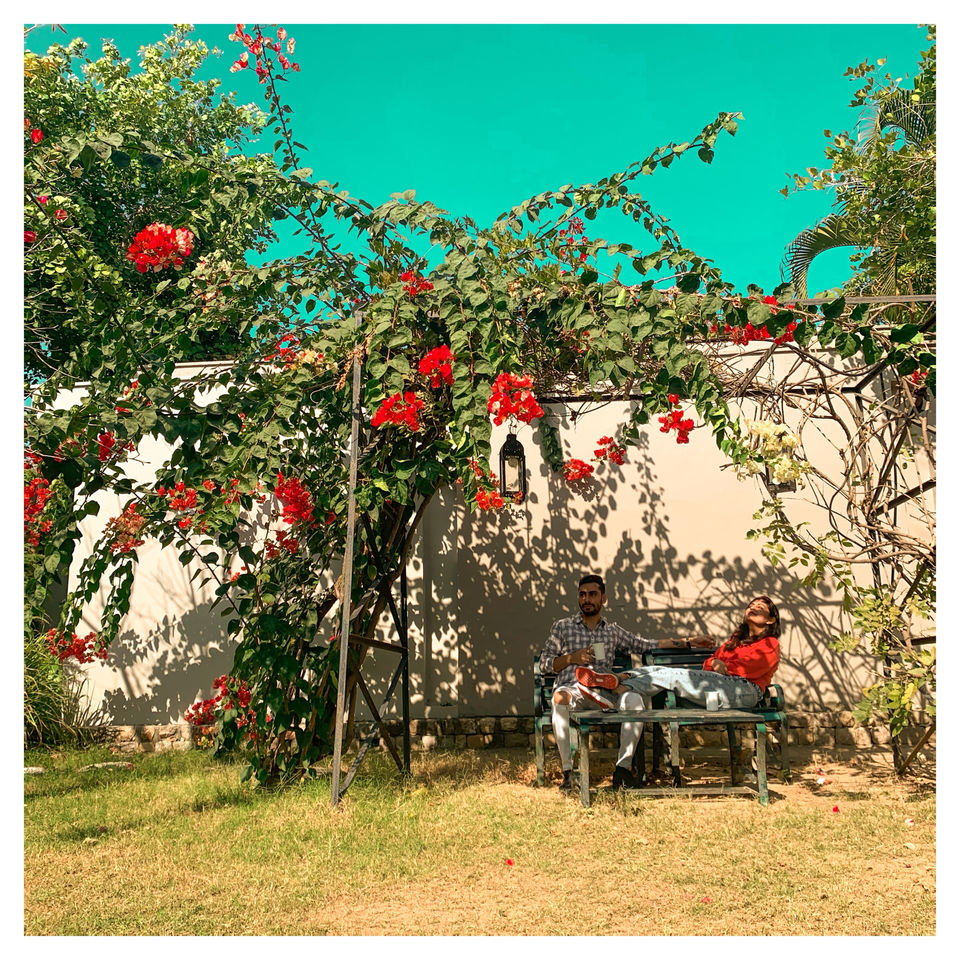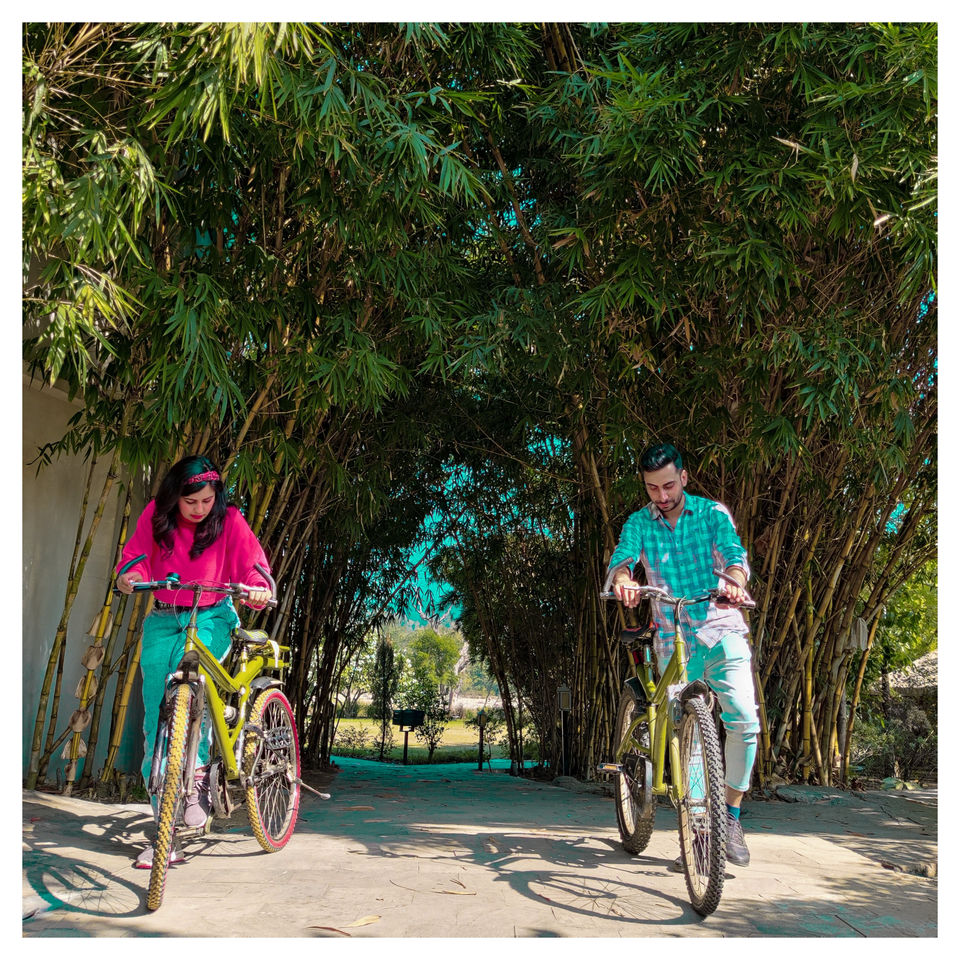 The resort also boasts of a lot of recreational activities inside their huge campus - Snooker/Pool, Tennis, Basketball, Badminton, Volleyball, and a play-area for Kids. We were also lucky to experience their high tea in the garden area which was truly the highlight of our stay!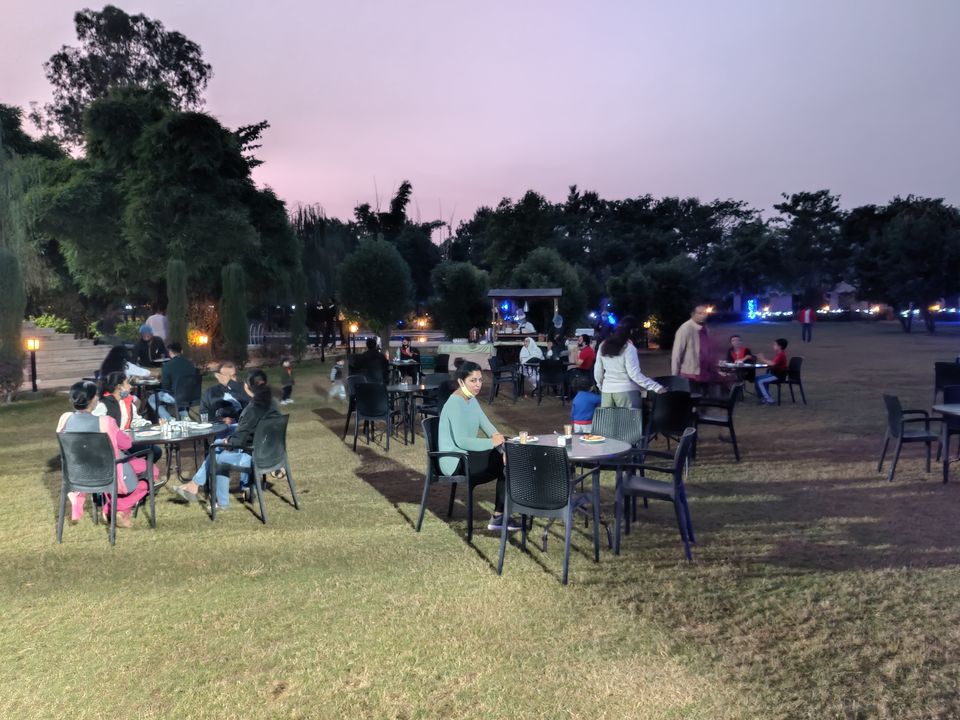 Day 2:
The next day was reserved to experience lavish offerings at another high end resort - "TAJ Corbett Resort & SPA". The property is overlooking the hills and has a private access to the banks of the calm & composed - Kosi River. High Tea in their restaurant comes as a complimentary inclusion for in-house guests, and is served alongside a huge spread of evening snacks and cookies / tea cakes, right beside the river.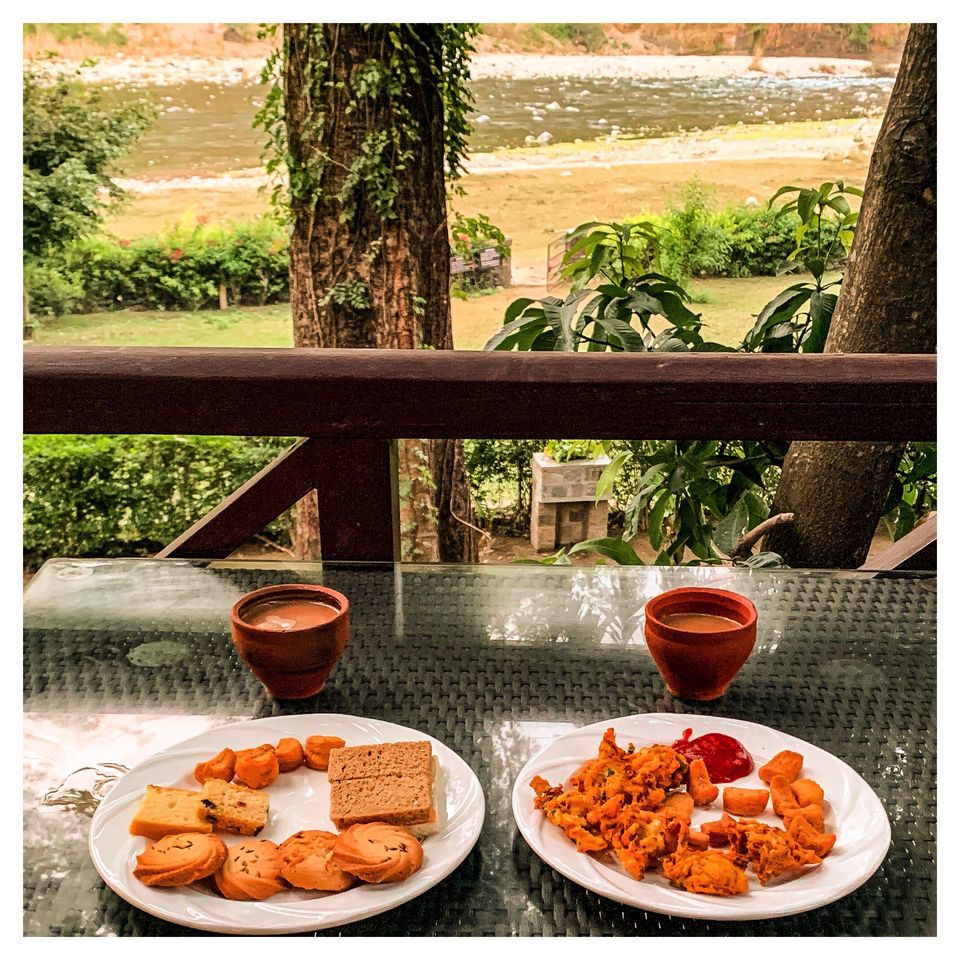 Later, we spent a wonderful evening, with live music and "HOT Toddy" at their open air bar - "Jim's Grill".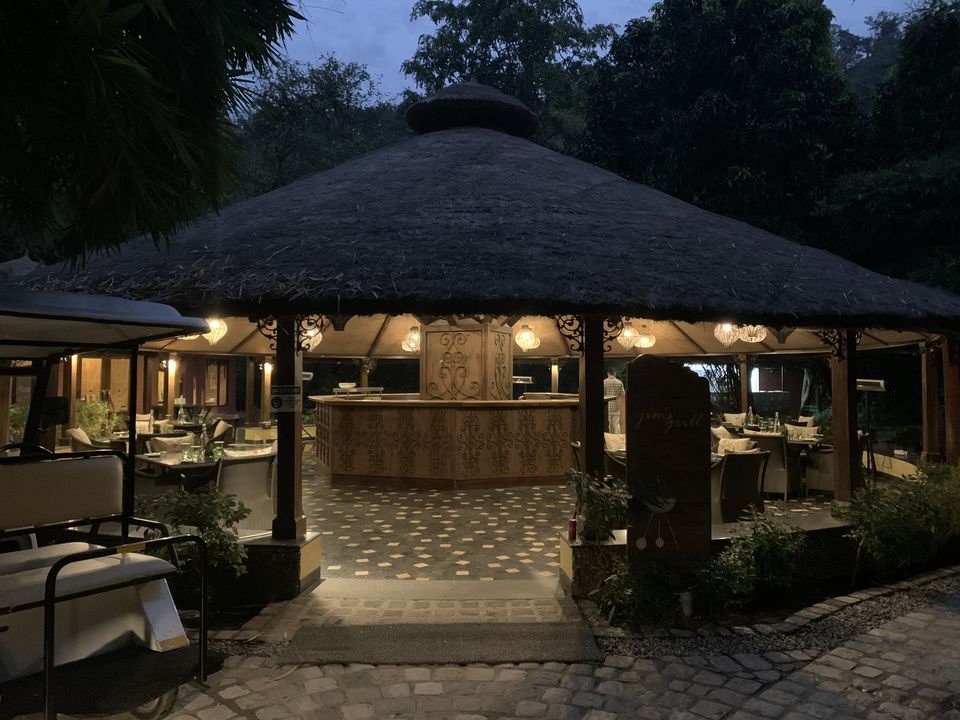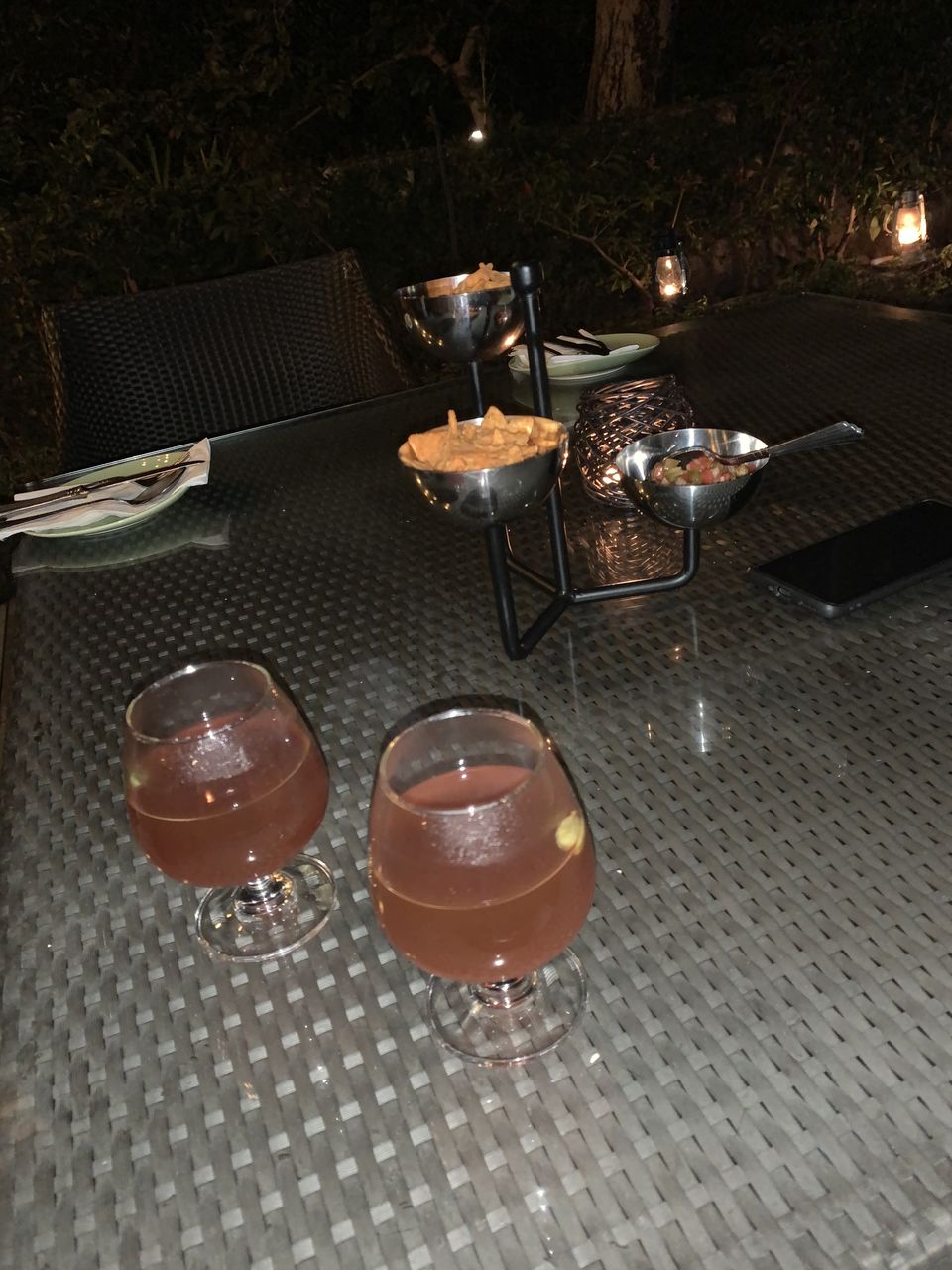 Day 3:
The next morning (on the day of our check-out), we were tempted to get-up early and try our luck in capturing a beautiful shot by the Kosi river, along with the mesmerising view of the hills and the surroundings.
See for yourself in the picture below and decide if we could do justice to the picturesque surroundings.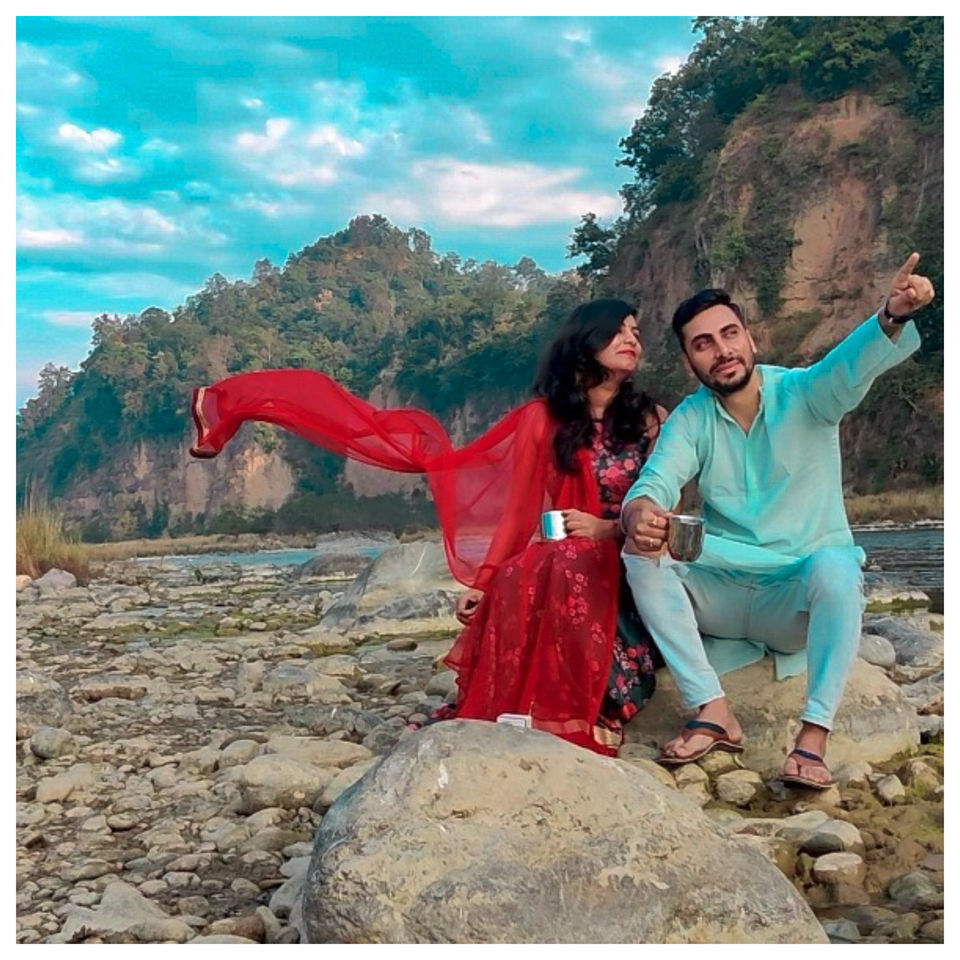 And sadly with that, it was time to bid adieu to Corbett. We had our breakfast and headed to Bhimtal (via the beautiful route of Haldwani) to kickstart the next leg our trip.
Loved every bit of our short stay at Jim Corbett, where we could experience life beyond the much hyped Jungle Safari and Tiger Spotting. :)
For the video version of our experience in Jim Corbett, tap the PLAY button in the YT video below :P.
Day 3 continued: Jim Corbett to Bhimtal via Haldwani!
The drive from Corbett to Bhimtal via Haldwani is full of breath-taking and scenic views. On one of the checkpoints after Haldwani, we were asked to get tested for Covid as part of a random testing exercise being conducted by the state government. For one complete day till our results came out to be negative, we were shit-sacred!!
One of the few reasons why we chose to stay at Bhimtal was because we were told that Bhimtal is much more quaint, serene and less commercialised as compared to Nainital and the boating experience at Bhimtal Lake is way better than that of Naini Lake, which turned out to be quite true.
Another major reason was this cute little café - "The Kumaoni Farm Café" located at a small hilltop in Bhimtal which was recommended by one of our friends.
So as soon as we reached Bhimtal, we checked in to our hotel - "The Rosefinch Sarovar Portico" and headed off to " The Kumaoni Farm Café" for Lunch. This is a strict reservation only Café and you will have to inform the owner well in advance so that he has your table booked. The Café only serves lunch and can cater to maximum 12 people in a day.
Located on a small hilltop, 3 kms away from the Bhimtal city, this cafe offers lip-smacking and authentic kumaoni / pahadi food, fresh air and breath-taking view of Bhimtal and the mountain ranges. Add to this the warm hospitality and personalised touch shown from the owner - JAWS KAMATH and their highly skilled staff and it becomes a memorable experience altogether. As they say, You Only LIVE once! So why keep yourself away from such a complete and fulfilling experience!
On my plate:
Kumaoni Raita with pahadi sarso ka Tel, Roasted Bhaang ki Chutney, Aloo k Gutke, Palak ka kapa, Mandua ki Roti, Pahadi Dal & Chawal, Kumaoni Kaddu ki Sabzi, Badheel Jhangore ki Kheer.
NOTE: All the major ingredients / raw materials come from their own organic farms, which are located right next to the cafe! Perfect example of the Farm 2 TABLE concept with Just-In-Time (JIT) methodology. What more can you ask for!
For the video version of our experience at "The Kumaoni Farm Cafe", tap the PLAY button in the YT video below.
So that's how we spent our afternoon- indulging in some authentic kumaoni food at The Kumaoni Farm Cafe. By the time we came back, it was already late evening and we were like really really tired! So we went to bed early.
Day 4:
Going to bed early naturally meant getting up early in the morning! We had our breakfast and went for a brisk walk beside the tranquil Bhimtal lake. Our hearts leaped as we stood beside the lake and stared at the gorgeous green hills that flank the entire background. You will find your senses heightened as the entire air is filled with songs of the birds and a wonderful aroma from various flowers that adorn the hills.
The next task in line was the much awaited boating experience. At a meagre cost of Rs. 250 / hr, you'll be subjected to an experience of a lifetime in an old, wooden, shikara type boat.
In the afternoon, we headed to Bhimtal's very own and iconic cafe "I heart Café", located just 5-6 kms away from Bhimtal town, on the way to Nainital. This particular cafe had the most delicious handmade Cappuccino and chicken burger with homemade buns and fries!
The next stop was - "Sattal", another one in the list of famous Lake-Towns (Tals) of the Uttarakhand. It was a 10 km downhill ride from the I Heart Cafe, and our agenda was to get some local kumaoni food packed from one of the famous restaurants near the Sattal Lake.
We spent the rest of our day at our resort, indulging in the lip-smacking kumaoni food that we got packed and watching some random movie on TV. :)
Day 5: Upwards journey from Bhimtal to Nainital
We were confused as to whether we should head over to Mukhteshwar / Almora or Binsar to spend the rest of our days. In the end, we chose the town of Nainital as it offered better network connectivity (Telephone/Wifi) and we were apparently on strict work-from-home schedules. :)
A lot of people recommended and told us to stay only in Naini Retreat to enjoy British Style Architecture feels, an exquisite view of the hills and the Naini Lake along with some mouth-watering food.
We reached "The Naini Retreat" in the afternoon and as expected the hotel had a majestic campus exuding an Old World Charm that houses the most modern luxuries one could ask for. They have a morning and an evening high tea ritual where they serve hot tea/coffee with snacks in their lawns.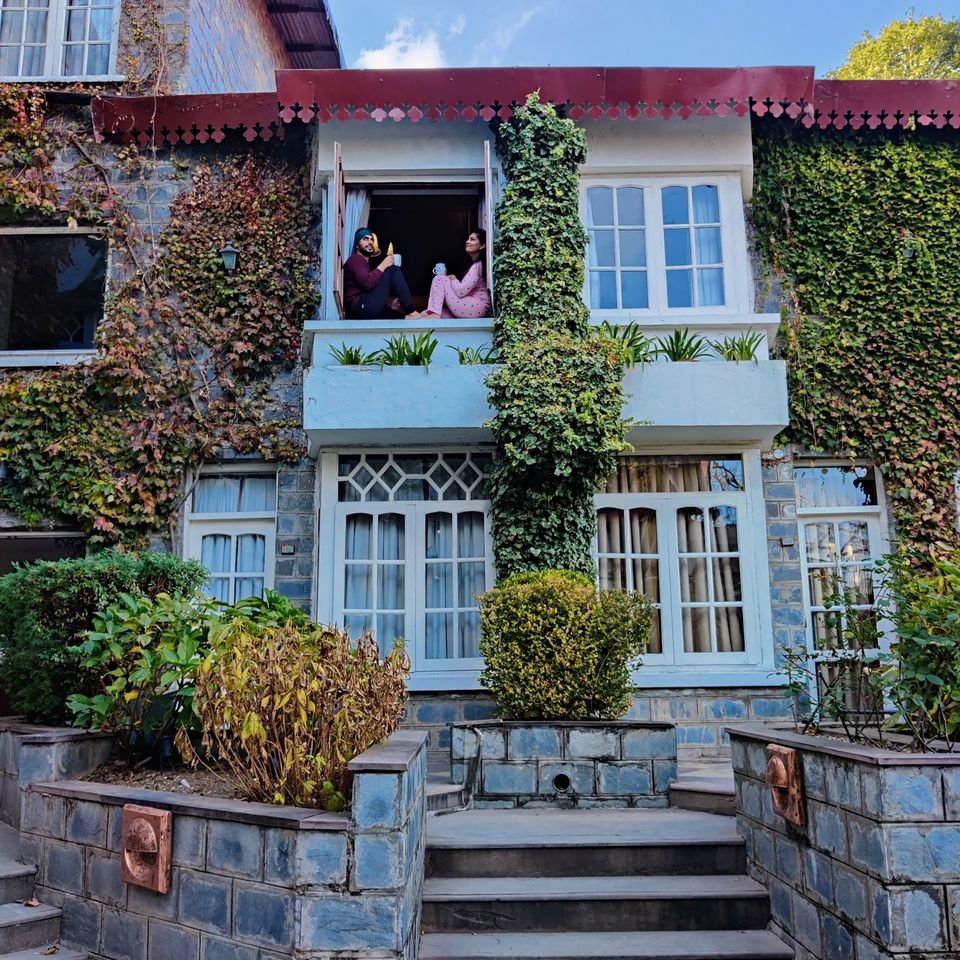 The afternoon and early-evening were spent at the resort enjoying some good in-room food and high tea. Later in the evening, we headed over to the mall road, did some shopping from the local bazaar and finally had some tasty chinese food at - "Machaan".
Day 6:
Our day started with a cup of Masala TEA in our resort's garden area, followed by some healthy breakfast in their restaurant. For lunch, we had reserved a table at - "Cafe Chica", near Sherwani Hill-Top.
This Café is an absolute treat to the eyes. Started by a local Uttarakhand family in their family lawn, this is now a full time restaurant serving delicious home cooked food (we had chicken stew and rice with masala tea). It also provides a homestay option under the name of Abbotsford for people who want a quiet and peaceful vacation with a picturesque view of the hills.
Later in the evening, we headed over to the mall road to enjoy some evening tea at the "Boat House Club". Only members get to enter this club. On request and less busy days, they also allow families and couples with a small entry fee. You can enjoy a cup of tea and piping hot pakodas with a view of the majestic "Naini Lake".
Having had so much food since morning, we had no appetite and hunger left for dinner and just wanted to enjoy some warm Toddy alongside a bonfire setting, and luckily our resort provided the perfect setting for us, coupled with some live music!
Day 7:
The next day, we checked out of the hotel in the morning and headed back to Gurgaon.
This was indeed a vacation which was like a breath of fresh air away from the pollution of Delhi-Gurgaon and was the need of the hour for us! We came back completely re-energised and rejuvenated to start off another hectic week at work.
The Benjabi Recommendations:
1. When in Corbett, try to book a beautiful property like the Taj or River-view Retreat, which overlooks the hills/forest and the river.
2. In Corbett, Jungle Safaris are good but High Tea experience by the riverside shouldn't be missed!
3. In Bhimtal, boating experience shouldn't be missed, and a visit to the Kumaoni Farm Cafe is a must.
4. Homestays at Bhimtal are also recommended.
5. In Nainital, if your budget allows, book a stay at The Naini Retreat.
6. In Nainital, a visit to the boathouse club, Machaan / Cafe Lakeside / Sakley's Pastry shop / Cafe Chica is a must.
For the video version of our experience in Bhimtal & Nainital, tap the PLAY button in the YT video below :P