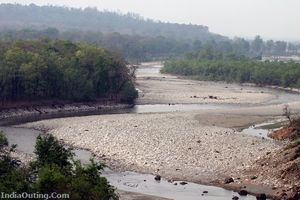 Best time to visit
Winter (November to February) Summer (March to May)
Things to do
Jungle Safari,Bird Wacthing,
Budget
Per Peson Rs. 1,750 - Rs. 3,499
Jim Corbett National Park
Jim Corbett National park, established in 1936 with the name Hailey park and renamed as Ramganga park in 1952, got its gift name in 1957 once James John Corbett, the renowned naturalist and lensman. Jim corbett park is India's first National park and positively the foremost enticing Park in India. The Park is placed within the foothills of the chain, within the thick of lush foliage and uneven mountains with variable heights, starting from concerning 1300 feet to almost 4000 feet. It's believed that the place, largely lying on the banks of Ramaganga watercourse, has prospered an ancient civilization.The prime magnetism of tourists and wild life enthusiasts to the present Park is that the majestic read of Tiger with all its wildness, this park is a natural surroundings of the rare species of Tigers that face extinction. The headquarters of Project Tiger, Ramnagar could be a sensible place to remain.
Places to stay near
Jim Corbett National Park
Reviews of
Jim Corbett National Park
•
59
Attractions near
Jim Corbett National Park