The decade-long old legacy, when served with childlike bliss, brings you to the exhibit of the countries rail heritage. An establishment that has been serving as a prominent tourism magnet, in Tamil Nadu, since 2002. A treasury for those seeking historical knowledge on Indian locomotives.
The Chennai Rail Museum opened its gates for tourism in 2002, in the furnishing division of the Integral Coach Factory (IFC) near Perambur. Spread out in 6.25 acres of land enriched with technical and heritage exhibits, with a wide collection of the steam engines and vintage coaches, dating back to more than a century ago.
A journey of historical experience on a toy train, with the flavour of Indian cuisine. So join me and get ready when the whistle blows for this joy ride is about to begin.
A whole lot of laughter and innocence started my journey when a little boy waved a green flag for the beginning of my journey giving it the just the right start.
The entrance is a sight to behold with the colorful railroad gates covered in yellow, red and black with the rust of history around the edges. Until now, I have tagged you along on all my train journey, so today let's take a look at the journey of trains and where it, all started.
Me with other fellow travellers and explorers waiting at the Chennai Rail Museum ticket counter, withholding the excitement for the view once we enter.
I got my ticket for 50 rupees which is the ticket price for adults, for children if I had any it would be 25 rupees. I don't have children, but I do have a camera for which I paid 100 rupees, that is a little more expensive than taking children along ( just for laughs).
The museum is open from Tuesday to Friday from 9:30 am to 5:30 pm, the place stays open until 8:00 pm on Saturday and Sunday, Monday is a holiday for the museum staff as it's closed and that is a beautiful concept.
Chennai Express Train restaurant
A unique collection of Indian locomotives which reflect both art and technology of our glorious past. Indoors there is a display section that exhibits rare photographs, artefacts and tickets.
Whereas, outdoor exhibition flaunts the vintage coaches of Nilgiri, steam engines, tender for storing coal, with 40 different models of the train, the reminiscence from the British era.
If you call yourself a rail fan or train buff then this is your "STOP" my friend.
My Toy train ride is here, yes you heard it right it's a toy train ride that comes included with the price of museum's ticket.
The toy ride moves around the museum with live demonstration of Operation of hand Brake in Nilgiri Mountain Railway coach, lifting and lowering of wheel set on Hand Operated crane, semaphore arm signal at work and everything around trains in the museum is explored on this ride.
After a long day of feasting on knowledge and joy, it's time for "CHENNAI EXPRESS", the restaurant that opened in 2018, attracting people who love the combination of spices in royal ambiance with a environment, which is cold with ac and warm with cosy furnishing in contrast to 37°c outside.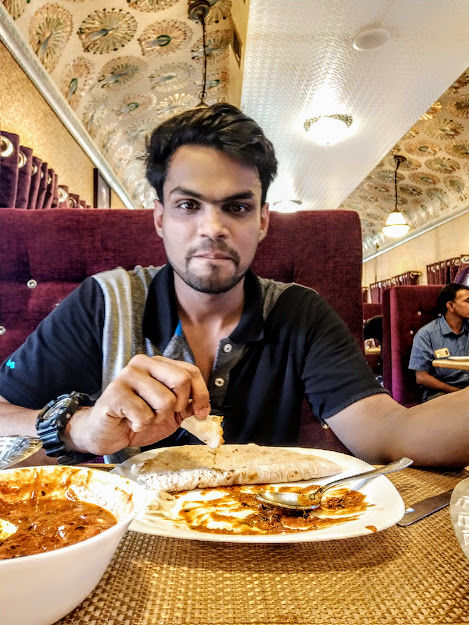 As I enjoy my food planning for dessert, I couldn't withhold myself from looking around the restaurant; a resemblance of train of yesterday with comfort of today.
After a hearty meal of paneer and chappati, here comes my butterscotch chocolate ice cream for a sweet end to this journey, with a promise to come back soon with more. Until then keep following 200JOURNEYS.