If you have grown up watching Bollywood films, you will relate to me if I say the town of Ooty is immensely famous in most romantic movies.
All known as "Udhagamandalam", Ooty is commonly referred to as the "Switzerland of India".
Snuggled in the Nilgiri district of Tamil Nadu, the city is known for its weather, tea plantations surrounded by misty hills, mesmerising lakes, splendorous gardens and old British-style bungalows.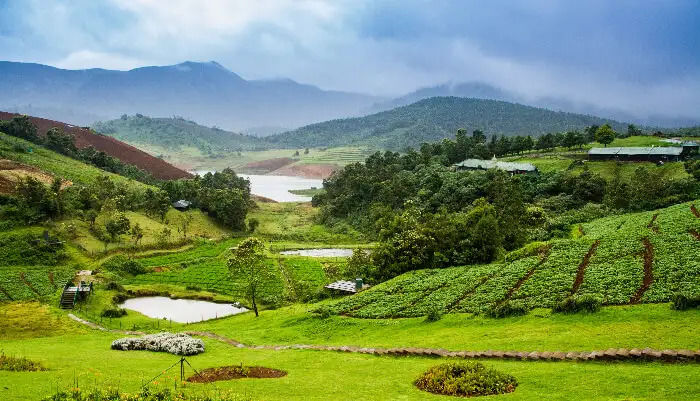 While you are here, you simply cannot miss the Toy Train ride from Mettupalayam to Ooty via Connoor. It is the only daily operating meter-gauge railway in South India, providing you with hypnotising views of the Nilgiris.
Here is everything you need to know about riding on the Ooty Toy Train.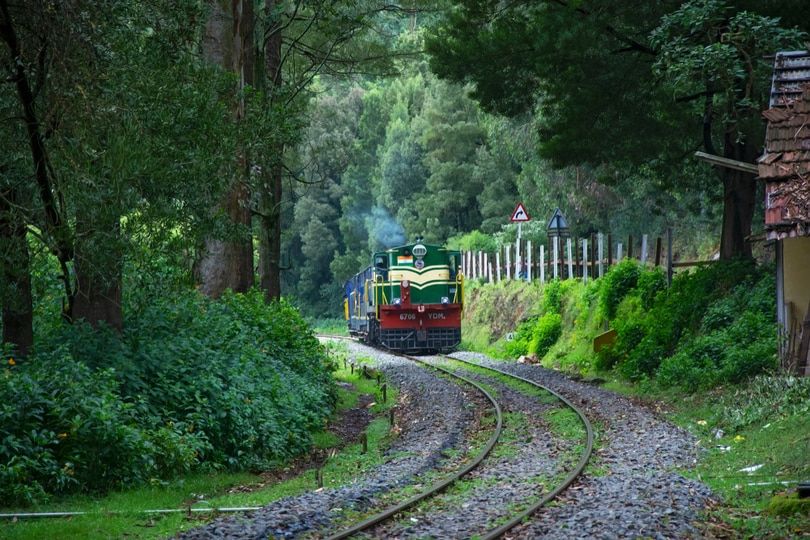 Ooty toy train:
Painted in blue and cream colour, with wooden chairs or cushion seats and oil-painted walls, the Ooty toy train ride will transport you back in time.
The ride will mesmerise you with the views of high Nilgiri trees, lush green tea estates, beautiful bridges on which the train chugs and tunnels where darkness consumes you.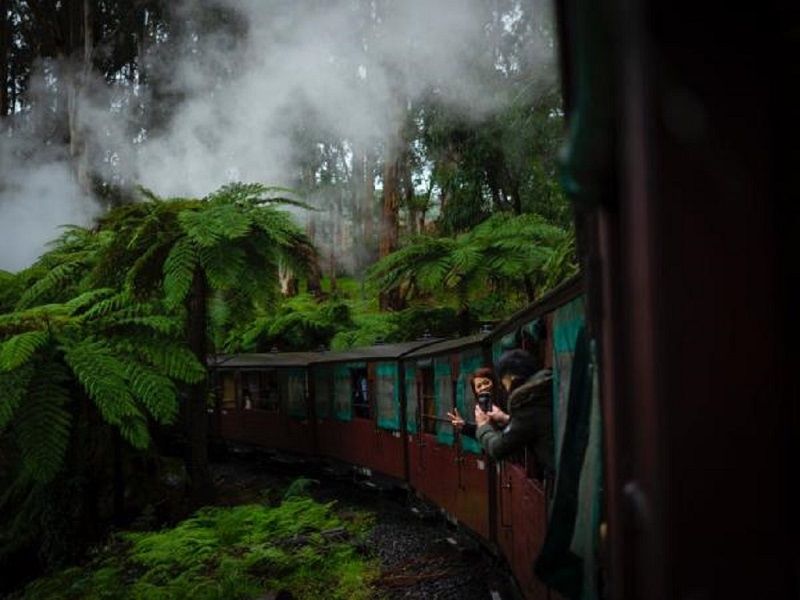 How to reach the station in Mettupalayam?
Coimbatore is the closest city at a distance of 35 kms with an airport and takes about 1 hour 20 minutes by road. Frequent train and bus services are available between the cities starting from around 5 am.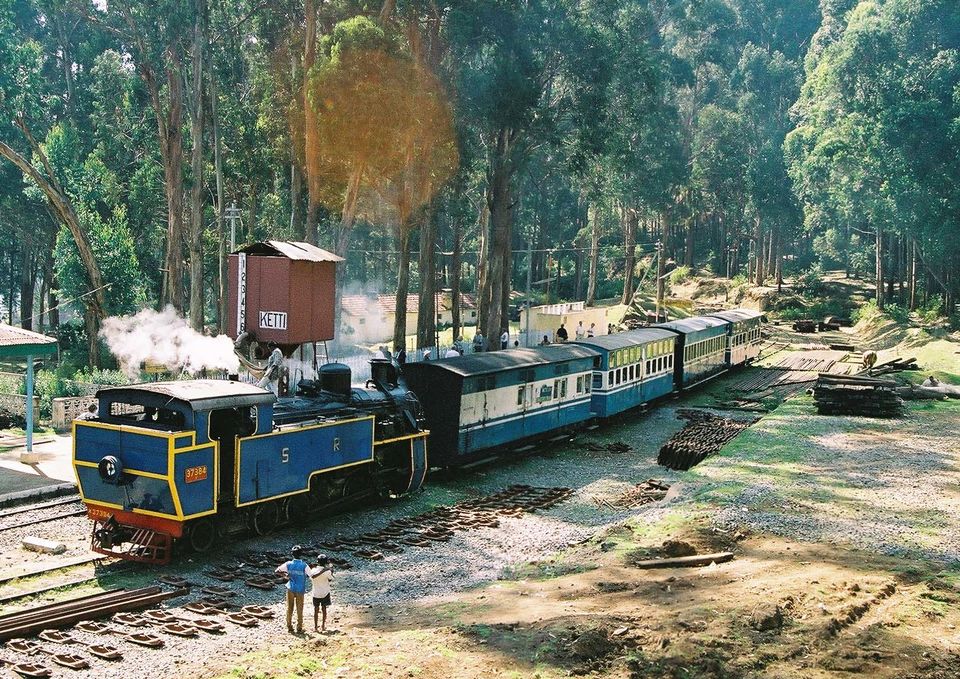 How to reach the station in Coonoor?
The nearest airport from Coonoor is Coimbatore around 100 kilometers away. Coonoor is very well connected via road through NH 67 . Frequent buses and taxis are also available.
Route details and time taken for the journey?
The entire journey of 46 kms in these scenic route takes approximately 4 and half hours from Mettupalayam to Ooty and 3 and half hours vice versa. You can also take a ride from Coonoor to Ooty and vice versa which will take approximately 1 hour 10 minutes.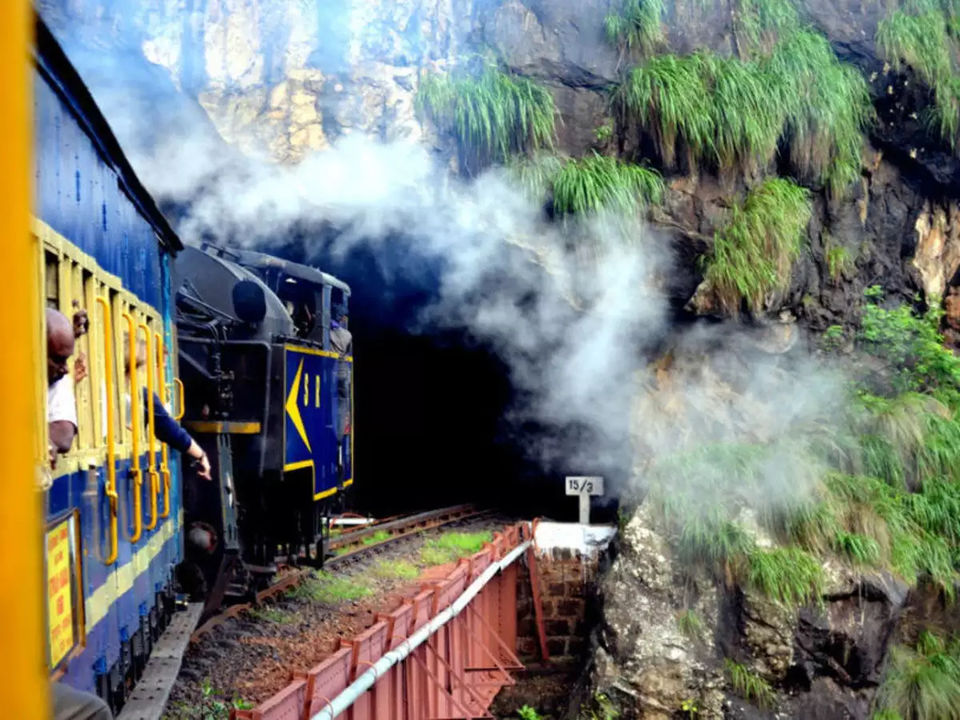 What are the train timings?
There are multiple toy trains from Ooty to Coonoor & Mettupalayam and vice versa. As per Nilgiri train time table, the first toy train from Mettupalayam leaves at 7.10 am and reaches Ooty at 11.55 am.
There are a total of 4 trains running in this route. 1 from Mettupalayam and 3 from Connor to Ooty and vice versa.
You can find the entire train schedule here.
From Mettupalayam to Ooty

From Ooty to Mettupalayam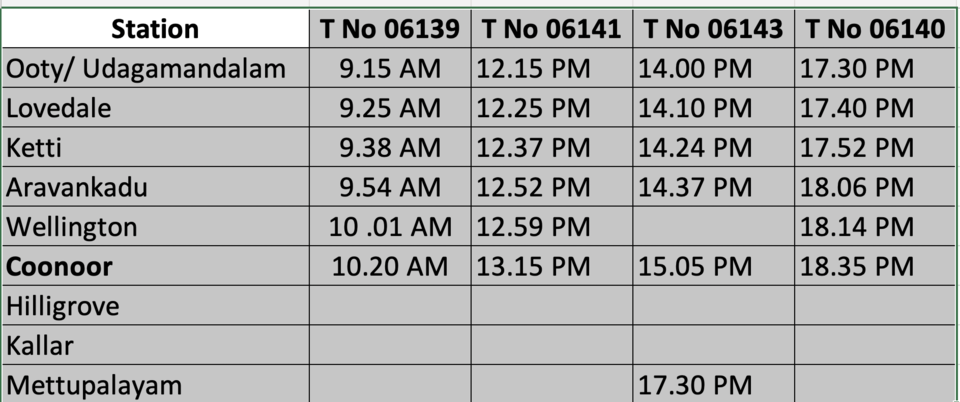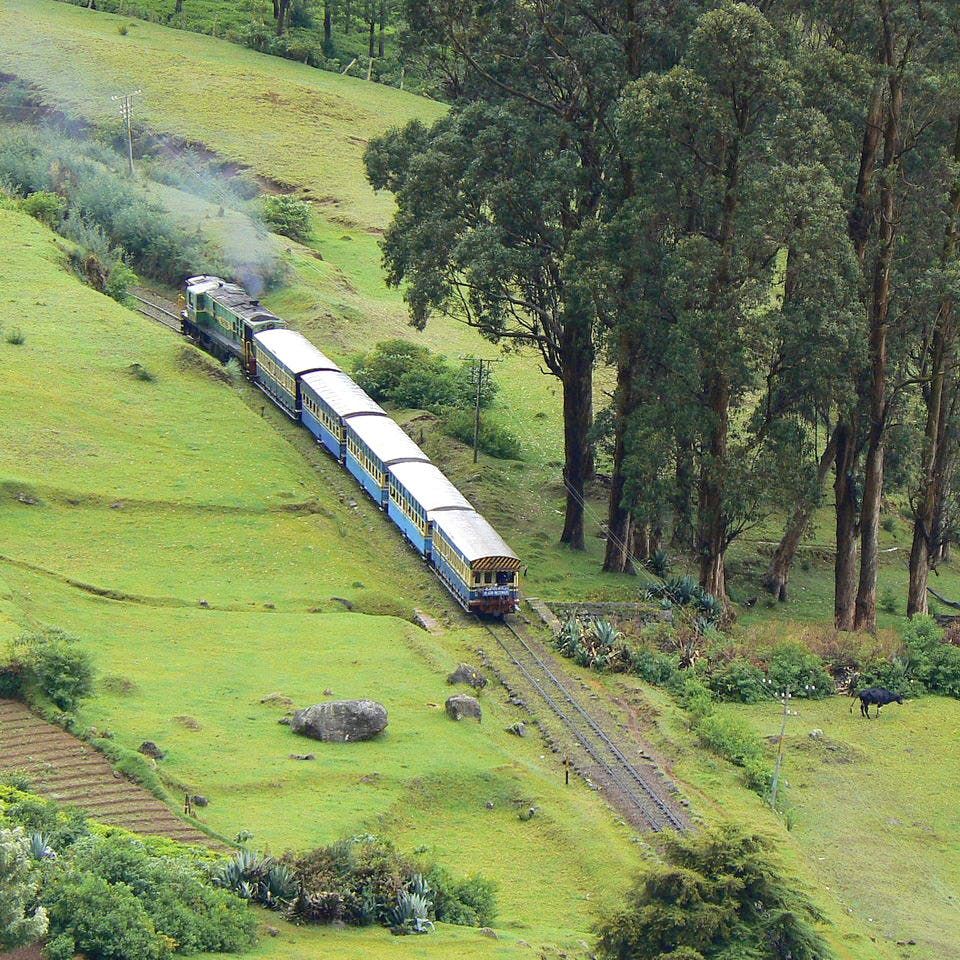 Price for the tickets:
You can decide to travel in either of the three category first class, second class or unreserve. The prices vary between Rs. 25/- in the second class to Rs. 470/- in the first class for adults. The unreserved ticket is available at Rs.15/- however, this get's sold out in minutes.
You can also charter the whole train for special occasion! How cool is that?
Prices for charter train is between Rs. 86,100/- to Rs. 4,93,500/-
IRCTC also runs special trains in these routes and the fares may vary.
How to book the tickets?
The Toy train tickets are available online at the IRCTC website here. Since there is a demand among travellers for this train ride, we would recommend booking 2-3 months in advance. However, if you have made some last-minute plans- worry not- Reach the station an hour and a half early and wait in the queue to get you a ticket to the journey of your lifetime!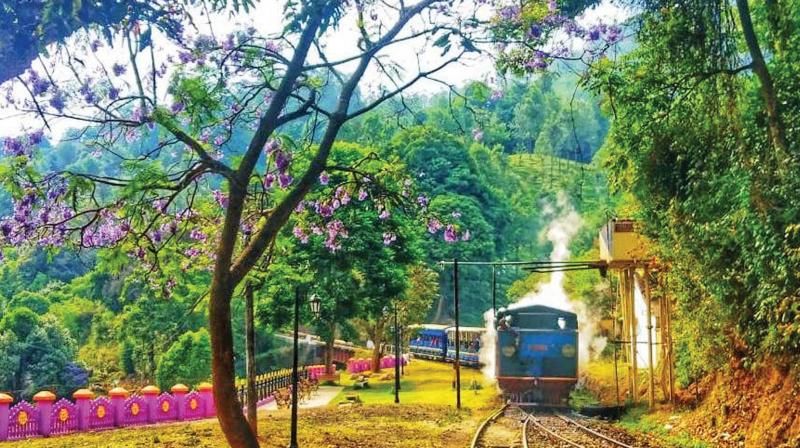 Few facts about the Ooty toy train you must know.
🚆 The toy train passes through 16 tunnels, 250 bridges and 208 curves.
🚆The trains runs at an average speed of just 10.4km/ hour and is regarded as the slowest train in the country.
🚆Ooty toy train or the Nilgiri Mountain Railway has been designated as a UNESCO Heritage site in the year 2005.
🚆 There are just 16 seats available in first class and 214 in the second sitting.
🚆Nilgiri Mountain Railway has the steepest track in Asia with a maximum gradient of 8.33%.
🚆The train is powered by steam locomotives between Mettupalayam and Coonoor, it uses 4,000 liters of water every five kilometers.
🚆At Coonoor the oil-furnace-powered steam locomotive is detached and replaced by a diesel engine for the last leg of the journey from Coonoor to Ooty.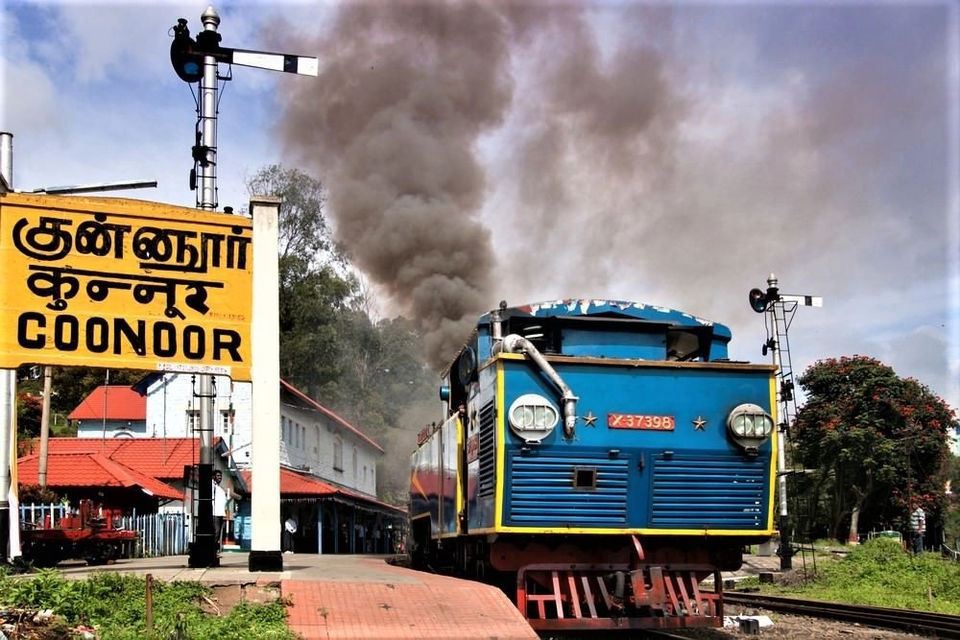 A little history of India's heritage train:
The construction of this heritage train was started by the British in the year 1854. and took almost 40 years to become a reality.
In 1899- the Ooty toy train route was only between Coonoor and Mettupalayam. Initially operated by the Madras Railway Company, it was purchased by the South Indian Railway Company later.
Following the increasing popularity among travellers, in the year 1908, the route was extended to Ooty.
It is now under the authority of Nilgiri Mountain Railway and is the highest elevated and the steepest railway line in Southern India.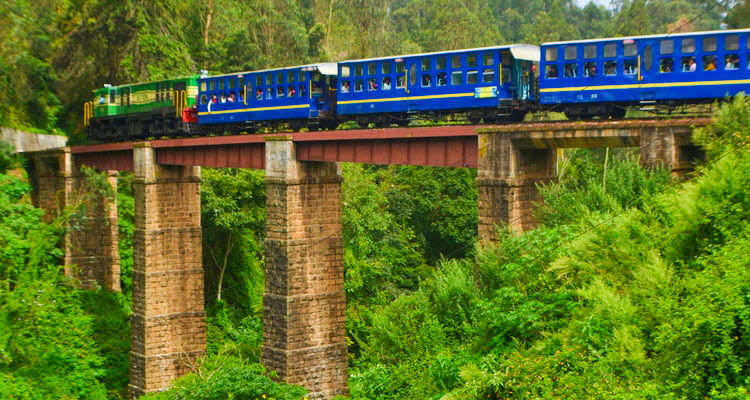 Why it must be in your bucket list?
If you love history and want to go back to the past, this beautiful train ride weaving amongst the green forests, sharp bends, and mesmerising tunnels with views to die for amidst mist is a must on your bucket list.
While you are in Ooty, check out everything you need to know here.
While you are there do not forget to check out your resort options early here.
Exploring Coonoor? Do not worry. Here are 5 Touristy things to do in Coonoor
Ready to travel for free? Earn Credits and redeem them on Tripoto's weekend getaways, hotel stays and vacation packages!
Follow me on Instagram and explore this world through my eyes!