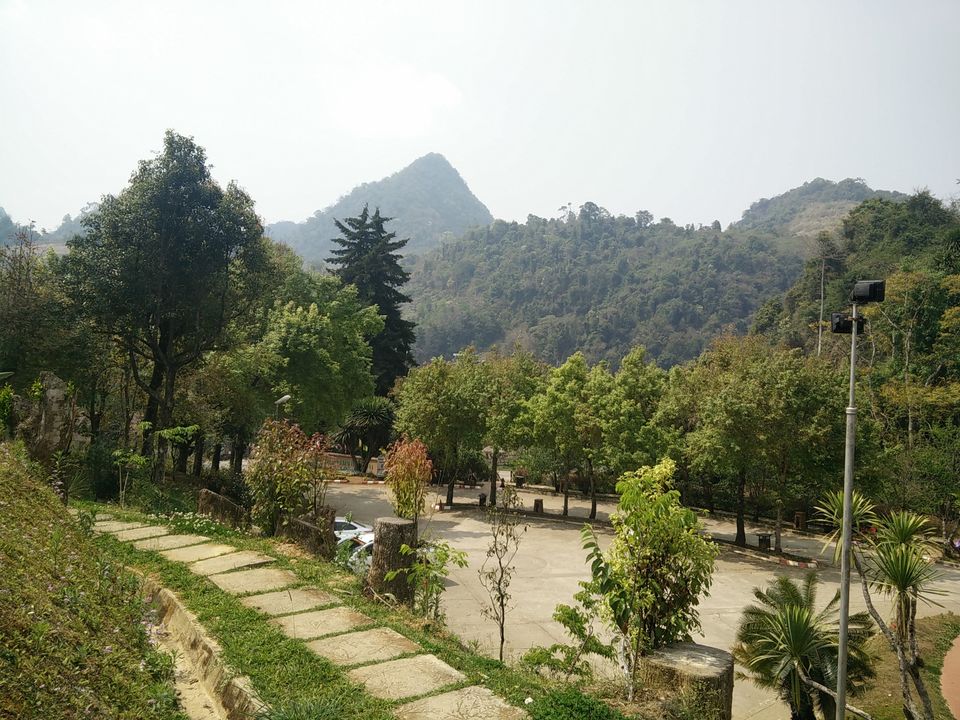 New Years have some magical thing about them, and for me, the most magical New Year was 2016 when I promised myself to achieve uninhibited freedom and confidence.
So a lazy January afternoon got me thinking what if I go to a foreign country alone, without anyone to watch me over, just on my own.. doing my thaanng!
Sounded marvellous! But that excitement also converted into trepidation very soon.
Married Indian woman traveling solo! And at that time, even the girl-travel-solo wasn't a heavily publicised story.
Seems a bit outrageous for the standards our country upholds. Convincing myself wasn't enough; next in line were my husband, in-laws and parents (in that particular order). I realised the power & authority an Indian husband holds, when both the set of parents, after gasping at what they heard, succumbed by saying- do what your husband says.
And he said- Ja Simran Ja, Jee le apni Zindagi! in one breath and the moment I shared my heartfelt desire. Yes, lucky me! But majorly, just stubborn :)
…And rest is history. It was the start of a habit, an unending desire to see the world, with or without anyone to accompany me.
So how did I decide upon my place of exploration? Was Chiang Mai ( the city of my dreams that I always wanted to see? Nope, of course not.
I was just so worried about the trip expenses that I simply did a search on SkyScanner for the cheapest roundtrip fares from Mumbai to Anywhere for a week in February, and quite obviously there were results like Sri Lanka, Bangkok, Dubai, etc.
Step two was the elimination method. I went through the results and shortlisted options from each country. Ruled out Sri Lanka & UAE since I was a little sceptical of these countries for my first trip alone. Ruled out Bangkok since it was my first trip abroad, and that too with a big boisterous group of 9 girls!
The second cheapest option in Thailand was an enigmatic name- Chiang Mai. So I started googling, reading and YouTubing about it, and Bingo! I loved what I saw!
It was actually a backpacker's paradise with a hippy laid back vibe with an expansive coffee culture. What else? Safe for women! I must've gone through minimum 50 blogposts reading about experiences of solo women travellers in Chiang Mai and did not come across even a single damaging review.
Fully convinced with my choice of destination, I started listing down all the must-sees and unique experiences in CM and put them together into a 5-day itinerary.
Day 1
i. Wat Phra Singh- CM, the capital of the ancient Lanna kingdom and hence the cultural capital of Thailand, has over 300 temples. Visit this temple for the typical Lanna art and architecture in a calm and quiet atmosphere. There is a VERY realistic wax statue of a monk inside (that I came to know only after coming back from the trip!), that'll have you wondering how a human being manages to be SO still even while meditating.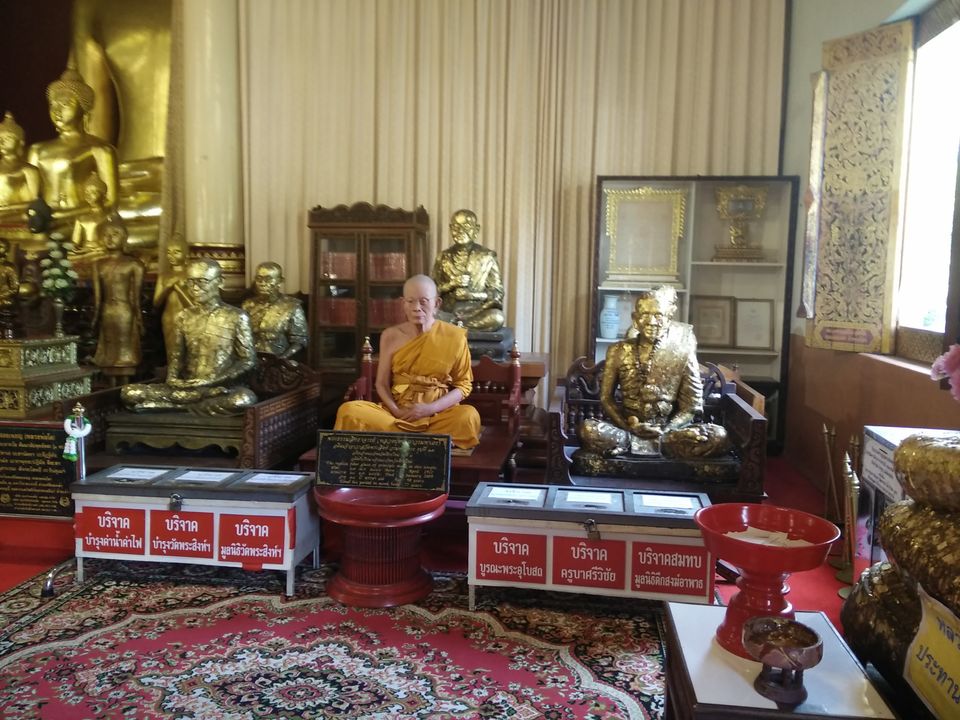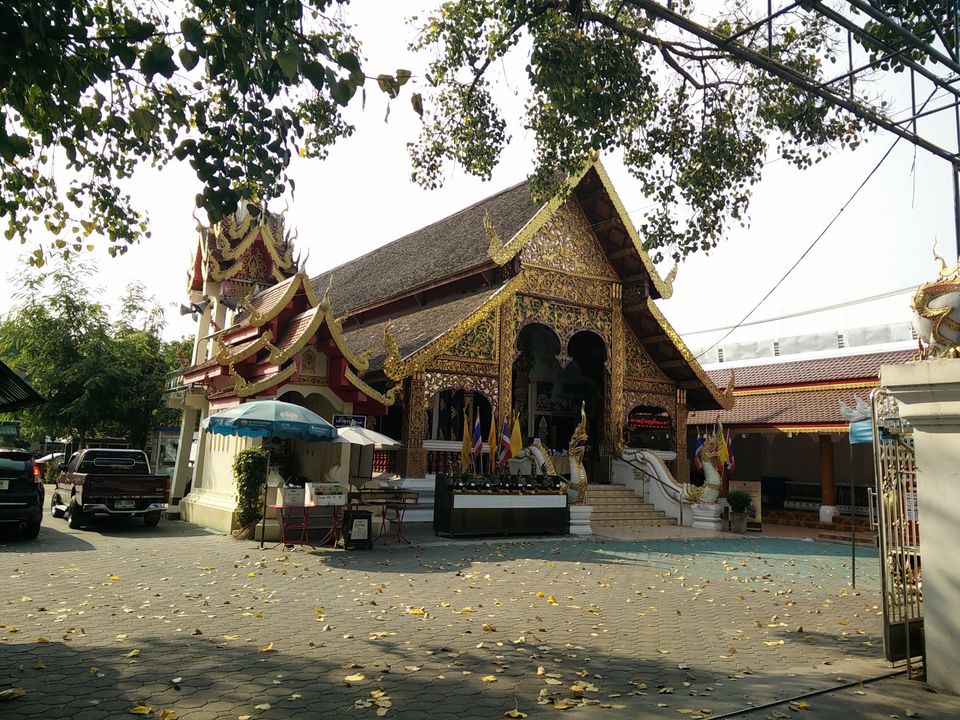 ii. Got a Thai Massage- Not surprisingly, getting a full body relaxing massage at a luxurious spa was on the top of my bucket list. I chose the Oasis Spa which was minutes away from my hotel and I'm so glad I chose my first day to go for the massage. It rejuvenated every inch of my body and it is safe to say I have never had a better massage in my life! There are also a number of masseuses along the night markets streets; please never skip even a single day of your trip without getting a massage.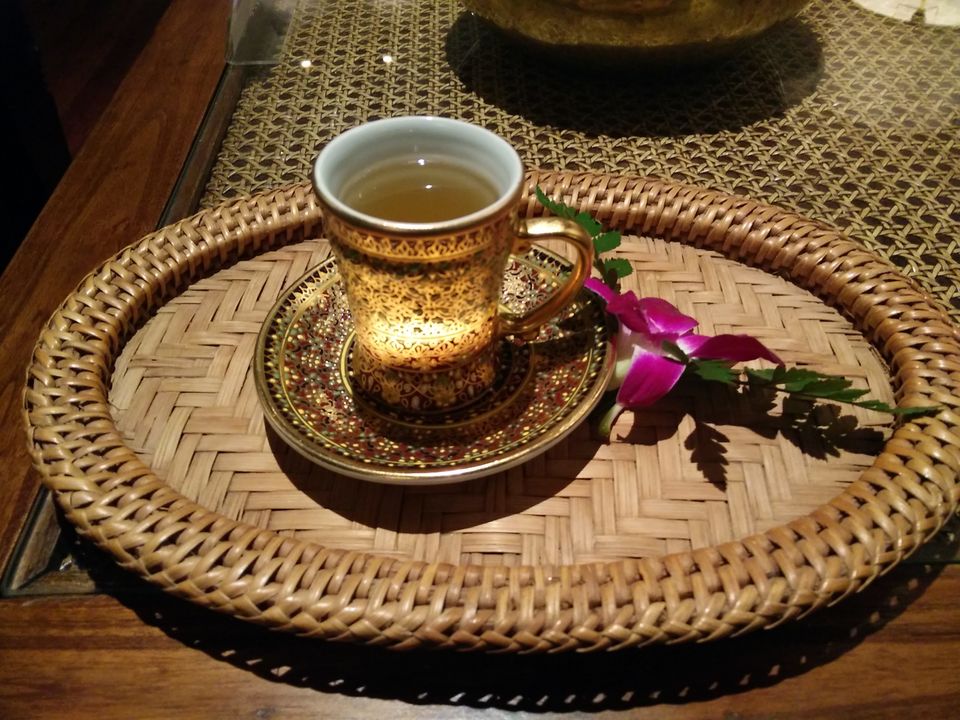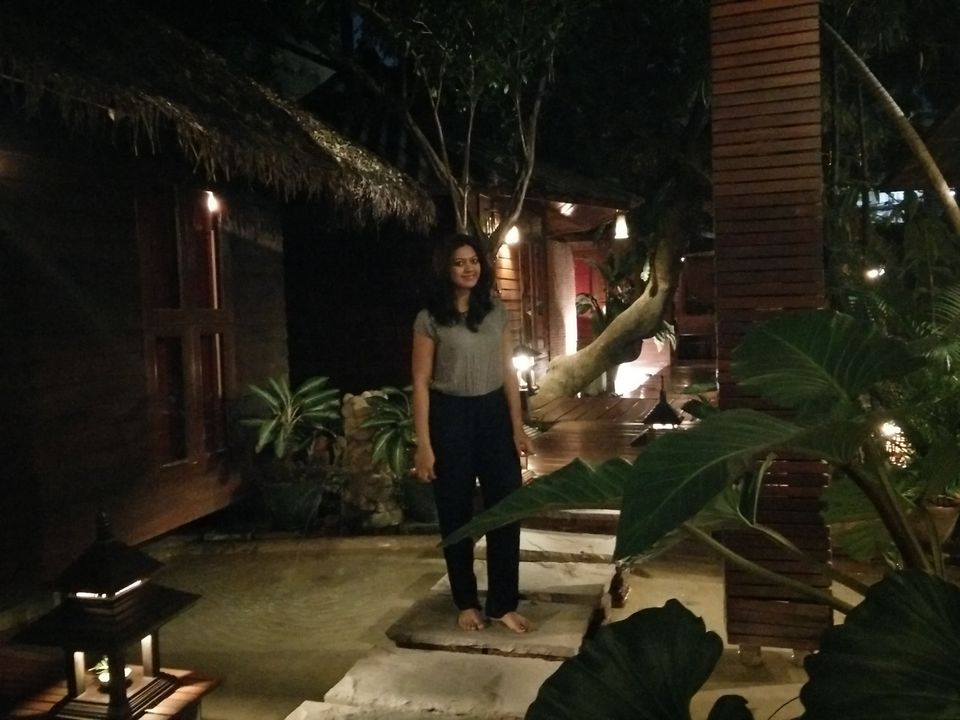 iii. Got a Haircut- Yes, go to a salon in a foreign land and get yourself a haircut! With absolutely no intention to strike this off my bucket list (coz this wasn't on my list), I decided to pop in to a small salon and trim those tresses. And what an experience! The barber was a guy with a small poodle who kept on talking to him in Thai; I'm sure to say it was an amusing 45 min session.
Day 2
i. Wat Doi Suthep (Open 6 am–6 pm)- The temple is 15 kilometres from the city of Chiang Mai. I took a tour from Travel Hub which costed me ฿550.00 THB. A mini bus picked me up from my hotel at 8:30 am and dropped me back by 1 pm. The drive from CM which is about 45 min is an uphill winding drive with a gorgeous view. To reach the temple, I climbed up 306 stairs which made me very nostalgic about my Vaishno Devi trip I took in childhood. The temple campus is ornate with many shrines and two terraces. The inner terrace has the huge golden chedi (shrine) which is also the main site of worship. The outer terrace has a look-out for a beautiful lush green mountainous view.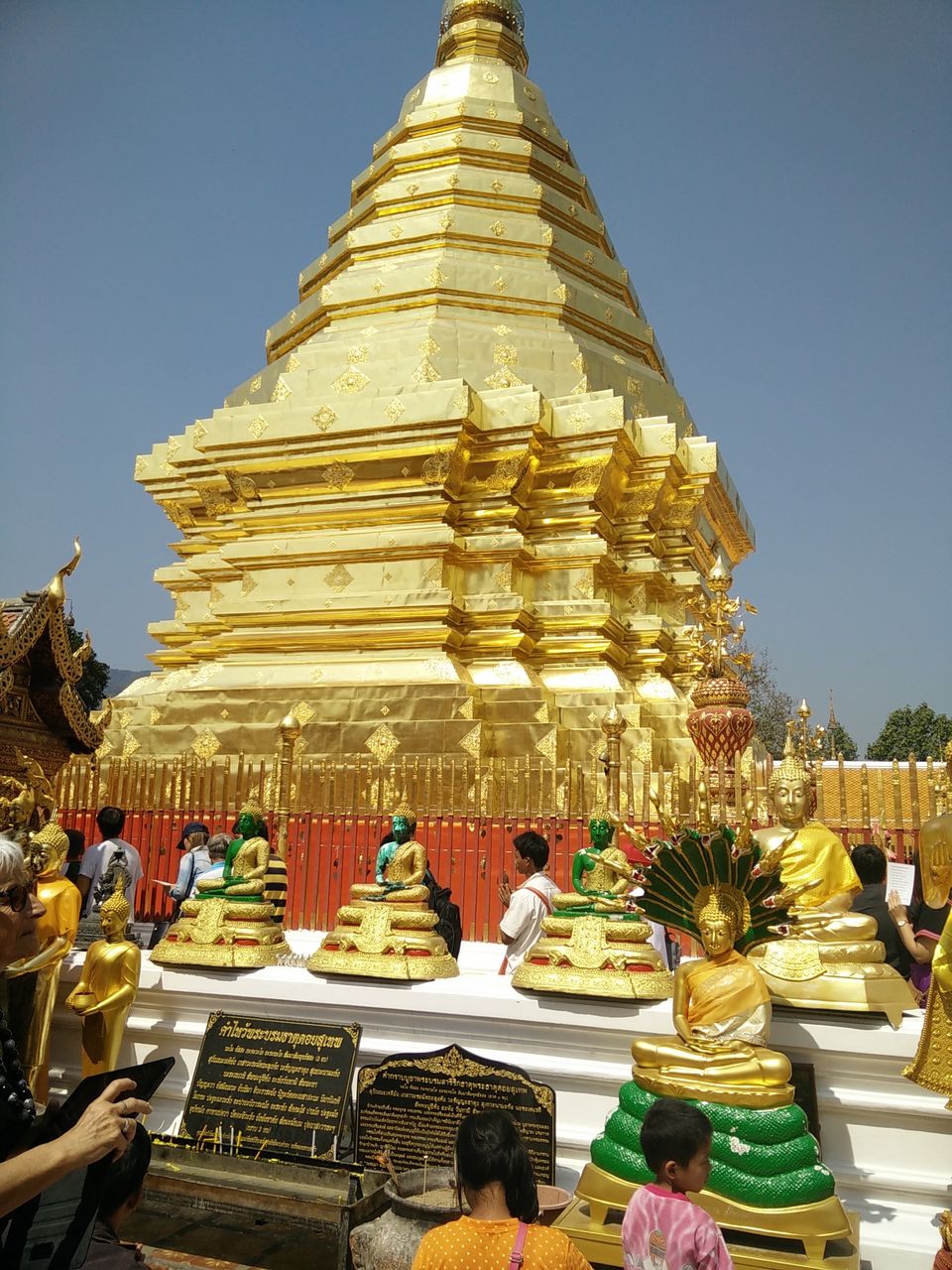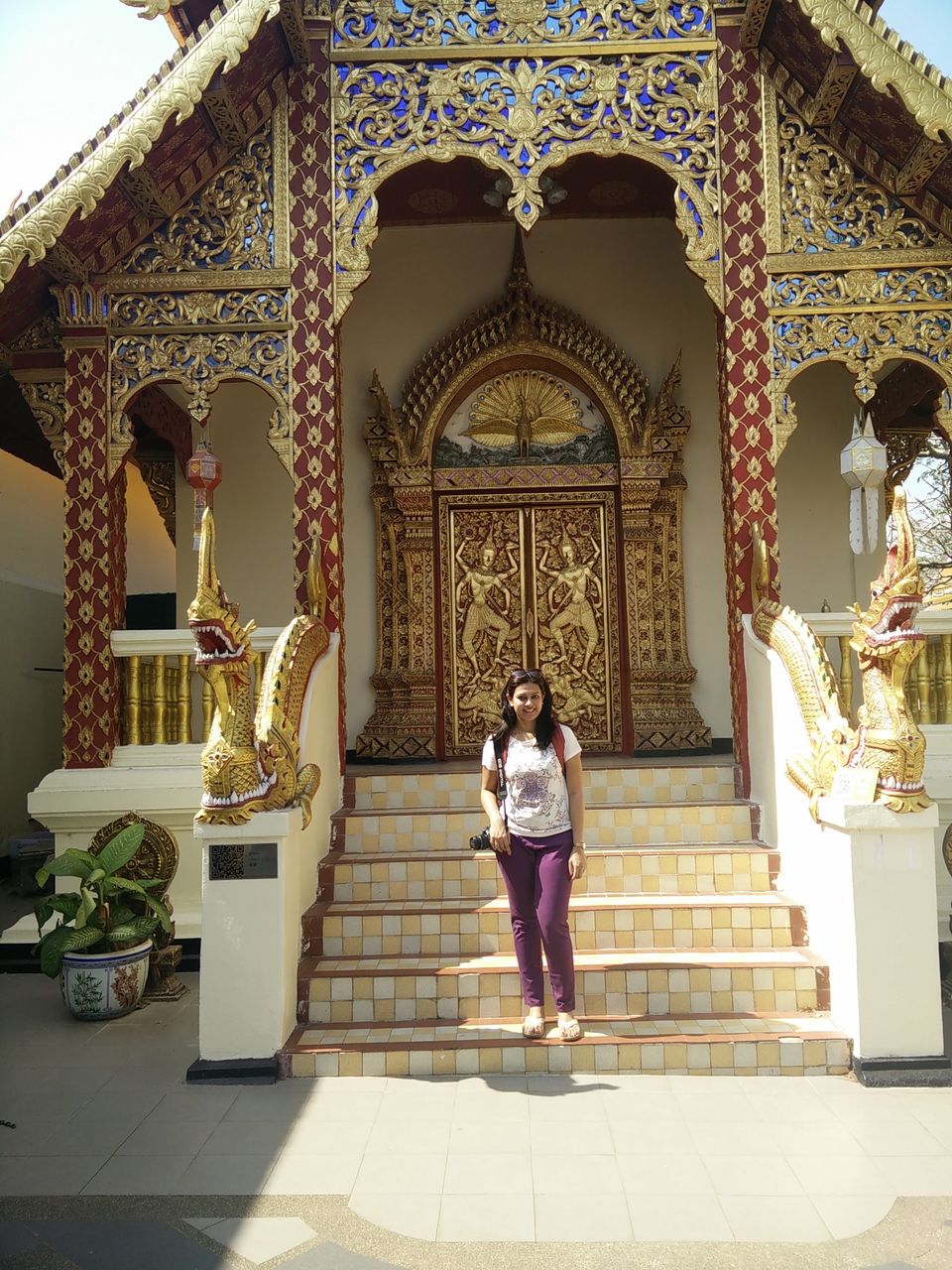 ii. Tribal Village- Before visiting the Doi Suthep temple, the tour covered the Hmong hill tribe village which was nothing but a long trail of handicrafts and textiles shops. Though it may not sound as exciting but surprisingly I loved my time (around an hour) strolling along the shops, chatting with the locals. You'll find everything very reasonably priced and will be spoilt for choice!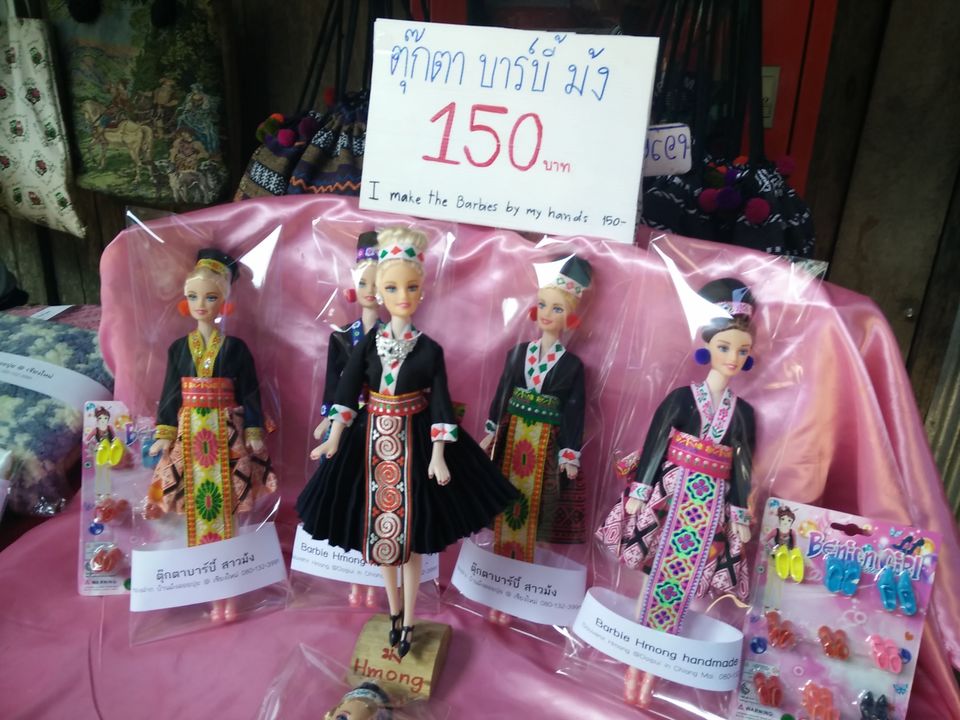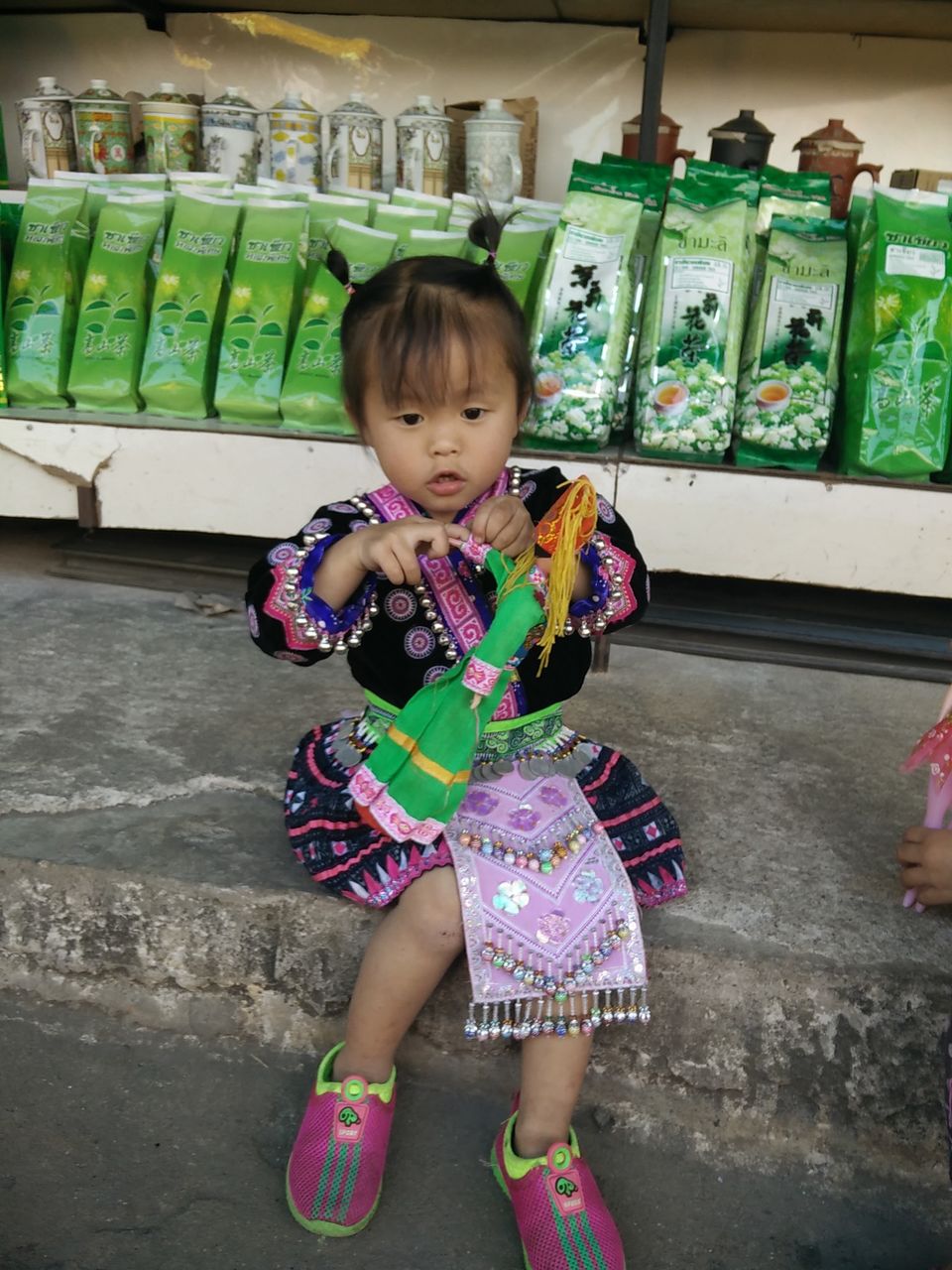 iii. Laze around in a Cafe- CM has a very hip vibe with a cool cafe culture; you can spend hours lazing in a cafe sipping on inexpensive but rich cappuccino with a snack on the side. There are multiple options for vegetarians and vegans, some of them are Nimman Social, Eat is Life, the Hideout etc. Cafes like Imm Aim Vegetarian & Bike Cafe, Akha Amman Cafe in La Fattoria (which will give you a cool co-working space vibe) and Graph Cafe are wise choices to spend a lazy afternoon.
Day 3
i. Cycled and Went to a Park- CM has dozens of green spaces where you can start or end your day. My BnB provided free cycles and I decided to borrow one and go to the nearest park. While I struggled initially to figure out cycling rules initially, I soon got a hang of it since there are separate bikers' lanes on the roads.
ii. Took a Cooking Class- So this one was a metamorphic experience for me. I used to HATE Thai food, honestly, for no good reason. I was just sceptical to try anything new from the Oriental cuisine. But I don't know what inspired me to sign up for a Thai cooking class, in Thailand! I signed up for Asia Scenic Classes for a half day/ 4 hour session (800 Baht), they had me picked from my hotel at 8:30 am and first took us (we were a group of 8-10 people) to a local spice and grocery market. The group had people from UK, China, Australia & France and I ended up chatting quite a bit with 2 girls from China, who knew a little broken English. Since I was the only vegetarian in the group, special arrangements were made to substitute non-veg ingredients with the veg ones. We ended up making papaya salad, Pad Thai, Massaman curry (along with the paste by grinding all the spices), mango sticky rice and spring rolls. After a couple of hours of cooking, we all sat down at the table and ate what we made, over interesting stories from their respective countries. Everything was so appetising and delicious that it made me fall in love with Thai food. That's quite a feat!
iii. Wat Chedi Luang – (Open 7am – 10pm) This temple will give you Bhojpur temple feels (fellow readers from MP, you'll get what I'm saying!). The sprawling temple premises house a collection of magnificent shrines and pagodas, one can easily spend an hour or so strolling around.
iv. Street Shopping/ Night Markets- Enough said on this one anyway! But besides loads of cute stuff you eye to buy, get your sketch made, it's fun and a great souvenir (and not at all narcissistic :D). And yeah, massage to soothe those tiring legs from walking miles!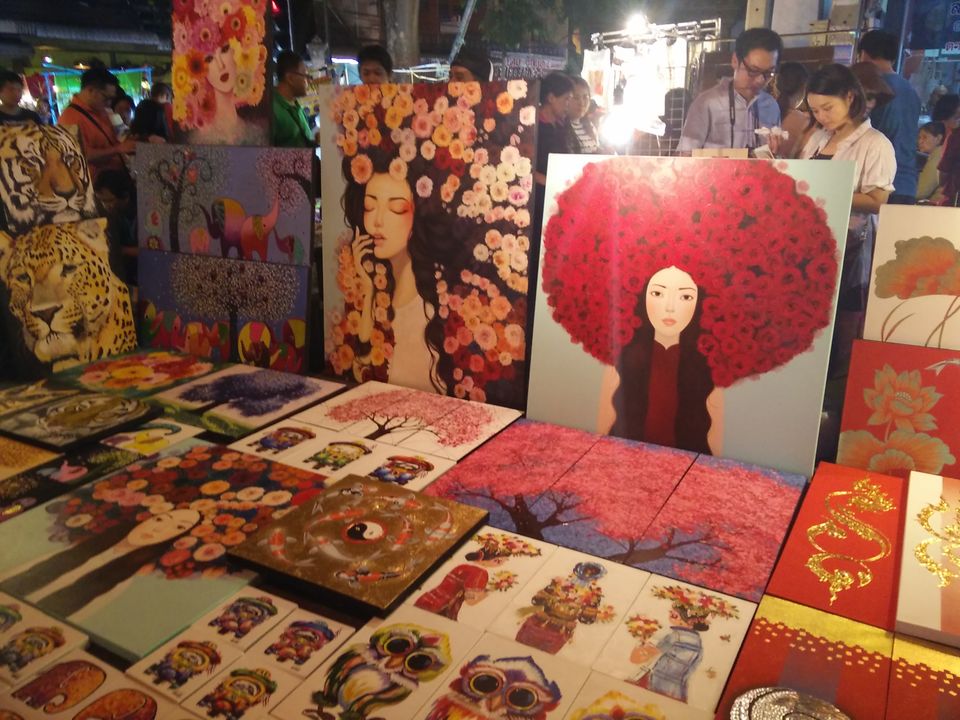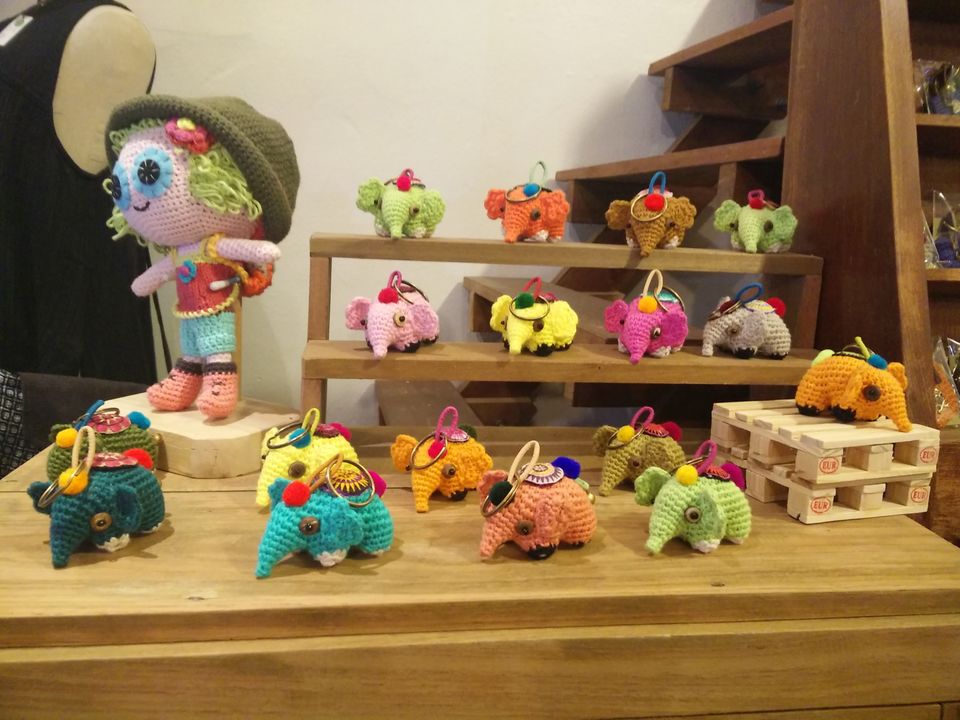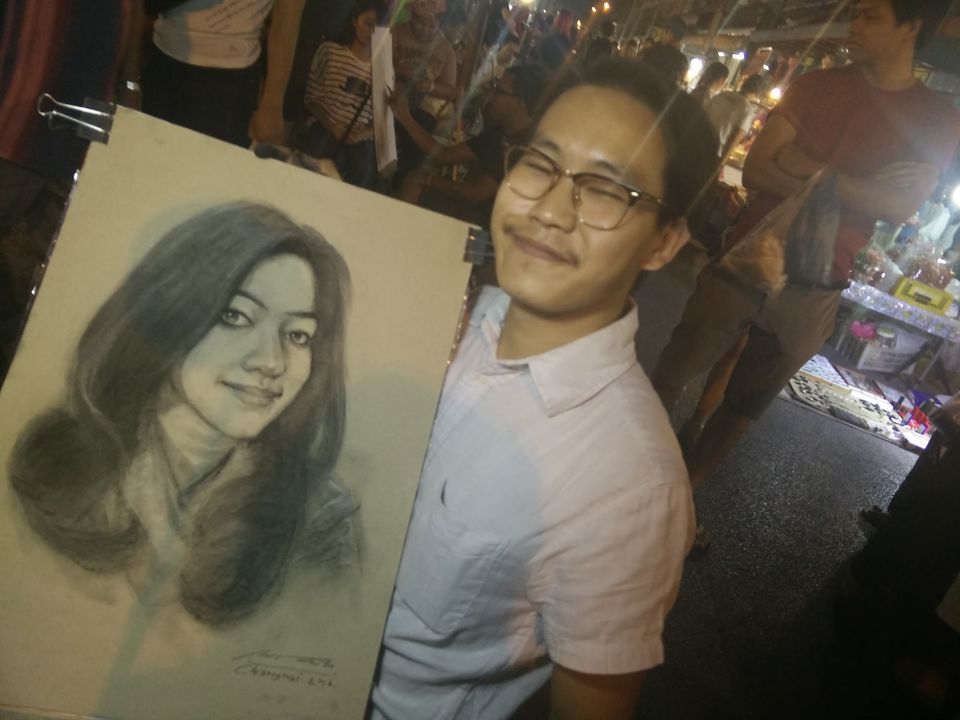 i. One-day trip to Doi An Khang- Ok, so this one hands-down tops my Adventures list. DAK is a mountain resort near the Burmese-Thai border. And it's not a cakewalk to reach there. You have to get to Chuang Phuak transport station first. From there depart to Fang district by bus or van. Get out of the bus or van at Hat Samran temple. At Hat samran temple there are songthaew taxis to go to Doi Ang Khang. The bus ticket that I got was completely in Thai and there was absolutely no way to know if I have boarded the right bus. Not even a single soul at the bus station and at the temple spoke English. Good that I had saved the name of the place in Thai on my phone which I was literally showing to everyone who could help me reach that place. Finally a good soul agreed to take me to the top & I was the only one in his songthaew. That 1 hour journey seemed endless & I had only faith and God with me. Once I reached Angkhang Nature Resort, I was treated to a whole cottage, all by myself. The food was really limited for vegetarians, but who was there for food? I spent my one day just grabbing my backpack and wandering around the place- the agricultural station, botanical gardens and the property premises. It was absolutely surreal to watch the sunset sipping coffee and wake up to foggy mornings. Words fail to describe this experience, really. All the hard work to reach here was worth it, and I'd go there again in a heartbeat.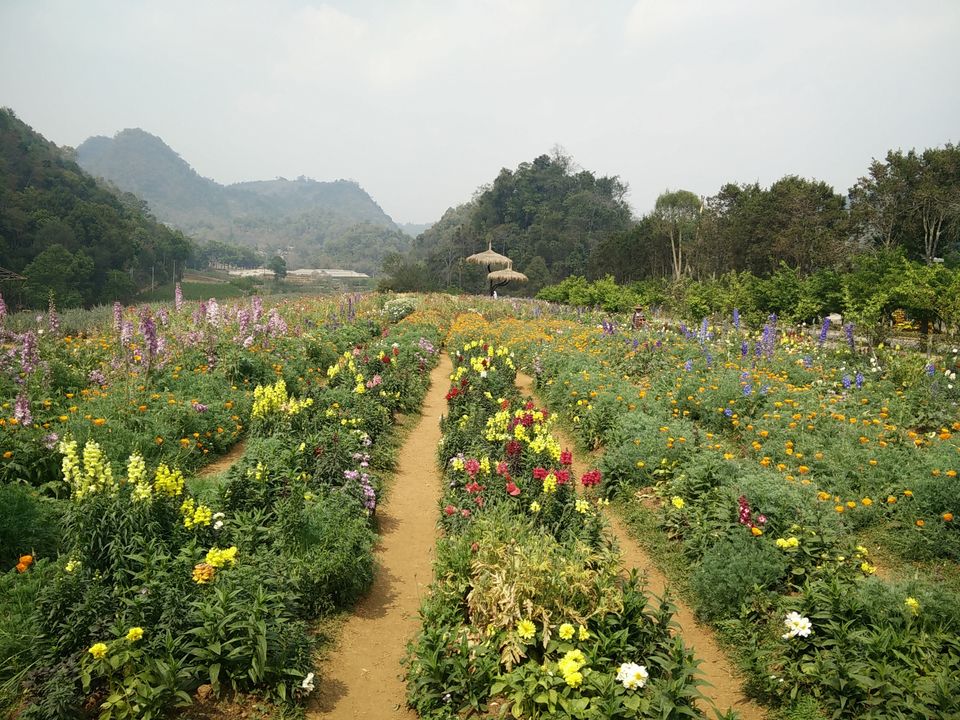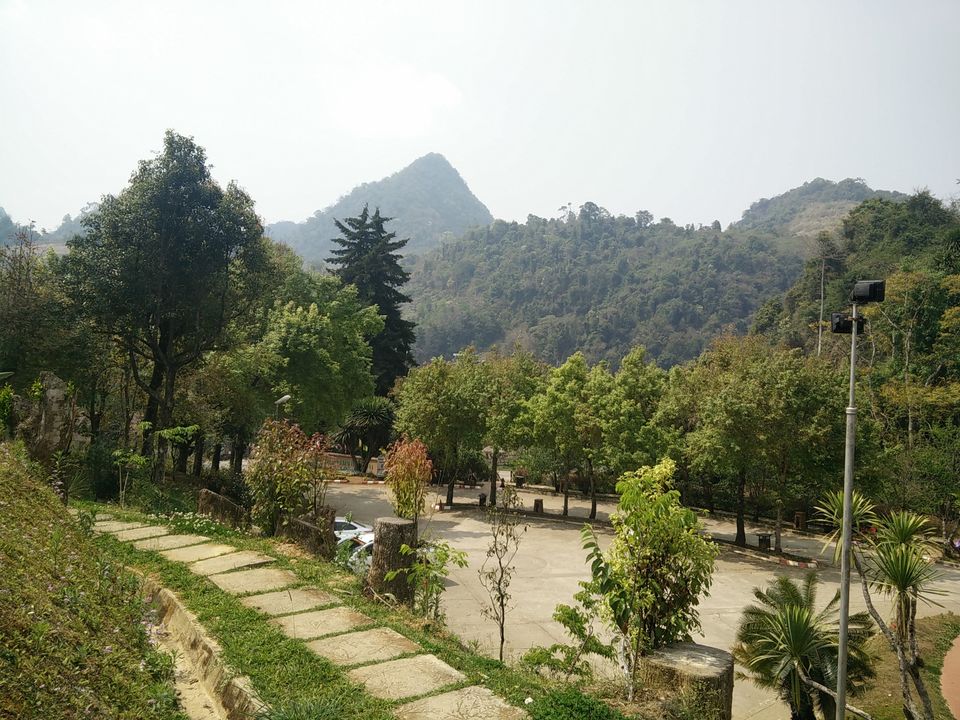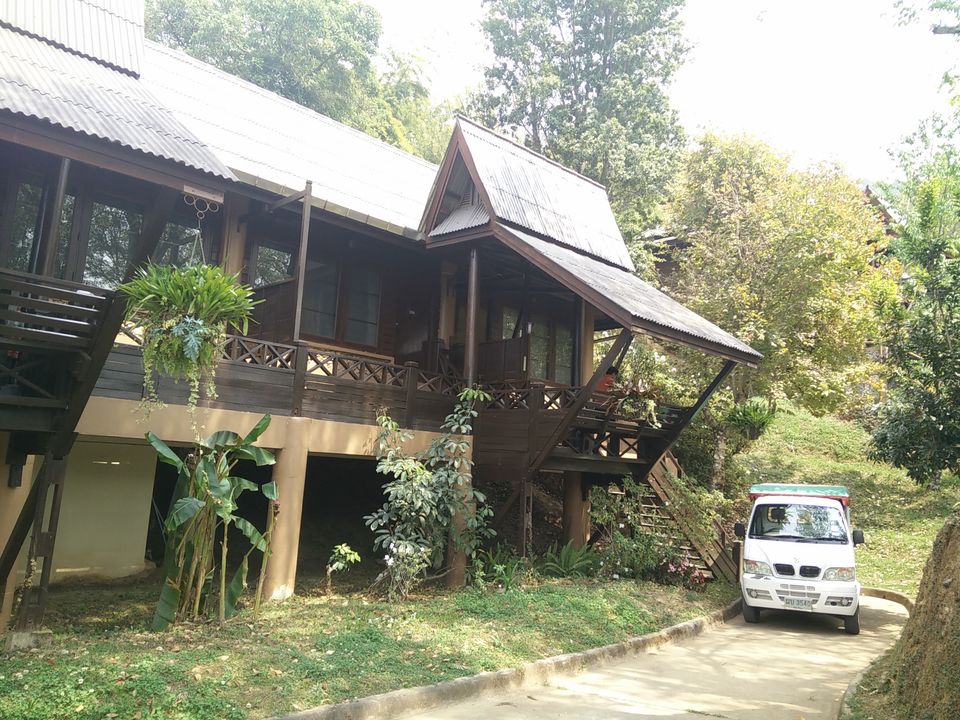 Day 5
i. Strolled along the cool neighbourhoods- The recipe for a perfect afternoon in CM is a nice cuppa coffee in a cafe and then strolling around the trendy areas like Nimmanhemin or a long lazy visit to the Artists' village- Baan Kaan Wat (open everyday from 11:00 a.m – 6:00 p.m). While Nimmanhemin is a trendy area with tons of boutiques, cafes, restaurants and shops, BKW is home to the creative and handicrafts scene of CM. There are live studios with artists creating stylish crafts scattered in a lush green spot, and you'll again have to think hard which items you'll skip buying. BKW is highly recommended for anyone even mildly interested in all things cute and who wish to see or do something unique on this trip.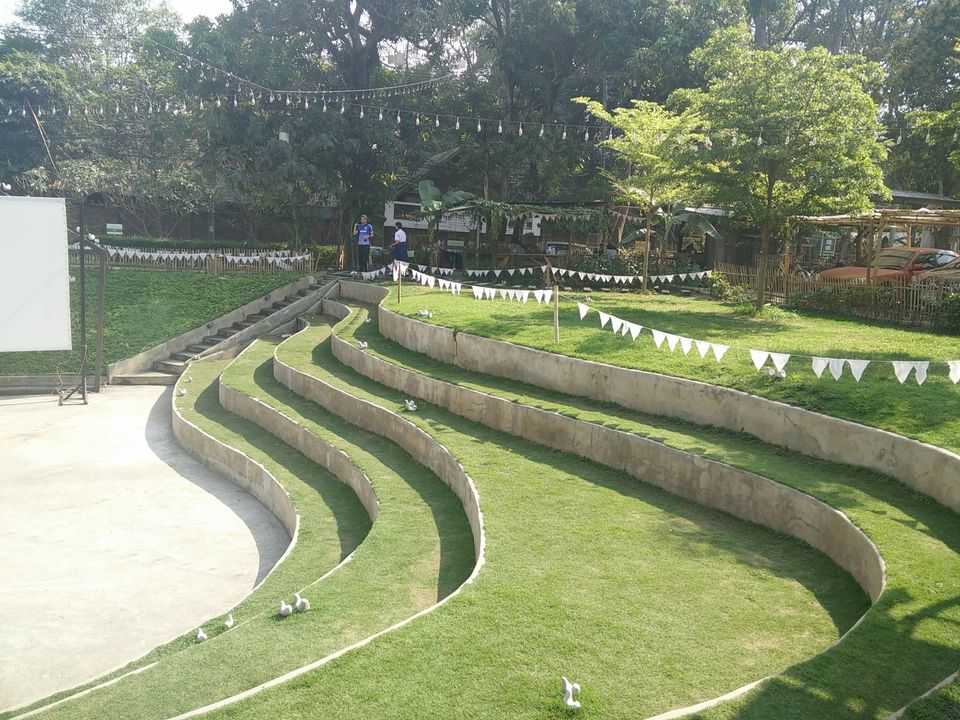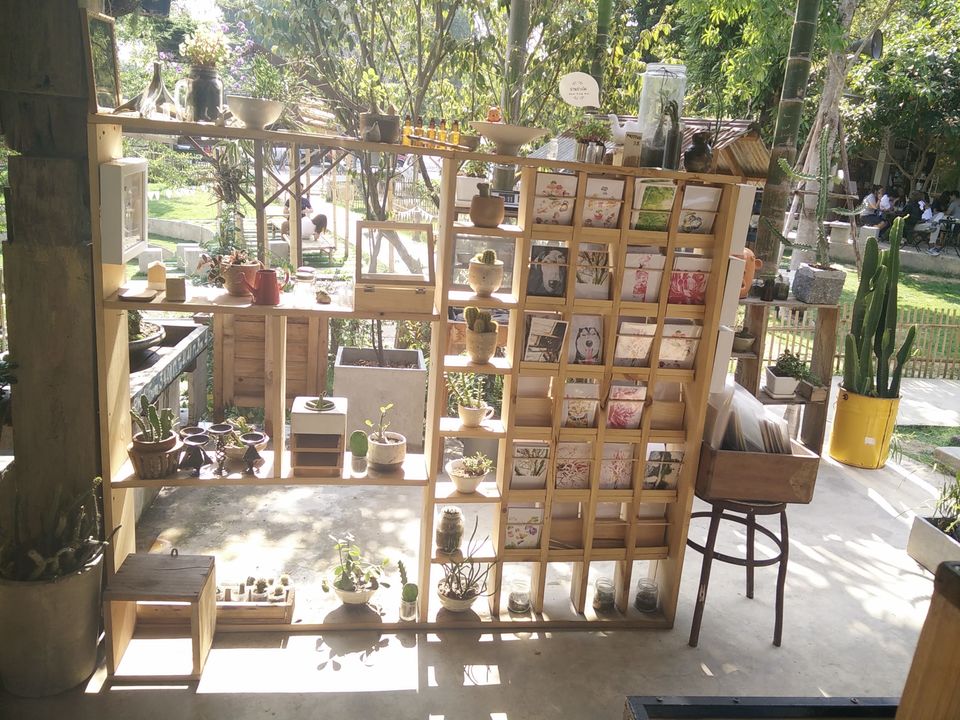 ii. Eat, Eat & Eat- I discovered my unadulterated love for mango here in CM with so many concoctions like mango & sticky rice, mango crepes, mango salad etc. Besides, my hatred towards Thai food almost magically turned into my all time fav cuisine! Thanks to the yummylicious curries, pad thais, and Khao sois, all appetising for a vegetarian like me.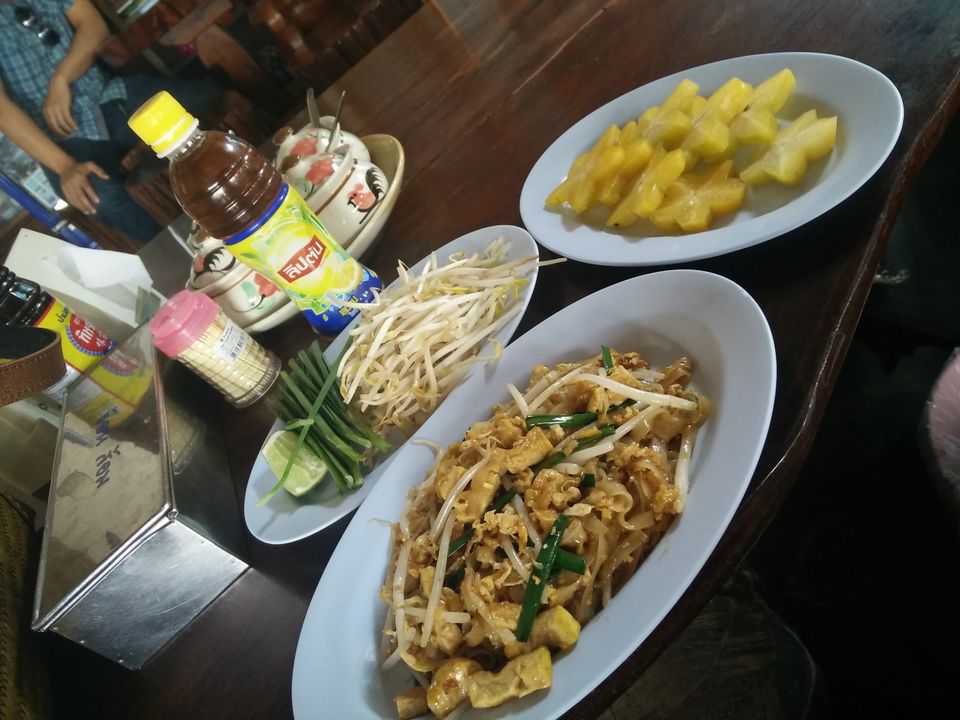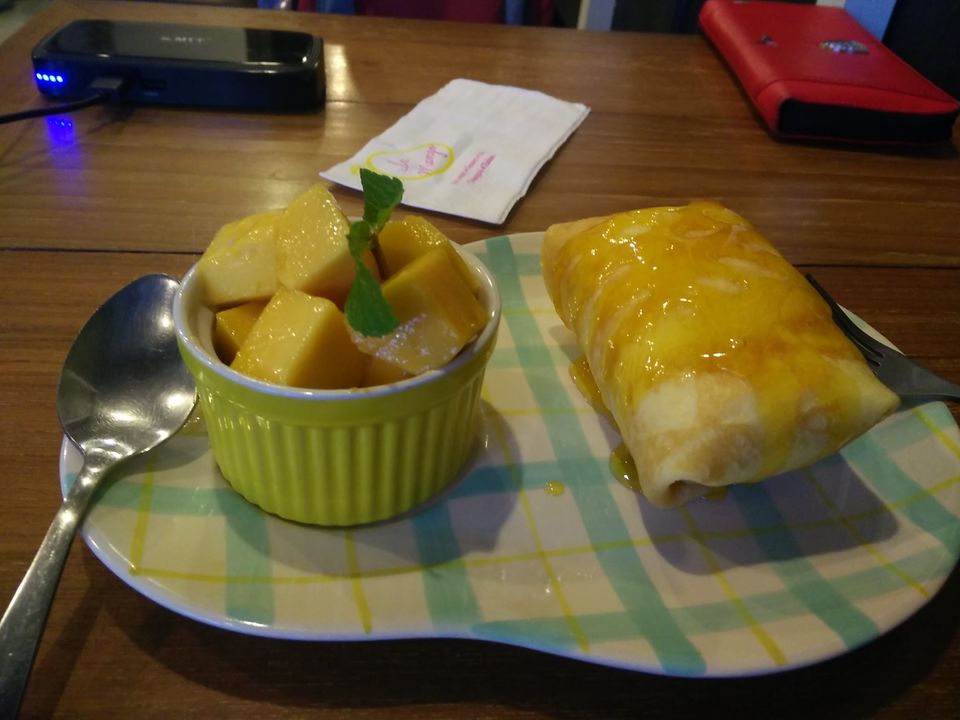 Safety: Ok, so let's be real. There ARE some dark alleys which will give you the chills when you walk alone, even at 7/8 pm. Make sure you have your GPS on and walk confidently. I was honestly scared like shit when I had to walk alone to my hotel through such lanes; I just had my eyes and ears open 500% and walked with long strides muttering God's name. But having said that, you don't have to rule out any destination because it has dark alleys, right? Just have some faith that world, by and large, is a good place to live in and it just takes some common sense and courage to avoid a mishap. Save the local police station number in your phone and keep your BnB owner/ hotel staff informed about your whereabouts. Needless to say, share your itinerary with family back home before you board the flight.
Handy Tips: Save the names of all the places you want to visit in your phone or on a paper in Thai language. Memorise a few useful Thai phrases like Sawatdee (Hello), Khob Khun (Thank you) etc.
RIDIN' SOLO!
"No one to answer to
No one that's gonna argue, no
And since I got the hold off me
I'm living life now that I'm free, yeah
I'm feeling like a star, you can't stop my shine
I'm loving cloud nine, my head's in the sky
I'm solo, I'm riding solo, I'm riding solo, I'm riding solo, solo
Riding solo, solo,
Riding solo, solo, solo, solo
-Jason Derulo - Ridin' Solo
Frequent searches leading to this page:-
Thailand tour package 3 days 2 nights, Thailand tour package from Chennai, Thailand tour package from Delhi, Thailand tourism packages from Delhi, Best places to visit in Thailand, top things to do in Thailand