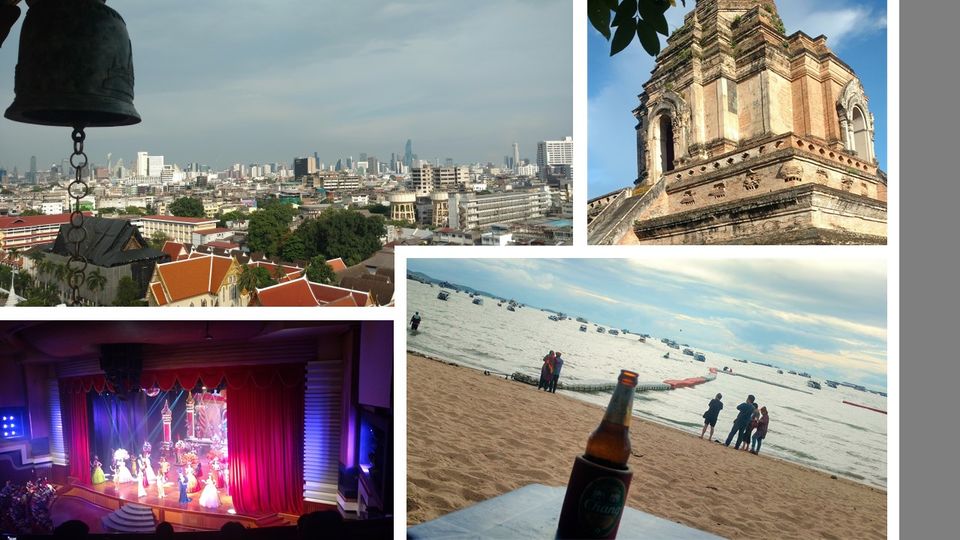 Made famous by the movie 'Escape' starring Leonardo Di Caprio, Thailand has been a dream destination for backpackers and travelers ever since. No matter how old we are, a trip to this country guarantees a lot of enjoyment and excitement. My trip starts out in the vibrant city of Bangkok, termed as "world's best city" to travel in a lot of publications, then to the silent, antique Chiang Mai in the north and then to Pattaya, a place known for its night life and white sand beaches. So let's get ready to fall in love with this country!!
Day 1:
Reached Bangkok airport early in the morning and took a taxi to my hostel in Khao San. First, early in the morning went to MBK center, a haven for all things affordable and came back to Khao San. In the evening went to Sukhumvit, one of the busiest area of Bangkok by bus and MRT. Bangkok is well covered by BTS and MRT, both of which are fast , effective and reasonably covered. Moving in these trains will give you a deep insight into the style and culture of Bangkok's people. Checked into the calm and pristine Lumphini Park and also hopped through Soi Cowboy a short street located near Bangkok's Sukhumvit MRT station with lines of go-go bars.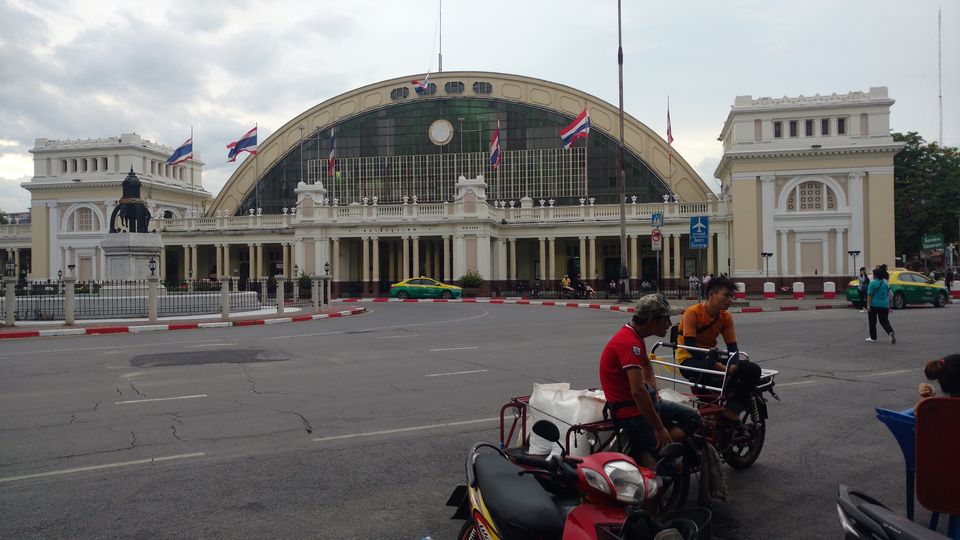 When I came Back to Khao San, the center of party place and which is one of the most happening place in Bangkok swarmed with backpackers, local crowd. The pubs of Khao San were bustling with live music, DJ's and there were food stalls serving variety of foods and thai massage spa's , tattoo parlor throughout the street. Tourist from Europe, Korea, China and also Thai locals came to party at this famous joint. The night and the fun never seemed to end at this place!!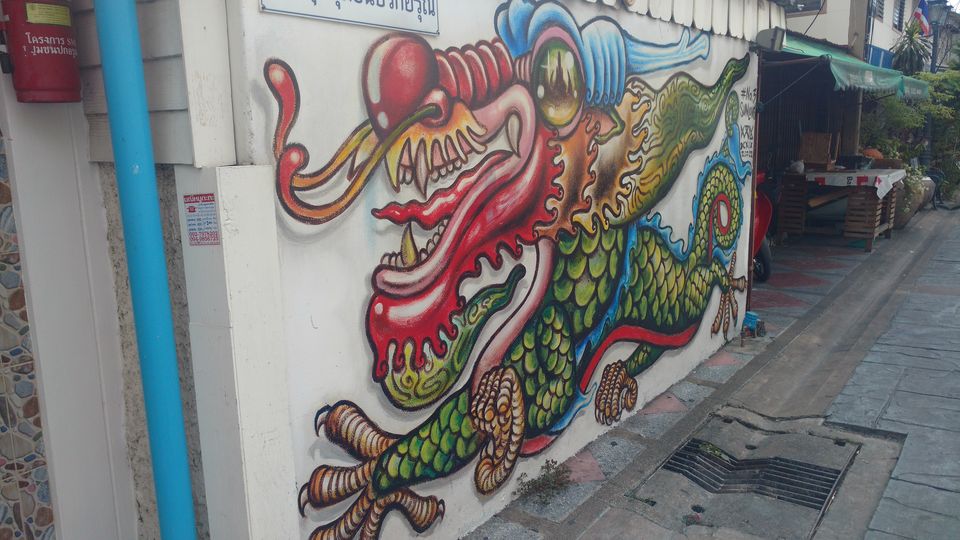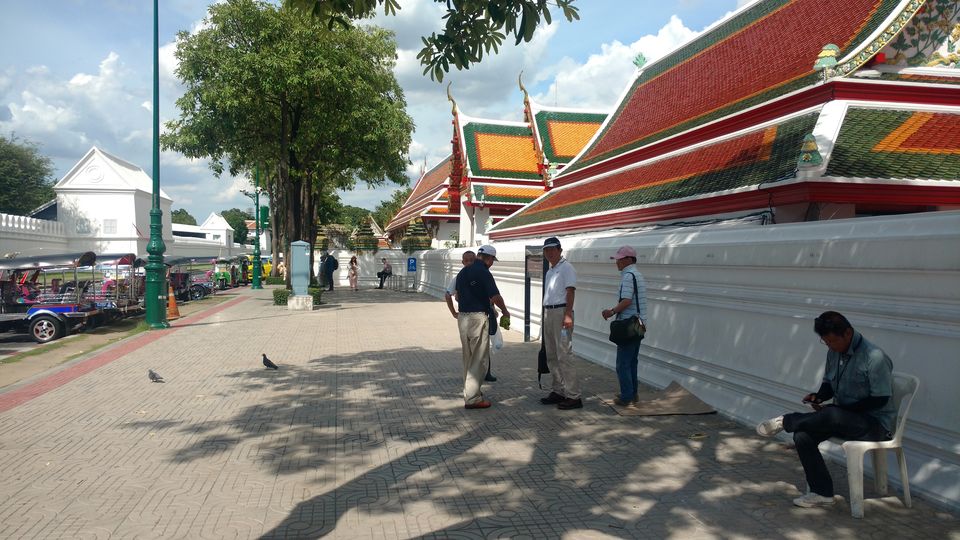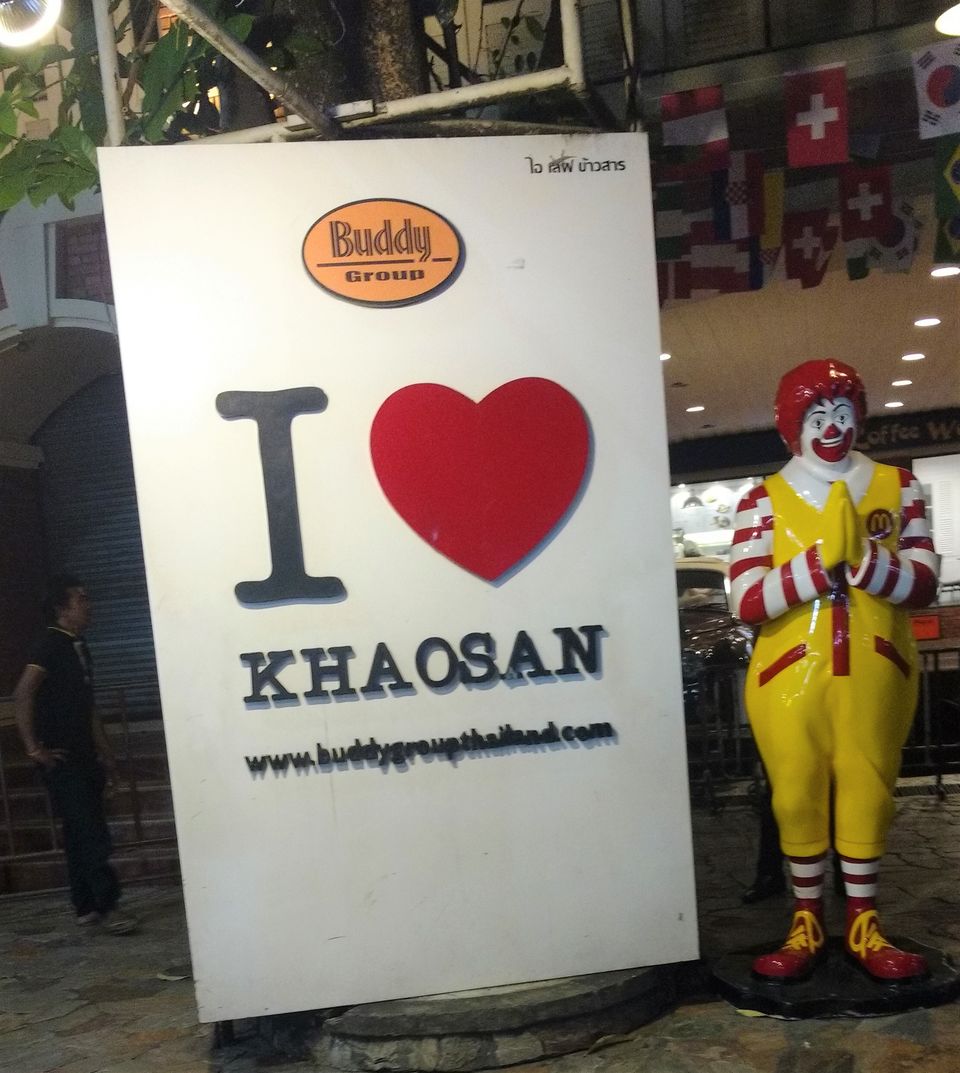 Check instagram for more such posts
Day 2:
Went for local sightseeing in an around Khao San. Many tourist attractions of Bangkok are located at a walkable distance from Khao San like:
The Grand Palace: Tourists are advised to wear full trousers and women are advised to dress decently (legs covered) while visiting the palace, which was the official residence of the King of Siam for 200 years until 1946 .
Wat Pho: Also known as the temple of the Reclining Buddha, with a Buddha statue so big that it is impossible to view in its entirety!
Wat Arun: Located near the Chao Praya river, this is also known as the Temple of the Dawn. A place recommended to be visited around sunset, this complex dates back to the time of ancient battles between Siam and Burma.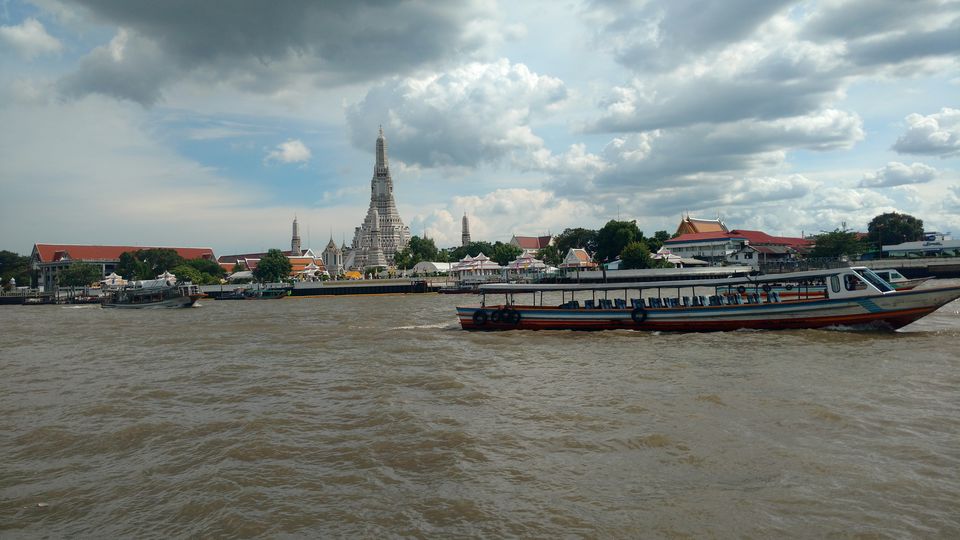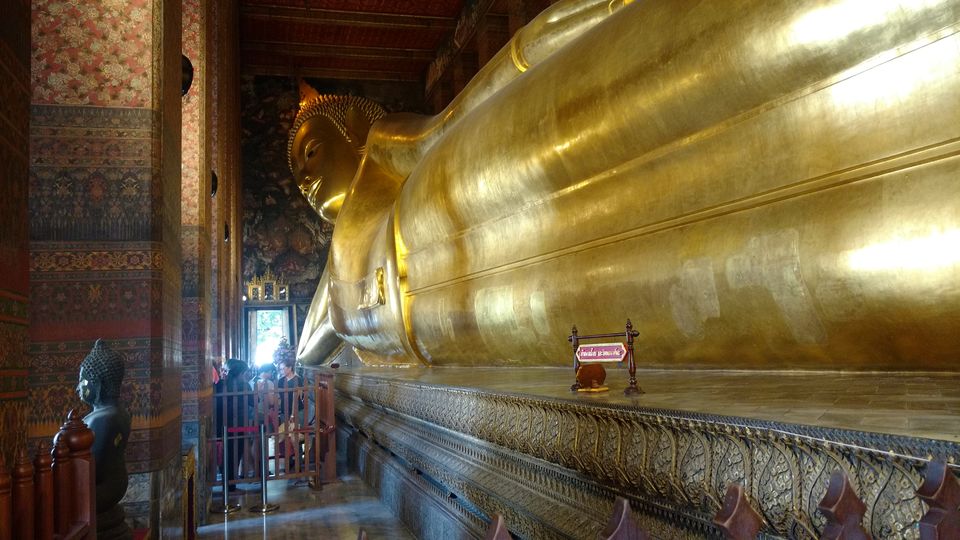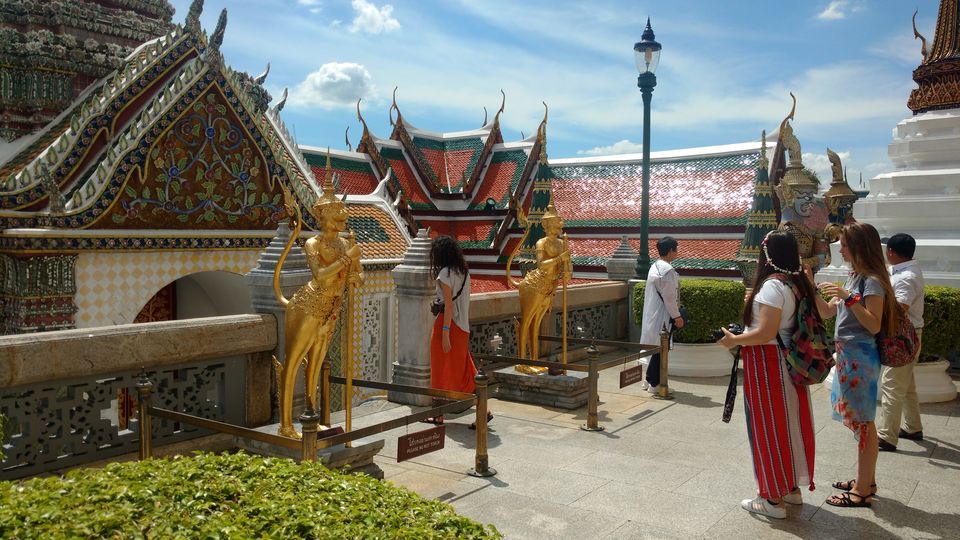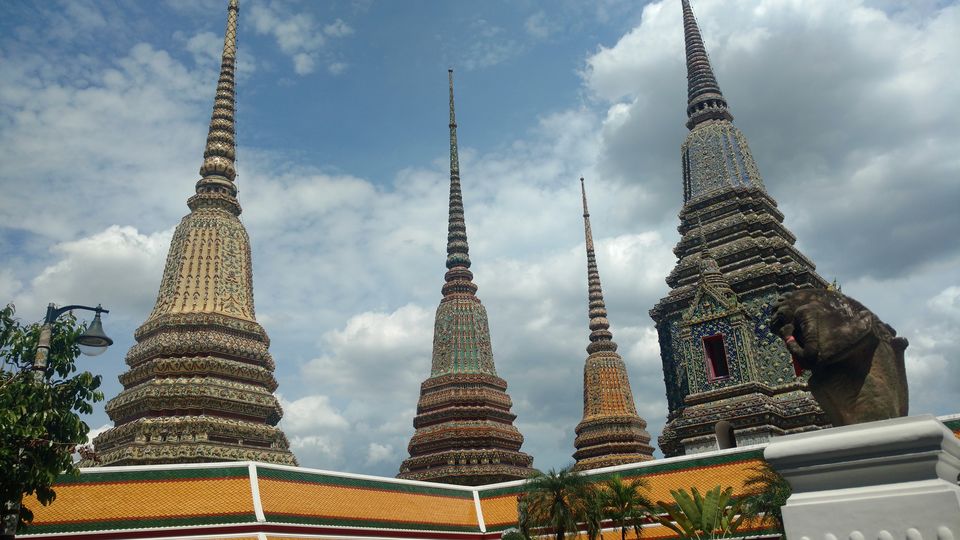 Then went to Golden Mountain, a steep manmade artificial hill inside the Wat Saket temple compound . It was a very scenic and quiet place where one can get a good view of Bangkok.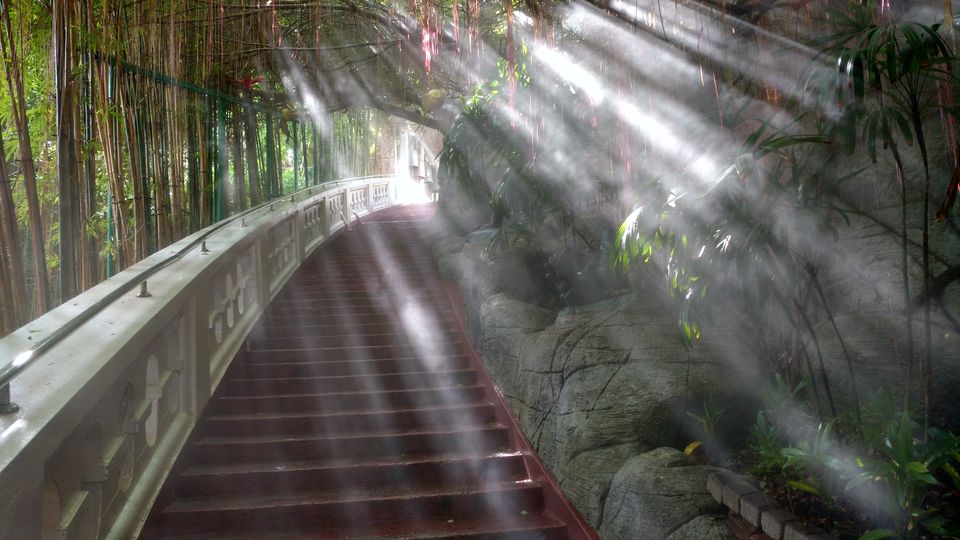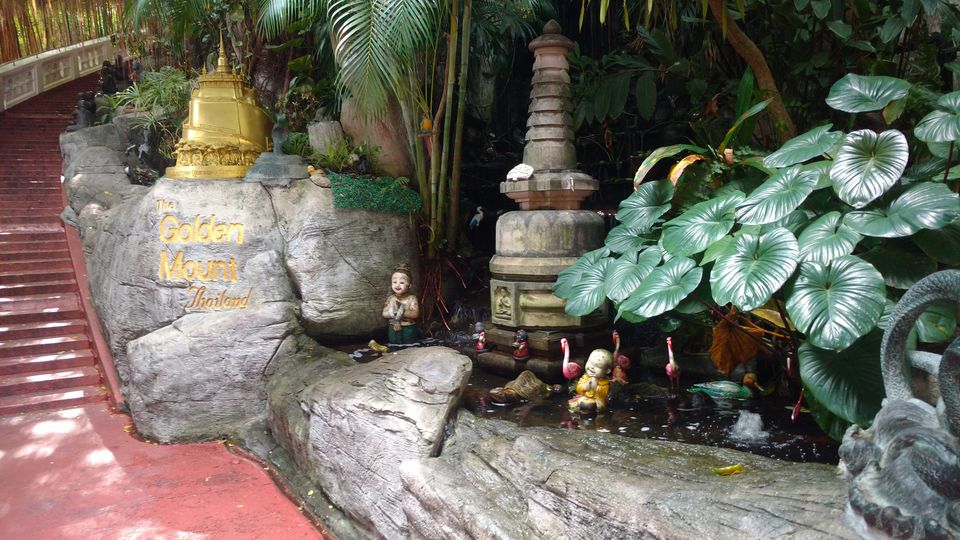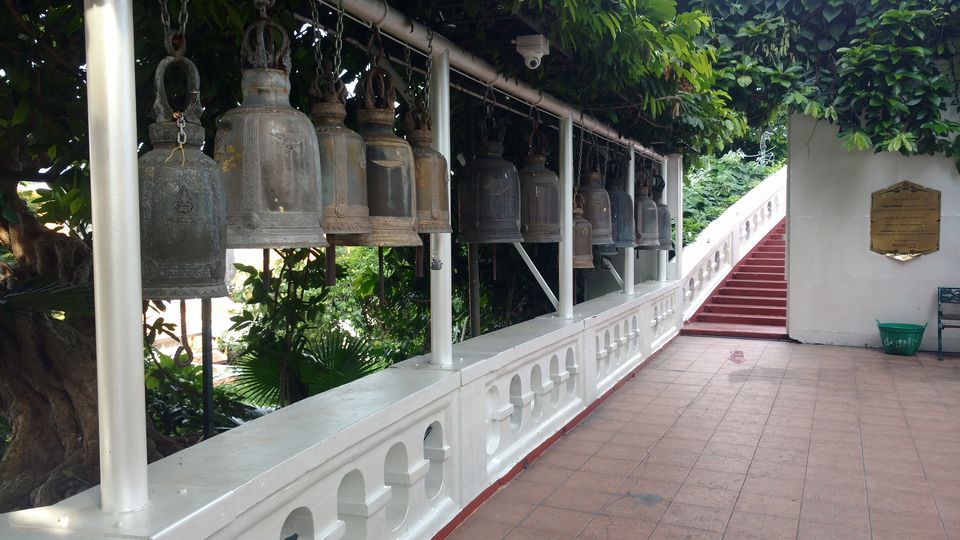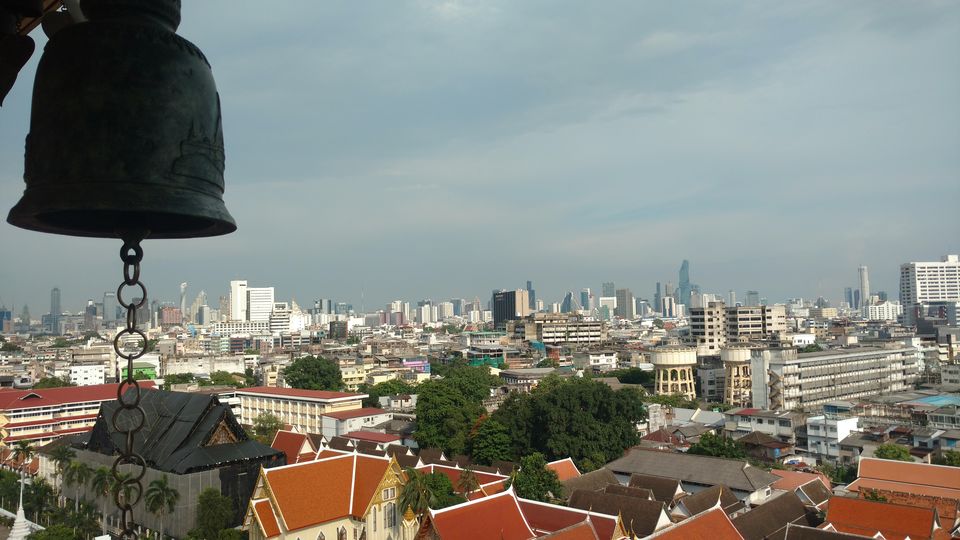 Thailand's perception among the tourist's people is that it is a place popular for party, booze, sex and shemales. But Chiang Mai completely shows a different picture. Lined with rich heritage and culture of Lanna kingdom, it has a lot to offer to tourist about Thailand's history, culture and people. Chiang Mai can also be called as a city of centuries old temples and fountains. One can also find places to learn Muay Thai, Thai cuisines and mud bath with elephants at this city.
Boarded a night bus from Bangkok and it took around 12 hours to reach Chiang-mai early in the morning. I reached my hostel named Bake Room hostel located in Nimmana Haeminda which is around 20 minutes walking distance from Chiang-mai's old city. It is better if traveler's chose their area of accommodation in and around Old city.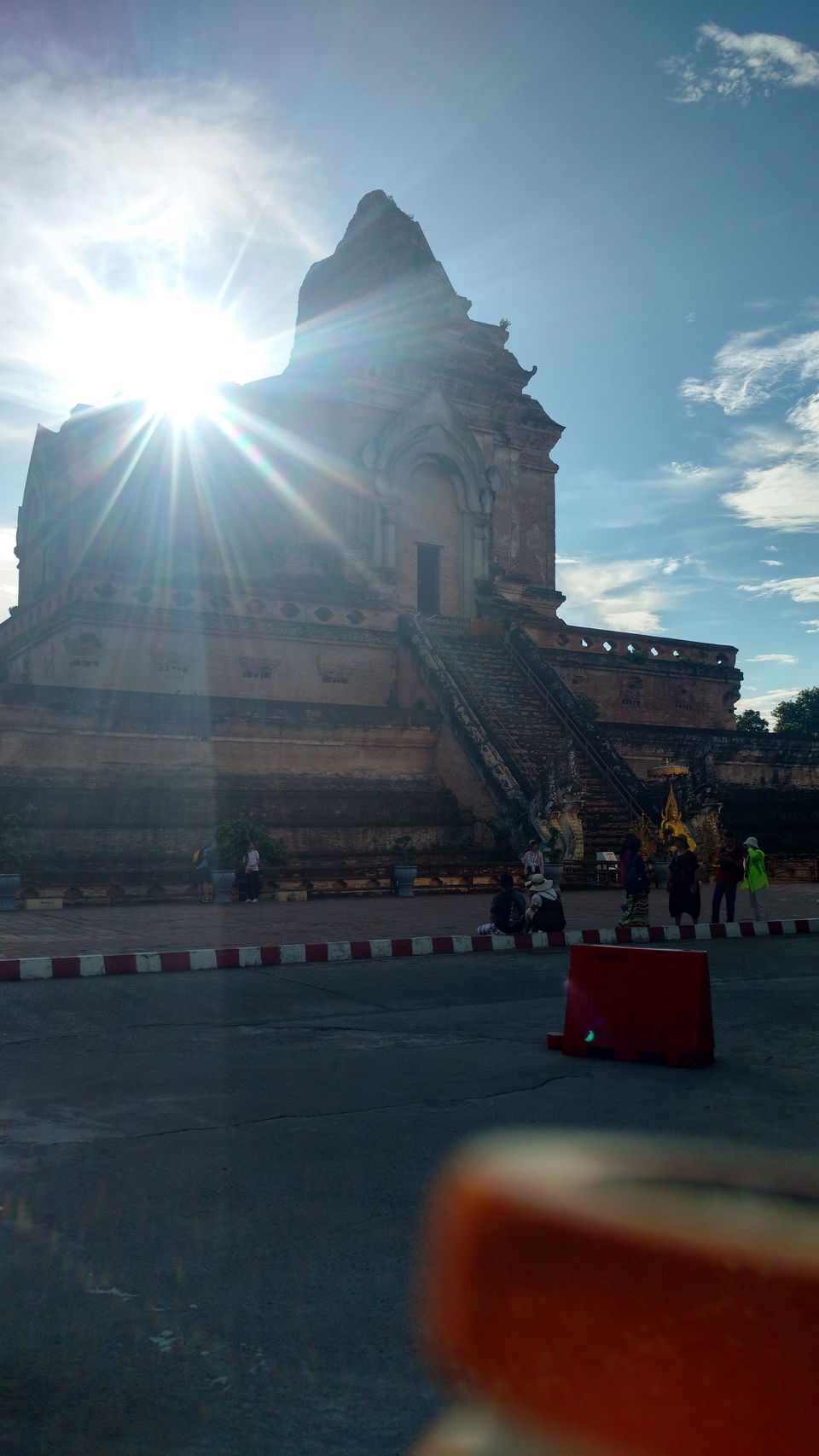 In the afternoon I've boarded a taxi and went to Tiger Park located in the outskirts of the city. A once in a lifetime experience, getting a photo with this majestic creature is a thrilling experience. In the evening went for a stroll around Chiang Mai's old city, an ancient city lined with architecture of Lanna lineage. The Old city is Chiang Mai's heart with temple compounds like the Wat Phra Singh and Wat Chedi Luang. It was quite soothing walking around this part of the city unlike the hustle and bustle of the capital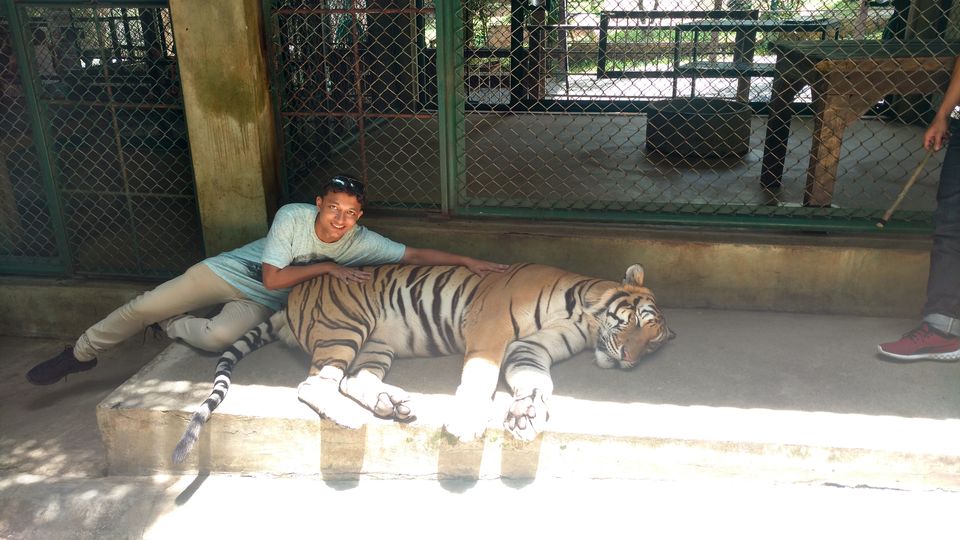 Next morning I've decided to take a local tour of the city's butterfly garden, snake park, Doi suthep- a must visit Buddhist monastery on the outskirts of the town and Baan Tong Luang village; a controversial place which showcases the different hill tribes of northern Thailand and neighbouring Burma. The place has an aura of rural Indo China culture and a good spot to collect souvenirs which are handmade by people present in the park.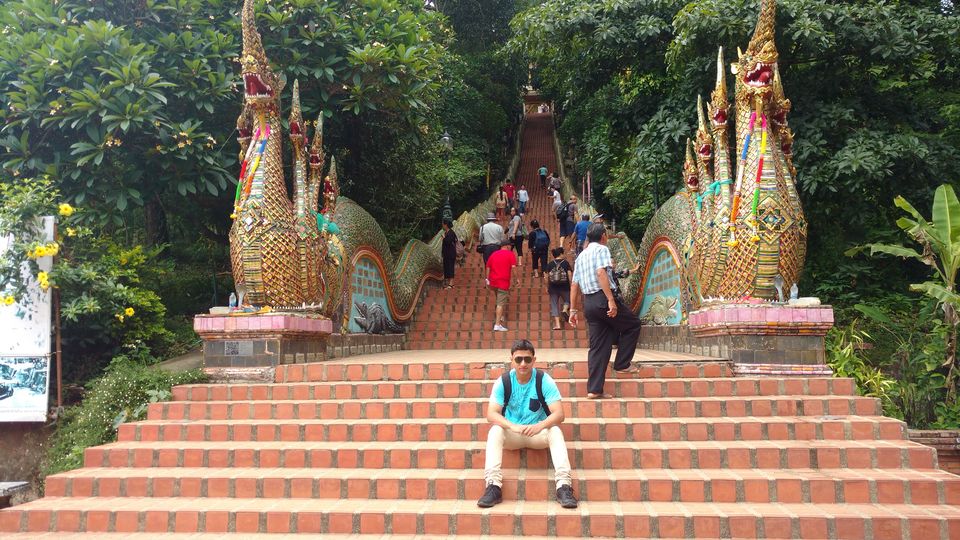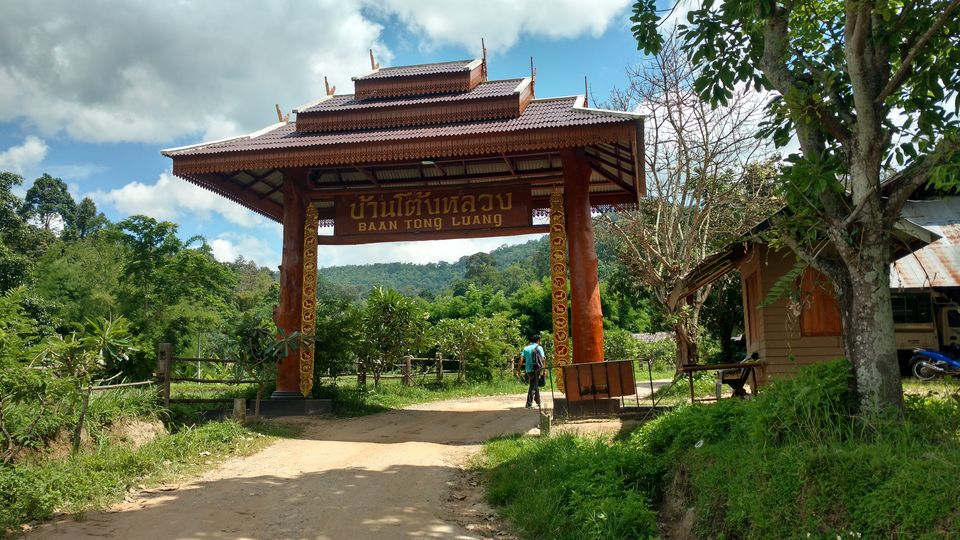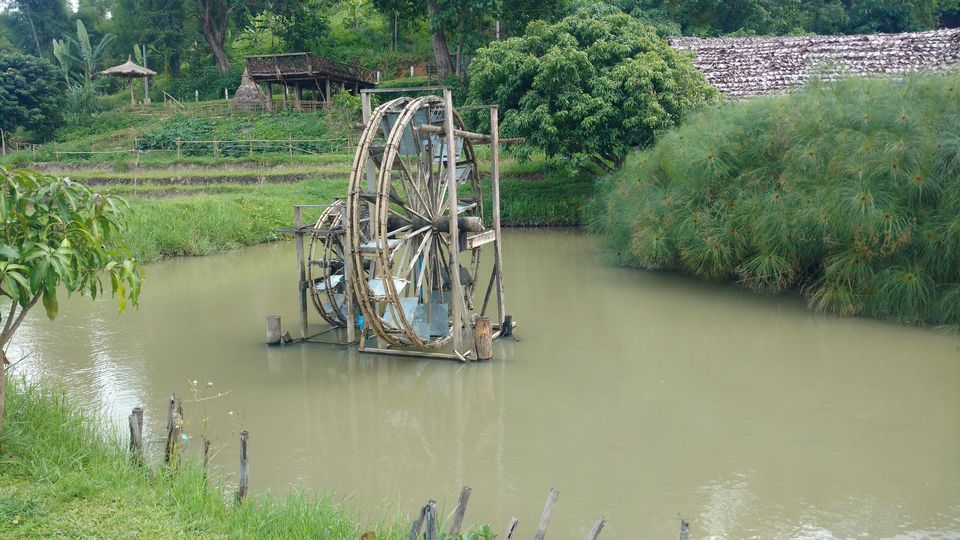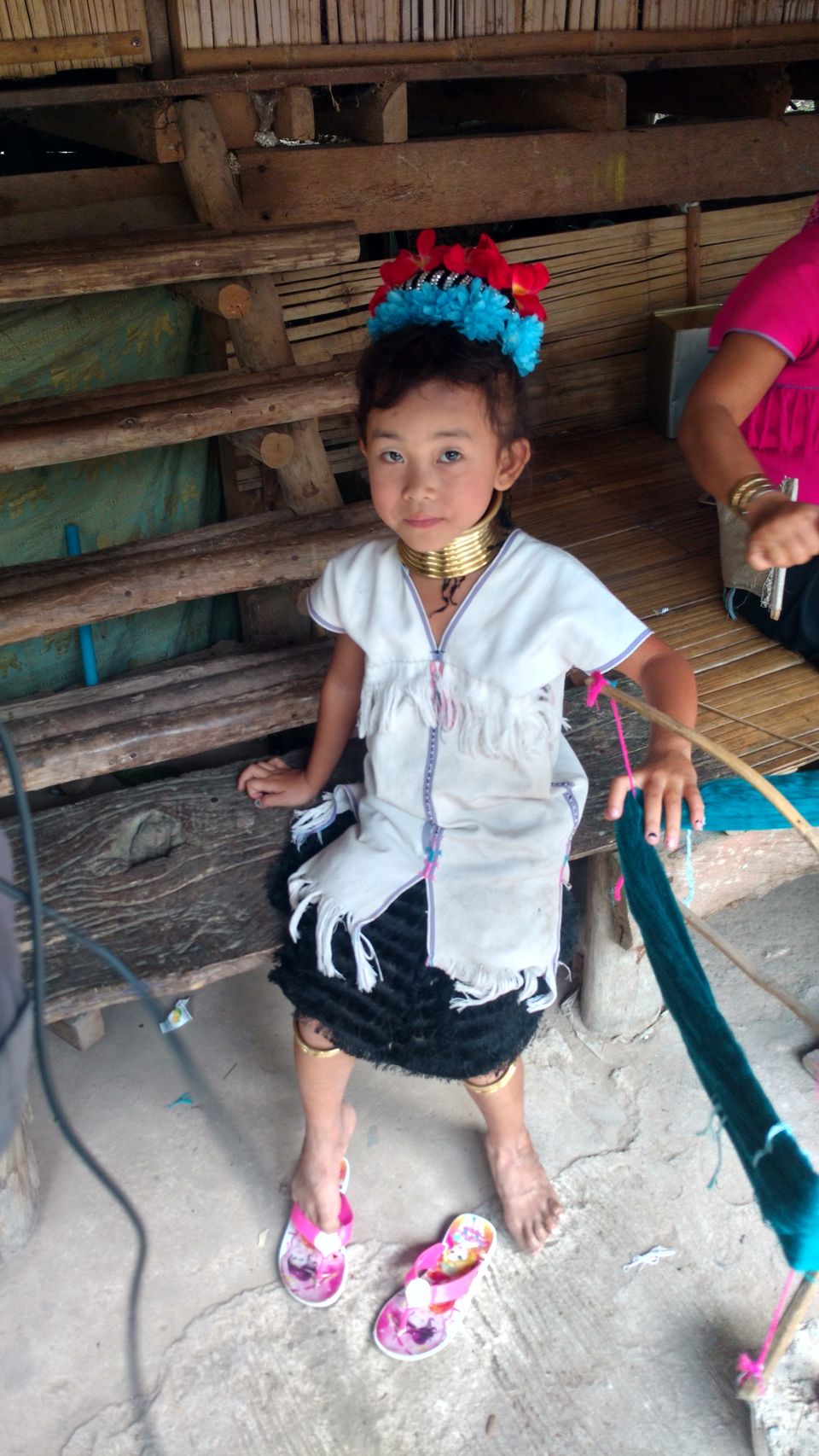 To compliment my sojourn, I've also hiked through a forest to Wat Pha Lat, a temple found on the way to Doi Suthep. Nestled in a forest just a few km's from Doi Suthep, this temple with lesser crowd can offer a beautiful overview of the city of Chiang Mai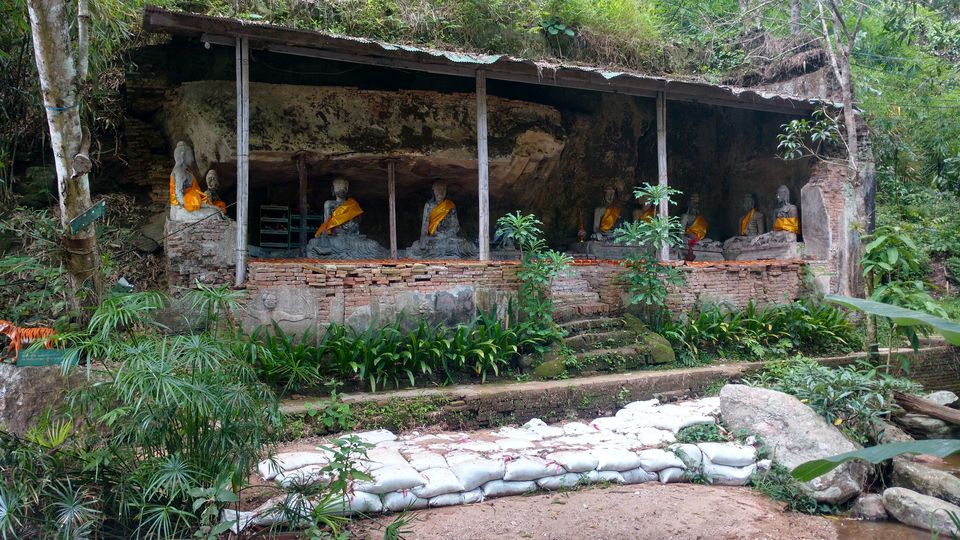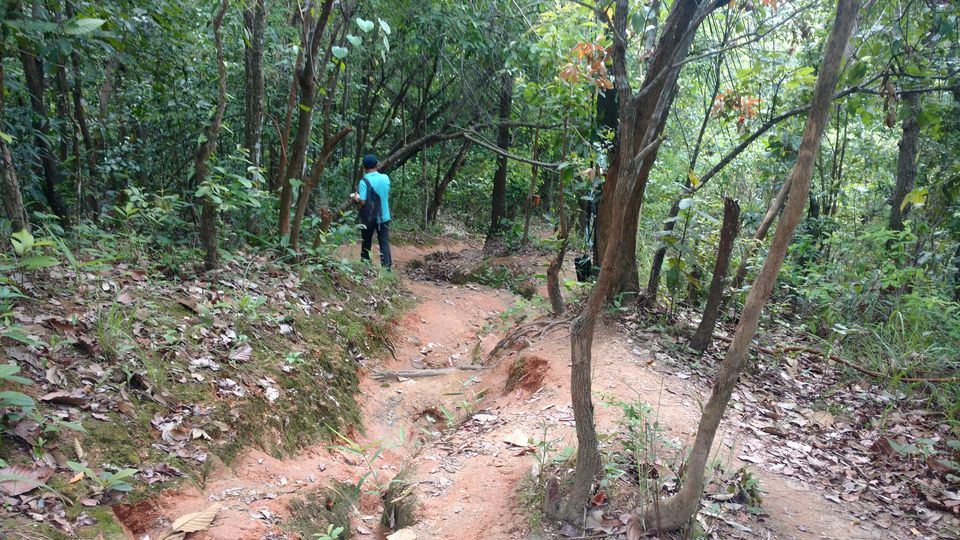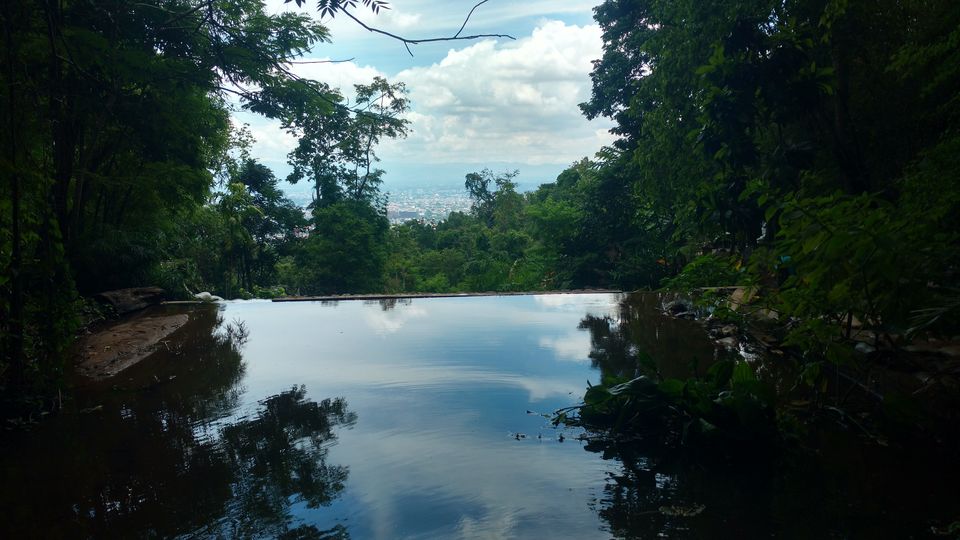 Day 5:
The day before evening I've boarded a bus to Pattaya which took around 12 hours to reach from Chiang Mai. The party capital of Thailand, Pattaya is (in)famous for being the perfect destination for sex tourism. It is also a place for shopping where the streets are lined with flea markets with items ranging from good quality designer t-shirts, apparels, beauty products and souvenirs.
Floating market: The floating market is a place to visit in Pattaya as it is in located close to the city center unlike the one in Bangkok. Boats are available for rent to move around the market or one can walk around the market place. Floating market is a good place to buy apparels, souvenirs, local beauty products and not to forget varieties of food!!
Pattaya Beach: Visited this 4 km crescent coastline in the evening. There was ample scope of water sports like jet ski, banana boat. This is definitely the place to be, which is just a line of palm trees away from the shore.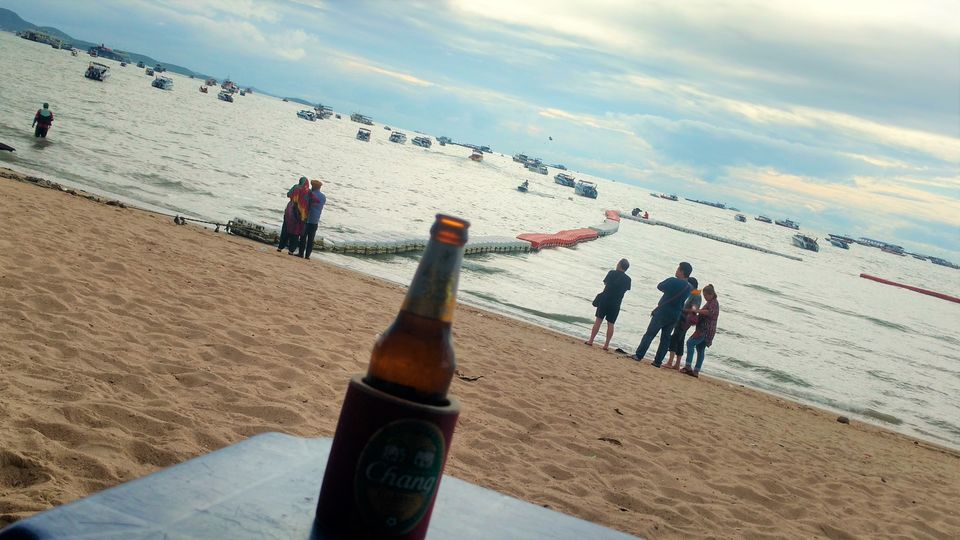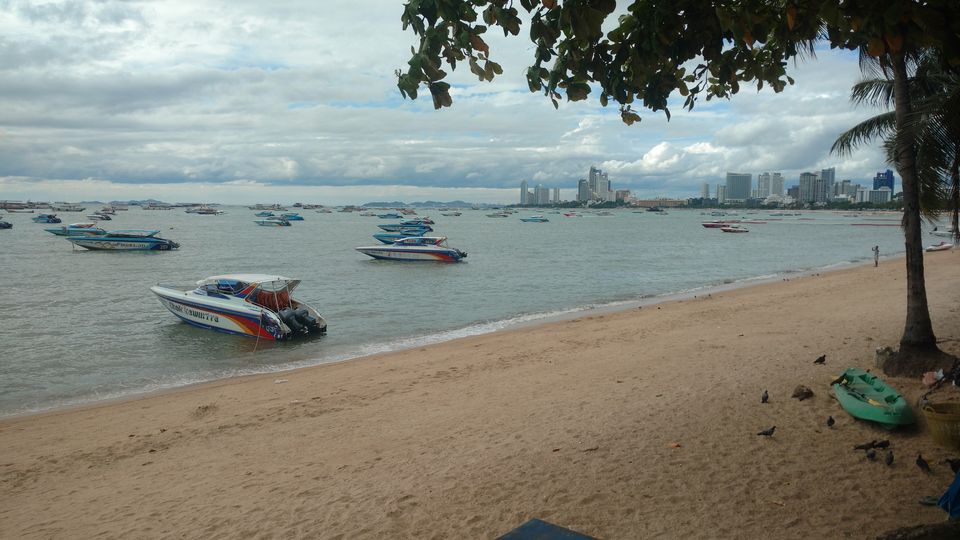 Walking street: The entertainment and red light district of Pattaya, this place is lined with sea food restaurants, night clubs, live music venues, go-go bars and hotels. Tourists are also offered the opportunity to watch a variety of sex shows and 'entertainment packages' which is better to avoid if we do not want to get scammed.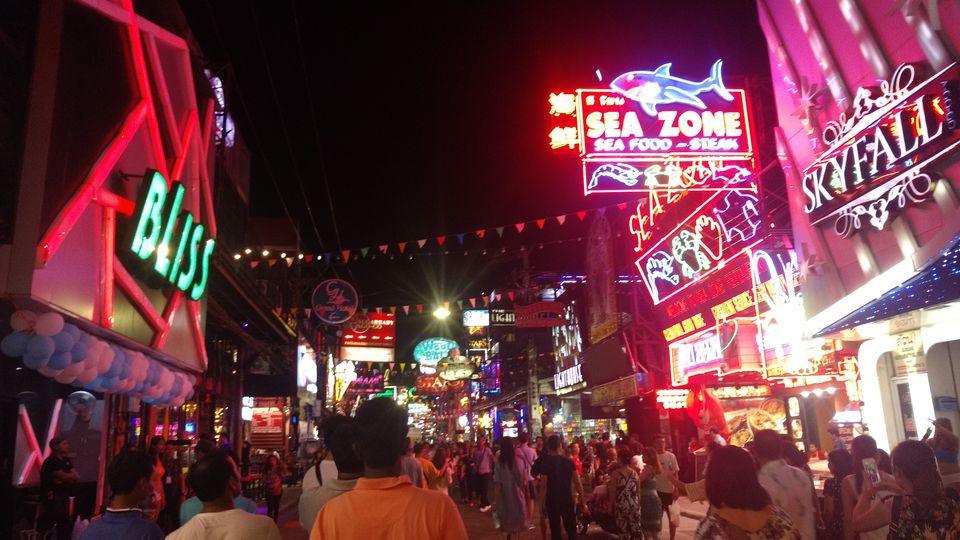 Returned to Bangkok which is around 3-4 hours from Pattaya. Visited a few shopping districts of Bangkok on the last day of my trip; the Platinum mall which is a specialized megamall for clothing and fashion accessories and the Chatuchak weekend market a sprawling outdoor market with over 10000 shops were every other items like books, furniture, clothes and even reptiles are sold here.
Finally, my short and fulfilling solo trip to Thailand has come to an end. Thailand proves to be the quintessential holiday destination for any kind of traveler. Whether urban exploration, shopping, eating new cuisines, beach side fun, animal interaction-Thailand will definitely have something for you.
Do subscribe if you liked the blog and follow me on Instagram for more such stories.