Day-0: (Friday)
My friend and his colleague came to room and stayed over night. I had my dinner (Half-Grilled Chicken) and then started waiting for them. They came at 10.30 and had dinner (Biryani parcel which they got). ????
Day-1:
Places Covered:
Home -> Kalhatti Falls -> Hebbe Falls -> Raj Bhavan, Kemmanagundi -> Shanthi Falls -> Z-Point, Kemmanagundi -> Horticulture Department Guest House, Kemmannugundi
Complete Link of the route for the day-1:
https://www.google.co.in/maps/dir/Vijaya+Bank+Layout,+Bommanahalli,+Bengaluru,+Karnataka+560076,+India/Kalhatti+Falls,+Bhadra+Wildlife+Sanctuary,+Manchethevaru,+Karnataka+577129/Hebbe+Waterfalls,+Chikkamagaluru+District,+Kesavinamane,+Karnataka+577131/Raj+Bhavan,+Bhadra+Wildlife+Sanctuary,+Manchethevaru,+Karnataka+577129/Shanti+Falls,+Z+Point,+Chikmagalur,+Karnataka+577129/Z+Point,+Manchethevaru,+Karnataka+577129/Horticulture+Department+Guest+House,+Bhadra+Wildlife+Sanctuary,+Kemmannugundi,+Manchethevaru,+Karnataka+577129/@13.5499574,75.7496868,19.25z/data=!4m44!4m43!1m5!1m1!1s0x3bae14d8461fcbb3:0xb38503963822dabb!2m2!1d77.6092188!2d12.8902208!1m5!1m1!1s0x3bbae052d96f4911:0x16d0b667151d6cc8!2m2!1d75.7883219!2d13.5498286!1m5!1m1!1s0x3bbae02df4f9a961:0xd42a2f920d592b51!2m2!1d75.7252466!2d13.5415627!1m5!1m1!1s0x3bbae05529a75cd9:0xa0c3ea2b896bc8d4!2m2!1d75.7575148!2d13.5472395!1m5!1m1!1s0x3bbae1019b31dc85:0xa5f1b08136d7ba38!2m2!1d75.7655466!2d13.5505246!1m5!1m1!1s0x3bbae100f9bf0e43:0x51008d4d8c4fd25c!2m2!1d75.7649723!2d13.5519831!1m5!1m1!1s0x3bbae1ad75b03e01:0xfeeb381b9f0a4782!2m2!1d75.75!2d13.55!3e0
Details:
Got up at 3.30 AM. Completed the formalities and woke my friends up. Thought of starting at 4.30 AM from HOME, but finally it was 5.15 AM by the time we start (not much delay though). The climate was good enough for the ride, neither cold not hot.
The ride started and hitting the NICE road is always an awesome experience.
We took the first break in Nelamangala (as usual for tea).
The second break is at Swathi Delecacy which comes around 6 kms before Yadiyur.
Here comes the first pic of nine in the trip.. Thanks to Sravan for giving me one of the best clicks of mine with my ????????BIRD
ME WITH MY LOVE THUNDER-BIRD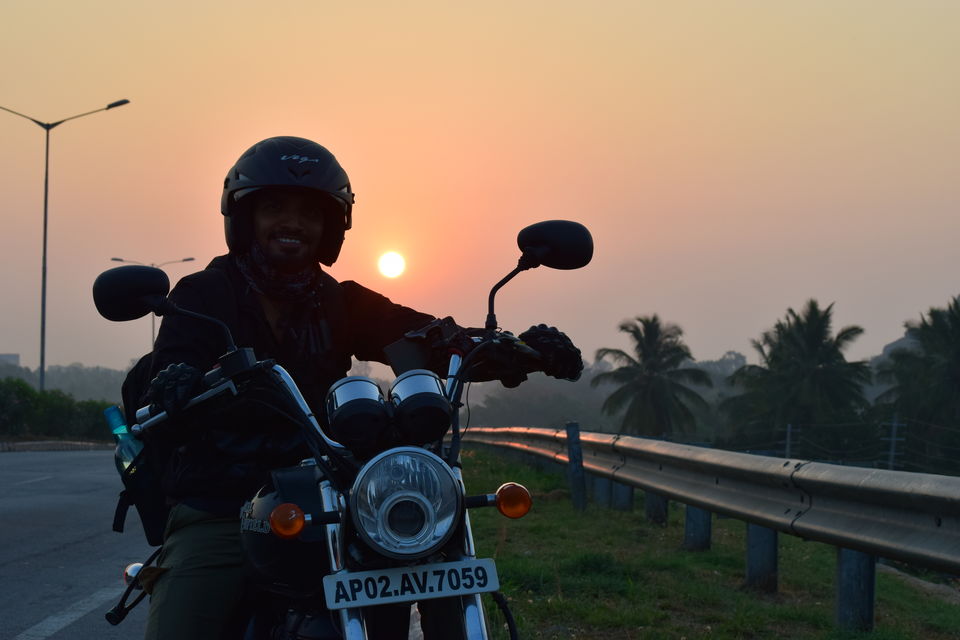 Place-1: Kalhatti Falls - Navigated here with the help of GPS. This was not so great place. Beware of monkeys. Knowing language is always an added advantage. Talking with the localites and getting to know the routes and places is easy.
Points to note: Can reach till the falls in your vehicles. No issues. Just to add in your visited list, this place has to be visited. Nothing so great. May be because we visited in March, the waterflow was not so much.
KALHATTI FALLS, TEMPLE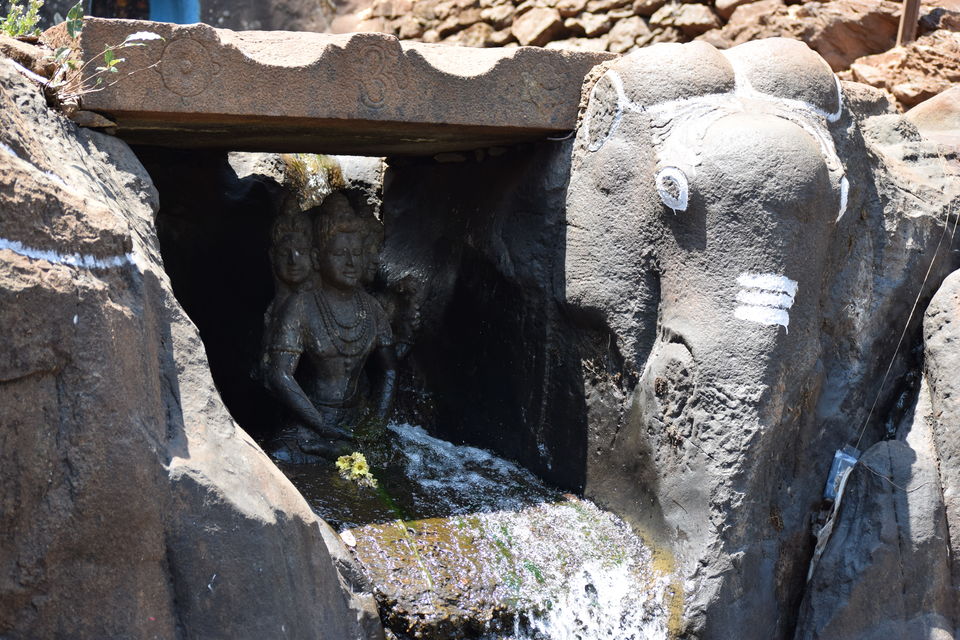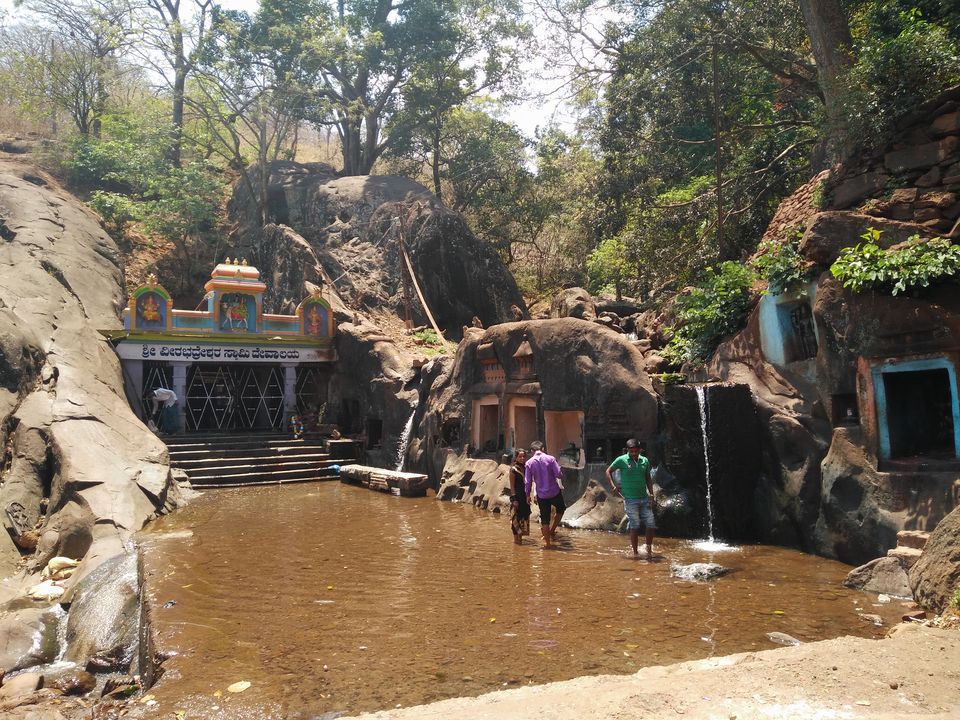 Place-2: Hebbe falls - This is the best place in the trip. This has to be visited atleast once, preferably in monsoon. We went in March but it's still worth. A bumpy drive in the jeep, 2-levels of waterfalls and 3-streams to cross (small ones).
Points to note: The only mode of transport to Hebbe falls is jeep. They are not allowing our own vehicles now. Have to park your vehicle in the starting point. From there we have to go in a jeep which they organize. And it is 3200 per jeep limited to 8 members (400/- per head). The amount is fixed. Tried bargaining, but was not successful. They said it is Government fixed rate. Not sure how true it is.
If your team is less than 8, do not worry. Wait for 15 to 20 mins, there will be people coming to visit. You can combine with them and go in the same jeep. Take care of your car/bike keys. Once lost it is tough to find.
Have to share our experience regarding this. As we went in bikes and didn't want to carry our bags to the falls, we asked a guy to keep our luggages in their car. Then we headed towards the falls in the jeep. The jeep driver dropped us at a place from where we have to walk till the falls. We will get to see 3-water streams on the way to falls (so avoid shoes). We had an amazing experience at the gorgeous falls and then decided to head to the point where we got down from the jeep. And here that guy gave a bomb to us saying he is not abe to find his car keys. We searched throughout the path and couldn't find them. Finally found it in the jeep. Since the jeep ride was similar to a roller coaster ride, the keys were dropped in that. If it was somewhere near falls, then we couldn't have found it.
Things to take care of:
1. Prefer slippers to shoes.
2. Take a pair of clothes if you wish to get into water. Mostly you will be tempted to get in after seeing the falls.
3. Cannot take your vehicle. So keep enough money with you. I don't think they accept cards.
4. Take care of your car/bike keys. Must note this. Be very careful about this.
FISHES IN ONE OF THE STREAM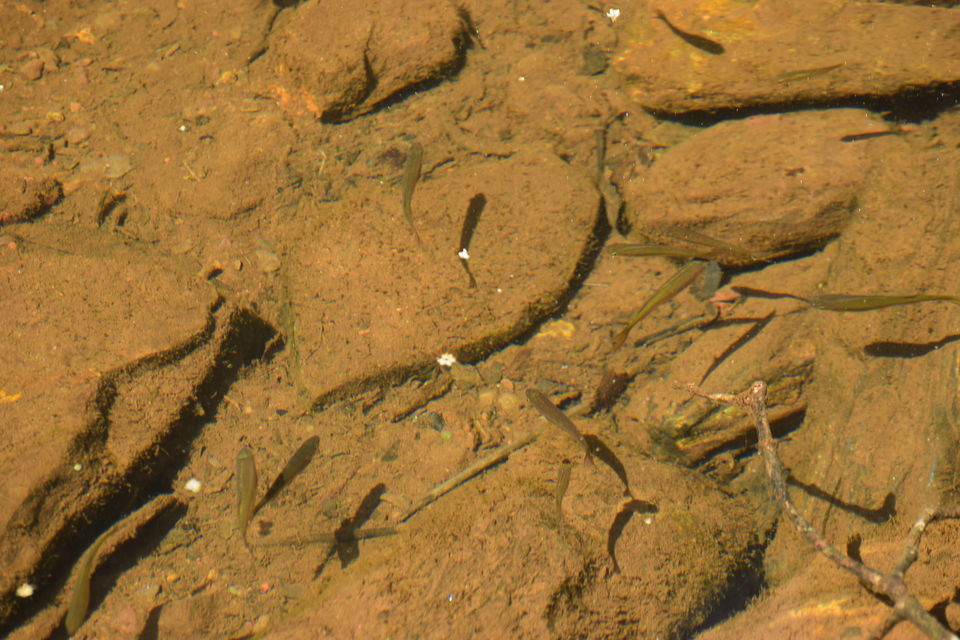 ONE OF THE STREAM TO BE PASSED TO REACH HEBBE FALLS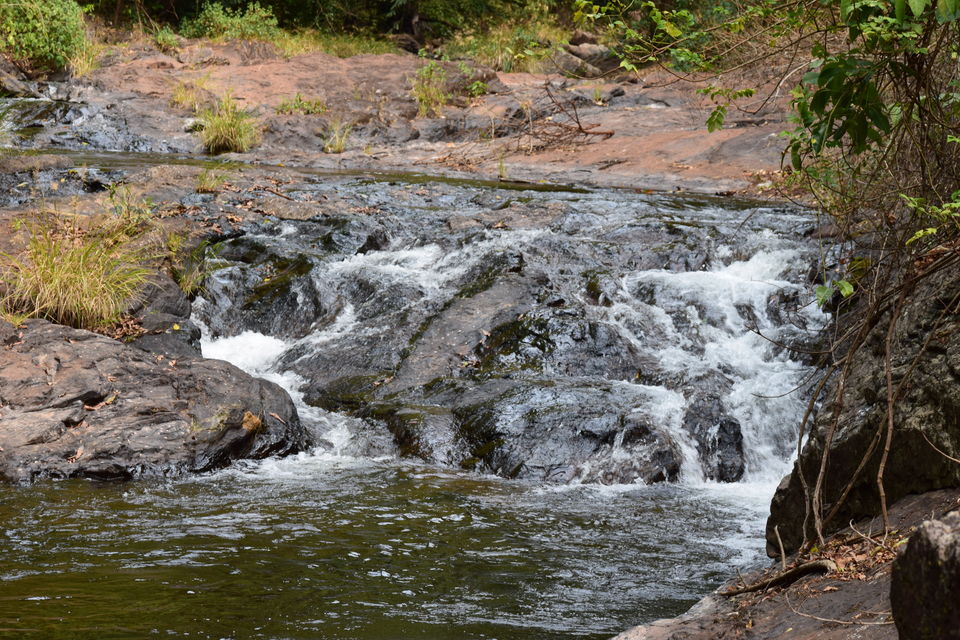 HEBBE FALLS - SHOWING THE TWO LEVELS OF FALLS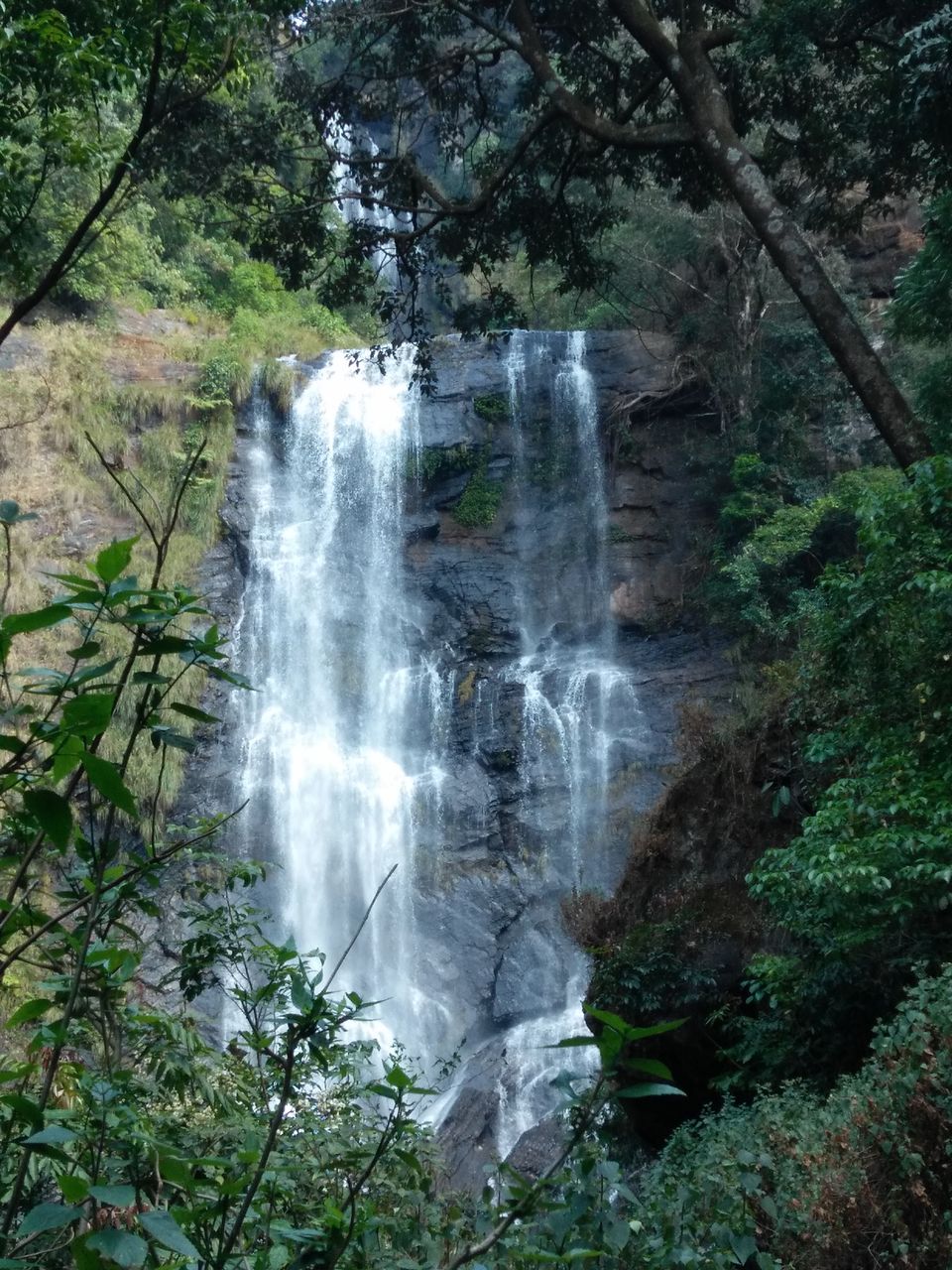 HEBBE FALLS - CLOSER
OPPOSITE SIDE OF HEBBE FALLS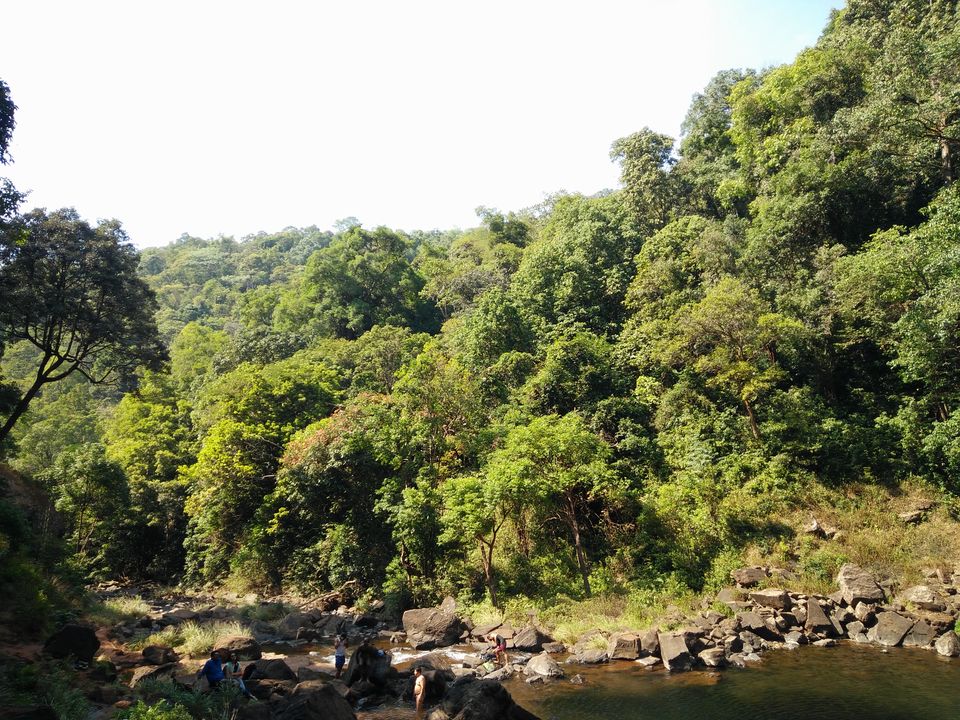 Place-3: Raj Bhavan, Kemmanagundi – Not so great, but it has a view point for sunset. May be for the couple visit and for the ones who love roses, it will be a great place.
We headed to Shathi falls and Z-Point which is around 3 kms from Raj Bhavan. This road is muddy and there was little rain the previous day night. So we saw some water staying on the road. It's not an easy ride. We have to be very careful in these off-road driving.
A CAPTURE OF THE VIEW POINT
Place-4: Shanti falls – This is not really waterfalls. A small stream of water falling down from around 10 feet. But the name gets justified. It comes on the way to the Z-Point trek. While coming back from the z-point peak, just stop at this falls and wash the face. If you want you can drink those water as well which gives you so much of pleasure and peace (SHANTHI).
SHANTHI FALLS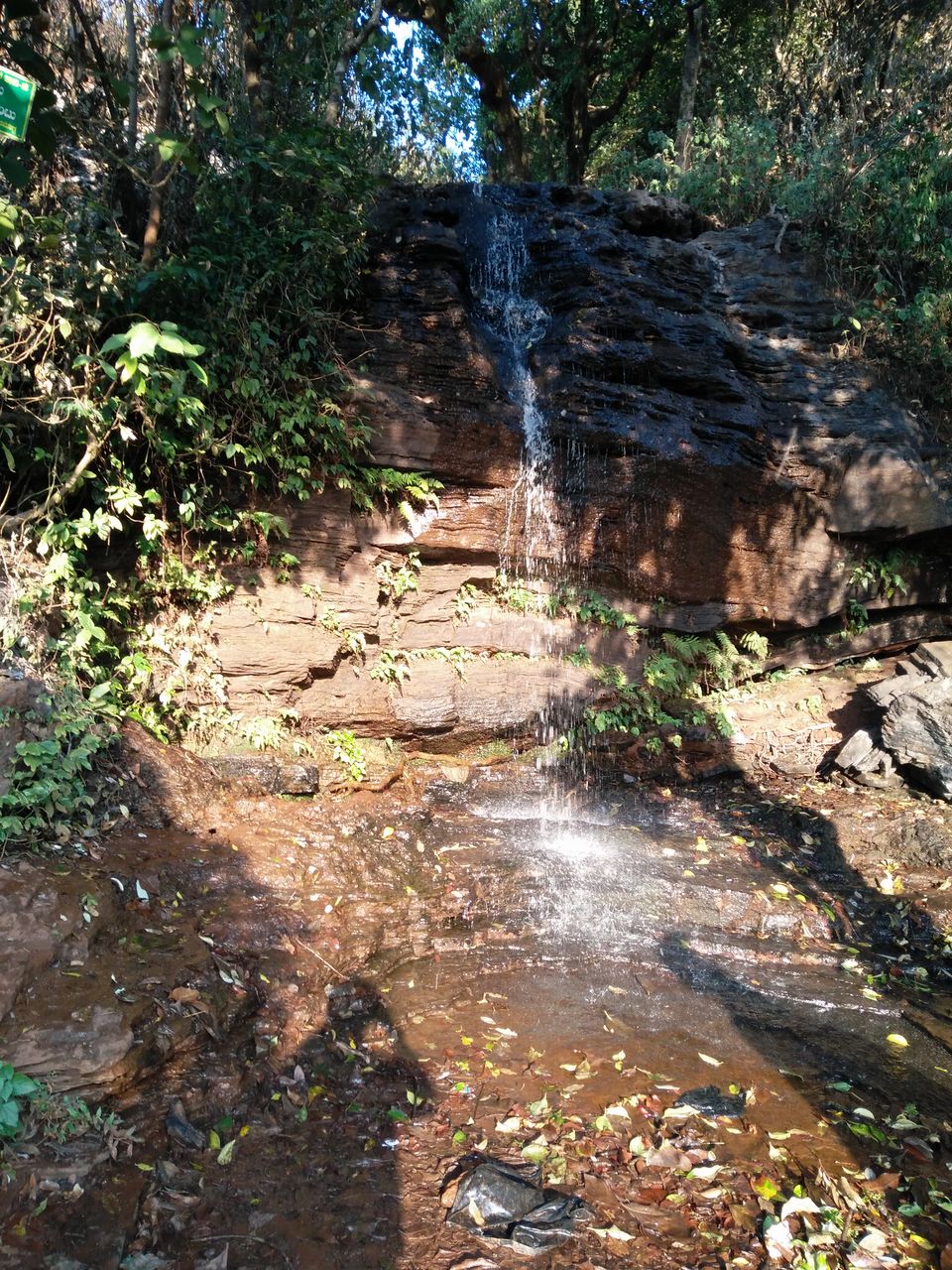 Place-5: Z-Point -Sunset Point – This is arguably the second best place of our trip. The trek was exciting and a little bit tough after riding approximately 300 kms. The trek will give the feel that we are walking at the edge of the hill. You feel like the earth is moving along with you. That's little scary though. May be 30 min to 45 min of trek from the place where we can park the bike/car. Our vehicles are allowed to a certain point. From there we have to trek for 30 to 45 minutes.
Points to note: Need to wear shoes as the trek route is not so great. Try to come back before it gets dark if you are with a family. As the driving route is also not so good.
Note: There will be jeeps arranged from Kemmanagundi to z-Point start (from where we have to trek) for that mud-road. It is just 3 kms of jeep drive. If you have your own vehicle, you can go directly till the trek starting point.
THE SUN - SETTING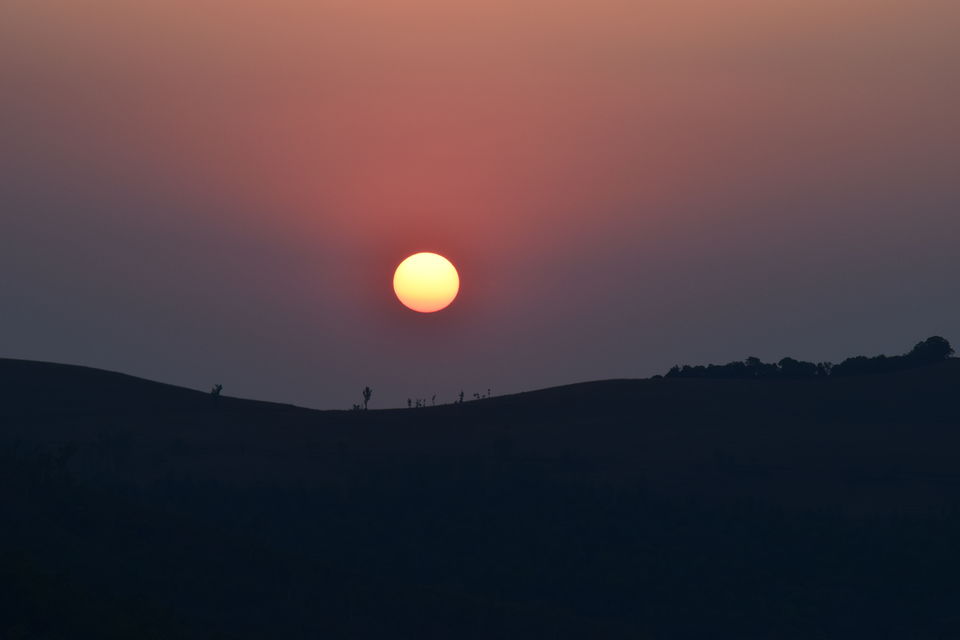 THE SUN SET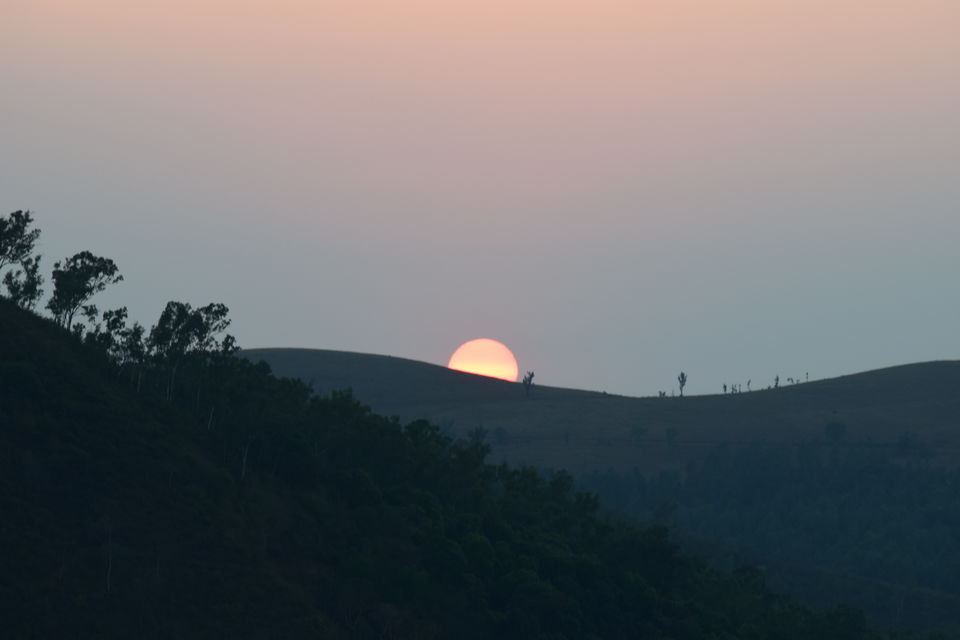 WAY TO SHANTHI FALLS/Z-POINT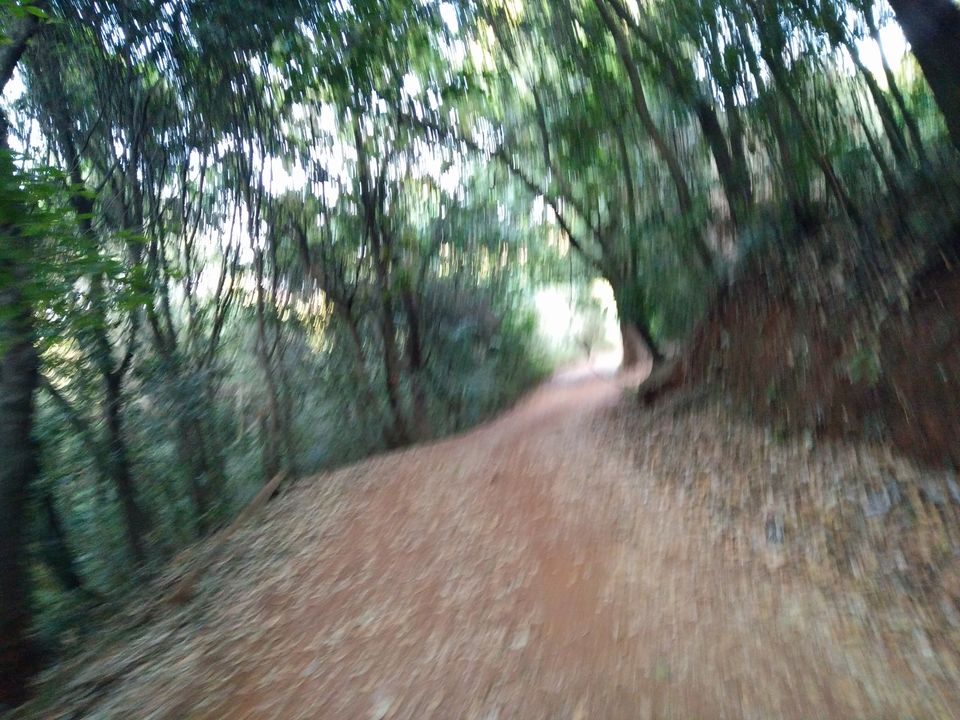 Z-POINT TREK ROUTE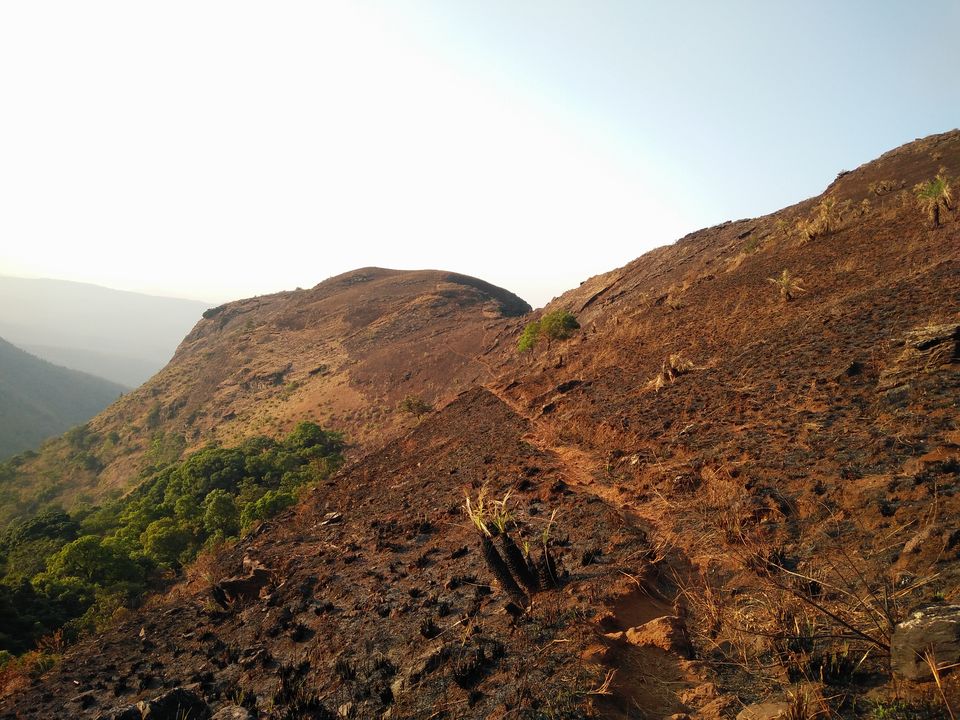 We started back and had to search for a room. We didn't spend much time in searching. There was horticulture department guest house within a km to Raj Bhavan. We went there and got the room.
This was a government guest house. And we got Virupaksha Lodge for our stay. The charges are Rs. 1680 for 24 hours. Have to say about this. Seriously the facilities showed how the government functioning is. No Fan, No Water Supply in the wash basin, No Flush. The only best part was the bed which was so comfortable. And we had to beg for the AC remote. Asked him to put an extra bed for which he charged Rs. 100/- extra.
Day-2:
Places covered:
Horticulture Department Guest House, Kemmannugundi -> Town Canteen Chikmagalur -> Belur Chennakesava Temple -> Halebidu Hoysaleswara Temple -> Home
Complete Link of the route for the day-2:
https://www.google.co.in/maps/dir/Raj+Bhavan,+Bhadra+Wildlife+Sanctuary,+Manchethevaru,+Karnataka+577129/Town+Canteen,+SH+57,+Vijayapura,+Chickmagaluru,+Karnataka+577101/Belur,+Karnataka/Halebeedu,+Karnataka/Vijaya+Bank+Layout,+Bommanahalli,+Bengaluru,+Karnataka+560076,+India/@13.2202596,76.1170834,9z/data=!3m1!4b1!4m32!4m31!1m5!1m1!1s0x3bbae05529a75cd9:0xa0c3ea2b896bc8d4!2m2!1d75.7575148!2d13.5472395!1m5!1m1!1s0x3bbad9dab7e1d525:0x95fc1ba837824756!2m2!1d75.7734856!2d13.3337532!1m5!1m1!1s0x3bbad2d854ccb49f:0x5736f65b41e5e1df!2m2!1d75.8679195!2d13.1623166!1m5!1m1!1s0x3bbacb89e4b932ed:0xc477034b6a8fb20d!2m2!1d75.9942162!2d13.2129844!1m5!1m1!1s0x3bae14d8461fcbb3:0xb38503963822dabb!2m2!1d77.6092188!2d12.8902208!3e0
Got up at 4.30 AM. All of us got ready by 6 and started the trip at around 6.15 AM from the lodge. The bike was already dirty with the mud.
OFF-ROAD RIDER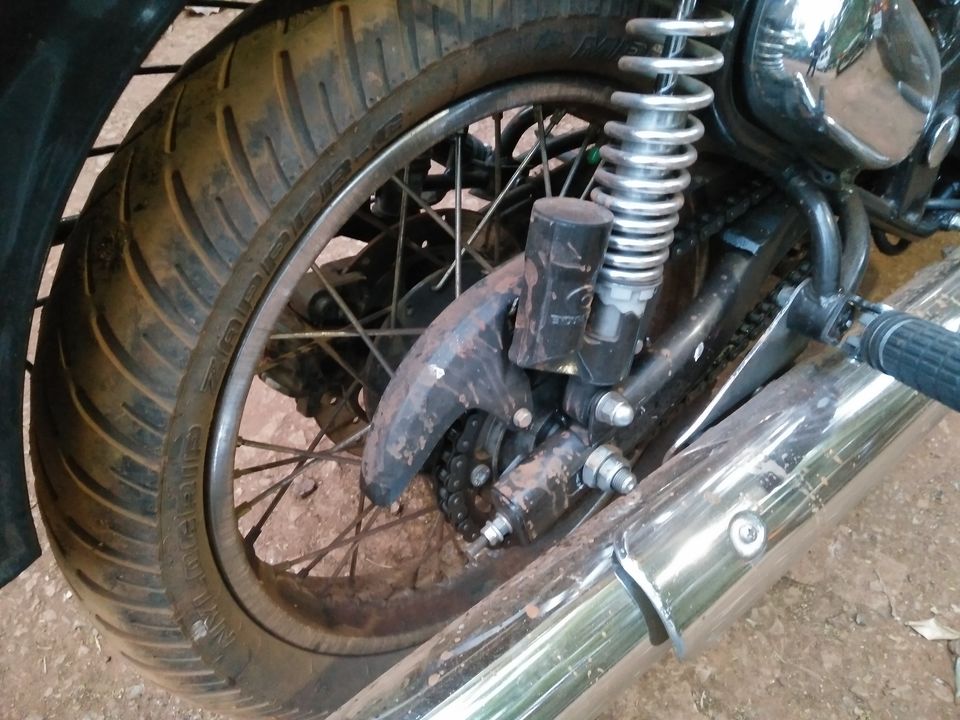 Started the navigation to Belur. And for this, the route shown was through Chikmagalur. The road to Chikmagalur was awesome. We didn't expect the ghat section again in our trip as the routes to Belur and Halebidu are State Highways. But to our surprise, the road till Chikmagalur was a Ghat road and the ride through that at the morning time was too good.
Place-1: Town Canteen, Chikmagalur – I read about Town Canteen in Chikmagalur in www.tripadvisor.com and the reviews were so positive about that hotel. So once we reached Chikmagalur, I remembered this and navigated to the Town Canteen. Ordered Masala Dosa and Gulab Jamun as suggested online. Please don't expect so much after reading the reviews. Masala Dosa was just ok with little Aloo Palya and little butter inside. But the Jamun was really good. It was hot and tasty. Had a coffee and then left the hotel to Belur.
TOWN CANTEEN - CHIKMAGALUR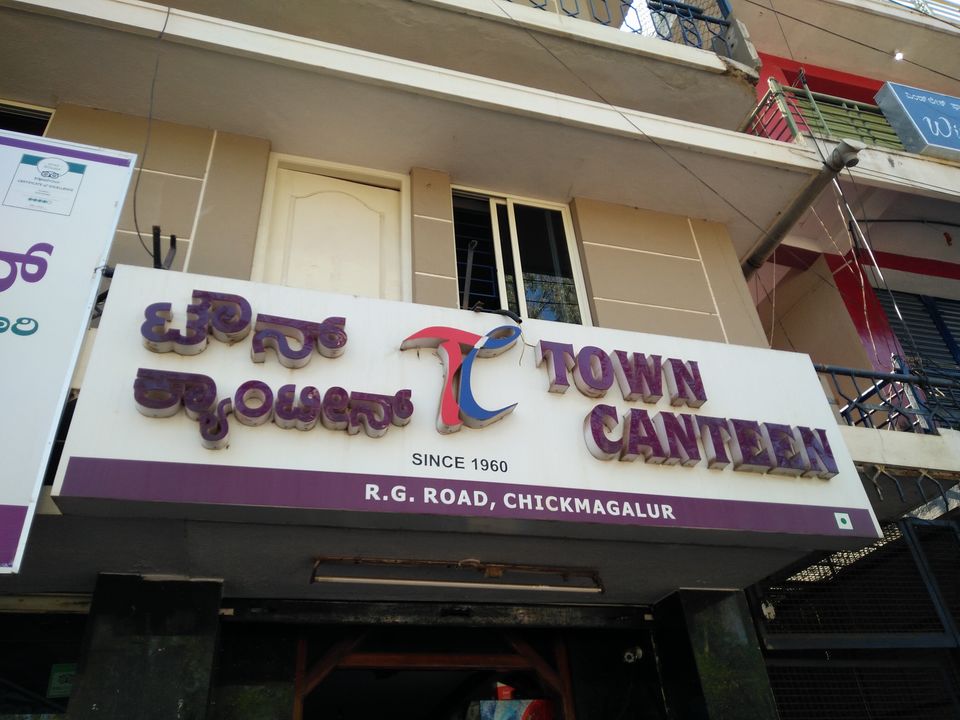 Place-2: Belur – This is the second time I visited this temple. And the carvings and sculptures are just awesome. The temple name is Chennakeshava Temple, Belur. As always the temple gives that peace of mind. Guides are available for explaining the history of the temple. We didn't take a guide, so I am not sure about the price. But I think you can get the prices online.
PILLARS - INSIDE THE TEMPLE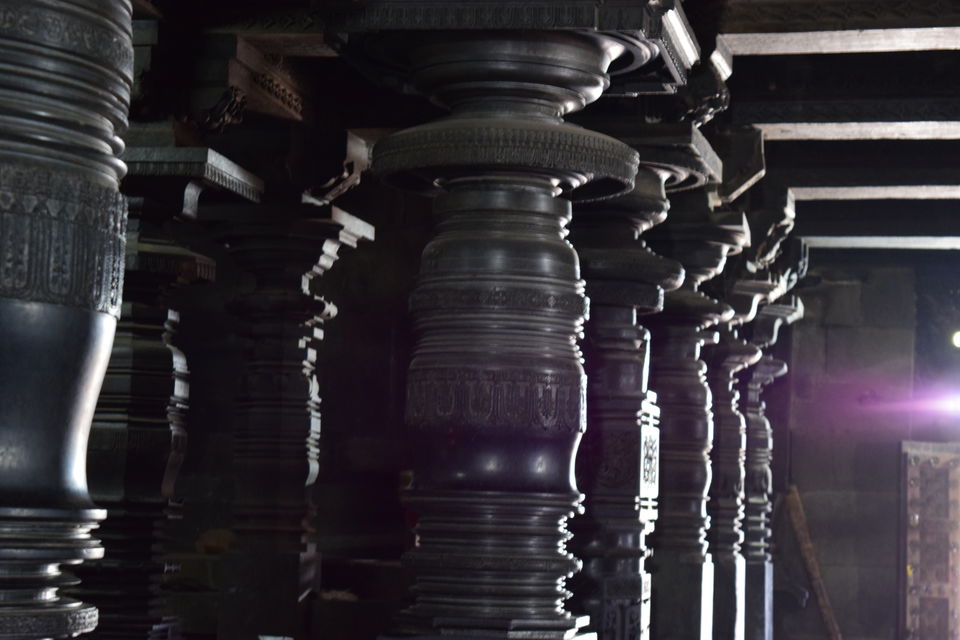 HOYSALA EMBLEM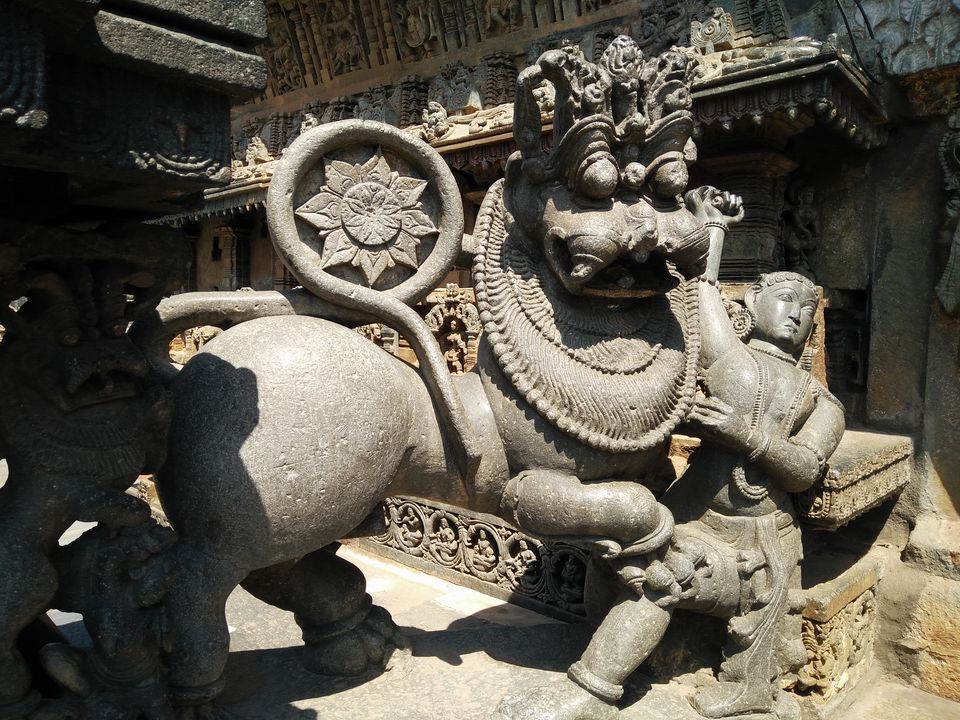 PANORAMIC VIEW OF CHENNAKESAVA TEMPLE

SIDE VIEW OF THE TEMPLE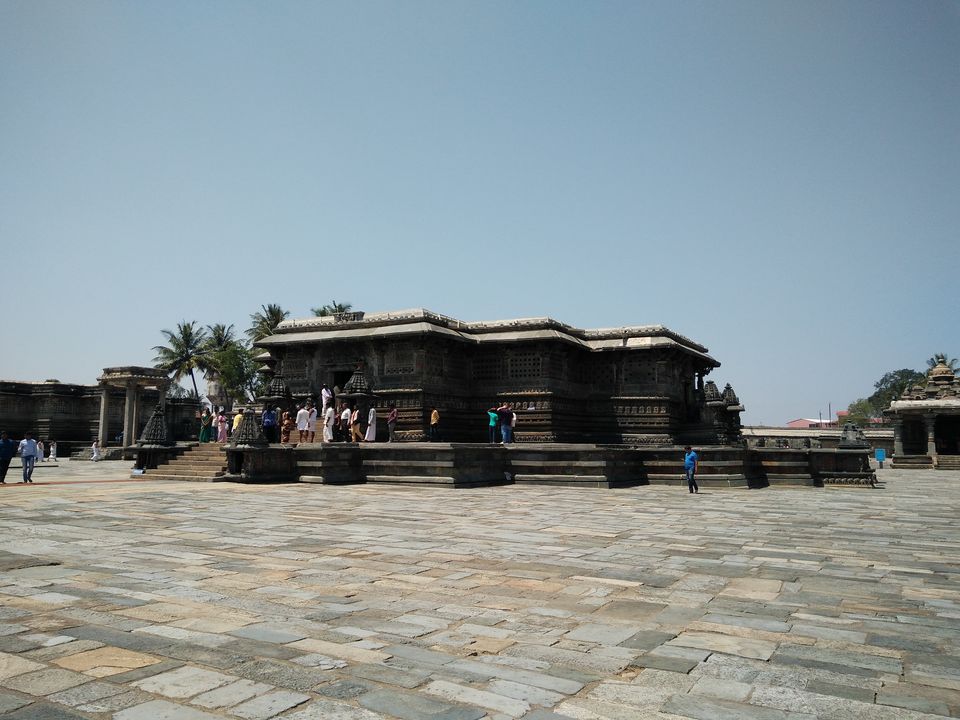 Place-3: Halebidu – This was another temple which has to be covered. I am visiting this temple for the third time. The name of the temple is Hoysaleswara Temple. The construcion will be similar to Belur temple. But we had taken so much of rest here. It was around 12 PM we reached this temple. So we didn't wish to get out of the temple soon. We sat there and relaxed for a while. And again the best time to visit this temple is monsoon as there will be a lawn outside which was completely dry when we went.
But when I visited the same temple last time in the month of October, it was full of greenery and very nice for photos. The temple is peaceful and there will not be many options for food nearby. So from here we headed to Bangalore.
NANDI STATUE - IN HOYSALESWARA TEMPLE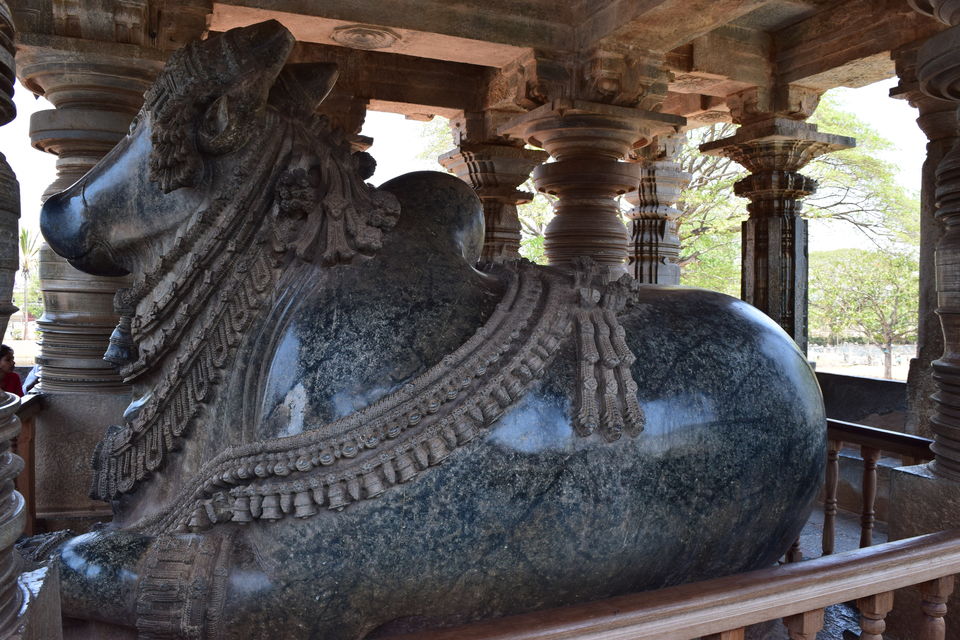 INSIDE THE TEMPLE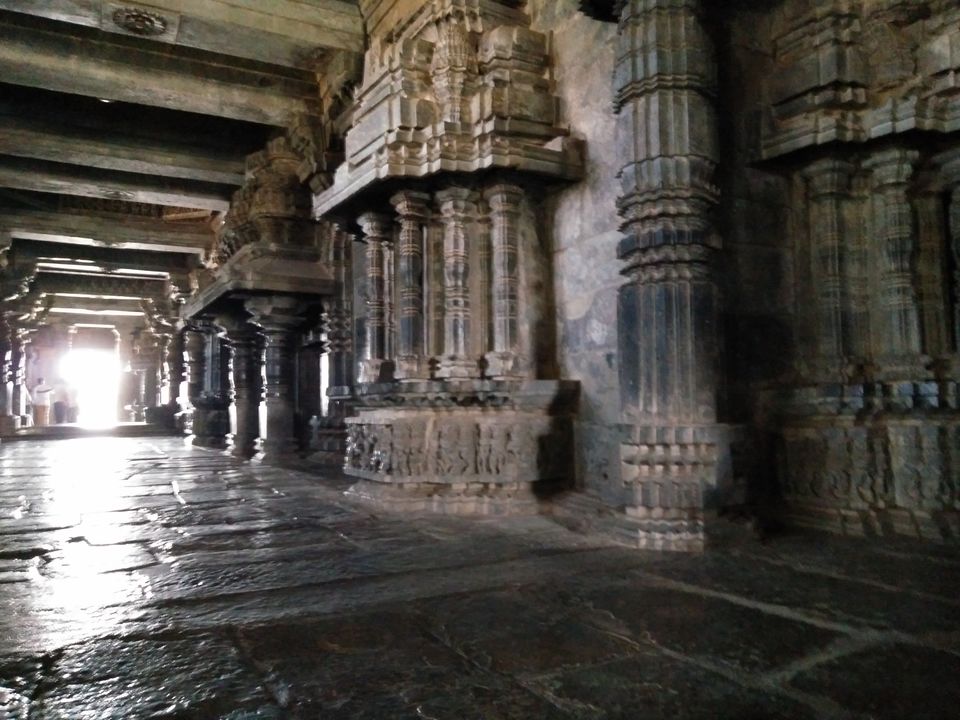 That's all the places we have covered. We had a stop at Polar Bear icecream shop which is around 6 kms from Yadiyur. And the conincidence is, it is just beside the Swathi Delecacy which we stopped on the previous day for breakfast. Had a couple of icecreams while watching the IND-AUS 3rd Test match. And then started back to Bangalore.
Took a right at Nelamangala junction and from there the traffic was too heavy. Be careful, as everyone will be riding very fast as they will be still in the Highway-Drive mode. We have to switch back to City-Drive mode.
We took a turn onto the Nice Road. And as always riding on the NICE road is good. There were few potholes though. It was not so smooth ride as it used to be. Finally reached home at around 8 PM. That's the end of a memorable trip.
Thanks to my ROYAL ENFIELD THUNDERBIRD 350 for adding more memories.