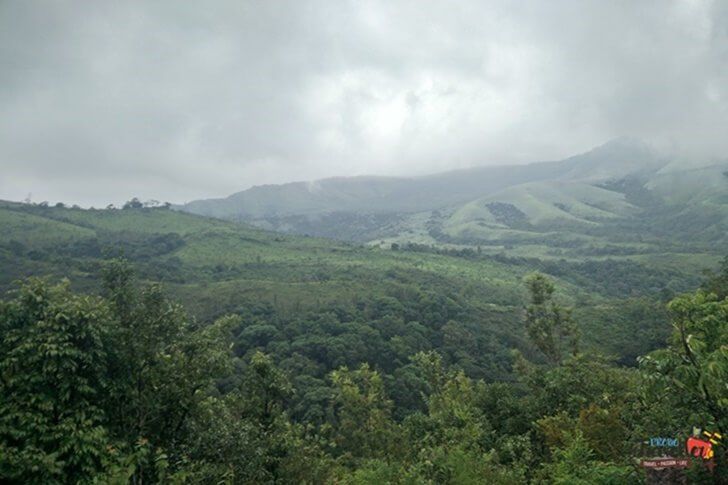 Are you looking around for places to visit around Chikmagalur? I visited the scintillating place in the month of June, at the onset of Monsoon and here goes my experience...
It had been a while since i ventured out and it was a Herculian task to stay put controlling my wanderlust. The travel infested, just as me, would nod their heads in agreement! Earning in INR and spending in USD leaves me cold. It's the one thing i find it hard to digest. However, i made an exception and planned to venture on a weekend getaway from Chennai, on a short notice.
There are few places to go on a weekend getaway from Chennai - such as Pondicherry (Puducherry), Kodaikanal, the mangrove forests near Pondicherry - Pichavaram, Yelagiri, Yercaud or even a trip to the "God's own country" Kerala. However, i stumbled on Chikmagalur (Karnataka State), a scenic retreat located at 250 Km from Bangalore. Well, to be honest, it isn't a weekend getaway from Chennai. Regardless, the places to visit around Chikmagalur lured me. One would need at least 4 days if it's a backpacking trip by train and bus.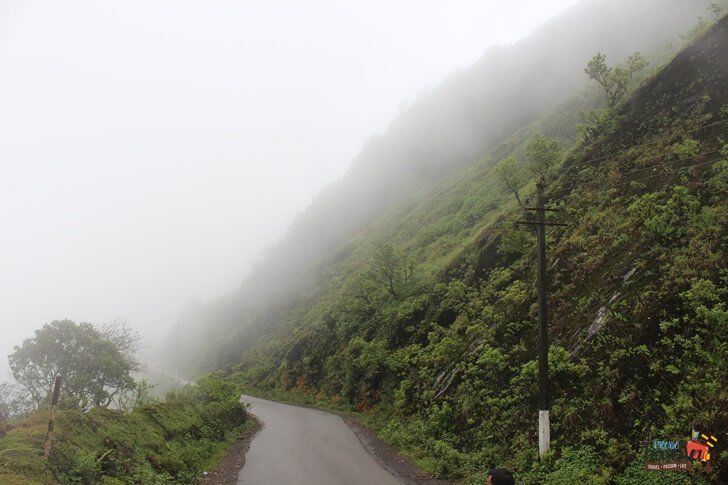 Chennai to Bangalore:
Typically, it takes around 6-7 hours by bus from Chennai to Bangalore (there are numerous trains between Chennai and Bangalore. Checkout www.erail.in for information) and another 4-5 hours by Taxi to Chikmagalur. Travelling by bus from Bangalore to Chikmagalur will add to your woes, given the traffic in Bangalore and the bus schedule from Bangalore to Chikmagalur.

A flight from Chennai to Bangalore could cost you around 1500 INR on a minimum fare, plus the taxi/bus fare from Bangalore airport to the city (around 1.5 hours) makes it a less preferred option. The best way is to travel by bus/train from Chennai to Bangalore, which would ideally cost only 500-800 INR.
Reaching Chikmagalur:
The nearest airport to Chikmagalur is located at 250 kms at Bangalore/Bengaluru and at a distance of 200 km on an average at Mangalore. There are buses leaving from both Bangalore and Mangalore to Chikmagalur. However, it is most visited by bikers and group travelers by bike or vans either by means of tour packages or individually arranged vehicles.
The nearest railway station to Chikmagalur is located at Kadur (40 Kms) and at Hassan (60 Kms). You could rent a taxi from the railway station to Chikmagalur hotel / resort.
PS: It is a must to have an own vehicle or rented vehicle to visit the places in and around Chikmagalur.
Distance from Bangalore to Chikmagalur: Map
Distance from Mangalore to Chikmagalur: Map


Places to visit around Chikmagalur - best means of transport:
A weekend tour package from Mangalore or Chikmagalur - Taxi & Hotels / Homestays
Own Vehicle - Car / Bike (preferably day time or early morning on weekends)
Chikmagalur - an ideal Weekend destination:
Chikmagalur is a laid back town and the places to visit around Chikmagalur are a visual treat. You would be happy to miss the choking smoke from the hardly serviced Government bus, the irritating honking, your ever running mind, and your boss most of all! Well, the place is no escapade from pollution and a mild traffic. But sure, the places in and around Chikmagalur has few tricks in store.
Weather in Chikmagalur:
Chikmagalur is located at an altitude of 1090 mts above sea level. The weather in Chikmagalur is predominantly pleasant. The best time to visit is in December. However, the monsoons are no less - for the rains and the misty fog add beauty to the lush green environment. The places near Chikmagalur such as KrishnaRajendra Hill Station (has a Government run resort), Baba Budangiri, Kemmangudi etc., offers a very good weather. The mist, the rains, and the cool winds breezing through on the hill tops makes it an ideal place to hangout. I visited Chikmaglur in June, supposedly off-season. Despite the off-season, i witnessed a decent crowd.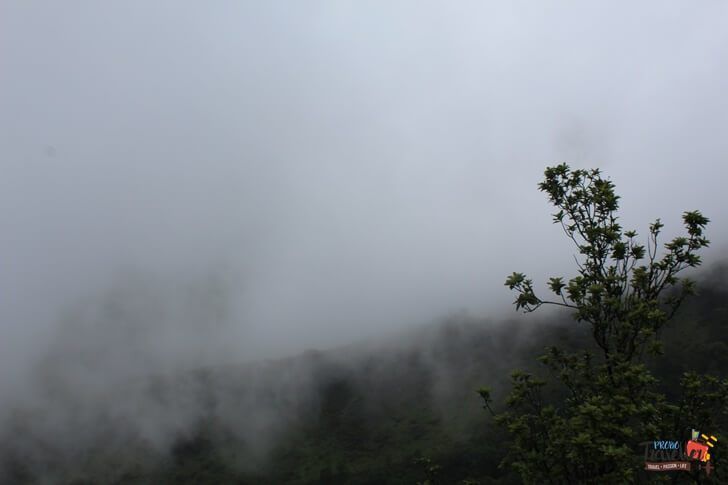 Falls & Lakes:
Chikmagalur has numerous scenic Falls and Lakes in it's portfolio. Buttermilk Falls, Kalhatti Falls, Manikyadhara Falls, Hebbe Falls, Honnamana Falls, Sankara Falls,Rameshwara Lake, Ayyankere Lake and so on...
Trekker's Paradise:
There are many a trekking places near Chikmagalur. Kemmangudi, Baba Budangiri Hills, Muthodi forest are few of the trekker's paradise around Chikmagalur. I saw few trekkers in their adventurous attire taking a break near Manikyadhara Falls. Trekkers from Bangalore throng the place during Weekends for a blissful stroll. You could shop your trekking needs from the renowned Decathalon stores in Bangalore and Chennai.
Honeymooner's Paradise:
Chikmagalur and the places around are a good place for a romantic honeymoon. Taj property has a huge resort "The Gateway Hotel", in Chikmagalur. Couples who prefer a luxurious honeymoon could opt for "The Gateway Hotel". There are numerous coffee plantations offering cheaper homestays, which gives an opportunity to dwell amidst the Coffee plantations, Falls and cool breezy nights. The rates of properties vary depending on the amenities and the localities.
Places to see near Chikamagalur:
Following are the places to see near Chikmagalur. I have listed down the places you cannot miss during your trip to Chikmagalur...
Kemmangudi.
Baba Budangiri hills .
Mullanyangiri.
Hebbe Falls, Buttermilk Falls, Manikyadhara Falls.
Coffee Barn - Aromatic and original coffee priced at INR 30. It has lots in store to explore.
Coffee Museum - Priced at 20 INR for entrance, the Museum is a must go to understand as to how Coffee came into existence in India.
Chennakesava Temple, Belur
Hoysaleswara Temple, Halebidu
Baba Budangiri:
It was the first place where coffee bean was planted by Baba. A flight of stairs leads down to the Baba tunnel temple. One could smell the scented sandal akin smell from the moist rocks donning the temple. The lush green and the misty fog adds to the scenery of the temple. I couldn't descend down the temple, due to a mud slide inside the temple. It's worth a visit.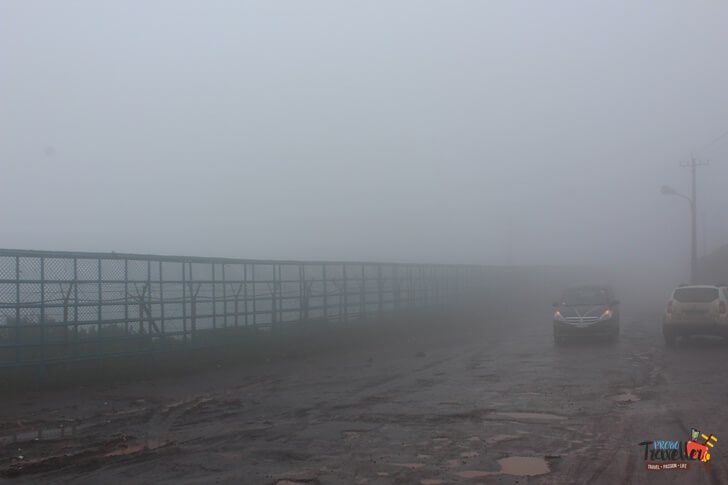 Manikyadhara Falls:
A short drive from the Baba Budangiri leads to Manikyadhara Falls. There were few small time shops selling hot omelette, food, coffee and cool drinks. The view point is scenic with mist covering the mountains and the drizzle from the windy fog is scintillating. The Manikyadhara falls has an entrance fee of Rs.2 and is certainly worth more than the fee! A small falls, the Manikyadhara, adorns the hill top.
Chikmagalur and it's surroundings, is all about the scenic views, mist, falls, the lush green and the food. It's certainly a paradise for the bikers and the trek lovers! Oh yeah, it certainly is a romantic retreat for the couples in love!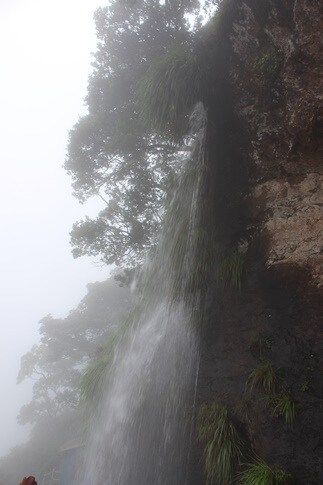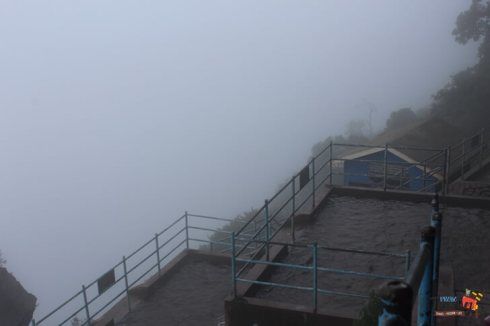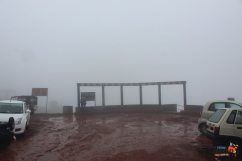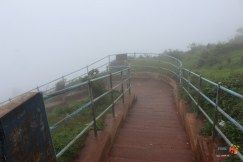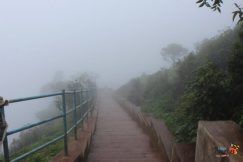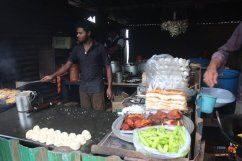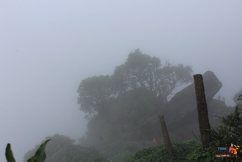 Buttermilk Falls:
The Falls is located on a steep and rugged road down through coffee plantations from the alighting point. One must take a Jeep ride down the hill, which would cost 1500 per jeep (for 8 pax max). The normal sedan and the passenger cars cannot and are not allowed on the road to the Falls. One could take a cold shower in the scintillating falls. There is also a small shop just near the Falls selling hot omelette, Vada Pav, and more.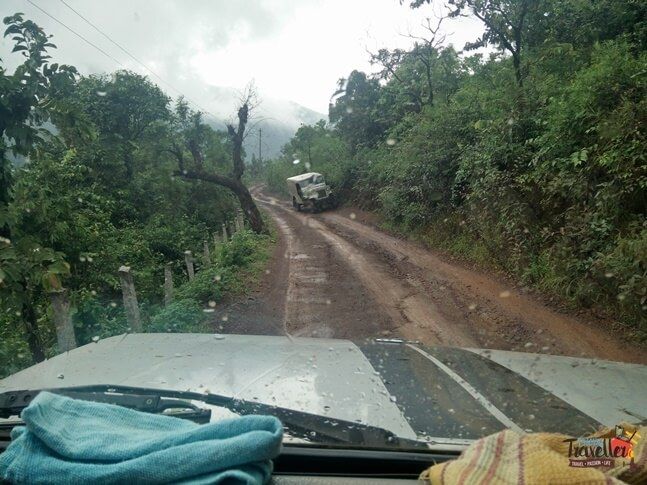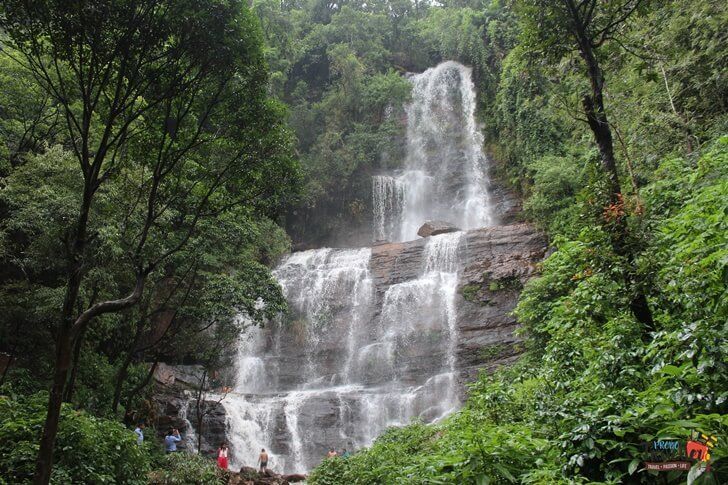 Kalhatti falls:
The Falls failed to impress us - for we did travel long, at least an hour drive from Chikmagalur. The falls was very small. I would rather suggest not to add this to your itinerary. I did learn that there was a trekking route up the falls to a bigger view point. However, this route isn't for everybody!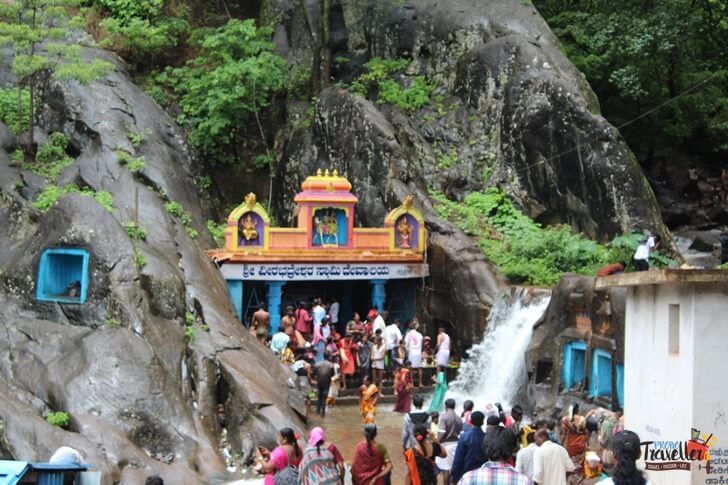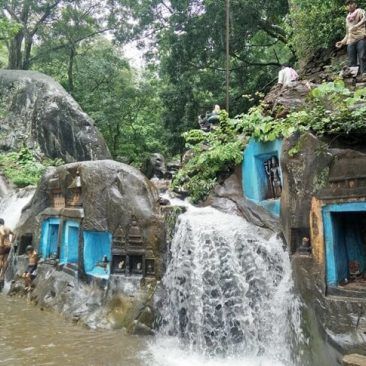 Kemmangudi:
"Z view point" and a Rose garden are an amazing sight in Kemmangudi. There was a heavy downpour when we arrived at the "Z view point" and the Rose garden. Given the altitude, the weather was cold, the rains were chilling to the bone and the views were absolutely stunning! It certainly is worth a visit. To add to it, the KrishnaRajendra resort, a government run resort was beautiful with stunning views. The rates were moderate and is certainly worth a stay in Kemmangudi.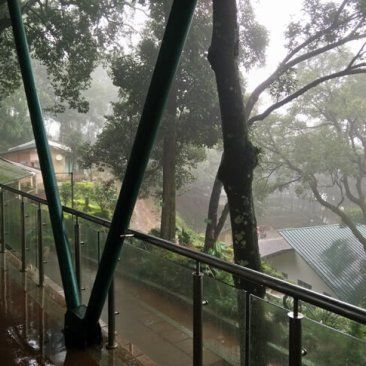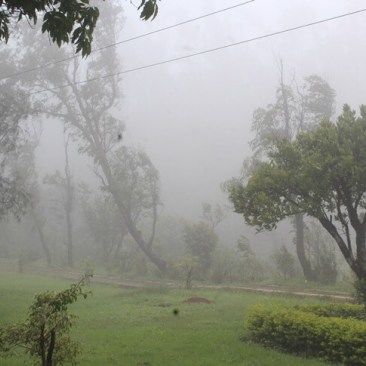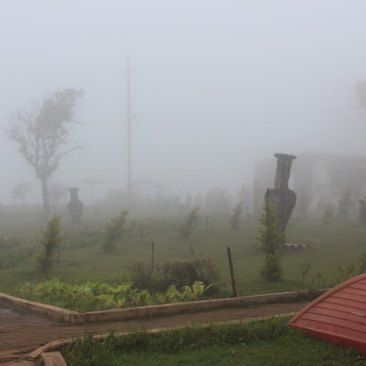 Hebbe Falls:
On ascending down the hill from Kemmangudi, you would find an outpost with few jeeps lined up. It leads to Hebbe Falls, which we missed! The jeep rates were 400 per head and 3200 per jeep. The drivers would neither reduce the rates nor let us drive through. It's the way the local population makes money from tourists! We were just two in number and owing to Sunday evening, the visiting crowd from Bangalore and around had already left for the day. It is advisable to visit Kemmangudi route on days other than Sunday. If otherwise, you may need to pay 3200 INR just to visit the falls! Last i heard, it was worth the money!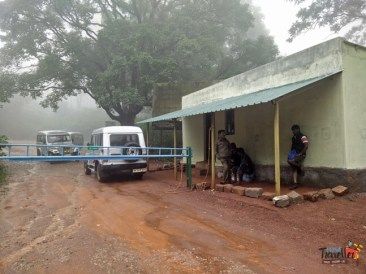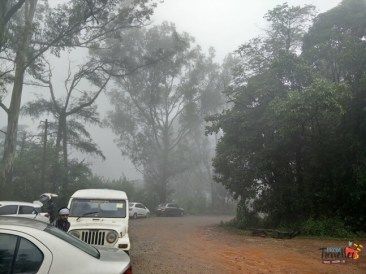 Temples near Chikmagalur:
Chennakesava Temple and Hoysaleswara Temple could be covered on your way back to Bangalore. Chennakesava is located in Belur, while Hoysaleswara is located in Halebidu. They are renowned for the artistic and intricate architecture, built during the period of Hoysala empire. They are feast for the art lovers and a must on the places to visit around Chikmagalur!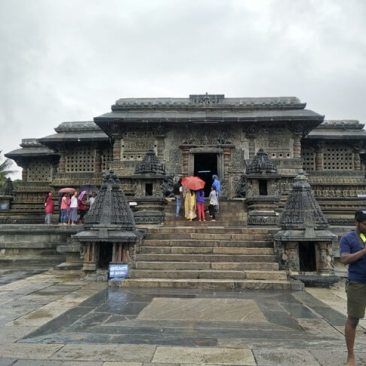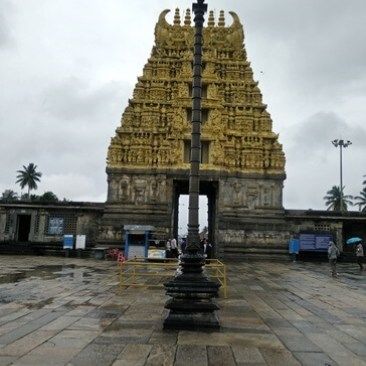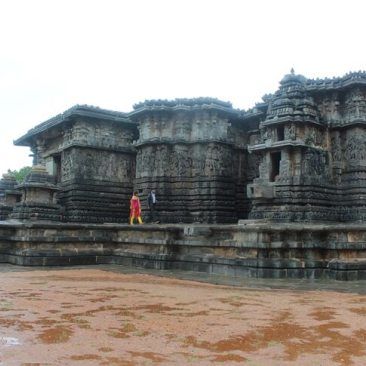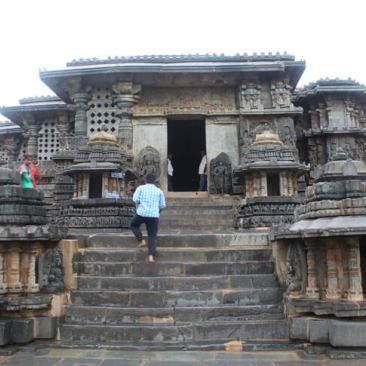 Suggested places to stay in and around Chikmagalur:
The Gateway Hotel, a Taj Property
Eagle Eye Resorts - http://www.eagleeyeholidays.com/
The Planters Court - A budget hotel with mediocre standard rooms. The Deluxe rooms were good and consequently a bit over priced!
Krishna Raja Resort, Kemmangudi - Near Rose garden and Hebbe Falls. Stunning view points.
Coffee Barn - A Homestay amidst the Coffee plantations
Homestays near Buttermilk Falls