Dates - July 23, 24 and 25 2011.
Tripmates - Karthik, Selvakumar, Karthikeyan, Santhaseelan and Visweswaran.
Our first mission to explore Karnataka !! We started from Chennai by train to Bangalore and had booked a cab for 3 days. The trip route is:
Bangalore - Kemmanagundi - Chikmagalur - Belur - Halebeedu - Sravana Belagola - Bangalore.
Chikmagalur Tourist Map
Kemmanagundi is around 240 kms from Bangalore. We went via Tumkur.
Starting from Bangalore railway station around 4:45 in the morning, we had our breakfast on the way and reached Kemmanagundi range around 10:15 am. We visited Kalhatti falls from outside as it was raining very heavily. We then reached Kemmanagundi. We enquired for the stay and all dormitories were blocked for some VIP and the cottages were all knocked down because of fresh construction. We enquired couple of people for nearby private cottages, but, no help ! We then decided to see as much possible for the day and then think about accommodation.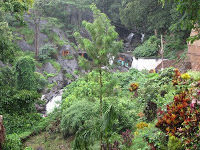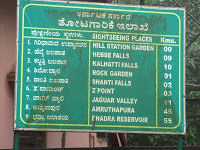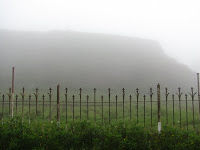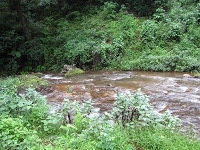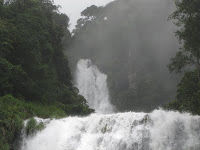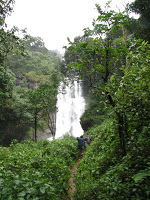 Day-2: After having breakfast at Mayura hotel in Chikmagalur, we started the day for site seeing. The places to visit for the day were Mullayyanagiri, tallest peak in Karnataka and rest of the places in the Chikmagalur to Kemmanagundi ghat road. Mullayanagiri approach roads are decent and can accommodate only one vehicle at a time. We realised the elevation from sea level as the wind speed was increasing exponentially and visibility was barely 10-15 feet. There are around 200 steps that takes us to the 'peak'. The speed of the wind is such like it is difficult for everyone to make it to the top. The low visibility too adds to it ! Life time experience. The way to the top looks like steps to heaven :-)After spending couple of hours in the windy (stormy) peak, we decided to move on. On the way, we visited "Sitalayana Matta" - a very good view point. Next, we stopped at Honnamana Halla falls. The actual halls is down in private estate, but, people around said that it is full of leaches. We saw the falls on the ghat road. The next stop was "Babubudan Giri Datta Petta". We believe this is one of the best places to see the sunset. Nevertheless, the almost zero visibility hampered our view and it was all white everywhere. 4 kms from the there is Manikyadara falls. Again, same site - 10 feet visibility and misty everywhere and a falls ! Couple of our friends took bath in this falls which should be close 7-8 degree Celsius. Had some mirchi bajjis as lunch and killed time for couple of hours there.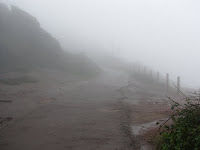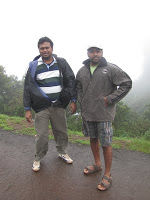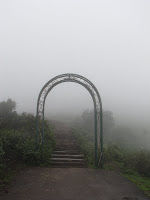 Reached back Chikmagalur by 5 PM and did some purchase - coffee/tea/pepper at Panduranga Coffee on MG Road and dinner at Hotel Maurya and stayed in Chikmagalur.
After checking out around 9 AM, we started the last day of the trip towards Belur - Halebidu - Sravana Belagola.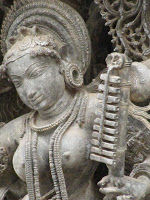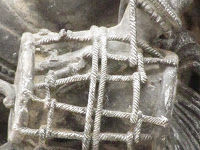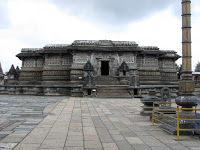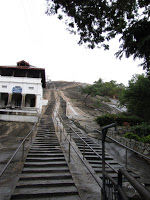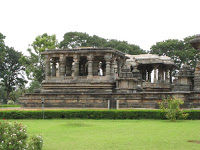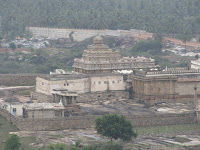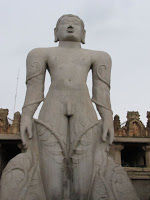 Halebidu is 16 kms from Belur (27 kms from Hassan) and in no way lesser in architecture than Belur. These two temples are build at the same time and the outer dimensioning of the temple is in star form with 32 edges. Amazing architecture ! Halebidu is Hoysaleswara temple (Shiva temple).We reached Hassan by 2 PM and had lunch. 
Post lunch we drove down to Sravana Belagola - 51 kms from Hassan, a very famous Jain pilgrimage. One has to climb around 65o steep steps over a hill to reach the top and see Gomateswara Bahubali. The monolithic statue is 57 feet tall. We took few snaps and sited the beauty around the place from that height.Then, what else ? climb down and reached Bangalore to catch the train back to routines at Chennai !
Awesome trip ....... highlights :
Day 1 : Raj Bhavan and Hebbe falls.Day 2 : MullayyanagiriDay 3 : Belur-Halebidu sculptures and Sravanabelagola.
Places to visit in Kemmanagundi - Raj Bhavan, Rock Garden, Shanti falls and Z-Point, Hebbe falls.As we walk on the well laid pathway, leeches welcome everyone ! Raj Bhavan is an old government building atop of the hill. It was completely windy and foggy. The visibility was barely 10m. We walked around for some time and the sound of wind was scary ! We spend close to an hour there. There was a dog that accompanied all the way in this small trek. We then climbed down and took the route to Rock garden - Shanti falls - Z-point. They are 1-3 kms of total distance on the same route. As we walked upto Rock garden, the leeches were too much and made us not to walk all the way to Z-Point. We heard that Z-Point is an excellent view point, but the very low visibility and the leech filled route made us return back from the trek and pursue Hebbe falls.
Hebbe falls is 8 kms inside from this place. We need to do a jeep safari to reach the foothills and from there around a km of trek to the falls. We started around 2:45 PM. On the way we need to encounter lot of leeches and cross 3 streams of running water. We applied lots of Shampoo from knee to feet to counter attacks from leeches and it was almost successful. Hebbe falls was rich with beauty and water ! WoW ! was the first word. We immersed ourselves in and spent around 20-30 mins there before the water levels started to raise. We decided to leave and cross the 3 streams back and reached the jeep. We were back to Kemmanagundi by 5:30 PM.
Having covered Kemmangundi's prime locations, the cab driver suggested drive to Chikmagalur for night stay and we obliged. There are lot of hotels/lodges in Chikmagalur. Most of the hotels close by 9 PM for dinner.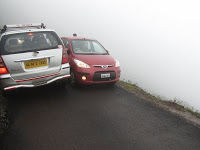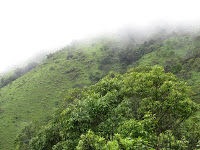 Belur is 26 kms from Chikmagalur and Chennakesava temple at Belur is an ancient Vishnu temple build in 12th century. The temple was built for 103 years and the artistic nature of the sculptures are amazing. They are so well sculptured that the original posture of any human shall aptly match the sculpture. The pillar that is in front of the temple just "stands". There is no support to the pillar, neither it is planted/set with concrete. It just stands !