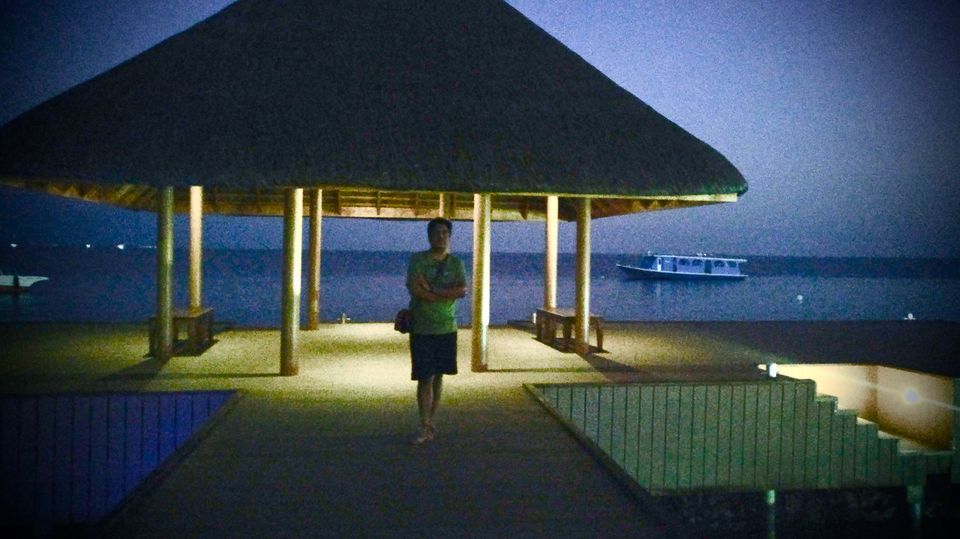 So here I was, rejoicing at my marriage and pondering at the same time about a trip which I envisaged after so much hassles and research, amidst the fear of venturing out into the unknown with my wife as a newly wed couple. No wonder, belonging to a middle class family has its own reservations, by the likes of endless futile discussions on where to go for Honeymoon?? The innumerous times where I would ask , and the infinite times my fiancee wound retaliate with a sigh of shy and immaculate silence , only to leave me scratching my head with the thought of again delving into the abyss of research and never resurface , once a destination would succumb to her silence. So we started off with the likes of Shimla, Manali and Andaman, but I thought why not use this as an opportunity to explore something new, something beyond our tradition and culture and also put a rest to an intriguing thought which has always been churning inside of me as to why people (who can ) have always been inclined on a " FOREIGN TRIP". So began the indefatigable research, which culminated in selecting " MALDIVES" as our destination.Now, as I hail from Kolkata ( the city of joy, just so as you know), the problem lurching in front of me was ,where to get the flights from ,as there were no direct flights from Kolkata to Male ( the capital and only airport of Maldives). So, I could either go via Mumbai, Bangalore or Cochin. Cochin , being on my never untravelled list found its way to the top of the favourites and there it was. Subsequently I also learned about Munnar, a picturesque hill station, about 3 hours drive from cochin. So the trip was finalised, "we got married" and then set off, on our journey to the unknown. Not to mention, our parents were brutally scared , as this was my first time of travelling to a foreign destination. But as they say, "what ends well"....( well I guess, most of you would be able to complete that!!)
The next day we woke up early as we had to check out. With a heavy heart we packed our luggage and left for the airport in the ferry.
So, we reached Cochin after about 2 hours flight and damn, this realisation set straight in that we are about to embark on a truly remarkable journey, my god , were so happy about it. In cochin I had already booked " ATLAS AIRPORT APARTHOTEL", an apartment which has been made into a hotel, and to tell you , a truly remarkable arrangement. Its proximity to the airport and a truly luxurious experience etched into our hearts forever( I quietly grinned at my selection of the hotel witnessing my wife's satisfaction, for one thing for sure, while you are on your honeymoon or rather whenever you are travelling with your family never compromise on the rooms). So we had a whole apartment to ourselves, it was super clean and tidy, kitchen was well stuffed with the regular stuffs like coffee maker and a whole range of basic utensils. Late in the night we went for a stroll at the local market, had dosas for dinner and then came back to prepare ourselves for tomorrow's flight to our dream destination!!
The next day we woke up , rushing against the time , as always late, for our flights. Somehow grabbed our breakfast and went to the airport in a vehicle arranged by the hotel. I truly admired our stay at this place, no regrets , whatsoever, only praises and praises.
As we walked down the runway before boarding our flight, my eyes frantically searched for our aircraft( I always admire the sheer size of jets, anticipating what might our craft look like, for we were to be taken to a foreign land and no small craft could have done it, or so I thought!!), and in the yonder, suddenly I could see with my straining eyes , our queue culminating into a 40 seater, to my amusement, a very very small airplane. It was packed with couples , for sure(mostly young though).
In the craft, midway , while some of the folks were gasping at the sheer beauty of the seas and the clear blue sky slack - jawed, others engaged in some indistinct conversations with their partners , cuddling into each other and occasionally laughing at times, a flight steward, came ahead and distributed the IMMIGRATION FORM, which had to be filled before we landed at the airport.
So as we got lost into each other and into nature's beauty , after half an hour flight , we reached our destination, the MALE AIRPORT.
We were pretty exasperated by our trip, so took some rest, got freshened up and headed out to explore this little paradise. As we walked down the island, along the beach, we were left dumbstruck by the ambience, I mean, I was truly speechless!! It seemed to me, to be a perfect place for new couples starting out their journey of life.This place was really quaint, shrouded in a cloak of tranquility, where everyone seemed to be engrossed among themselves , nonchalant to the outer world. As we walked past the beach villas, marvelling at the evening, the shore lit up by dimly lighting light posts, staggered beach chairs all along, we took this opportunity to snap few pictures for ourselves on my wife's new One Plus Three phone( back then,I did have a knack for photography, but was not such an avid photographer, it was only later when my wife gifted me a DSLR).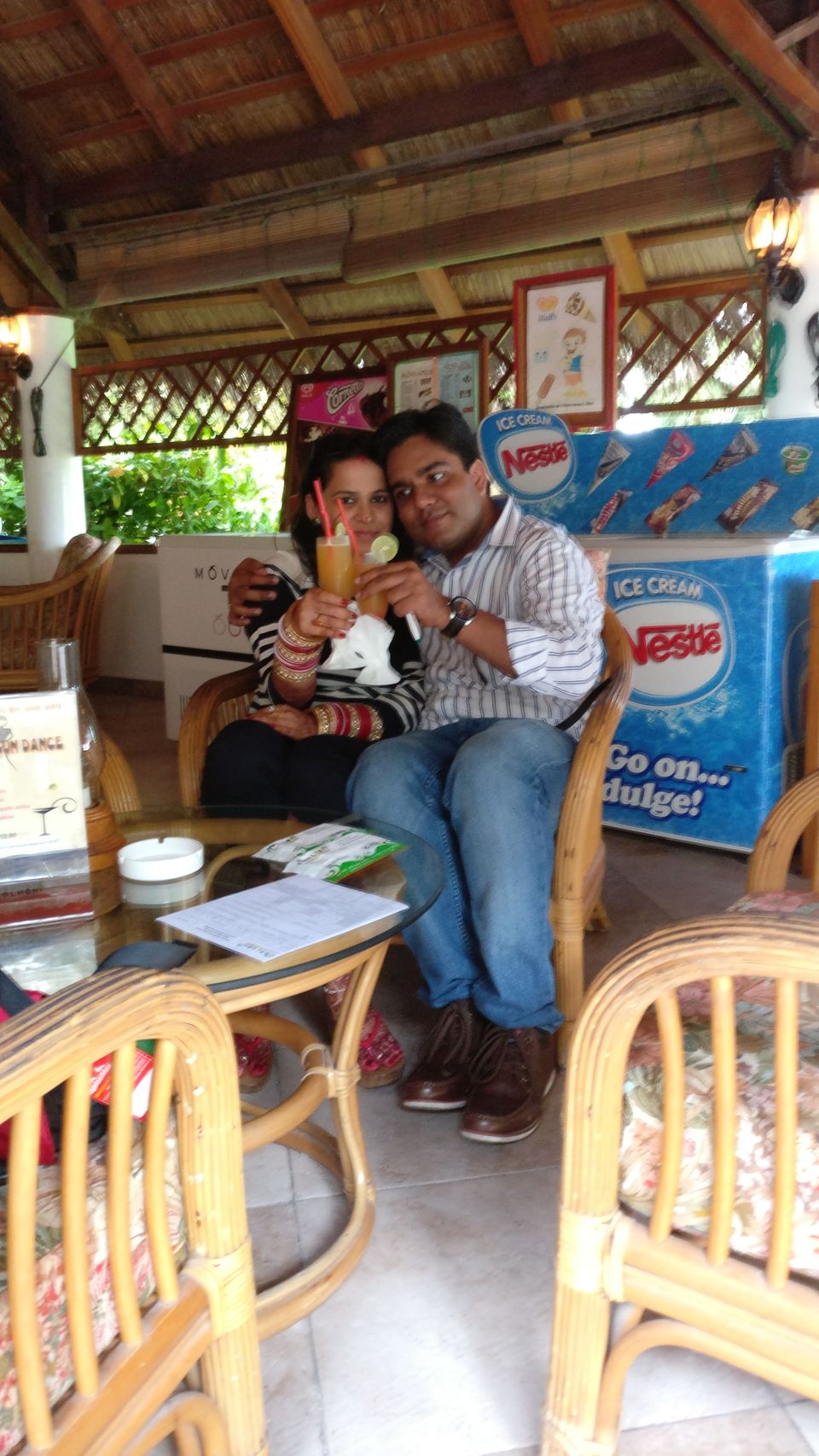 We strolled casually along the beach, sat in the beach chairs, enjoyed the sound of waves splashing at the shores, rustling of the leaves of palm trees and the fragrance in the wind as it passed abreast us.Time flew by and it was already the time for dinner. We had a sumptuous dinner and then head back to our rooms to get ourselves rejuvenated for the coming day.
So, time to wake up and roar!!! We woke up early to witness the sunrise, went to the shore where the cold sea water and the drifted sand brushed our feet, soothing our inner selves and leaving us mesmerised. We spent quite some time at the beach, though not drenching ourselves, took some pics and had quite fun. We almost had the beach to ourselves for an hour or so, before it began to show up with scattered tourists, some , heading to the beach itself, others heading for the breakfast. So we also went along and had some delicious breakfast. The food served is fresh, mouth watering, exotic to the eyes and does fill you up to the brim.After, we filled ourselves as gluttons, it was time to go , get some sleep as we woke up early that day. I think we dozed off for a decent amount of time before my wife realised that she has an enormous numbers of dresses to try on, and, bang, I woke up suddenly, seeing myself lying on the wooden floor, staring at the curtains hanging off the balcony, for I had been reprimanded out of the bed ,in a rather harsh way, for I was ignorant to the initial calls of rising!! And that day I knew, a girl's superpower( You can ask them to don a thousand attires in a day, and they would do so gleefully, without a blink, while you stare at them helplessly, just frisking through your luggage in futility, to come to a rather grave realisation, that you packed only "few" dresses, and that too not the matching ones) . Anyways, we got up, as it was almost getting dark, got dressed and set out to roam again. As we strolled towards our restaurant, just across it, we noticed an overwater wooden dais, huge, with many chairs and even few luxurious sofas. We went ahead and climbed up the dais, sat on one of the sofas, and I, thought, "can something in the whole world beat this feeling?"
The place gradually got filled up by the people. A stir of pleasant air, sound of the water, creaking of the wooden floors, indistinct , muffled conversations and laughter, dark clear skies and the underlying ocean lit up by the blue lights and, there you are, with your life partner, gazing into each other as the time unfolds, and as the nature sets up the perfect moment. Breathholding, unparalleled feeling. Guys, you have got to go the this place," THE FIHALHOHI ISLANDS". We sat there, along with people from myriad of places for I don't know how long, only to be interrupted by an announcement that the dining place is going to close soon. So, we went and had our dinner, reminiscing about the moments, we just spent.The dinner was exquisite and satisfying, there is actually so much to choose from that you end filling your plate with almost everything on the menu( they look so beautiful, you can't resist not having them on your plate). The place, itself was quite magnificent.
After a fulfilling dinner, we came back to our room and tucked ourselves in, for tomorrow we were to enjoy our last day at this paradise.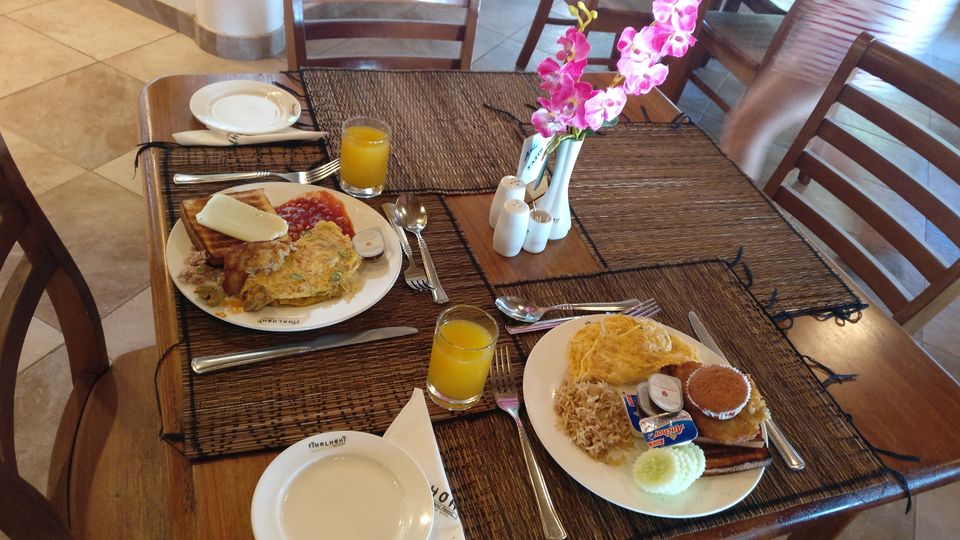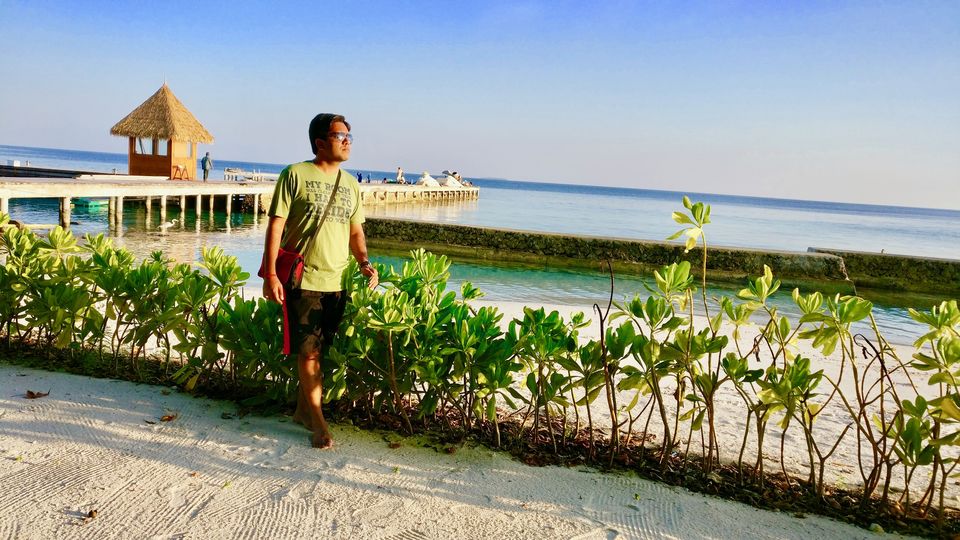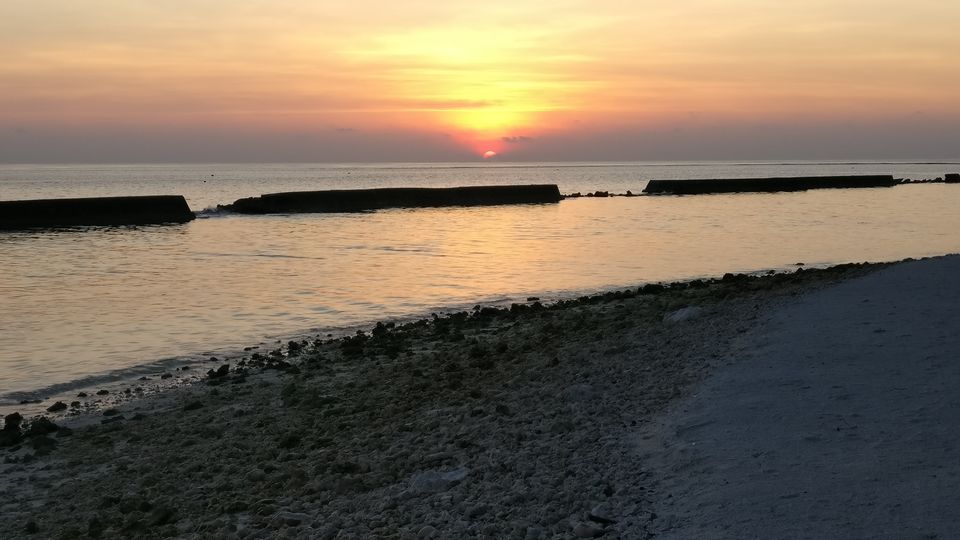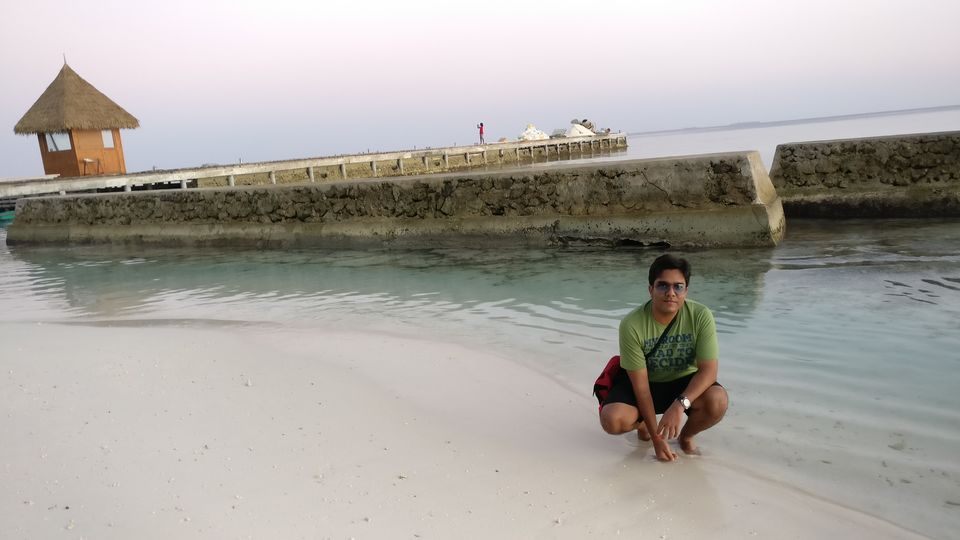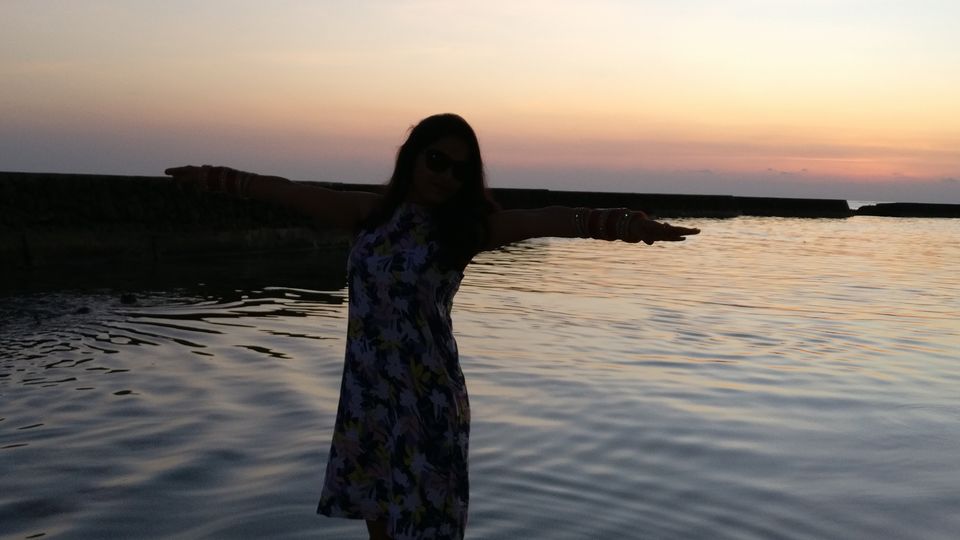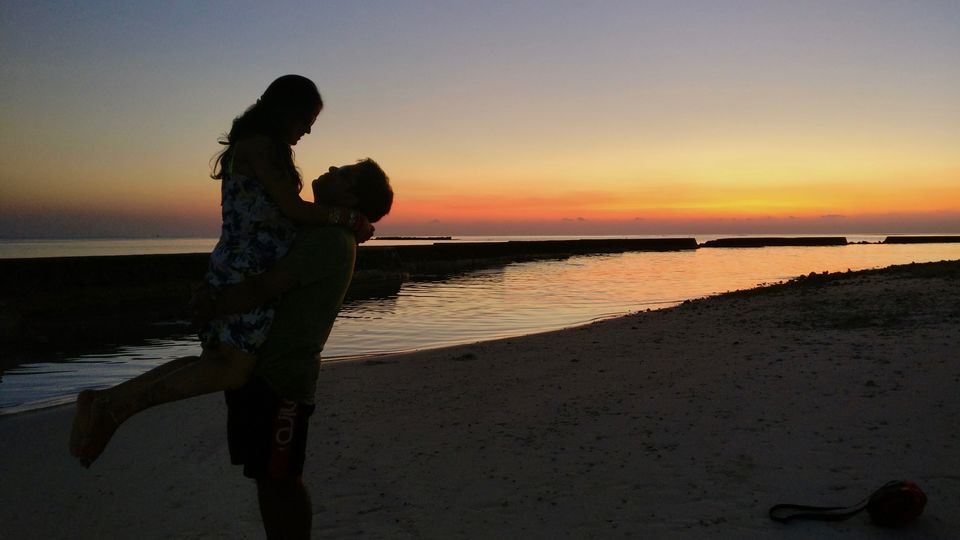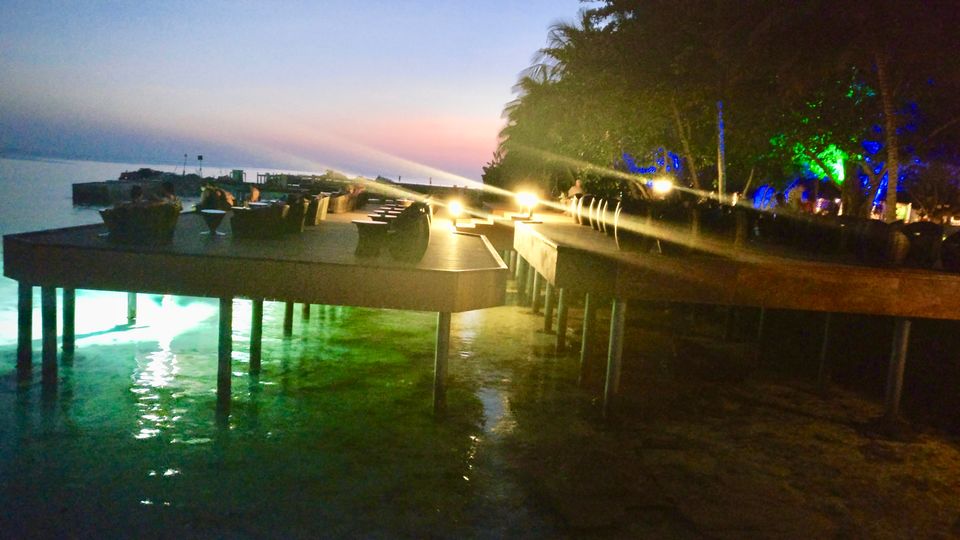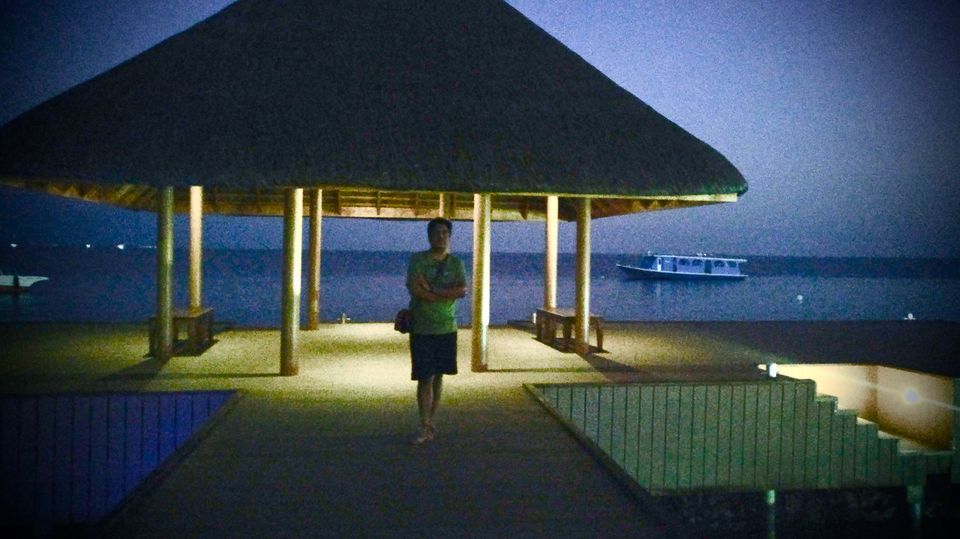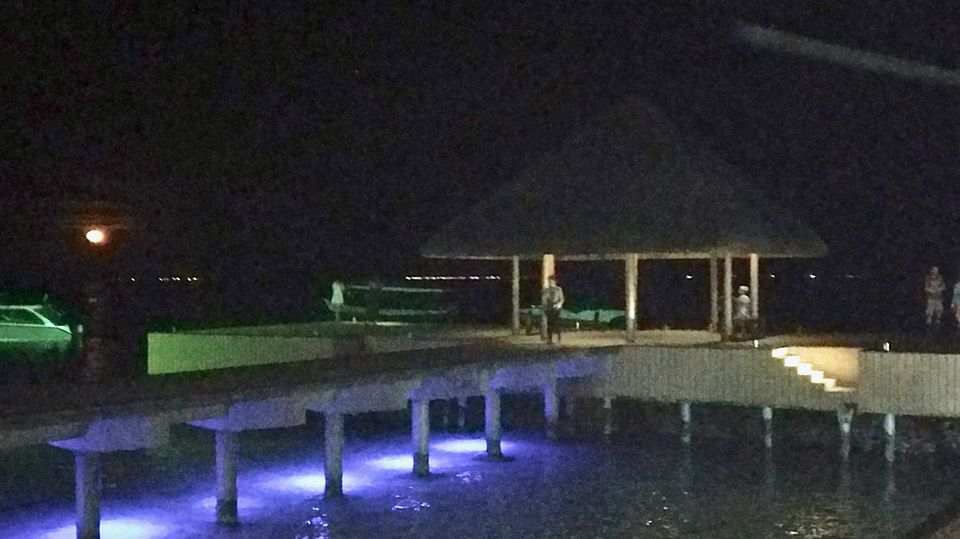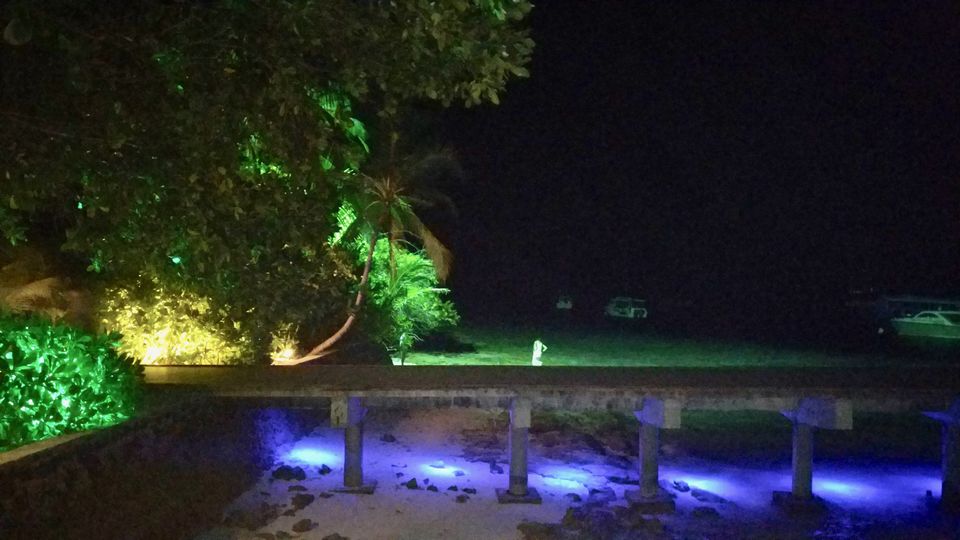 We woke up, got freshened up, had our breakfast and then headed towards the far off side of the island. And then we found" THE PERFECT SPOT"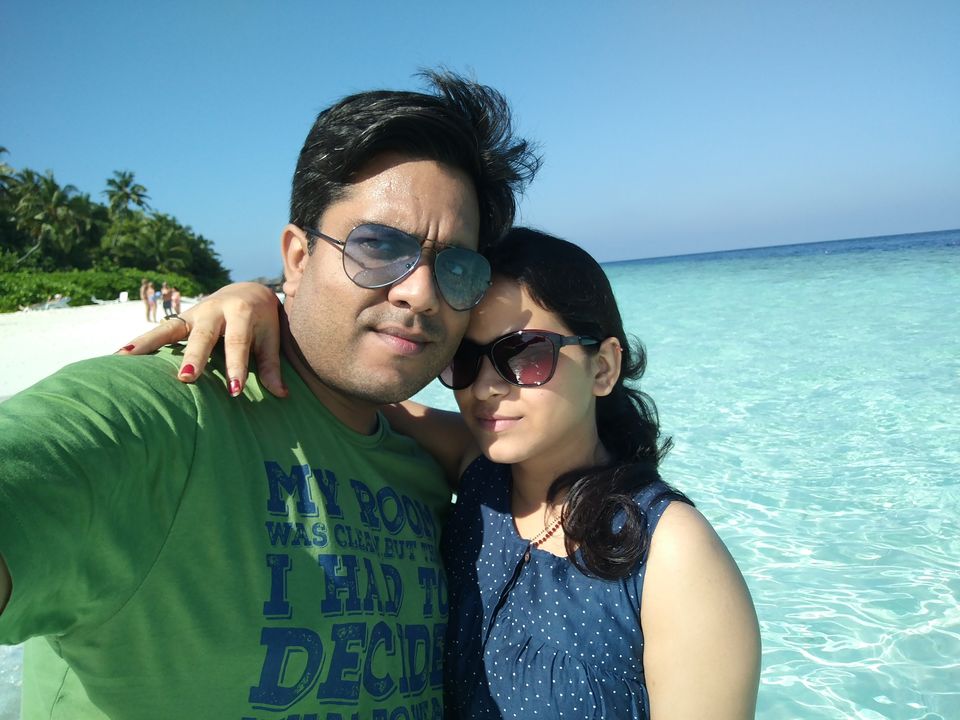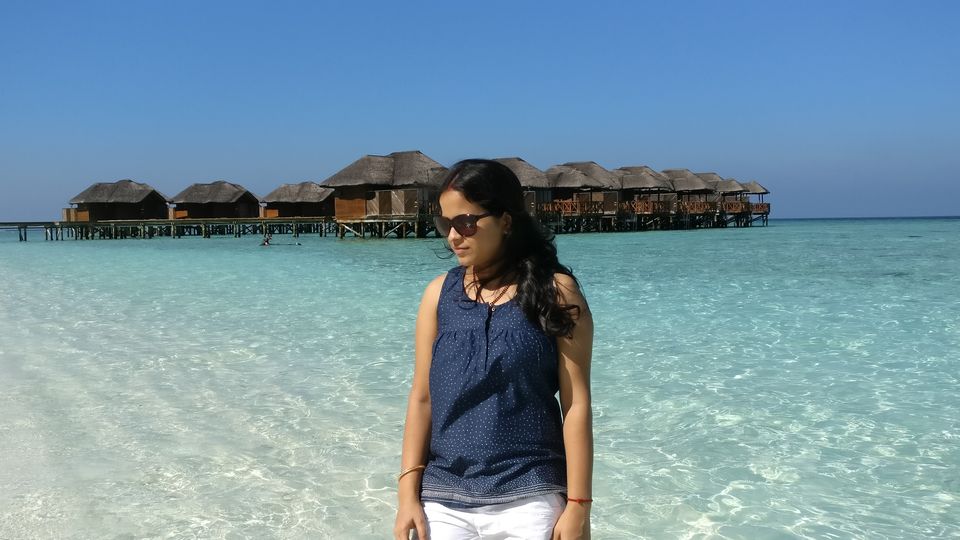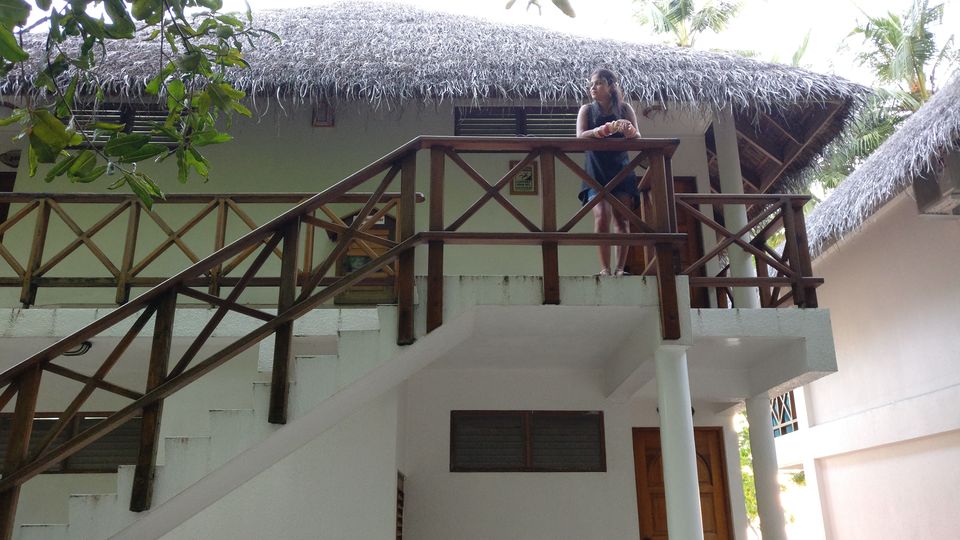 We hung up at the sea for hours ( even got sun burns), it was so much fun. Drenched completely, soaking high on our memories, we had our lunch and spent the rest of the day wandering around here and there.Today was our last day over here in this paradise, the one which got etched in our memories forever!!
The next day we woke up early as we had to check out. With a heavy heart we packed our luggage and left for the airport in the ferry.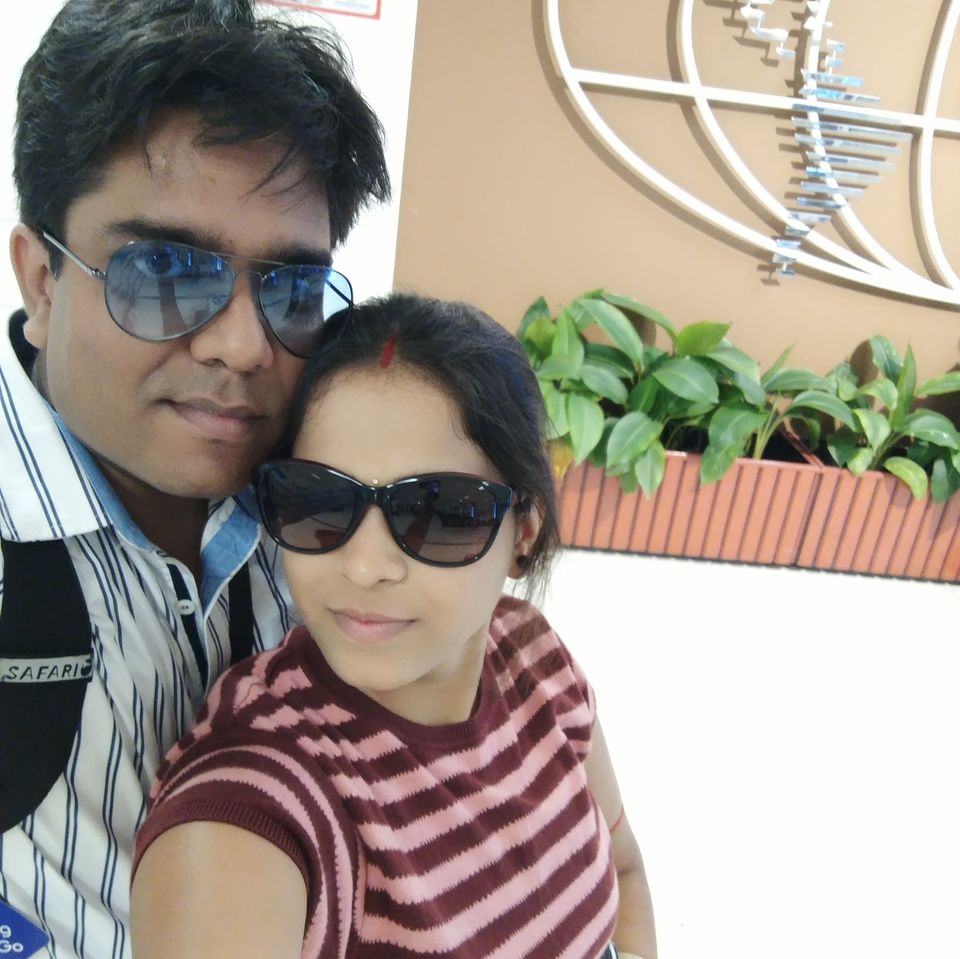 We reached back to Cochin, and the next day we took a bus to MUNNAR ," Truly a queen of the hills". It is about 4 hours drive from cochin. As we sat in our seats, and looked out the windows, our eyes glancing at the houses, the markets and the staggered forests, the temperature grew from scorching hot to pleasantly cold. We spiralled up the hilly road, our driver acing through them, as if he remembered every nook and corner of the road, though quite sometimes the passengers were kind of thrown out of their seats in bedazzlement when he would hastily negotiate a sharp turn. On our way , we found a lot of shops of spices, as if they were grown up here. There are two bus stations in Munnar, of which we got out at the later one. By the time we reached, it was almost dark. The place was eerily silent and spooky at first, with scanty shops along an uphill road, most of them already pulling down the shutters, while the people from other shops stared at us, as if we are from a different galaxy. This was rather an acceptable feeling for both of us, on a pleasant side, us having travelled from a foreign land and a crowded city. Anyways, we strolled down the road, found a near dilapidated restaurant, where one young, almost seemingly emotionless, stern lad was working on the orders of an elderly, rather disheveled lady who first appeared quite frightening to us. But, seeing us, she sweetly greeted us, with a wide grin and offered us a table to sit, where we ordered some noodles and some chicken. After the dinner, it was almost 9 o clock , we head out to our resort. We walked and walked, as if it were a labyrinthine, using google maps as our guide, but trust me, on hills, it may not lead to where you want to!! As it was already late, I decided to book an auto, who took us to our place in about 5 minutes.(what??)
"POTLURI'S 19 DEGREES", yes, that was it!!OK, so, the place is about 50 metres downhill from the main road. As you descend, you notice a fairly large modern establishment, with few vehicles parked outside. For a kind of like an empyreal name, the place did not add up( what I had looked up in photos was completely different to my utter surprise). Anyways, a young gentleman, in his early 30's came up, and introduced himself, in a rather, perfect, english accent( later on he told us that he used to work in film industry as a photographer or something). As we were already very tired, he took us to our place of stay without wasting a moment. We followed him, a surge of excitement building inside of me, as I was waiting to the see the impending astonishment on my wife's face( she did not knew about the looks and whereabouts of the place). And there we were, as we walked down a narrow passageway, carved over the soil, neatly done, lined on both sides by a parapet like congregation of bricks, at intervals of which, erupted thin metallic supports arching over our heads, to which serpentine like wigs and tiny boughs of creepers and climbers clung, my heart was pounding with excitement. The string lights wrapped around the creepers, illuminated our path and there was our HUT, YES , A HUT!! It looked so invigorating and yet, somehow quaint and satisfying. Our host then showed us the hut from the inside,and then after a brief conversation about the possible tourist places, how to get there and all that stuff, he left.
It was superclean, the bed was neatly done and the toilets were crystal clear. You have the provision of hot water also , but for that, have to inform the host, beforehand.Also about the breakfasts and all, if needed, have to be told be before. As we were already tired and had just till tomorrow afternoon before we set out for cochin again, we didn't want to waste any time the coming morning and hence went to sleep as soon we hit the bed. There were several other huts, mostly occupied by the foreigners.
The next day, we woke up, by a shout from our host, who innocently, supposedly had been knocking at our door since at least 10-15 minutes. As, I opened the door,BI found him, standing there with a bucket of hot water, with a smile. With a slight embarrassment on my part, I took the bucket. We then freshened up, had delicious IDLI at his place and head straight to this place called as " SENGULAM RESERVOIR". The settlement in contrast to little spooky at night, now appeared so vivid with clear blue skies, lush greenery all around and tourists coming out to visit places. The journey to this place was also rewarding, as was the reservoir itself.
There is a minimal entry fee, you have snacks counter where you can munch on some light snacks, while you wait to be blown away by your boating experience. Guys! Just one word, "SURREAL". We did speed boating, which was quite fun, took some pictures and then head back to our place for picking up our luggage, to head for Cochin.
So, the good things are that Maldives has Visa on Arrival, so you DO NOT need to worry about that stuff, furthermore, you would have already booked your stay , so nothing very much to expend on( perhaps for some water sports and few mementos).Now, some first hand information for the" FIRST TIMERS". So, while I was looking into all the research and similar stuffs for booking,I, realised that Maldives, or as we know of it, is a congregation of many islands, one of them being the city of Male, and almost every other island has been turned into a resort.And , that, while you hop on to a island, you will be taking a shuttle from the airport, either a speed luxury ferry or an air ferry as they call it if your island is too far from the airport to travel by a boat.Accordingly, these are priced, for somewhere near, you may have to shell out around 50 dollars per person one side , while for some far off islands, the ferry charges can be staggering, upto a whopping 200-300 dollars per person , one way. Amidst, the trepidation of spending so much money( while I was deeply lost into deliberately scavenging all my resources, ones which I could pounce on) ,I couldn't resist but observe something. The resorts which are closer tend to have higher room tariffs, and lesser shuttle charges, and the other way around for the resorts, which are far from the airport, overall, it would almost cost the same, in most of the cases, barring a few resorts, which were far off, which had sky - rocketing shuttle charges as well as incredulously high tariffs.So, guys, you can book accordingly, whether you are party loving person, or , someone who would like to indulge in peaceful, quaint and serene ambiences.
I booked, my stay through "BOOKING.COM" and I pretty much trust this site. While booking, you would be asked for dining options like Breakfast only, Half board or Full board meals. Half board would usually include breakfast and one other major meal of the day( lunch or dinner) and Full board would mean all the three meals( breakfast, lunch and dinner). I went for the Full board plan as somehow IT COST ME LESS than the Half board meal and a dinner separately.
So, as we landed, and entered the terminal, we were surprisingly greeted by this huge banner" WELCOME TO MALDIVES", and as any novice traveller would have had it, we practically lurched towards it for, "CUSTOMARY PHOTOSHOOT"
Then we hurried towards the immigration counter, where we submitted our already filled up forms and the process was complete in a jiffy, to our relief!! We had already been communicated by our property about the timing of the ferry, to escort us to the resort. So, we waited at the airport, ecstatic with the thoughts of impending fun, at a counter which bore the name of our resorts, among many other similar counters for other resorts.
Out of nowhere, like a silhouette, came a man dressed in white shirt and casual loose formal trousers, us being almost startled by his abrupt entry, greeted us with a smile and said he was to pick us up for the ferry. With few other passengers, we hopped on to the ferry and began our mesmerising journey to the surreal island. The ferry sped ahead, shearing the turquoise blue sea water, splashing the water droplets over us as we leaned over the side hand rails and so we inched closer and closer to our destination. In the distance, we could see the serene turquoise blue waters of the ocean fading in intensity as we headed into the shallows. As we grew closer to the pier, the ferry stopped with a thud, and we were docked. We were then greeted by a white, plump lady with freckles all over her face, who introduced herself, hailing from New Zealand. Impressive!! I thought.As we walked through the pier we could see the blue waters splashing against the white shores, a view so enchanting that we were lost in the tranquility. We arrived in no time to the reception which was a spacious, large, hut shaped structure, where we were given hot towels and some welcome drinks, and briefed in general about the routine stuffs like dining options, water sports and other activities in which we could take part.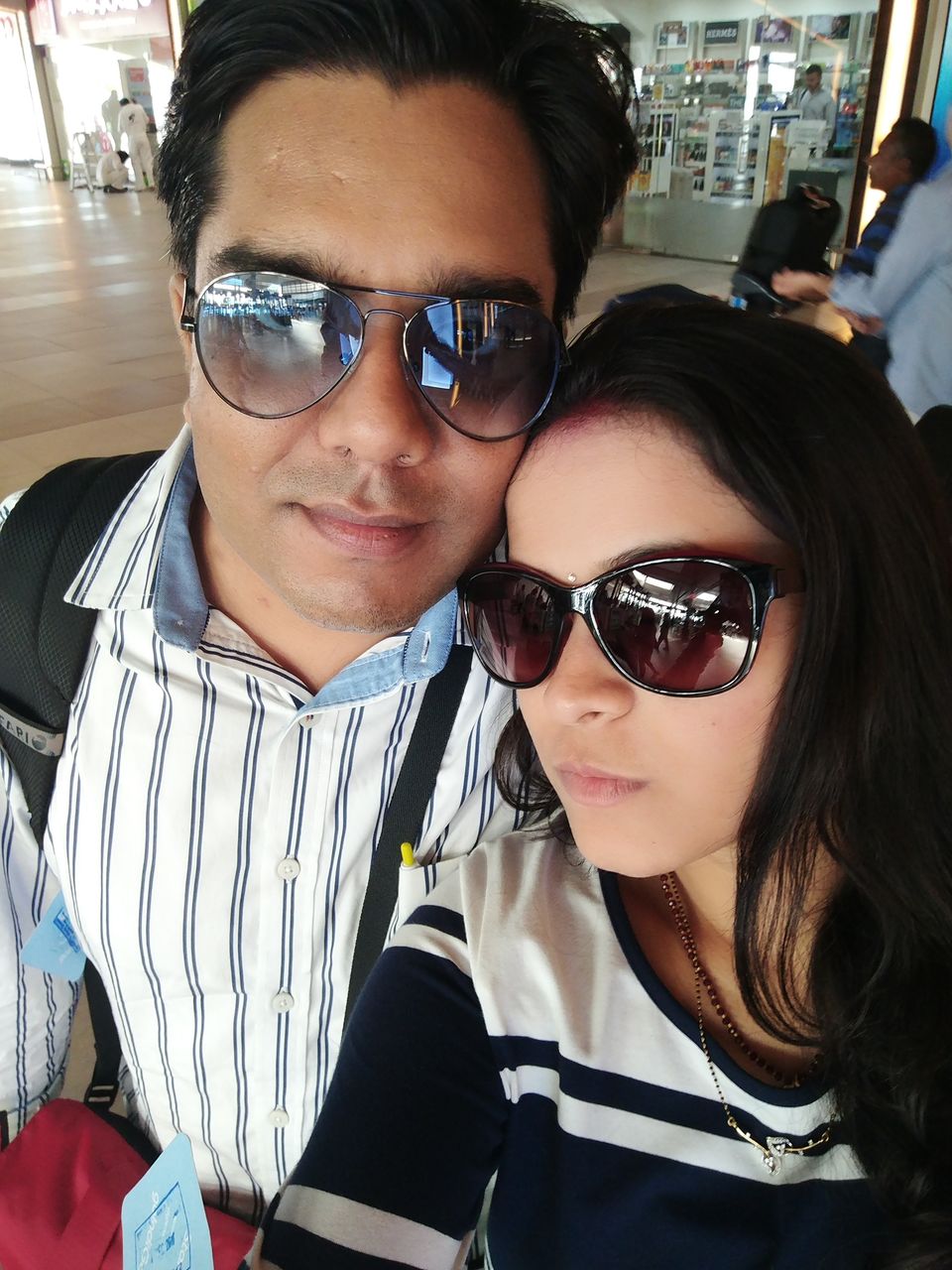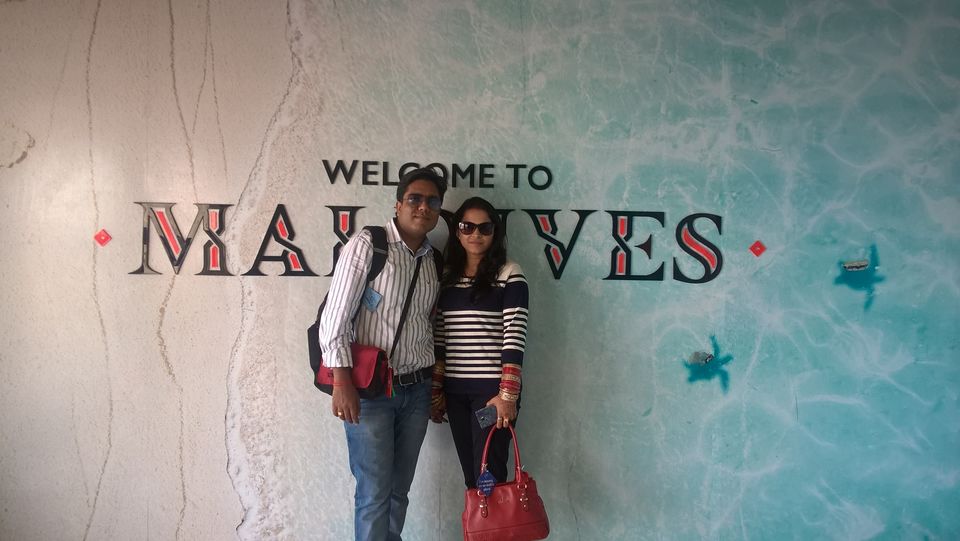 With these vivid memories, we wound up our trip, hoping to get to explore new places and meet new people, understand new cultures and contribute in a small way to the tourism community!!