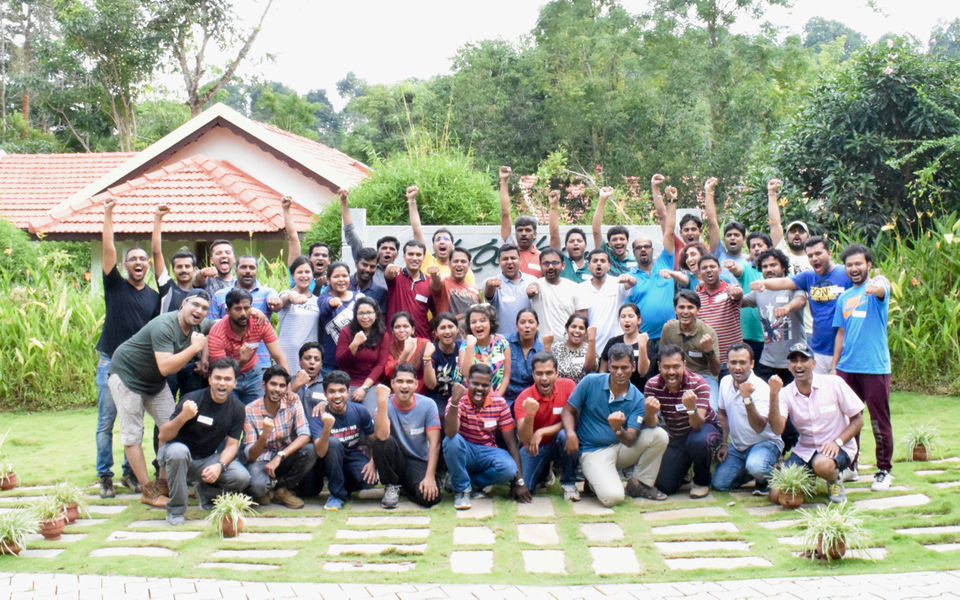 Team Outings/off sites are supposed to be the most awaited event of any year at any corporate, because this is the time when we unwind and break all formal shackles with the people we actually spend more than fifty percent of our lifetime.
This was the 1st team outing for me with Volvo & as always I was super excited. The planning & preparations for the event went on for two full months & the core event members were giving their best to ensure everything was set right before the D day. We were around 50 people who signed in for the participation & managing a head count of 50, was not an elementary task, so things ought to be planned & taken care off, before the event and I think they did a phenomenal job straight from the start.
Sep 08, 2017, 0400 hrs: I was woken up half an hr ahead of my alarm time by my enthusiastic colleagues and was asked to push as early as possible. We started from our office at 05:30 hrs and I was amused to find similar annoying drowsy faces around me. The coordinators started to infuse some energy to the crowd by engaging us into games like dumb charades, where we had come across weird movie names like "Howrah Bridge mein latakti hui Lash", "The exposed" & so on. We halted at Adigas, Maddur where we had a platter of all kinds of scrumptious south Indian delicacies. As we approached closer to the resort, the roads became narrower and the surrounding greener. We were girdled with dense coffee plantations on either side. The pavement towards the entry of the resort was too narrow for our mammoth bus to enter. Faltering & Floundering, the bus managed to make its way and we finally reached our destination at around 12:30 hrs.
We received a grand welcome by the resorts and I was thrilled to find my cottage which was an exquisite duplex villa with all amenities. We did not feel like going anywhere outside as we were mesmerized by the grandeur of the villa, but we had to take a quick shower & rush to the outdoor activity area as we were here for team building & not for honeymoon ;).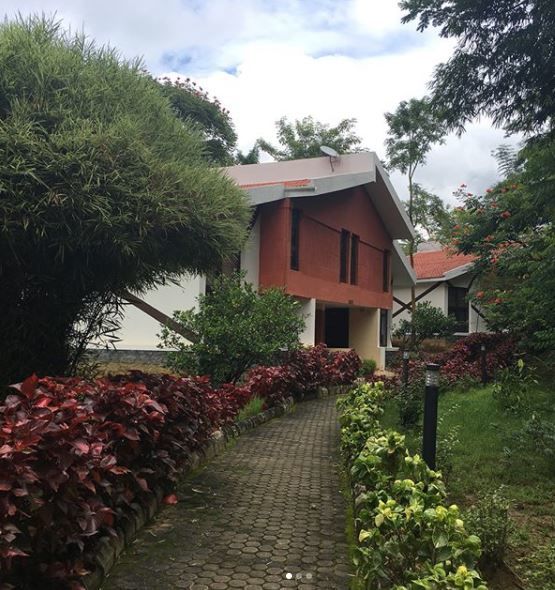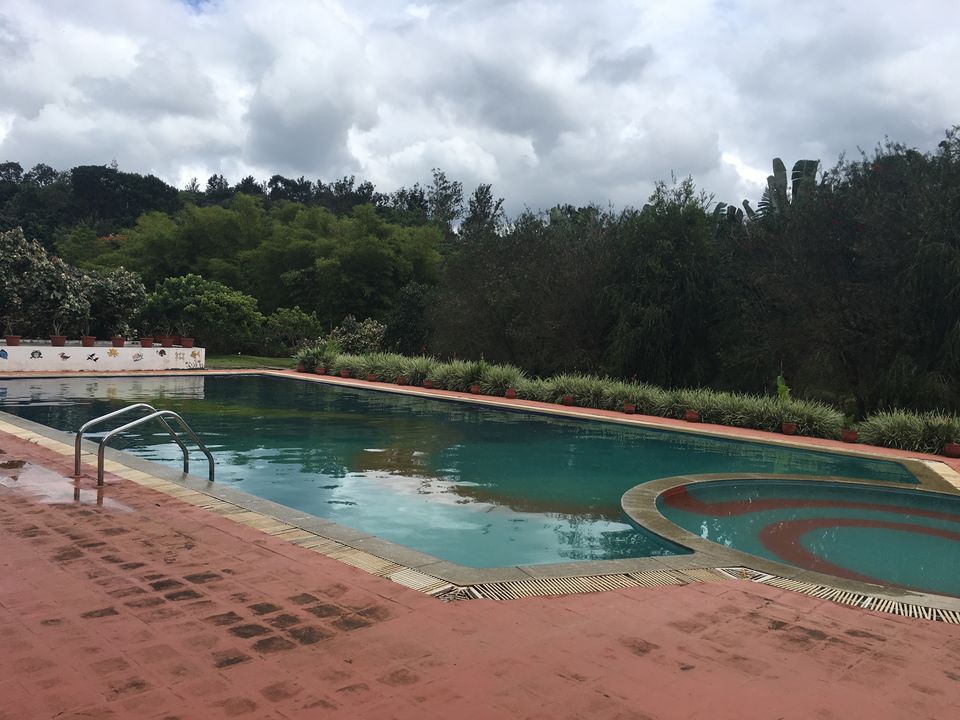 The next set of events for the entire day was run by a high spirited group of event organizers and we were constantly on the running to beat each other in each of the competitions. The high voltage & my favourite task was "The treasure hunt", in which I had deliberately pushed myself into a team of all athletes, soccer players, trekkers, etc. Rain, uneven terrains, confusing clues, nothing could beat us down and it was no surprise that we had to win the final showdown. We were already high on fun & energy in the entire process of games & activities. I had discovered many hidden aspects of people, got along many new faces & was amazed to figure out the good things which people feel about me.
All the tiredness of the extreme burning down of calories was fruitful at the day's end & now it was time for the party. The set up for the party was in a lawn by the pool side. It was time for some of us to showcase our talents. We did jamming in some soft numbers followed by the karaoke night. It was a pleasure to find my colleagues cheering & grooving to the tunes I sang. Eventually as the night progressed, we burnt the dance floor. After having a delectable dinner, I went to my cosy villa & dozed off.
Sep 09, 2017, 0645 hrs: I got up again by a call by one of my colleagues to turn up for the plantation walk. I really didn't want to miss any of the activities, so hurried to the reception area, but alas! I was late & they had left 5 minutes back. I had to sprint to catch up their pace. We were amused to find that the resort has so many known & unknown varieties of plantation & more than 100 species of birds in their area. We also got answers to many treasure hunt questions, played the day before. It was a very interesting trek across the undulated areas to figure out so many unprecedented things.
Post to breakfast, it was now the most fascinating part of the trip for which I was eagerly waiting for. Yes it was the very famous river rafting of the Kadkani river resorts. Geared with all the safety precautions, we were all set with our rafts & oars. The river was steady & was embraced with lush green estates of the resort. We started the fun right from the beginning by splashing to ensure that everyone was wet on the other raft. Needless to say, we had to face the repercussions from our colleagues on the other raft. Boisterous we jumped into the river one after another and had floated across till the shore. Being a non-swimmer, it was one of the most adventurous things I had done in my entire life. Post to rafting, myself along with my girl gang also did peddle boating and finally jumped into the pool before we had to bid adieu to the resort. We had quick lunch and it was time to head back to our mundane lives once again.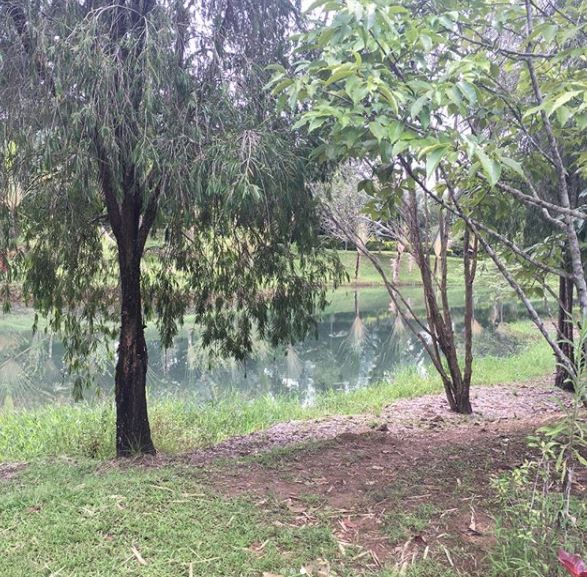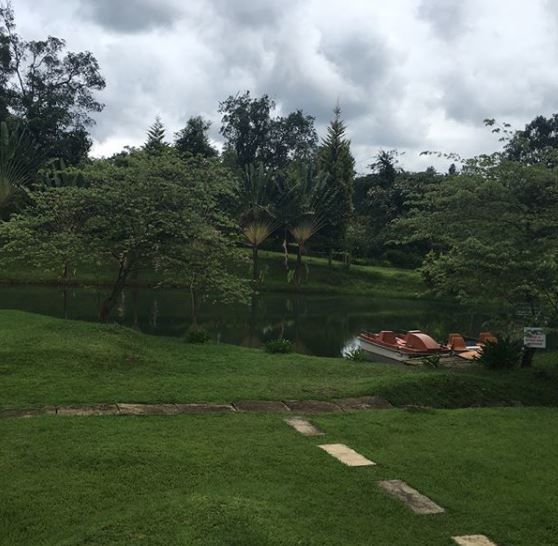 On our way back, we engaged ourselves again into our favourite game dumb charades & had light evening snacks at A2B.The whole experience was extremely enriching & had made me comfortable with many of my colleagues with whom I had never interacted before. I am definitely looking forward to more team outings like this as it was undoubtedly the best team outing I had till date & I was now ready to head towards work with a feeling of inclusiveness & pride.
Frequent searches leading to this page:-
coorg packages for family, coorg tour packages for couple, coorg family tour packages from chennai, coorg holiday package, coorg trip packages, coorg holiday packages from ahmedabad, places to visit in coorg in march, stay at coorg, hotels in coorg for honeymoon, things to do in coorg tripadvisor, coorg trip quora, affordable getaway in coorg