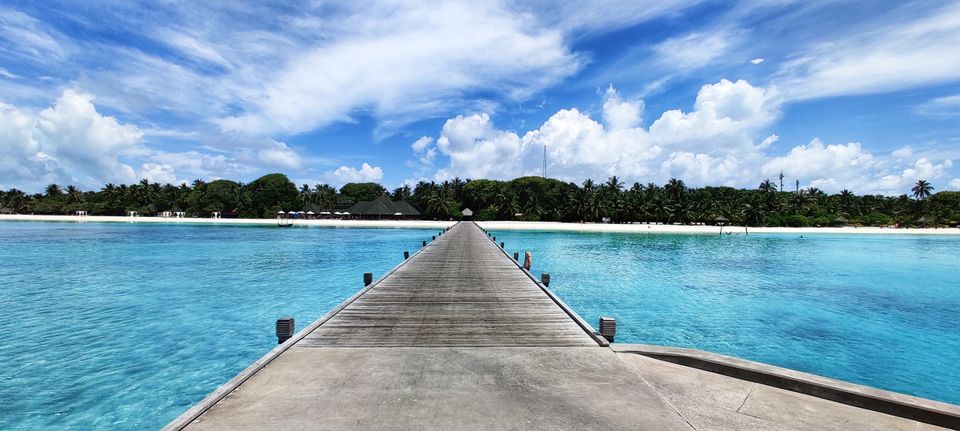 We boarded our flights (Air India) at 2:00 in the afternoon and the departure was at 2:20. There is only one direct flight from Bengaluru-Male and that's Airindia flight at 2:20 pm. The travel time is 1:55 hours but they reached Male in 1:30 hours. It was a rough flight in Male. They took 4 attempts to land the flight. When this flight landed there was a applause in the cabin for safe landing. After that we filled a form for visa on arrival and then we passed the immigration to pick out luggage.
We had taken 250 dollars with us other than the resort and hotel bookings. We converted 70 dollars to MVR (Maldivian rufiya) 1 dollar = 15 rufiya (1 rufiya = 4 rupees). We took the currency and headed to mobile network Shops. There are two networks dhiraagu and ooredoo, both give same offers. In airport they had only data pack sims. I asked for calls only sim as there will be wifi in all the hotels and resorts and even in airport as well, but they said they had only data pack sims. They were offering 10GB and 7 days validity for 15 Dollars, so we thought we will skip it. We headed out and enquired with the locals and airport officials for directions to go to Hulhumale. There is bus tranfer as well as taxi to Hulhumale. They charge 20 rufiya per person in bus tranfer and 100 rufiya per trip in taxi. As the Hotel we booked had there own cab for transfer, they charged us 10 Dollars for round trip for both of us. So we reached the hotel at around 7 pm.
We had done our resort bookings from 16/11/2019 so we stayed in a hotel in Hulhumale for 15th night. We had booked a hotel named UI Hotels. We kept our luggage in the hotel connected to the hotel wifi and searched for a good place to eat near by and found a decent looking place to eat and had our dinner. The hotel had buffet with around 6 items and were charging 10 dollars (150 rufiya) per person. Our dinner bill was 160 rufiya, we had some good Maldivian food (As we don't how the different items tastes, we asked for the waiter for suggestions.
After the dinner we roamed the island for sometime and headed back to the hotel.
We woke early in the morning to take a stroll in the beach. We had our breakfast ( we had choosen free breakfast option) and reached the airport back again at around 10am. There are many counters for each resort islands in the airport and counter no. 67 was Paradise Island resort's counter. The transfer was at 10:30 am, and the resort representative took us to the speed boat. It was around 20 mins ride from airport to the island. We had done our bookings through destinasia holidays for 5N and 6D package with full board meal plan ( breakfast, lunch and dinner). 3N in superior beach Bungalow and 2N in water villa. The package cost was 1,75,000 rupees excluding flight tickets.
Crystal clear blue waters covered the island, and we had a WOW feeling while entering the resort. We were greeted by a refreshing welcome drink and a resort representative verified our passports and briefed us about the resort. We had mentioned for honeymoon freebies (one bottle of champagne and a fruit basket, wind surfing and canoeing is also free) for which we have to show some proof of marriage. And we can the freebies within 6months of our marriage date. Resort check-in time is 1:00 pm, but we got our keys at 12:30 pm. Till then we roamed around the resort and had our lunch. After the lunch we collected our keys and checked into our superior beach bungalow. We had a small nap and visited some places inside the resort and then we had our dinner. There will be some kind of entertainment every day. We enjoyed some time in the bar and went back to our bunglow.
again to take some more photos.
Our room was quite far from the restaurant, so we requested a room nearby. The resort staff asked us to come back tomorrow morning after breakfast for room change.
We woke up early and had a stroll in the beach, took some photos (had taken tripod and camera) came back and finished our bath. Our restaurant for three days was Bageecha restaurant, all three meals were in this place. We had our breakfast and went for the reception for our room change, they gave us a better room and asked us to check in at 12:30 pm.
It was lunch time very soon, after that we got our new room keys. Everything was shifted. We had a sound sleep in the afternoon.
After our afternoon nap we spent some time in the beach taking photos and enjoying the view. After sunset we went to games area, we spent some time there. Every day at 7 pm there will be stingray feeding programme, you can go and feed those friendly sea creatures, even small sharks had also joined the show. After feeding the sea creatures we had our dinner, went to the evening entertainment programme spent some time there and came to our room.
We had our bottle of champagne on the beach for some time and came back to our rooms.
Today we thought of utilising our watersport freebies i.e. wind surfing and canoeing. As we didn't no how to wind surf we asked for canoeing. We are supposed to book our slots in water sports area, we went to book our slots in the evening, by then all the slots were booked. So we booked our slots for the next day.
We spent the day relaxing in the swimming pool and swimming in the beach till sunset.
Today we will be shifting to water villas. So we packed our bags and left it in our room. Our check in time for water villa is at 12:30 pm. We had our final meal (breakfast) in Bageecha restaurant and spent some time on the beach.
After shifting to water villa they shifted our restaurant from Bageecha to lagoon restaurant. We had our lunch and had some sleep.
Our slot for canoeing was at 3:30 pm. We had a good time canoeing in the crystal waters. We came back and got freshened up, had our dinner and spent some time in a open space in water villa.
You can see many fishes, sting rays, sharks etc. roaming around nearby water villa.
Its was an amazing experience. Staying in water villa is worth the money.
Today we decided to do snorkeling, there is a aqua center near the reception, where you will get snorkeling kit (Snorkeling mask, fins and life jacket) for 18.50 Dollars. We collected our kits and left to our water villa, we wore our kits and entered the sea from our room itself. It took some time to get used to the snorkeling mask and fins in terms of fitting.
Once you get used to the equipments, it was a wonderful experience snorkeling in the clear waters. There was a good amount of marine life but not as good as scuba diving. We spent around 3 hrs in the waters and it was lunch time. We returned to our villas and took a relaxing shower. We had our lunch and had some sleep.
We had plans for going into the waters but was completely tired. So we returned the equipments back to the aqua shop and finished our day with dinner.
Today was out last day in the resort, we were little sad that we are leaving. Days went like minutes and we were supposed to say good bye. Check out time was at 12 pm, so we woke up early to utilise the remaining time as much as possible. We took early morning photos and went for breakfast, we packed our luggage quickly and again started taking photos at many places which we missed.
Finally it was time for us to leave this heaven on earth. Our luggage was shifted to the speed boat terminal. We walked to the terminal, looking back to all the memories we had here. When we reached the terminal we identified our luggage and waited for other tourists. Before leaving we had one last view of the Paradise and entered the boat with lots of memories to cherish.
We headed to the airport. Took a bus to Hulhumale, and checked into the hotel that we had booked already (Huvan beach hotel). We reached there at around 1pm. Our flight was on next day at 11am. So we thought of going to male.
Male is the main island of Maldives, where you find major activities and shops. Every island has a ferry terminal, we took a ferry to male which cost us 20 rufiya each.
The moment we reached male we headed to Chandini magu, a street where all souvenir shops are located. Before buying anything cross check the prices at different shops and then buy. After taking some souvenirs. We had some snacks and headed back towards the ferry terminal, took a ferry to Hulhumale and reached our hotel.
Our flight was at 11 am, we took a bus at 8:30 and reached airport by 9:00. Our airport formalities was over quickly as the crowd was less. We bought some things in duty free shops and headed towards boarding.
We had a wonderful flight with a final view of the islands.
EXPENDITURES:
RESORT PACKAGE: ₹1,75,000 (3N Beach bungalow and 2N water villa) with full board meals (Breakfast, lunch and dinner) and Airport-resort-Airport speed boat transfer.
UI HOTEL: ₹3500/Night (first day)
HUVAN BEACH HOTEL: ₹4400/Night (last day)
FLIGHT TICKETS: ₹32,500 (BENGALURU-MALE-BENGALURU) for two persons.