Most people know Czech Republic only because of Prague. And it's true that Prague is a magical city & worth exploring, but there's a lot more in Czech Republic to explore.Karlovy Vary tops that list.
Karlovy Vary is a beautiful spa town of Czech Republic. It is small yet stunning. Karlovy is the perfect getaway to relax, rejuvenate & refresh. What's more? It also boasts of some lovely architecture, relaxing spas, delicious gastronomical experiences and not to miss out, the grand Casino Royale locations that are enough to put you in awe. Karlovy Vary also qualifies as great eco-tourism spot. The spa town has a huge forest area as a part of its landscape that is perfect for activities like cycling or hiking.
Karlovy Vary is a great getaway from the Czech capital, a whole weekend/ 3 days are enough to enjoy this exquisite town. And that's exactly what we did.
How to reach?
You can reach Karlovy Vary from Prague easily via train (3 hours), bus (2 hours) or a car (1.5 hours). Ceske Drahy takes 3 hours but the journey is totally worth the time.
Savoy Westend is a heritage hotel offering a wide range of health related services. Its proximity to the town center can be a major plus point of staying at this heritage hotel. We stayed at Savoy Westend Hotel for 3 nights and I must admit that this royal experience was filled with every ounce of luxury.
We stayed in Karlovy Vary for 3 days, comfortably exploring and soaking in the vibes of this beautiful Czech town. Here's a list of sights & activities that we indulged in:
1. The Hot Spring Colonnade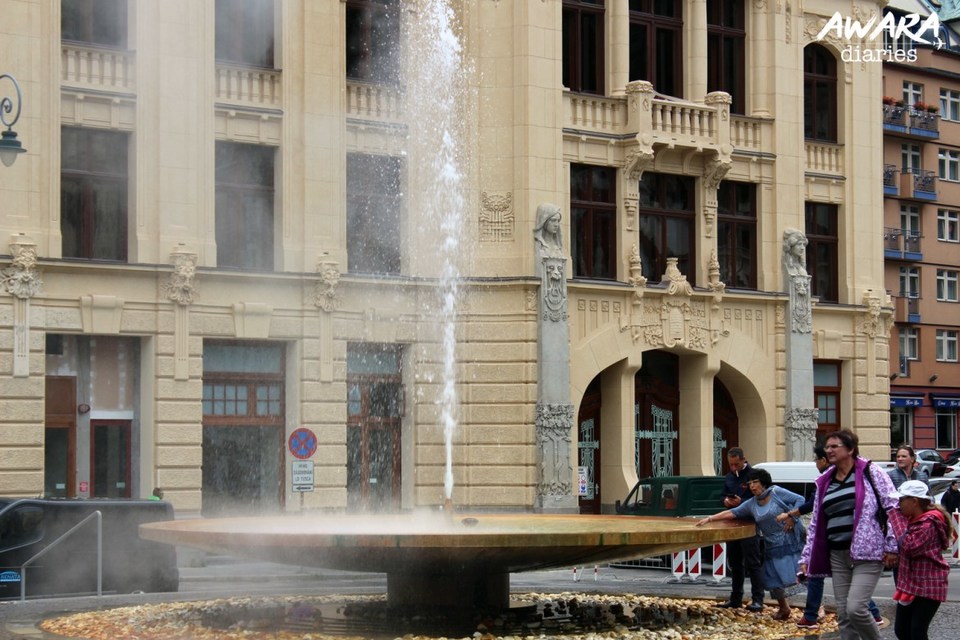 Karlovy Vary is famously known as the most popular spa town of Europe. The beginning of this spa town was from its first hot spring above the Tepla River. Over 240 years old, this hot spring has a lot of medicinal properties. From iron to wood to glass, the colonnade has seen a lot of changes.
The current colonnade is made up of glass & concrete. The famous geyser throws out 2,000 (yes, two thousand) liters of hot water every minute! (So take care of your gadgets when you go near it!)
Do not attempt to drink water directly from the geyser as it will be TOO hot to drink. Instead, go inside the colonnade & have it from the taps (A, B & C). They cool the water down a bit & make it drinkable. It's free of cost.
2. Mill Colonnade
This Colonnade is the most important & the most beautiful colonnade of Karlovy Vary. Mill Colonnade was built in 1881 making it about 135 years old. Yet the glory & the grandeur of this structure are intact. You can explore 5 springs, which are inside the colonnade itself.
3. The Diana Lookout Tower
Karlovy Vary is a fairy tale town. You realize this while walking around the town. To get a better view of this fairy tale, you must head to the Diana lookout tower. There are two ways to get near the tower - First, hike up! It's a 30 minutes hike (kind of strenuous but beautiful). Second, funicular! It takes 5 minutes in the funicular to reach the top.
The tower has 150 steps if you'd like to climb. If you are lazy like me, you can take the elevator to the top level. From the top, you can see the entire town of Karlovy Vary & its surroundings. There are some more activities like mini zoo, hiking trails, picnic sites etc. around the Diana lookout tower.
4. Colonnade
Vridelni Colonnade is definitely my most favorite place in Karlovy Vary. Walking inside this passage feels like walking in some royal palace. The architecture is so beautiful & stunning that it mesmerizes everyone.
There's a park just next to this colonnade where you can relax, sunbathe & well, just see people passing by. To witness the true beauty of Vridelni Colonnade, visit it during the evening when it's well lit.
5. Jan Becher Museum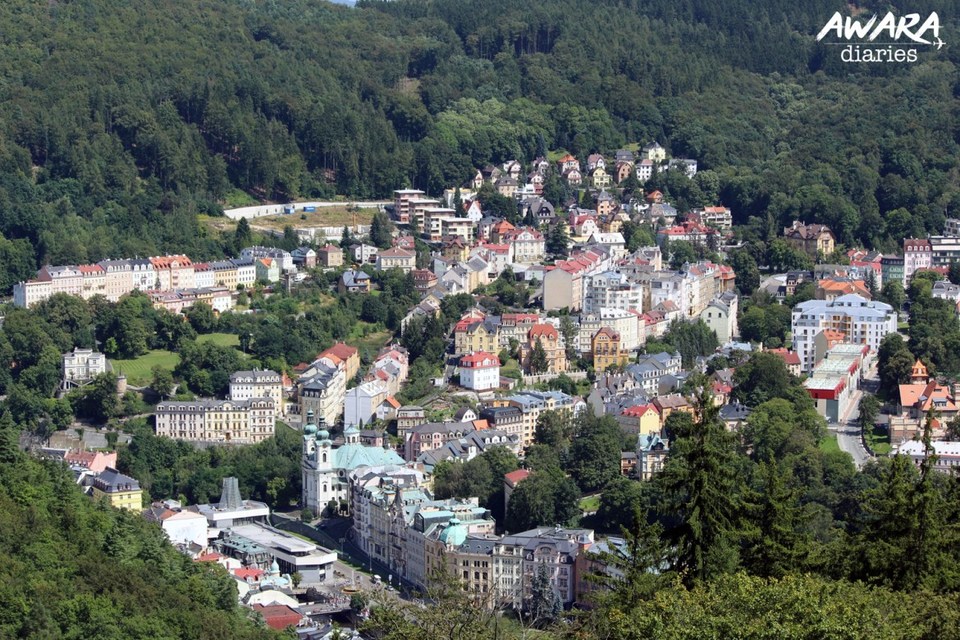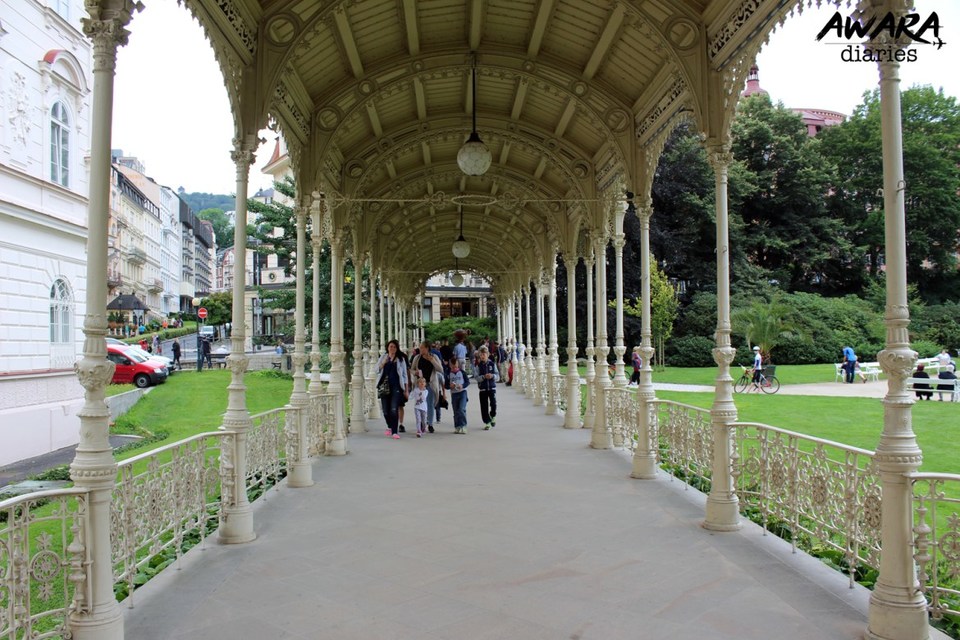 Karlovy Vary & Becherovka are synonymous. The world famous Becherovka is the native alcohol of Karlovy Vary. And the Jan Becker Museum effortlessly takes you on a journey of this brand, which is more than 200 years old. Right from the owners, the history, the journey, and the ascension to the current market position, everything is explained with the help of live sculptures, written material & a short film.
What's awesome is that while watching the short doscumentary film, you get to taste the many flavors of Becherovka. Don't miss this wonderful museum during your visit to Karlovy Vary.
6. The Orthodox Church of St. Peter & Paul
Europe, in general as a continent, is famous for its churches & cathedrals. The orthodox church of St. Peter & St. Paul is quite different though! The style of the architecture is a mixture of Russian & Byzantine. Its blue & golden coloured combination is uniquely pleasant.
Thanks to its golden dome, you can spot the church building even from the top of the Diana lookout tower!
The interior of the church is awe-spiring. Sadly, you can't take pictures or videos inside. This church is quite strict with its rules.
7. Market Colonnade
This colonnade is a white wooden structure. During the daytime, the market makes this entire area very lively & fun especially if you are looking for souvenirs. During the nighttime, visit Market colonnade for the street musicians. If you are lucky, you might find amazing bands during the daytime as well.
8. The Moser Glass Museum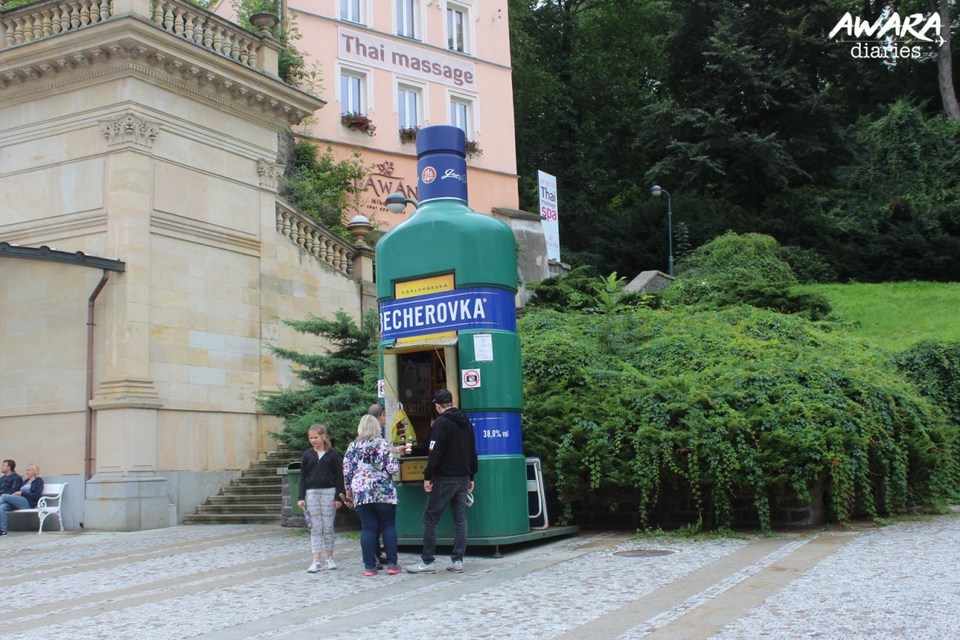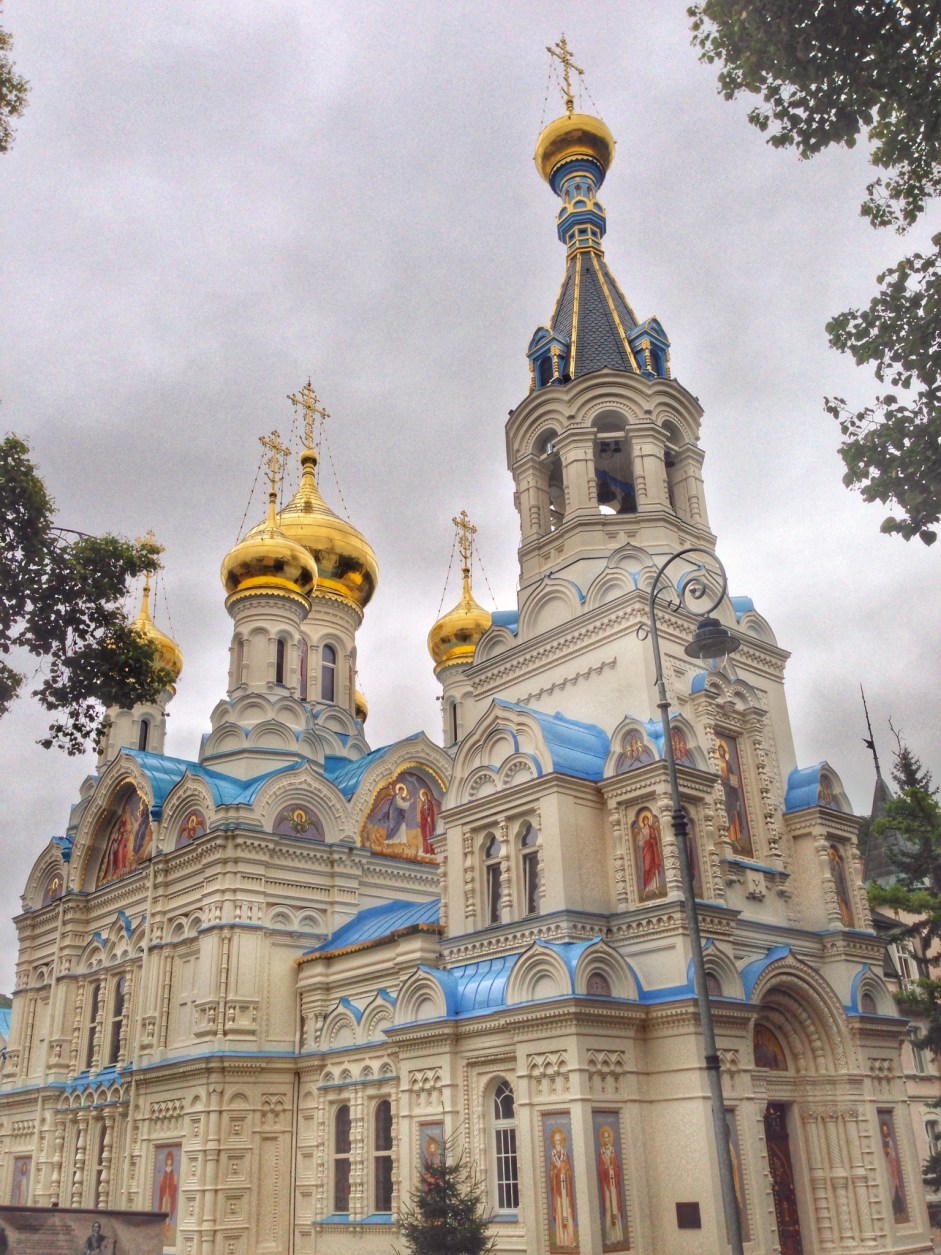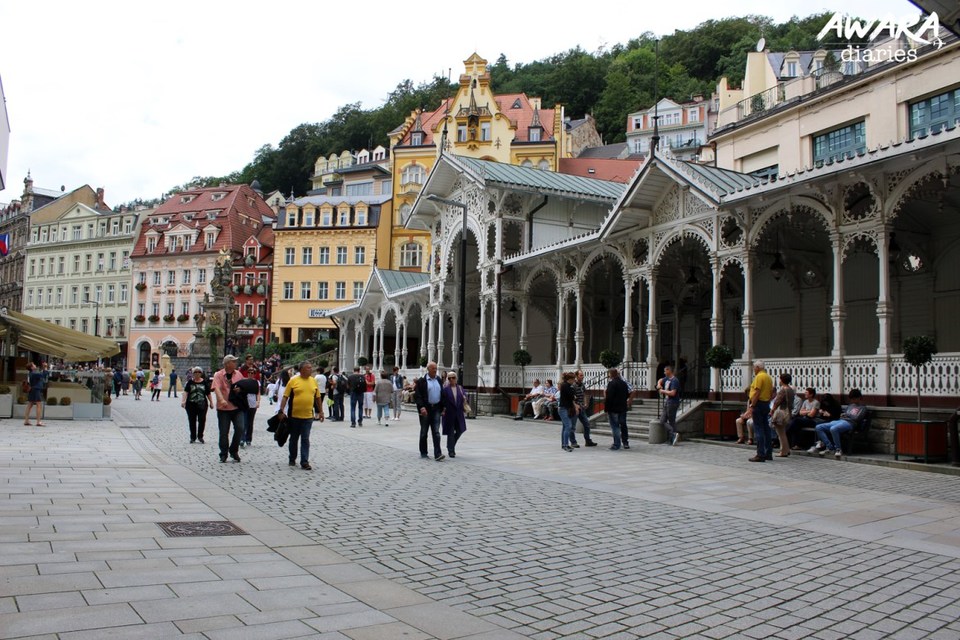 Moser is one of the finest glassmaking companies in the world. Its roots lies in Karlovy Vary. The glass museum by Moser holds more than 1500 finely crafted glass artifacts. The Moser glass museum is definitely a treat to eyes. You can also buy the products from the museum shop.
9. Church of Saint Mary Magdalene
The church of Saint Mary Magdalene is a serene mixture of Gothic & Baroque style of architecture. With its interesting history, stellar interiors & perfect location, this church should be on your Karlovy Vary must-visit places for sure.
Do not forget to visit the funeral crypt nearby.
10. Stara Louka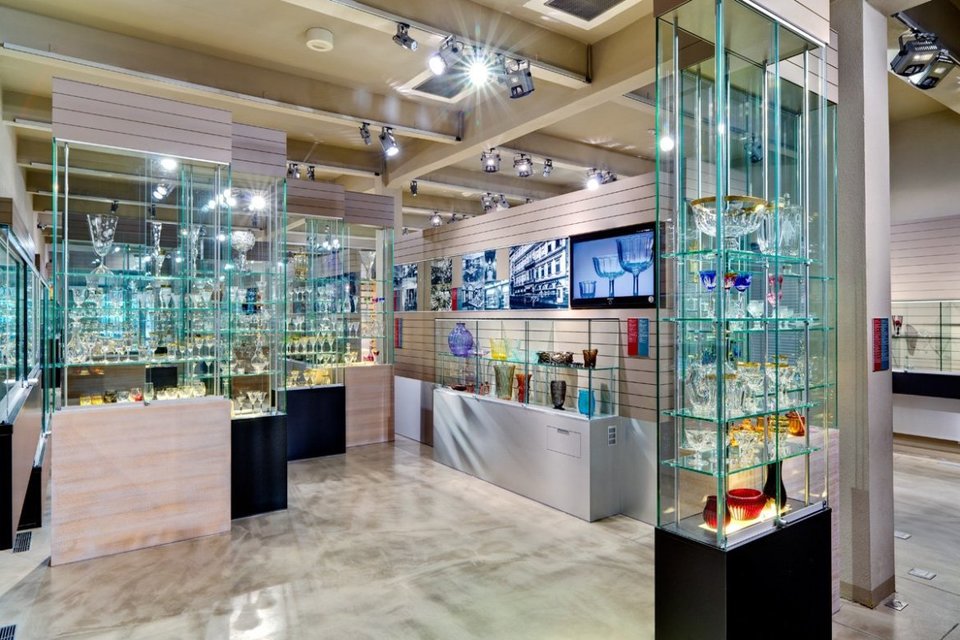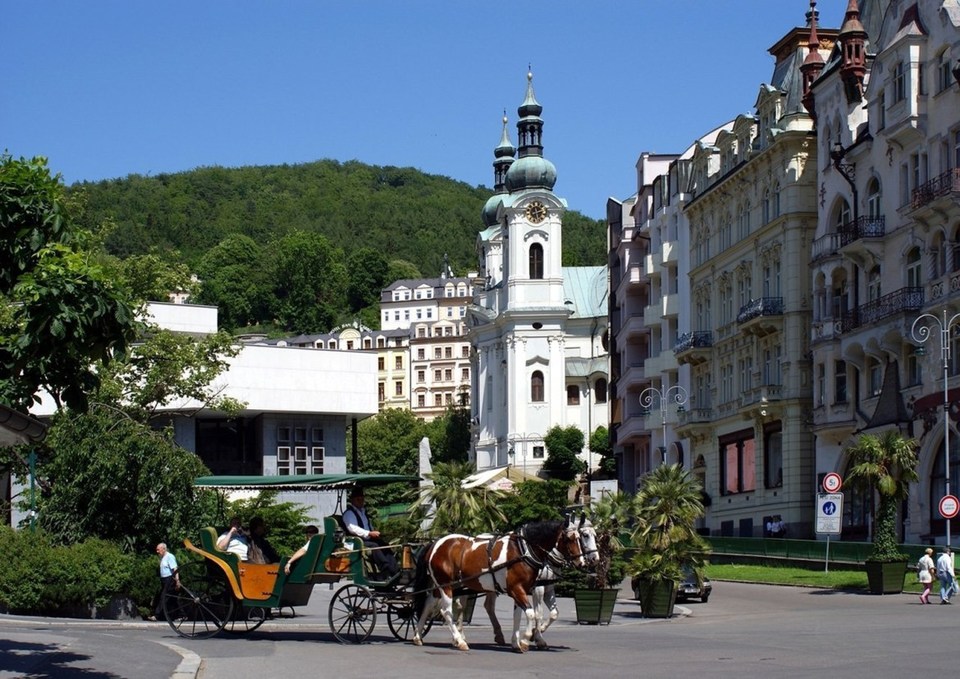 When was the last time you walked peacefully without any honking or vehicles going in every possible direction? Stara Louka is one of the two important streets of Karlovy Vary where vehicles are banned. That's the best thing, right?
There are restaurants, spas, and pretty buildings on one side of the road & Tepla River on the other side. Start walking from the hot spring colonnade till Grand Hotel Pupp to experience the tranquillity that Karlovy Vary has to offer.
Karlovy Vary is a small town which is mainly occupied by locals. It's a quaint town that almost resembles a fairytale. The architecture, thermal springs, spa services and the local culture- most of which is now shaped to serve the large tourist influx deserves to be enjoyed at liesure. Don't deprive yourself the joy of exploring this beautiful town on foot and stumble upon some fine culinary experiences that have blended with the local culture.
Eat something in one of the quaint restaurants, buy souvenirs from the nearby shops or simply admire the architecture. Stara Louka is going to leave you spellbound for sure.
Check out Karlovy Vary Tourism's official website & Czech Republic Tourism's official website for more information.