Are you thinking of backpacking across Vietnam? Are you wondering which are the most stunning destinations of Vietnam? Below is the list of 13 stunning destinations of Vietnam one must visit during their travel.
Every place has a good side and a bad side. However as long as the good outweighs the bad, you are good to go.
Vietnam is a country with significant history and rich cultural heritage. It is so diverse that it can surprise you in unexpected ways. It has an astonishingly varied landscape – from gushing rivers to misty mountains to mystic caves. The dramatic natural scenery is the best aspect of Vietnam Travel.
The cities of Vietnam are vibrant yet chaotic, the villages are gorgeous yet sleepy, and people are friendly yet guarded. In Vietnam there is high probability of bad experiences – rude behavior by drivers/vendors and overcharging being most common. Be that as it may, we would still recommend not to miss Vietnam. If you are Travel Smart, you can easily avoid the bad-apples and cherish your Vietnam Travel.
Read more… A comprehensive guide for backpacking across Vietnam
13 Stunning Destinations of Vietnam
1. Topsy-Turvy Saigon (Ho Chi Minh City)
This is the largest city of Vietnam. It mainly boasts French colonial style architecture, colorful markets, and busy roads. The hustle-bustle of the city is enticing yet repelling. It hosts over two million scooters, mopeds and motorcycles!
What to do in Ho Chi Minh?
- War Remnants Museum – is sometimes a confronting and disturbing experience housing harrowing displays from what the Vietnamese call "the American War." It may not be cheerful viewing, but if you want to understand the history behind the war that resulted in the loss of over 3 million lives, this place is a must visit.
- Cu Chi Tunnels – Located about 50 km from the city, Cu Chi Tunnels are one of the most popular tourist destinations. You can book a day tour or rent a motorbike. Half-day tour costs about 250.000 VND per person including tunnel Entrance Fees (90.000 VND). Motorbike rental costs 120.000-150.000 VND per day and passport will be security deposit.
- Combine Cau dai Temple and Jade Emperor Pagoda along with your visit to Cu Chi Tunnels.
- An evening walk around the Cathedral of Notre Dame exploring the street food and drink Vietnamese Iced Coffee (ca phe sua da) sitting on a low stool along the sidewalk.
Explore busy Markets of Saigon during the evenings.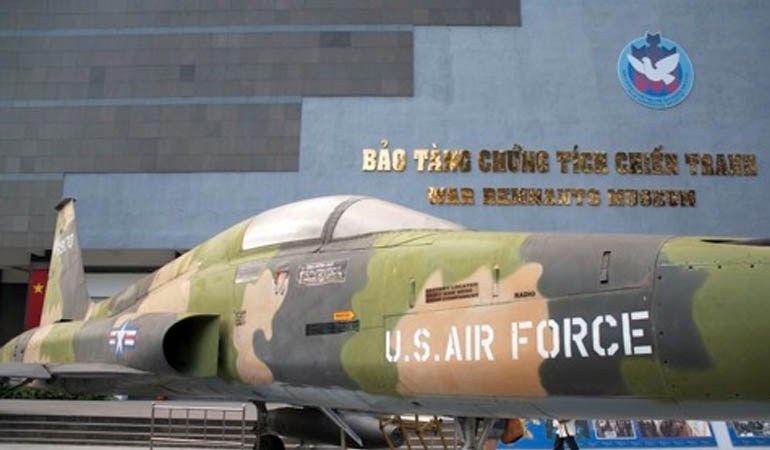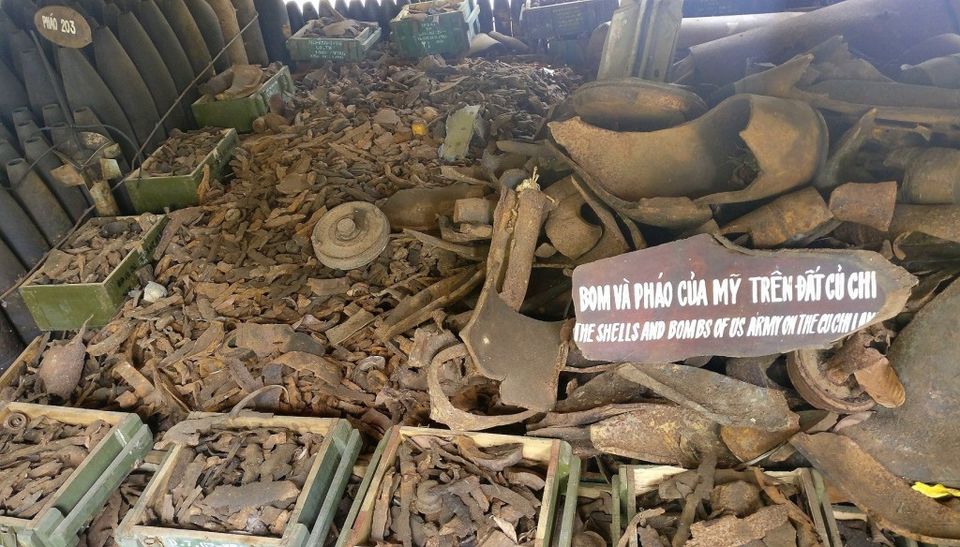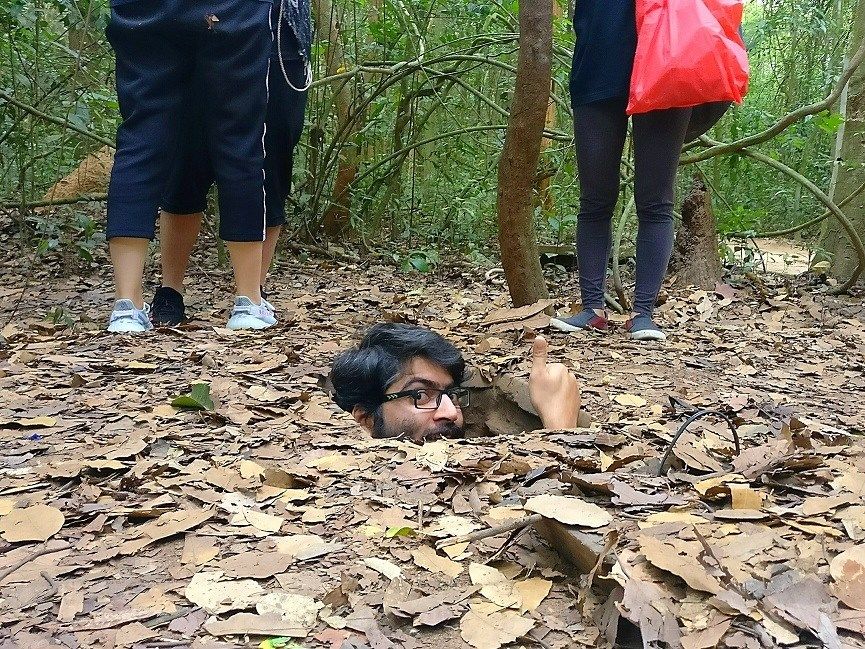 2. The Beach City of Vung Tau
With Ocean on 3 sides the city of Vung Tau lies on a peninsula approx. 100 km from the city of Ho Chi Minh. The city is quiet yet refreshing and it is a perfect escape from the buzz of Saigon. Though beaches are among the least interesting places to visit in Vietnam, Vung Tau would not disappoint. The beaches are clean, city is quiet and it has a rare calmness you can find only in very few places.
What to do in Vung Tau?
- Giant Jesus – 800-odd stairs up the small mountain, a Vietnamese version of stairway to heaven, lies this statue of Jesus with his arms outstretched to embrace the South China Sea (East Sea). This 32 m giant Jesus is one of the biggest in the world – taller than his illustrious Brazilian cousin.
- Laze around the shores of Beach.
- Visit Thich Ca Phat Dai Pagoda.
- Test your luck : Vung Tau city has a Chinese Temple on the small island, only way across is to walk and cross during low tide.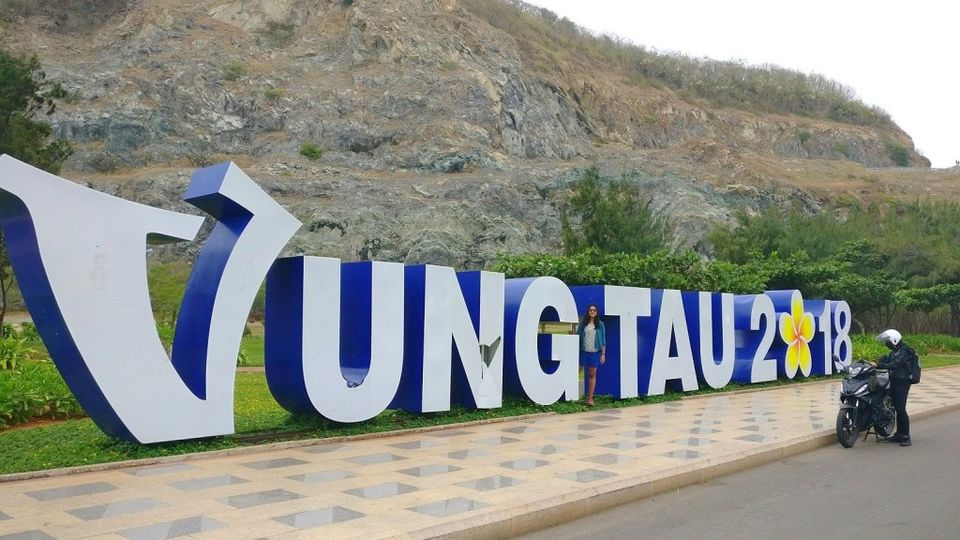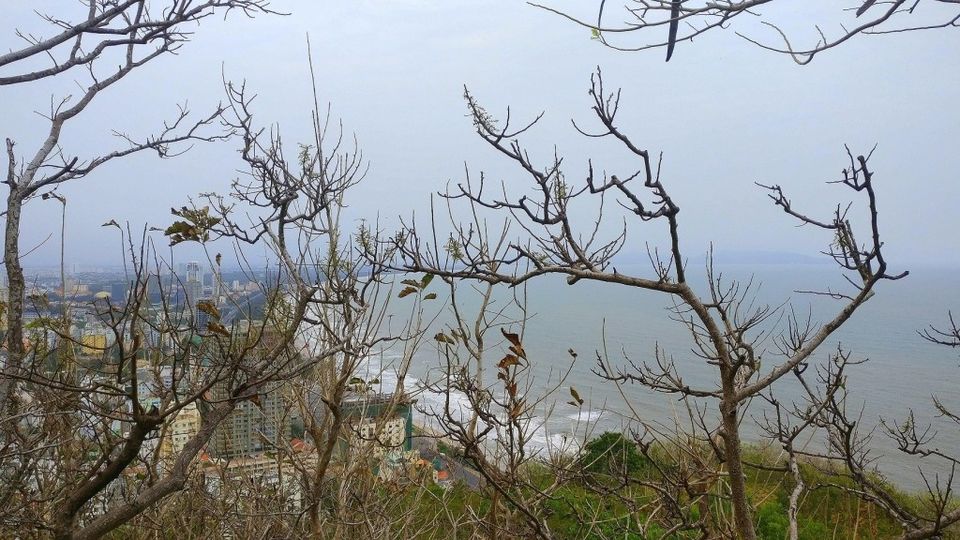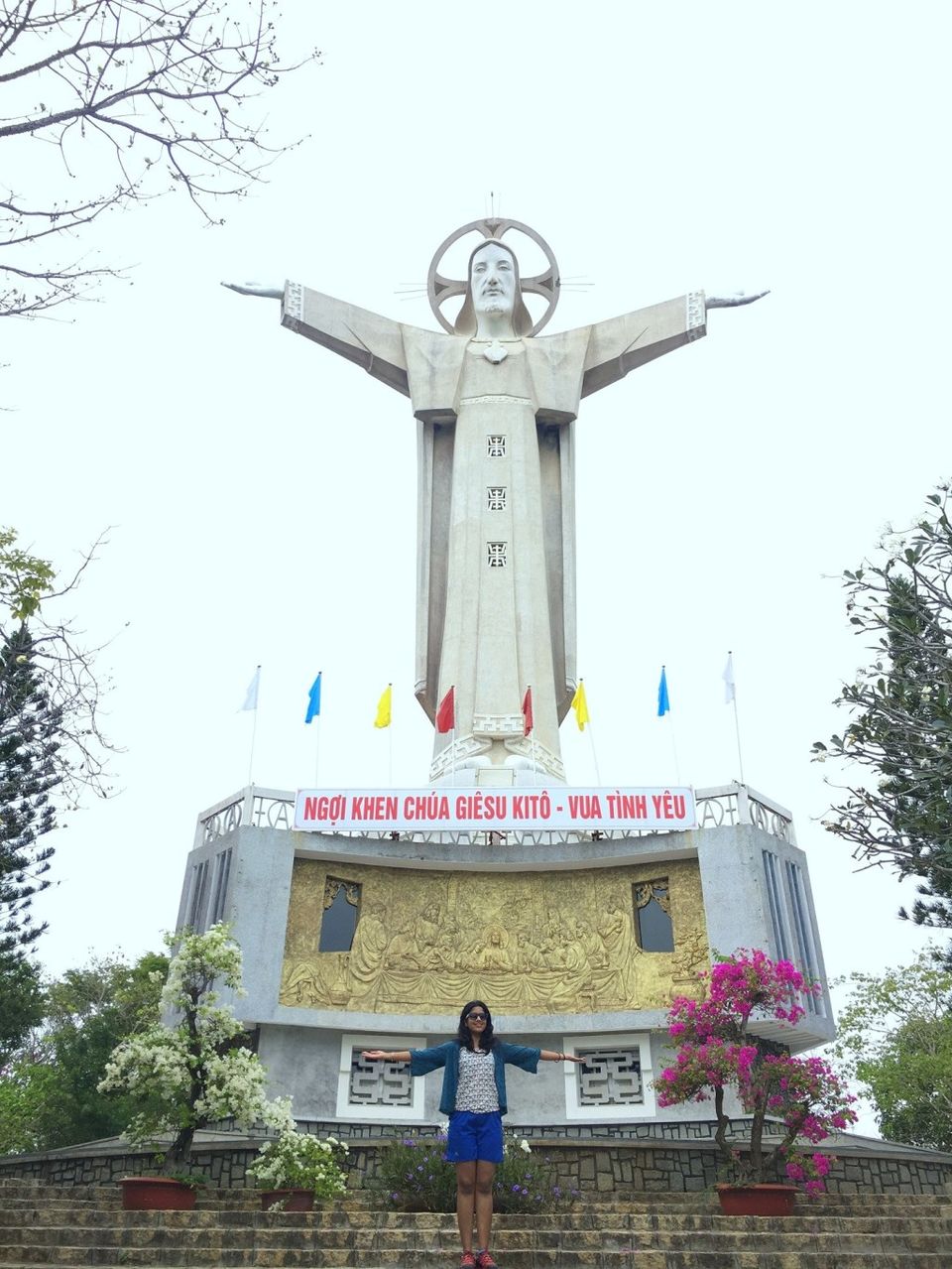 3. Dazzling City of Da Nang
Colorful city, marvelous infrastructure, steep green mountains, serene beaches, and a beautiful river – Da Nang has something for everyone and is our favorite place in Vietnam.
What to do in Da Nang?
- Early morning ride to Son Tra Mountain and Linh Ung Pagoda – The Sleeping Buddha, The Lady Buddha, and the Monastery. This is surreal.
- Visit Marble Mountains filled with poetic scenery, ancient temples and rustic caves. Beautiful palce worth every second and every penny.
- Watching Sunset along My Khe Beach sipping a cold coffee. Priceless.
- Wandering across the vibrant city during the night and traversing through the Marvelous Bridges that link the two sides of the city across Han River. The colors of the city at night are simple mind-blowing.
- Hop on Sun Wheel for a 360 degree view of glittering Da Nang.
- Shop your heart out at Han Market at city center. Cheap day-to-day stuffs.
- Explore the UNESCO world Heritage sites of My Son and Hoi An by keeping Da Nang as base location for your travels.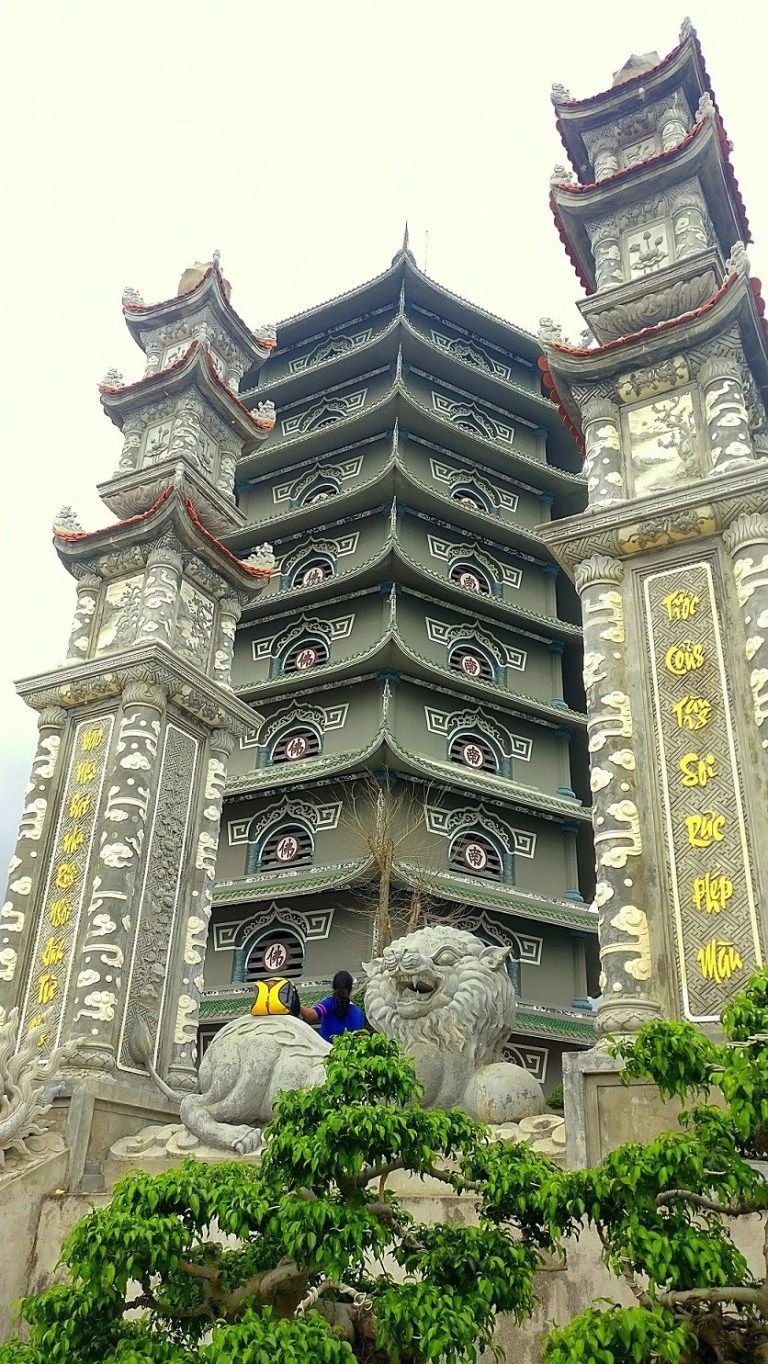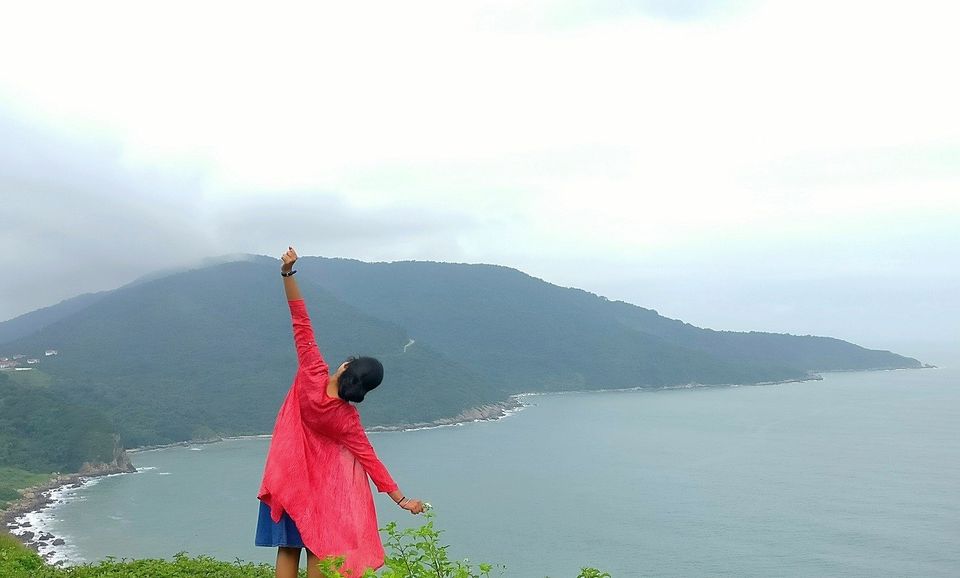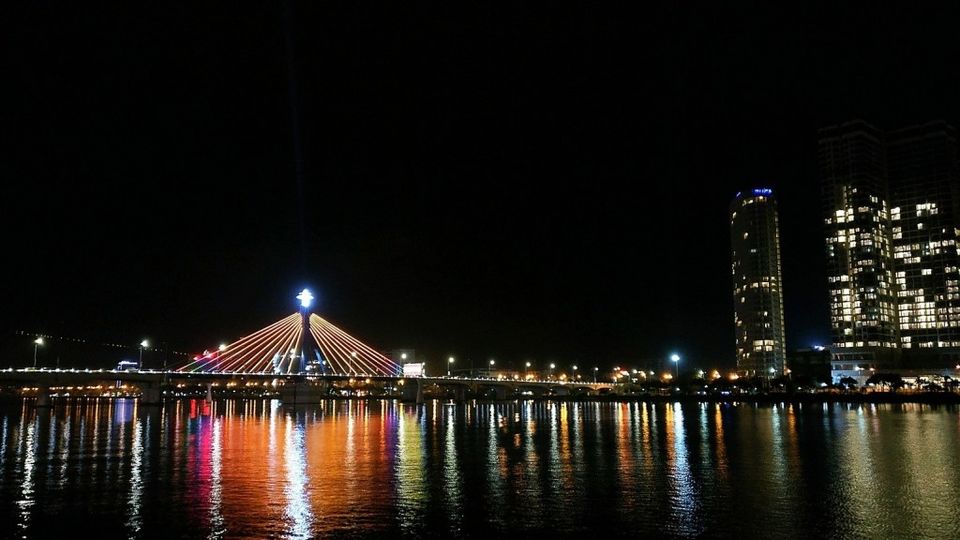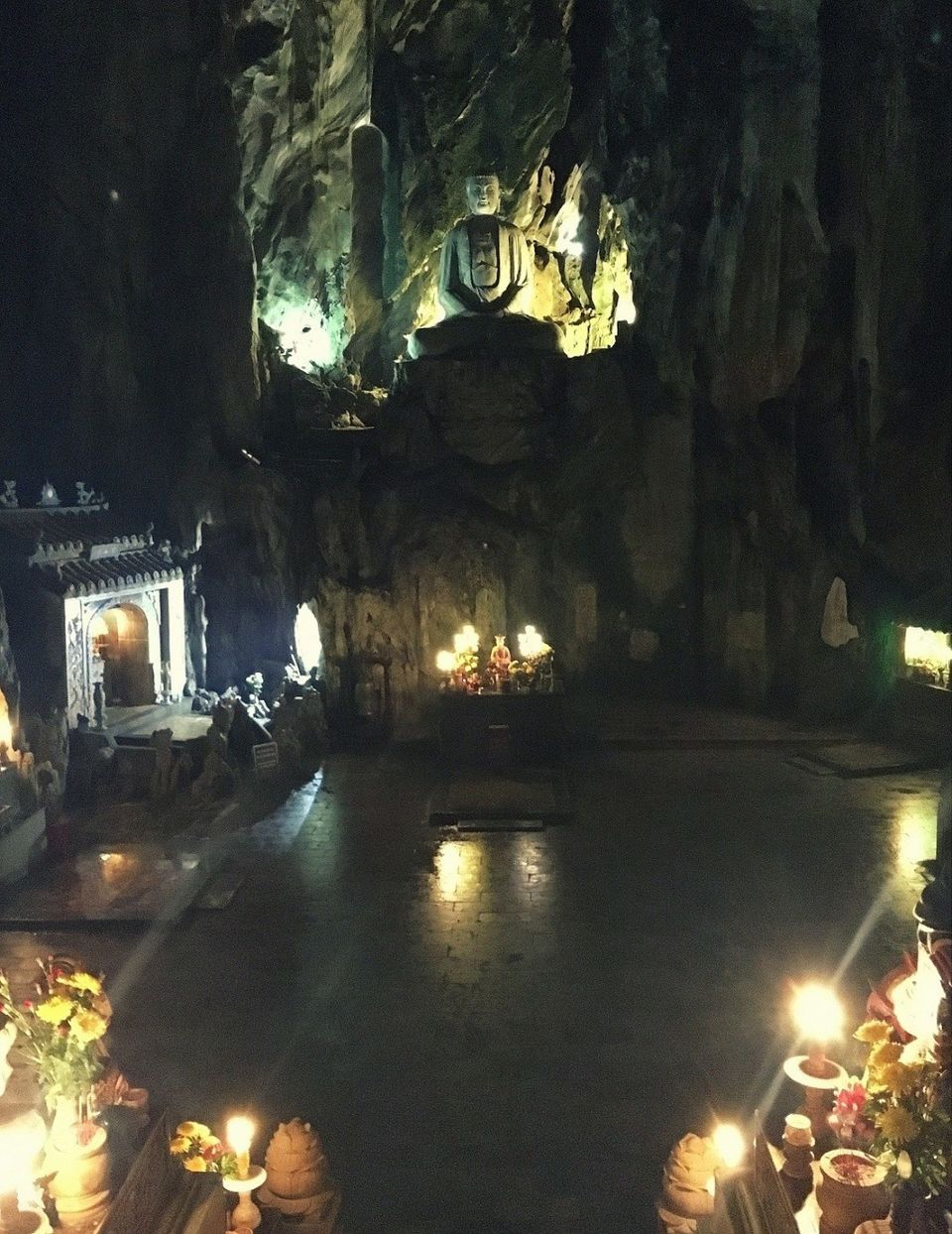 4. The Picture Perfect Ancient Town of Hoi An
Hoi An is one town in Vietnam which escaped the war in one piece. Hence the complexes way back from 15th Century remain unharmed. The buildings are mostly painted with vibrant yellow and are made of brick/wooden walls.
What to do in Hoi An?
Visiting the ancient town during noon time, heading to the riverside for lighting a lantern post sunset, taking a cruise across the river while interacting with the boatman, walking across the streets lit up with colorful lanterns, buying handmade lanterns as a souvenir, getting a tailor-made dress, and having dinner at a riverside cafe with live music are among the popular activities in Hoi An.
PS: Tourists will have tough time deciding the Best Restaurant, the Best Lantern Shop and the Best Tailor in Hoi An.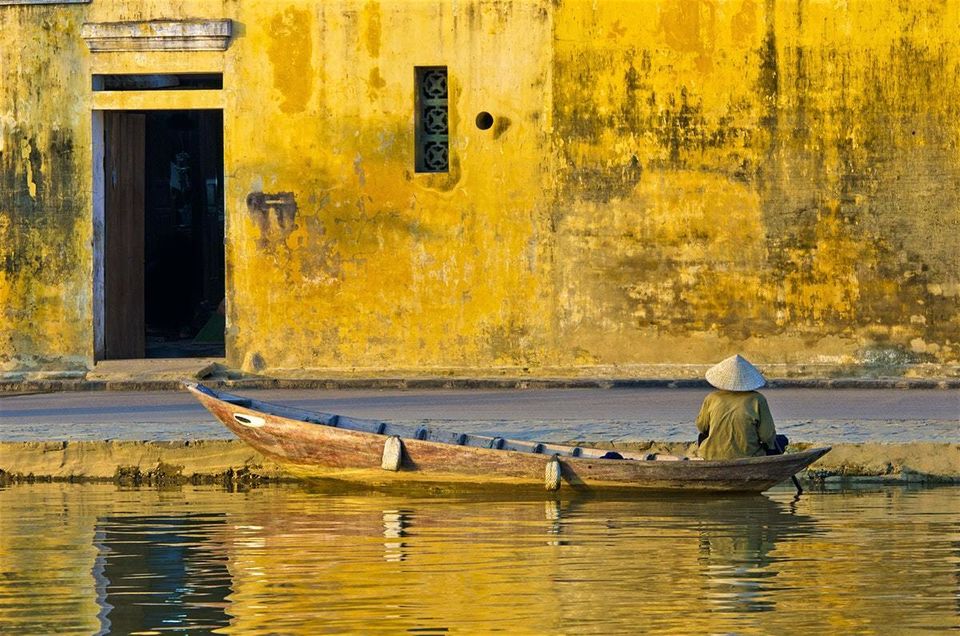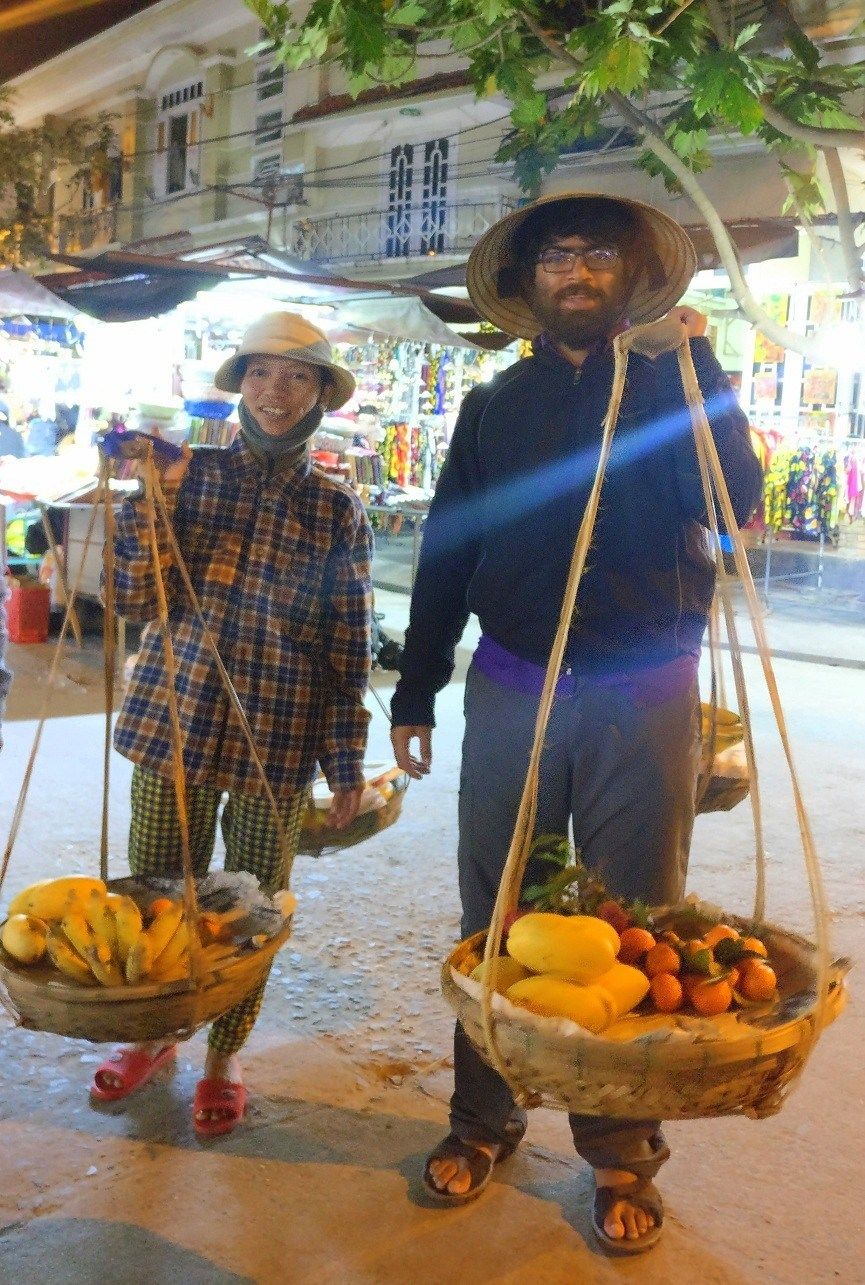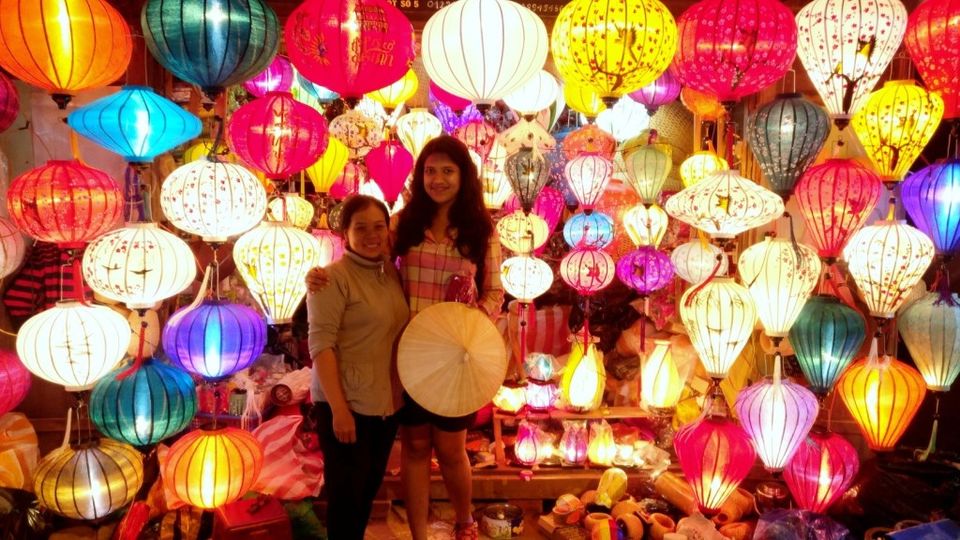 5. Sanctuary of Temple Ruins – My Son
Located at a distance of around 40 km from Da Nang, My Son is a cluster of abandoned and partially ruined Hindu temples constructed between the 4th and the 14th century AD by the kings of Champa. The temples are dedicated to the worship of Lord Shiva.
What to do in My Son?
- Get your entrance ticket with your photograph printed on it.
- Explore the impressive tower temples with intricately carved brick designs.
- Admire the Khmer Folk Musical Performance and Khmer classical Apsara dance. There are 3 dance shows scheduled everyday.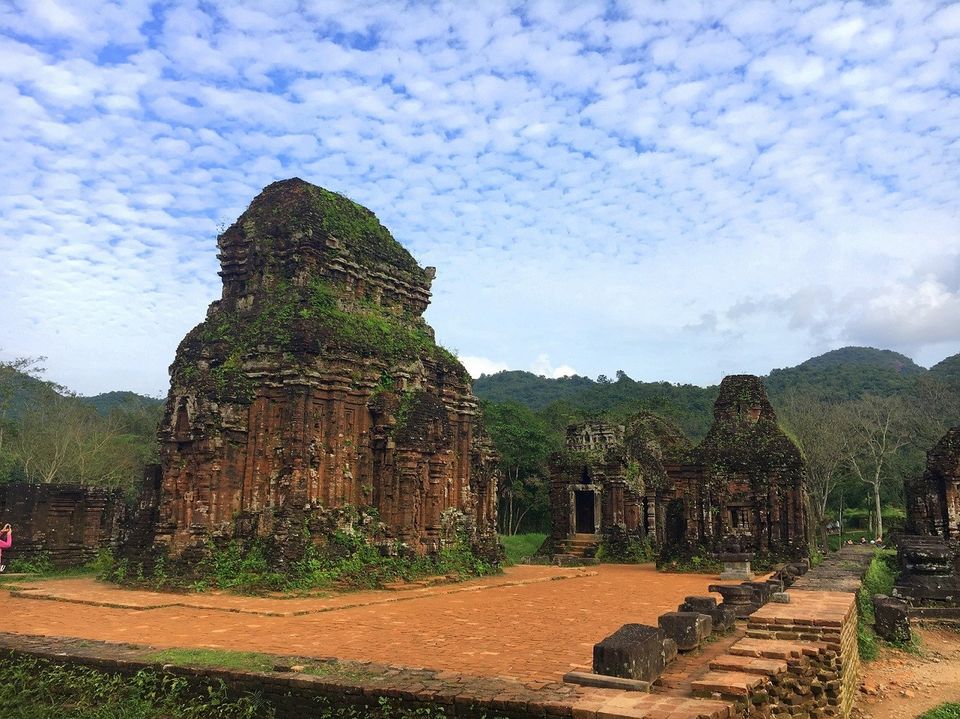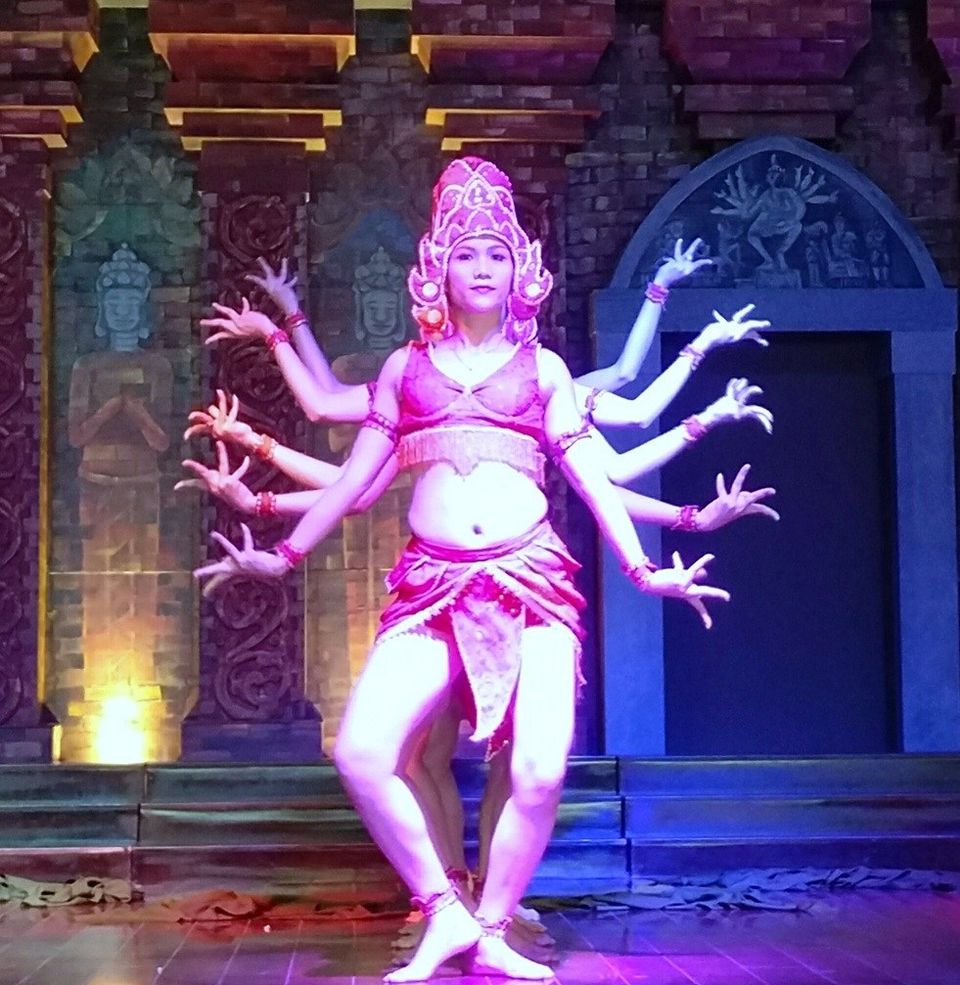 6. A quick stop at the Imperial City of Hue
If you are heading from South Vietnam to North, you will come across the city of Hue in central Vietnam. It is worth a quick-stop as it has The Imperial Citadel, and a beautiful Thien Mu Pagoda (The Temple of the Celestial Lady). One can rent a Bicycle and Ride along the Countryside to visit markets and meet locals.
PS: Imperial Tombs – tombs of Tu Duc, Khai Dinh, and Minh Mang have hefty entrance and parking fees and are NOT worth visiting.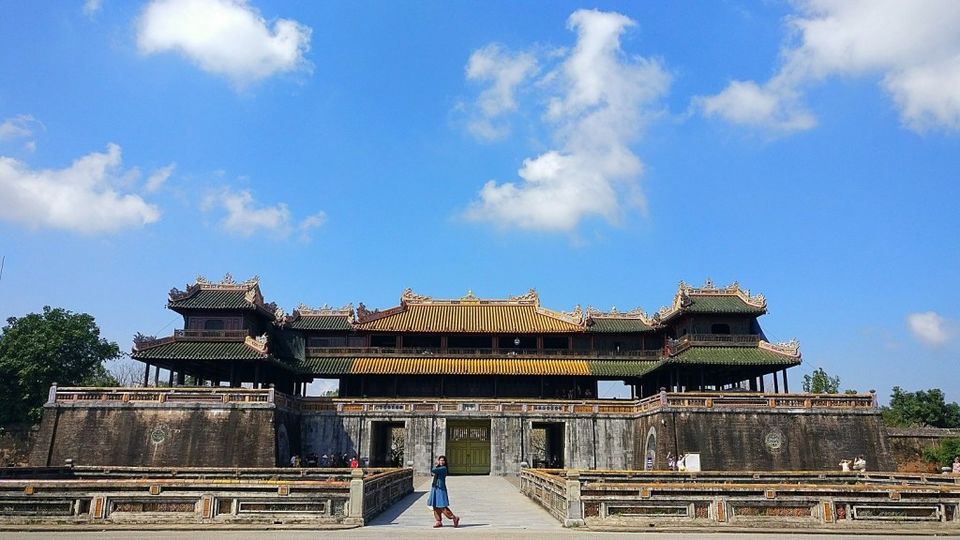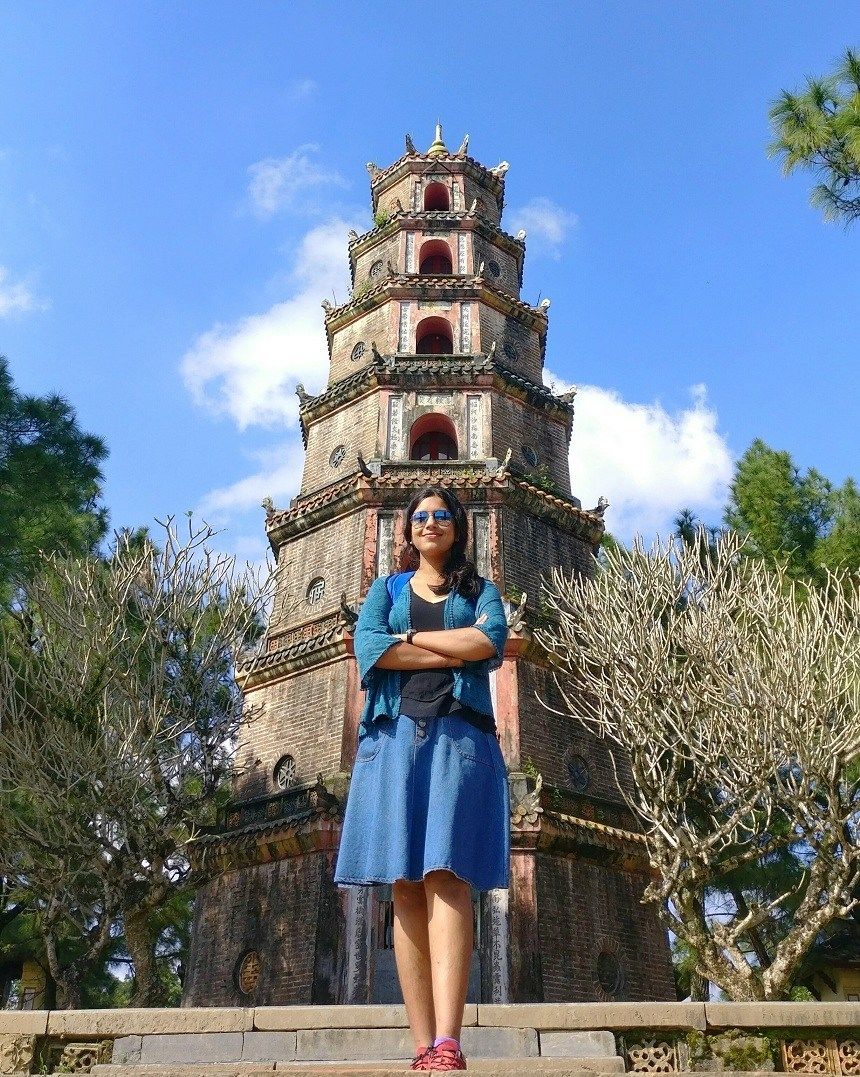 7. Cave City of Vietnam – Phong Nha
Designated a Unesco World Heritage site in 2003, the Phong Nha-Ke Bang National Park contains the oldest Karst mountains in Asia that are 400 million years old. Riddled with hundreds of caves and spectacular underground rivers, Phong Nha is home for most remarkable cave systems in the world.
What to do in Phong Nha?
- Explore Phong Nha-Ke Bang National Park on a Bicycle.
- Son Doong Cave in the heart of Phong-Nha is the largest known cave passage in the world. Visiting Son Doong Cave is an expensive affair and has over a year long wait-list.
- Tu Lan, Hang Tien, and Hang Va are the cave exploration options that are in not-so-expensive range, plus these are beautiful and less-crowded. Only Oxalis Adventures has permission to conduct these guided tours. As seats are limited, pre-booking is advised.
- Paradise Cave, Phong-Nha Cave, and Dark Cave (Hang Toi) are among the major tourist attractions and are accessible by motorbike.
All these cave systems consist of spectacular limestone formations of impressive stalactites and stalagmites – carry a torch and wear comfortable clothes.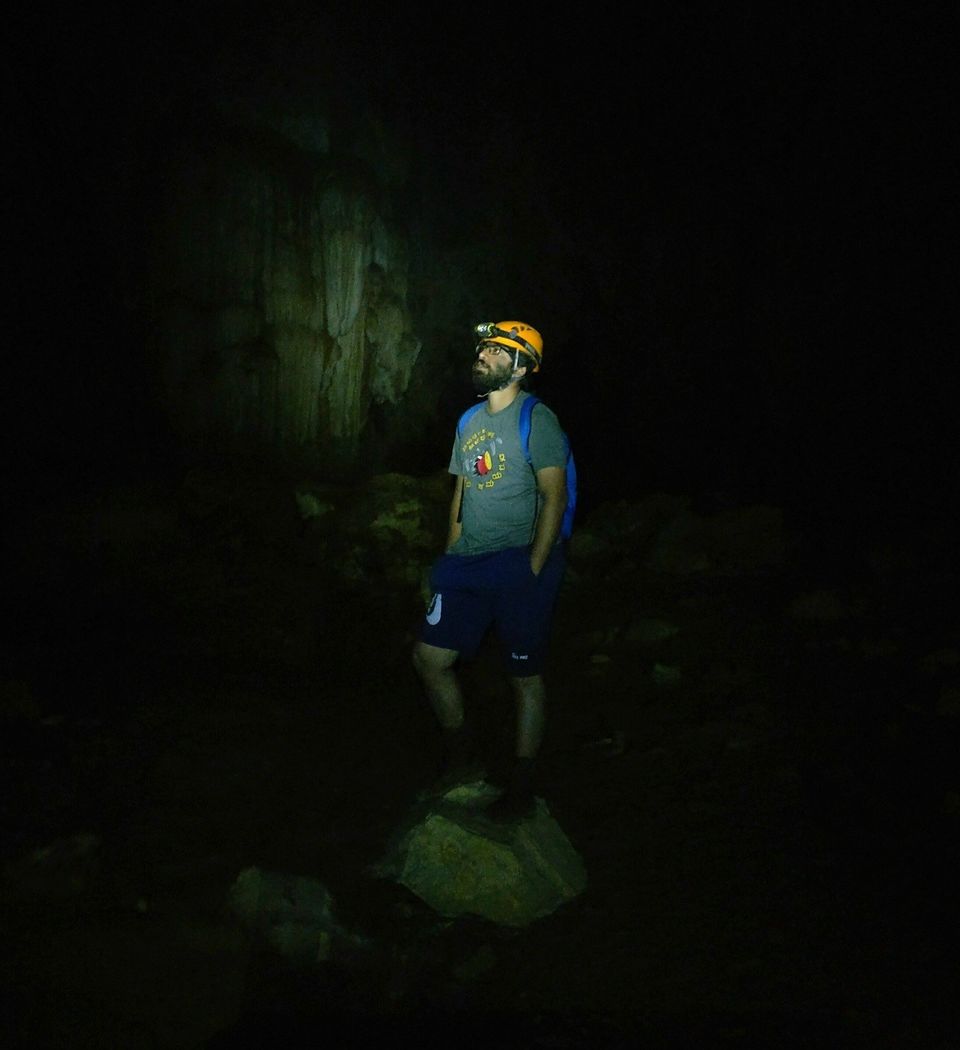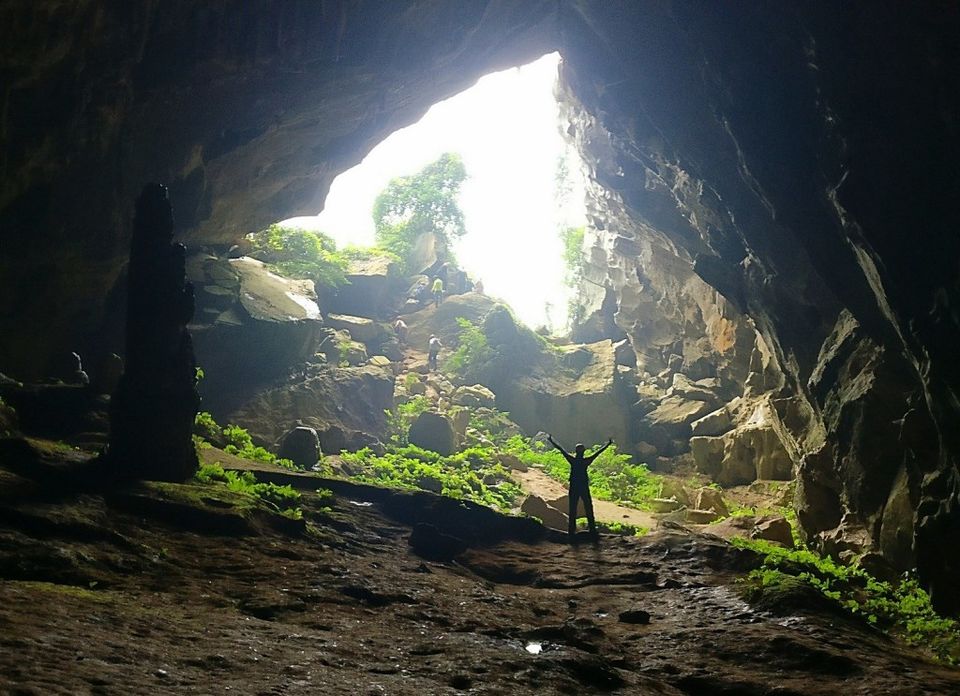 8. Gorgeous town of Ninh Binh
The small scenic city of Ninh Binh is home for picturesque limestone karst mountains, serene rice fields, beautiful pagodas, amazing restaurants, and a quiet city. Every place of Ninh Binh is a sight to behold.
What to do in Ninh Binh?
- Rent a bike and ride around the paddy fields of Tam Coc.
- Visit the peaceful Bich Dong Pagoda and the cave next to it.
- Take 2.5 hours ride across the gorgeous UNESCO World Heritage Site of Trang An Grottoes. This is one of the most beautiful and peaceful place.
- Spend half a day exploring Vietnam's biggest Pagoda – Bai Dinh Pagoda.
- Spend a day around Hoa Lu Ancient Capital and Ma Yen Peak.
-Take a day out to visit the picturesque Nature Reserve of Van Long Wet Land. It is worth the time and effort.
- Climb the dragon studded Hang Mua Peak. Choose early-morning or late-afternoon for vibrant colors.
- Spare a day for Cuc Phuong National Park. February-March gifts you with 1000s of butterflies, literally 1000s.
- If you have time, visit Phat Diem Stone Cathedral.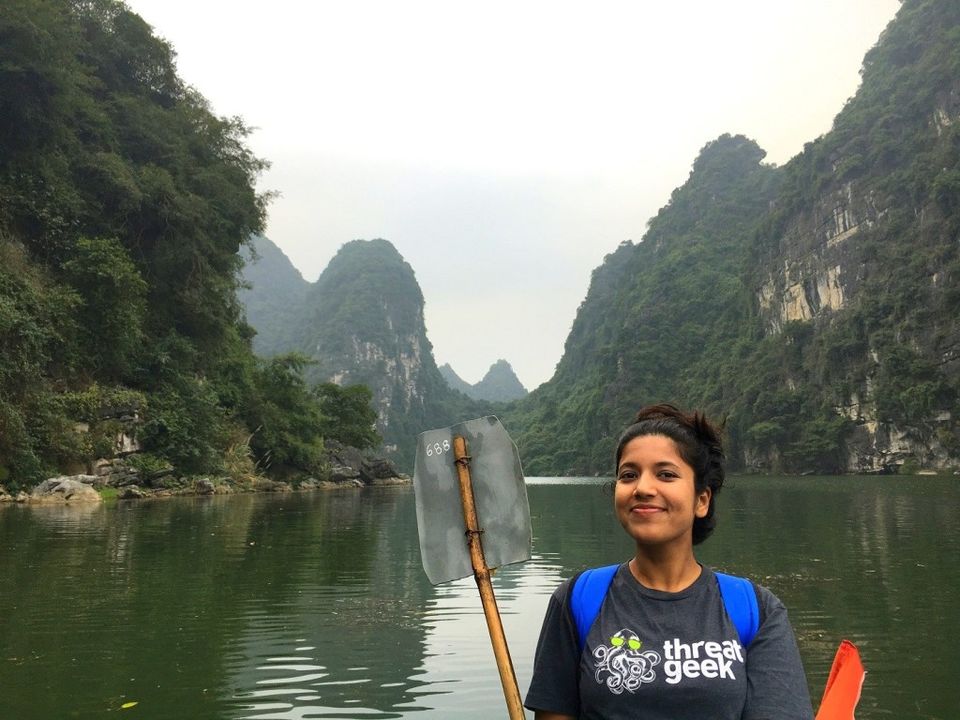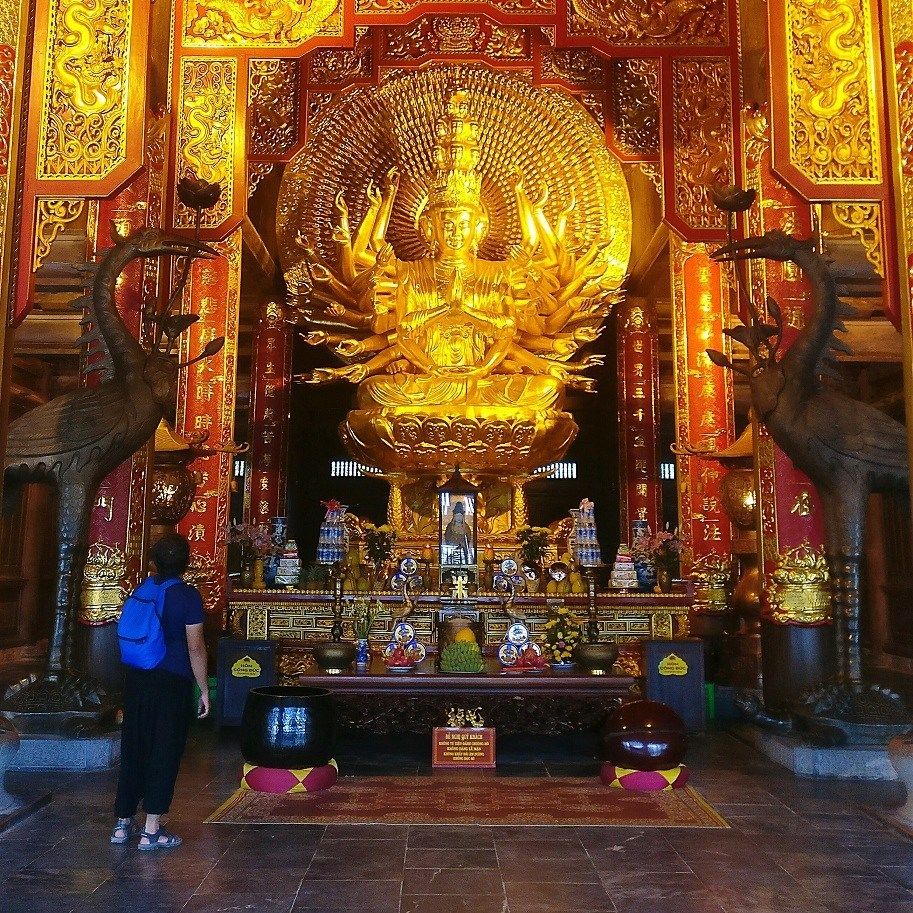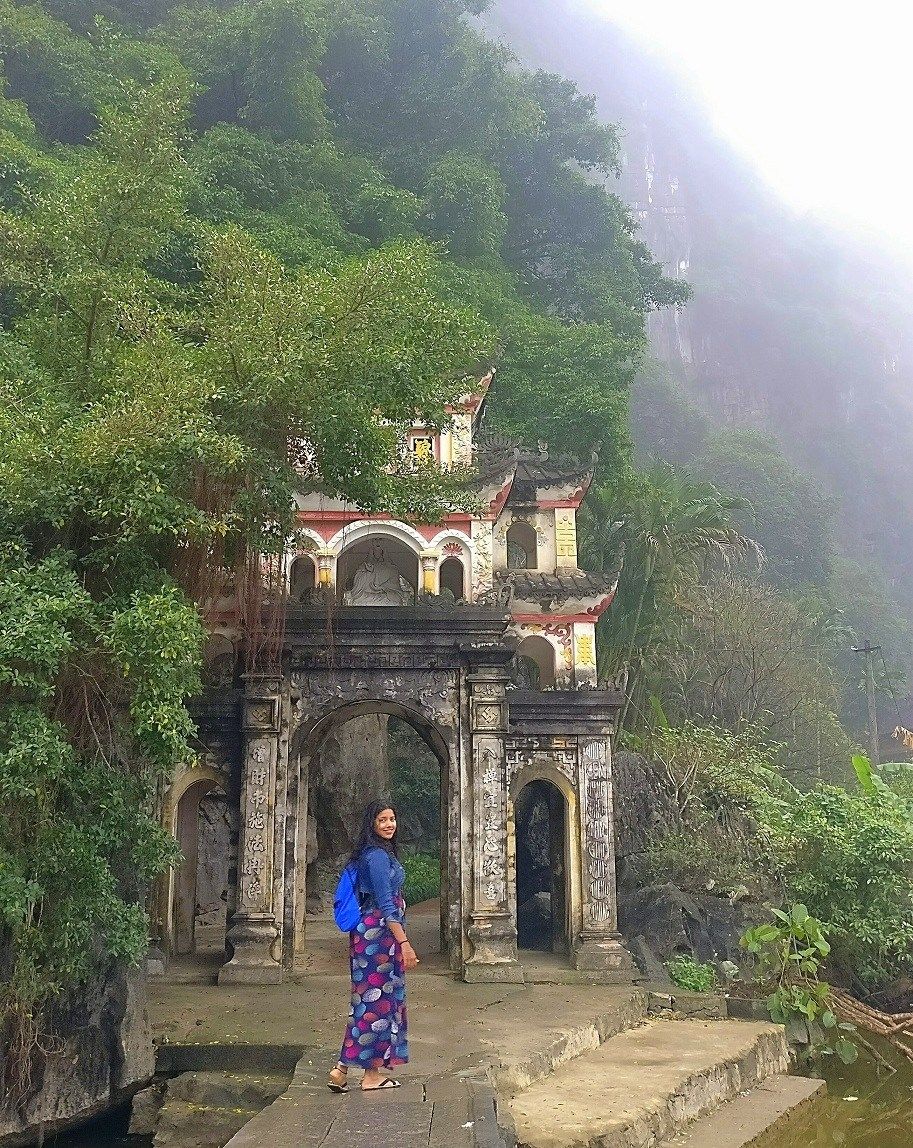 9. Delightful city of Sapa and Fansipan
A small northwest town of Vietnam, Sapa is a charming place where you can opt for a strenuous mountain trek or a relaxing rice-paddy field tour. If you are in Sapa during weekend, do not miss to see the unique culture of Mong and Dao ethnic groups in Sapa's "Saturday Love market."
What to do in SaPa?
- Fansipan at 3,143 meters (10,312 ft), it is the highest mountain in the Indochinese Peninsula hence its nickname "the Roof of Indochina". You can reach the peak by cable car or embark on a 2-day Trek.
- Rent bike and go around SaPa tour – visit rice terraces and villages.
- One can go on a guided tour to tribal settlements on the hills of Sapa.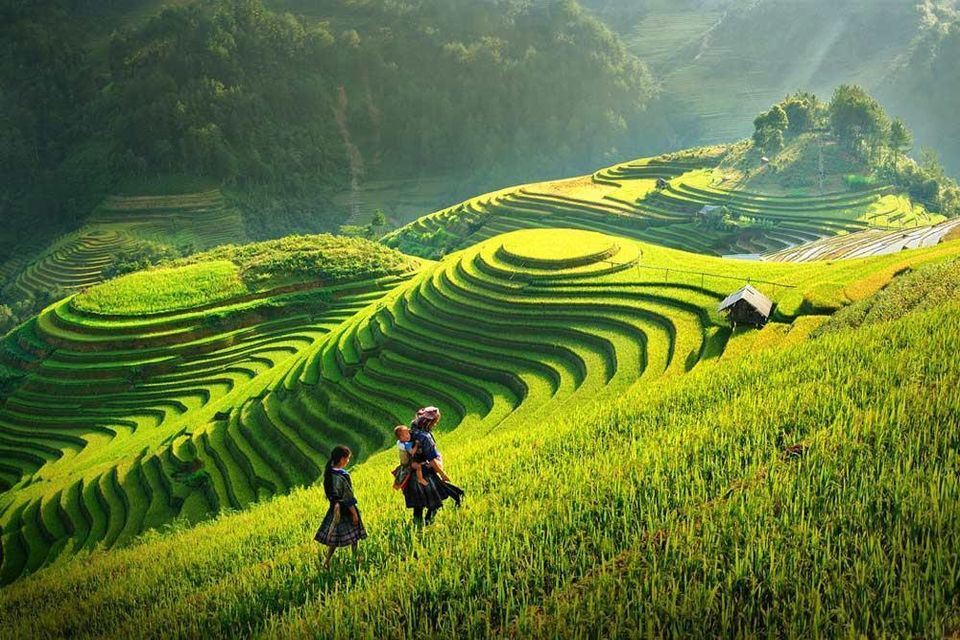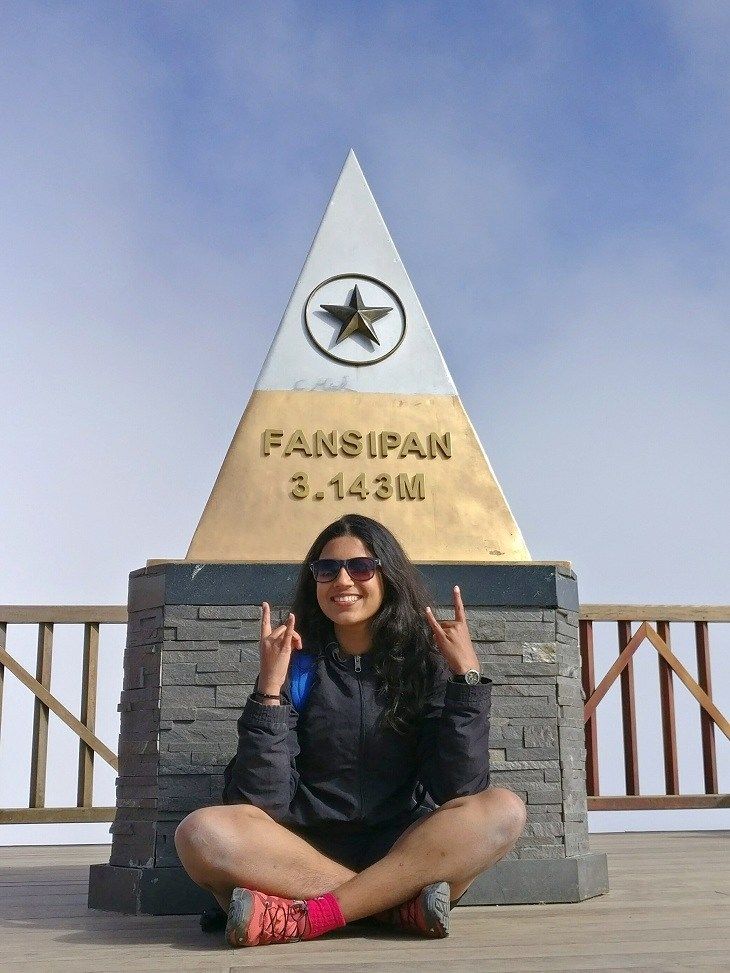 10. Ha Long – Bay of the Descending Dragon
Ha Long Bay is a unique natural wonder, however its worn-out with garbage and over-crowded with tourists. With a quick stop on a day cruise you will be disappointed and with an expensive multi-day cruise, after spending the money, you will not be convinced. So it is a tricky dsetination to manage a worthy experience and return with smiles. Ha Long Bay, Bai Tu Long Bay, Cat Ba Island, Ti Top Island (with Panoramic Views), Nam Cat Island, Surprise Cave, and Virgin caves are among the popular attractions.
What to do in Ha Long?
- Ha Long bay day cruise.
- Bai Tu Long Bay 2-day cruise.
- Kayaking/canoeing across Ha Long Bay.
- Photostop – fighting cock islet.
- Leisurely exploring Ha LOng, Cat Ba, Bai Tu Long independently.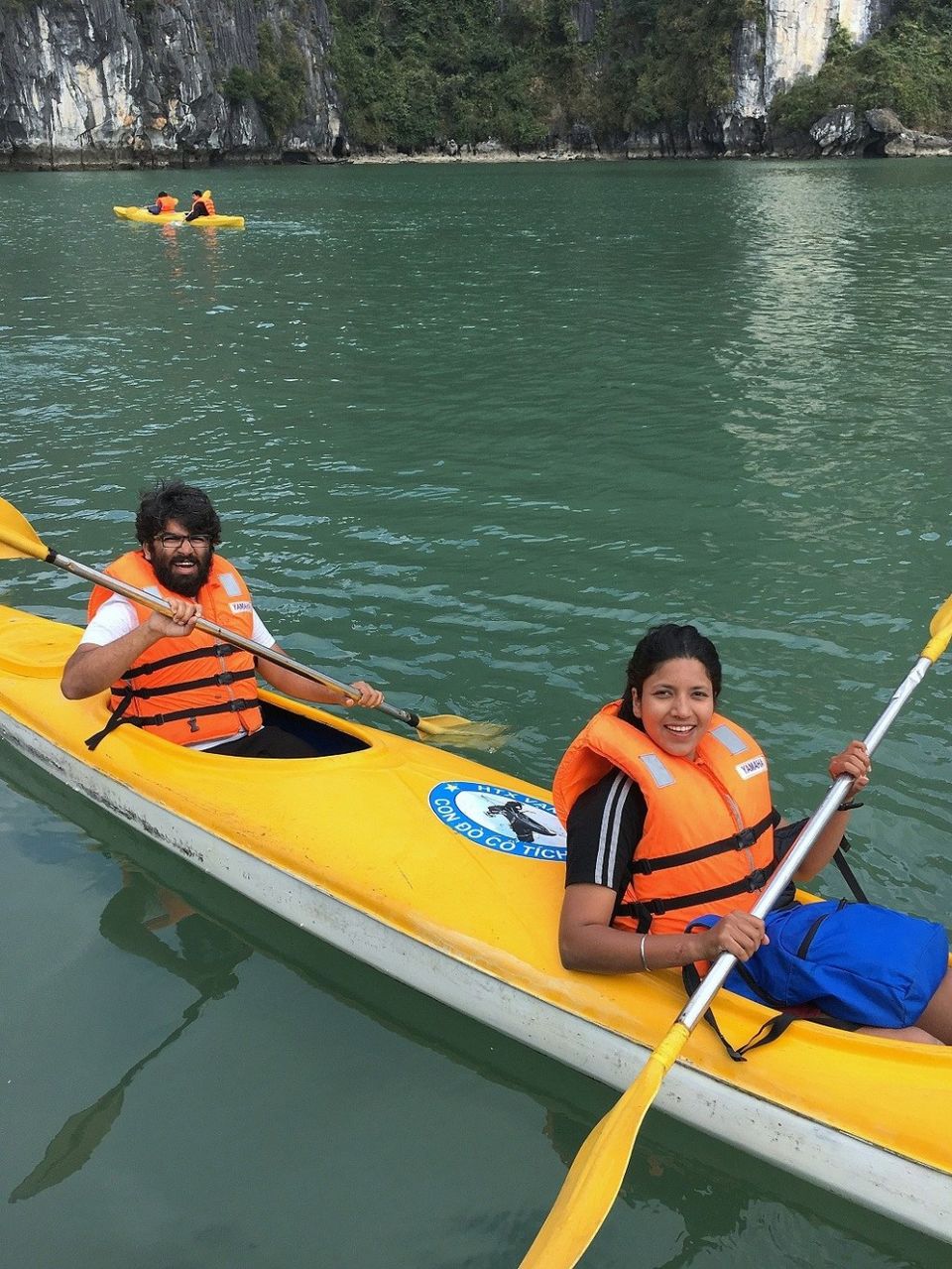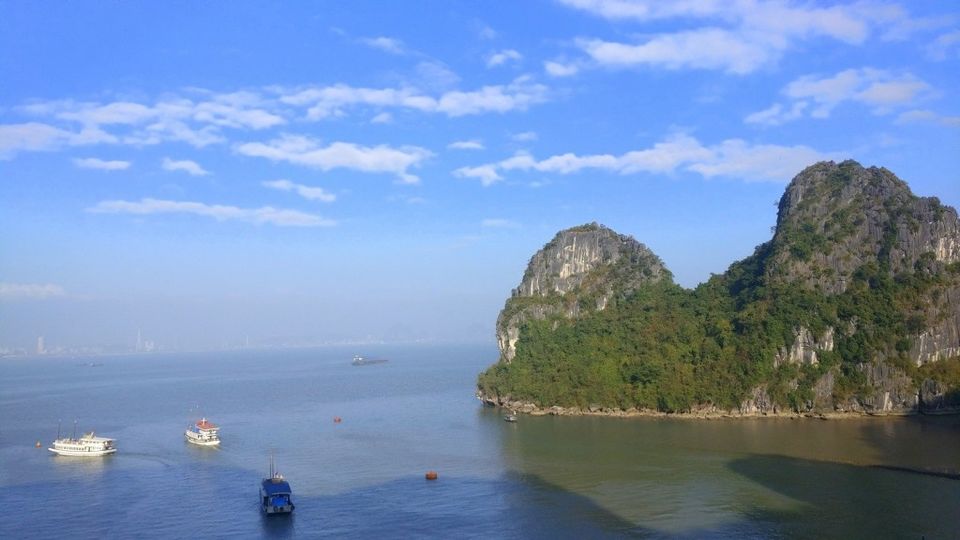 11. Floating Villages of Vietnam
Most of the stateless residents live in the floating settlements of dwelling zones on water which don't require citizenship papers. Despite being built on the water, the floating villages operate similarly to the villages on land. There are grocery stores, schools, barbers, temples, and even a place to play soccer.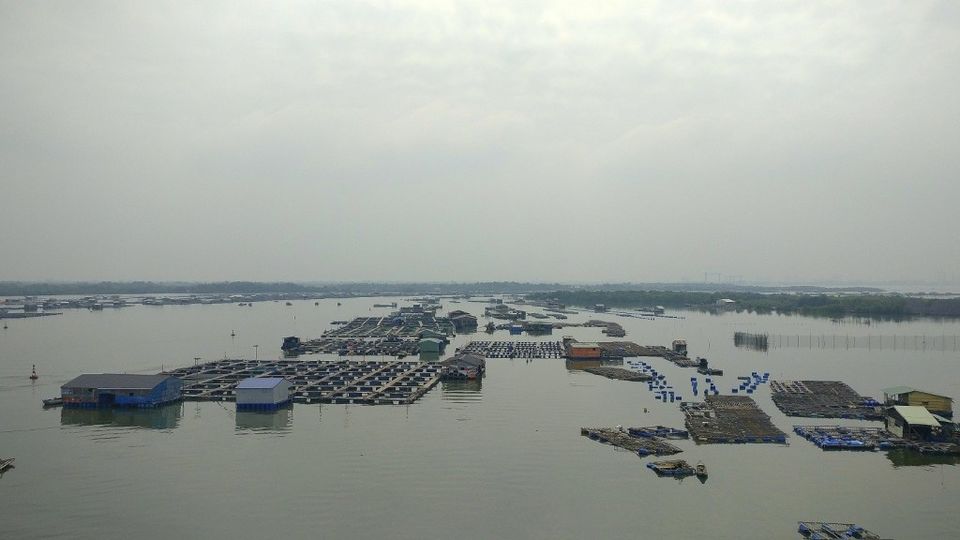 In the areas frequented by floods, if alarmed prior, the village people will relocate to nearby villages with high ground. Flash floods cause huge loss to the people. To counter that, floating houses that cost about $2500 are built. They are made of wood and are supported by pillars on all corners. The pillars anchor the float mechanism. Underneath houses are fixed with oil containers that aid in floating.
What to do in Floating Village?
- Explore the construction mechanism.
- Pay attention to details.
- Talk to the locals and the information you receive will make you humble.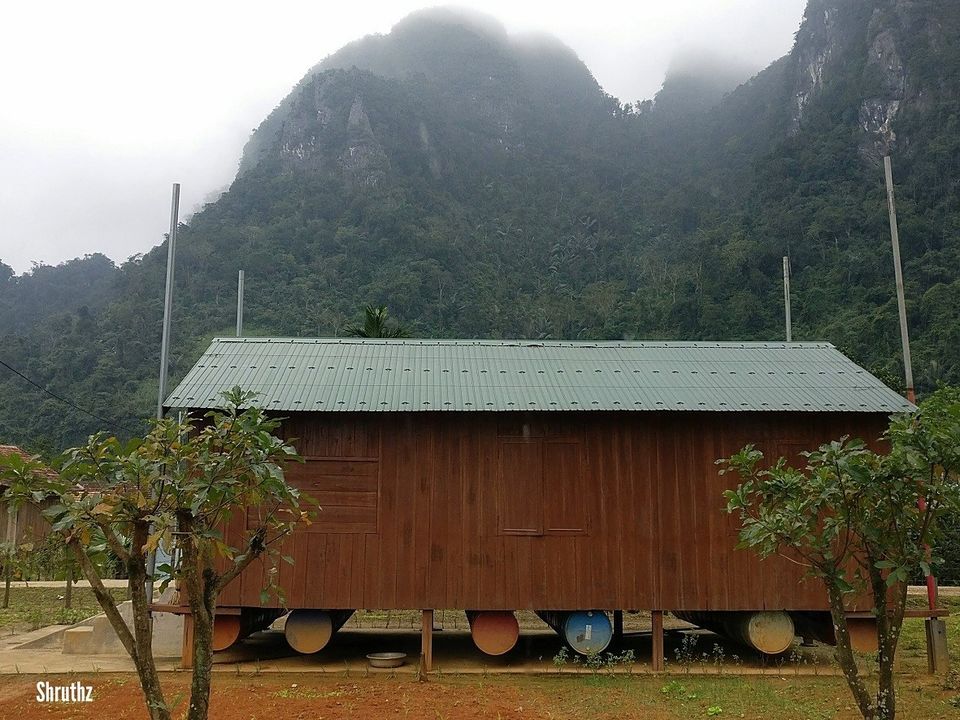 12. Mui Ne and Phan Thiet
Mui Ne is a beach resort town in Southeast Vietnam. With a long, palm-lined stretch of sand, it has steady wind conditions (in the dry season) that make it a top destination for windsurfing, kitesurfing, sailing and other water sports. It's also a popular weekend getaway from Ho Chi Minh City, with a busy strip of hotels, restaurants and shops.
Things to do in Mui Ne
- Quad-biking along the white sand dunes.
- Mui Ne has wonderful sunrise/sunset views.
- Visit Red Sand Dunes.
- Kite Surfing.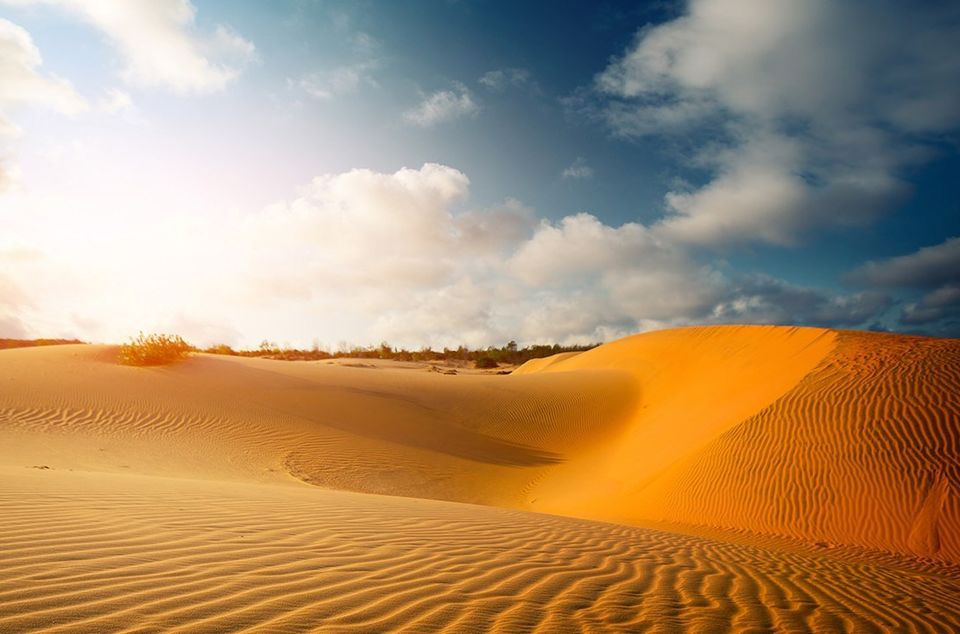 13. Hanoi – The Capital City of Vietnam
Trip to Vietnam is not complete without visiting its noisy, vibrant capital city of Hanoi.
What to do in Hanoi?
- Navigate the traffic-choked streets of the Old Quarter to discover crumbling colonial buildings, gazing street vendors and small tubular shops.
- Hanoi is filled with historical buildings – do not miss the Temple of Literature, St Joseph's Cathedral and the Imperial Citadel of Thang Long.
- Learn about the country's revolutionary leader at the Ho Chi Minh Mausoleum and palace complex. Photography is strictly prohibited here.
- Take a stroll around Hoan Kiem Lake where locals come to exercise and relax.
- Do not miss the wonderful Water Puppet Show at Thang Long Water Puppet Theater.
- Trip to Hanoi would not be complete without sampling its famous food delights – Banh Mi sandwich or the city's signature dish, Bun Cha (Vegeterians Excuse).
- Stop at Cafe Giang or The Note Cafe for a Ca Phe Trung (Egg Coffee), they have been serving this traditional brew for over decades.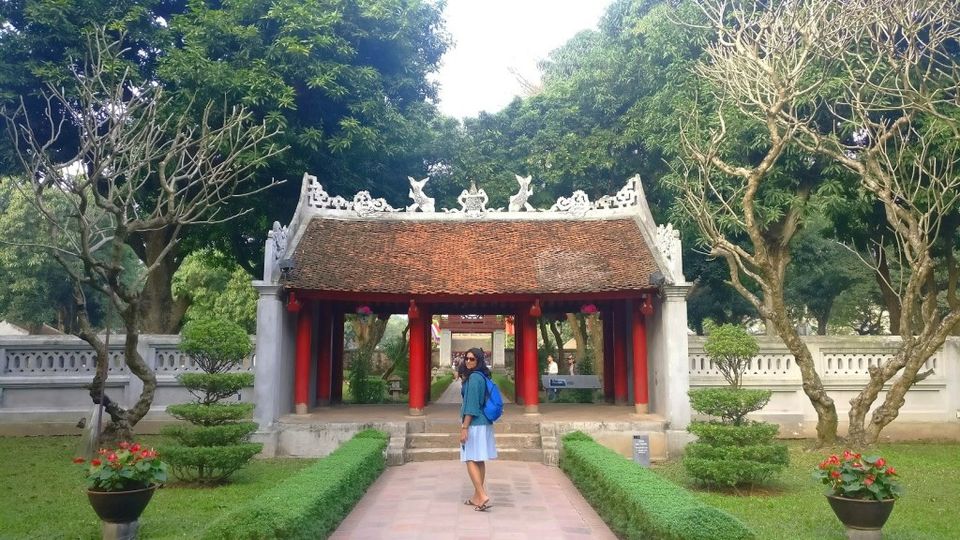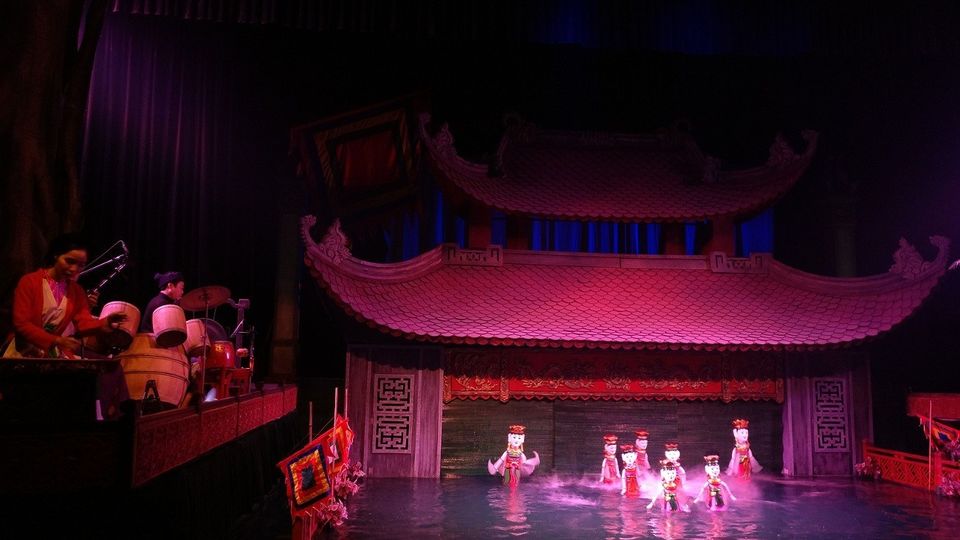 We had an eventful time backpacking across Vietnam. Feel free to share your experiences and questions in the comments section.
This blog was originally published on Life Outside Cubicle.
Frequent Searches Leading To This Page:-
India To Vietnam Flight Cost, Hyd To Vietnam Tour Package, Vietnam Travel Package Deals, Northern Vietnam Tour Package, Cheapest Vietnam Tour Package From India, Vietnam Tour Package From Kerala, Vietnam Tour Package For 3 Days