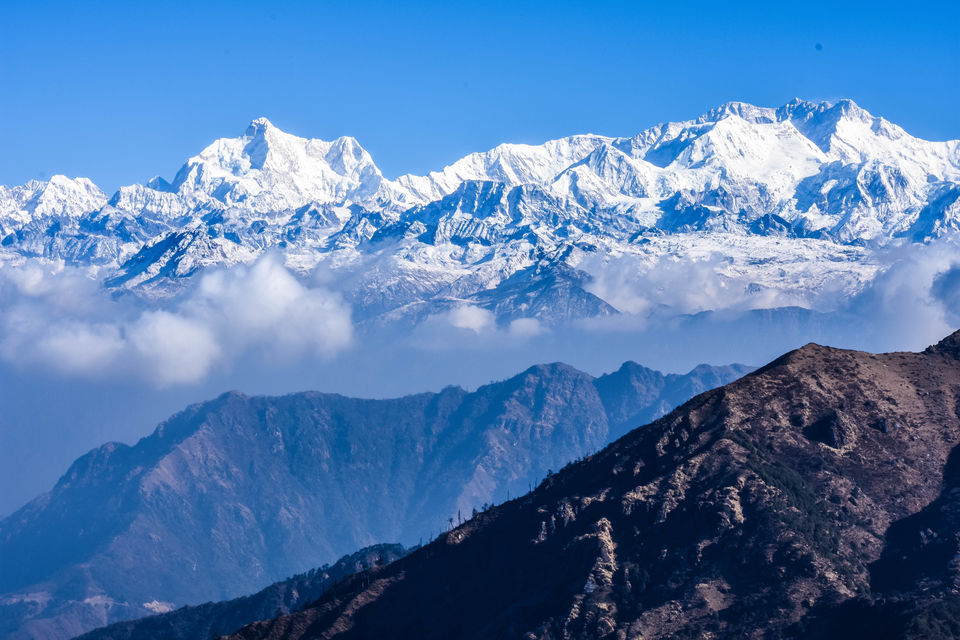 Maneybhanjan to Tumling to Kalpokhri
I always use to attend my office so that i could save some leaves which can be later used for my long trips. This time i wanted to do my first multiple days solo trek and i realized Sandakphu was the best option available for a beginner. Though i had trips a lot but trek is completely different thing so i was prepared for the things to be faced. I traveled to my home and after spending some days with parents i left for silliguri on 6th of March. Without wasting any time i took a taxi for Darjeeling though i had to get down at Ghoom (10 kms before Darjeeling) as i wanted to reach Maneybhanjan same day and i could start my trek for Sandakphu next day after hiring a local guide. From ghoom i took a sharing taxi for Maney bhanjan. Reserved taxis charge more so i waited for some sharing taxi which was hard to get due to off season. Fortunately a local driver gave me lift to Sukhia Pokhri . You can get a taxi right at the Railway station . Sukhiapokhri is 10 kms from Ghoom where you can get sharing taxi to maneybhanjang which is futher 7kms. i shared taxi with a local couple and the man surprisingly turned out to be a local guide. They asked me to join them till Sandakphu from where they wanted to start the trek further to Phalut. As the taxi charges from Maneybhanjan to sandakphu is very high i found an opportunity to save time and money which i can later spend in singalila , so i decided to join them.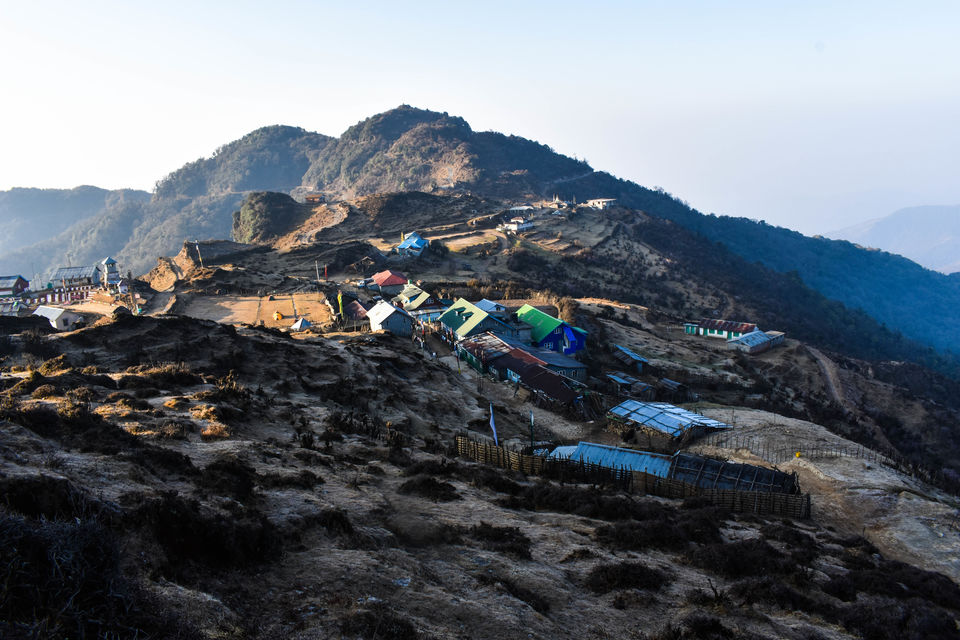 We started from Maneybhanjang at 2 PM and it was late evening around 6 by the time we reached kalipokhri. So our driver said that we will halt in Kalipokhri and will move for Sandakphu next day early morning. I had bring my own tent and so do the couple. I settled it up by the sunset in the Nepal Side. Kalpokhri is situated at the border of Nepal and India and our campsite was on Nepal Side, in fact whole trek is along the border , and we keep switching the countries whole trek. The view of sunset from my tent was never this beautiful. After 2 hours my dinner was ready by 8PM at the small restaurant taken care by a local family, i was offered tasty dinner which was pretty much needed as i couldn't have food anywhere on the way. Finally after worshiping my stomach I slept like a baby in my tent under the open sky thinking about the trip ahead.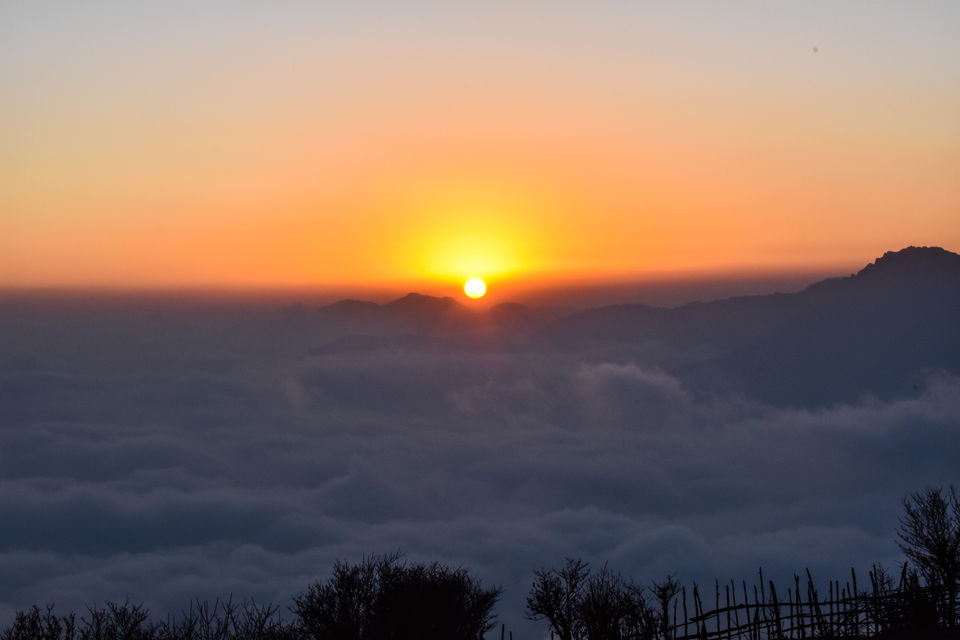 kalpokhri to Sandakphu
Next day i woke up early by 7 am and roamed around took some pictures and after finishing breakfast we left by 9 am for Sandakphu.
We crossed Bhikey which is on the way to sandakphu and by 10 am we reached the point. This is where i had the glimpse of kanchenjunga for the first time. From here we were on our own. We filled our water bottles and took some necessary eatables and left for the trek . The view is so mesmerizing on the way that despite of carrying luggage of 15kgs i felt like taking a stroll in a garden. PhaIut is 22 kms from Sandakphu to Phalut and after walking for 3 hours whether started getting little hot and we were sweating at the height of 3500 meters.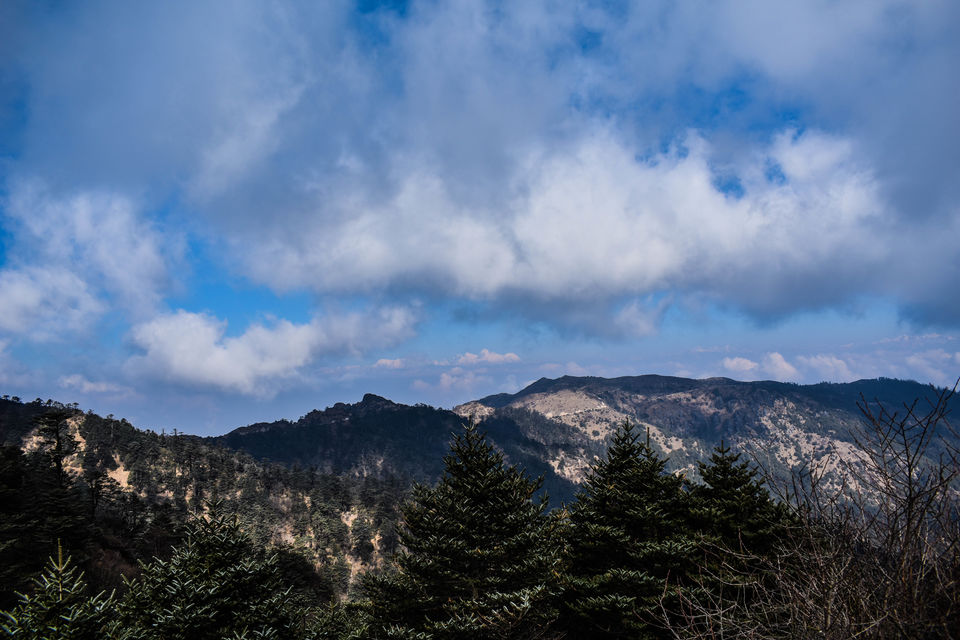 Sandakphu to Phalut
After sometime it became so difficult for me to walk that i was always lagging behind while they kept going. I somehow tried kept following them , but then i realized what real trek is and how one has to train hard before taking such long treks. I lost them while taking a short cut , i shouted his name multiple times but there was no response . I realized i was all alone and now i was afraid, tired and hungry. I decided to keep going on the main route and in sometimes i started liking the loneliness i felt there.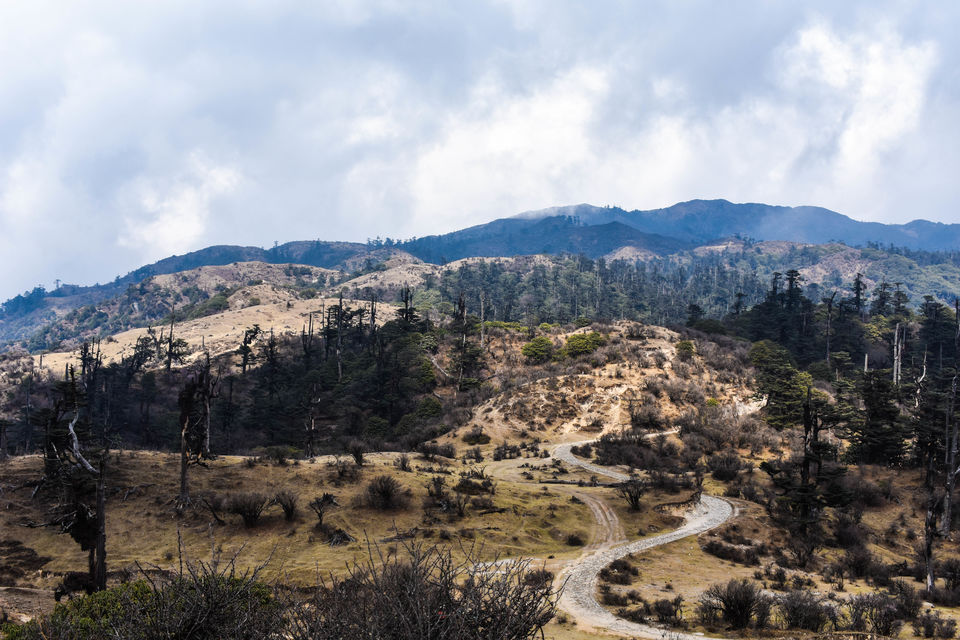 After sometimes i was so tired that i was hardly able to walk. I met a local guy and he said Phalut was 2km ahead. I was out of water i was taking smaller sips just to keep my throat wet. I somehow kept going when i met my guide he said he was waiting here and he also looked for me.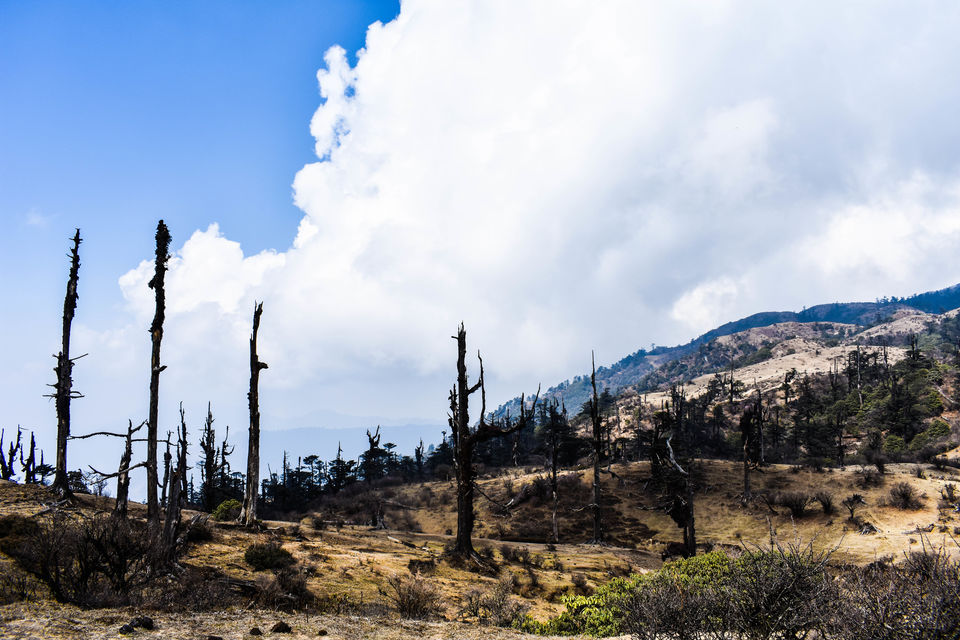 We reached Phalut by 5 PM while it was all foggy around and felt like night at this time only. we rented rooms in the lodge and i slept for two hours with double blanket to recharge my body as it was hardly functioning. By 8 PM we were having dinner when i met a french couple staying there too. We had little chat and after finishing my dinner i went to sleep again as only some parts of body where able to function with 2 hours of sleep.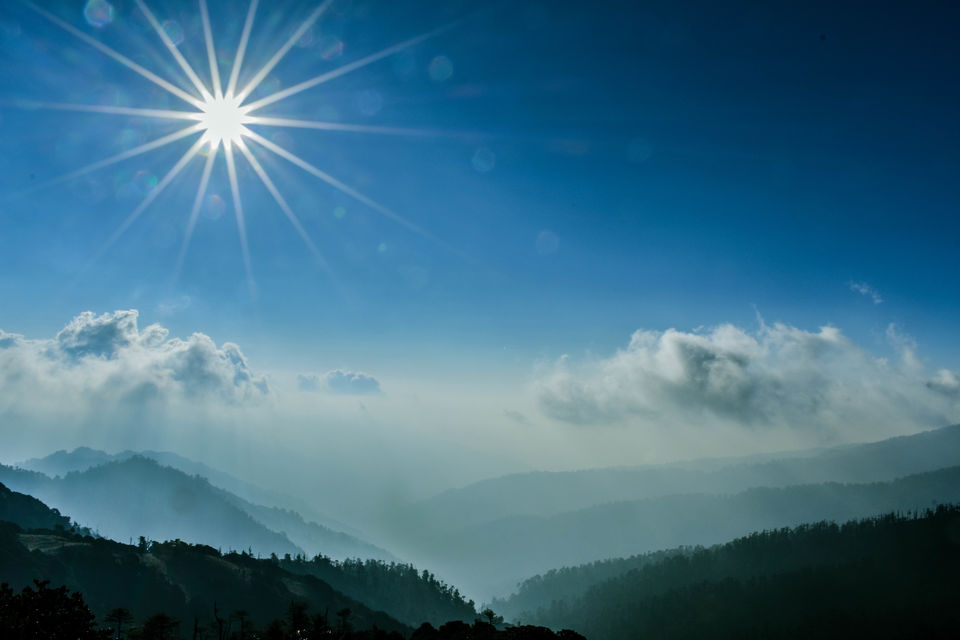 Next day weather was pretty clear as i woke up at 7 am and tried to get up from the bed ,though it was really tough as i realized my calf muscle was really paining. The couple with me Susan and Kedar where at the view point behind the lodge and they were screaming at me asking me to join them. i was really tired to go at the view point . But mistakenly i got a glimpse of Everest from there and then after tea i reached the view point. As i reached there i saw something from there and i was left awestruck , the mighty kanchenjunga was right in front me. I never knew about this view from Phalut.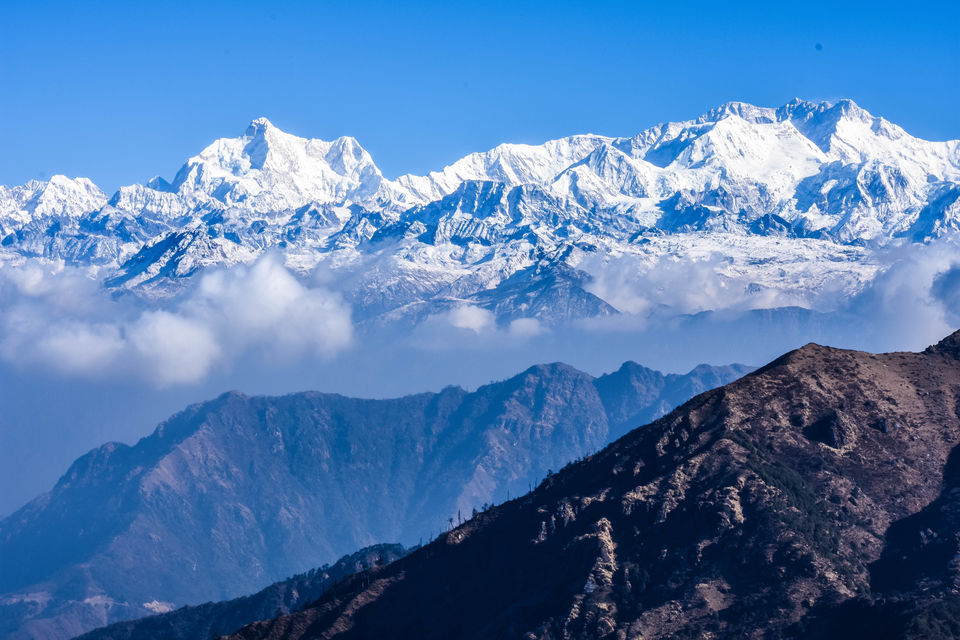 Phalut to Singalila
I couldn't divert my eyes from this view i have shared. i felt something completing in my life and that's when i decided to move even closer to Kanchenjunga as closer as i can. This view is from Phalut so i decided to move to Singalila which lies in the line of sight to of Kanchenjunga. The couple with me bid adieu as they had to travel to Namchi the very next day, so they moved to Gorkhey which is further 16 kms of trek from Phalut. I decided to stay for one more day in Phalut and with a local guide i headed to Singalila by 10 AM morning. On the way we saw the beauty of the ridges and a lot of wild Yaks . The whole route is like barren land or open field from Phalut until you reach the base of Singalila. Though the trek to Singalila is restricted i was unaware of it and so was my guide.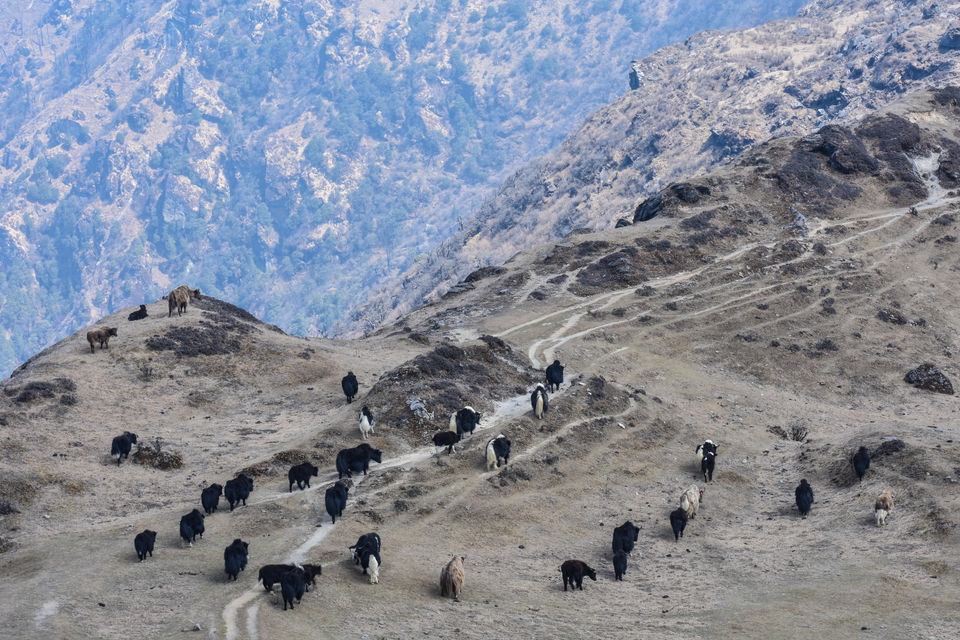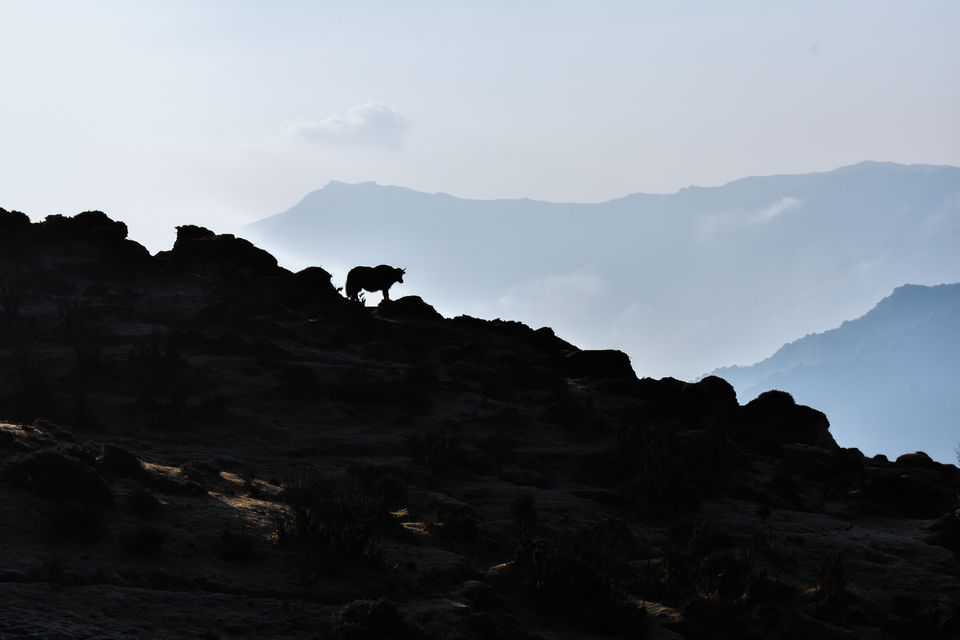 We reached Singalila by 1 PM with consistent walk and by the time we reached the top , there was nothing visible of the Kanchenjunga as the afternoon mist had completely overtaken the mountain. Still i relaxed there for 30 mins , i couldn't take any snaps because even the battery of my camera was dead. With a heavy heart i decided to return back before it gets late so by 2 PM we started to return back. Singalila acts as a border of West Bengal and Sikkim. From here you can see some village in Nepal region too. By 4 PM we were back to the guest house and it was all foggy by the time we reached.
After relaxing and roaming around in the darkness of the mist for sometimes i headed back to the kitchen to get my dinner as i was very hungry. We finished dinner by 8:30 PM when i met a Dutch couple who were on a long holiday in India of months. We had some chat and i guided them for some best places they can visit in the country. After chit chat we headed back to our bedrooms but by that time weather started deteriorating and then i realized that it started snowing that night. I snowed all night as after enjoying some snow we slept.
Morning we realized that whole Phalut and singalila was covered with a sheet of white snow. I felt my presence in a fairy land. I woke up early to get the glimpse of Kanchenjunga again but it was all cloudy that time and hardly any part of it was seen, Other people who arrived couldn't really see a little part of it too, but i was fortunate enough to enjoy the view and snow too :)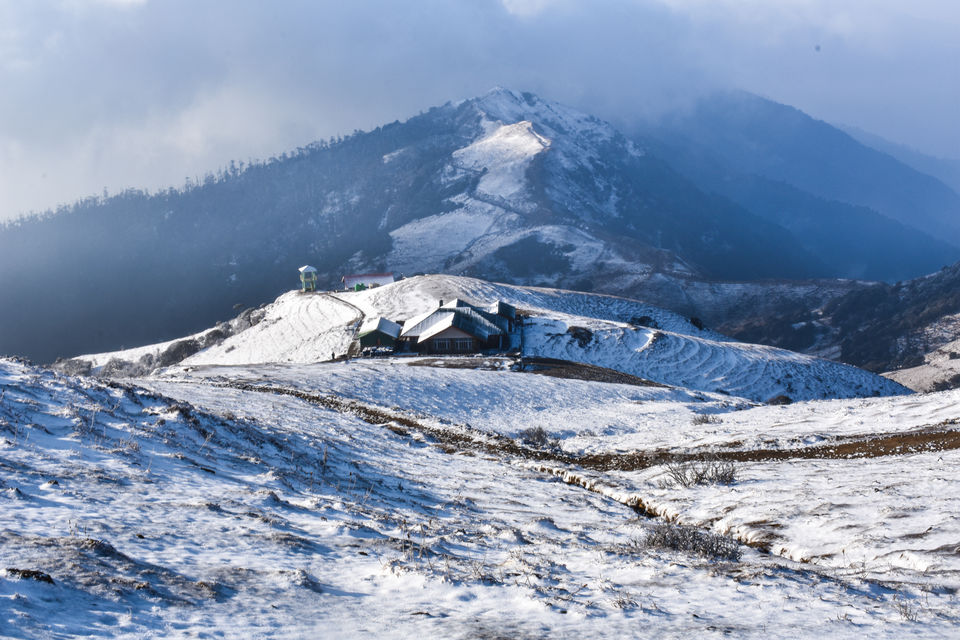 I enjoyed in the snow a lot and took a lot of pictures of that fairy landform too. I didn't wanted to waste my time because i had to leave the same day in another 1 or 2 hours in order to reach Gorkhey before evening. So i captured as much pictures possible.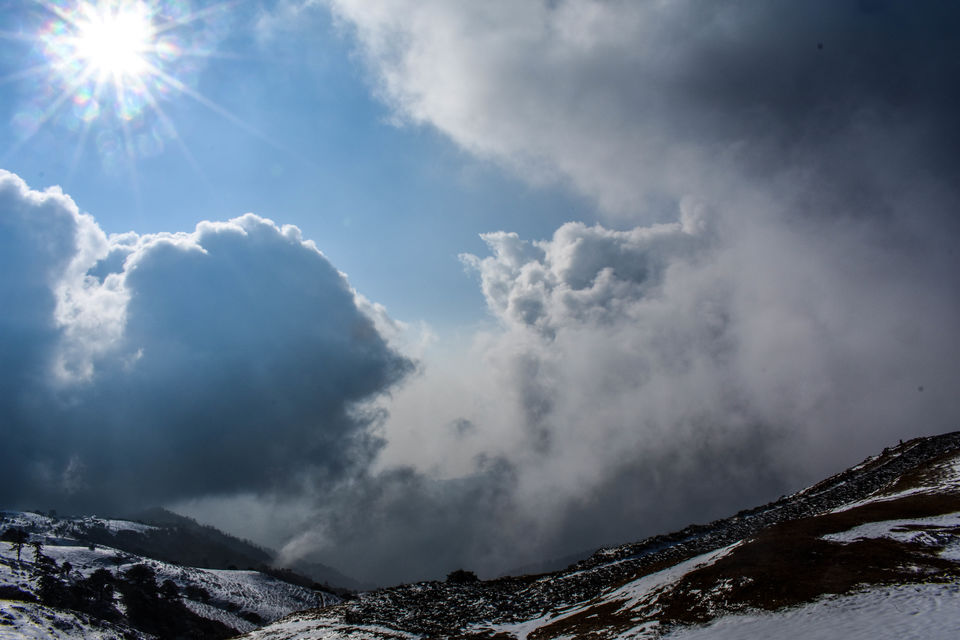 To be continued..