Sandakphu is the highest peak in the Indian state of West Bengal. Considered as an easy trek, it offers breathtaking views of the Eastern Himalayas. The trail winds through the windswept slopes of the Singalila National Park in Darjeeling district. One unique feature of this trek is that it is the only place from where one can view all the four highest peaks of the Himalayas - Mt. Everest, Mt. Kanchenjunga, Mt. Lhotse and Mt. Makalu. But the trek is famous for its enchanting views of the Kanchenjunga massif which pans out like a giant statue of a person sleeping,and is aptly termed as the Sleeping Buddha.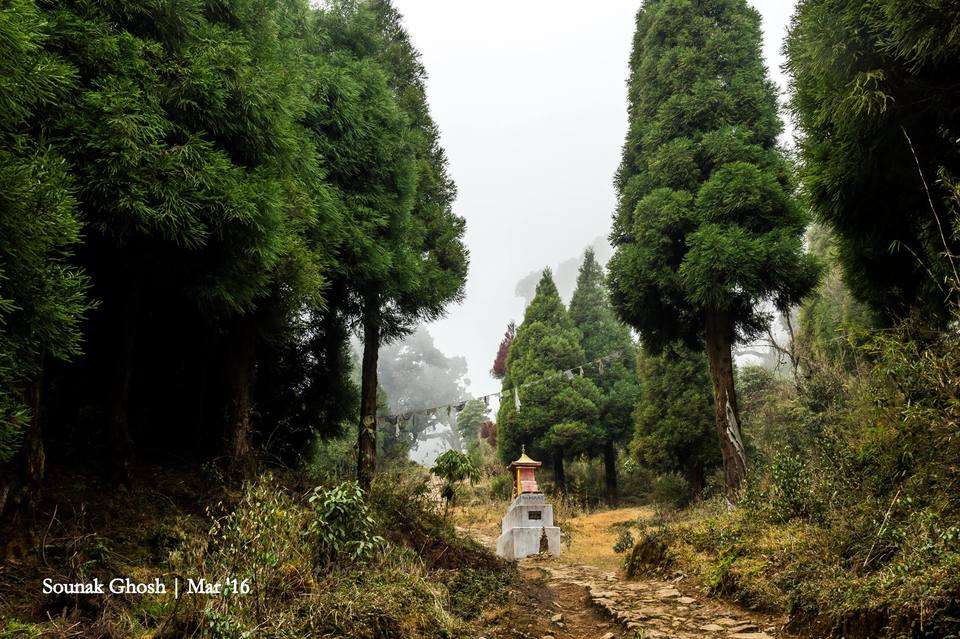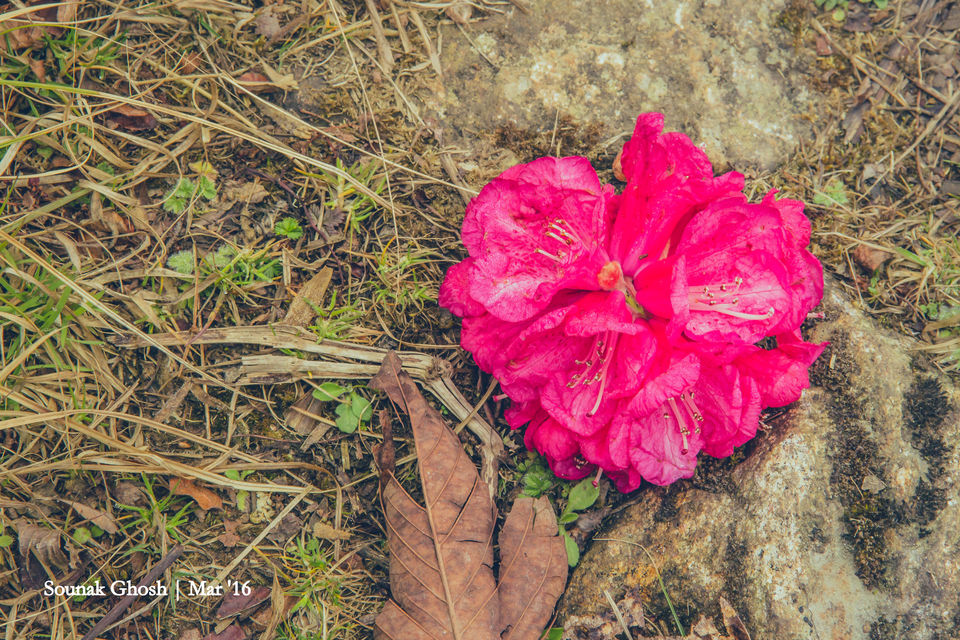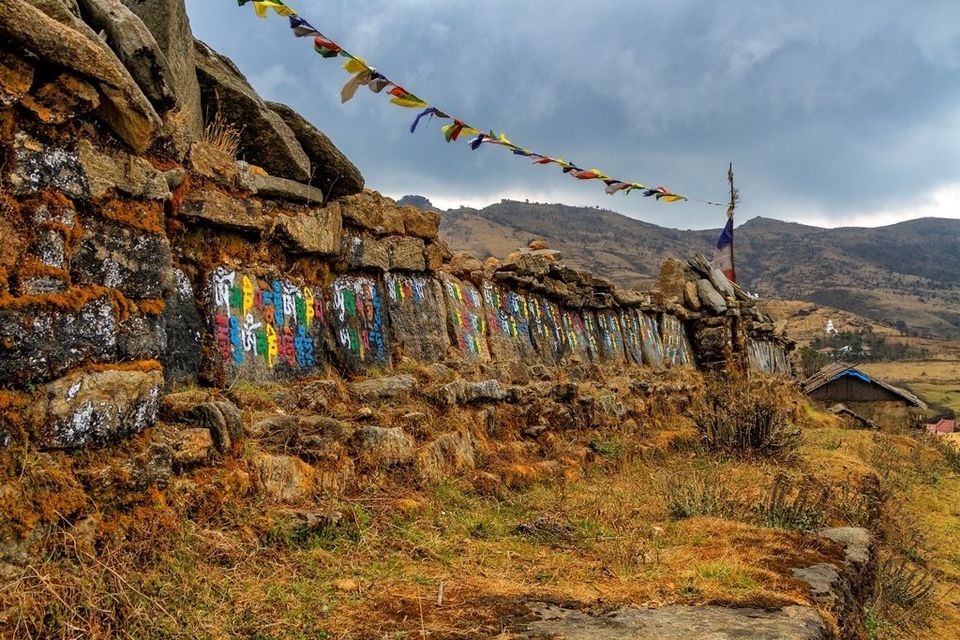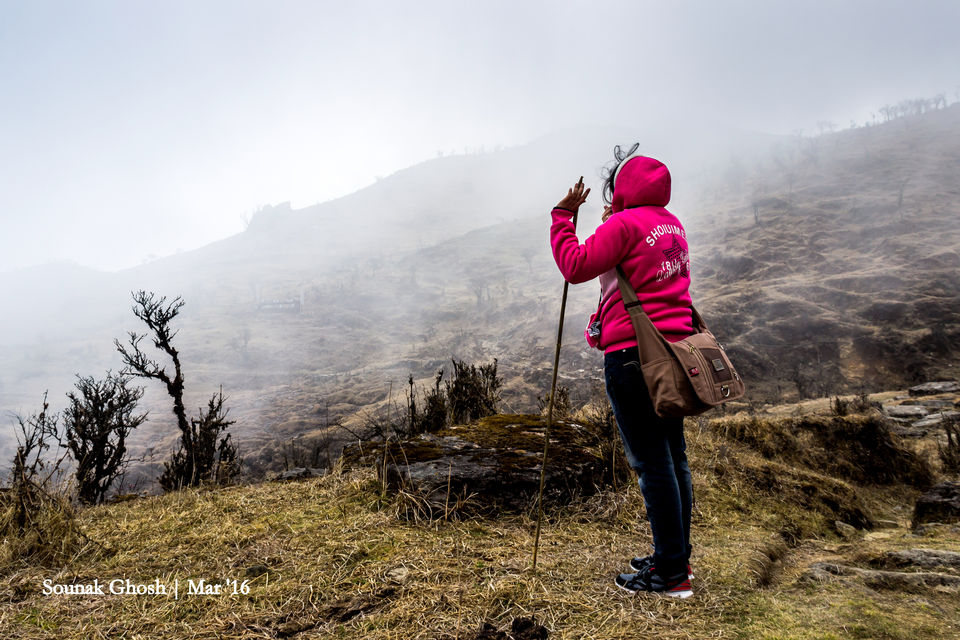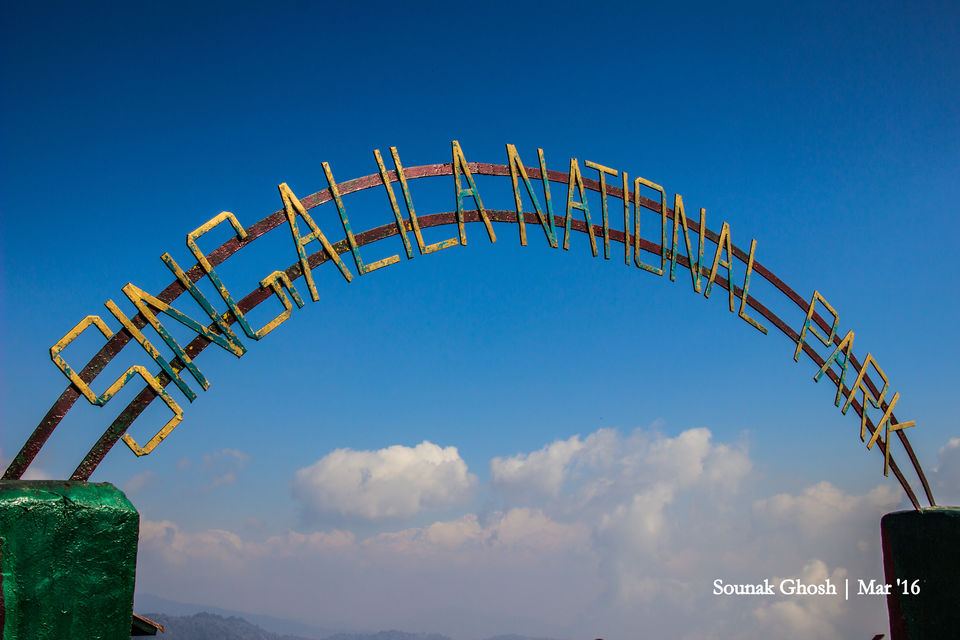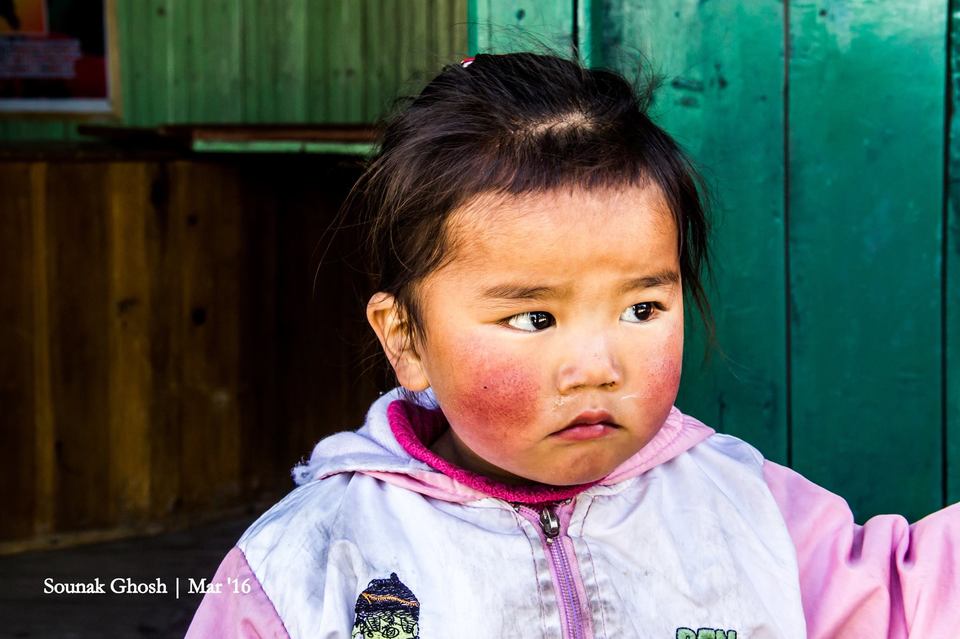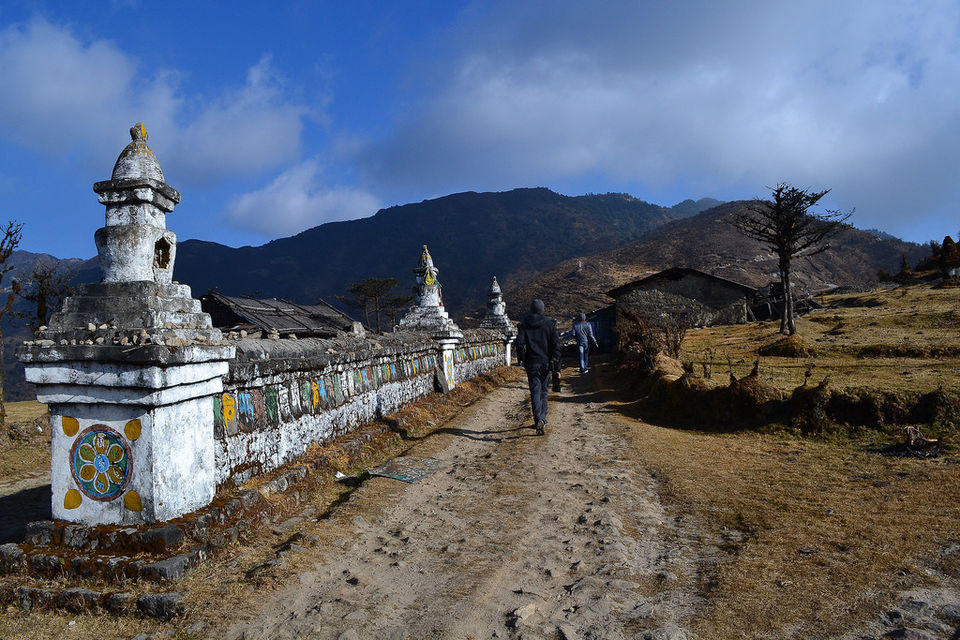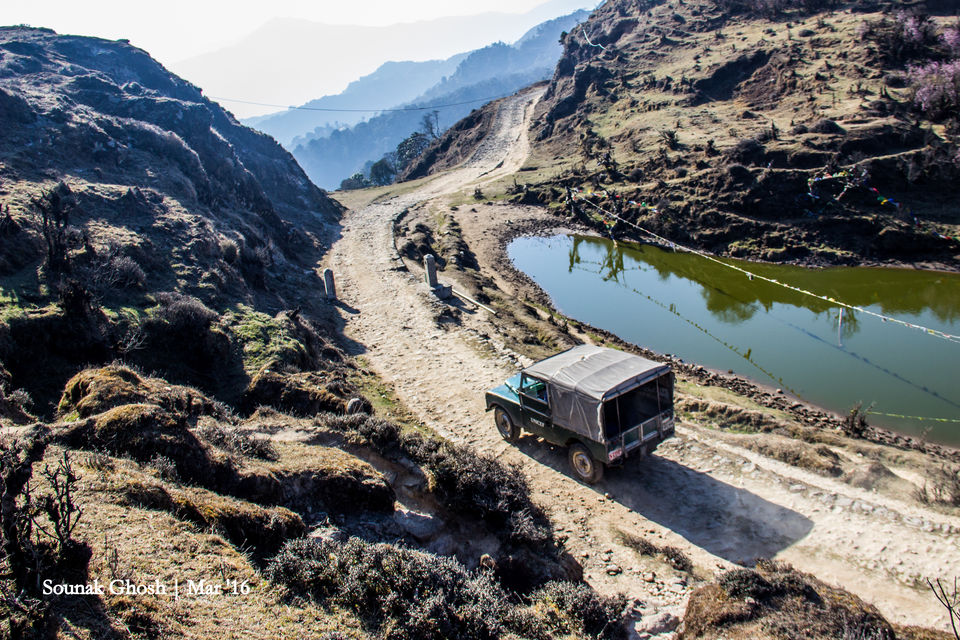 Fact File:
Itinerary:
Day 1: Train From Kolkata to New Jalpaiguri (NJP).
Day 2: Reach NJP. Take a car or shared taxi for NJP to Dhotrey. It takes about 5 hours to reach Dhotrey. Night stay at Dhotrey.
Day 3: Start early from Dhotrey for Tumling (Distance: 5kms, Altitude: 9,600ft) or Tonglu (Distance: 6kms, Altitude: 10,130ft). Night Stay at Tumling or Tonglu.
Day 4: Trek from Tumling/Tonglu to Kalipokhri (Distance: 13kms, Altitude: 10,400ft). The trail passes through the villages of Jaubari (Distance: 6kms from Tumling, Altitude: 9,186ft), Gairibas (Distacne: 1km from Jhaubari, Altitude: 8,600ft), Kaiyakatta ( Distance: 2km from Gairibas) and finally on to Kalipokhri. Night stay at Kalipokhri.
Day 5: Trek from Kalipokhri to Sandakphu (Distance: 6kms, Altitude: 11,929ft) via Bikeybhanjan (Distance: 2kms from Kalipokhri). Night stay at Sandakphu.
Day 6: Descent from Sandakphu to Sirikhola via Gurdum. The trek downward is strenuous and the length of the route is about 16-17 kms. Night stay at Sirikhola.
Day 7: Take a car/taxi from Sirikhola to NJP. Board train for Kolkata.
Alternate Route/ Extended Trek:
Day 1: NJP/Siliguri to Maneybhanjan by car, stay overnight at Maneybhanjan.
Day 2: Maneybhanjan - Tumling/Tonglu Trek, stay overnight at Tumling/Tonglu.
Day 3: Tumling/Tonglu - Kalipokhri Trek, stay overnight at Kalipokhri.
Day 4: Kalipokhri - Sandakphu Trek, stay overnight at Sandakphu.
Day 5: Sandakphu - Phalut Trek, stay overnight at Phalut.
Day 6: Phalut - Gorkhey Trek, stay overnight at Gorkhey.
Day 7: Gorkhey - Srikhola Trek, stay overnight at Srikhoila
Day 8: Srikhola - Rimbik Trek, then to NJP via Manebhanjan by jeep/car.
Places to Stay:
There are numerous places to stay. But most of them are trekker's hut or homestays and private lodges. The best place to stay in Sandakphu is the Sherpa Chalet Lodge. Please see here. Also there are government lodges run by GTA. Please see here to for information on booking GTA Lodges.
How to Reach:
By Air: The nearest airport is Bagdogra Airport in Siliguri. Taxis/Jeeps/Cars are available from here.
By Railways: The nearest rail head is New Jalpaiguri (NJP). From NJP numerous taxis (shared as well as reserved) are available. It takes about 5 hours to reach Dhotrey from NJP Station.
By Road: The trek begins from Maneybhanjan/Dhotrey both of which can be reached from Siliguri via Jeeps/Cars.
Best Seasons:
The best time to visit is during the Spring from March to May. This is the blooming season of the famed Rhododendrons. But occasionally one may find cloudy skies. Autumn, from late September through to November is accompanied by clear skies and lush mountain slopes. Winter is bitterly cold here, with heavy snowfall, but winter treks offer an unique experience. Singalila National Park is closed during monsoon.
Other Essential Information:
* Guide is mandatory. Porters are also available.
* Mobile Phone: Indian mobile networks do not work for most part of Sandakphu/Phalut trek. Vodafone and BSNL are the only mobile networks that work in patches along the way (but are inconsistent).
* Clothing & Accessories: Sandakphu can be very cold even in summer. So carry adequate woolens & jackets. In winter take heavy woolens, gloves, caps, and of course wear woolen inners. Additionally, take a rain coat (a must in all seasons ), use good trekking shoes, carry extra pair of socks, a wind-cheater, gloves in winter, cap etc.
* There is no electricity or power for most part of the trek route (available up to Tumling).
Indicative Costs:
For Sandakphu- Phalut trek (Updated April 2016):
You need to pay a Permit Fee (i.e. Singalilla National Park Entry fee) of Rs. 100/- per person for Indians and Rs. 200/- for foreign nationals. You can pay this fee at Manebhanjan or Singalila Park check post located shortly after Tumling. Without paying this fee, entry through Singalia National Park (near Tumling) will not be allowed. Carry Photo Id cards (like driving license / Voter's ID Card etc) which may be checked at several intermediate check posts along the route like Tumling, Gairibas, Batasi etc). If you are going through a trek operator, they will take care of the permits. Foreigners must carry passport.
Still Digital Camera: Rs. 100/-; Video Camera: Rs. 400/-
Cost of food along the trek route would be around Rs. 500 - 600 per person per day.
Rate of dormitory bed in trekkers huts = Rs. 100-200 per person per day.
Double/triple bedded room in a good private hotel or lodge can cost between Rs. 1,000 to 2,500 per day. Cheaper ones available too.
NJP/Bagdogra to Manebhanjan: Rs. 3,000/- for reserved small car.
Darjeeling to Manebhanjan shared Jeep fare: Rs. 50/- per person and reserved small car fare: Rs. 1,200/-
Rimbik to Darjeeling shared Jeep fare: Rs. 200 per person and reserved vehicle fare: Rs. 2,500.
Rimbik to NJP/Bagdogra reserved vehicle fare: Rs. 5000/-.
Rate for Guide or Porter (if taken from Manebhanjan) is Rs. 600/- or Rs. 500/- per day respectively. Rate for foreigners is Rs. 900/- per day. Guide & porter rate includes their stay and food. One porter will carry up to 25kg of load in summer and 20kg in winter.
Several lodges along the way use solar power or generators and allow you to charge your mobile phone, camera battery etc at a small nominal charge per hour (indicative Rs. 10-15 per hour).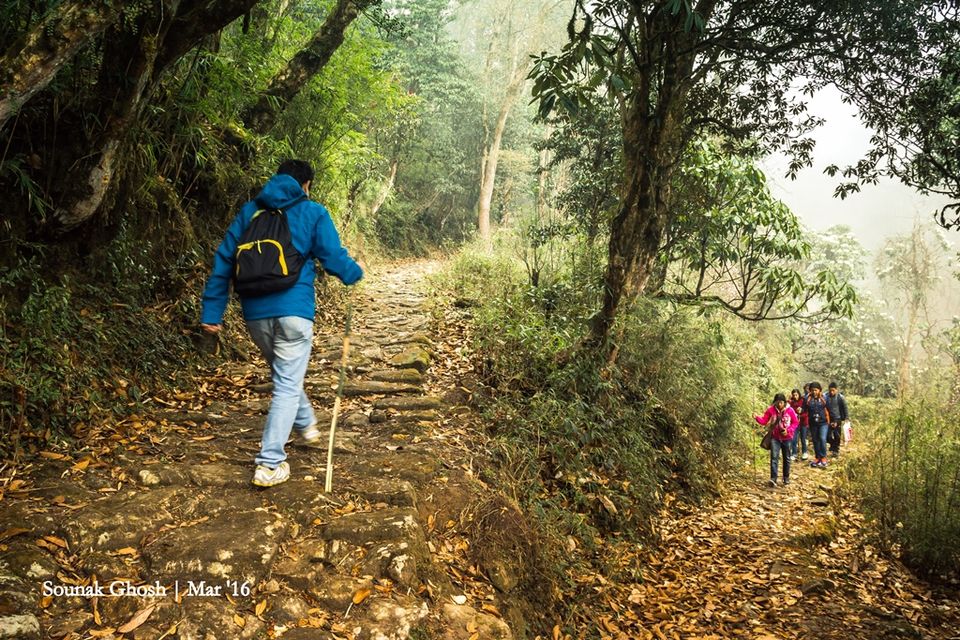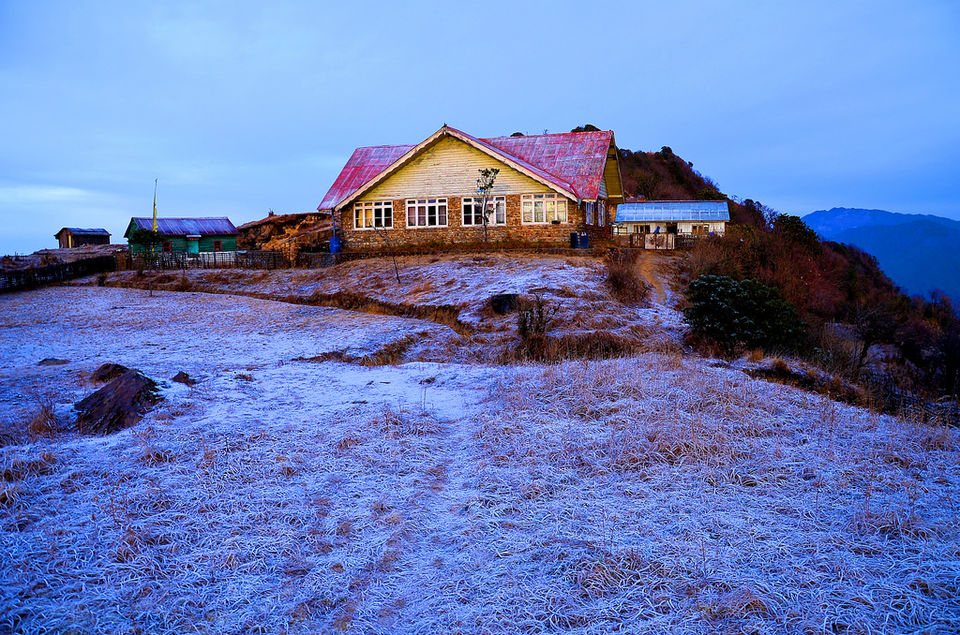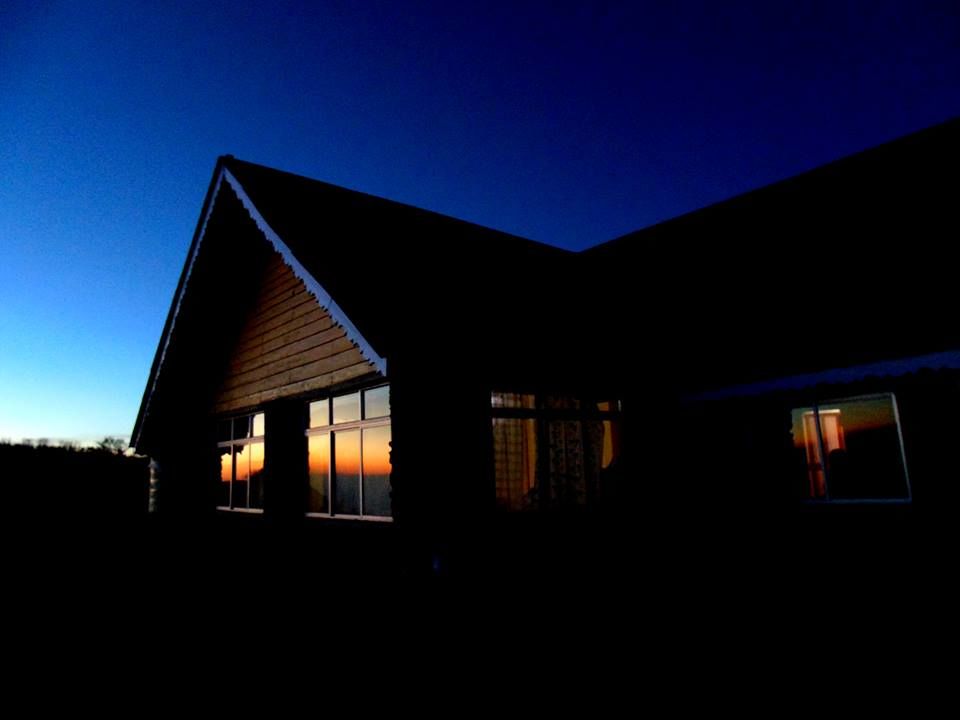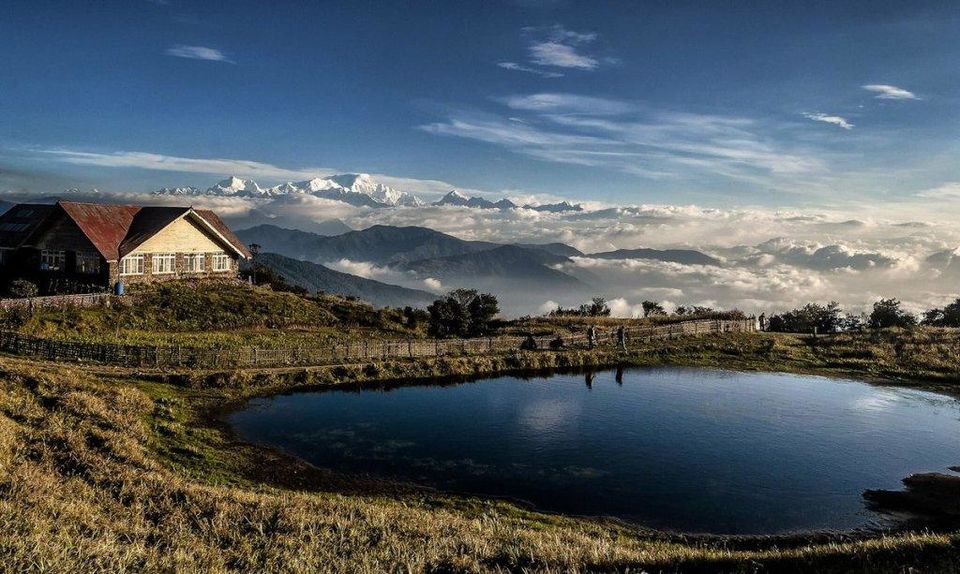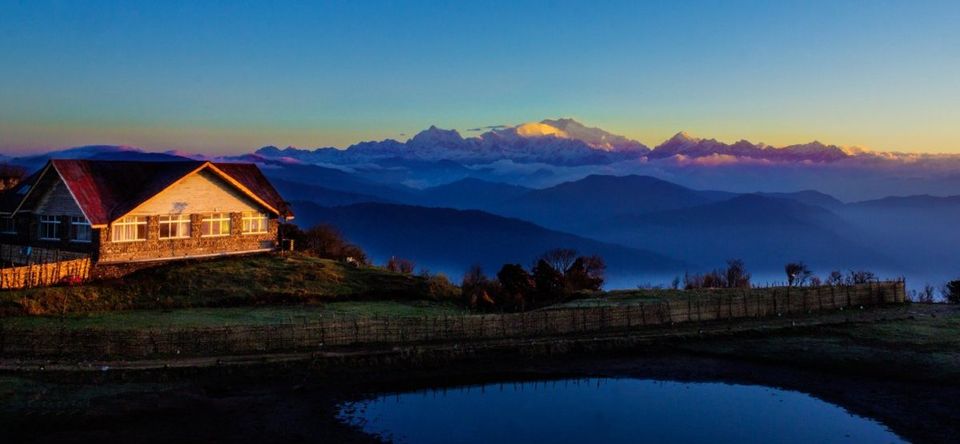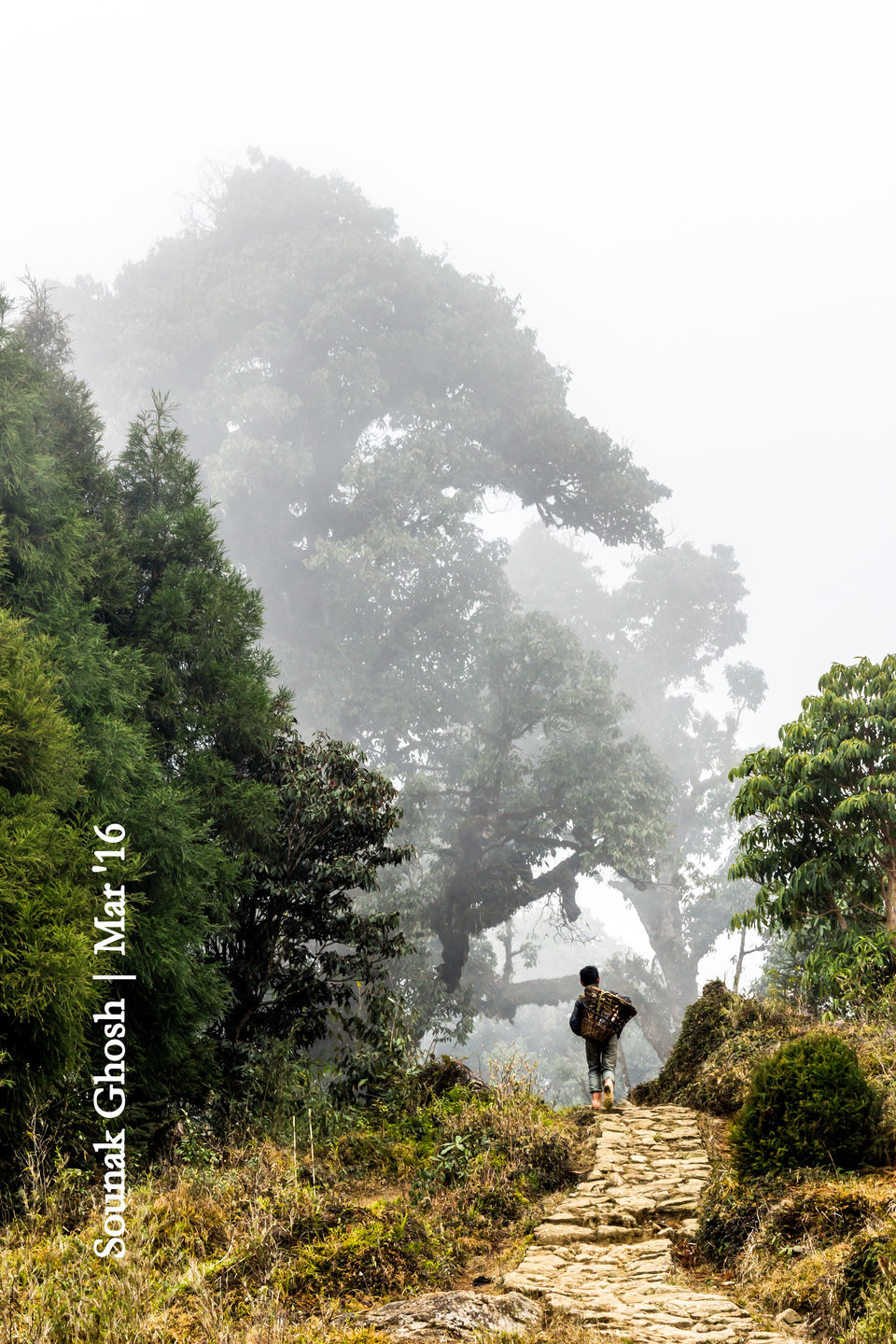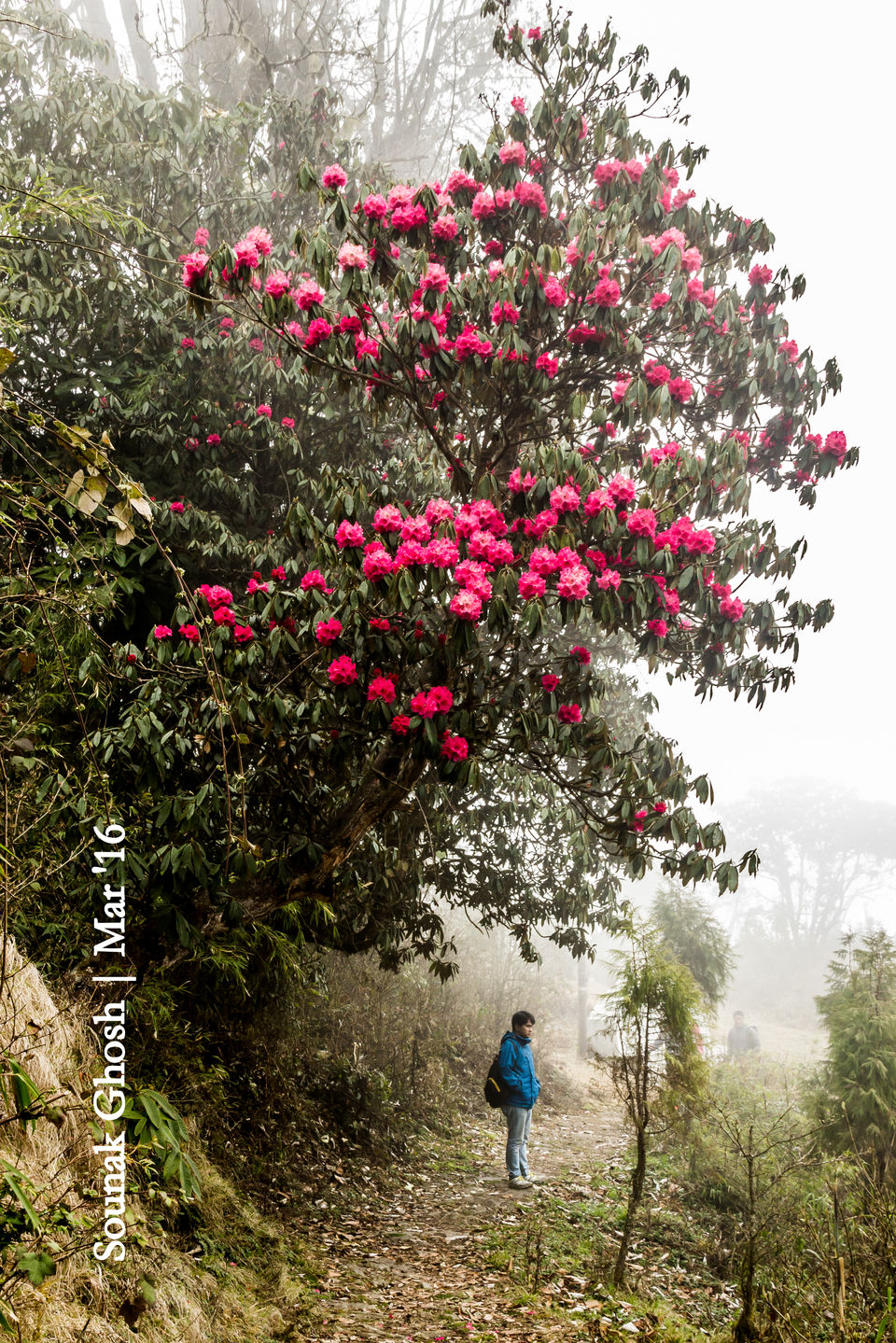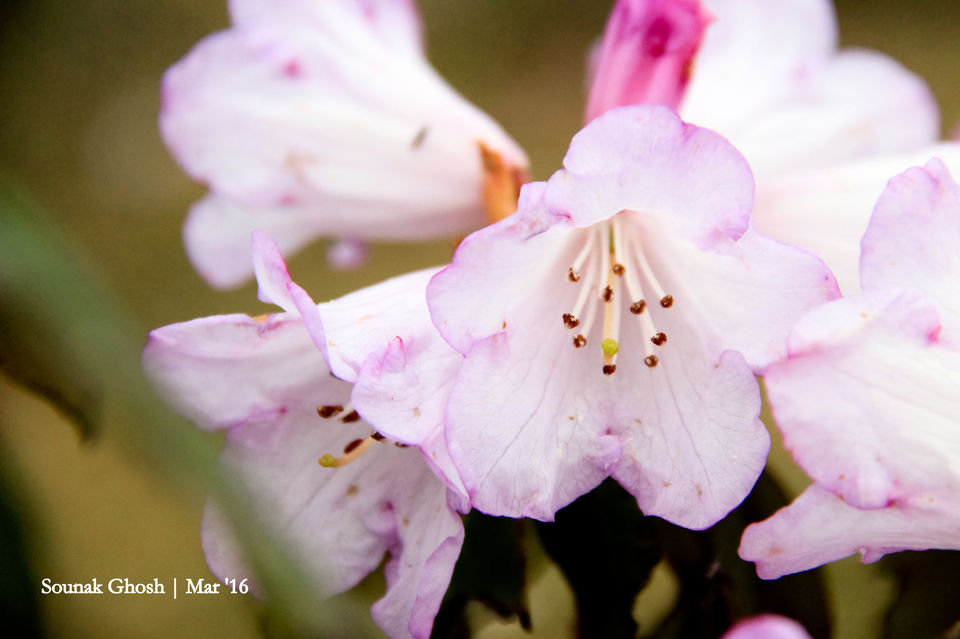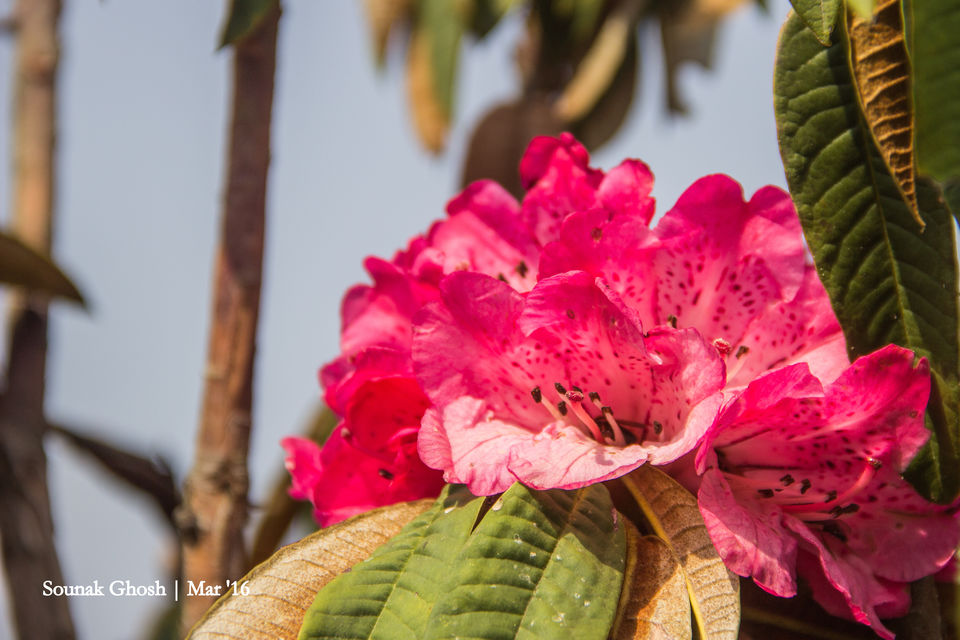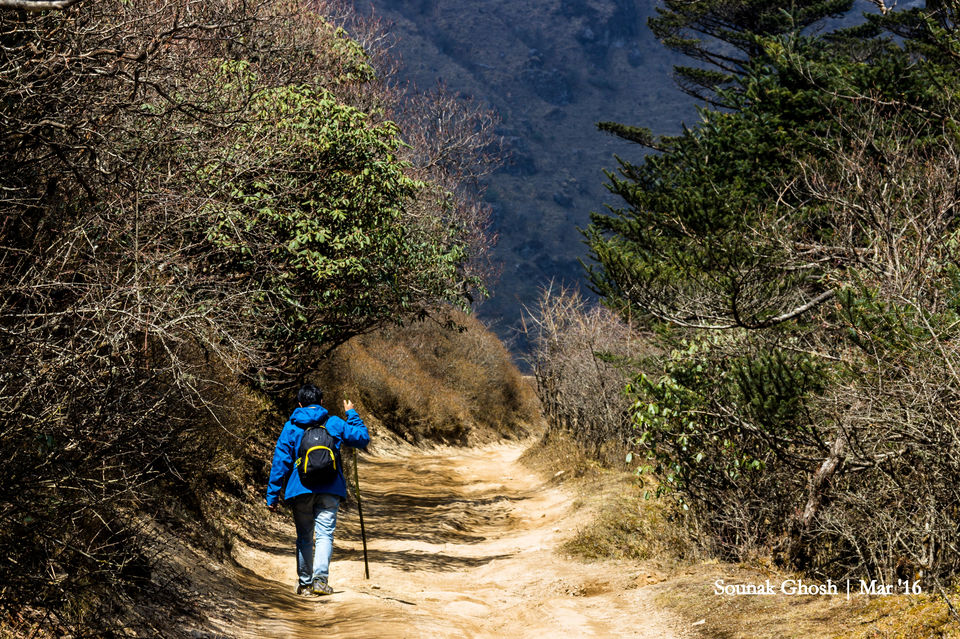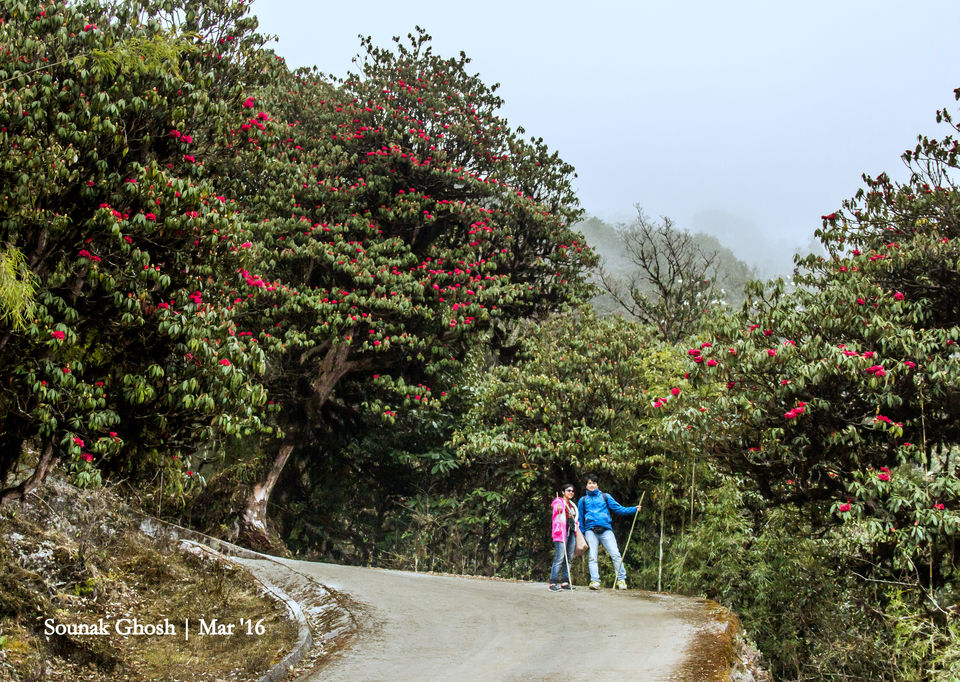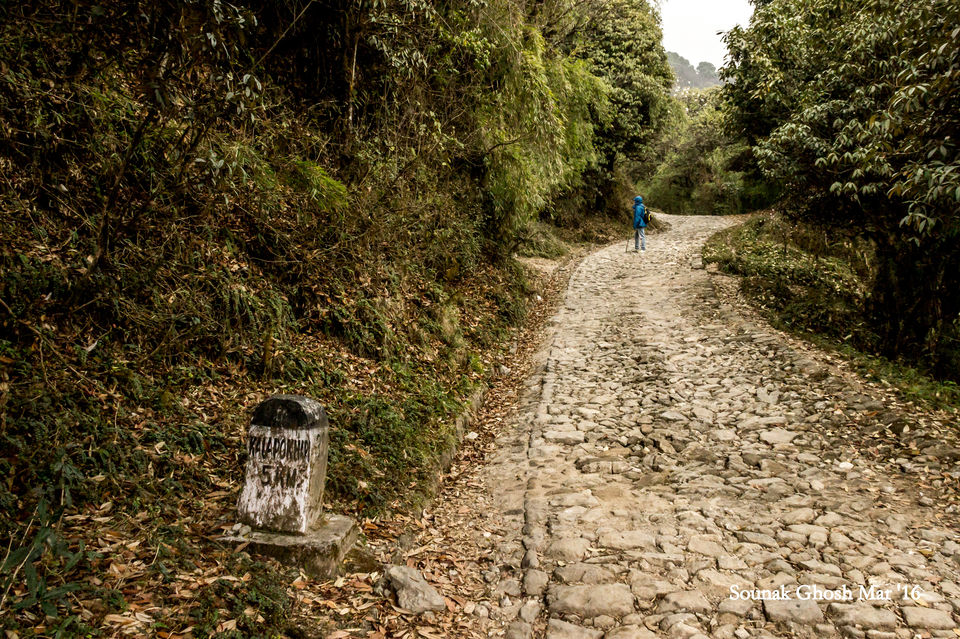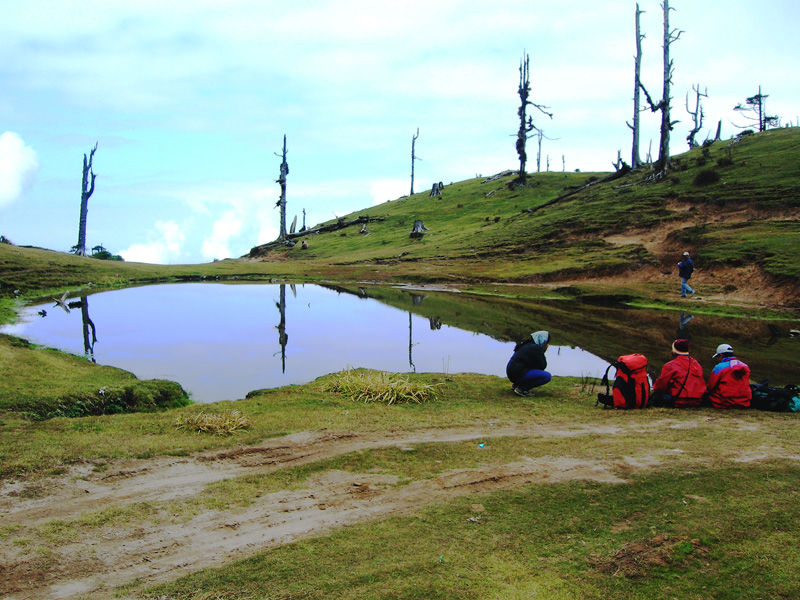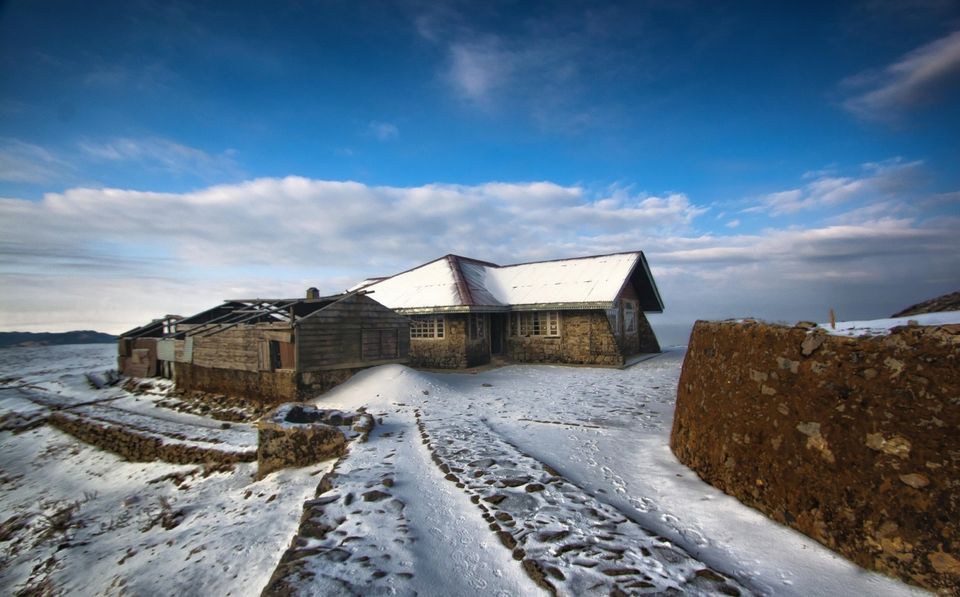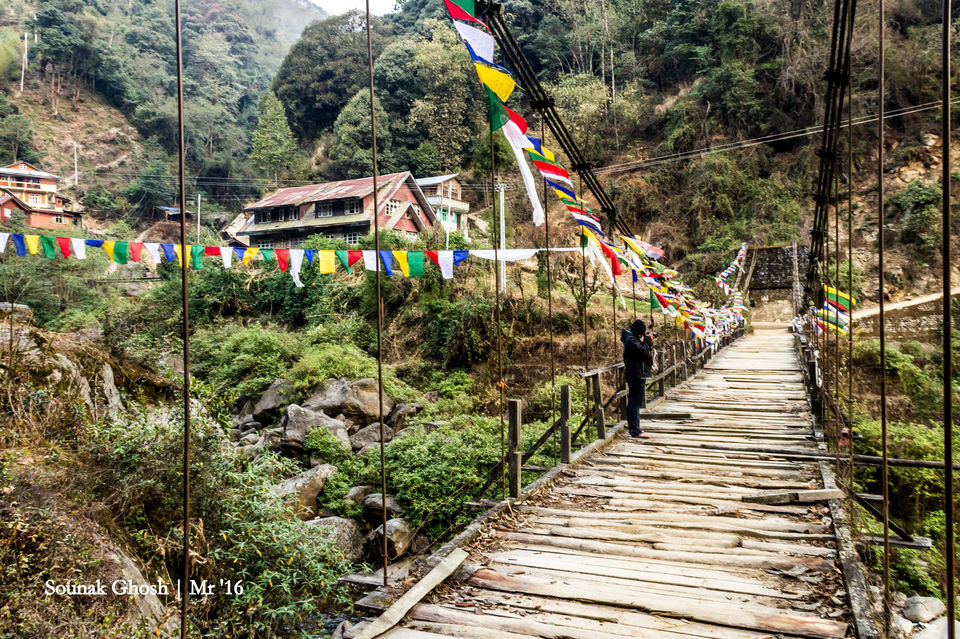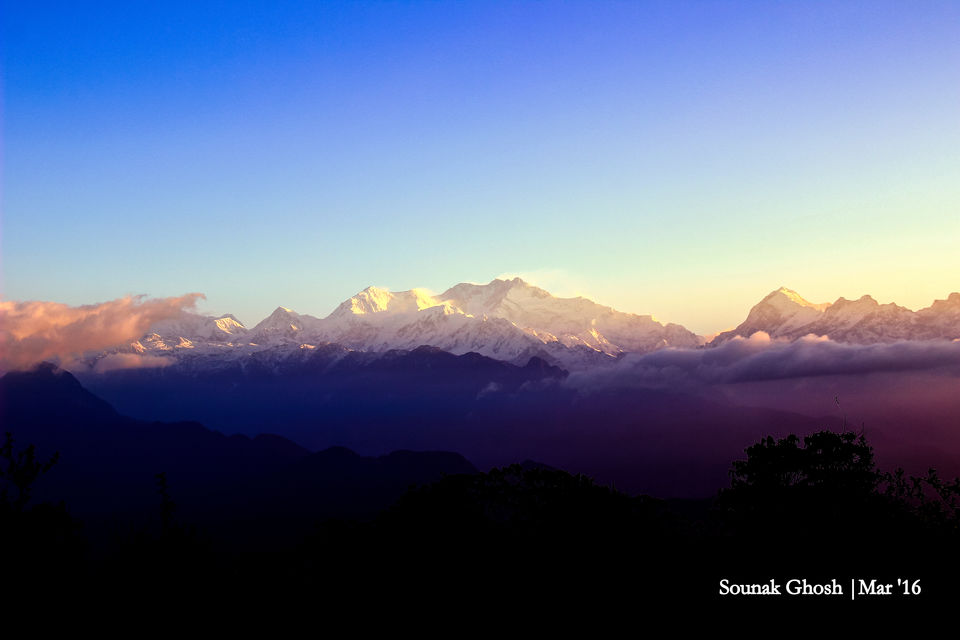 Dhotrey. This picturesque hamlet was the starting point of our trek. Surrounded by forests of pine and rhododendron, this quaint little village is the perfect place to start the trek. The ascent to Tumling is gradual six kilometer trek through dense rhododendron forests. The forest canopy is a mind boggling melange of red, pink and magenta from the blooming Rhododendrons interspersed with the white Magnolias.
Approaching Tumling, the forests melts away into the meadows. We crossed mist filled valleys braving chilly winds on barren slopes occasionally punctuated by "Chorten"s and "Mane"s; holy Buddhist structures festooned by fluttering prayer flags.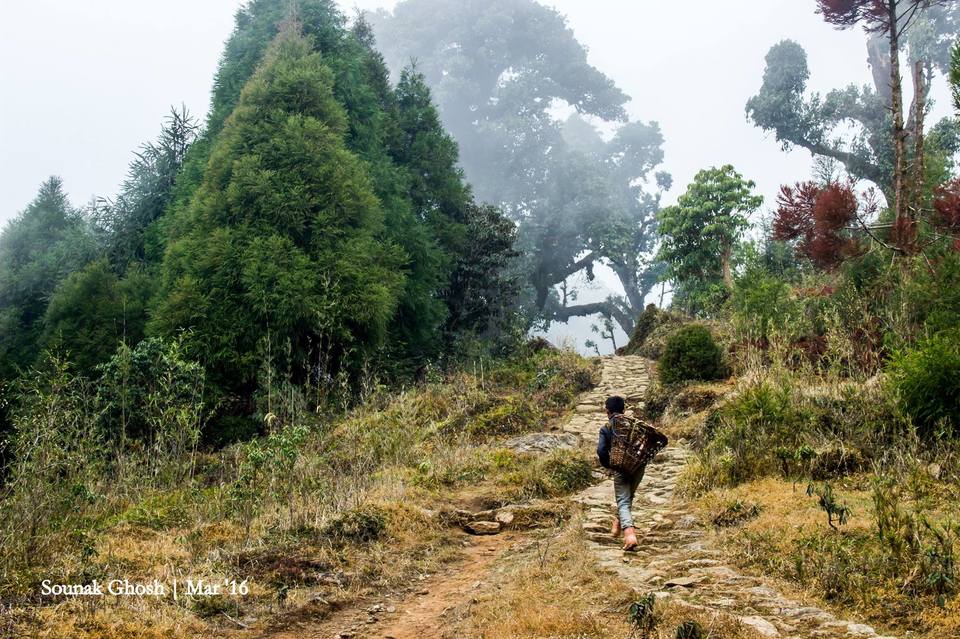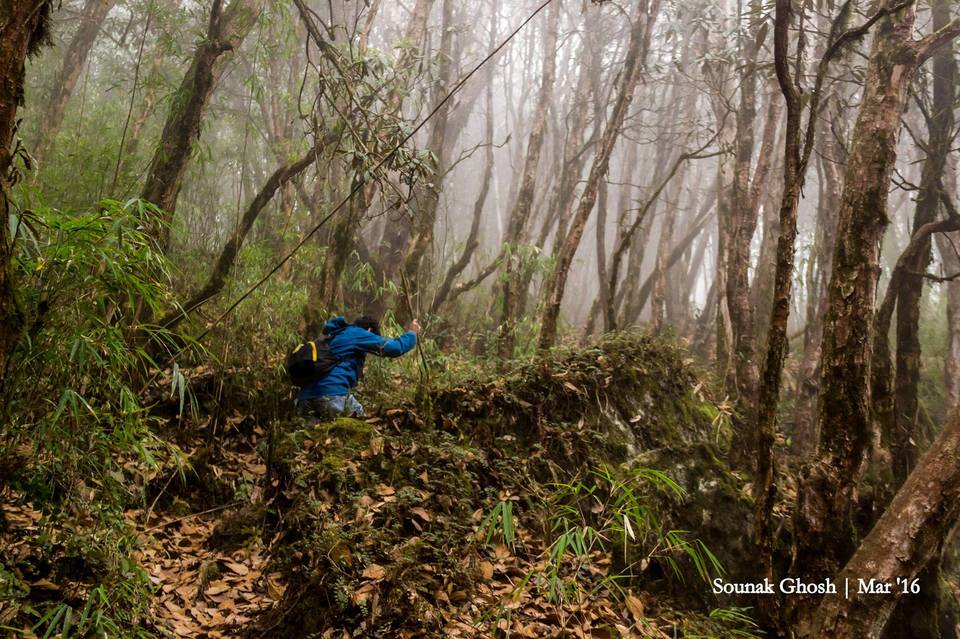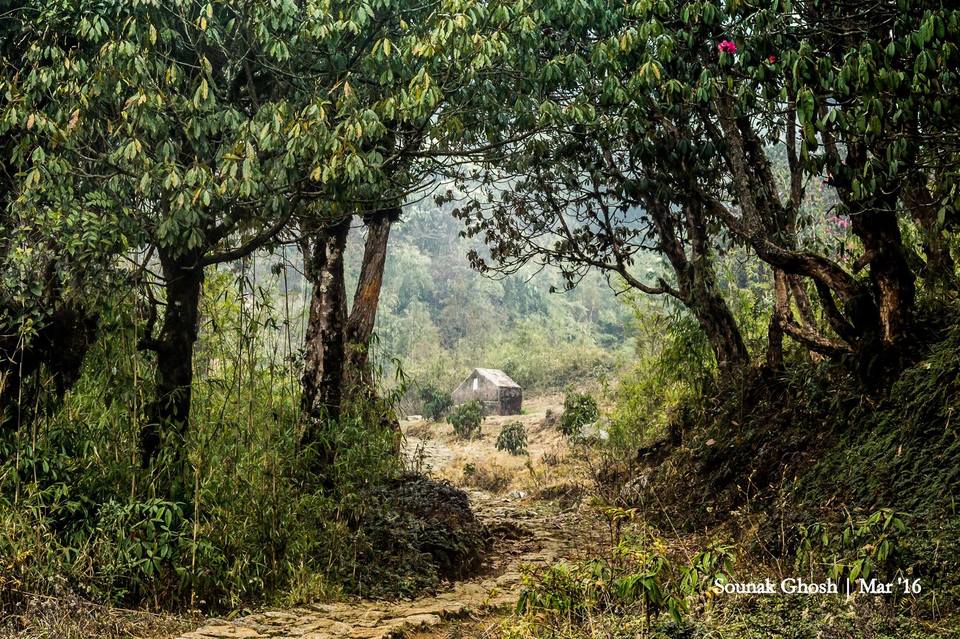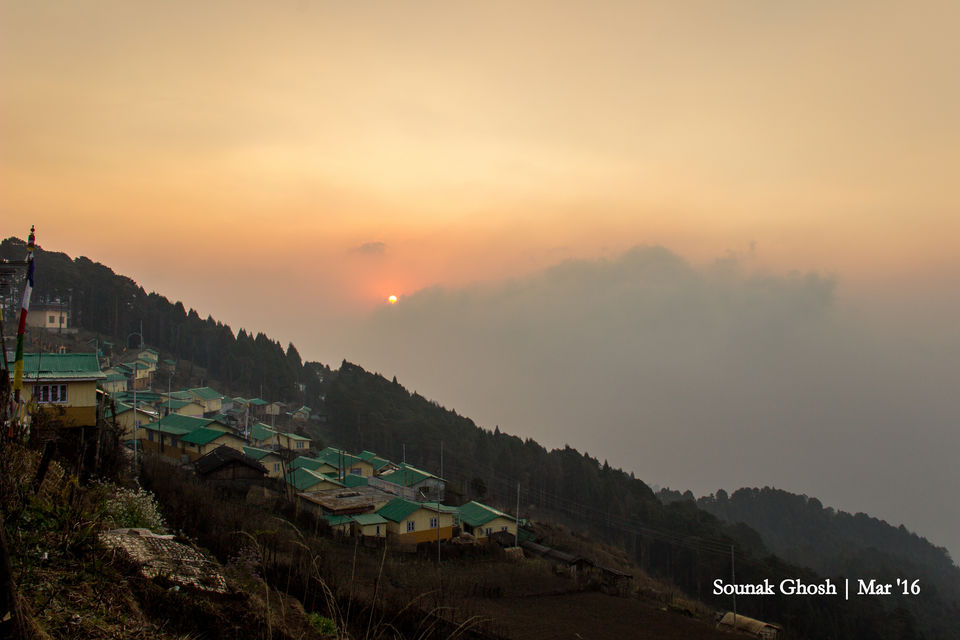 Tumling. Tumling lies on the border of India and Nepal. It is really impossible to distinguish whether it is in India or Nepal. We spend the night in the best accommodation, The Shikhar Lodge. The body longed to 'crash land' on the bed after a tiring day's trek. But the bitter cold and the howling winds that battered all night kept us all awake. We hoped to catch a glimpse of the legendary Sleeping Buddha, but gloomy overcast skies disappointed us.
The trek from Tumling to Kalipokhri is a arduous fourteen kilometer walk. The road first descends to Gairibas and the climbs on to Kalipokhri passing Kayakata on the way. The sparsely populated alpine landscape is a visual treat with every turn bringing into view mind numbing scenery. At places barren hills give way to meadows dotted with rhododendrons; blooming, in full glory in the brisk spring air. The skies had cleared by now and we were now walking under a patchwork of azure and white.
The ascent to Kalipokhri saw the weather turn for worse again. Clouds rolled in making us numb with cold once again. The with gale force winds threatened to throw us of the trail that at places barely clung on to the cliffs. Battered and tired, we almost crawled into Kalipokhri.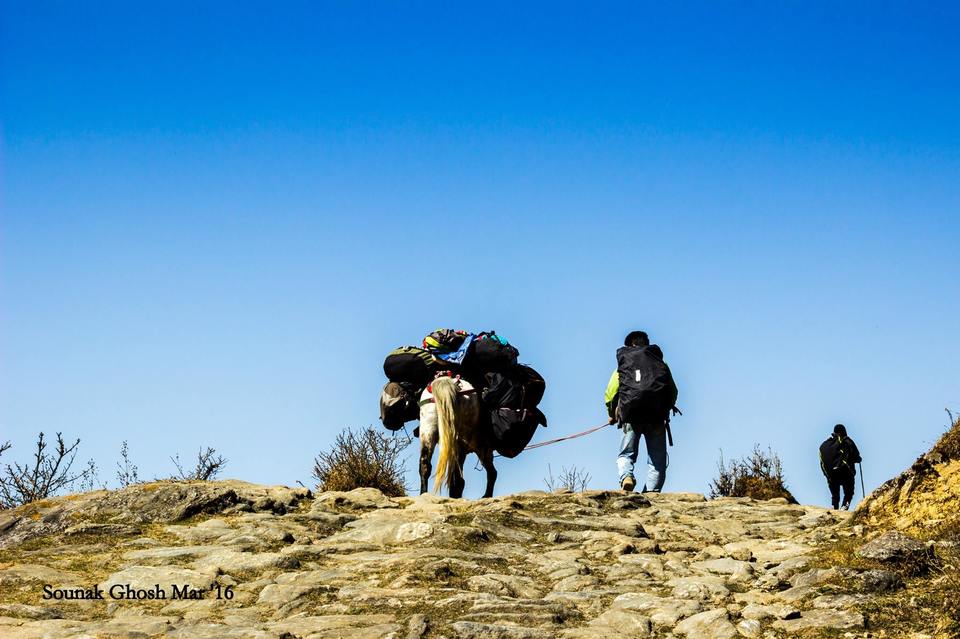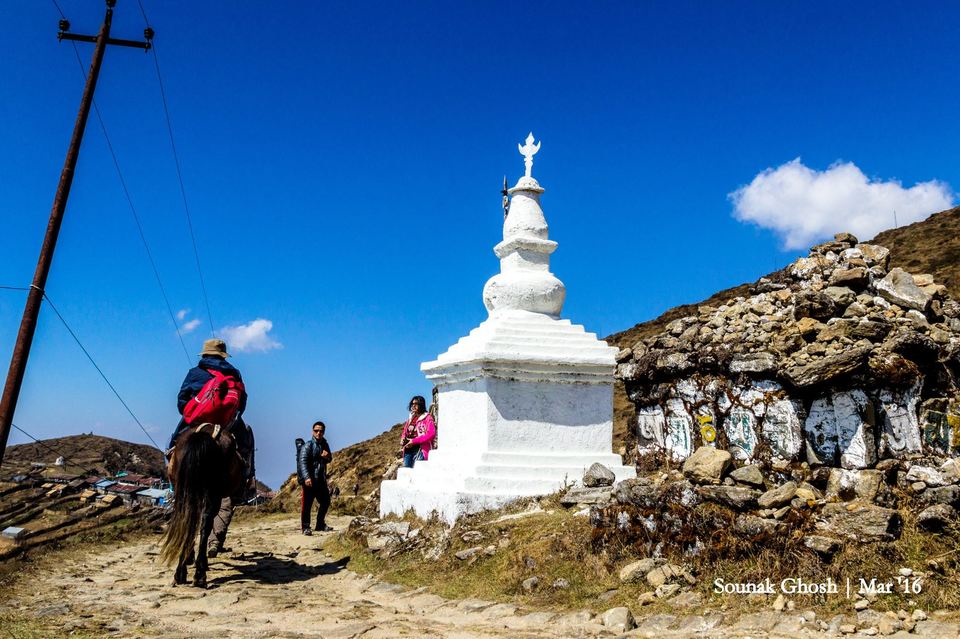 Kalipokhri. Kalipokhri means black lake, "Kali" meaning black and "Pokhri" meaning lake. With a ramschackle ensemble of huts and homestays, Kalipokhri is wild and bleak. We stayed at the best accommodation that was available in Kalipokhri, The Chewang Lodge.
It was Kalipokhri where the clouds began to subside revealing a sky with an awing of stars, a full moon and fleece like clouds. The night was cold, but it was beautiful, almost fairy tale like.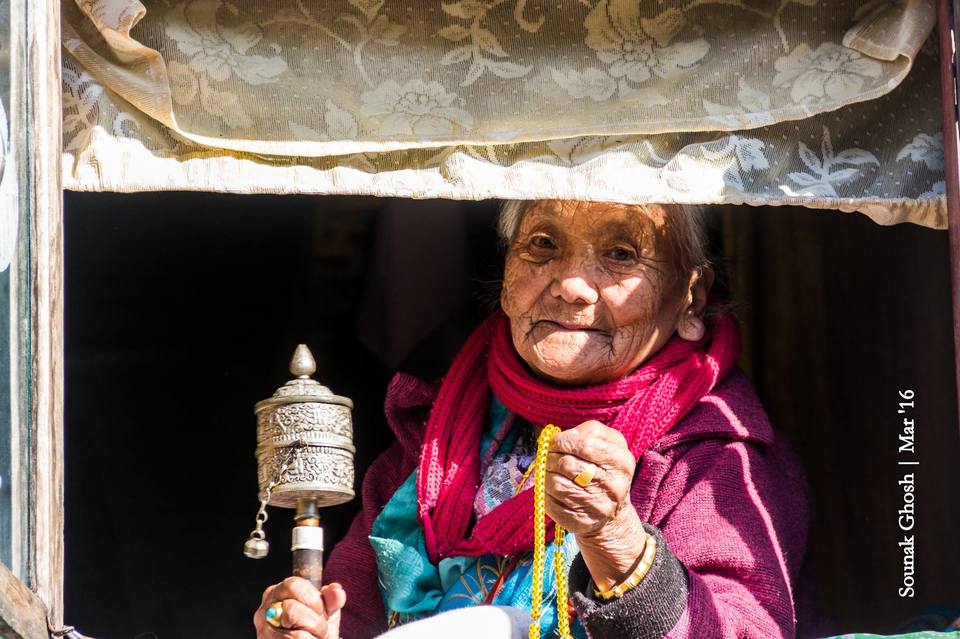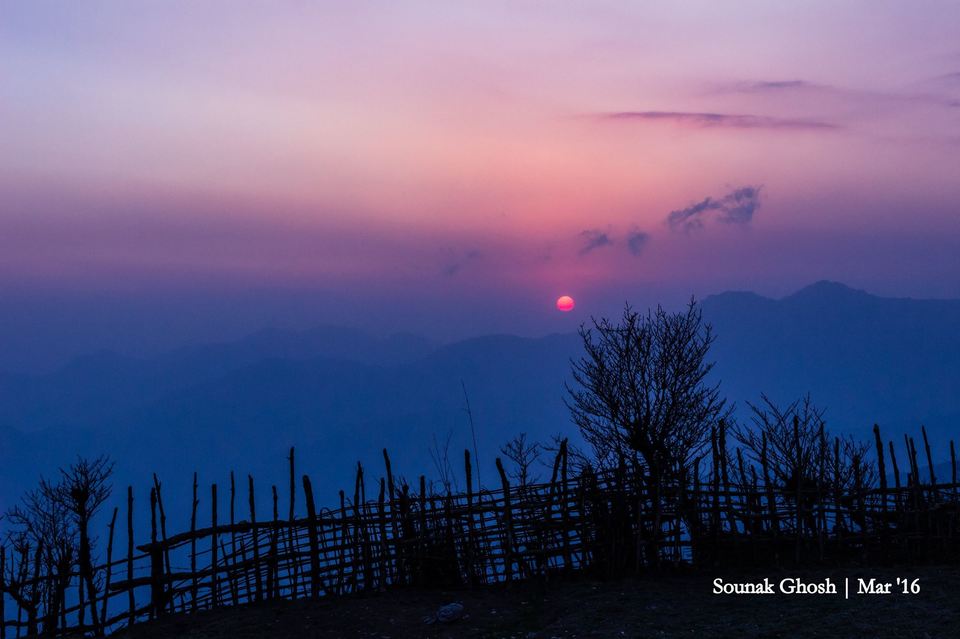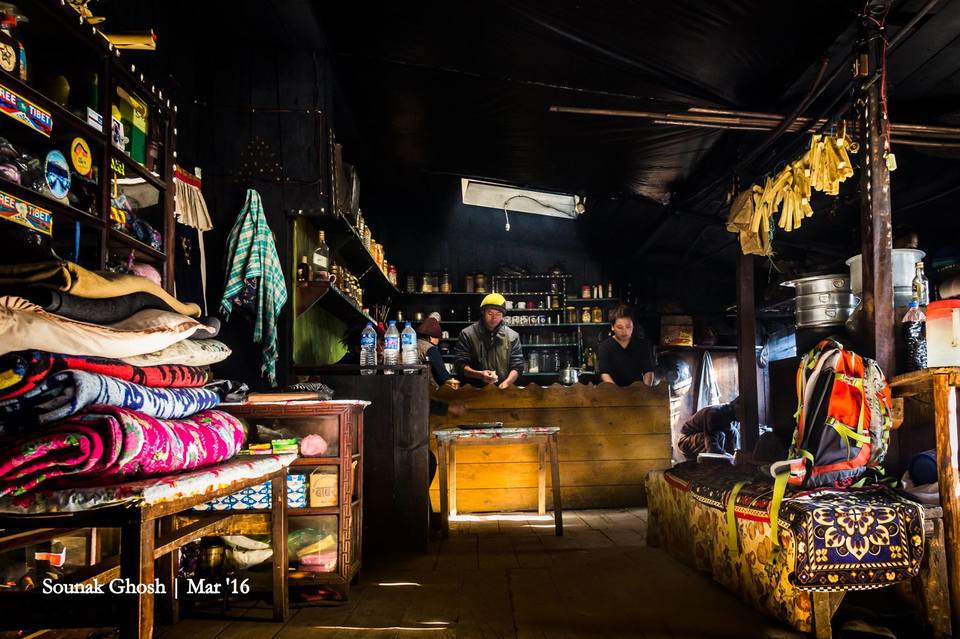 Sandakphu. The last day's trek is quite tiring. Sandakphu is the highest peak in West Bengal with an altitude of 11,930 ft. Though the track is more of a cobbled road than a trail, yet every bend extracted a heavy toll on the leg muscles and the polluted city lungs were working overtime with each breath. The overhanging Rhododendrons branches and the larger than life vistas of the Kanchenjunga massif provided constant company till we reached the Sandakphu.
The vistas of Sleeping Buddha, is a sight to behold. The sunrise is a soul enriching experience, the sky the clouds and mountains is drenched in a palette of every possible shade of blue, magenta, crimson, tangerine and golden yellow. With the golden glow and the rising vapours from the ice clad mighty mountains, it seemed liked the whole mountain was ablaze.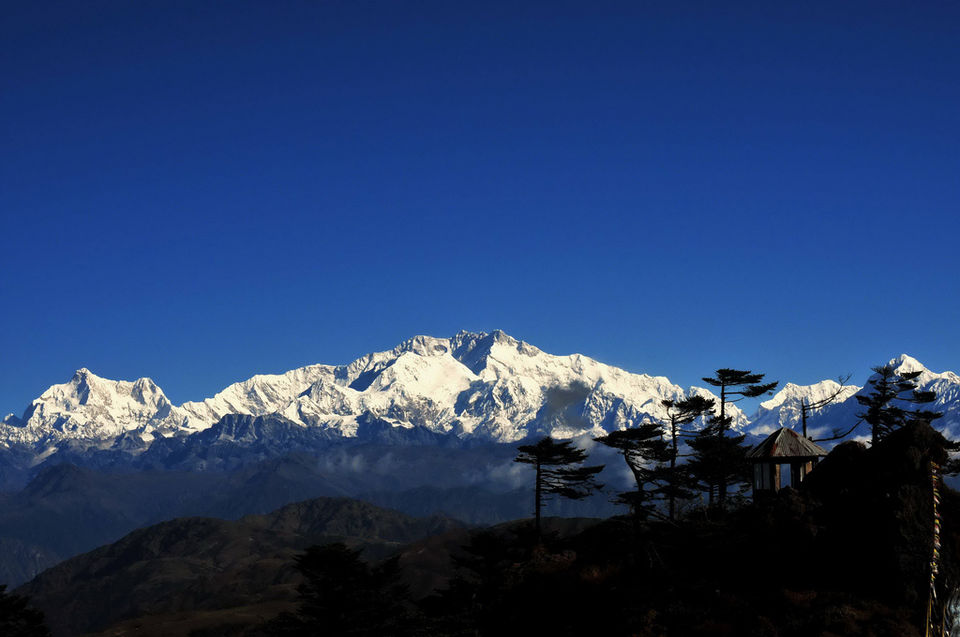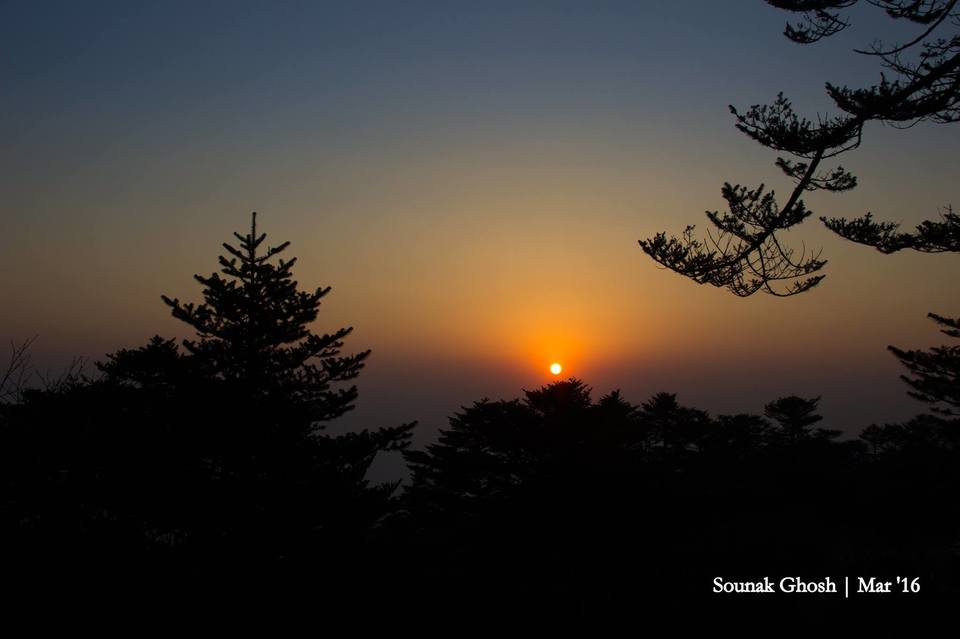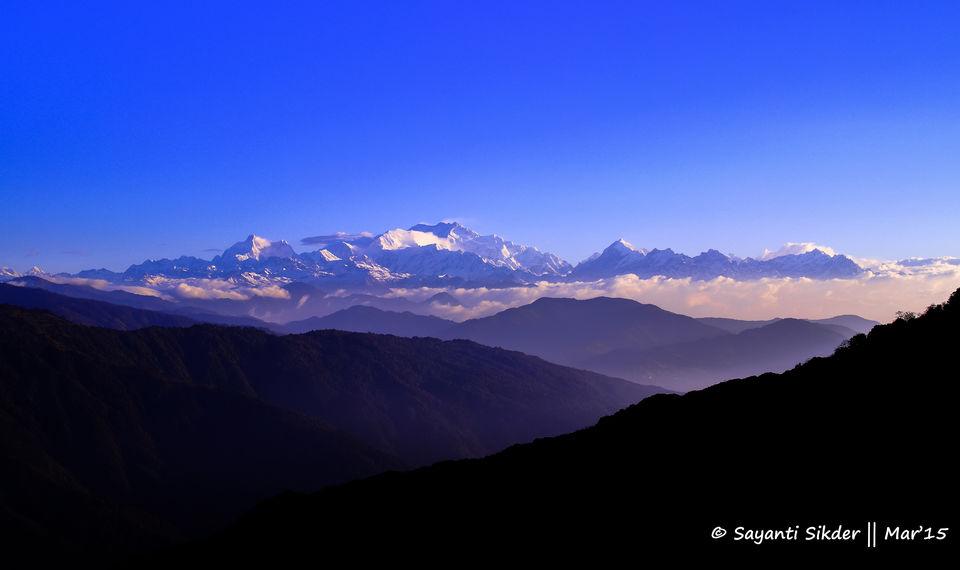 Sirikhola. The descent from Sandakphu to Sirikhola is wild, enchanting through thick forests of Rhododendrons, Pines, oaks, chestnuts and bamboos. We listened to the concert of the mellifluous birds. But the descent was steep and tiring and our guide warned that the forests were infested with Himalayan Black bears. We reached Gurdum by late afternoon where we had lunch at the Trekkers hut. Then from here the road follows the Siri river through small settlements and paddy fields interspersed between forest to reach Sirikhola.