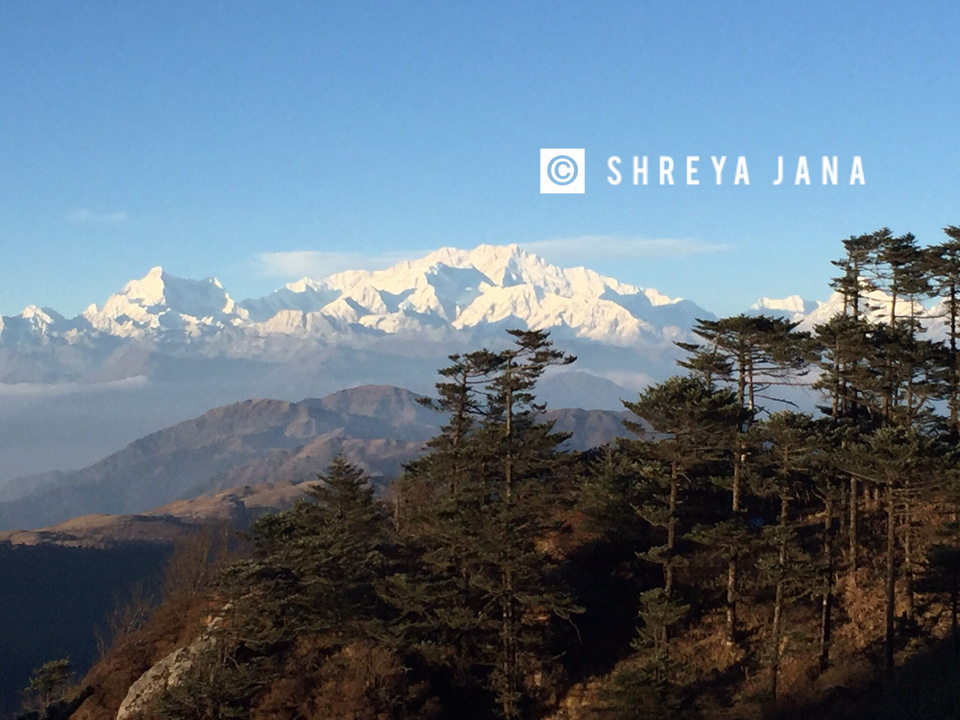 If there is one peak that is breathtakingly beautiful, its Kanchenjunga. Its majestic beauty never failed to enthrall me since childhood. So without any hesitation Sandakphu was one of the few places on my bucket list.
After many failed attempts to conquer this destination, at last we booked our tickets from Sealdah station (Kolkata) to New Jalpaiguri Station ( NJP). On November 21, 2015 we reached NJP early morning. After light refreshment we started for Mane Bhanjyang around 11:30 AM. There were 5 of us and we had hired an SUV (Tata Sumo) for a one way trip at INR 3200 (after much bargaining). The drivers usually take the Mirik - Pashupati Nath market - Sukhiapokhri route. The road meanders through forests and mountains and the road condition is more or less decent. En route you might also catch a glimpse of the mighty Kanchenjunga in the last leg of the drive.
We reached Mane Bhanjyang around 3:15 PM (4 hours drive). It is a quaint little town that lies on the border of India and Nepal, at an altitude of 6,325 ft. Mane Bhanjyang lies in the Singalila ridge, just outside the Singalila National Park, in the Mahabharata range or the Lesser Himalayas. The town itself is devoid of any attractions and is popular for being the starting point of the much famous Sandakphu - Phalut trek.
Mane Bhanjyang town from our hotel
The Indo- Nepal border
We stayed at the Hotel Exotica Food & Lodging run by Masterjee. An ex-police, he is quite helpful and has a solution for all your problems. All hotels in Mane Bhanjyang has basic facilities and has no deluxe/ luxury amenities available. Hotel Exotica has double bed, triple bed rooms with attached baths, and dorms with common bathroom. The rooms are small and clean, dont expect much in terms of bed linen. Bathrooms are small but clean. Masterjee and his wife will always be eager to help you with anything. He will also help you with your reservation at Tumling. Meals are served at the common dining room and usually comprises of rice, dal, vegetable and egg curry. It would be wise to do any last minute purchases from Mane Bhanjyang as beyond this, there are only small hamlets/ villages.
Hotel Exotica
The triple sharing room at Hotel Exotica
The next morning we hired a Land Rover for Sandakphu for INR 5500. With its fleet of 40-45 taxis, Mane Bhanjyang boasts of being the largest operator of Land Rover taxis in SE Asia. These taxis are a far cry from the Land Rovers you see plying on the road these days. They are pretty old with the back seats facing each other, but looks sturdy enough to survive the long uphill journey. 4 of us took to the back seat and one sat in the front. The back seat can accomodate 6-8 person and 2 can sit in the front. As they say, the heavier the vehicle is, the smoother the ride is going to be!
The Land Rover Taxi
We started from Mane Bhanjyang at 8:40 AM. After driving for 5 mins, we reached the entrance to the Singalila National Park. Tickets have to be bought at the check post and are priced at INR 100 for Indians and INR 200 for foreign nationals. The road is paved and narrow with occasional potholes. Around 9:00 AM we reached Chitrey, a small town at an altitude of 8,000 ft (approx.). There is only a small local restaurant that serves food. We stopped for tea and breakfast, a sort of thukpa with Maggi. The restaurant is situated in the middle of an uneven clearing and during fine weather when the sky is clear, you can catch a glimpse of the Kanchenjunga from here.
Chitrey
From Chitrey, the road condition worsens. The road is gravelled and full of rocks and pebbles. Also, as we need to quickly climb altitude, the road is steep with frequent hairpin bends. 2 kms from Chitrey lies the Lumeydhura village. The scenery is beautiful dotted with rhododendrons in full bloom on both sides of the road. We missed the rhododendrons in November but did catch a glimpse of Mr. Panda en route. The road condition is still the same - bumpy and steep. At one point we were climbing uphill on a steep slope and suddenly on reaching the top of the slope, we could not see any road up ahead. It was as if the road ended there and up ahead lies the vast expanse of clear blue sky. As the car moved a little forward then could we see the narrow road stretch ahead.
This road condition continues till Kalipokhri, where it gets worse!!
After crossing Meghma, we reached Tumling (9,600 ft) at 10:35 AM. Instead of spending the night at Mane Bhanjyang, many people choose to stay at Tumling. From Tumling, a narrow stretch goes upwards for 2 kms to Tonglu (10,100 ft) which has a few trekkers' hut. At Tumling, we got to see Kanchenjunga and the mighty Mt. Everest. At about 1 km from Tumling, we reached the entrance of the Singalila National Park which is famous for Red Panda, Himalayan Black Bear, etc. Tickets have to be bought here for INR 100 for Indians and INR 200 for foreign nationals.
The road to Tonglu (from Tumling)
The mighty Kanchenjunga (as viewed from Tumling)
From here, the road is of concrete and is better up unto Gairibas, which is 6 kms away. There is an army checkpost at Gairibas (8,600 ft). At 11:25 AM, we stopped for tea at a local restaurant when the driver gave us a bad news - the Rover is broken and would take time for repair. We decided to walk uphill and then did we realise the steep gradient of the road. After about 45 mins later our driver caught up with us and we resumed our bumpy ride.
Gairibas
We reached Kalipokhri around 12:55 PM. Kalipokhri (10,400 ft) got its name from Kali (black) and Pokhri (pond). I suppose the black color of the pond is due to the muddy water. It is said that the water never freezes and thats why the pond is considered sacred by the local villagers. From Kalipokhri we caught the first glimpse of Sandakphu!
2 kms away, we stopped at the last settlement before Sandakphu, Bikey Bhanjyang. We ate lunch at a local restaurant and let me tell you they made one of the best Egg Noodles that we have ever had!!
Now comes the toughest gradient of the trip - the last 1 km uphill climb to Sandakphu. The road is so narrow that it you will feel as if the left side tyres are just touching the edge of the road. And once you cross this few metres drive on the narrow road, then comes the gut-wrenching ascent with steep turns. And just when you start feeling nauseous and ready to quit, you notice the signboard - Welcome to Sandakphu. It was 14:25 PM.
At an elevation of 11,929 ft, Sandakphu is the highest point in West Bengal and the summit of the Singalila range. Once we jumped out of our vehicle, all that we could see was the great Kanchenjunga. I stood there, gaping in awe, mesmerised by its beauty. It felt as if you can stretch your arms out and touch it. It was so close that you can even see the ridges on it. Then i looked to the left, and there it was - Everest. From Sandakphu you get a 360-degree panoramic view of the highest and most beautiful peaks of the Himalayas - Everest, Lhotse, Kanchenjunga, Jomo Lhari, Makalu, Pandem, three sisters. But everything else fades away in the presence of Kanchenjunga which stands there in abundance!! And while admiring its beauty and grandeur, it suddenly hits you that so many lives have been lost while trying to conquer its peak. It gives you an eerie feeling and then you feel the goosebumps !
Kanchenjunga viewed from Sandakphu - The Sleeping Buddha
Mt. Everest
Once we came out of the daze, we noticed that in the centre of Sandakphu lies the trekkers' hut, there is a view-point beyond that and at the highest point are the 2 hotels - Sherpa Chalet Lodge (this is the biggest and the most preferred), Hotel Sunshine (right next to Sherpa Chalet). There is another hotel, Namo Buddha (though we didn't notice it). Though the amenities at Sherpa Chalet surpasses the other two, the manager Passang might appear standoffish.
N.B- Be careful while making double bed room reservations at Sherpa Chalet for more than one night. It happened with us that they told us rooms were available for 2 nights and then when we transferred the amount, they said its available only for 1 night.
Sherpa Chalet Lodge
Double bed room at Sherpa Chalet
4 bed dorm at Sherpa Chalet
Dining area at Sherpa Chalet Lodge
We stayed at the Sherpa Chalet and it offered great views from the double bed rooms. They have double bed rooms in the ground floor and dorms in the basement and first floor. The rooms are basic. One information is crucial here- the hotels switch off the electricity at 7 PM and they will only provide one bucket of water for one whole day ! Also, there is no cistern/ flush in the toilet. There is also no provision for hot water, except a mug full for brushing teeth in the morning.
We quickly dropped our luggage and took the road that goes left from the lodge, towards Phalut. This stretch offers amazing views of the setting sun. It started to get colder around 15:30/ 16:00 PM. For dinner, we had omelettes (priced at INR 50) and khichdi. At 7 PM they switched off the electricity. But as i peeped out of the window i could see the Kanchenjunga glowing outside like it was lit up by a thousand bulbs. Next day morning, we woke up at 5:30 AM for the sunrise. What an exquisite view that was!! The sky was painted orange and then transformed to red as the sun's glow covered the surroundings like a blanket.
After lunch, we started our journey back to Tumling. Since we were short of time, we skipped Phalut (2 hrs drive from Sandakphu - 21 kms). The view is clearer from Phalut and you can even pose infront of the confluence of the 3 borders - West Bengal, Sikkim and Nepal.
We reached Tumling just before sunset and climbed up to a clearing to view the sunset. It was an exquisite view to watch the sun set amidst the fluffy clouds. We stayed at the Siddharth Lodge which has cosy rooms and the host is very welcoming. It has double and triple bed rooms with average sized attached bathrooms. The food is delicious here with a wide variety of rice, chapati, dal, ghee, vegetables and curry. There is another lodge at Tumling - Shikhar Lodge which also has great reviews and great hosts.
Interior of Siddharth Lodge
Sunset at Tumling
Next morning we started for NJP with a heavy heart and reached by late evening. This trip has left vivid images of the majestic peaks which surpasses all other beauty. To me, Kanchenjunga has its own charm and its ethereal view from Sandakphu will surpass any other hill stations in India.
Sandakphu - Check ✔️
Things to carry: 1) Rucksack (Wildcraft ones are light, inexpensive, comes with 5 years warranty and are colorful too)
2) Heavy woollen clothing - including woollen socks, gloves, caps
3) Sports shoes
4) Torchlight with adequate batteries
5) Medicine (For acidity, stomach problems, fever and bodyache)
6) Water bottles
7) Toiletries
8) And lots & lots of tissue paper
P.S - Don't ignore the valuable information on High Altitude Pulmonary Oedema (HAPE - excessive fluid in lungs) and High Altitude Coronary Oedema (HACE - excessive fluid in the brain) in the dining room of Hotel Exotica. These conditions might occur when you travel at an altitude of more than 8,000 ft.
For more travel stories, please visit: http://www.thetraveltreasures.com