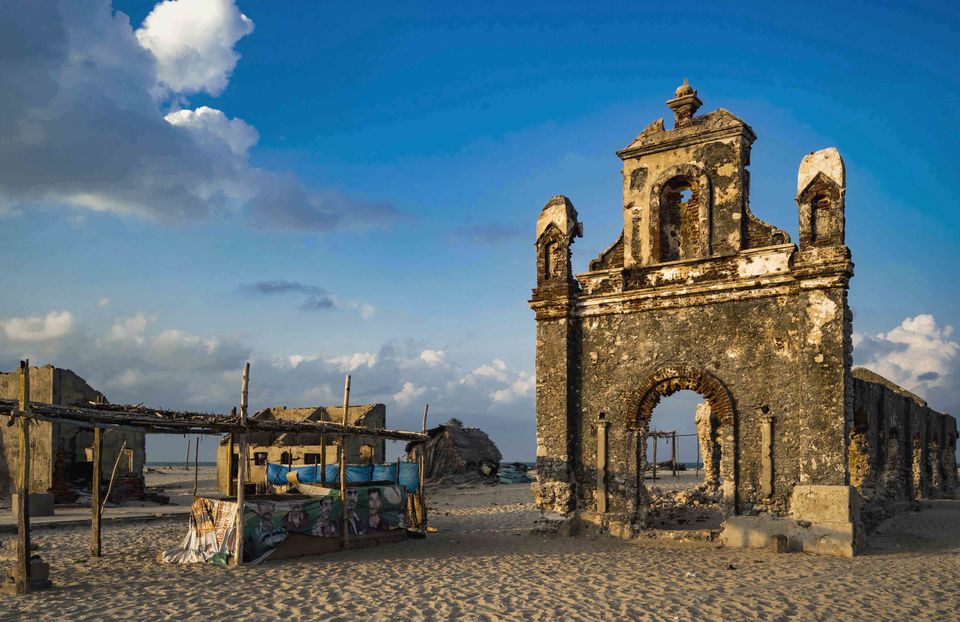 Dhanushkodi - A Ghost Town
I have always been interested in visiting places which have a rich history. Every time I visit such places, I wonder how the place would have looked like in the past. Dhanushkodi is one such place. I had seen numerous pictures and heard various stories about the place. While I was travelling in Tamil Nadu, I decided to visit Dhanushkodi also as I was going to Rameshwaram.
Dhanushkodi is a small town lying in the southern tip of Rameshwaram, Tamil Nadu. The word Dhanushkodi means "Tip of the Bow". Because of its shape and the confluence of the two seas at the end point Dhanushkodi is called the tip of the bow. The end point is called Arichal Munai in the local language, meaning Erosion point. It's about 20 kilometres (12.5 miles) from Rameshwaram on the Pamban Island and about 30 kilometres (18.5 miles) from Talaimannar in Sri Lanka. The choppy Indian Ocean is on one side and the calmer Bay of Bengal on the other.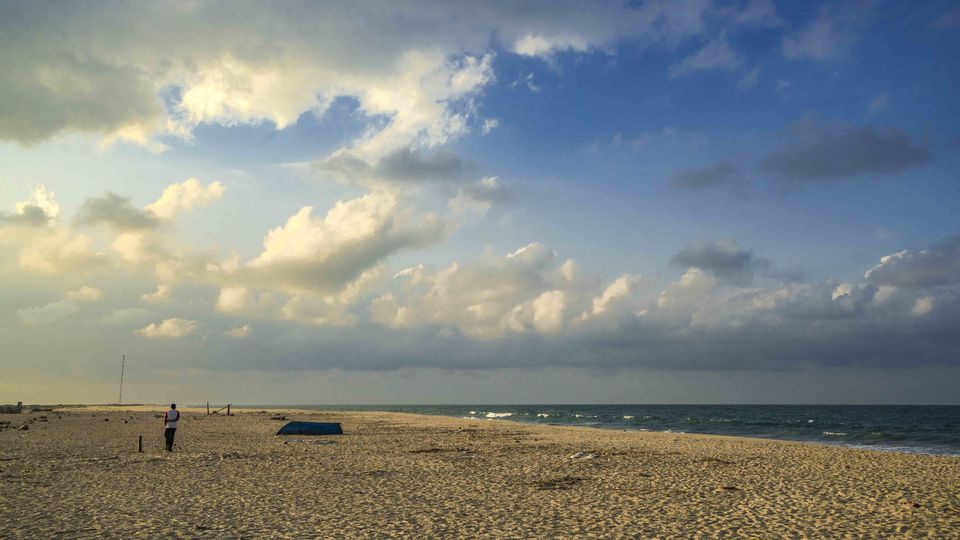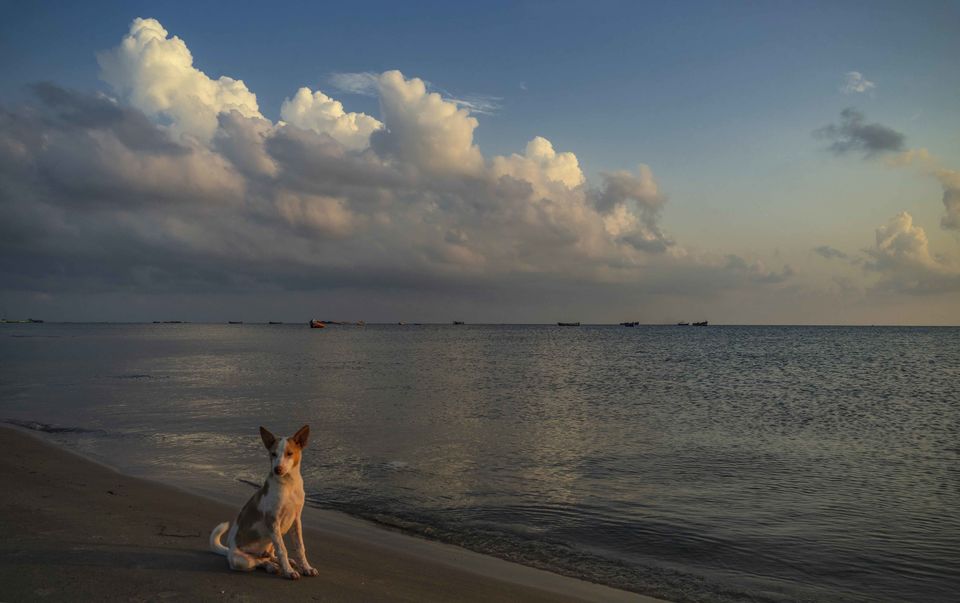 Devastation of Dhanushkodi
Dhanushkodi is a cyclone hit town, where reality coexists with myths, mysteries and miracles.It was a crowded busy city before getting washed away by a Cyclone on December 22, 1964. Twenty feet high waves hit the town from the side of holy confluence on East of the town, destroying the entire Dhanushkodi town. The cyclone hit the town at a speed of around 270 kph with 20-feet high waves from the East side of the confluence, which is the usual calm Bay of Bengal. On that fatal night the train 'Pamban - Dhanushkodi passenger was engulfed by huge waves while reaching Dhanushkodi with 115 passengers and 5 railway employees. After this incident, the government declared the place as the Ghost Town. People in mainland India got to know about the disaster after a few days.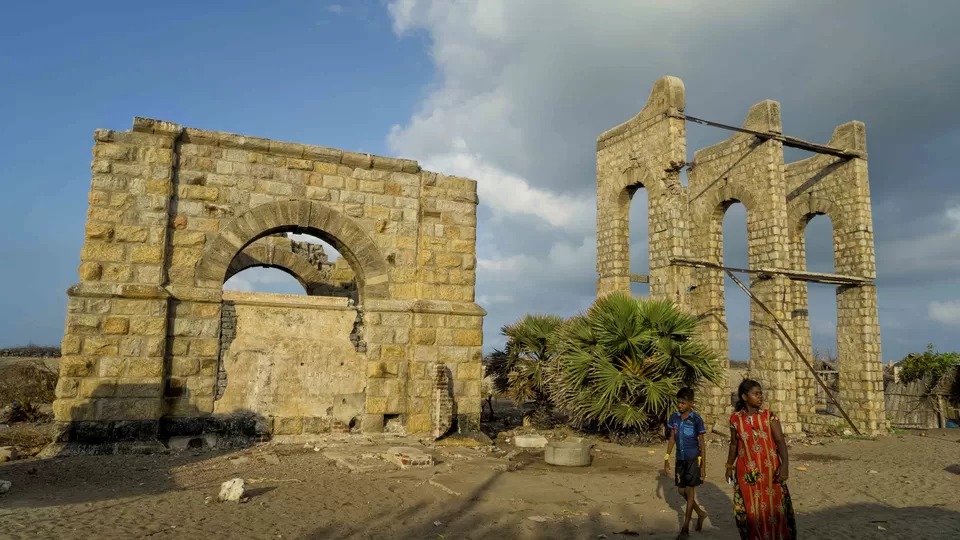 Life in Dhanushkodi
The Ghost Town is now home to a few fishermen with the population of around 500 people. People residing in Dhanushkodi lead a tough life as there is no scope of agriculture.The supply of daily needs like groceries and water are limited in the town. People earn their livelihood by fishing and running small shops. Government of Tamil Nadu helps the people in their sustenance by providing groceries and water every week. Dhanushkodi does not have any School, Hospital and Electricity supply.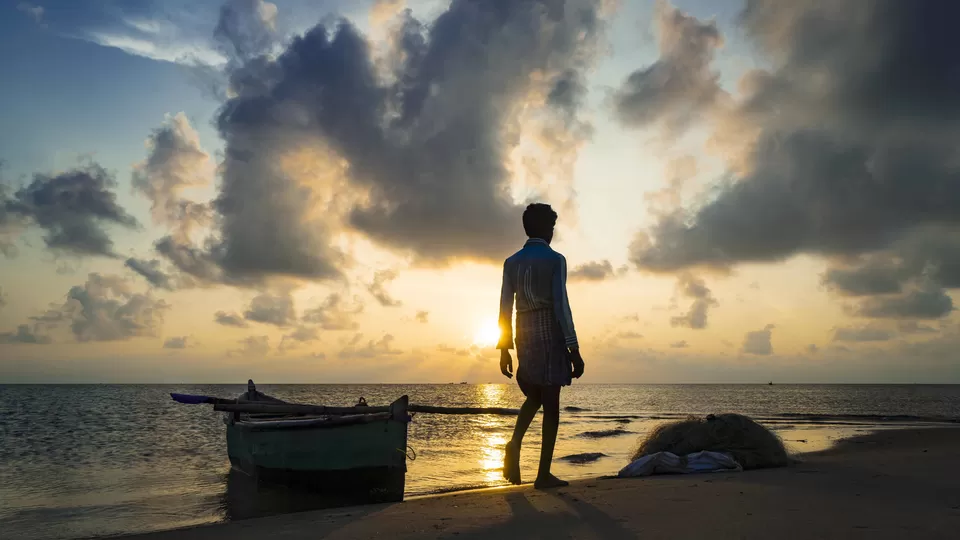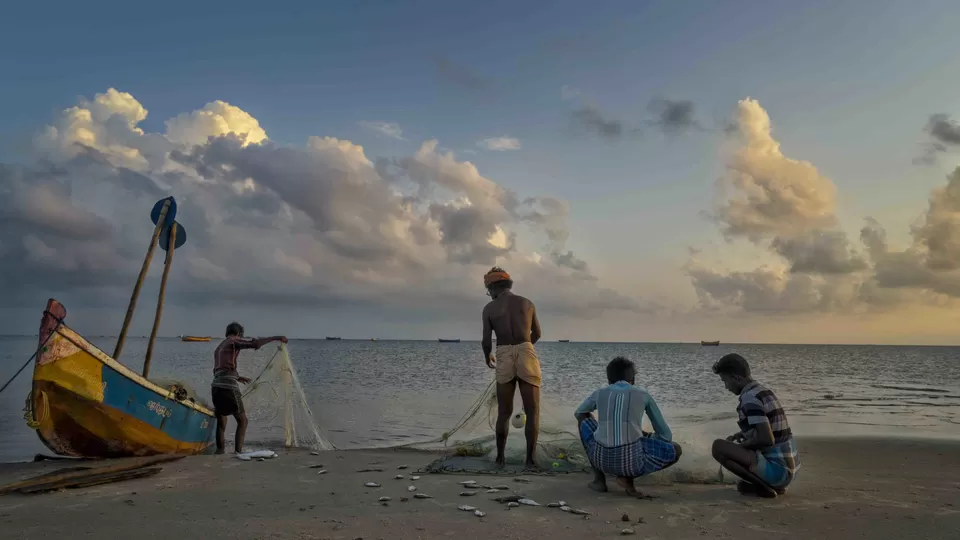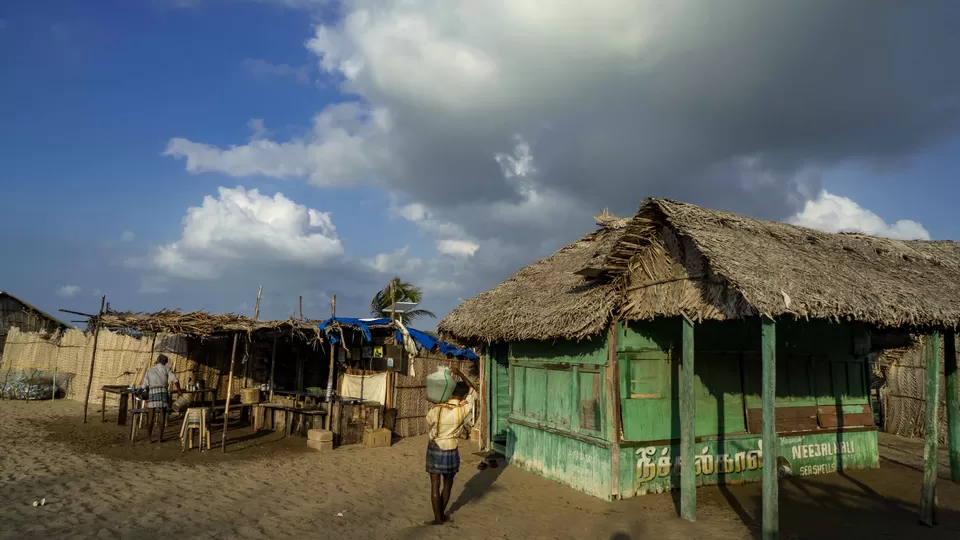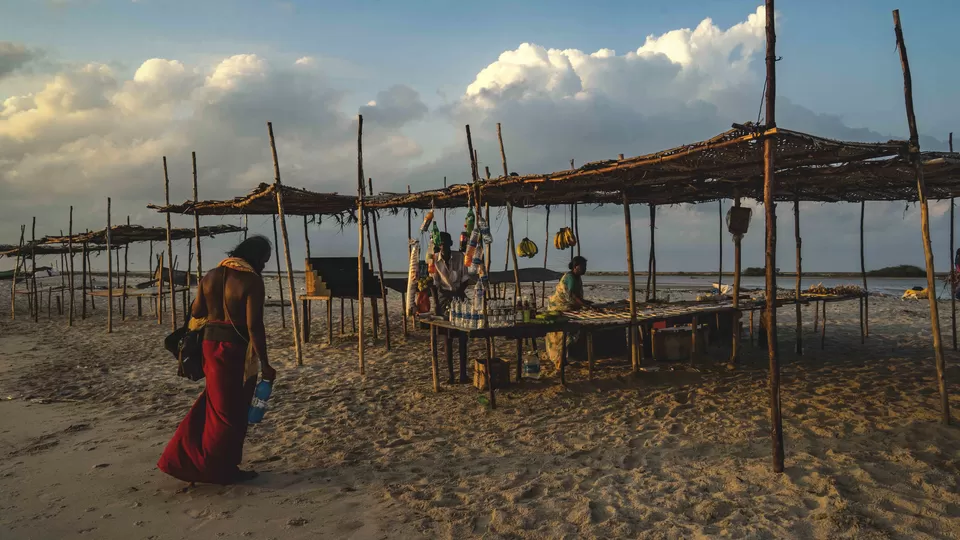 Religious importance of Dhanushkodi
According to Hindu mythology, Dhanushkodi holds a religious importance. The pilgrimage of Kashi, which is one of the pilgrimages in char dhaam, is considered complete only after taking bath in the confluence, and subsequently doing 'abhishek' with Gangajal (water of River Ganga) at Rameshwara Temple, Rameshwaram.
According the great Hindu epic "The Ramayana", this is where Lord Ram and Lord Hanuman's army of monkeys built a rock bridge which was called Ram Setu to Sri Lanka, to rescue Lord
Ram's wife Sita from the evil clutches of demon king Ravana. A floating rock is kept in a small temple in Dhanushkodi. Legends have it that rock was used in constructing the Ram Setu. Kothandaramaswamy temple, the only structure to have survived the life threatening cyclone, is in the way just before Dhanushkodi arrives. The temple is dedicated to Lord Ram.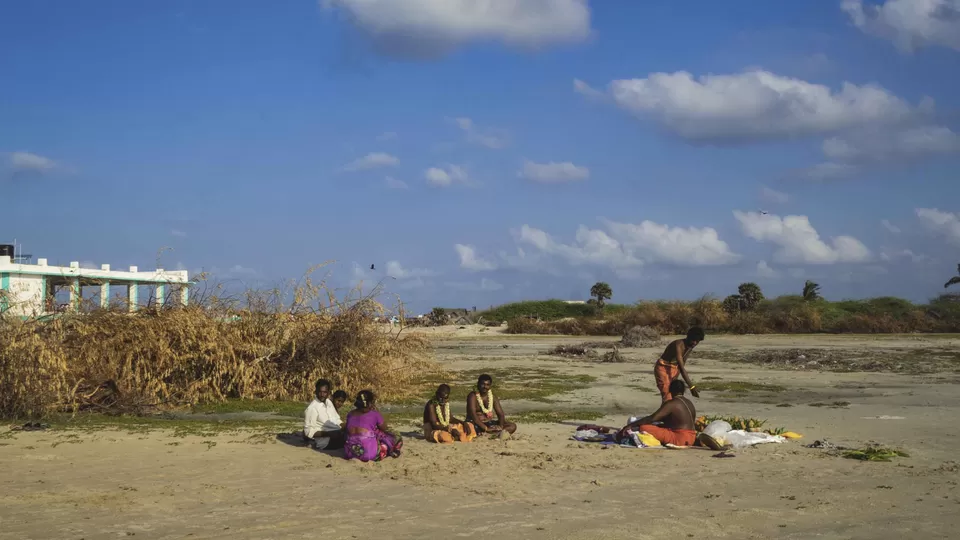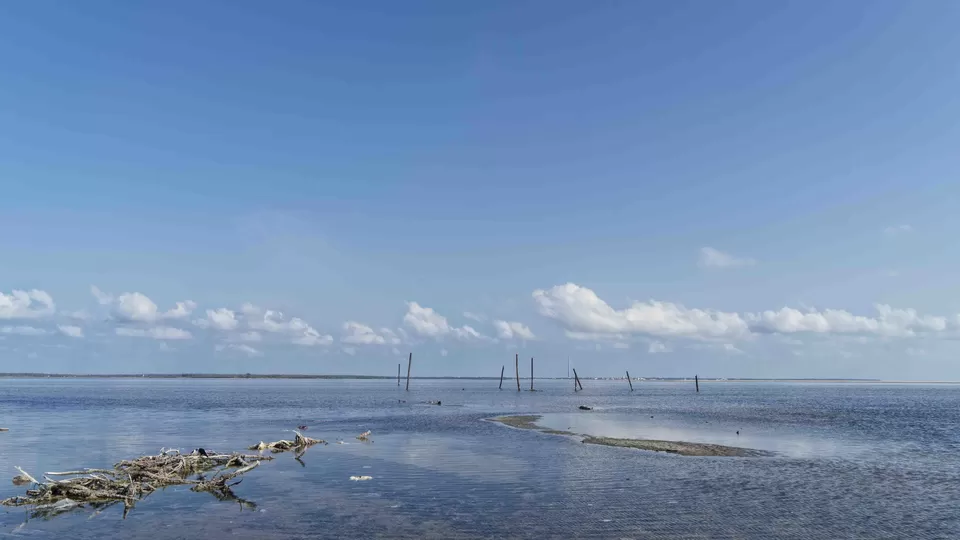 Reaching Dhanushkodi
The new road has made the ghost town much more accessible. Before it was constructed, the only way to reach the town was to take a bus or jeep across the muddy way. Now, you can drive there directly in your own vehicle. The road is an extension of National Highway 87, which runs from the mainland to Pamban Island and Rameshwaram. Previously, it ended at Mukuntharayar Chathiram but now continues 5 kilometres (3.1 miles) from Mukuntharayar Chathiram to Dhanushkodi, and a further 4.5 kilometres (2.8 miles) from Dhanuskhodi to Arichal Munai (Erosion Point). The final stretch is strictly controlled by India's Border Security Force. Entry is only permitted from 6 a.m. to 5 p.m.
Travel time from Rameshwaram to Dhanushkodi is about 30-45 minutes. If you don't have your own car or motorcycle, there are various options available depending on your budget. The cheapest option is to take the state government bus (Route 3) from the bus stop near Agni Theertham in Rameshwaram. The frequency of buses is approximately every 30 minutes and tickets cost 30 INR per person, one way. The drawback, however, is that you won't be able to stop at other tourist spots along the way. Taking an auto rickshaw is an alternative option which will cost you about 800 INR for a round trip. If you hire a taxi, car or jeep and driver, the cost will be about 1,500 INR -2,000 INR.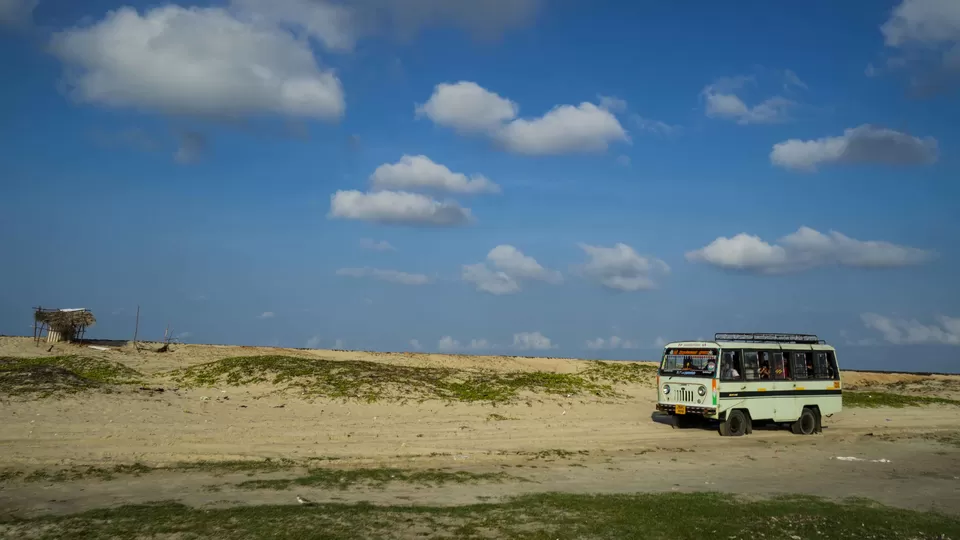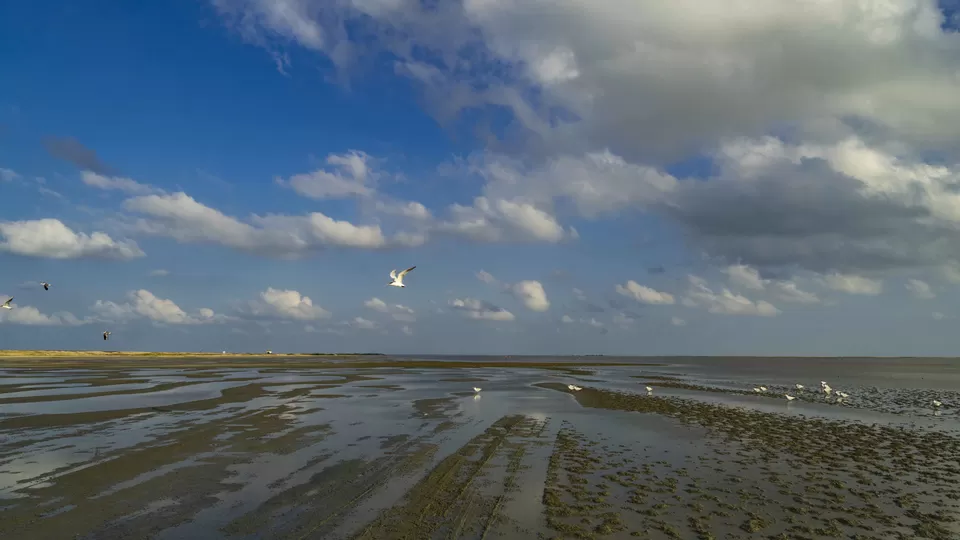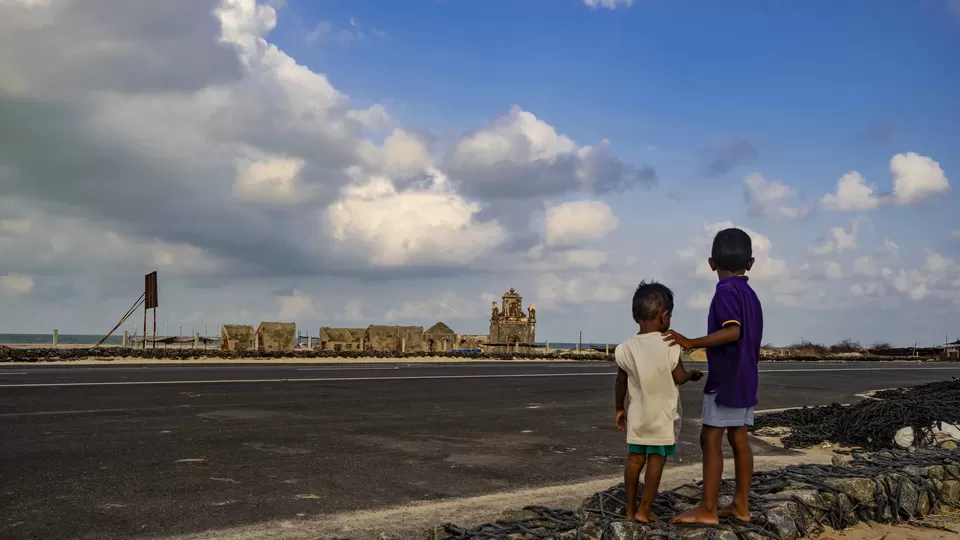 My experience of Dhanushkodi
Personally, I find Dhanushkodi a beautiful place. It has a lot of mythological and historical importance. I started for Dhanushkodi at 4am as my hotel in Rameshwaram had arranged a jeep for me.The morning jeep ride was an experience which one should have. It was dawn and and the nature was showing its colourful magic.On the way, you can see dramatic sky and calm Bay of Bengal on the left while Indian Ocean roars with high tides on the right.You can also see devastated railway station, pieces of railway tracks, wrecked ship, boat parts and remnants of the post office. As it was early in the morning I got to interact with many fishermen and locals after reaching there as they were preparing for their day. Overall it was a beautiful experience and I would like to visit the confluence on the southern tip of India again, but with my Himalayan next time.
I would advice people to visit Dhanushkodi in the early morning as it gets sunny and crowded after 9 am. I wouldn't say evening because you need to leave the place before sunset as tourists are not allowed to visit there or stay there after 5p.m. If you are a photographer or interested to take good pictures you should definitely visit the place early morning.
One should avoid visiting Dhanushkodi during rains and storms.