As a pleasant wave of the cool morning sea breeze swept past me, the mythological stories of Ramayana, that were narrated to me in my chilhood, started to gather in my mind. I was at the southern most point of our country, the starting point of Ram Sethu, built by Lord Rama to rescue his wife Sita from the clutches of Ravana in Lanka. The myth says Lord Rama pointed his bow towards this place, hence the name Dhanushkodi (Dhanush= bow in sanskrit). The Ram Sethu acted as a bridge between the Palk strait(India) and the gulf of Mannar( Sri Lanka), before it got submerged in the Indian Ocean.
Dhanushkodi ( District: Ramnathpuram) shares the only and one of the smallest international borders in the world at 45mt on a shoal between India and Sri lanka.
This town is a great example of how life is: unpredictable, ever changing, brittle, fragile.
As the human race evolved over the years, Dhanushkodi developed into a a bustling and flourishing fisihing town with schools, houses, temples, post offices etc. It had become one of the most rich fishing belts in the country, as it was the meeting point of the Indian Ocean and the Bay of Bengal. It served as a port for traders and pigrims, as it was the only land border between India and Sri Lanka. It was a very popular dsetination for tourists thanks to its churches, temples and the beautiful Pamban-Dhanushkodi rail route.
But like in life, good times are followed by bad times and as luck would have it, destiny had its say. The night of 22nd-23rd December 1964 transformed the fishing town into a ghost town, with the cyclone that hit the district of Ramnathpuram. The cyclone wreaked a havoc across the entire town killing almost 1800. The Tamil Nadu Government declared the town unfit for living.
All this shows how everything can change with a blink of an eye. As the years have passed, the wounds have slowly started to heal. The unique town has started to attract tourists all over India.
As one takes a stroll on the Dhanushkodi beach, a barrage of thoughts, feelings, stories start to bombard the mind. The sight of the beautiful beach, the trawlers, fishing boats, the clustered fishermen huts is a sight to devour and this really freshens up the mind. However, the remains of the old town of Dhanushkodi really fill you with anguish.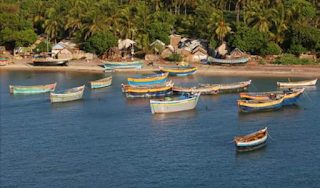 A view from the Pemban bridge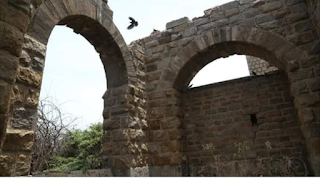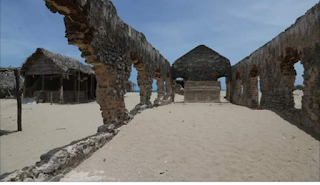 The secluded village has one of the most unique source of drinking water. They dig a pit in the sand between the two oceans. Water collected in there is, quite atonishingly, quite sweet and devoid of any salt .
As I took the ride back in the jeep back to Rameshwaram, the capital of Ramanathapuram, I was engrossed in my thoughts. This litte town teaches a thing or two about life. Enjoy each and every moment of life, u may never know which could be your last.