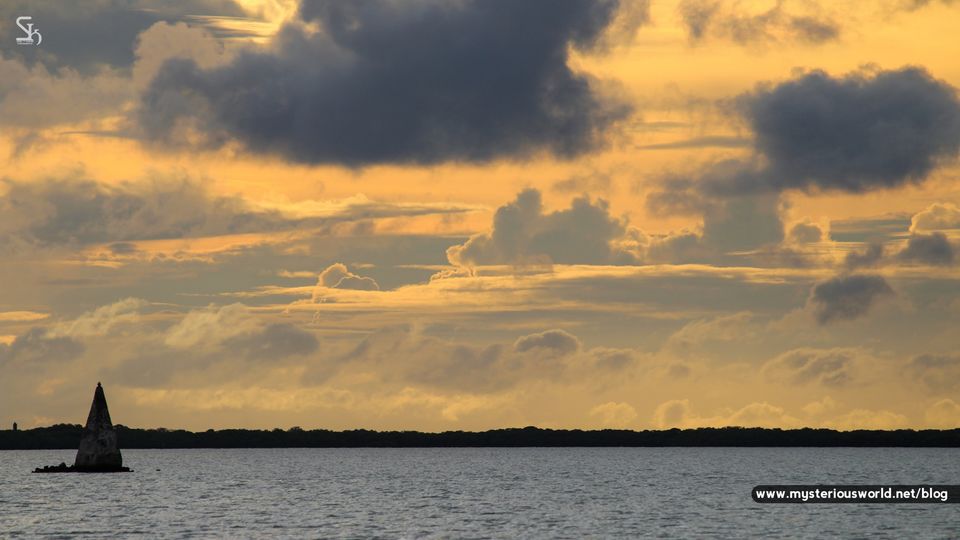 Towards Rameshwaram via Kanyakumari.
After finishing all our works, myself and my cousin sujin were ready for much awaitied trip to rameshwaram. We left our hometown (Changanasserry) by 06.30am (LT). Our plan was to take Mumbai CST - Kanyakumari Jayanthi Janatha which will reach CGY by 06.50Am and has its scheduled arrival at CAPE by around 01.00Pm. The train was a bit late and came by 07.15Am. Nature looks stunning and beautiful. Window seats are the best for us to think about our present past and future. Its where dreams are formed. The other partner in this trip, NaveenLal joined us from Trivandrum Central. We reached Kanyakumari by 12.50Pm. We then hand our small lunch and headed towards Gandhi Memorial Mandapam where Mahathma Gandhi's ashes were kept before immersion. Lots of rare photos can be seen there and climbing to the top, you can have a good view of Vivekananda Rock Memorial and Thiruvalluvar Statue. We couldn't go to Statue because the sea was rough due to "Maha Cyclone" effect. We then spent some time in local sightseeing and then my friend, Suriya came all the way from Rameshwaram to pick us up. We left Kanyakumari heading Rameshwaram. The road was almost empty due to the diwali effect and our car ripped to its maximum speed. We reached rameshwaram by 09.30pm and our room was arranged by Suriya itself. We then checked-in and afterwards had our dinner.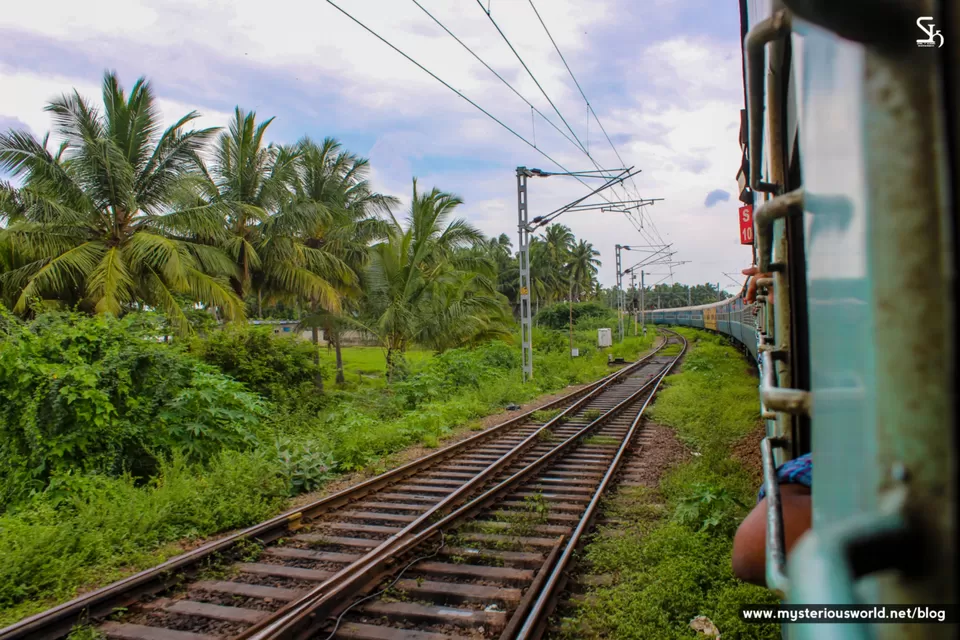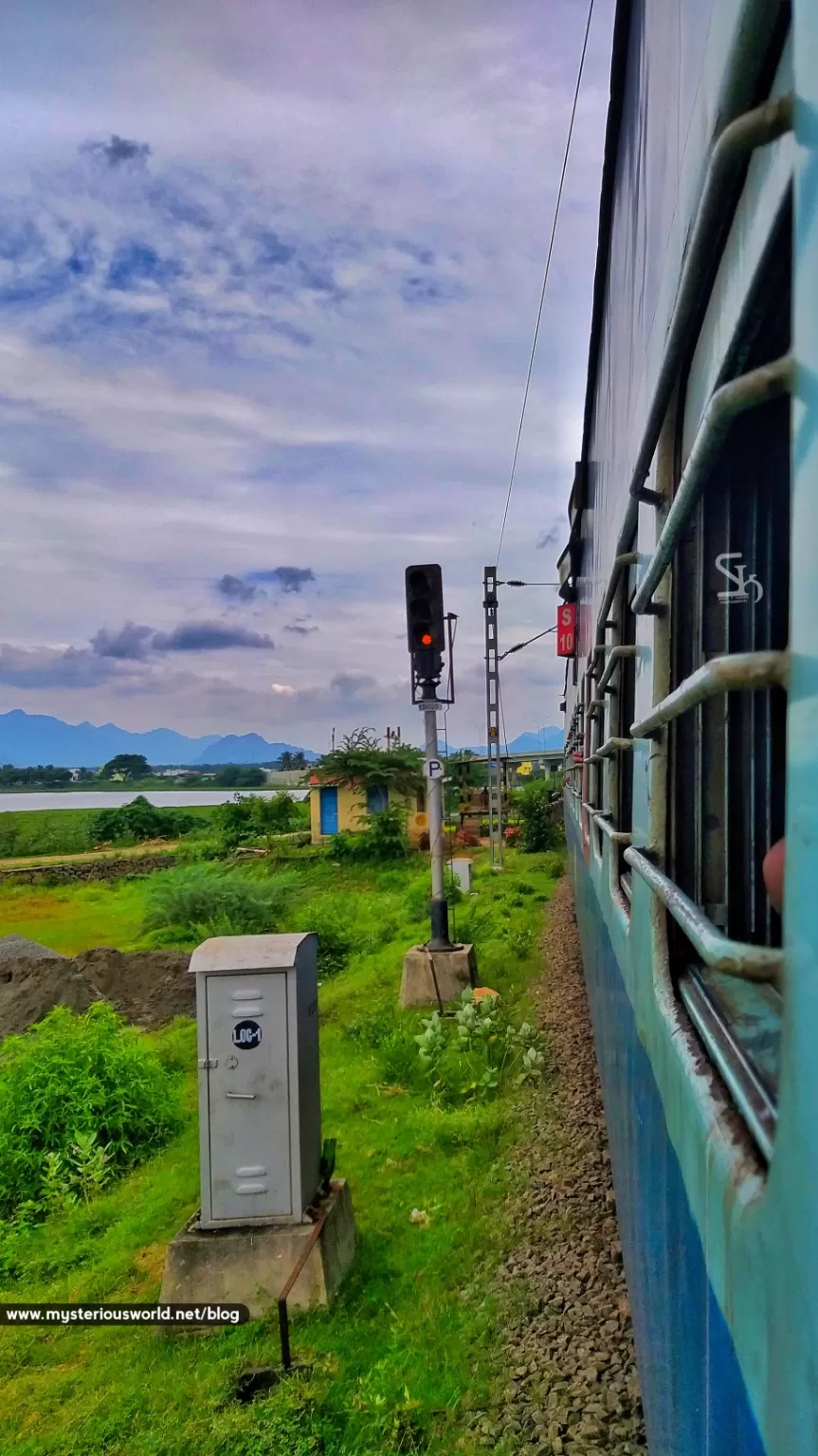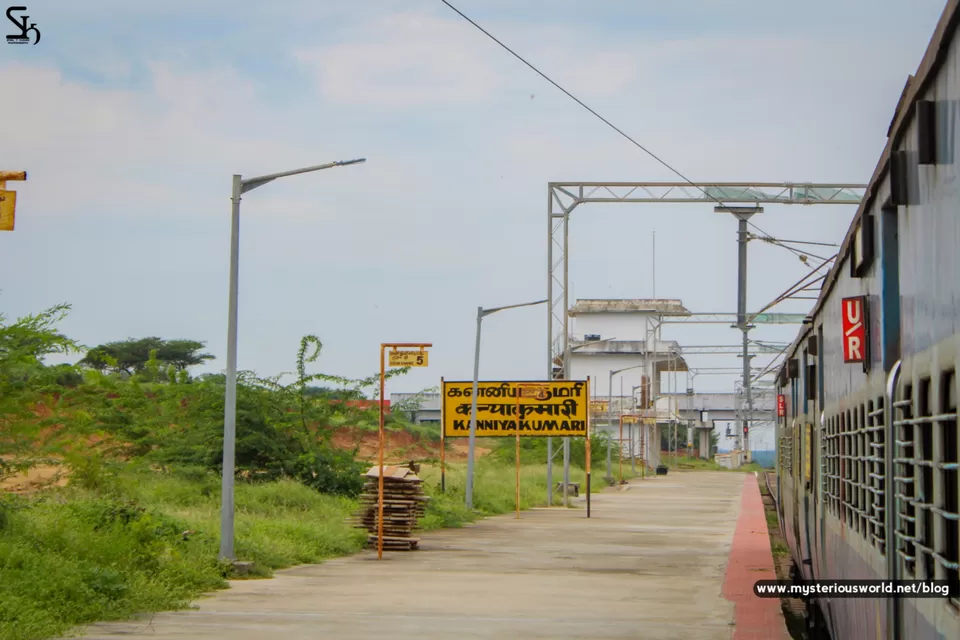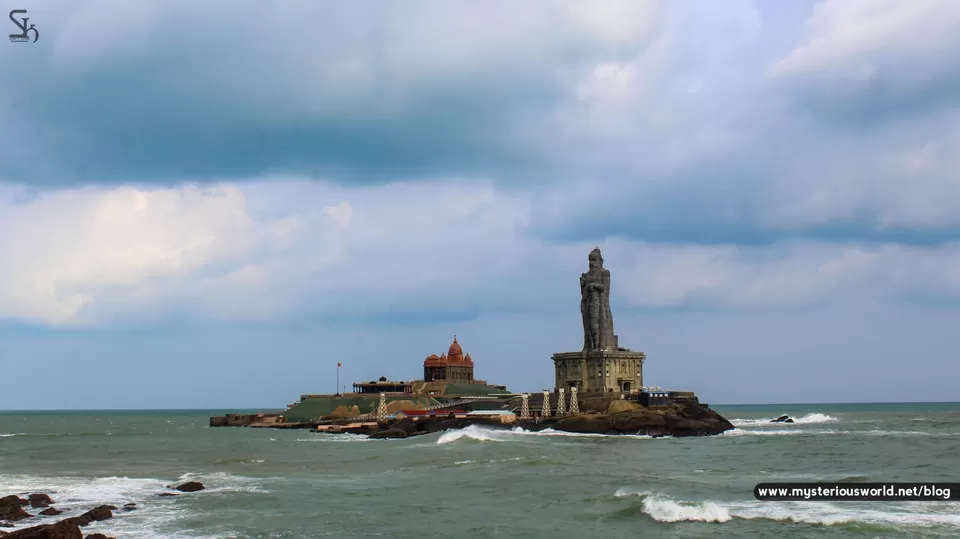 Exploring Dhanushkodi
We woke up a bit late and had to hurry for the tour. Our cab was waiting along with suriya. We were accompanied by heavy rain aswell ! As we started our journey towards dhanushkodi, we could see the cloud formation. We had a little photoshoot and then continued our journey towards dhanushkodi. Heavy rain started and we were forced to reduce speed. The road from Dhanushkodi to "Aarichal Munai" was closed due to rise in sea level. We were informed that the pillar was collapsed and the region is submerged by sea water. Light drizzle accompanied us the whole day and that cause a serious delay in our plan. We visited the old church and railway station which is now a major tourist attraction and stands as a scary reminder of the fatal night which turned the glorious Dhanushkodi to a ghost land. We could also see many building remains scattered across dhanushkodi. The rail tracks were removed recently by the Indian Railways, said our friend. There is no electricity till day in dhanushkodi. It is actually a ghost land with scars of cyclone that hit dhanushkodi during 1964. SriLanka is roughly 20 kms away from arichal munai and we could get airtel SriLanka signal from Dhanushkodi itself ! After all sight seeing, we then returned to our hotel.
••••••••••••••••••••••••••••••••••••••••••••
【Dhanushkodi Disaster in brief:
A depression formed at south Andaman sea gets intensified into a cyclonic storm and hit dhanushkodi on 22 december,1964 night with high power. It is belived to have a velocity of 280Km/hr and with tidal waves with 20 feet height. When this disastrous cyclone hit dhanushkodi, it also overthrew a passenger train which then was crossing pamban bridge killing every single soul onboard that train. It is estimated that around 1700+ people lost their lives. Goverment declared Dhanushkodi as Ghost Town as its unfit for living. 】
••••••••••••••••••••••••••••••••••••••••••••
After taking some rest, we then went to Dr.APJ Abdul Kalam Sir's Memorial where he rests in peace. Its on the main road itself (left side, towards rameshwaram). Everyone visiting rameshwaram must visit this place, because the building is full of informations. Such a wonderful place. Please note its a strict No Photography zone. If carrying camera, you can give to the counter. And people visiting are not supposed to takeout thier mobile camera as well. The Memorial contains various information regarding Dr.APJ Sir, his works, his awards, his personal belongings, his achievements etc. Observe carefully and you'll be inspired ! From a common man to the missile man of India... Its not a common thing. Visit this place and you'll see his visions.
We then went to the famous "Pamban Bridge". Actual Pamban Railway bridge was destroyed by 1964 Cyclone and can see the remains there. We waited for the train to arrive at pamban bridge. It was such a wonderful experience. Lots of people were at Pamban bridge road to watch train crossing and strict police patrol is there for our safety. After a short wait, came the Madurai - Rameshwaram Passenger train. Accompanied by the chilling wind, she started crawling through pamban bridge in dead slow speed with care. That view was one of my dreams.
After visiting pamban, we then visited a private area ( not that private, just a place where tourists are not seen), near to Vivekananda memorial. That place was just awesome and we walked till the tip and were welcomed by Indian Coast Goard Patrol team and thier Hovercraft ! As the sun started to set, nature revealed its beauty... Golden sky and chilling breeze made our day even more better. We spent almost 2 hours there enjoying the nature. Its time for us to leave for our hotel and to wrap this day.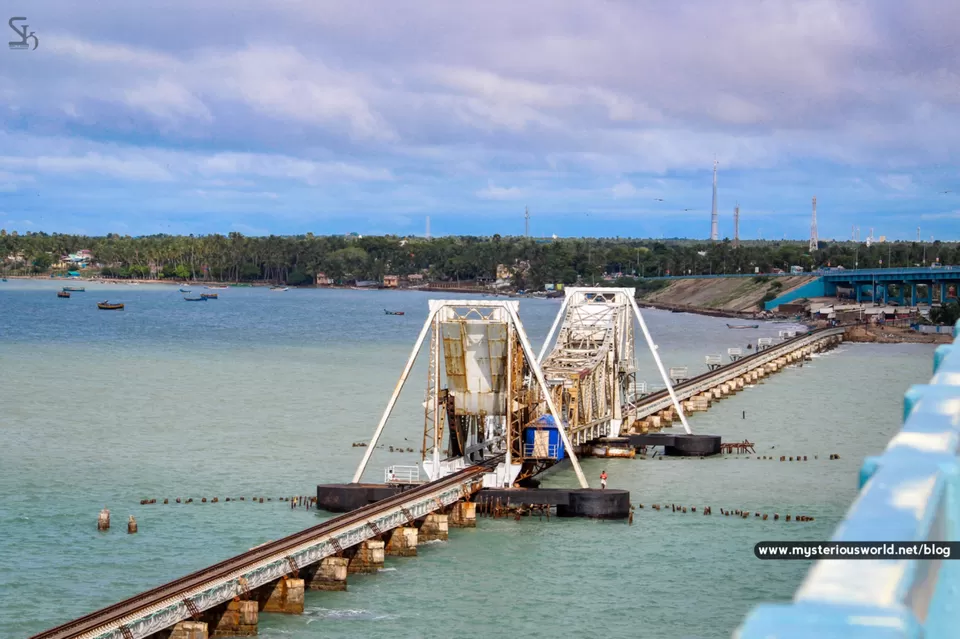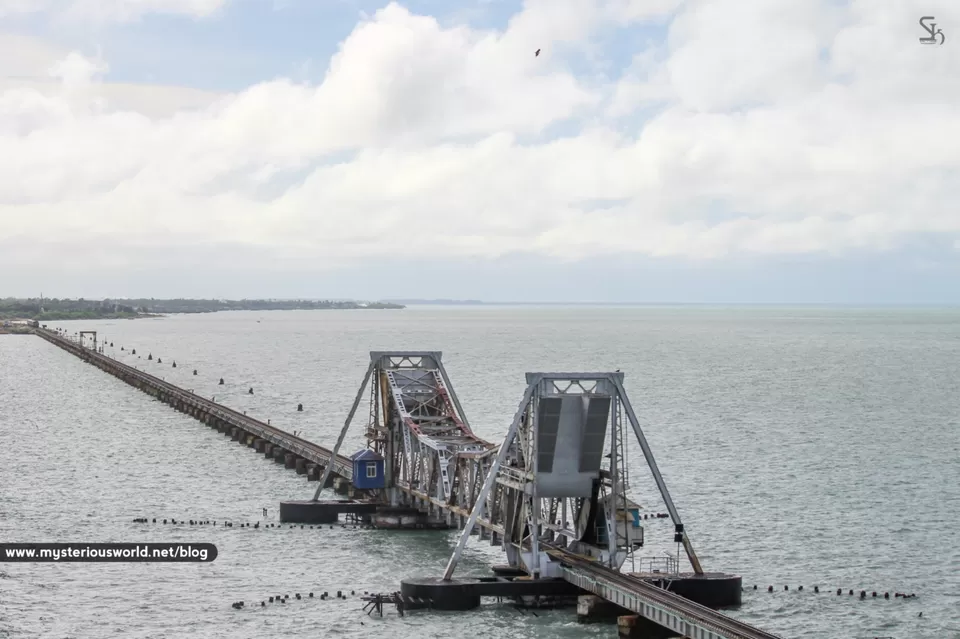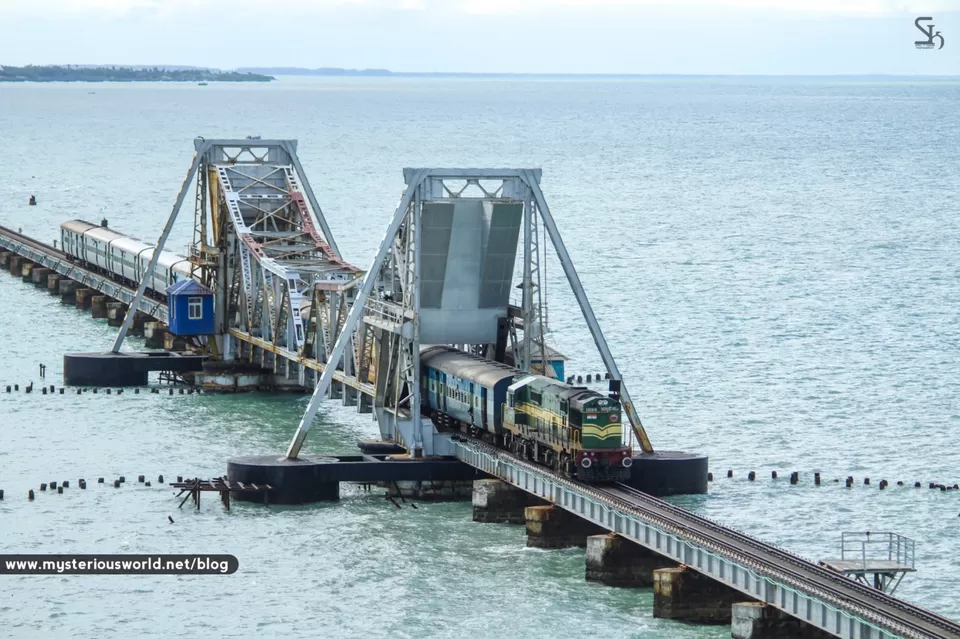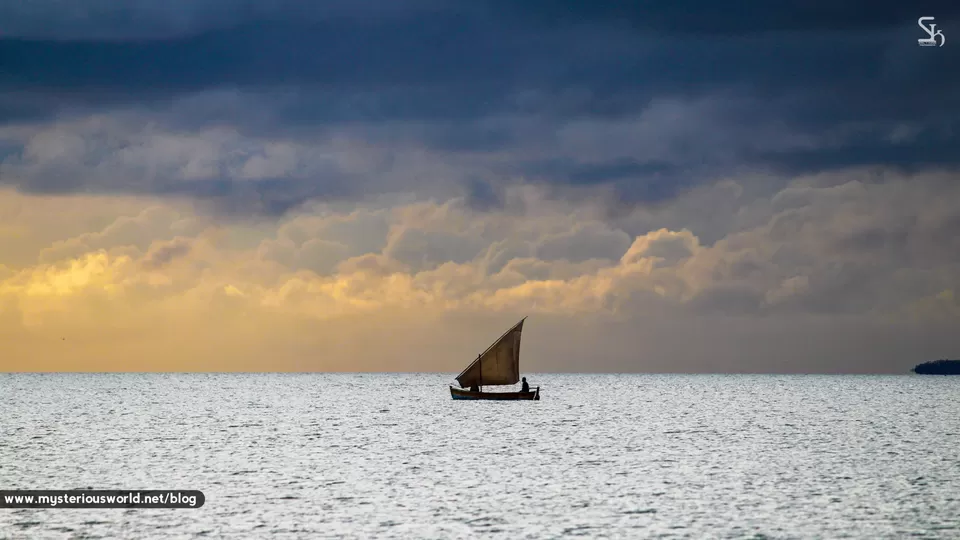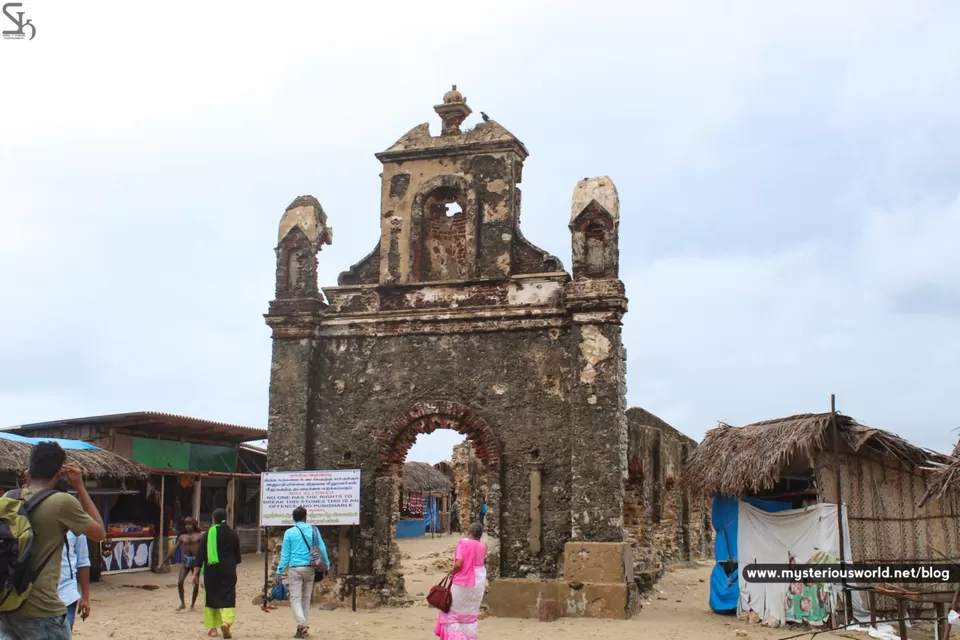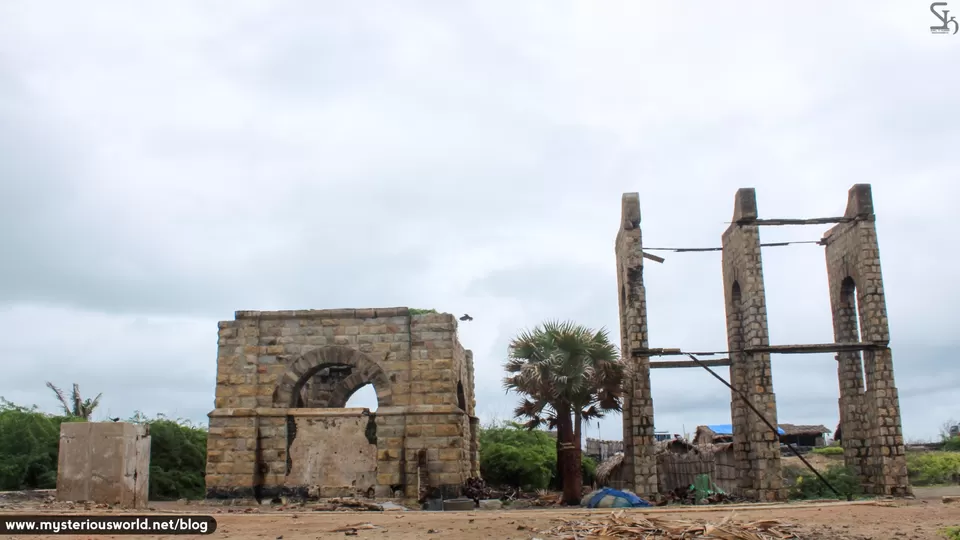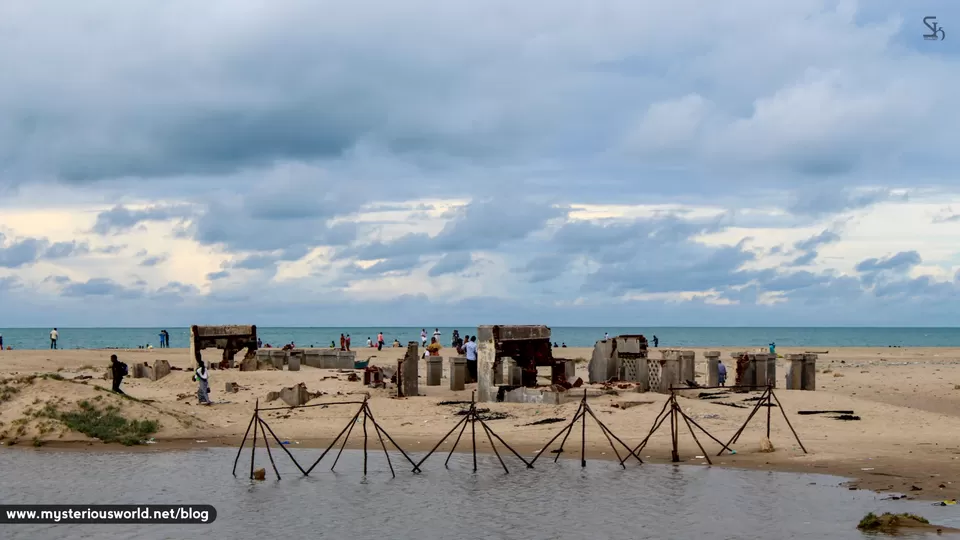 Exploring Rameswaram and Dhanushkodi
The next day, we woke up early and again went to dhanushkodi hoping police will give permission to get our car to arichaal munai but luck was against us. We then decided to move left towards the sea by walking through waterlogged grounds. Our friend suriya and his company told us that this is just rainwater and will be gone by noon. We then started to walk through the water towards the sea and i have to say, that was a wonderful experience. In some places, we could experience heavy flow which can even make us fall; but we had good guides ! After spending some time, we then visited another beach on the road side (dhanushkodi highway) and spent some time over there. Then we visited Kothandaramaswamy temple which is the only place that survived 1964 cyclone. It is surrounded by water and is left of Dhanushkodi highway into the sea. After all the sightseeing, we returned to hotel for check-out. Our scheduled bus leaves madurai by 05.00pm and we have to reach madurai before 05.00pm. After check-out, we then headed towards Ramnad (Ramanathapuram) to catch madurai bus. For our luck, we got 1 to 1 Nonstop Madurai TNSTC coach which took us to madurai in less than two hours. Heavy police patrolling were seen on the highway due to some function at Ramnad. We reached madurai before 05.00pm and went to Omni Bus terminal for our bus. After some time, came the SRM Coach towards chennai. Scheduled arrival at chennai is 01.00am the next day. I'm not going to chennai for exploring, but to have a meetup with my college buddies.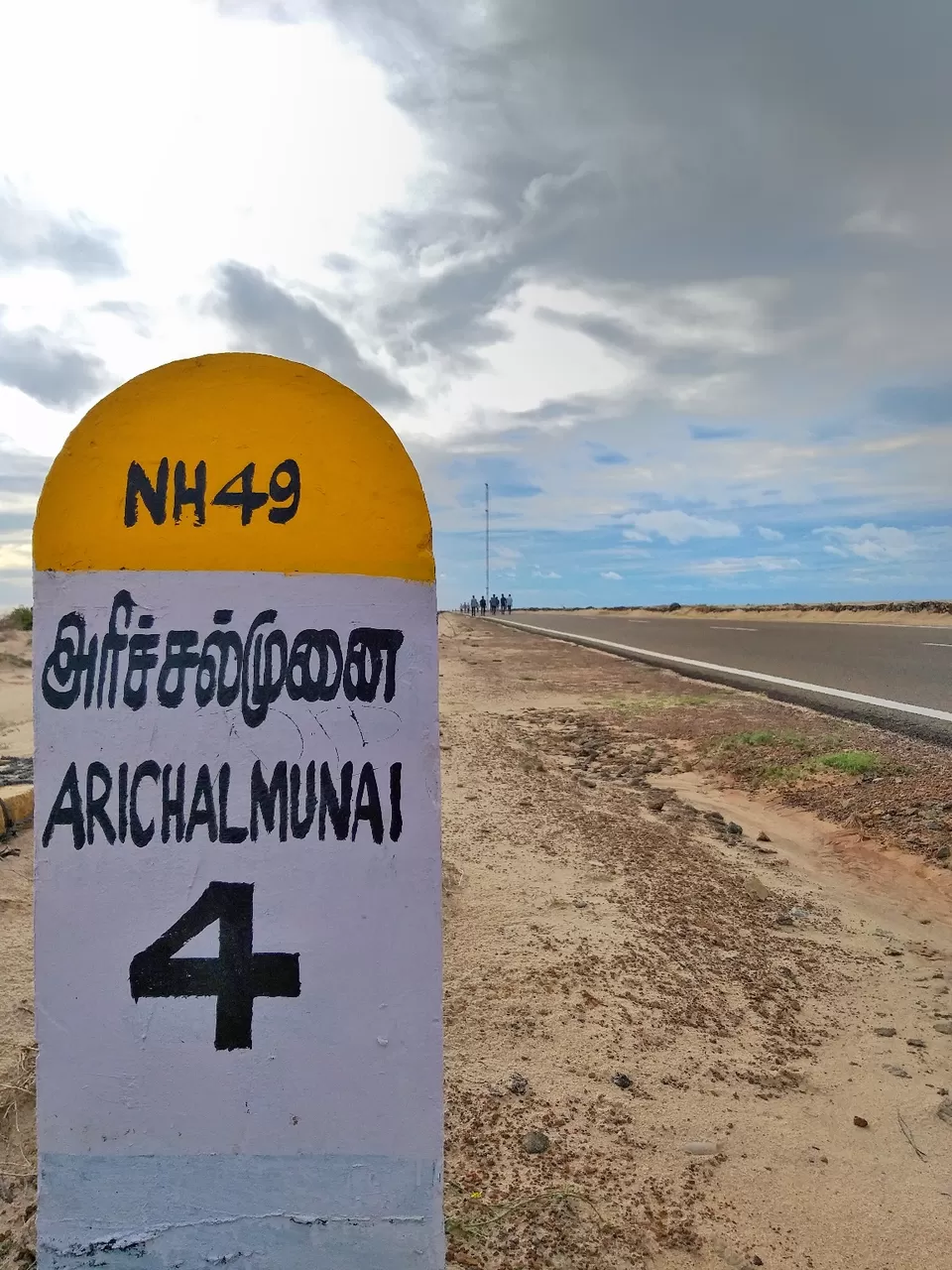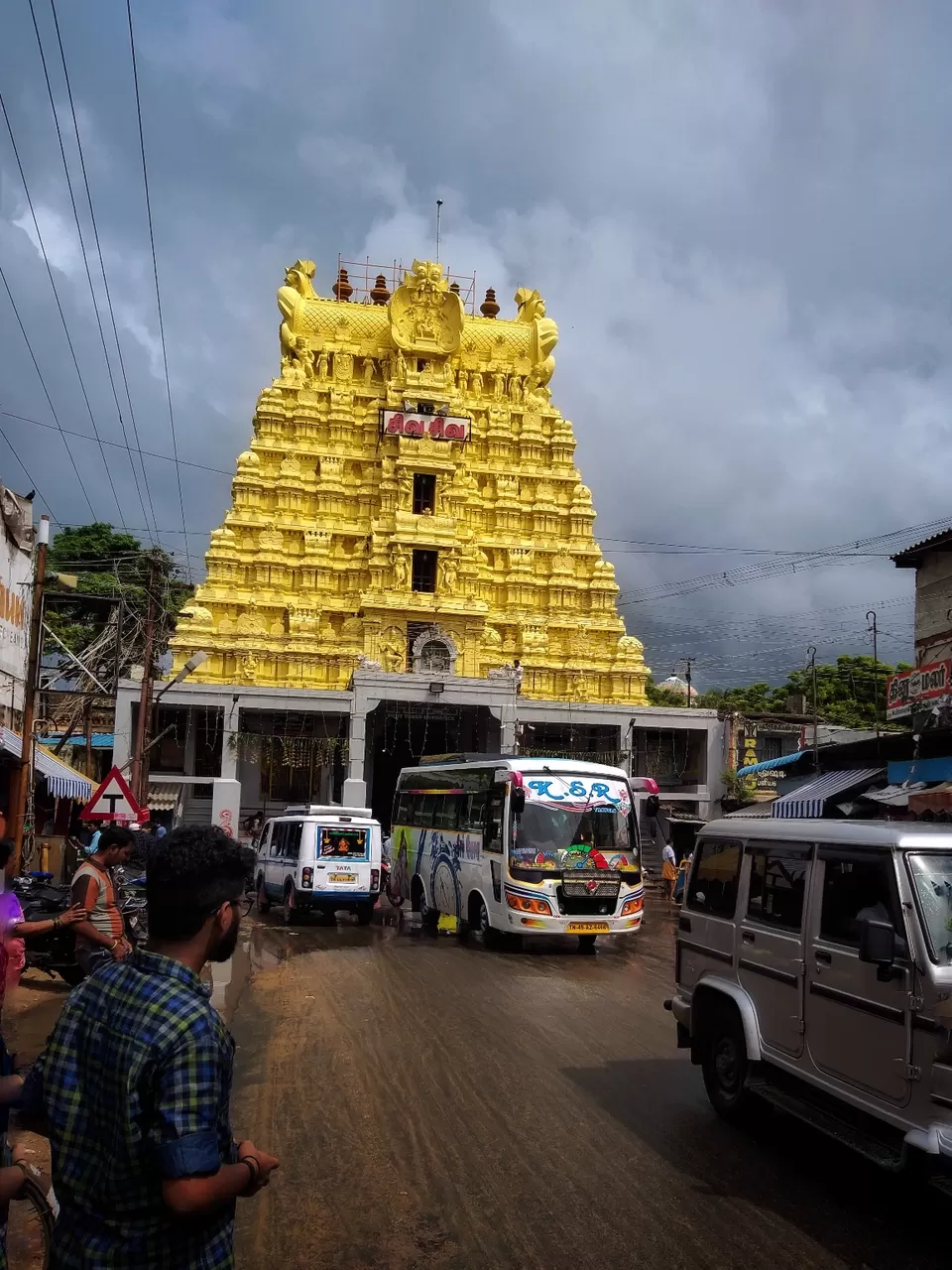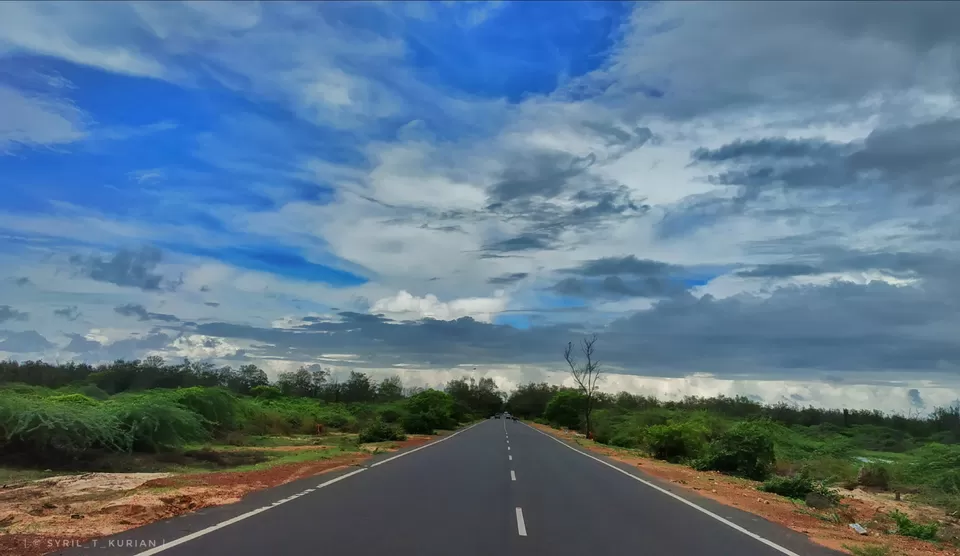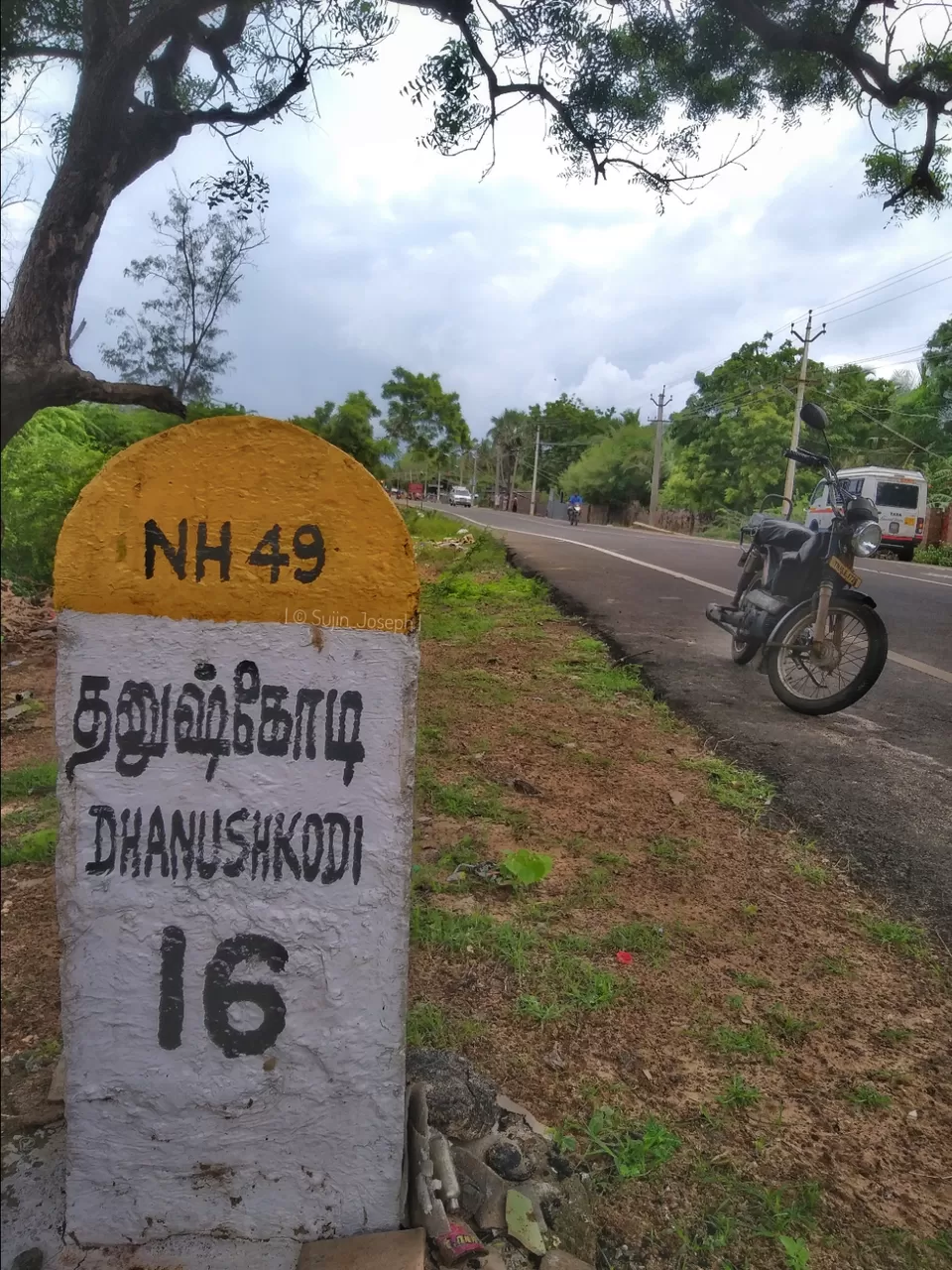 Chennai
We reached chennai late as the chennai traffic was high even at midnight. After a small meetup and reunion, NaveenLal headed back to his hometown, i.e Kannur that day evening itself. My cousin and I had reservations for chennai - velankanni SRM coach. We left the room and boarded chennai metro from Chennai Airport Metro Station towards CMBT (Koyambed). Considering the chennai traffic, Metro is the best option for travelling !. We reached CMBT by 09.00Pm and our bus is scheduled to leave by 10.15pm. We had our dinner and went to SRM terminal and waited for the bus. By 10.00Pm the message came with crew number and bus number and we boarded the bus after showing reservation message to the crew. Bus started very late by 2245 from thier terminal, and the traffic was heavier than normal. Though started very late, bus reached velankanni 30 minutes prior to scheduled arrival at 06.30Am !!!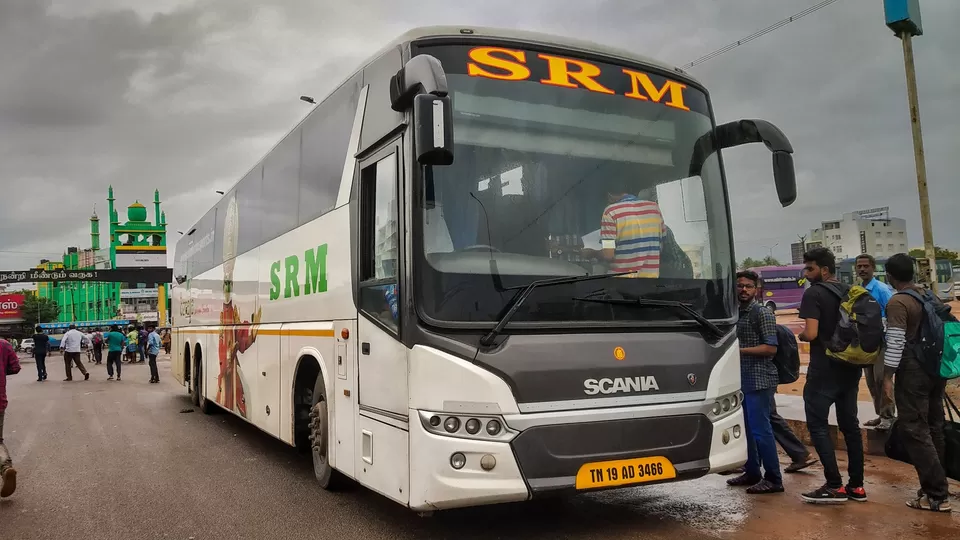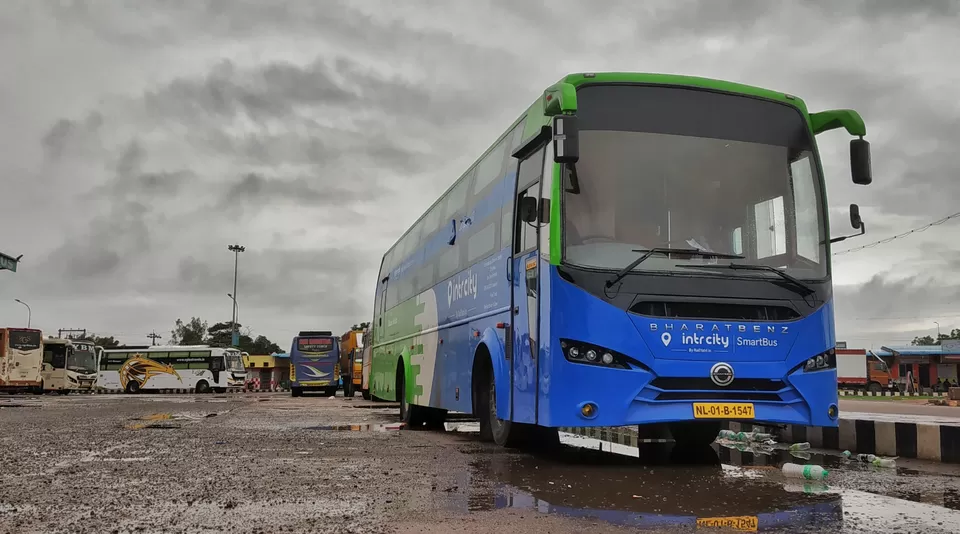 Velankanni
After getting down, we took room near to the busstand itself and got ourselves freshen up. Our friend, Akhil is on his way to velankanni to meet us and to join us in velankanni visit. After having breakfast, Akhil came and we then went to Velankanni Church. Unlike past 3 days, the sun was shining bright like a bulb and heat level had gone up. We were tired within 2 hours and had to take breaks in between. Main church, Morning star church and other churches were visited and then came back to room. The next travel partner is Kerala State RTC's Super Express Airbus to my hometown, Changanacherry. Scheduled departure from velankanni is 02.30pm and calculating that, we vacated our room and went for lunch. Bus came ontime and we started the journey back home. Journey was quite noisy and bit uncomfortable but was okay. And we reached our hometown safe the next day morning 06.30Am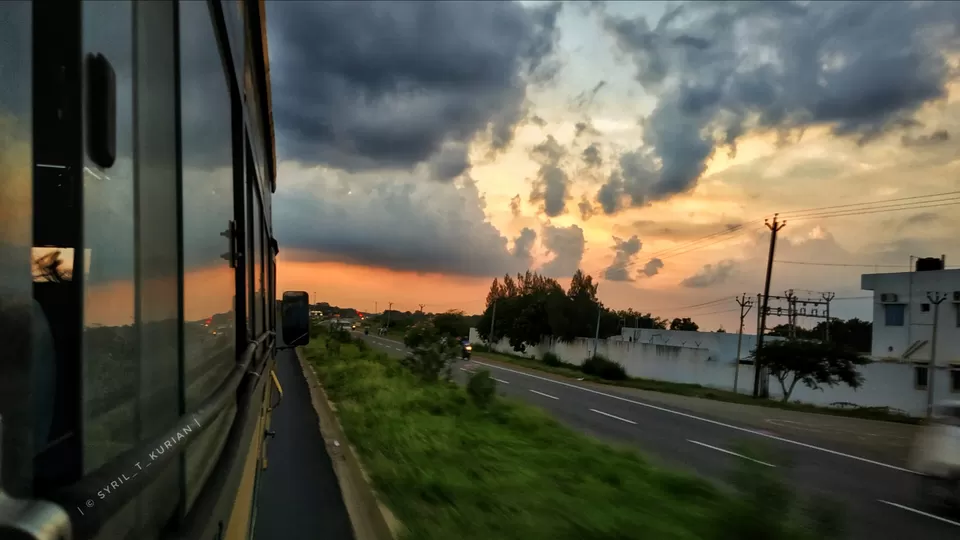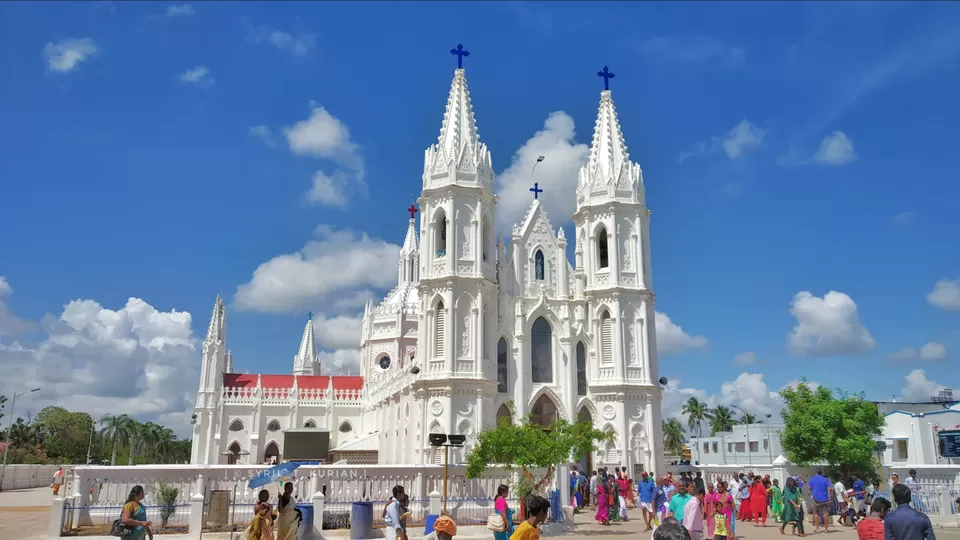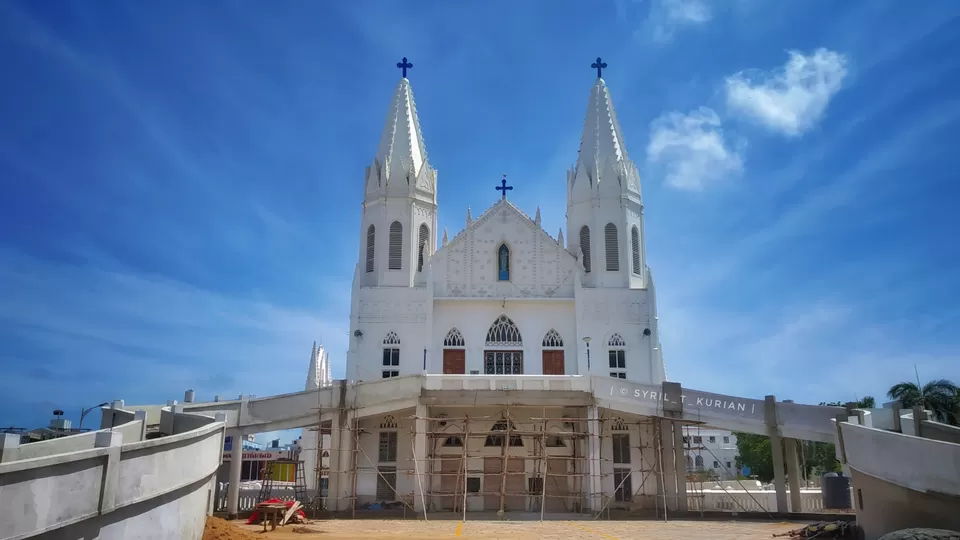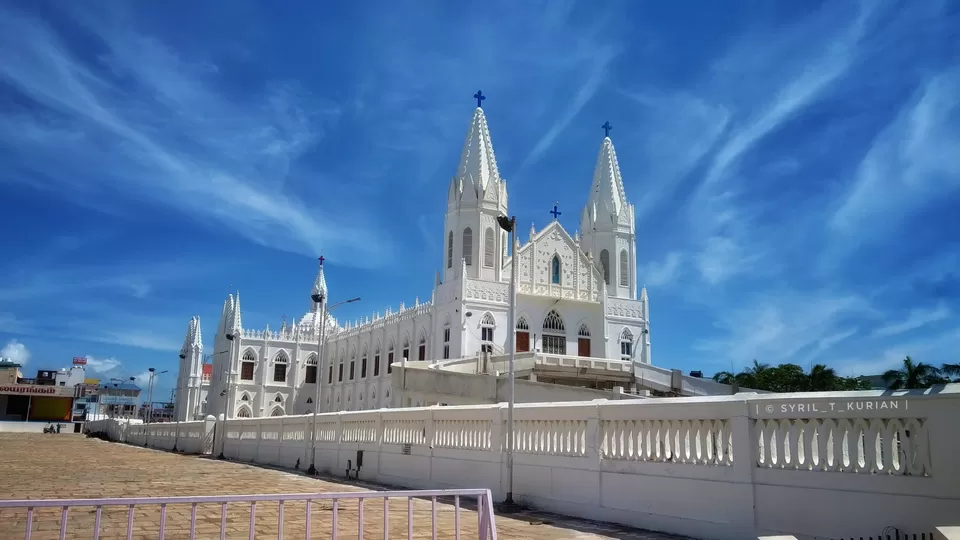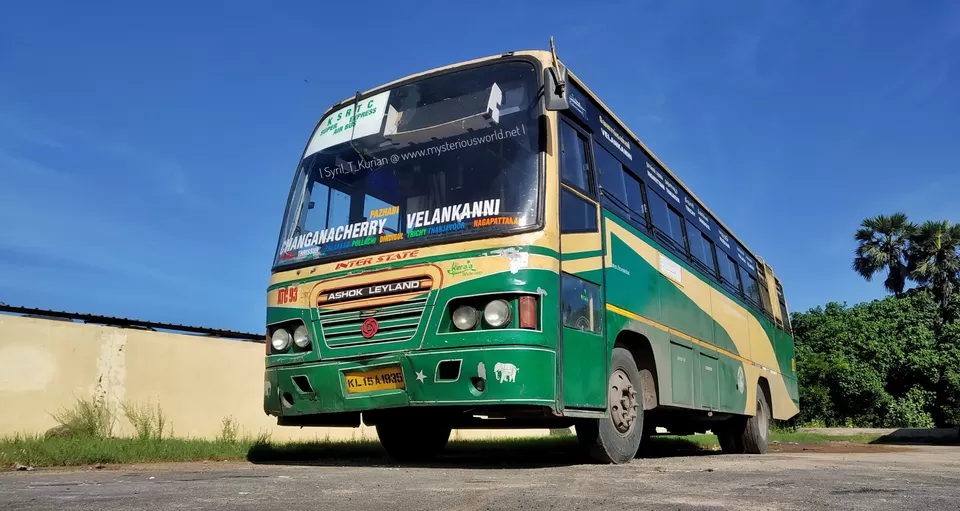 || All images are taken by myself and (www.mysteriousworld.net/blog) is my watermark. ||