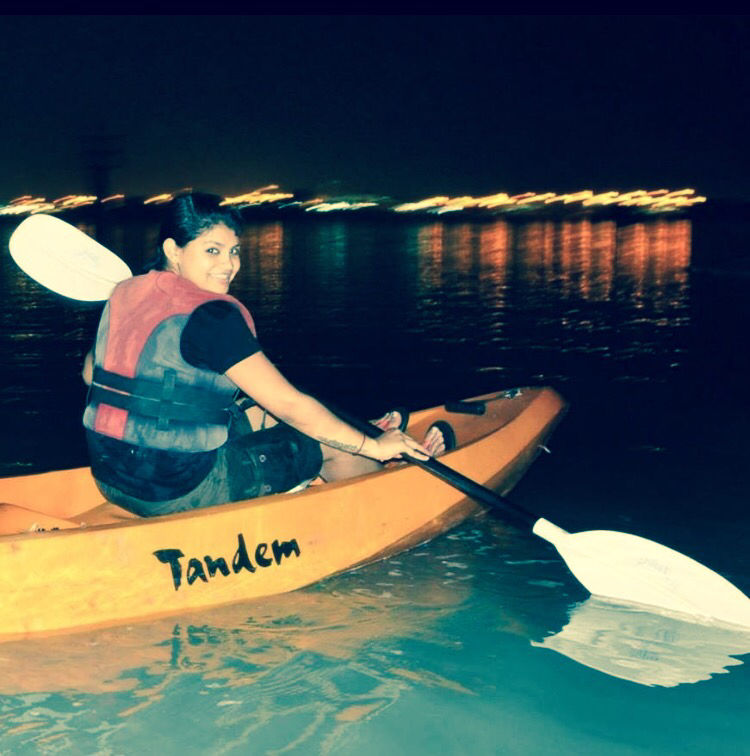 Qatar is not just about Desert Safaris and Souqs! Kayaking is a great and relaxing way of exploring Qatar's coastline, discovering new beautiful beaches and finding out more about the wildlife in this country. Getting out on the water and paddling to a remote island out of Doha, or exploring the mangrove forests of Qatar are fantastic ways of spending time with friends and family.
Kayaking is easy to learn, very safe, enjoyable and great exercise. Our qualified instructors and guides will make sure that you make the best out of your trip regardless of your fitness level or age
There is a thriving mangrove colony just over 40 minutes away from the city Centre at Al Thakhira, Northeast of Qatar
We decided to try out the sunset kayaking in the mangrove along with BBQ and star gazing and what an awesome eco-adventure experience
The area supports a lot of birdlife and is a favorite destination for nature lovers.
We launched from the marina in Al Thakira, near Al Khor It takes between 2 and 3 hours to complete the tour of which 1.5 to 2 hours is actually paddling time, depending on which tour you book.
We booked the tour with "Entalek Eco Adventures"
Email: info@discoverarabia.today
entalek.org@gmail.com
Website: http://entalek.org
> 1 - Directions and meeting point :
> We all met at Al Meera supermarket in Al Thakhira, from where we followed the Entalek Team cars to the beach of Al Thakhira, our launching point (15 to 20 minutes ride). It is an off roading itinerary. 4x4 cars can easily make it to the beach as well as normal cars.
> 2 - Kayaking instructions:
> The tour provided kayaks, paddles, life jackets, water and guides, as well as a paddling lesson and an ecology lecture about the mangroves.
We started our Kayak guided tour which took us to the mangrove forest and beaches. We got the splendid moment to watch the sunset and then moonrise while kayaking. We started with some basic techniques lesson and now we are all set to rule the sea with our kayak, even pictures lack the thrill, the punch of actually doing it. What's even funnier is that actually being good at it is totally secondary.
Yes my arms and legs are aching with pain but truly it's worth the experience of kayaking in between the lush green mangroves watching birds fly around.
>The Kayak excursion lasted for about 2 hours.
> 3 - BBQ set up and star gazing:
> When we finished our Kayak trip we headed back to the beach, our tour team prepared a BBQ set up. They offered carpets, chairs, light, grills, charcoals and some other tools. Besides the BBQ set up, we had a fun Karaoke music session! After the tiring kayak food was must for us, so we prepared some nice mouthwatering chicken BBQs and fish fillets and enjoyed our meal with a splendid view...
Rest of the night we spent appreciating the beauty of the Moon with the stars decorating the dark winter sky…. The night of nostalgia lying under the open sky with ….. The view of the moons reflection on the sea was my "wow "moment
"The night I lay under the open sky,
To find a shooting star"
Please note that you need to bring your own food and plastic plates/tools.
> 4 – Things to bring along:
> Bring towels, extra clothes to change afterwards (please be sensitive to local culture when considering your attire), waterproof camera (Go pro), torch, dry bag etc.
> 5 - Other facilities by the tour:
Tour also provided light (head torch), 1 portable toilet, a big trailer where you can change, games for kids (soccer goals, volley ball net, tug of war etc.) All equipment (kayak / SUP, lifejacket and paddle), water and juice, a tour guide (equipped with safety equipment and first aid kit)
A real tonic for the soul when you have enough of the air conditioned offices, malls.
It's a best way to spend a day exploring nature in Qatar. Qatar is not just desert.. there is plenty more to it...
Will come up with some more travel stories till then keep exploring ......