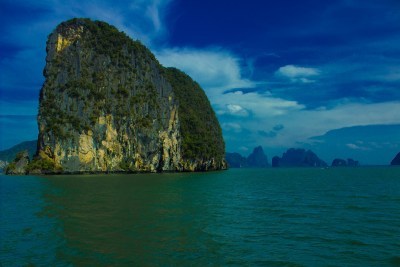 Phang Nga Bay is a spectacular art of nature created over thousands of years. The amazing limestone cliffs, mangroves,lagoons and caves make it a must visit place in Phuket. It lies in the Andaman Sea and is part of the Ao Phang Nga National Park.Here's my experience of Paradise at Phang Nga Bay.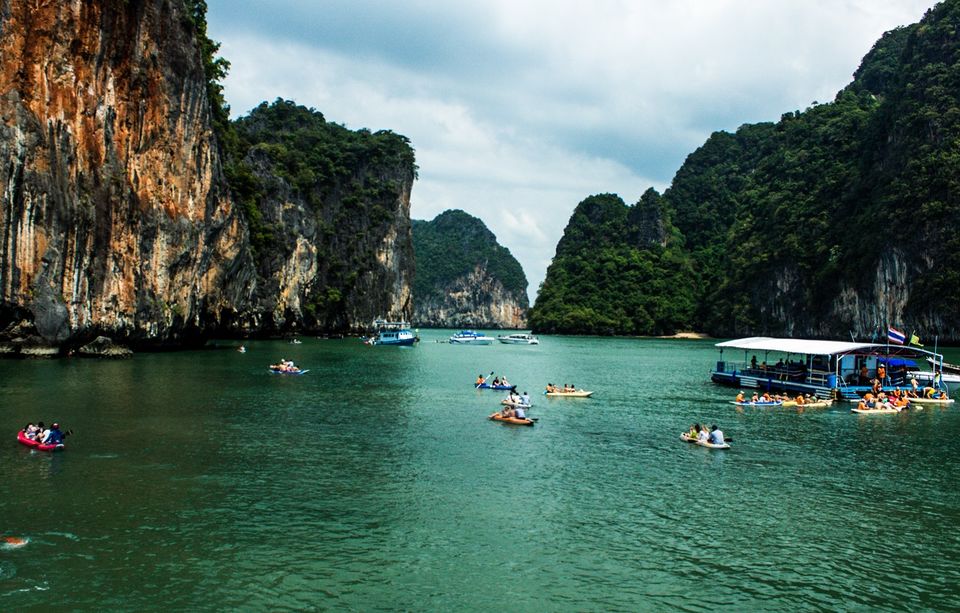 The cab from Elizabeth Tours arrived to pick us up at 7:30 am sharp and we joined other tourists in a luxurious 8 seater van .It took around 1.5 hrs to reach the Ao-Por Pier and from there, we got into an escort boat.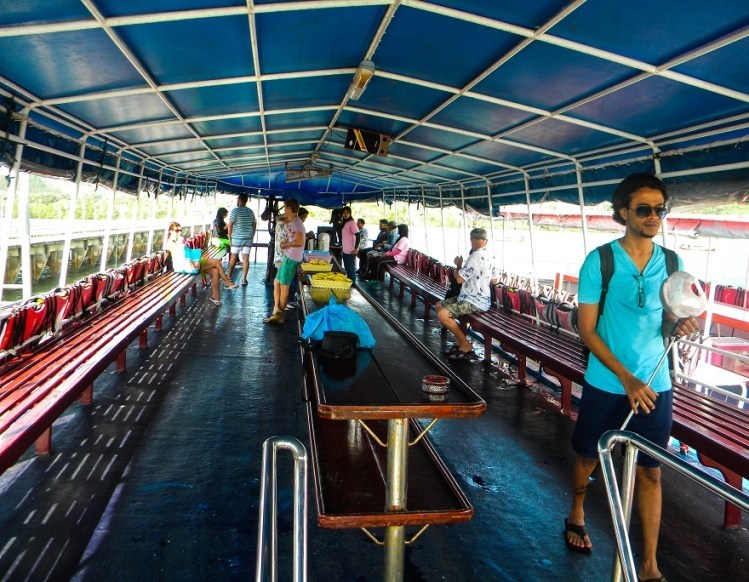 The boat was perfectly designed for such day long island hopping.The cockpit, kitchen, washrooms formed a base for the tourist seating arrangement which was constructed above.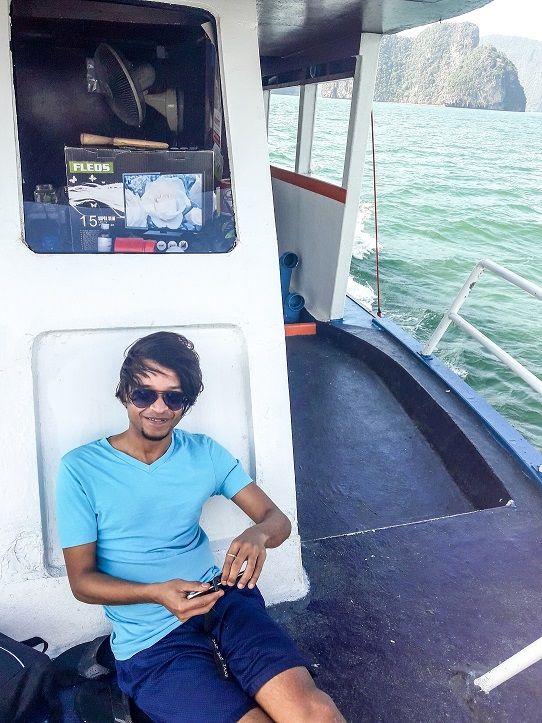 The kayaks were stacked just beside the stairs form where those could be easily dragged into the water. Breakfast was laid out just as we boarded the boat and the journey went by quickly as we sipped on the coffee and listened to an interesting briefing by our host Joe.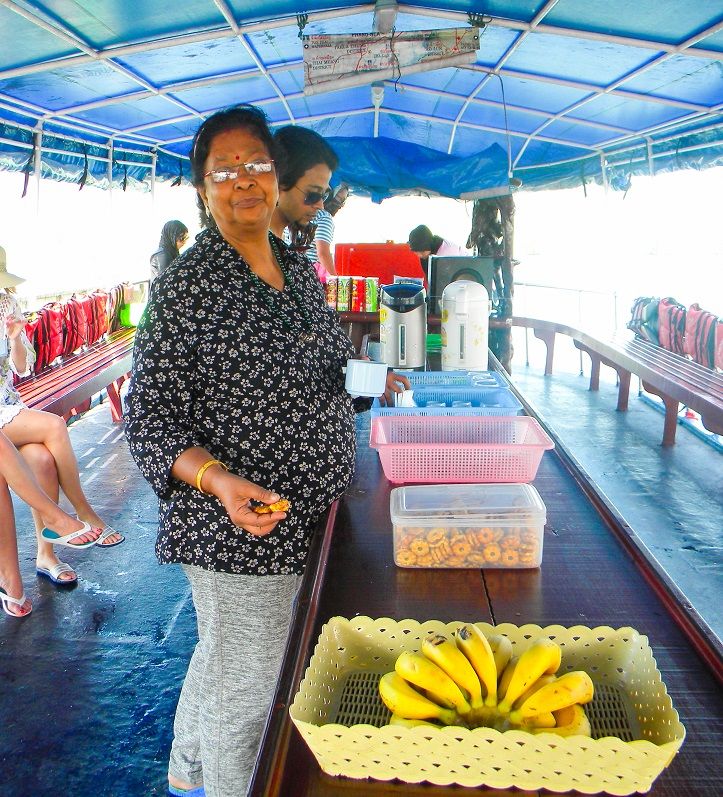 Joe and his entire crew was extremely cordial and helpful. I had informed Jimmy about my Mom's slight knee problem and asked if the trip could be dangerous for her. Just as he had promised, his crew took great care of Mom. She could not believe she actually made it to all the islands. We were the only Indians on board and there were other tourists from Russia, Kyrgystan, Kenya and South Korea.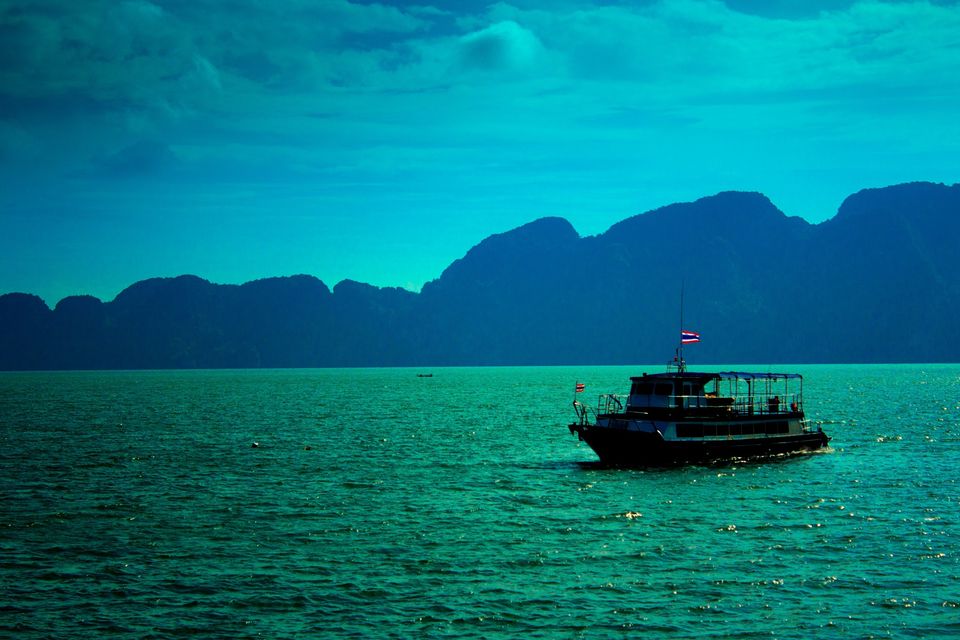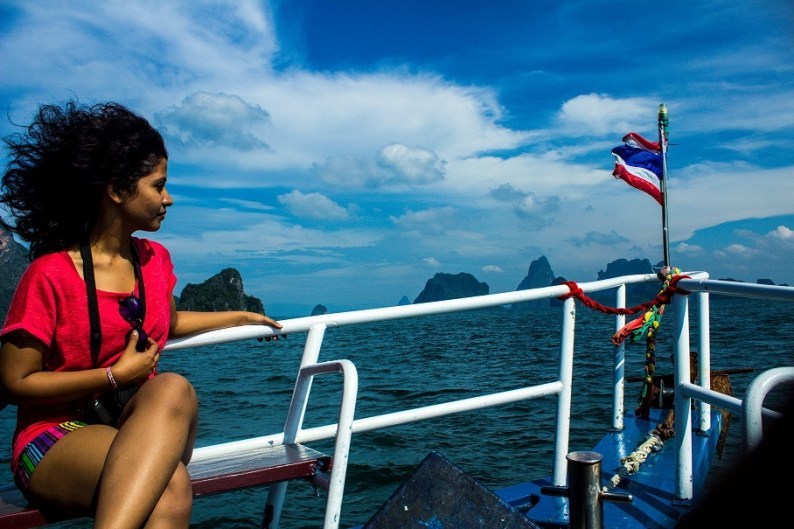 I enjoyed the air in my hair and feasted my eyes on the sheer karsts that jut vertically out of the green water. I strolled around the boat on my own , caught a glimpse of the cockpit and watched the girls preparing food in the small kitchen below.
As we approached our first island Khao Phing Kan, we were transferred to a long-tailed boat. No big boats of any kind are allowed to go too close to the island because of its precarious position. We were helping Mom get down form the boat when Joe told us "Leave Momma with me. I will take her. But everybody come back in 40 minutes!".We felt so happy with his hospitality.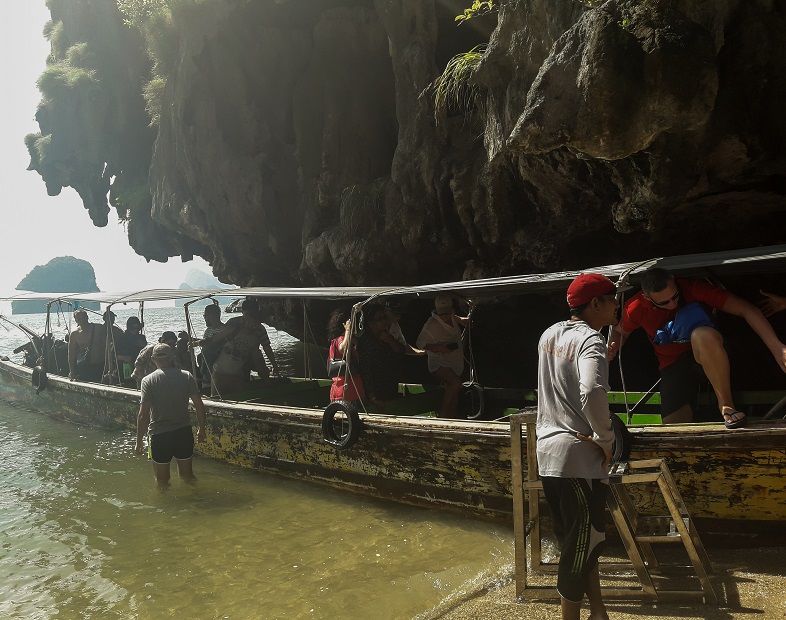 We climbed onto the rocky caves and started exploring the island.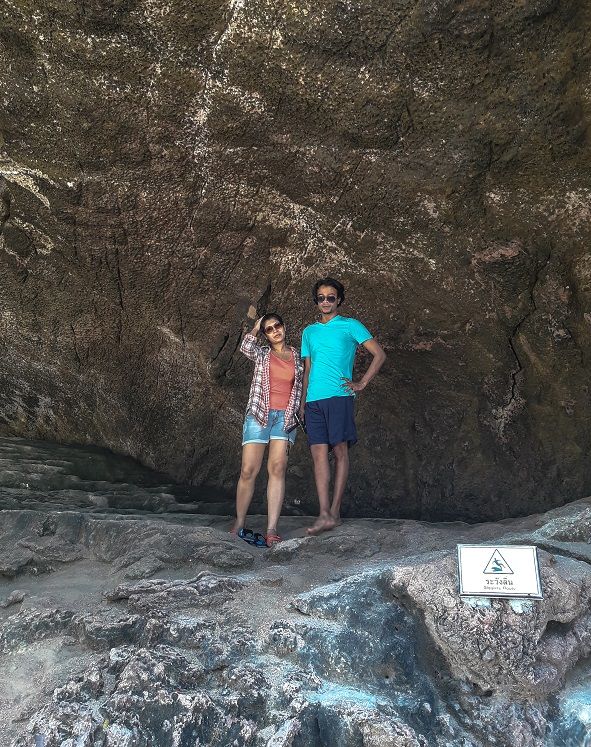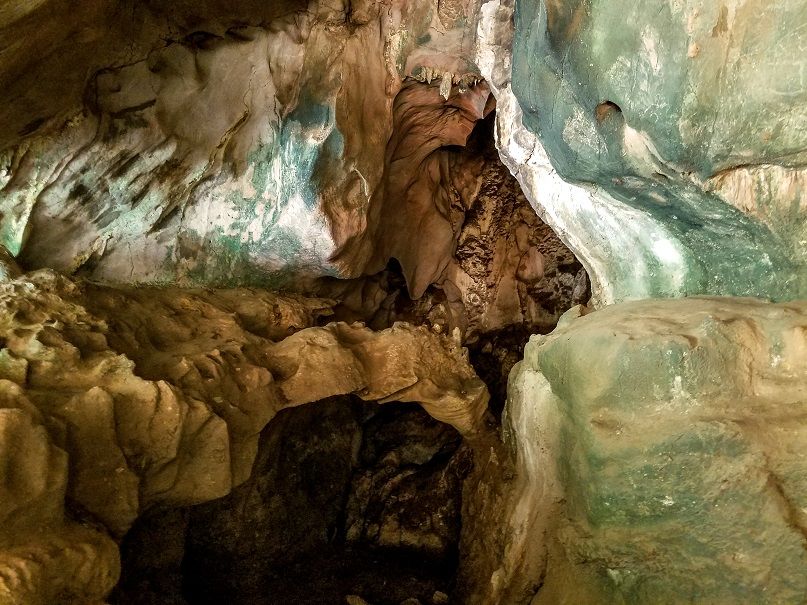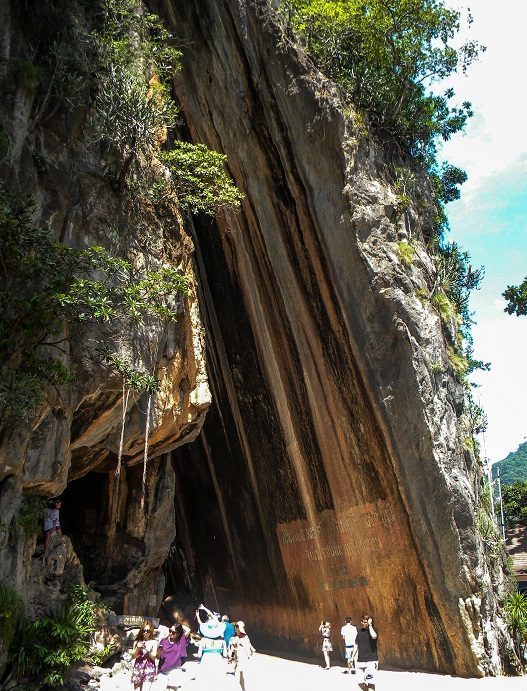 There was this limestone wall steeply tilted towards the earth and was connected to the caves as if the rocks had prevented it from falling.
About 40 m from the shores of Khao Phing Kan lies a 20 m tall islet called Ko Ta Pu. Together they are popularly known as the James Bond Island because the James Bond movie 'The Man with the Golden Gun' was shot here.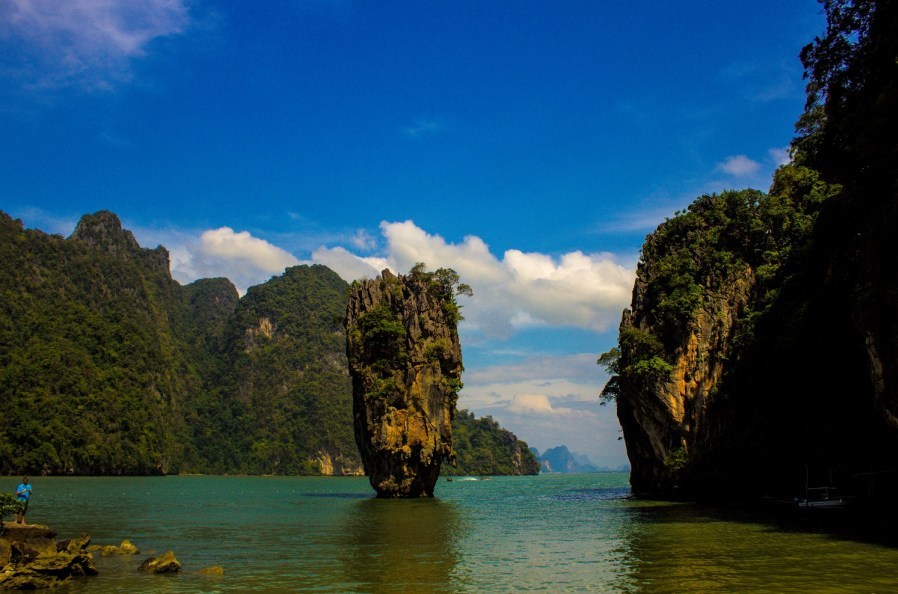 Koh Ta Pu is a mesmerizing rock formation that seems to defy gravity and physics.Its narrow base rose up from the water to eventually bulge out into a shrubby mass.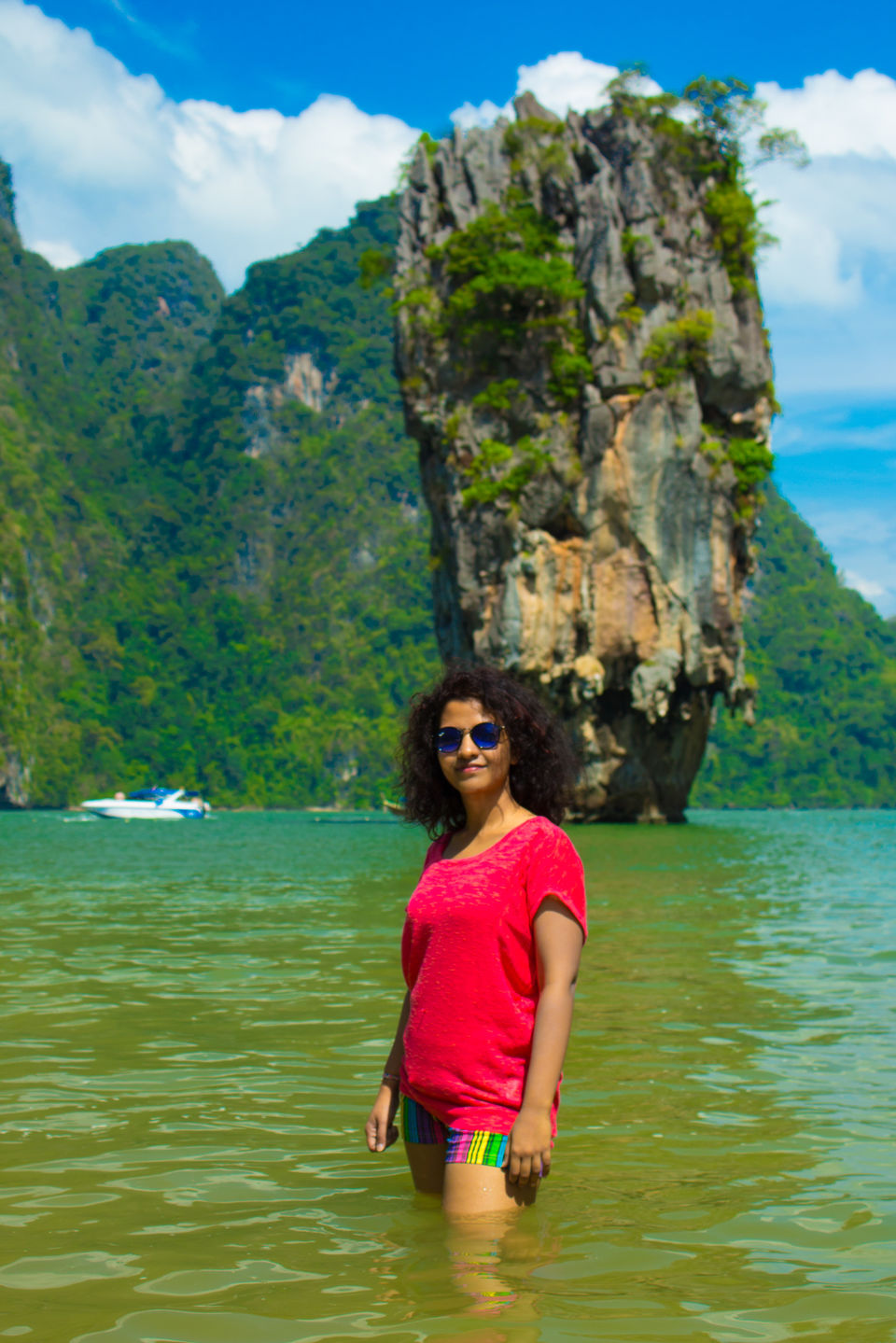 Right after 40 minutes we sailed back to our escort boat.We munched juicy pineapples as we headed towards Hong Island (Koh Hong) and Panak Island (Koh Phanak). These are known for their beautiful caves and lagoons.The guides escorted us in kayaks to these caves.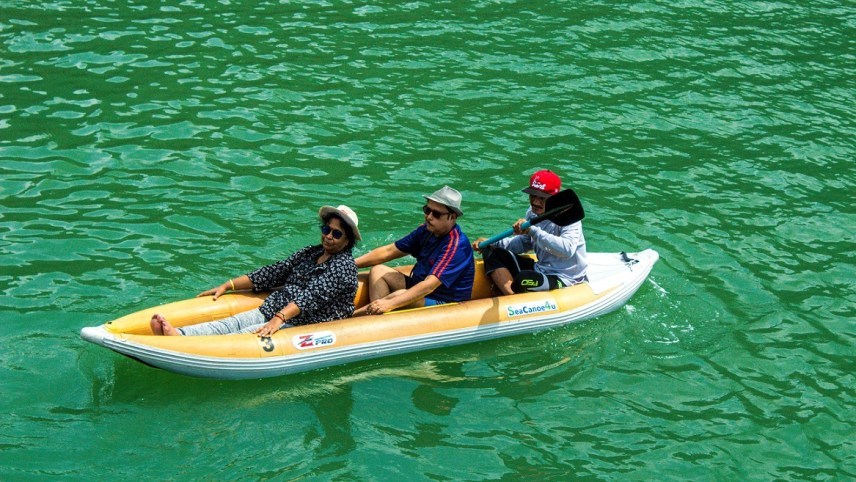 The blue skies above, the clear emerald water all around , the fascinating limestone rocks and us sailing in a kayak towards the untouched caves - it was a completely new experience for us. We took lots of pictures here as the view was mesmerizing!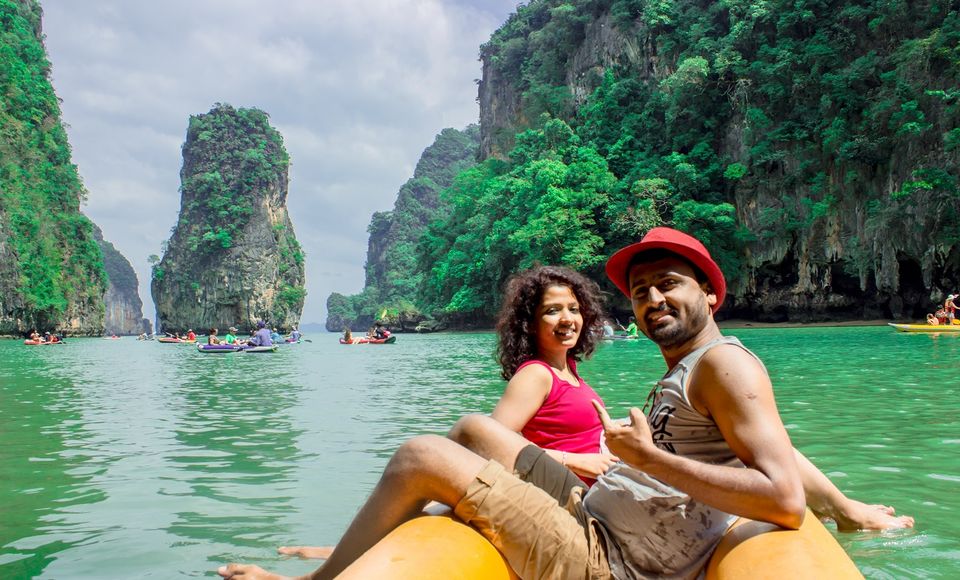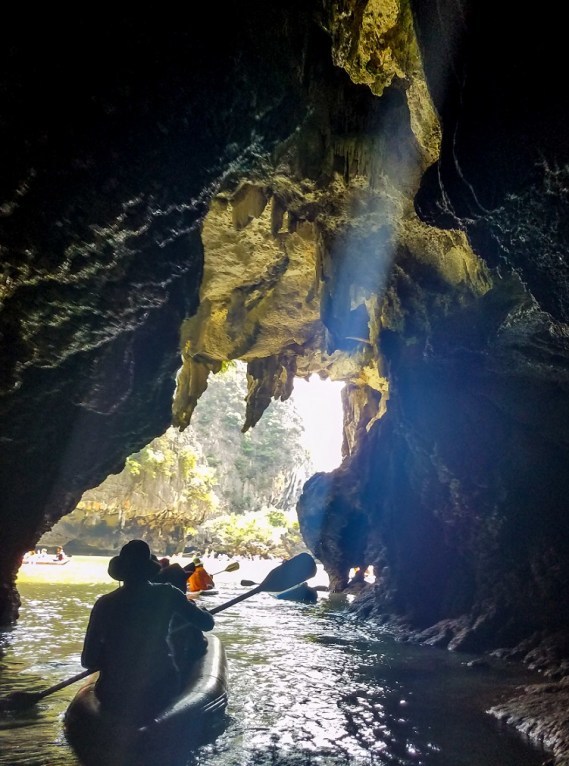 At places, we had to canoe through caves that were so low that we almost had to lie straight in the canoes lest we hurt ourselves.We were amazed by the spectacular stalactite formations in these caves.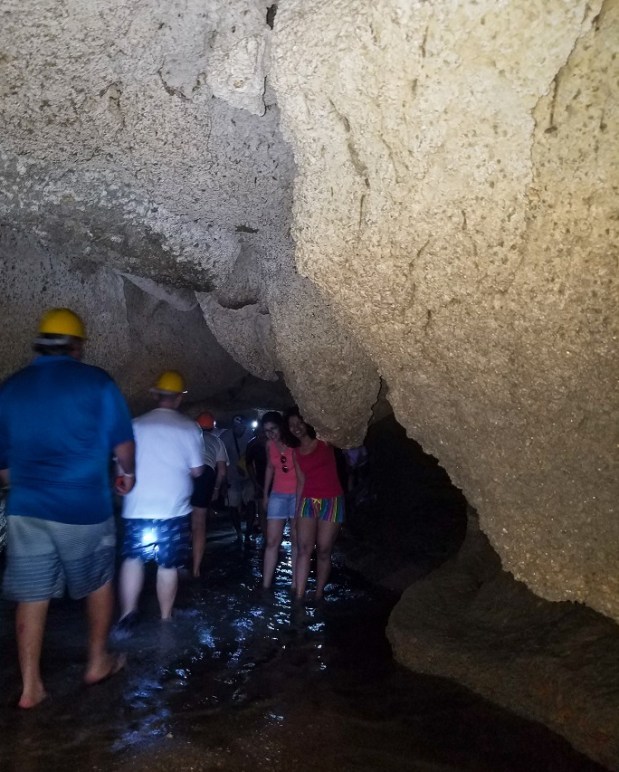 To get inside Panak island , we had to walk through a dark cave. The water was low here, just up to our ankles. We really had to be careful with our heads because the limestone jut down randomly from above.
Once out of the caves , we were surprised by the gigantic mangrove trees. They were huge in number as well as in magnitude. We played around in the mud and climbed the tall roots.And some of us did things that made them look really stupid.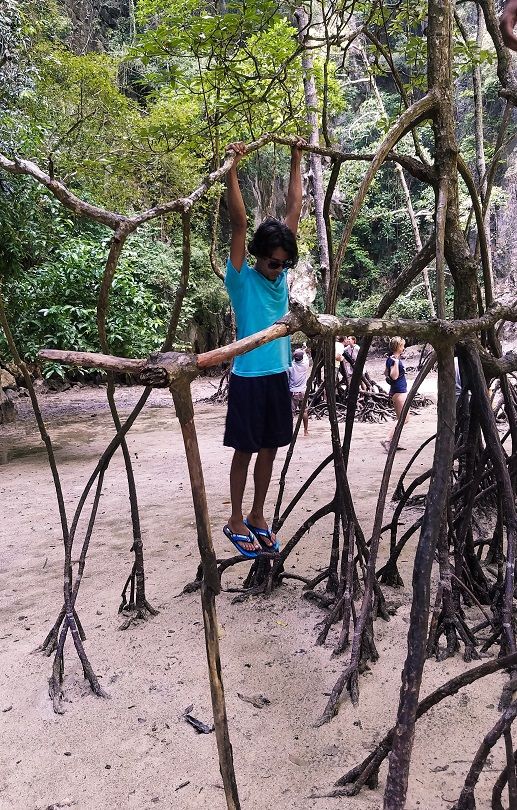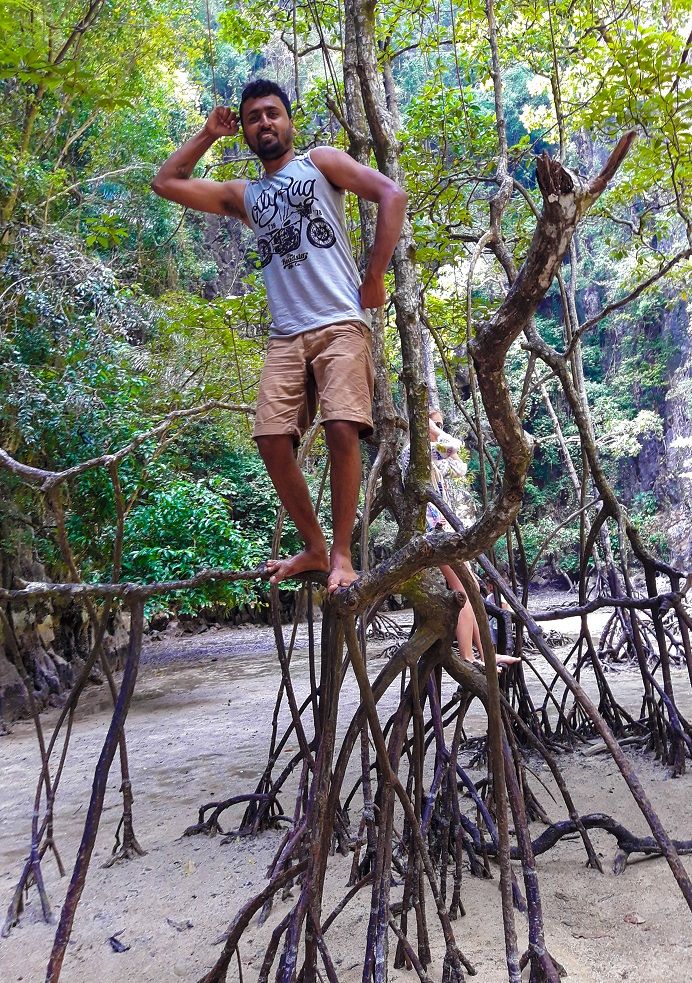 It was time for lunch and we went back to our escort boat.Again impressed by the assortment of food items.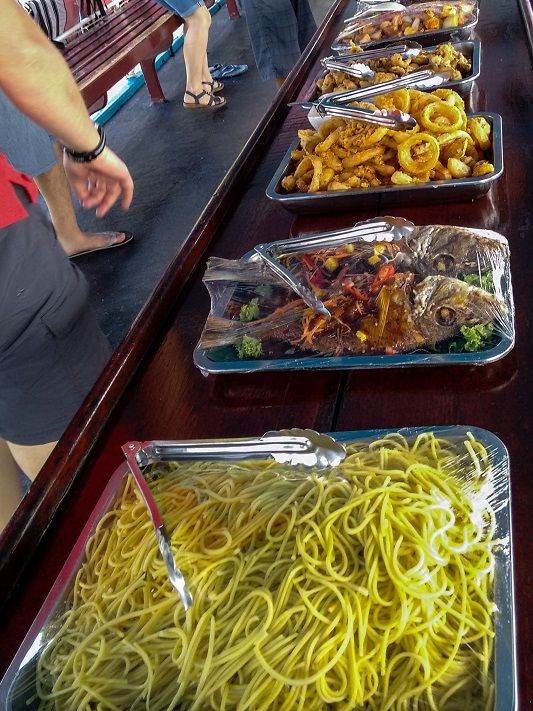 We then arrived at a beach where Joe allowed us to canoe ourselves (yes no guide)!This was the most thrilling experience I had. I had never held a paddle before and I struggled to direct my canoe. It was so fun kayaking around the beach , occasionally colliding with other canoes .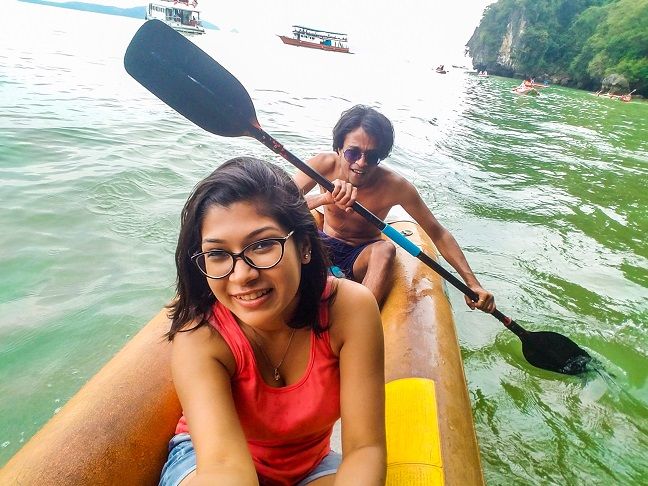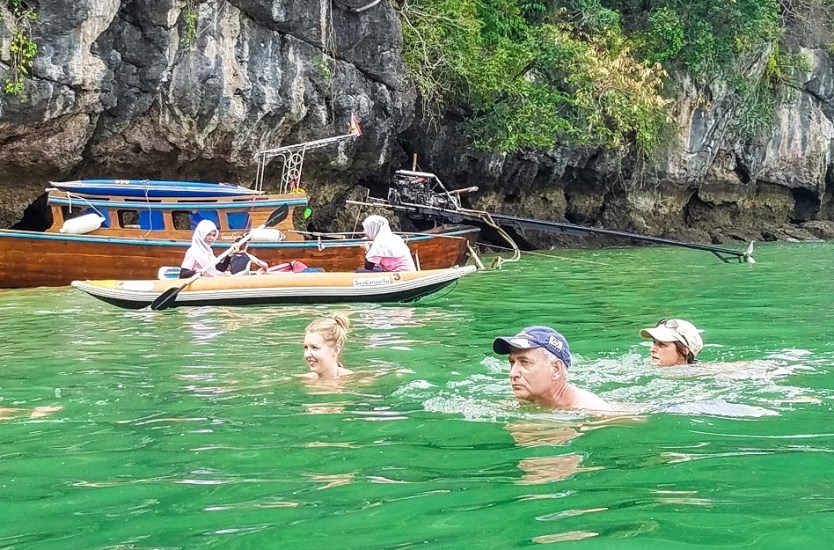 You can swim , relax at the beach , stay back at the boat (like my mom did) or try your skills at kayaking.
After about an hour , we canoed back to our boat and returned to the pier.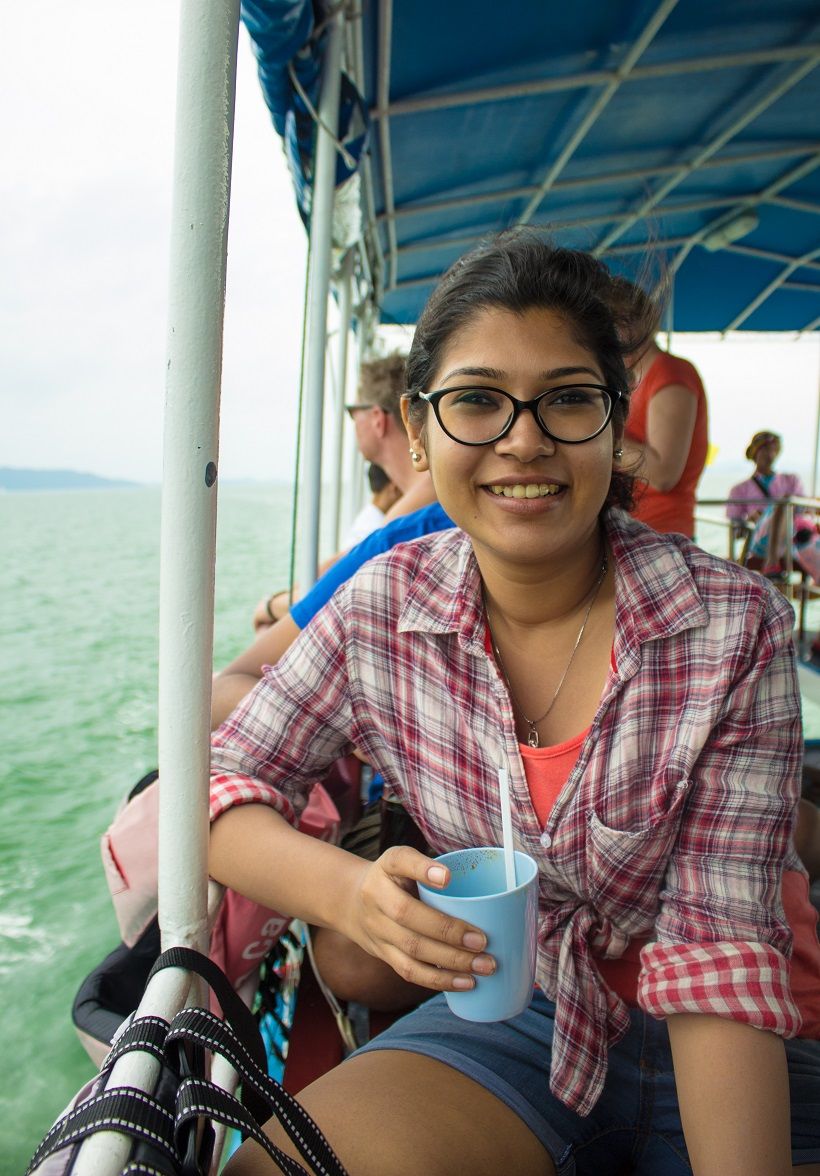 Jimmy and his team dropped all the tourists safely back to their hotels. It was one amazing day and we were so happy that Mom and Dad enjoyed as much as we did. But I would suggest to have a prior approval with your travel agency (as I had with Jimmy), in case you have someone with any medical condition.
Bring along your swimwear and be as comfortable as you can be. There are people from different countries and nobody will judge you (we Indians always worry about that).
Also don't forget your sunscreen , sunglasses , a small towel, camera (you don't want to miss capturing this place) , a little money maybe and loads of enthusiasm.
You can't miss Phang Nga Bay if you are visiting Phuket. I would highly recommend the trip - Sea Cave Canoe by Escort Boat because it is pocket friendly , more relaxed and covers the best of Phang Nga :)