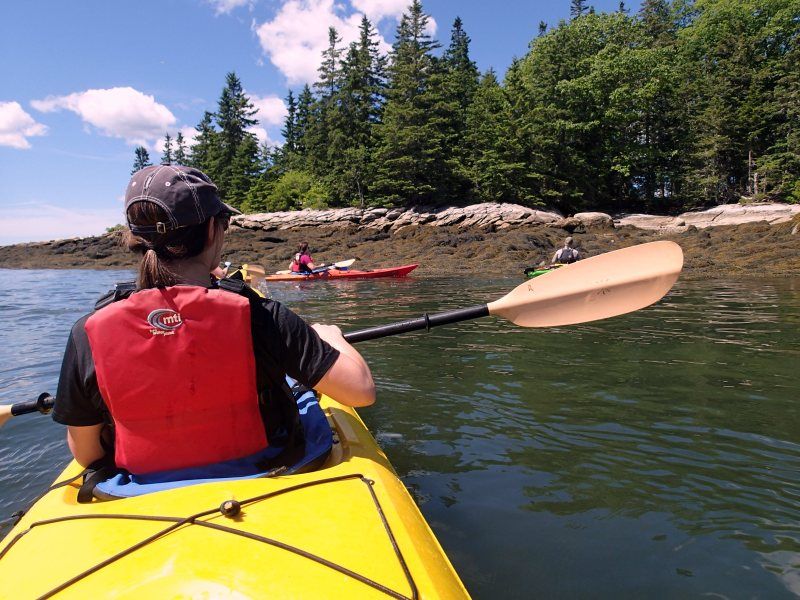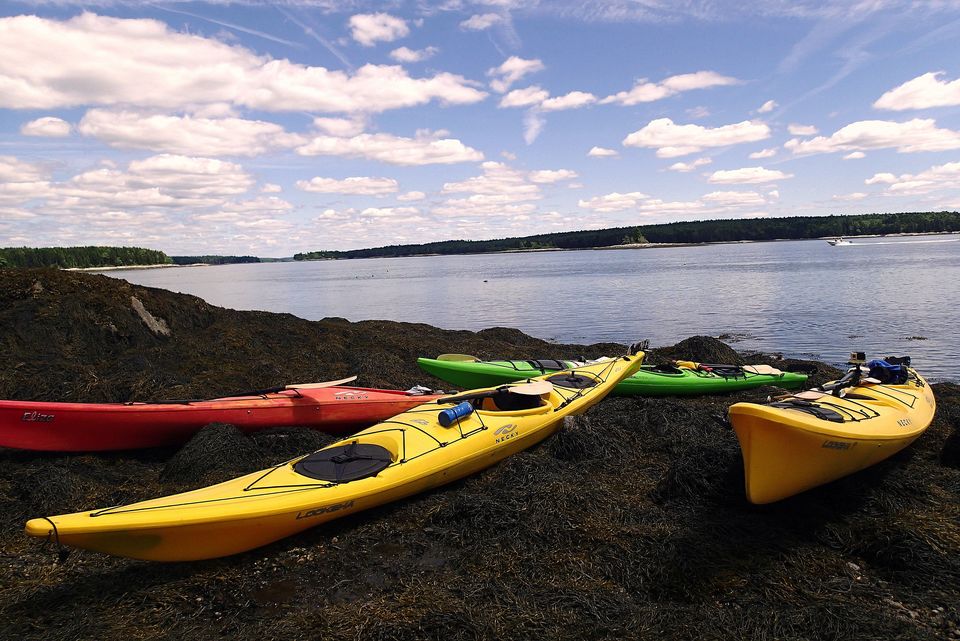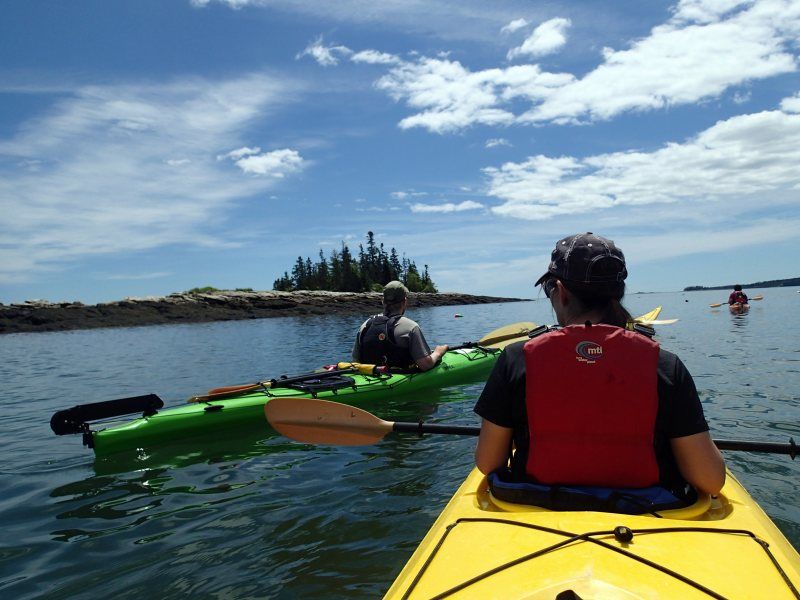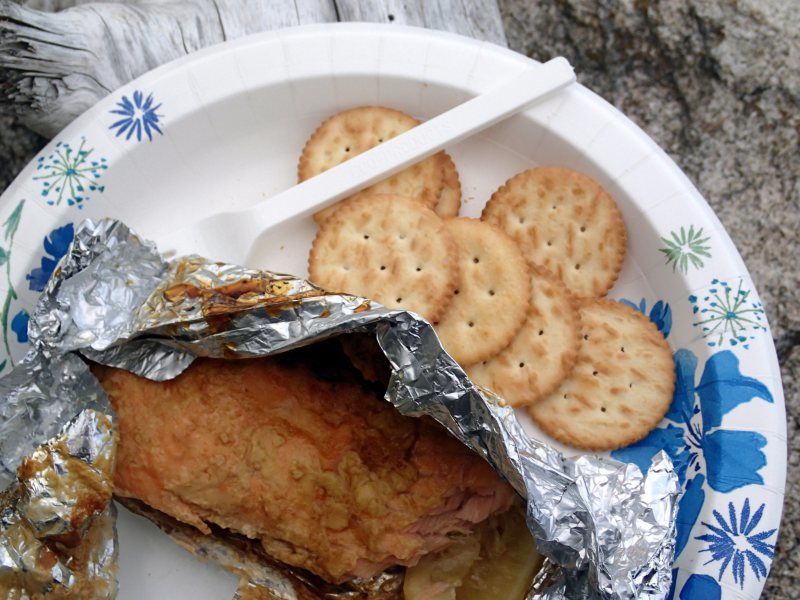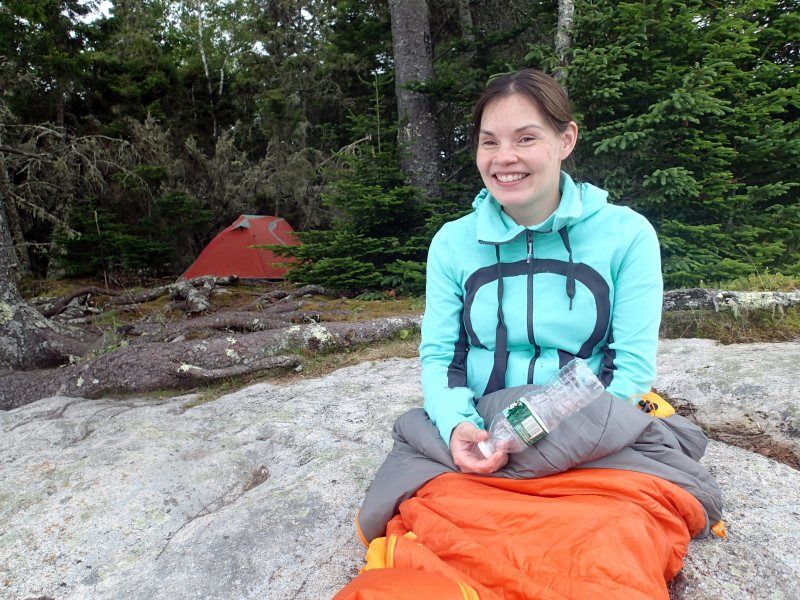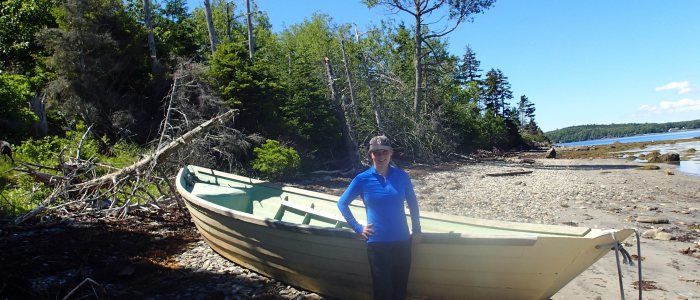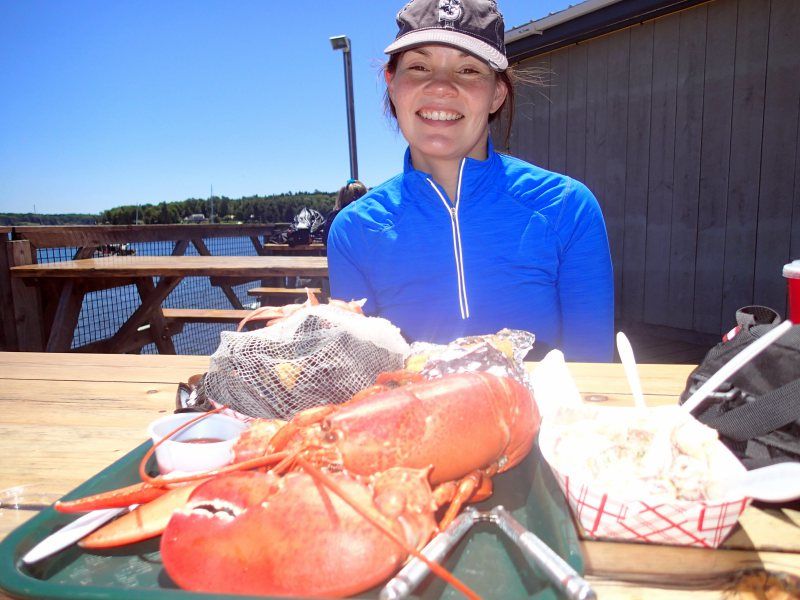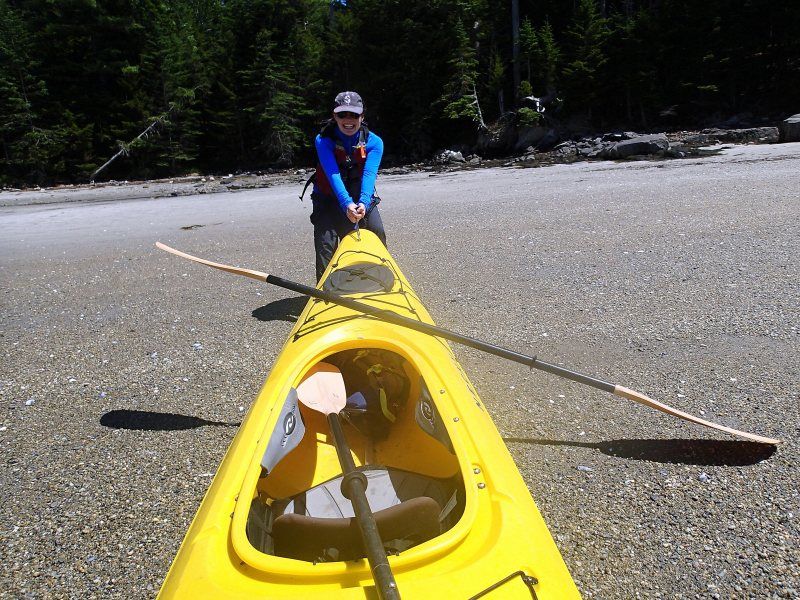 One day after work, Tom excitedly told me his plan for our next adventure: sea kayaking in Maine! And then, with a mischievous look he added: and camping! I'm all for sports and athletic activities, but camping has never been interesting to me. I'm more of a hotel and resort type of person. However, Tom loves to camp and enjoys kayaking, so I figured I'd give it a try. How can I judge something I know nothing about?
For a few years, Tom has received newsletters from Maine Kayak. One trip that he has been monitoring is the Sea Kayaking Two Day Island Overnight Trip. He showed me Maine Kayak's website and I read over the trip's description. Knowing nothing about kayaking or camping, I figured it seemed like a unique way to discover more of Maine's mid coast. I was in for the adventure! From our initial contact with Maine Kayak up until the start of the trip, we were very impressed with the timely responses by email and phone with Al, the owner. When we set off for our adventure in Maine, we felt fully prepared for the trip. The tour was scheduled to begin at 8:30 on a Saturday morning in New Harbor, Maine which is approximately a 45 minute drive from Brunswick. Although there are small inns and B&Bs in the area, we wanted to have dinner in Portland. We decided to spend Friday night in Brunswick, half-way between Portland and New Harbor, at the Fairfield Inn. On Saturday morning, the drive from Brunswick to New Harbor was beautiful. When we arrived at Maine Kayak,we met our guide Dave and two other group participants, Liz and Laura. Dave looked at our neatly packed and organized backpacks and informed us they wouldn't fit in the kayaks. This is where we both can claim ignorance because even though Tom has kayaked, it was never for an overnight camping trip. Dave politely handed us two dry bags and encouraged us to bring as little as possible. Tom and I proceeded to repack what we needed and returned the rest to our car.

Although I'm skipping ahead a bit, the following are essential items: Sunscreen, bug repellant, hat/baseball cap, sunglasses, minimal toiletries (toothbrush/paste/floss, deodorant, wet wipes (as there are no showers), any essential medication, a change of warm clothes for the evening, quick drying clothes for two full days of kayaking, water shoes with good traction, a light source, water and water bottles, and any snacks that you prefer. I tend to overpack and brought an extra change of clothes. Luckily I did since I got completely soaked by waves from a speeding boat. Also, just to inform newbies like us, the camping is "carry-in/ carry-out". Everything you take in must be taken out. There are no bathroom facilities so if nature calls for "number 2", you will be provided a baggie that will be carried out. Also, there is no fire allowed. So this isn't the regular camping with bonding around the camp fire, chatting and eating s'mores. For this reason, we recommend a very essential item: alcohol! Bring wine, nips, or something that doesn't need refrigeration. Tom and I brought 2 nips and we were sad we didn't bring more. But also, it wasn't on the packing list. Since there is no fire allowed, the alcohol will bring people together to socialize at night.
Maine Kayak provides the major essentials: food for all meals, water replenishment, tents, sleeping bags and pads, and baggies and toilet paper. Tom and I brought our own sleeping bag and pads. Just make sure they can be squeezed into a small space. Otherwise, use Maine Kayak's equipment. For the kayaking portion, all equipment is also provided, including life jackets, wet suit tops (although no one needed them). If you come as a pair, you can select either a single or double kayak. We chose the double, but in hindsight we will do singles next time. Throughout the entire trip, Dave provided a wealth of information on the surrounding area and wildlife encountered. Naturally, this was in addition to being our kayak guide and instructor, camping guru, and cook!
Once we reached the launching point, we unloaded our gear, packed the kayaks, and took off for our island home for the evening. Dave informed us that numerous public islands throughout the area of Muscongus Bay are first come, first serve. For this reason, we wanted to claim his choice island before other kayakers arrived. Although I was the only virgin kayaker, Dave provided an overview and instruction to us all before we took to the water. I was actually surprised by how easy it is to kayak. After a short 30 minute paddle, we arrived at Dave's preferred island Crow Island. With our

kayaks lightened and our bellies full, we set off for a four hour paddle. The day was magnificent for kayaking. With the sun shining and temperatures in the low 70's, we could not have asked for a more perfect day. During our first day's tour, we saw a plethora of seals, osprey, a number of other bird species, and butterflies. When we reached the third hour of paddling, a few of us (myself included) were getting sore and tired. Dave accommodated us and we finished the tour during the fourth hour of being on the water. We returned to our home for the evening, Crow Island, and settled in for the remainder of the day. Tom and I selected a campsite overlooking the bay on the southeast edge of the island. We set up our tent, blew up our sleeping pads, and arranged our sleeping bags. After unpacking the few items that we packed into the dry bags, we took one of our nips and found a place to relax on the rocks that encircle the island. The afternoon of kayaking was a casual paddle, so we weren't cardiovascularly challenged. However, we both felt a little sore. The nip helped relax our muscles, in addition to massaging Tiger Balm into our muscles. After relaxing for a while, we decided to walk on the rocks along the edge of the island.
Usually Maine Kayak will also provide a bottle of wine to complement the appetizer, but since it was the first trip of the season it was forgotten. Dave prepared a delicious meal of salmon, orange chicken, couscous, an Asian inspired cole slaw, chips, pineapple, and double chocolate chip cookies. After dinner, we decided to walk off some of our meal. By this time, the water was getting higher, which left fewer rocks to navigate. This lead to a more challenging walk. Luckily, Tom has rock climbed and was able to teach me how to read the rocks and figure out where to get a good foot hold and ideal places to grip with my fingertips. Also, we both were wearingKeen's McKenzie water shoes which had excellent traction to help us with our hike. Once we reached our campsite, we secured our last nip and lounged on a rock. We savored each sip of the Grey Goose vodka and enjoyed the beautiful view. Dave then found us and led us to a spot on the island that provided the best view for watching the sun set. It was an amazing end to the day. Since we didn't have anything to do, and I was annoyed by the bugs, Tom and I decided to call it a night. It was only 9PM. Once again, since there is not campfire, it is a necessity to bring something to spend the time and socialize. Wine would be great. If you don't drink, bring something small and packable such as a deck of cards. Or bring a light book. I actually thought about bringing my iPad to read, but didn't want to risk it getting wet. In hindsight, I wish I brought it. With nothing to do, we just went to sleep.

After breakfast, we packed up the kayaks and left Crow Island exactly as we found it, leaving no footprint. It was a glorious morning for sea kayaking in Maine! The sun was out and the waters were calm. Although we paddled a lot the previous day, surprisingly none of us were sore. Once again, we saw a bunch of wildlife, including a seal that popped up near us. After about an hour, we stopped at a beach and walked around to stretch our legs. We then set off for our lunch site which was another hour away. We were kayaking in a more heavily travelled waterway, so we had to be on the lookout for motorboat traffic. Instead of uninhabited islands, we were passing islands that many called home. The inlet that led us to our lunch restaurant had many anchored boats. You can tell by the boats that this is a wealthy vacation destination. Crazy, beautiful boats! The place where we dined on a lobster lunch was a fantastic seafood shack. Tom and I shared a 1.5-2lb lobster, some steamed mussels, and corn bread. The lobster was delicious. After lunch, we headed back to the kayaks for our final afternoon of paddling. On our way back to where we launched, we took a detour to an island where Dave typically finds eagles. As we approached the island, sure enough, we saw an eagle in its nest. We got out and took some photos before the eagle flew away. As we were getting settled back into the kayaks for the final leg of our journey, a boat passed and the waves soaked Tom and me before we could get the spray skirt secured. We were drenched and sitting in a puddle of water! Thankfully, we only had an hour to go before we reached our destination. The last portion of our journey was tiring. Two days of kayaking were catching up to us. My hands were starting to develop blisters, so I was constantly trying to change hand positions on the paddle. Luckily, we arrived back to the launching point before I truly developed blisters. When we got back to the Maine Kayak office, we all changed into fresh clothes and used a real toilet for the first time in two days. The trip was amazing, yet exhausting. I've never experienced as much closeness to nature as I had during that weekend. I have discovered a love for kayaking, but after this trip, I think a full day would be sufficient for me. I'm also curious about "regular" camping (one that has campfires and more "comforts" other than what you can pack into a kayak). Altogether though, the trip was amazing and I highly recommend everyone try the trip at least once.
Go on a trip with Maine Kayak. They are true professionals and can help you select the right trip for your needs. If you just want to spend the day on the water, there are several half and full day options. However, if you really want to be close to nature, there is no better trip than the Sea Kayaking Two Day Island Overnight Trip!
This trip was first published on travel4foodfun.
We passed many breathtaking bays and inlets. The small towns dotted throughout the countryside were picturesque. Maine's mid coast area feels pristine compared to "touristy" Bar Harbor. The area was absolutely stunning!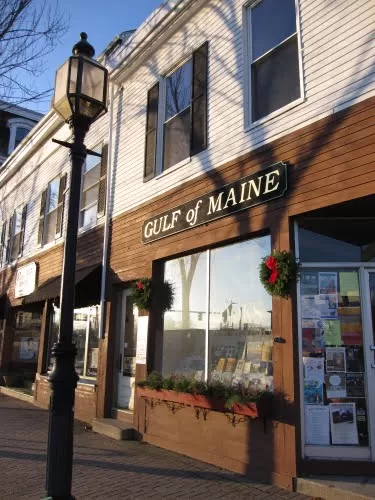 Maine is truly a natural paradise. This portion of Maine has yet to be overrun by tourists, so go now before it gets exploited like Bar Harbor! In Maine, kayak guides undergo a licensing exam before allowed to take people on trips. This shows how serious the state takes the industry, ensuring good and knowledgeable guides.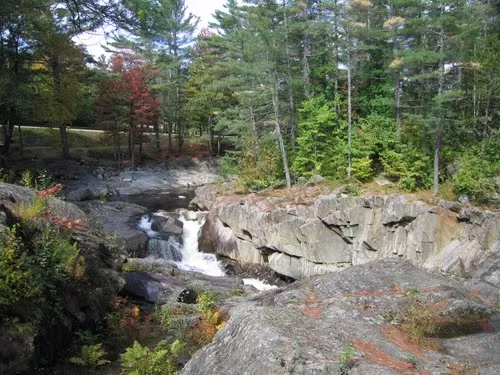 Crow Island is a 2.6 acre wooded preserve. We unloaded our gear and had a lunch of sandwich wraps, chips, grapes, and chocolate chip cookies. If you have any dietary restrictions, be sure to let Maine Kayak know so that they may accommodate your needs. Crow Island is a peaceful retreat. Beautiful, pristine, wooded grounds cover the majority of the island. The lapping of the water onto the rocks and the sound of birds singing created a calming atmosphere.