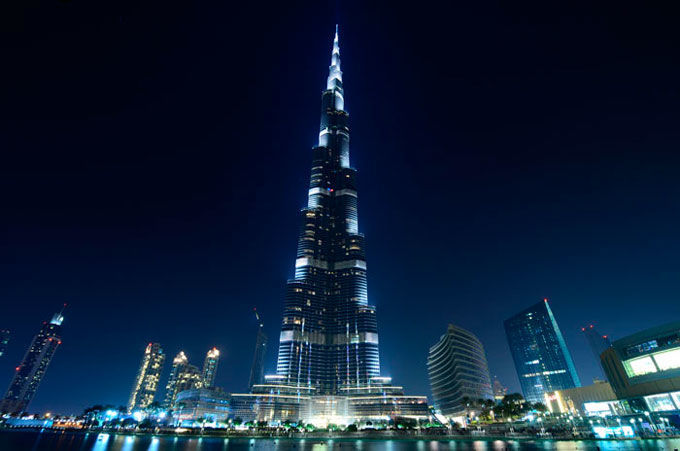 DUBAI
DUBAI, the second largest emirate and the most inhabited city of the UAE, located south east of Persian gulf on the Arabian peninsula is a shining star on the tourism sky. One among the seven states that form the U.A.E, a trip to this spectacular city is no doubt a long cherished desire of every tourist. Hearing the very name, beautiful images come on one's mind. Its enticing beauty, amazing sky scrapers, lavish lifestyle, sand dunes, variety of theme parks, culinary delights et al add on to the excitement and induces one to revisit. The very thought of a jaunt to this visual-wonder city is thrilling and irresistible, which is why it is a much sought-after destination, occupying first place in everyone's itinerary world over. A family fun to the wonderful Dubai is sure to remain green in our minds for long.
Listing out the tourist attractions, Dhow Cruise comes first to my mind, priority-wise. A sail on the Dubai Creek after the sunset, moving past many bridges lined up on the banks, staring at the highly illuminated multi storeyed buildings and listening to the intoxicating Arabian music emanating from the crew cabin is an inexplicable joy in itself. All this, plus savouring a multi cuisine dinner on-board makes it still more memorable. A stroll late evening on the tranquil Dubai Marina dotted with some nice hotels and shopping outlets literally takes us to the other world.
Next is the astounding Palm Jumeirah on the Jumeirah coastal area – around 30 to 35 kms off the city – extending to little less than 6 KMs. It is an artificial archipelago made by using land reclamation and looks like a palm tree (from above) growing out of the coastline. Luxury Resorts, hotels and posh bungalows beeline the area. It is apt to be called the 8th wonder of the world. The arch entrance to The Atlantis here reminds one of Gateway of India (Mumbai).
Never to miss the crystal clear, pristine beaches off Burj Al Arab, the 3rd tallest and the costliest five star hotel in the world, built on an island of reclaimed land. Its shape is such that it appears as billowing spinnaker sail of a J-class yacht. Two 'wings' look spread out in a V shape to form a vast 'mast' while the space between them is enclosed in a massive atrium. This ultimate-in-luxury iconic hotel, is said to possess a helipad too on the top. Overall, the entire structure is an engineering feat, to say the least. It is to be seen to be believed.
For buying buffs there are Malls. Dubai Mall, the largest in the world by total area, includes an Aquarium and under-water Zoo. Almost all the well known branded-item manufactures - from textile to electronics to toys - have outlets here. Equally popular is the multi-level mall 'The Mall of the Emirates' located on Sheikh Zayed road that boasts of almost 630 retail outlets, over 100 restaurants and cafes, 250 flagship stores, indoor skiing etc. A visit, one is sure to feel elated having entered a different world altogether.
A trip to this vibrant city is incomplete without a peep into the Burj Khalifa (down town area). This tallest man-made structure in the world has pushed behind the Empire State building (USA) and Taipei (Taiwan). The gigantic sky piercing tower comprises 163 floors standing at an astronomical height of 823 mtrs. The strikingly beautiful structure defies the adage 'sky is the limit' and is beyond adjectives/superlatives going by its grandeur and majesty. Cynosure of all eyes, Burj Khalifa took almost 6 years to complete (2004 – 2010). Outdoor observation deck on the 124th floor, is the vantage point, only where tourists are allowed upto (not beyond), where one can have a breathtaking view of the city through its 360-deg glass enclosure. Now take a deep breath, the time taken by the elevator to move visitors from the ground floor to the 124th floor is ONE l-o-n-g minute to be precise (!!!). . Can't imagine its speed – it jumps off a floor in just half a second. A digital clock hung on the elevator roof shows its pace, displaying the number of floor-count it swallows each moment that passes by. Our faces are lit with excitement having jumped off the ground at such a lightning speed. Two more attractions await visitors on the ground floor. Few yards away from the entry to the mesmerizing Burj Khalifa, there is a man-made waterfall to refresh you. Fixed metal structures of men leaping down the falls are awesome . On the other side, is the largest dancing musical fountain played once every 30 minutes with jets and lights choreographed to music that unknowingly makes your head swing and legs tap on the floor in unison. A crowd puller, Burj Khalifa is the crowning glory of Dubai.
Last but not the least is the Desert Safari, a one in a lifetime experience. Away at around 30 kms from the city is the large sand dune, where one can dilly-dally on a motor vehicle taking deep breath each time the vehicle doors almost touch the ground. Experienced and well behaved drivers, all Arabians with their customary attire of long bright white kurtas, head fully covered with cloth, a black ribbon band encircling the head, trimmed beard, take us round the area. Mid way, they halt at a place, for taking photos. Then the cars find way to a resort-like hotel in the open (no roofing) but surrounded by big walls. Here, tourists are given table reservations where a small table covered by a cloth, with long cotton pillows are provided for each group of 5 or 6 to squat on and enjoy the evening. They are also treated to a camel ride, mehndi session, two wheeler ride on thick tyred scooters, photo session with Arabian dress, followed by belly dance show that ends with a sumptuous barbeque dinner.
Other attractions are
- the ruling king Khalifa's palatial mansion. Bigger than the Mysore palace, with spacious lawn all around, the area is well maintained.
- The Miracle Garden liked by young and old alike. True to its name, the garden is a dreamland comprising unimaginable, beautifully landscaped multi-coloured flowers your eyes do not go off.
- Wild Wadi Aqua park, an outdoor water park, situated at Jumeirah, next to the Burj Al Arab Hotel.
- Magnificent mountains at Hatta and the Portugese port that date back to 16th century,
- Dubai museum and Al Fahidi fort, a living monument of the city's illustrious and prominent past.
- Dolphinarium that provides photo sessions with the beautiful dolphins here.
- Seaplane flights provide tourists a fly on the Duibai sky to have a bird's eye view of the entire city
- Butterfly garden showcasing a wide variety of flying beauties.
A strange thing is all names here (roads, hotels, complex) have a prefix 'ÁL" like Al Arab, Al Khaleej etc, probably a short form for Allah, the most benevolent. Another striking factor is that no one can spot a stray animal (cow or dog) anywhere, contrary to what we see in India.
But beware, Dubai is hotter with 42 deg C on normal days but goes more hotter in summer (52 to 54 deg) but is somehow manageable, as all hotel rooms and motor vehicles have ACs. To put it succinctly, a trip to this heaven-on-earth is a dream come true.