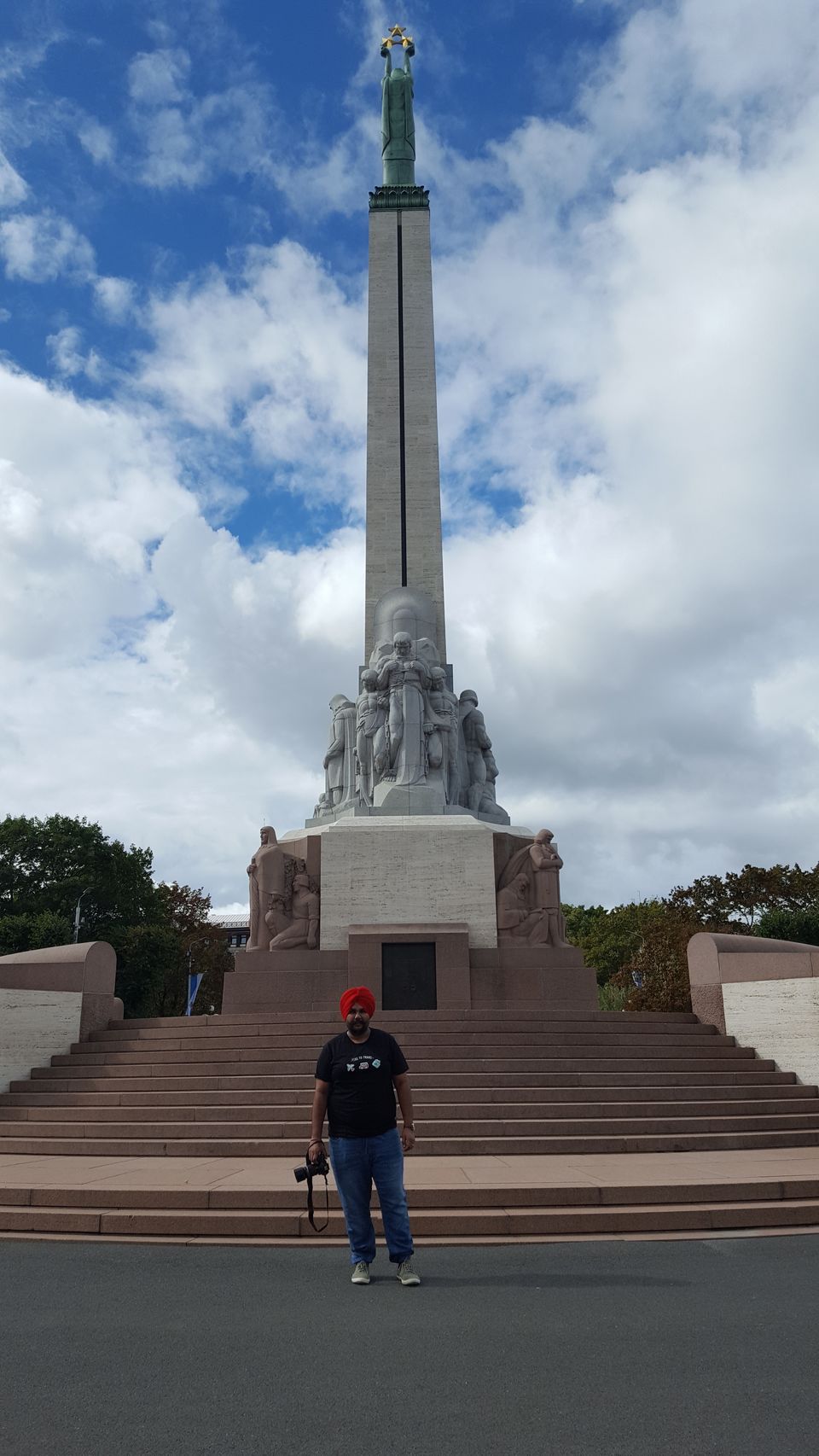 Riga, Latvia's capital, is set on the Baltic Sea at the mouth of the River Daugava. It's considered a cultural center and is home to many museums and concert halls. The city is also known for its wooden buildings, art nouveau architecture and medieval Old Town. The pedestrian-only Old Town has many shops and restaurants and is home to busy Livu Square, with bars and nightclubs.
Day1- I was on a official trip to Vilnius (Lithuanian). Plus, i am always on my toes to take the opportunity to see more of this world and i always wanted to travel some places away from major tourist attractions. Hence, one my colleague from Vilnius suggested to to see Riga, the capital of Latvia which has ample of history inside it right from the World War I, partition of USSR. So my colleague and myself drove there which is merely a 3 hours and 300 kilometers drive from Vilnius. We drove towards the city and traveling by car locally in Europe is really a great experience. You get to see the villages and countryside of any place by seeing local places and my friend kept telling me about the small places or villages on our way and many of them were related to their Independence revolution directly and indirectly.
We reached the place in 4 hours and entered the city and we checked in our hotel rooms. After a brief rest we decided to embark our day excursion of the city, so we opened our map and encircled placed where we have to visit. Since my friend was already there once, so she suggested few places too. Since our hotel was nearby all the points, we decided to leave the car in the hotel and walk to all places. So the very first place we decided to see was the elegant Independence statue of Latvia. However, we decided to take another route to reach their rather than walking on roadside according to google maps. So we entered a beautiful garden and i saw all happy faces, people enjoying their weekend on snack bars with their friends and family. It was a gorgeous garden with so many flowers, statues of eminent poets & authors and a soothing lake inside it, which gave me more energy to stay there longer. We walked around and i took many pictures. After about 30 minutes, we decided to move to see the Independence statue which was actually visible from the garden.
Independence Statue: It is a remarkable monument which shows the pride and enthusiasm of Latvian culture and its people who take it as a proud. We crossed a beautiful wooden bridge to reach the main road. And on a closed roundabout, i see this mesmerizing status guarded by 4 strong looking handsome soldiers without blinking their eyes and moving their bodies. I wish i could understand that Latvian language written on the statue but i tried my best to understand it from google.
Lunch break: After a long stroll in the garden & around the Independence Statue, i could see a McDonald's in a corner. I ordered a Big chicken burger and a cola meal. We enjoyed our lunch their and i noticed people staring at me, well not because of my skin color but my turban. Since coming from an indian Sikh family, i wear my turban with pride everywhere in the world. Also, my friend told me that many people in that area of Europe are not aware of Sikhs. Anyhow, i didn't care because i was hungry and i concentrated on my burger.
Stamp building: I am sorry i don't remember the name of the building my friend told me, but i am calling it a stamp building because it had different stamps from different cities and districts of the country. You can see it in one of the pictures, it is a small yellow coloured building filled with different stamps on it's facid. It was just a monument to show information about their cities with respective beautifully designed stamps.
Museum: Exactly on the left side of this stamp building there was a museum, you can see in one of the pictures below- a building like a tower and tomb on it. There are no pictures of inside the museum because in few sections taking pictures was not allowed, so i decided to take no pictures at all even where i could. Building has 3 different levels to showcase different eras of the country. I saw old machines and guns from World War I, Nazis small cannons, Warship models, old uniforms of many important officers of that time along with their accessories like watch, shoes and cigar holders. One thing which i saw shattered me , few paintings and a half cut piece of a train boggy in a big room. After reading information there, i got to know that, that train compartment is one of those compartments which then were used to take prisoners to those dry and cold parts of Serbian camps from where war prisoners could never think of escaping because of Serbian cold weather. I wish they all rest in peace.
Old town: After museum, we decided to take a stroll in the old town, we walked through the famous underwalk gate called as Swedish gate which was erected 1698 as a part of the Riga Wall to provide access to barracks outside the city wall. Kurt Wallander visits the site in the novel Dogs of Riga. And also we enjoyed a superb melody by a lady playing on her Piano. After entering old town we decided to have some drinks so we sat in a bar and ordered some beers and enjoyed views from there for few minutes. After that we walked over to a building called 3 brothers, it is a building consist of 3 houses together, hence called 3 brothers (you can google it and read about it). Finally we reached the center of the old town where i saw some kind of carnival was going on and i saw many beautifully painted plastic bears. after going closer i noticed each bear stood as a resemblance of the culture of different countries. So tried to find Indian bear. And after 20 minutes of looking among hundreds of bears, i found India white beautiful bear. You can see in below pictures, Indian bear was painted by an eminent India painter Mr. Sanjay Sikder. He painted a village boy sitting on a tree branch and playing resembling Lord Krishna in his childhood. Suddenly i was surprised by a tap on my shoulder from a man behind me. Firstly, i thought i am blocking view for another tourist and he is asking me to move. So i moved a bit and gave him a little space. He again moved towards me and held his hand out to shake. I smilingly shook his hand and he said Namaste in a foreign accent. I said Namaste to him too, then he said i know you are sikh and you are from india, he explained why he came to me that he was in India few years ago on a vacation with his family. He was an italian man and he also introduced me to his family and everyone did Namaste. He shared his experience of india with me in few words that he really liked the place and hospitality of Indian people and he wishes to travel there again. After a small chit chat we bid goodbye and we came back to hotel.
Dinner: After relaxing in the hotel, i wanted to eat some indian food for dinner. Hence, i googled any indian restaurant in the city. Luckily, i found a place called Singh's and the logo attracted me a lot because it was a portrait logo of Maharaja Duleep Singh (successor of Sher-e-Khalsa Maharaja Ranjit Singh). I was amazed to see a punjabi restaurant and i booked a table to for 2 by calling them. We drove their by 8 o'clock and first thing i ordered was a cup of Indian tea and a samosa. Haha, being a punjabi i love this combination. Whereas, my friend ordered a coffee for herself. Moving on to main course i ordered a dal makhni and butter naan which was delicious and i was filled with joy after having that meal which i was missing from almost a month. On asking i got to know that the owner is a England based Sikh and has few more outlets with the same name in the city. So i decided to visit another outlet on the very next day which i did.
Day2: Since we were supposed to get back to Vilnius, we decided to have our breakfast at another outlet of that restaurant which was in the old town. So we reached old town again where we were previous day but not on that street. I ordered a tea again and some fritters (pakode/bhajiye) which were delicious but missing a homely taste. However after a good breakfast we strolled around for buying souvenirs which i alway do. I buy something from every place i travel to, to remind me of that place. Finally i bought a magnet sticker for my travel wall and we started our road trip back to Vilnius. We reached Vilnius by 4 Pm and my colleague dropped my back to my hotel.
To summarize, i would like to say that it was a great experience to travel to one country to another by car just in 3 hours without any visa or passport check anywhere or any kind of trouble. I saw more and experienced more about this beautiful world and people from a different country.