As expected the red eye bus journey was a total disaster and we finally managed to reach Mapusa later in the afternoon- four of us sipping on a litre of water and 500 ml softdrink in the entire jouney- no prizes for guessing why! But as they say, there is something in the air- all our fatigue and exhaustion flew away just as we stepped on the divine land.
This was my fourth visit and still felt like the first one. So much to explore and indulge in. It also happened to be my arithmetic progression of visiting Goa in a cycle of once in three years!
Note: this happened to be our first ever trip in the season time, never ever saw/imagined these many people in Goa before.
DAY 1 Dinner @Infantaria, what else! And actually nothing else. That's all we did.
DAY 2 After a terrible unfriendly and pathetic brunch, our long jinxed voyage to Arambore finally took place. Pretty beach with crabs or star fish or something else. We couldn't really figure out with the marks on the sand until we finally saw a crab swimming and crawling on the shore. Just as we were coming back, we had to stop by a medical store- here cometh the flu (conjunctivitis) and I was the victim this time. This is an important information as I was affected throughout the journey and wore sunglasses all day and all night long. Hence, my pretty feet are the only watchable feature!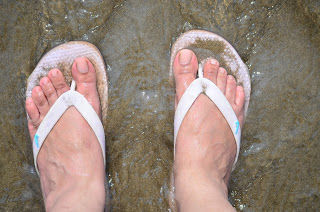 Hunger struck and super upset with the food and unfriendly environment we reached the Tito's lane and had a late but refreshing lunch at sunset. Thumbs up for the food and service! We shopped for some snacks etc. and went back to our room just to be back in time for DJ Nikhil @Mambo's. Girl's entry: FREE!!! All dressed up and decked up- not us- men and women came rushing to Mambo's. Music was okay but ambiance was great! I was mostly busy in observing the bizarre moves. It's really funny to see people dance..when you're not dancing! Just as we were coming out, we heard slurry speeches, saw strange behaviour and happy people (both before and after the puke).
DAY 3 In search of food we began our journey like any other day- this time to Panjim! After a not so decent lunch we went to the Church Square, a wedding had just taken place-paparazzi and ceremonially dressed beautiful people, beautiful Church and a beautiful view.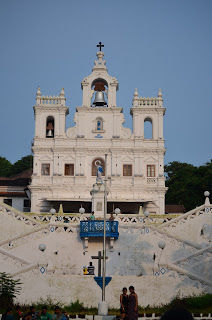 On our way back, we started our ride in search of Thalassa- the goddess of sea (indeed the place was like Thalassa). After a lot of rights and lefts and straights and U-turns we reached the place- stuffed with people. Unwillingly we decided to come the next day in the day time. So we headed for dinner and post dinner, we finally went to LPK- Love Passion Karma- a current hyped place to be. It did not take us long to mingle in. Music was great and people were going ecstatic on the open bar. Just after a couple of hours, the place was over flowing with humans, drinks spilling on the floors and people dancing like crazy and slipping their way into each other. Fun site to watch! End of day, back to our apartment.
As decided, we reached Thalassa which was a hundred times prettier in the day light than the previous night. We were so awestruck and overwhelmed with the place that we did not for a fairly long time realise that our food had not come in the last one, one and a half hour. It is a must visit around dawn!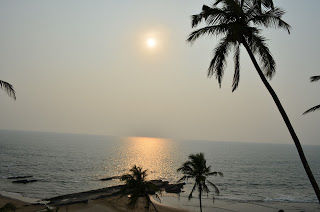 Candolim beach- what a view at sunset, clean water, whitish sand and a calm filled the place with joy. The best beach by far. We then drove to the airport and dropped one of us. For dinner we went to this barbeque, live music place- super friendly place for a change with great food.
DAY 5 Just the two of us left now. First time in 5 days we went out for breakfast at Café Lila- serene and beautiful place with delightful food. Then we went shopping at Anjuna and re-discovered the art of bargaining. We then decided to go to Candolim again, and just as we left our room, it started to rain..crazy. We had to skip the beach and had our last meal of the trip. It was over, like a dream is shattered every morning reminding us of our real 'office' lives...the destination arrived and our little voyage ended.