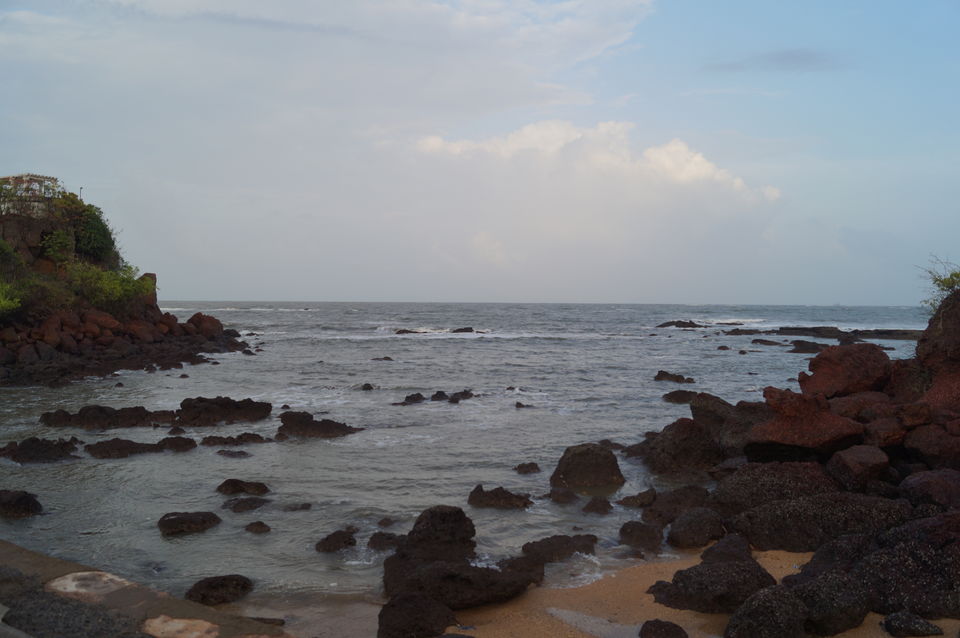 After a detailed study and careful planning for over a month before the trip we finally had our "Family Trip to Goa". lame as it sounds, it was undoubtedly one of the best ones we have had with our folks till date! Maybe it is the Goa vibe that does it to people!
We took Indigo flight and checked in a Fab Hotel in Calangute at around 10.30pm. Since the hotel was only a 5 minute walk to the calangute beach, we spent most of our time at the beach that night. We were back at our hotel by 2am. The restaurant at the hotel was Delhi Darbar and hence our folks were pretty happy about that! (we weren't!).
Day 1:
We started with the famous chapora fort (Dil Chahta Hai fort) and it is actually a small trek before you could reach the sweet spot. The fort is humongous and it does give a good feel while you are on the boundary. Wear your trekking shoes and not just crocs (like us). We spent quite some time there and apparently have the best photos of this place. Try out your photography skills, the infrastructure is amazing!
We then went out to cure our hunger cravings at Tito's lane. No one told us, probably they thought it is understood, but let me put it out explicitly. DO NOT go there assuming the cafes to be open in the day or noon time. You can expect the cafes to open somewhere around 5pm and that too if you are lucky! We went up and down the lane in search of food and guess where we found our spot? Sher-e-punjab!! (please do not laugh) The place was not that hygienic as we are used to but yes, the owner made sure, we (dilliwalaas) had no discomfort while dining. The food was again decent but yes fulfilling.
We went to the beach and idk why, decided to have bhel right in front of the waves. Needless to say, the sea did its wonders and hit us with salty water with a good force! I kid you not, my mother literally was carried away by the waves. I held her hand and dad held her leg. She wouldn't have drowned but yes, we were frightened to the core. Nevertheless, we all soaked in sand started to move towards our hotel when we bumped into entrance of curries. We found ourselves sitting right on the edge of the cafe with a beautiful view in front of us and for us, the day was complete! After holding our position and literally being kicked out, coz we did not order much, we left for our hotel. Spent some time at the calangute beach, then in the pool in our hotel and finally the day saw its end.
Day 2:
This day saw us literally burning fuel and wasting time. With a hearty breakfast in our tummy we left for Salaulim dam. Tell me honestly, have you heard about it? If not, then google! You will get to know why we included it in out itinerary. More than a 100kms drive, approx 3hrs on the road, a small trek of 1.5kms and exactly 93 stairs later (yes i was counting), we reached this dam and damn, we were shocked! In the past 35yrs, mind it, 35 yrs, never ever has this dam saw a water shortage but on this day, there was hardly any water in the dam! All we could do was take our sweaty pics and return.
We then went to see dudhsagar falls. (Can you also sense what i am about to say?). Another 1hr and a few kms we reached a spot from where scorpios (cars) are to be hired and they take you to dudhsagar falls but again, they said that since the rainy season has begun, we can't take you there. There was no rain in the last 21 days in Goa from that particular day! Just saying. We were lured to take the train and we would get a panoramic view or else trek for 11kms (one side). We chose to come back instead and enjoyed our stay at the hotel only.
Day 3:
This day we went to the museum (yes, there is one in Goa). We started for the museum but decided to go the famous church (white wala, jo hum movies me dekhte hai). We reached at around 12.40 and apparently, like all the temples, churches do have a closing time. And guess what was the closing time here? yes, it was 12.30pm! We clicked some pics and decided to go the museum! It was a Monday and museums are closed on Mondays! You must be thinking I am making all this up, trust me, I have 7 other souls to vouch for it! Nevertheless, we visited every other church that day, did some sight seeing, some shopping, got kind-of mugged and came back to hotel. The night of this day it which we will remember forever, probably! We went to LPK! Drank our heart out. I did a lot of mixing and after 4.10 am, I was not sure where i was! 3 rounds of vomit at the hotel and 1 round the next morning, I was ready to go!
Day 4:
We planned for delton and other casinos but since none of us had any past experience nor was interested in the same, we decided to explore cafes in the city. Found a few cutesy lil cafes on the same road as casinos but again, the food everywhere was on a bland side. We then went to the shore where Singham fight scene was shot! The shore was closed though, but we got a good look and amazing pics plus it was serene, so we do not want to complain.
For lunch we went to Thalassa! If you have reached here reading this, do go to Thalassa!! The sunsets are obviously the best but we went in lunch time and stayed there quite late. In those 7 hours approx at this property, we just felt that time flew quite fast! The genre of people, the vibe of the place, everything just kept on changing consistently. We were back at the hotel late and had an early morning flight back to the base!
Tips:
1. Try to be a traveler and not a tourist, when visiting Goa.
2. Carry multiple T-shirts and trekking shoes.
3. Always carry your ID with you.
4. If you want to travel light, take only a single pair of clothes, remaining buy there and discard there only.
5. Always park your car in designated parking places only. No matter what they charge (its mostly Rs 100 everywhere), never leave the car at any other place.
6. While making a budget, keep a material tab towards transportation and parking (cabs/cars/scooties/parkings etc)
7. Avoid asking routes from random people, instead prefer someone at a permanent establishment, like a shop or a kiosk etc.
8. Cooperate with the police/locals. Never ever play the "tu janta nhi hai mera baap kaun hai" card there.
9. If going to any night club and you are stag (single girls are allowed free entry), request any girl from any other large group to enter as a couple. There is a vast difference in prices. [LPK couple entry: Rs 1700, LPK stag entry: Rs 4500]
10. Avoid getting the hotel room cleaned behind you. This goes for the most premium properties as well.
We went there as first time goers and will eventually visit again, but this time, we would prefer to stay like locals. Who knows, we might experience something extra-ordinary!
Cheers ;)