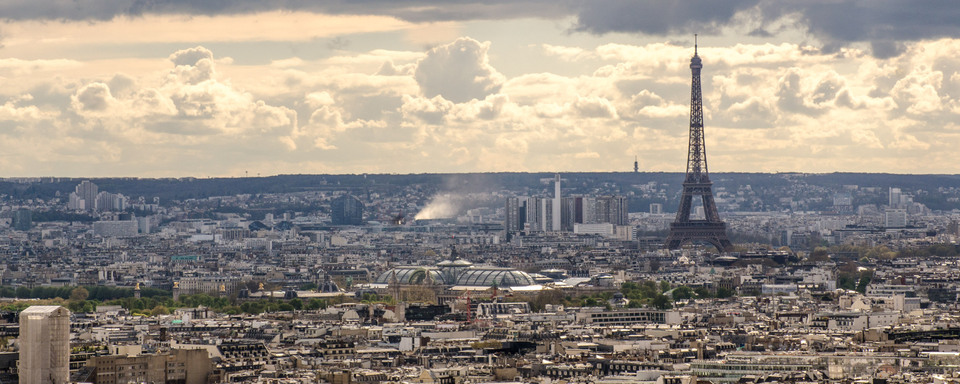 (Scroll down for amazing imagery at the end)
I carefully assess if I have everything I may need during a day full of site-seeing. Earphones blast rock music by Jane's addiction. Occasionally the City mapper app notifies the direction to the Belleville Metro Station. I pace myself towards it. The cool wind blows in my face perfectly bouncing my frizzy hair. Goosebumps prick tiny hair out of my stockings. With spring in my step, confidence is boosting through the roof like I have lived in Paris all my life. Waiting for brown line towards Republiqué, my heart flushes with immense joy. I chuckle as a thought crosses my mind, "Finally the dream of traveling to the most romantic city on Earth has come true, huh".
Paris needs no introduction. A reference to your Paris visit might get you a cold 'meh' or a lofty shrug that's about it. However, it is no reason to dismiss a trip to Paris given an opportunity. The amount of joy this opulent French capital has to offer is still pretty much unmatched. Humongous museums, scenic parks, unparalleled gastronomy, royal palaces, magnificent churches, and glamorous shopping districts, you name it. Every traveler out there either loves it or hates it but can't ignore it. Naturally, it can be a daunting task to see everything that Paris has to offer in 3 short days. Perhaps one can only try.
Paris trip without a visit to the Eiffel Tower is unimaginable. Musée du Louvre and Notre-Dame Cathedral are equally must-see attractions. Add a few more attractions it soon gets overwhelming to cover everything with a conservative wallet and time. However, not all was lost. The quintessential mode of transportation, Paris metro is loved alike by locals and tourists. The Navigo week-pass for the metro bought under €30 from the airport booth came in handy. The pass allows unlimited rides on any type of metro, within Paris, towards the airport and as far as the Palace of Versailles.
The Eiffel Tower on day one was a no brainer. The number of tourists that flock this rustic metal wonder towering towards the sky, each day is unprecedented. This got proved once I reached the end of the ticketing line which felt like running for miles. An alternate option was to hike up the stairs till the 2nd floor which pretty much had similar views of the city like the top floor. My decision turned out to be accurate. Not only did I get to experience this historic structure up close but it saved me a few hours. I personally enjoyed photographing the Eiffel Tower from different vantage points from down below.
A slice of dry pizza and coffee to shove it down, was good enough while I enjoyed the views of the Eiffel Tower from the Champ de Mars garden. I was in no mood to compromise the experiences in spite of a long day. It was like an erotic dance between moving fast and gazing slow. My jaw kept dropping every time I crossed one of the many beautiful Parisian streets. Eventually wading my way towards the Panthéon.
The Panthéon was one of the buildings that raised my inquisitiveness. Originally a church which now functions as a secular mausoleum contains the remains of distinguished French citizens. Parisians liked everything grand and the Panthéon was no different. For 1000 years the Pantheon owned the title of housing the largest brick dome ever built. Standing under the massive dome and the towering columns of the Panthéon one can truly admire the magnificence which Michelangelo once referred to as angelic and not human design.
Rushing towards Notre-Dame occasionally locking images of some artistic landmarks in my camera, it was time for my afternoon caffeine dose. Satiating myself with a cup of coffee from a modest café run by an Indian migrant, I marched towards Notre-Dame. On 15th April 2019, just a week after my visit, Notre-Dame partially got damaged in a fire. I remember it clearly tears rolled down my cheeks. I was still perplexed trying to make sense of my lucky timing. A week before I had entered Notre-Dame after 30 mins of waiting in the line. Soon upon entering I was choking with emotions I never knew, a building could make a feel. Notre-Dame with its Gothic architecture, had witnessed modification over centuries but also desecration during the French Revolution, was standing tall as ever. Intricately painted giant rose windows, sculptures, ribbed vault, flying buttress set it apart from the Romanesque Style. I had spent my time praying at the pew in front of the chapel. Comprehending the colors and patterns from the rose windows, feeling texture-of-the-wood and the walls of the cathedral suddenly gave me a religious rush. Now this wonder was lying in the rubble and ashes caused by human error. Today, even though millions of euros have already been donated for its reconstruction, it cannot be dismissed that Notre-Dame will never be the same again.
Located just a few minutes across the street from Notre-Dame towards Point-Neuf is Sainte Chapelle. Constructed in the 13th-century it is a prime example of the Rayonnant phase of the Gothic architectural style. I got myself an audio guide and spent a whole hour strolling from one chamber to another. The strong vertical structure emphasizes on weightlessness at the same time providing just enough framework to hold the world's most famous stained glass windows. These stunning stained glass panes depict stories recounting the history of the world. I learned the chapel now holds precious Christian relics including Christ's crown of thorns.
I had decided photography wouldn't be my primary intention while wandering in Paris. However, my plans betrayed me when I reached Sacré-Cœur. The city bathed in warm hues as the golden ball of fire sunk behind the hazy horizon. In that moment, I knew Sacré-Cœur's dome will forever be my holy grail to contemplate upon Paris's eternal beauty. Standing at the summit of butte Montmartre, it is the highest point of the city. This Basilica is the second most visited monument in Paris. Take the Montmartre funicular or climb up the stairs if you are feeling up to it, the views are equally inspiring. One can enjoy people watching or take in 360-degree Paris views from the Sacré-Cœur dome. Just pull your socks up and climb the remaining 300 spiraling steps via a narrow passage.
I had chosen a hostel in a strategic place, which lied close enough to the main attractions but far enough from the swankiness of the central arrondissements. Staying in Belleville was a great choice. It is an edgy neighborhood bustling with life and home to multiple ethnic groups. Affluent neighborhoods never appealed to me. They take away the charm of truly experiencing the rhythm of the city. I particularly enjoyed the mélange of restaurants, bars, and bakeries in Belleville. Fast food, taverns, cafés, bistros, sandwich bars, fine dining restaurants, coexisted in perfect harmony. Although I missed catching up on some quirky graffiti, I did enjoy the open-air market, bursting with colors on one of the days. Even though Belleville wasn't particularly upscale it was a safe haven, even during late-night walks from the metro stations.
By now I was already habituated in greeting Parisian's with the beloved "Bonjour". Taking metro was a cakewalk and scurrying like every other local was no longer tiring. I now enjoyed keeping the outfit to minimum colors, to avoid standing out. However, my brown-sugar skin gave away my tourist tag pretty easily. In crowded metro rides, after accidentally skimming fellow riders, I had earned me some snarky looks. It was a lesson learned to keep my body parts to myself. While I quickly adapted to the muted metro rides I also enjoyed conversing with eager locals equally. Because millions of tourists flood Paris each day, occasionally Paris made me feel unwelcome. Perhaps it was all the more necessary to acquit me to blend in. Learning basic phrases in the local language undoubtedly went a long way.
It took me almost two hours to reach the Palace of Versailles from Belleville. My hopes got buried six feet underground when I saw the queue to enter the palace. To put it into perspective, it is estimated about 8-10 million people visit this palace every year which is approximately 20000 visitors per day. I will leave you to assimilate that information. Call it a blessing in disguise or plain luck, upon realizing that I was in a wrong queue, I went to the actual ticketing queue. Spending an hour there was frustrating but in hindsight, I got direct entry to the palace without further wait time. A 17th-century royal residence, that once was a hunting lodge is today a sight to behold. The grandeur of this palace stinks with opulence. To put it differently, if it were to be built in the 21st century, it would cost around €50 Billion. The attention to detail in every inch of the palace and the gardens is unfathomable. In short, do not miss a visit to the Palace of versailles if you ever visit Paris. Just remember to spare an entire day and nothing less.
Come last day of my stay in Paris, waddling myself to the Louvre Museum was no joke. The worlds largest art and history museum situated in the heart of Paris city has eight departments curating art of every form. It has approximately 38000 objects from prehistory and stretches up to 72000 square feet, talk about big. The Louvre Museum is ranked nationally and globally the number one museum in the world in terms of visitor statistics. First things first when I rushed to see the world famous Mona Lisa's painting, more than 200 visitors were already playing paparazzi to her. After 5 hours of what felt like an eternity, the walkathon ended with only partial satisfaction covering most of the important sections of the Louvre. I certainly have to spare a few more days at this place collectively every time I visit Paris.
No trip to Paris is complete without a stroll on Champs-Élysées and taking a picture under Arc de Triomphe. Finishing off with some shopping, more sauntering and accidentally stumbling on gems like Pont Alexandre III bridge I bid adieu to Paris with a heavy heart and a promise to journey again. After all, there was so much left of Paris that I hadn't explored yet.